Contributed by withrachelle
Bali is such an amazing and awesome place to travel to. Just imagine: a medley of spectacular mountains and breathtaking green paddy fields against the limitless blue sky and pristine beaches with an infinite ocean of blue. In addition to this natural beauty, you can look forward to immersing yourself in the warmth of the rich and vibrant Balinese culture. Most importantly, you can explore Bali the way it best suits you! Are you someone who seeks adventure, a party-whiz, a culture buff, a nature lover, a foodie, or a mix of all these different types? Bali will be the best getaway which satisfies any different different kind of traveller. Here are some of the exciting activities awaiting  you in Bali!
For the ADVENTURE SEEKER
1. Water sports such as parasailing, jet ski, flying fish, banana boat etc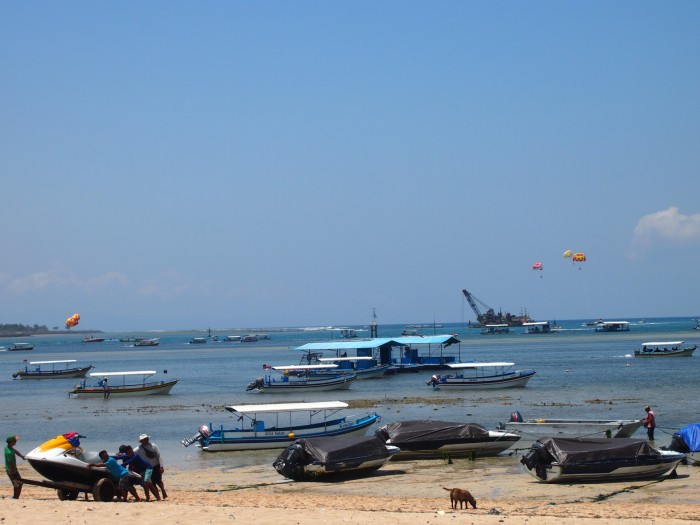 Are you game for some adrenaline activities that will send your heart fluttering? If you have a need for speed, you should definitely try out their flying fish, banana boat and jet ski activities with prices ranging from USD 30-40! Or do you enjoy being up in the sky with a panoramic bird eye's view of the whole ocean? Then parasailing is the thing for you! There are 2 kinds of parasailing – the first kind is where you will sail up and experience breathtaking moments for 2 minutes before landing on the beach, while the second kind is where you will have to travel out to the middle of the sea via a speedboat and be transferred to another bigger boat where you will para-sail up into the sky and revolve around for 7 minutes before landing back on the boat and heading back to the beach area.
Not only that, for the second kind, if you're with a group of friends, you all can do it together in group of 2 or 3! Whilst for the first kind, you can only do it solo. Whichever suits you! The first kind will cost you about USD 30 while the second kind will cost you double the price but triple the fun and joy! In addition to all these activities, there are different kinds of diving and coral swimming too which ranges from USD 100-200 depending on the type and duration. There's bound to be something for everyone! We did our parasailing was with BMR Dive and Water Sport, recommended and arranged for us by our driver (more about him towards end of the post!). The staff were really friendly, and there were lockers available to safe keep our belongings. Best part? The scenery we feasted our eyes on from up in the sky was really, really scenic!
Address: Jalan Pratama 99X Tanjong Benoa
2. Trek Mount Batur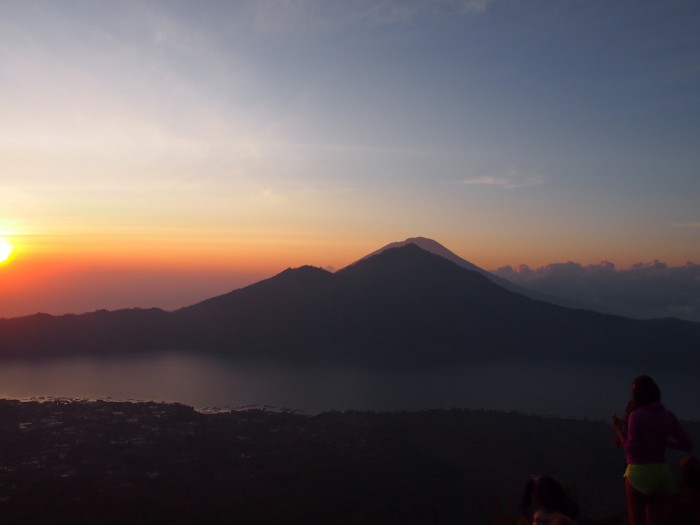 If you're not a usual mountain trekker like me, you should definitely consider trekking Mount Batur! #YOLO! This was really an impromptu arrangement to trek Mt Batur to catch the sunrise after we passed by the mountain and noticed its beauty. We got a Batur trekking guide who is usually from the local guide organisation under the government and Bali guide organisation at IDR 410,000 per person. The trekking will start at around 4am and it will be a 5km up hill route and then another 5km down hill route. The first present you get from your trekking adventure will be the galaxy of brightly shining stars glistening brightly like diamonds in the sky overhead. The trekking route gets tougher as you ascend, and it will get steeper and much more slippery. It will take you around 2 hours to reach the top of Mt Batur and be rewarded by the brilliant sunrise right in front of you. Just remember no matter how tough it is, you just got to remind yourself you're already one step closer to the top, so persevere and complete the climb! Most importantly, be in the right gear! Sport shoes are definitely highly encouraged, and it's best to pack light!
3. River Rafting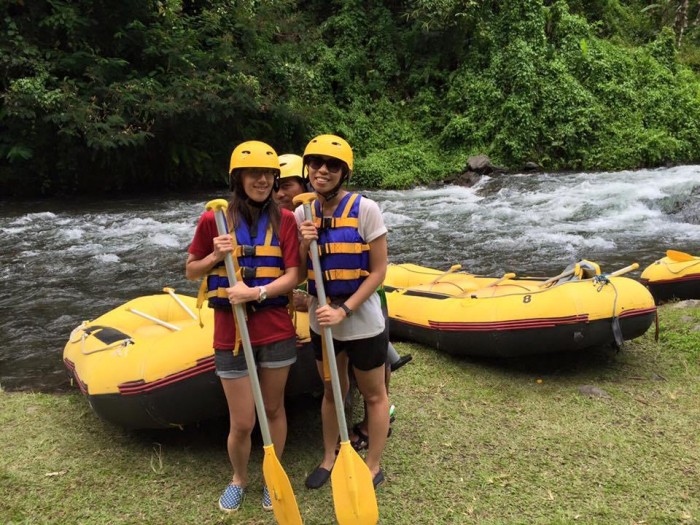 Another activity not to be missed is their river rafting! We thoroughly enjoyed paddling along the valley against the water current at the foot of the mountain whilst enjoying the picturesque mountain views. We did our rafting with Alam Amazing Adventure at a discounted rate through our guide! The rafting adventure will take a total of 2.5 hours and goes on for around 16 km along the Telaga Waja river. During the journey you will pass some bamboo bridges, waterfalls and have a last action jump at the 4-metre high Bajing dam. After rafting, just walk a few minutes back to the shower and changing room facilities, and indulge in an Indonesian buffet lunch served at their Riverside Restaurant. Look at the pictures of your rafting adventures during lunch time and choose if you would like them to be burnt into a CD for IDR 350,000. One interesting thing about them is that you can either choose to walk down the paddy rice field to the starting point or you can choose the flying fox route down! The whole journey was an extremely fun one especially with our jovial river guide and to mention, all the bali guides were really friendly – you can easily strike a conversation with them be it to know more about bali or some random chats! There's a schedule for the rafting too, do check out the link given for more details!
Address: Perum. Mekar II Block C4 No. 4, Jl. Mekar, Bali 80221, Indonesia
For the CULTURE BUFFS
If you would like to know more about the Balinese culture and traditions, it will be good to visit some of the following places and experience it for yourself.
1. Gold and Silver Craft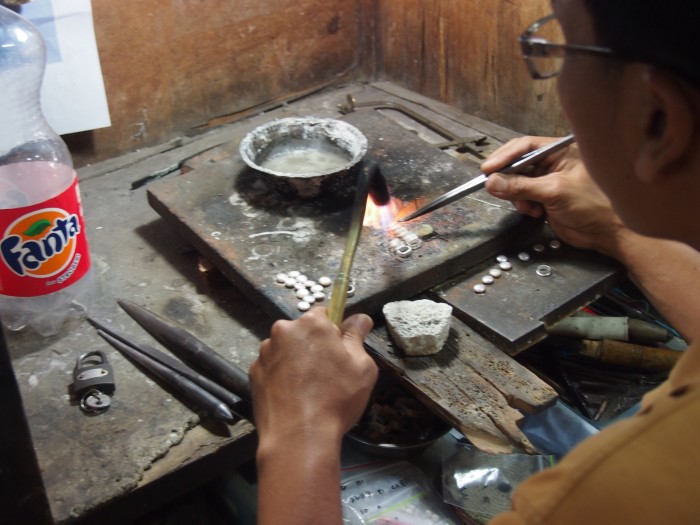 Have the chance to come close and witness how some of the silver and gold crafts are processed and made from process materials to the end products. Each piece is made with love from the workers bearing the heat in their work stations.
2. Batik Making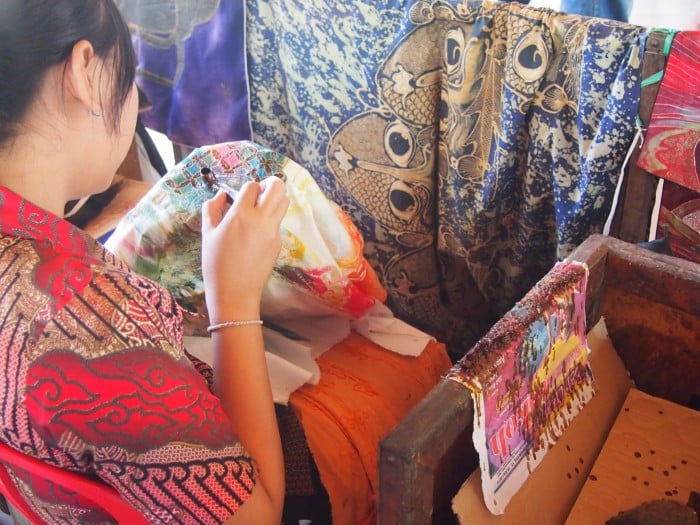 3. Oil painting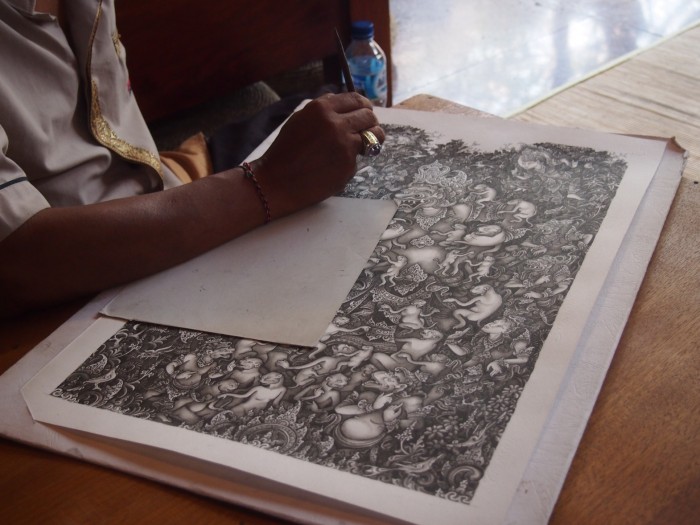 If you're into arts painting and that kind of stuff, you should take a look their oil painting gallery! You won't regret it, I promise.
4. Barong Bali Dance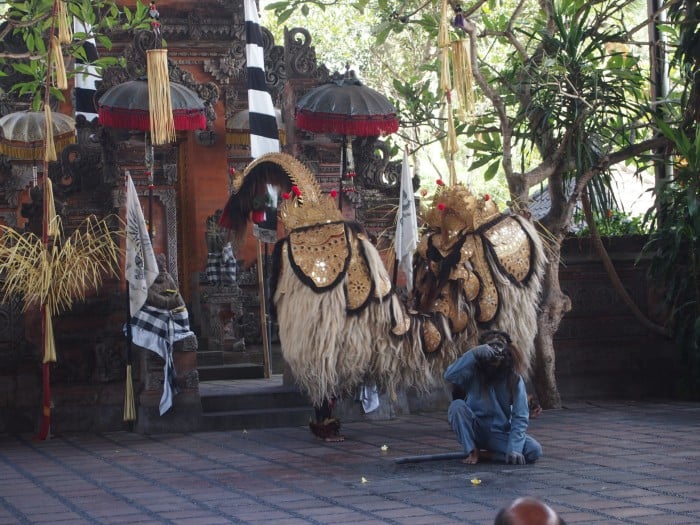 Barong dance narrates the story of fighting between evil and good. The masks used are considered to be sacred items, and before they are brought out, a priest must be present to offer blessings by sprinkling them with holy water taken from Mount Agung, and offerings must be presented as well. If you're keen to learn more about the culture and the Balinese beliefs, you can make a trip down Obyek Wisata Budaya Sahadewa for this 1 hour show. The ticket will cost you around Rp 100,000
Address: Batubulan, Sukawati, Gianyar, Bali 80582, Indonesia
5. Kecak Dance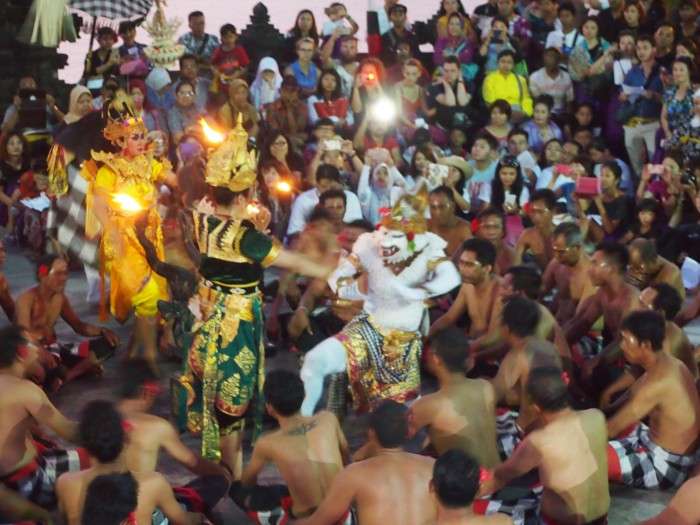 Beside Barong dance, another of Bali's famous traditional dance is the 'Kecak Dance'. Personally, I prefer Kecak Dance to Barong Dance. Kecak dance is more rhythmic and groovy with accompanying music sung by a choir of 70 men in concentric circles. The dance tells the story of Prince Rama and his rescue of Princess Sita who has been kidnapped by the evil King of Lanka. The dance will last for about 1-1.5 hours and seats filled up really fast. The best part about the show would be the ability to enjoy it against the backdrop of a fiery sunset!
Address: Uluwatu Temple
 6. Holy Spring Water Temple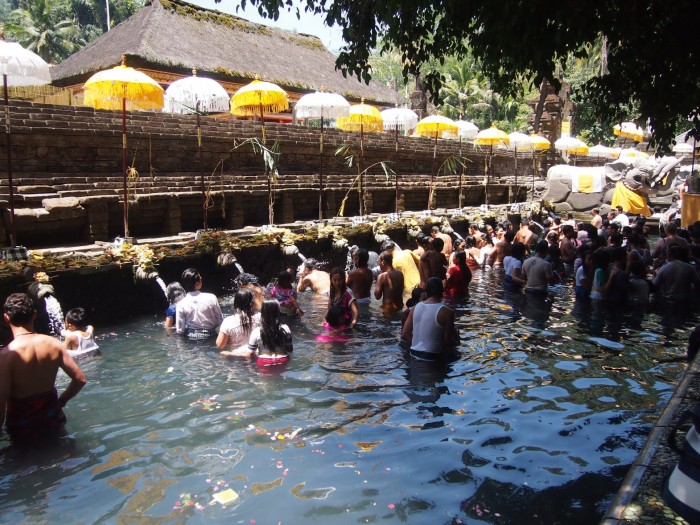 This temple is one of Bali's most famous and traditional temple which attracts both locals and tourists alike. Just like what you see from the picture, it's a belief that the spring water coming out from the shower head will help to purify our souls and minds from the bad influences/bad luck in life, and will even help to eliminate diseases. No wonder so many are after the healing properties of the spring water!
Address: Jalan Raya Ir. Sukarno, Tampaksiring, Bali, Indonesia
Also read: 10 Alternative Things to Do in Bali
For the NATURE LOVER
Sometimes you just couldn't get enough of that amazing scenery or view. A scenic view can really take your mind off everything for a moment, and allow yourself to immerse yourself fully wherever you are.
1. Tegalalang Paddy Field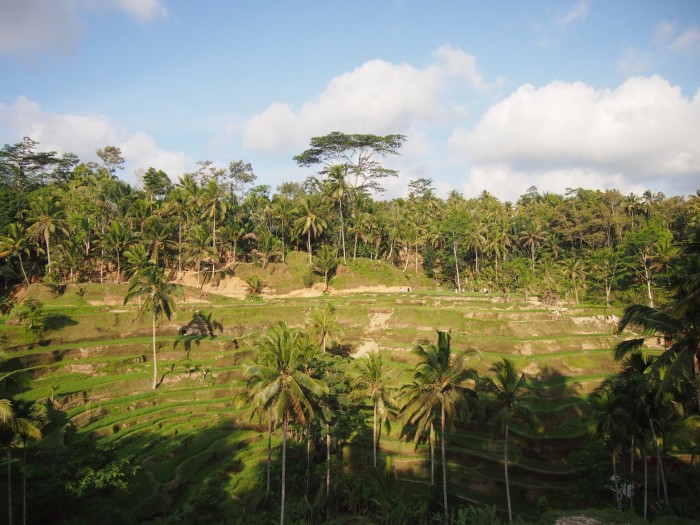 This view of terrain after terrain of green paddy fields was just so soothing to the eyes. Way to feel fresh too! During the harvest period, witness these paddy plants turn the area into a dazzling gold sea.
  Address: Between Tegalalang and Ubud, Ubud, Bali 80517, Indonesia
2. Uluwatu Temple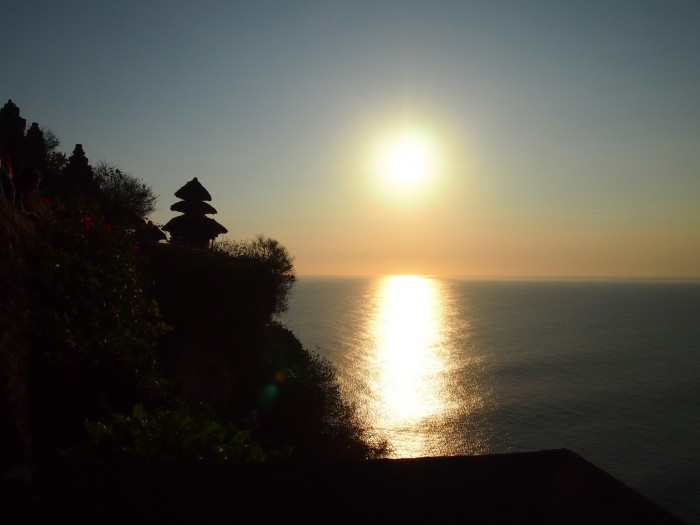 Bali has housed quite a few temples at numerous scenic locations. One of them is none other than the Uluwatu temple which is perched on a cliff overlooking the infinite blue and sparkling clear Indian ocean, surrounded by towering cliffs. Totally insta-worthy! Another temple that's worth checking out will be Tanah Lot, but due to time constraint, we gave that a miss.
Address: South of Bali
3. Kintamani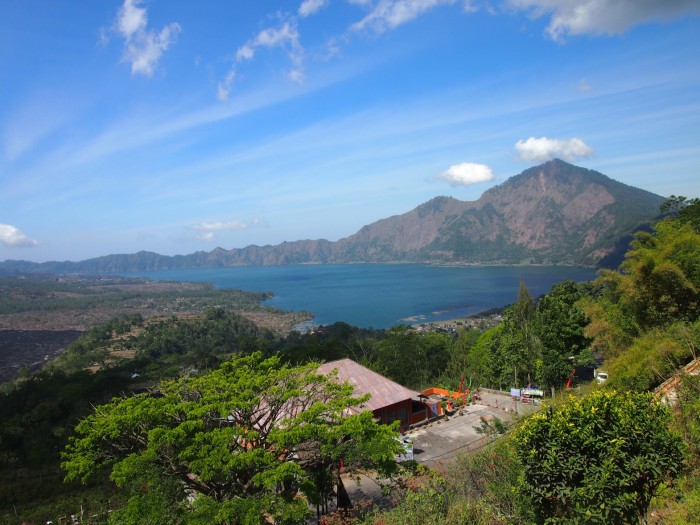 If you're not a trekker, or have the stamina to climb up the 5km long Mt Batur, no worries! You can still enjoy the spectacular landscape by taking a drive along the Kintamani area! Isn't the view amazing? In fact, it was this very view that inspired us to embark on the Mt Batur Sunrise Trek!
4. Beaches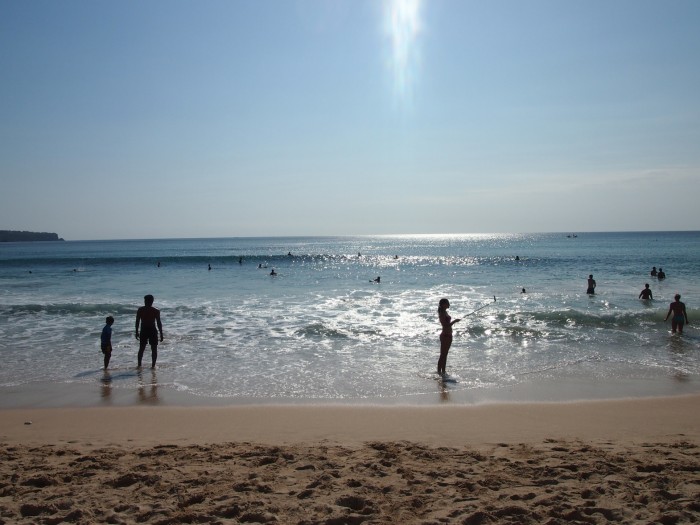 How can we miss out hitting the beach when we are in Bali?! It will truly be a great loss if you miss it! The beaches with crystal clear sea water and warm soft brown sand are just as beautiful as any of their attractions. The picture above shows the Dreamland beach. Something different about this beach is that their beach chairs and umbrella are 'chargeable'. We are not too sure if it's an official thing or it just happens that  there are quite a number of locals who will keep a lookout and ask for money whenever you want to sit on the beach chairs. Just to take note, it's around Rp10,000 per person per chair! If you'd like to have a 30 minutes foot massage, it will cost you another Rp 50,000 but it's best not to expect anything good from it – after all they are not professional masseuses. Just lie back and relax under the summer sun and enjoy the view of people surfing and sun tanning, or even get right into the action yourself!
Address: Pecatu, Kuta Selatan, Badung, Kuta, Bali, Indonesia
For the FOODIE
1. Nasi Campur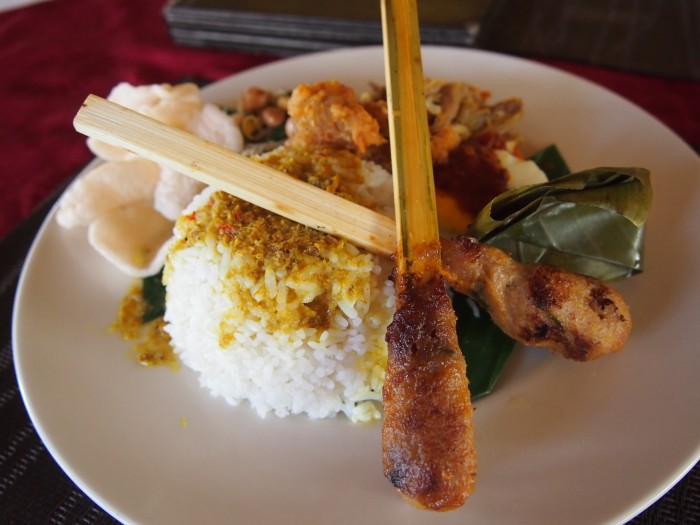 Nasi Campur is one of the most famous traditional Balinese fares It. is also known as "Mixed Rice", and includes a scoop of white rice accompanied by several small side dishes made up of some vegetables, meat and fish. Different areas serve different variationsof Nasi Campur, but I like the one at Warung Nyoman best! The cruchiness of the mixed fried chicken and fish pieces and the unique lemongrass scented sate lilit is literally to die for.
Address: Warung Nyoman Nusa Dua Jl. Pratama 66X
2. Ayam Presto Telur Asin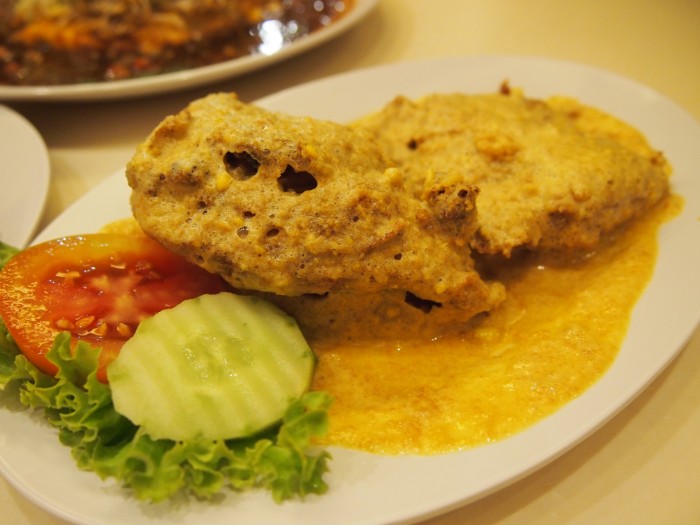 A salted egg lover? Then this dish is the perfect one for you! Such golden interstellar thick creamy salted egg yolk sauce drizzled over a piece of deep fried chicken will leave your palette craving for more.
Address: Malioboro – Jalan Raya Kediri No. 50 I, Kuta, Bali 80361, Indonesia
3. Ayam Presto Goreng Crispy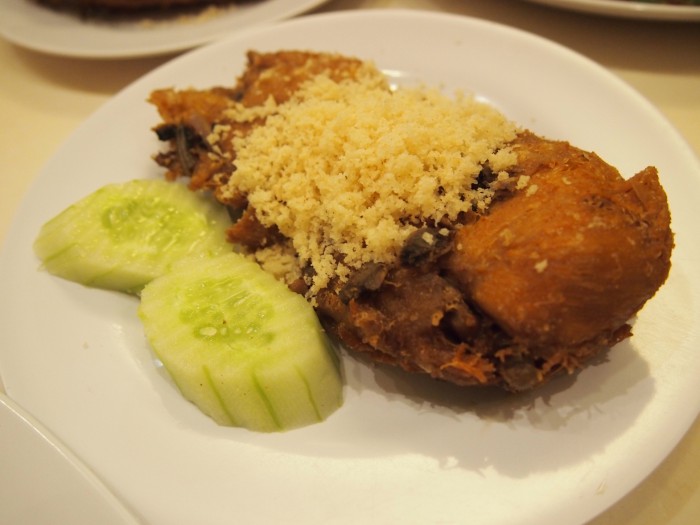 Have you tried eating every single part of your chicken? If you haven't, now's your chance to try it in Bali! The chicken is cooked under pressure and deep fried, resulting in a very crispy skin with delightfully tender meat within. Best thing of all, you can eat the bones too! The bones were so soft and crisp and literally melts in your mouth; you could even taste the bone marrow while chewing and disintegrating the bones. What a delightful dining experience!
Address: Malioboro – Jalan Raya Kediri No. 50 I, Kuta, Bali 80361, Indonesia
4. Bebek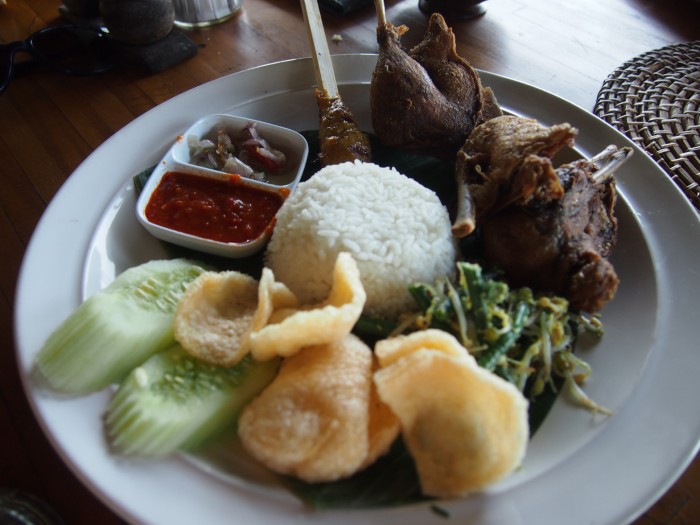 Bebek – a herb-marinated, smoked and crispy duck –  is another of their local delights. To what extent is their crispiness you may ask? Why, it's as crispy as the crackling skin of a suckling pig! Not to be missed when you're in Bali Ubud! You can try bebek at Bebek Joni, which serves good food against a wonderful view of the rice terraces. Another thing that you should try is their Babi Guling (suckling pig) which is quite renowned in Bali too! It was a pity that we didn't have the time to try it.
Address: Bebek Joni – Jl. Raya Goa Gajah, Indonesia
5. BBQ Seafood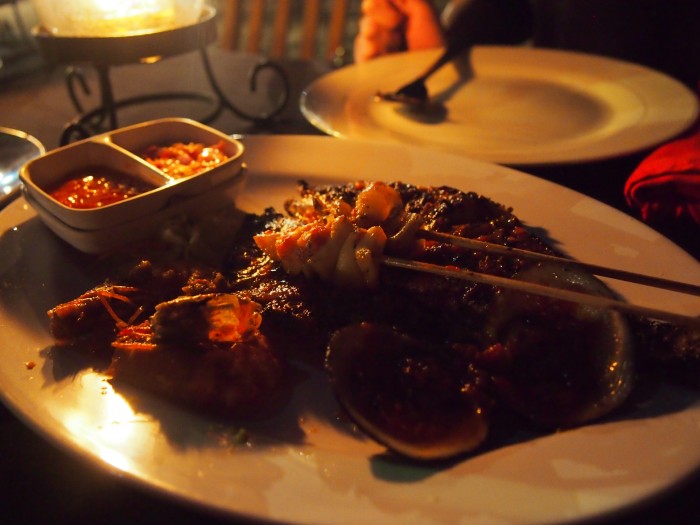 When you're in Bali, there's nothing better than dining along the coastline whilst enjoying the sweet and fresh BBQ seafood with a sunset view. Really, what more can you ask for? The best place to go for such BBQ seafood is none other than Jimbaran Beach. Along Jimbaran beach, there are quite a number of restaurant choices for you too, and we decided to try the one called "The Cuisine". For most of the seafood restaurants there, they comes with ala-carte or package style. For ala-carte style, you get to pick your own seafood, and decide how much you want and how you want to cook it. For package style, it comes with a pre-decided seafood set; a typical one will be made up of some succulent prawns, clams, grilled fish and squid accompanied by kangkong, rice, fruits and a welcome drink. If my memory didn't fail me, this typical package meal costs about Rp120,000 with a driver's discount as usual! Besides trying their seafood, please try their chicken satay too! It's made up of meaty juicy chicken chunks – simply delish!
Address: Jl. Pantai Kedonganan, Kuta, Kabupaten Badung, Bali 80361, Indonesia
Accommodation – Tony's Villa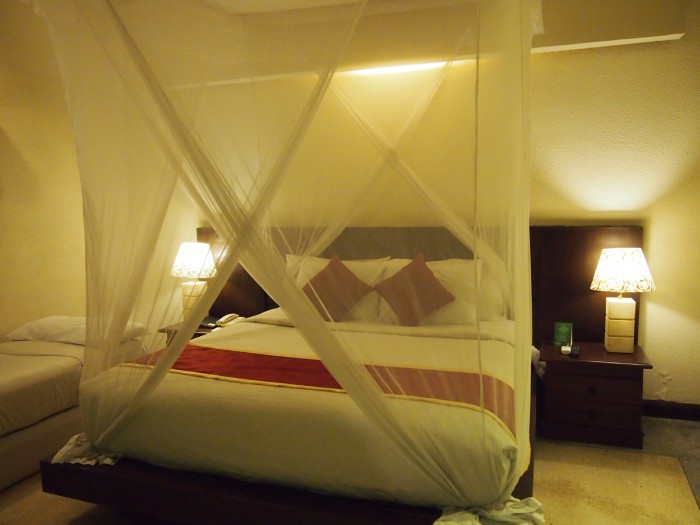 When you think of accommodation in Bali, i'm sure pool villas are the ones that will first come to your mind! I must admit, there are really too many choices when it comes to the different kind of villas available. The one we chose was Tony's villa. It is a tropical paradise surrounded by green foliage, and is conveniently located in the town of Seminyak with lots of  friendly staff attending to you. If you happen to opt for accompanying breakfast with the room, it's not too bad too! It's not buffet style but there are 4 sets of breakfast for you to choose from – Balinese, Indonesia, American or Intercontinental. Room wise, it's quite spacious with a king size princess bed, a dressing up corner and the wash up area that comprises of the toilet, soaking tub and 2 standing showers (1 enclosed and another open and surrounded with greenery). It's only downside would be its attraction of mozzies due to it being surrounded by trees! But not to worry, the room does provide some cream that resembles that of insect repellent, and it does a superb job in keeping the mozzies away from you, so just remember to apply it before bedtime! If you're a party-goer, this is a great accommodation for you as Potato Head Club and some other clubs are just a stone throw's away from the villa. You don't have to worry that you will go hungry too, there are a couple of eateries and cafe just down the street.
Address: Jalan Petitenget, Seminyak, Kuta, Kabupaten Badung, Bali 80361, Indonesia
Also read: 6 Irresistible Villas in Bali with Swimming Pools to Book for Your Next Vacation
Massage
Besides all the fun and joy we have in Bali, of course there's one more thing that we could never miss out! MASSAGE! After a tiring day of walking and activities, it's always awesome to end your day with a good Balinese massage! Their massage prices varies by quite a bit, depending on the area you go to, the ambience and the kind of service provided, whether there's a private room or a shower place after massage and such – all these really makes a difference to the price that you are going to pay for! If you don't mind paying around USD 35 for a good 1hour massage coupled with good ambience, you can go to ADI Spa. We went there for a good relaxing massage to relieve all our achiness and tiredness before heading back to the sunny island! Though the price is a little steep, but we got to choose the kind of oil we would like to use. You can choose from a series of massage oils – jasmine, green tea, frangipani, apple or lavender. After we were showed into our private room, we could indicate the level of intensity we would like for our massage. At the end of the massage, we could even take a refreshing bath before leaving. The surroundings of the spa itself feels really traditional and the whole area was perfumed with essential oil that soothed our mind and body.
Address: Jl. By Pass Ngurah Rai No. 501, Nusa Dua, Kabupaten Badung, Bali 80361, Indonesia
Transport
Now comes the most important detail! How do you travel around Bali? This very much depends on your purpose of stay – if you just plan to explore around the vicinity of your accommodation, you can go free and easy and use Blue Bird Taxis that goes by meter to take you to wherever you have in mind. But if you have the thought of exploring Bali all around from north to south, south to west, west to east and more, it's best and advisable to get a personal driver! We engaged Andy (andytour79@gmail.com , can just mention that you're recommended by Rachelle) as our personal driver! He was like a guide to us and shared with us loads of information and stories about Bali. Most importantly, he is able to help us secure good rates for the water sports and attractions and also knows where to recommend us for good local delights! You can just let him know what are the places or activities you intend to go/do, and he will plan out the itinerary for you! As for the information you will be most interested in – the rates! – we got it for Rp 470,000 for 10hours and additional Rp35,000 for every additional hour per car which can sit 4 people, so rates may vary depending on the car size and the number of people you have.
Hope my travelogue helps you in planning your Bali trip! Just for your information, I spent around 4D3N in Bali this time round and managed to comb what was mentioned in this travelogue, just missing the partying part out though as we really have no time for that. Adjust your schedule around based on your preference so based on your preference! For instance, more of adventure and nature but less of culture and so on and so forth!
I believe that you will fall in love with Bali as much as I did! Have a trip filled with fun, and be sun-kissed in Bali!
Also read: The Ultimate 4-Day Bali Itinerary: Things to Do and Where to Eat