Oh Bali, Indonesia's resident tourist hotspot destination that packs a punch in terms of adventure, food, shopping and more. Restaurants, bars, shops and hotels line the narrow lanes while throngs of foreigners trudge along in flip flops and board shorts, on the way to catch the next surf or grab their 9th pint of beer for the morning. Traffic crawls at a snail's pace throughout the day (except in the mornings when most of the population is hung over) and nightclubs pitch their sound systems against each other's every night of the week.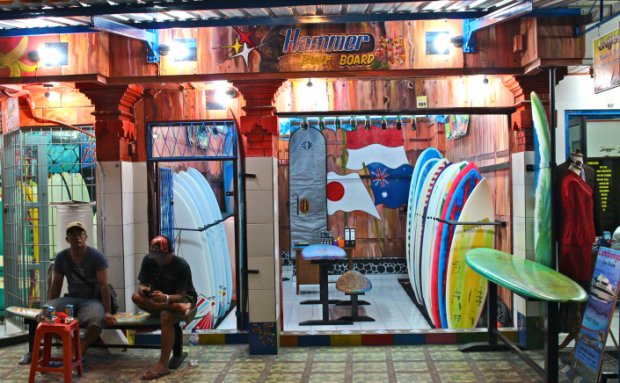 Our local driver puts it simply "In Bali, everyday is a holiday, no public holiday". It's a little crazy and perhaps isn't everyone's idea of a relaxing getaway, but what I experienced on this short 4-day getaway with the boyfriend, sis, cousin and his gf was a lot more than crazy traffic and drunk/sunburnt tourists, even though our hotel was in the middle of party central – Kuta.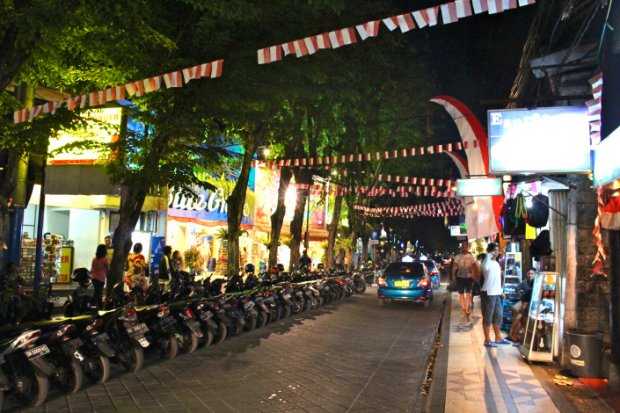 In fact, if you look past the entire ruckus of traffic and the main tourist belts, Bali is the perfect holiday spot. You get an array of beaches, beautiful sunsets, incredible nature, quaint, lively bars (with cheap alcohol), instagram-worthy cafes and restaurants, clean malls and toilets (so rare when travelling south east asia) and pretty cheap, yet clean accommodation with awesome service.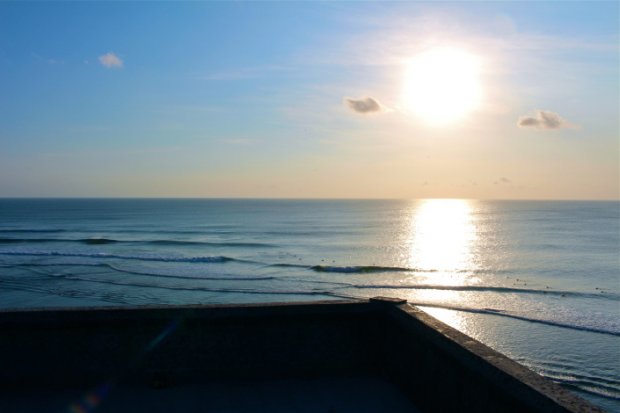 There is also actually minimal pestering from street sellers going on – the local street sellers somehow keep to themselves unless you start showing interest in their products. And no, they do not start scolding you for touching their stuff and walking off without buying it. Also, in August/September, the weather on the island is perfect. Chance of rain is slim and there is a constant gentle sea breeze that keeps temperatures cool, it felt almost as though we were constantly walking around in natural air-conditioning. Perhaps Bali isn't the best place to experience Indonesia's local culture, but I appreciated the contrast between old and new, tradition and westernisation, and loved how pockets of less developed areas retain the island's rustic charm amidst the comfort and sanitation of modernisation.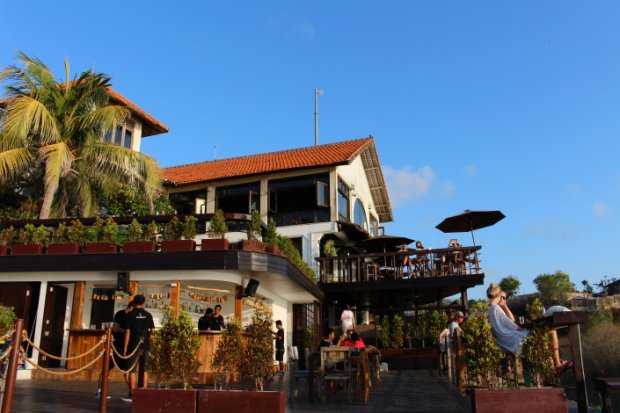 Truth be told, I was anticipating a really chilled out, laze around by the pool/seaside holiday but the adventure junkie in me excitedly agreed to many other activities and we ended up slotting mountain trekking and whitewater rafting into the itinerary. Nonetheless, it was an amazing trip with a little bit of everything, great company and way too much food.
Naughty Nuri's Warung 
Kicking off the trip as we do – with a hearty meal – we headed to Naughty Nuri's Warung shortly after touch down. We were starving, traffic was crawling through Seminyak, and all that anticipation was painful with our driver hitting the brakes in synchronization with the waves of hunger pangs. As we finally pulled up into Naughty Nuri's, we were greeted with the incredible smoky waft of sweet caramelized meat and a good ol' opened fire and gosh, I felt like I could eat up an entire pig!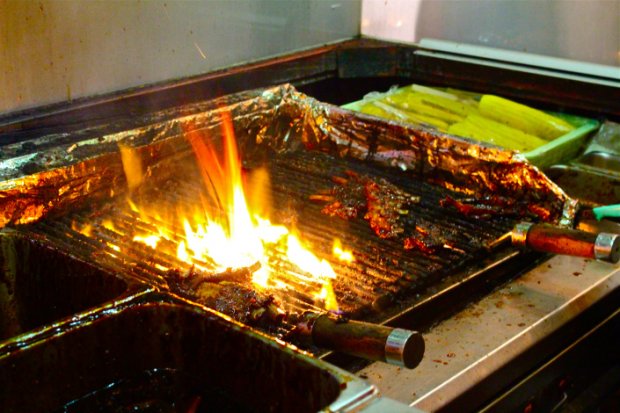 Known to serve up the best pork ribs in town, this casual eatery had garnered quite a crowd by the time we got there, and it was only 5pm. Exuding a vintage-indie charm complete with biscuit tins for lamp shades, tongue-in-cheek art pieces and random bits and bobs to pass of as deco, it retains its rustic charm while appealing to our inner-hipsters. We headed for the tables somewhat outdoors in the back amongst the greenery (and applied some mosquito repellent) and made a quick swipe at the menu.
Ordering was pretty simple, really. Everyone got a full rack of pork ribs. Everyone but me. I tried to inject some variety by ordering their homemade chorizo bratwurst but that backfired, because I really wanted pork ribs too. It didn't help that the chorizo bratwurst was way too lean and dry.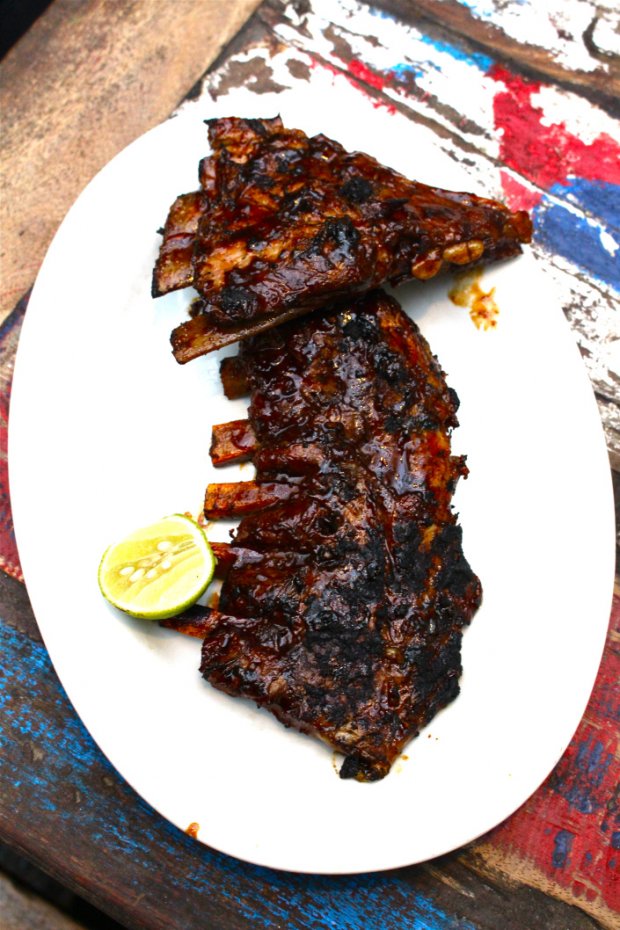 The pork ribs on the other hand were tender, charred beautifully and incredibly moreish (approx SGD$11 for a full rack). My fingers instinctively reached over to the boyfriend's plate as I helped myself to his rack of pork ribs and damn right – it was finger lickin' good. Move over KFC!!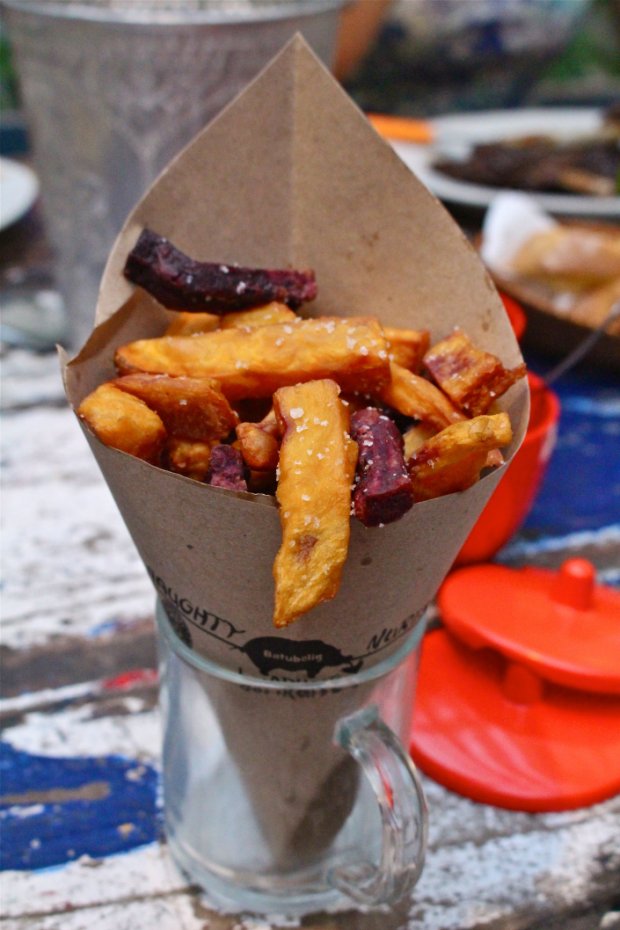 Their cone of sweet potato fries, while not my usual take of crispy, sweet potato fries, were also pretty fantastic. Crisp on the outside, pillowy and flavourful on the inside with a sprinkle of salt to coat, it was carbs worth growing fat for. However, aside from these, the other side dishes we ordered were mediocre at best. Moral of the story: stick with the pork ribs and you never really go wrong with sweet potato fries.
Address: Jalan Batubelig, 41 (Kerobokan Kelod, Kuta, Bali)
Tel: (62) 0361 847 6722

Angelita Tea Salon & Patisserie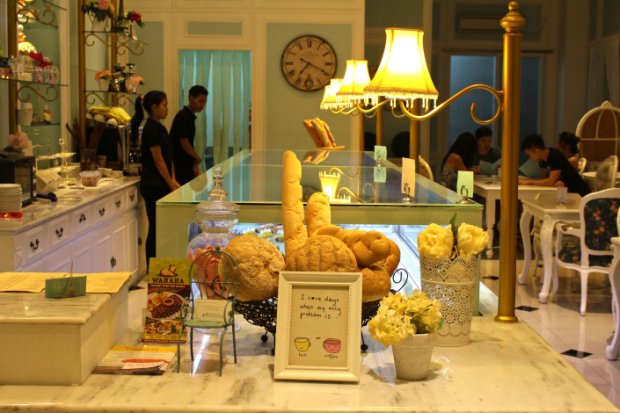 We stopped for desserts at Angelita Tea Salon & Patisserie on the way back to our hotel in Kuta, with the next morning's mountain trek as a good excuse for sweet indulgences 5 minutes after dinner.
The patisserie caught our eyes as we were making our way to dinner, looking like it belonged on a Parisian sidewalk instead of on the shabby roads of Bali. The interior lived up to it's facade and was decorated beautifully in true European fashion, croissants and baguettes sitting in neatly weaved bread baskets, delicately assembled cakes in pristine condition on display, Victorian chairs laid out and lovely french lamps illuminating the counter.
Food wise, they didn't disappoint. While the Opera Classic bordered on being cloying without a distinct flavour profile, the chocolate tart and the passionfruit tart we had were winners in their own rights.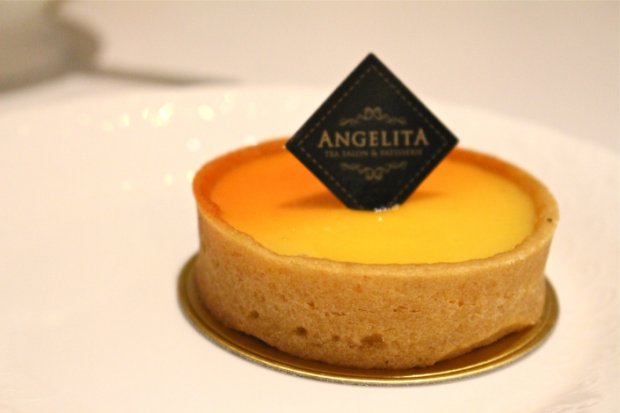 The pastry was buttery while retaining a nice crunch, the chocolate ganache while not exactly premium chocolate was decent and had a nice bitter end to it. I can't complain much about the quality of chocolate considering a tart costs approx SGD$3. You can't get anything decent cheaper than that. The passionfruit tart was my personal favourite as there was a nice balance of sweetness with the natural tartness of passionfruit and the custard's texture was perfect! Washing it all down with some lovely tea, I would say our first (half)day in Bali was pretty well spent – eating.
Address: Raya Kerobokan 10A, Banjar Taman, Seminyak / Kerobokan
Badung, Bali, Indonesia
Tel: +62 361 7473138
Mount Batur Sunrise Trek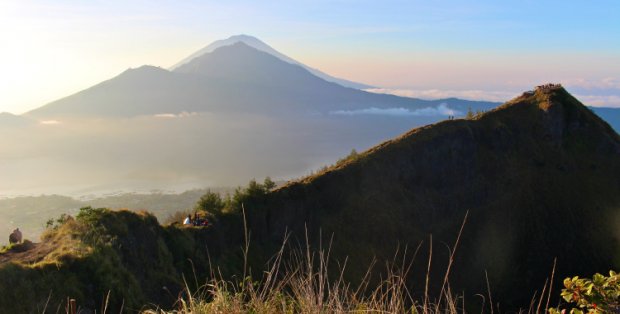 In my world, the craziest thing to do on a holiday is to give up sleep to climb a volcano. But that is exactly what we did. I'm not quite sure why I decided to do this and I was asking myself this very question multiple times in the midst of the climb. I remember being won over by the photos of Mount Batur and Lake Batur on the internet and hiking in the dark at 4am sounded pretty damn brave and so i guess I went YOLO, and excitedly agreed to booking a trek with Bali Sunrise Tours (approx $60 per pax). Trouble was, we had to leave the hotel at 1am, endure the bumpiest ride over unpaved roads in the dark, through abandoned villages (it was rather spooky) to get to the foot of the volcano by 4am. We ended up arriving an hour early and had to wait in a dinky shed for some other people and our guide to arrive. It was pretty chilly and during that one hour, I was seriously kicking myself for thinking this was a good idea when I could be in bed and out on a beach the next morning. At some point, loud squeaking noises were heard nearing the shed and I was terrified to find out that those were the sound of rats running about. Yup totally freaked! Do not be fooled by the smiles below.
The climb up was a lot tougher than I anticipated and paved trails were non-existent. Coupled with the fact that it was dark and we had to climb with torches, getting a steady grip on slippery rocks beneath our feet was quite a challenge, and not being able to see what was around me made me feel like there was a possibility of me falling off the mountain. Of course, my lack of fitness didn't help at all. Thankfully we had 2 guides with us who helped to pull us up steep inclines at tougher parts of the climb. We huffed and puffed and slipped a couple of times (thankfully nothing serious) during the 2 hours of climbing before a faint hint of light illuminated the silhouette of Mt Agung and Rinjani in the distance.
Based on my experience, it is best to avoid the maddening crowds at the public starting point. Instead, start your ascent via the more private Toya Bungkah route. No matter the path you choose though, look forward to witnessing surreal panoramic views of the surrounding islands as you circle the crater.
Marvel at one of the most spectacular sunrises right at the summit of Mount Batur. If you are craving for an adventure and wish to reunite with Mother Nature, be sure to plot this Mount Batur Sunrise Trek on your itinerary!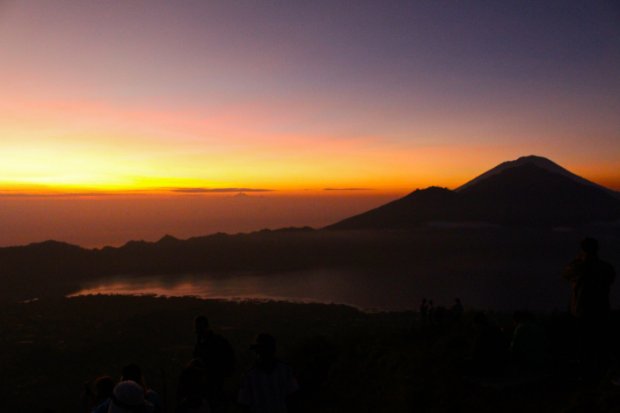 We were almost there and that faint glow in the distance kept me going like the light at the end of a tunnel. Adrenaline pumping, we sped up the incline on the last leg of the climb to the summit as the sky's colour gradient progressed with every few seconds, looking like a different kind of beautiful each time we looked up.
We finally got to the summit and I was all sweaty and tired out, but so overwhelmed by the scene before me. I couldn't help but marvel at the beauty of the Lord's creation and thank God for giving me the opportunity to do crazy stuff like climb a volcano in the dark.
As much as it seemed like a terrible idea a couple of hours ago, I couldn't be happier to be there at the summit at the crack of dawn. The sky lost it's bluish hue as a warm glow took over and we watched in silent expectation as the orange glow peeked out through the clouds and climbed it's way over the mountains in the distance.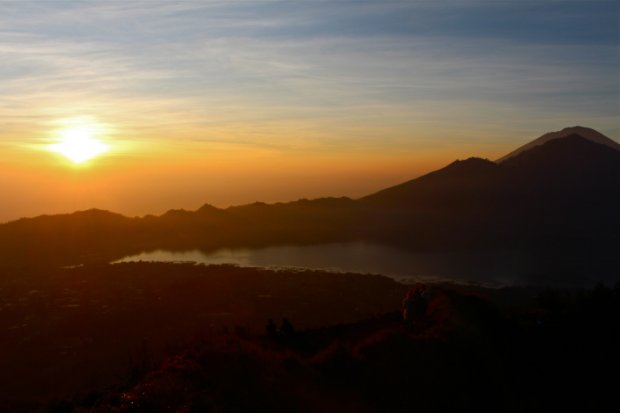 It was rather crowded at the peak as a few different trekking groups had gathered and it was difficult getting a picture without anyone else unintentionally photobombing but we managed a few decent shots (still with a couple of extras in the background) while waiting for breakfast to be served.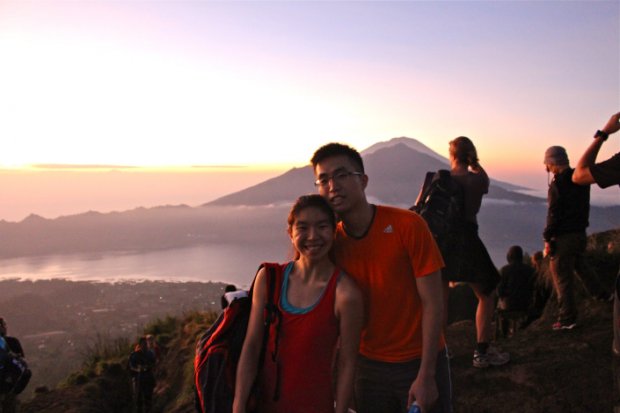 Our guides served us a simple fare of soft buns, hard boiled eggs cooked in the steam from the volcanic sulphur and fruits, alongside much needed coffee and tea. It wasn't exactly my type of breakfast, but we were starving by then and any form of food was greatly appreciated.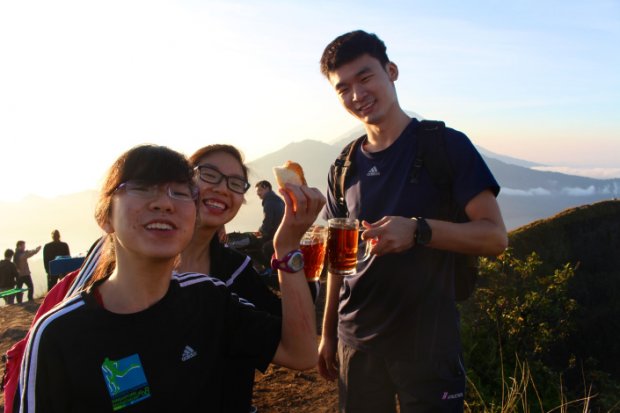 We hung around at the summit for a good amount of time, taking our breakfast leisurely while enjoying the views all around. It was a little mistier than I would have liked and Mt Agung and Lake Batur were shrouded lightly behind the shimmer of the morning mist but it was still pretty incredible all the same.
We eventually had to make our way down Mt Batur, and the steep steps and loose sand beneath our feet made it pretty scary at first, but soon we got used to the terrain and imagined we were "skiing" down the mountain on slopes with lots of loose soil. We fell on our bums a couple of times still, but all in good fun. It took us another 2 hours to get to the base where the driver was waiting for us and as much as I enjoyed the views from the top, I was incredibly relieved that it was over and could not wait to get back to civilisation. Needless to say, we were knocked out for the rest of the morning.
Also Read: 5 Mountains in Indonesia With the Most Spectacular Views
Single Fin Uluwatu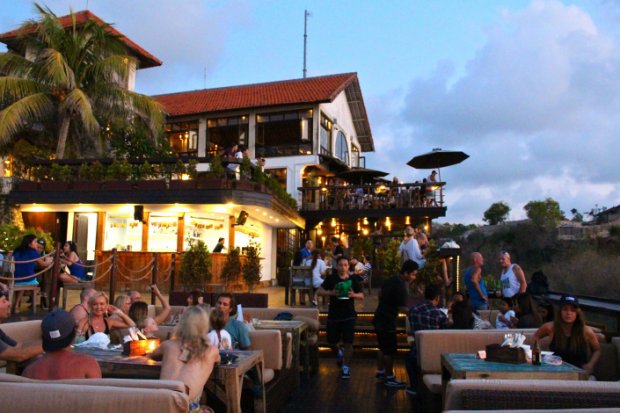 Dragging our tired bodies out of bed at 4pm, we were picked up by our driver and made our way to Uluwatu. As we were not keen on visiting the temples it is famous for, we headed straight for Blue Point to catch the sunset. We had planned on visiting Pandawa Beach along the way initially based on our driver's recommendation, but had to strike it off reluctantly due time constraints 🙁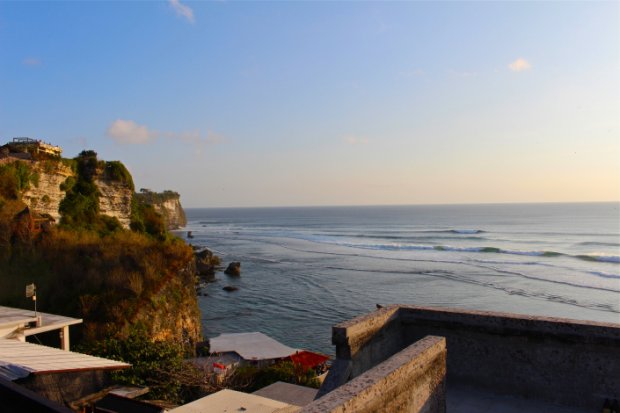 Anyway, we got to Single Fin, perched on a cliff overlooking the sea in good time for sunset and got a booth with a great view.
A couple of cocktails and nibbles were in order as we kicked back to enjoy the cool sea breeze while watching surfers ride the waves (or get swallowed) below. Bob Marley was playing in the background as we settled in and it was just a pretty awesome place to unwind, amidst light-hearted conversations and laughter.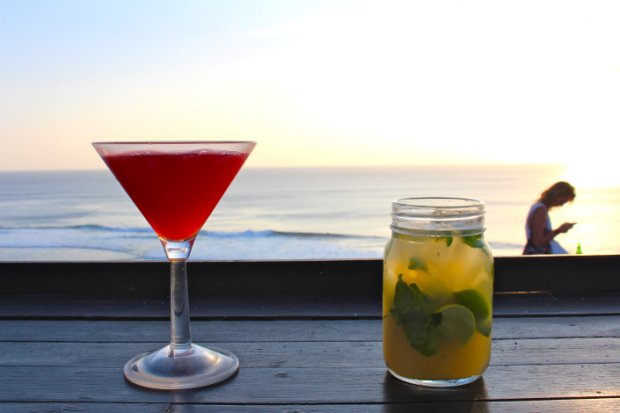 While I wouldn't go there specially for the food, the cocktails are delicious and the views over the ocean are spectacular, and I would definitely be returning for that.
Single Fin
Address: Jl. Labuan Sait Pantai Suluban, Uluwatu, Pecatu, Bali 80361
Tel: 361769941
White Water Rafting
There are two main rivers to do white water rafting in Bali – the Ayung River and the Telaga Waja River. Having done the Ayung River rafting a few years ago, I remembered it to be a gentler river that is more of a joy ride than an adventure. This time we decided to go for the rougher of the two and looked up rafting on the Telaga Waja River instead.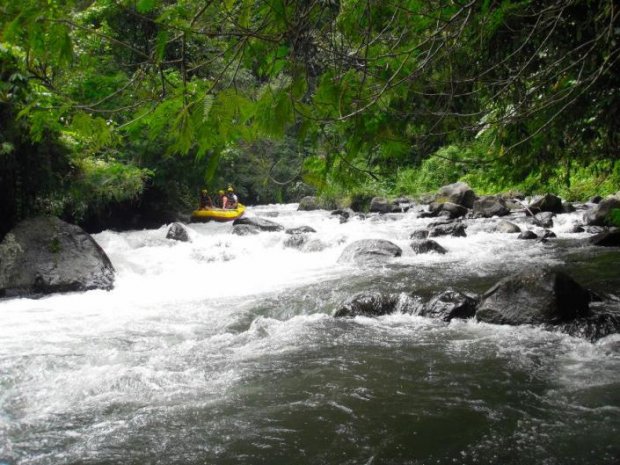 Choosing a white water rafting company in Bali can be a pretty dull and pointless task of searching for a needle in a well…needle stack. Many of the websites I looked through boasted of pictures that looked similar to another company's, only with a slight variation in price and start point. Well, they all take you rafting through the same river so nothing's going to differ very much, not even starting further up in the river as an extra 200m in a 2hour long rafting route is really not going to feel like a lot more of rafting after all. Also, we were told that you get it cheaper booking the rafting tour in Bali itself than over the internet. So with that, I gave up looking through countless rafting websites and decided to go with whichever I saw/was recommended first in Bali (with a decent price and acceptable safety track record of course).
Climbing into the car after our evening at Single Fin, we asked our driver if he had a white water rafting company to recommend and if he could help us get a better price. Of course we were aware that he probably got commission from whichever company he recommended but it didn't matter much to us as long as it was decent. He recommended "Alam Amazing Adventures" immediately without hesitation. Just to find out a little more, I asked why "How about Sobek or Bali International Rafting or BMW rafting…" He replied to say that they were pretty much all the same, except the fact that Alam adventures had better makan (lunch). Well, fair enough.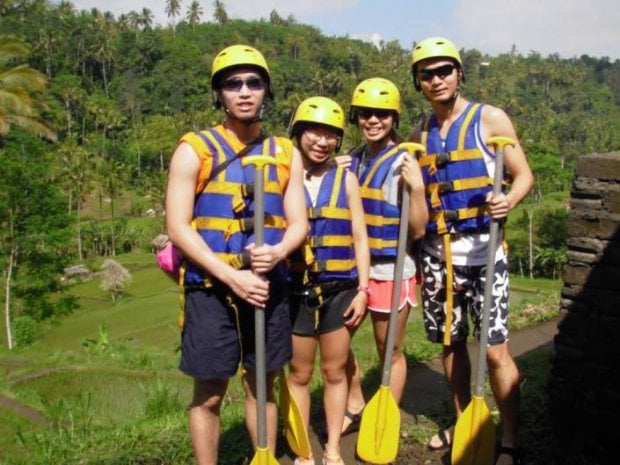 So the next morning, we were quoted 400000 indonesian rupiah (approx $40+ SGD), which was cheaper than we expected and so we took the deal! We left the hotel at 8 and got to the start point above the river overlooking gorgeous padifields at 9-ish and were swiftly kitted out in our life-jackets and oars. We then had to walk down some steps across the padifields to get to the river. There is the option of doing a zipline straight down to the river for an additional $10USD but we chose to walk down and found that it was pretty easy and pleasant.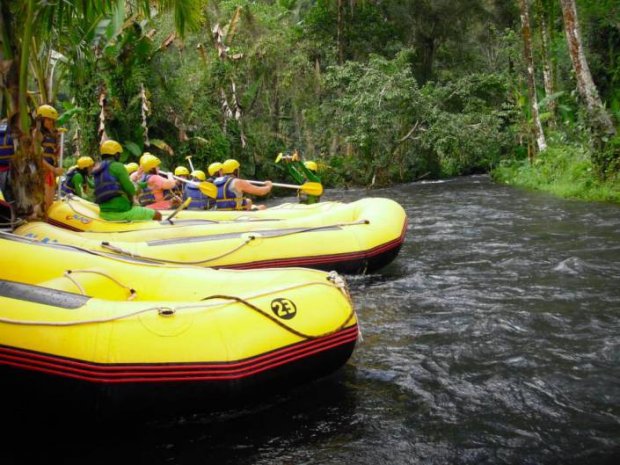 After a fairly quick safety and instructional briefing, we loaded into the rafts and pushed off the banks. The rush of the river was at a high and soon we were manoeuvring our way down the river, going through bumps and drops at least expected moments, knocking into walls of rocks and feeling the recoil, dodging low hanging branches and splashing water at other rafters.
Ok, I admit that our guide did all the work, and we kinda just chipped in a little here and there for participation, but it was still incredibly fun. We had a number of unexpected drops which were pretty thrilling, not to forget a 4m high drop from a dam near the end of the route.
It was also an incredibly scenic route as we snaked through lush green padifields and forestations and paddled past waterfalls.
Be sure to join one of Bali's most-loved adventure tours and go white water rafting down the beautiful Ayung river. A friendly, professional guide will take you on an exhilarating, yet relaxing journey through the lush rainforest. Embrace this once-in-a-lifetime experience!
Also Read: 9 Things to Know Before Going on a Dive Safari in Bali
Not sure where you should stay at in Bali? Head over to TripZillaSTAYS for some awesome options to choose from! 
Waterbom Bali

Often described as an oasis in the middle of the famous Kuta stretch, Waterbom Bali is set amid a lush tropical garden and offers top-notch rides and attractions. Spanning a whopping 3.8 hectares, this landscaped tropical park features exciting water slides that will provide hours of fun for both the young and the young at heart.
I found so many activities to fill up my daily itinerary. From world-class slides and rides to the advanced salt chlorination water sanitizing technique, you will enjoy everything Waterbom Bali has to offer, without having to worry about the water quality. I should also mention that Waterbom Bali is an EarthCheck Silver Benchmarked company, recognized for its ongoing commitment to environmentally sustainable operations.
Waterbom is truly the perfect place be it for a getaway with the whole family, or some quality time with someone special. Have fun under the sun, or just lay back and chill in the shade.There's little wonder why Waterbom Bali is becoming Asia's one-stop leisure capital.

Bali Safari and Marine Park

With more than 60 species from four continents, Bali Safari and Marine Park is already being hailed as one of Bali's most fascinating world-class attractions. I think that the park is perfect for people of all ages.

In addition to the world-famous safari rides, the park also showcases animal shows which I really enjoyed. Situated on 40 hectares of pristine forest in Gianyar, and owned by the world-renowned Taman Safari Indonesia, Bali Safari and Marine Park is known for both its creative animal exhibits and tireless conservation works.

I found a few packages that offer a multitude of wildlife experiences. Photo opportunities with animals such as a bearcat or orangutans do get pretty exciting. Moreover, the impressive Bali Agung Show, which features 150 cast members, including 40 puppets and over 30 animals is an incredible performance to catch. Do not miss the chance to dine with the pride of lions too at Tsavo Restaurant! You can't get any closer to the wildlife collection than feasting right beside them.
Canyoning


I find canyoning tours to be a fun and lighthearted way to discover nature. Even if you have never experienced canyoning before, the canyons in Git Git are perfect to venture to anytime throughout the year.
Looking for a way to experience the great outdoors in Bali? Try exploring the waterfalls in the north and expect an unforgettable outdoor adventure! I enjoyed marvelling at the natural landscapes, volcanic rock and natural warm spring basins that made the descent even more fascinating.

For a fun full day of canyoning, I'd recommend several tour package options. Kalimudah Canyoning Adventure is perfect for beginners, while the Double K Discovery Canyoning Adventure offers a slightly longer and more adventurous experience.
The Kerenkali Canyoning Adventure makes for an action-packed day and for those with no confidence in their swimming abilities, I recommend Tamata Canyoning Adventure. Finally, the Aling Gorges Canyoning Adventure is probably the most adventurous option for all you thrill-seekers!
Book A Canyoning Experience in Bali Now!
Nusa Lembongan Snorkeling
Boasting some of the most diverse reefs on the planet, Nusa Lembongan and Nusa Penida are must-visit locations for a snorkelling trip while you are in Bali. The pristine corals and warm waters are home to schools of vibrant fish like the emperor angel fish, parrot fish, moray eels, turtles and in certain areas, manta rays! A recent survey by marine biologists has revealed over 250 species of fish at these spots!

Full-time snorkelling guides can help you with equipment and life jackets. Flotation devices are also available for those who require one. I found the specially designated snorkelling areas in Lembongan to be safe and enjoyable for people of all ages.

If the weather is good, I recommend Manta Point, Crystal Bay and Mangrove Point. Crystal Bay is famous for its excellent visibility of up to 40 meters on a good day. When the swells are large, try Toya Pakeh, Ceningan Wall, or Mangrove Point.

During my trip, I experienced several snorkelling sites. At Manta Point, I found the boat ride to be almost as exciting as the snorkelling. The views of the towering sea cliffs of Nusa Penida are incredible, and the plankton-rich waters attract manta rays throughout the year. Snorkelling with manta rays was definitely a highlight for me!

Toya Pakeh and Gamat Bay offered a sprawling coral garden with plenty of fish and very light currents. I think the waters here are the most crystalline in Bali! I saw large sponges, nudibranch, mantis shrimp, cowries, cleaner shrimp, and moray eels. Keep your eyes peeled for the occasional Reef Shark, Barracuda or giant Trevally.
25% OFF Bali Snorkeling Day Trip
Potato Head Beach Club
Currently the place to be and be seen at, the Potato Head Beach Club attracts a crowd (a pretty Australian one, to be specific), and it's not hard to see why. With a beautiful view on the beach with an infinity pool and a dozen day beds to laze around on, cocktails at reasonable prices and pretty decent food, it is the perfect lazy seaside escapade. Do make reservations though. We didn't and had to wait in the queue for 20-30mins and that was a little bit of a dampener.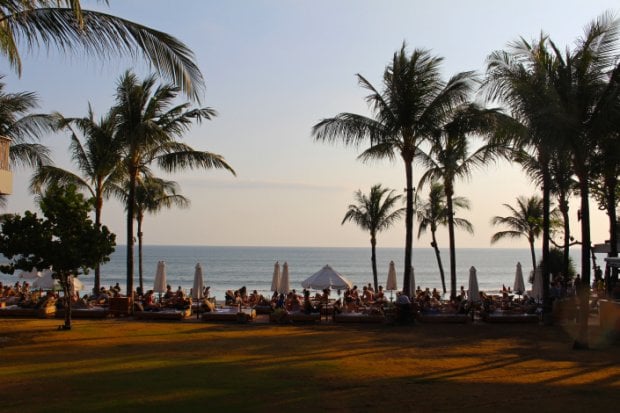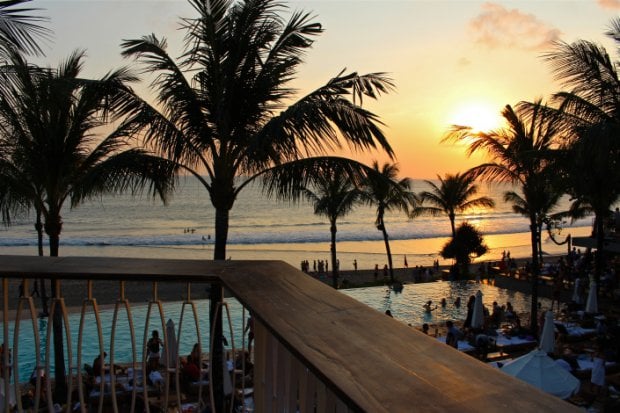 We didn't manage to get the day beds in the end but got a pretty sweet spot on the balcony overlooking the pool and the sea.
We settled in, took some time to take a little stroll by the beach, kicked back and enjoyed the loveliest sunset with the sky changing a myriad of colours before our eyes as the day progressed. The weather was cool and breezy, perfect for an al fresco setting for cocktails and dinner.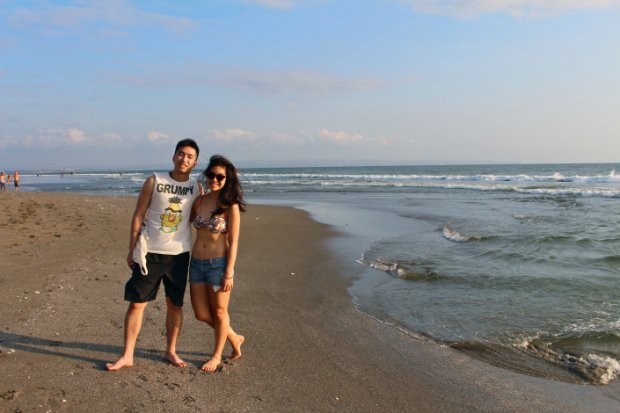 The lady who took us to our table was a little snobbish unfortunately. She looked pretty uninterested in answering our queries about table reservations and was snappy with her answers like we weren't worth her time, but this was soon remedied by a really nice waiter who brought us menus cheerily and tried his best to serve us as quickly as possible while snapping a few decent pictures of us and the sunset.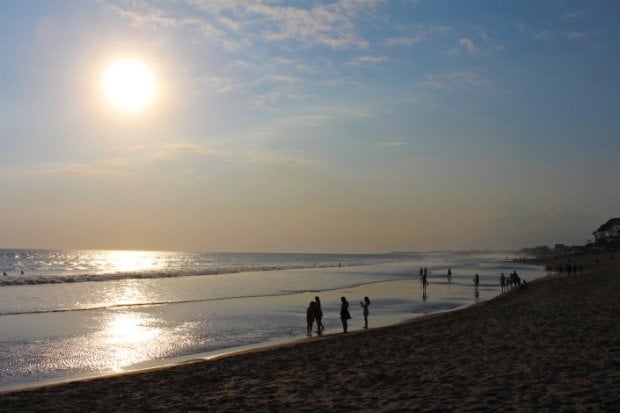 The cocktails we had at Potato Head packed a punch (more than single fin). The boyfriend and I both went for pretty refreshing tropical cocktails and enjoyed them tremendously.
Food was a little bit of a hit and miss. My cousin's pasta was quite a let down while my sister's salmon bagel was really good and they were really generous with the salmon. Packed with tons of vegetables, it made a really refreshing "feel good guilt free" meal.
I thoroughly enjoyed my pan-seared Barramundi, which was incredibly fresh and cooked to perfection with a nice crisp to the skin. Paired with some lovely chorizo, it was absolutely divine, and took me back to Europe where I had some of the best fish dishes with a similar combination.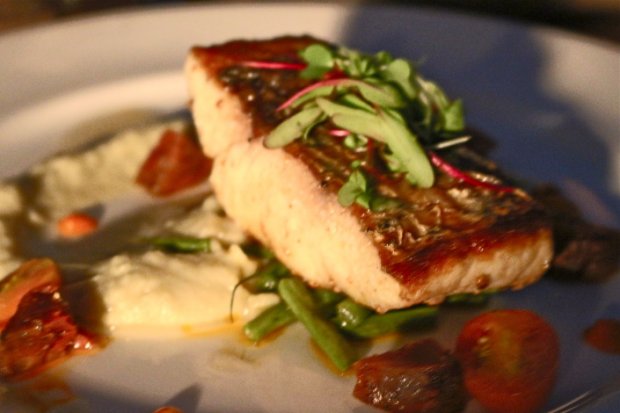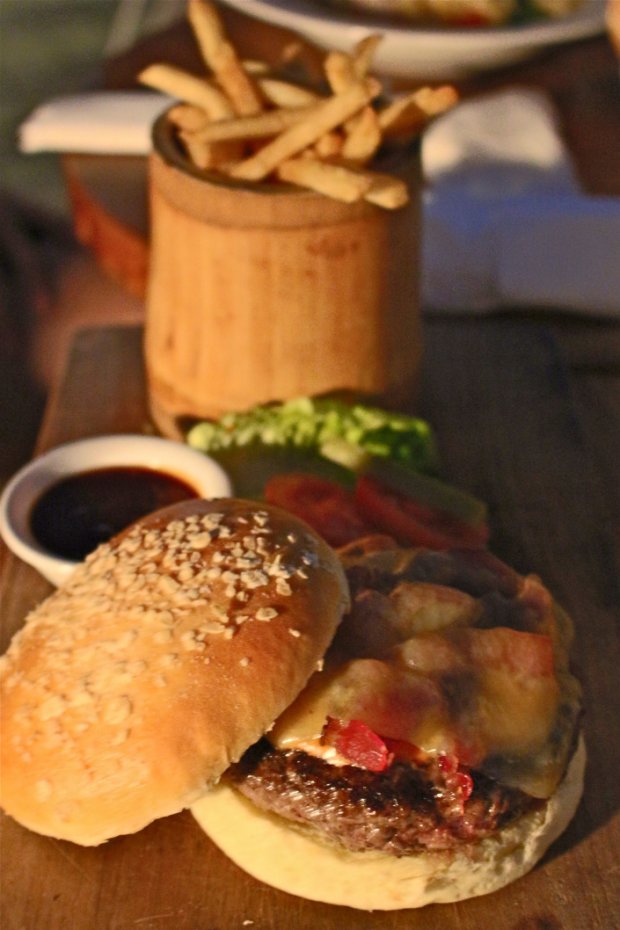 Their signature burger was decent, with a juicy chunk of beef that was well seasoned. Unfortunately for us, we like a grassier taste to our beef and found the beef's flavour a little flat. Their fries, on the other hand, were top class. I don't know what they did to their potatoes but they were delicious. They were crisp and crunchy on the outside with such a fluffy centre that left a hint of sweetness on our tongue after the saltiness of the seasoning wore off. Simply brilliant!
We tucked into our food as day turned into night and I watched as the waves lapped up the shore, their rhythmic sound forming a hum in the background of the music playing, and felt incredibly blessed. Sometimes you just need moments like these.
Address: Jalan Petitenget, Seminyak, Bali 83061, Indonesia
Tel: +62 361 4737979
Sari Organik Ubud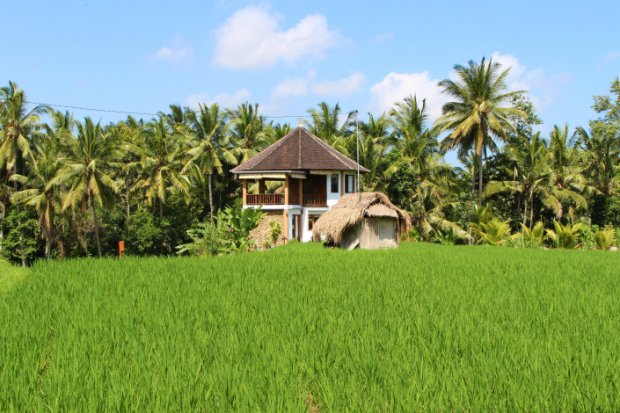 Getting to Sari Organik is a little bit of a journey, but one that is pretty worth it nonetheless. As there was no thru road for vehicles, our driver dropped us off at the edge of the padifields and we had to walk through lush green vegetations, yoga retreats, local farmhouses and craftsmen for about 800m to get to this rustic little restaurant overlooking the acres of green.
It was a rather pleasant walk with the cool breeze skimming against my skin every now and then. We passed a couple of other restaurants but had our eyes fixed on Sari Organik. I mean SGD$5 for a meal made out of organic produce? That's unbelievably cheap (in comparison to what we get in Singapore), and with all the excessive eating going on over the past few days, some healthy stuff sounded lush.
Sari Organik is a pretty rustic restaurant set atop lush vegetation and padifields in an atap pavilion. There is a nice laid back and peaceful vibe about the place where people take their time to enjoy the food, view and each other's company. Ubud is the hippy capital of Bali so quite naturally most of the other diners were in full hippy mode, with harem pants and yoga mats to boot.
That aside, the restaurant also grows their own organic vegetables in the fields below and it is possible to go down to pick out vegetables to make your own salad. We had done our walking for the day and so we decided to just order one from the menu (lazy city kids are lazy).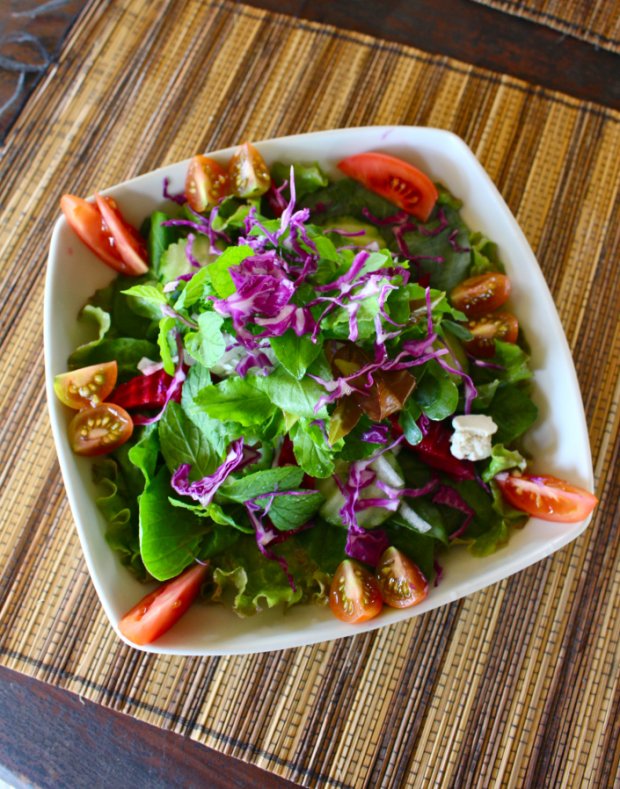 Each dish we had at Sari Organik was very simply put together, but the freshness in the ingredients was undeniable. We had a plate of their signature salad and it was crisp and fresh with an interesting hint of cumin and coriander. You can tell, straight up, that these people know their vegetables. My sister's dish was one of pan-seared chicken breast with roasted potatoes and mixed vegetables and while the chicken breast was done nicely, the star of the dish was really the vegetables. They were gorgeous and even the boyfriend who claims that he is "allergic to vegetables" admitted that it was really good and helped himself to some.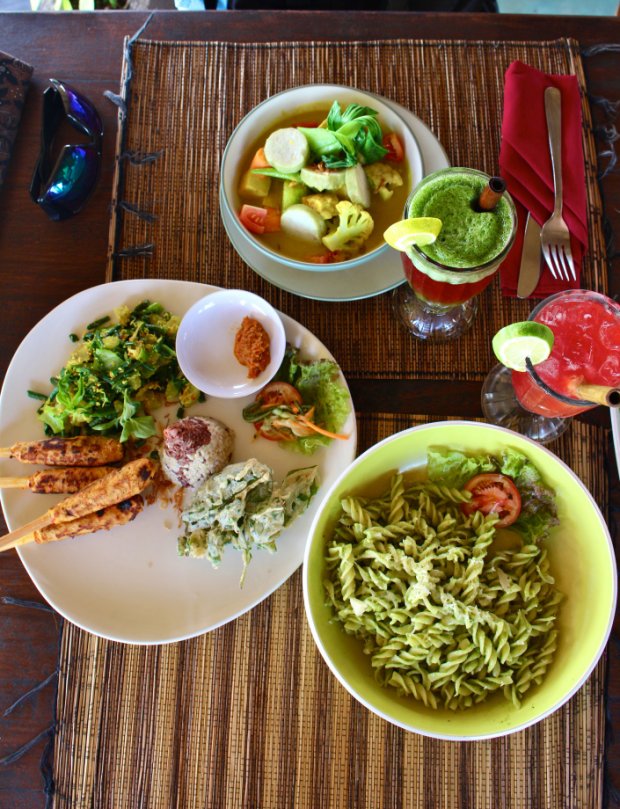 My dish of home-made pesto pasta was nice and hearty but a got a little bit boring a little too soon, while the boyfriend's choice of chicken satay, red/brown rice, stir fried vegetables and some tempura style crispy leaves (?) recommended by our waiter was absolutely divine. It may sound like standard Indonesian fare but it packed a punch! And as usual, I reached over for his plate and helped myself to his food amidst futile protests.
Location: 800 m up into the rice fields of Subak Sok-Wayah (no actual address, cool like that :))
Tel: +62 03617801839
Seniman Coffee Studio
One of my gripes about this particular trip was a lack of good coffee and that we didn't set aside any time for a good brunch (with good coffee of course). The coffee provided at the hotel we stayed in was a pretty watered down version of the coffee I know, and by day 4 I was going into cold turkey. I became obsessed with trying out Seniman Coffee in Ubud, and bugged the group incessantly about making our way there.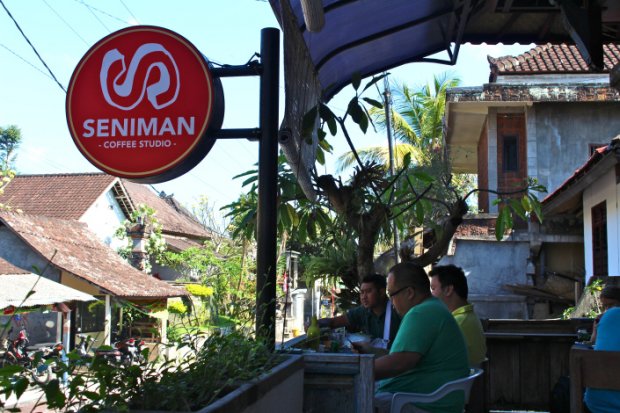 Finally, after making our rounds around Ubud Market for our run-of-the-mill souvenirs, we walked away from the crowds and found Seniman Coffee Studio flanking the street of  Jln Sri Wedari. A cold brew bar sat on one side while the main cafe occupies the space opposite it. As we approached, I caught the unmistakable wisp of beautifully roasted beans and relaxed in an instance, like a true druggie.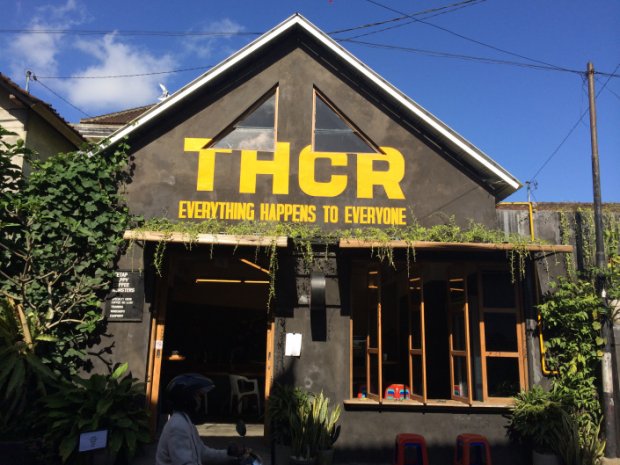 A warm, homely space welcomed us as we entered the cafe and we even had to remove our shoes as we stepped in, almost as if we were entering someone's house.
A large communal table occupied a corner of the room where people sat around using their laptops (free wifi available) and a bar counter occupied the other half of the room with a couple of seats thrown here and there. The atmosphere was light and casual conversations were heard over the background buzz of the espresso machine and the cling-clangs of cups and utensils.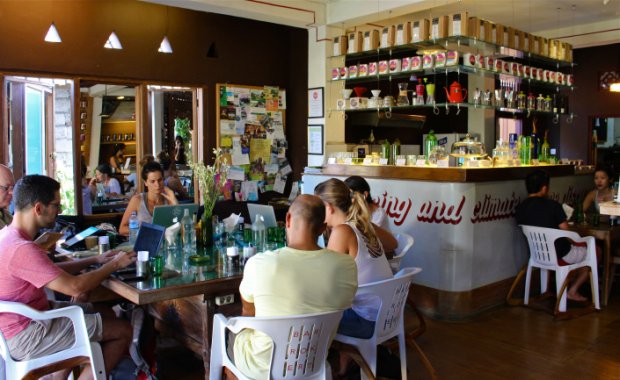 Most of the tables were taken up when we got there and we had to wait for a while but eventually got a table outside – not so homely, but pretty good for people watching 😉.
Totally overdosing on caffeine, we got Seniman Coffee's signature dessert which involves coffee served up in 4 different ways – as desserts. It set us back $6 (SGD) which is fairly cheap for dessert, so I wasn't sure what to expect but was pleasantly surprised at what was presented before us eventually.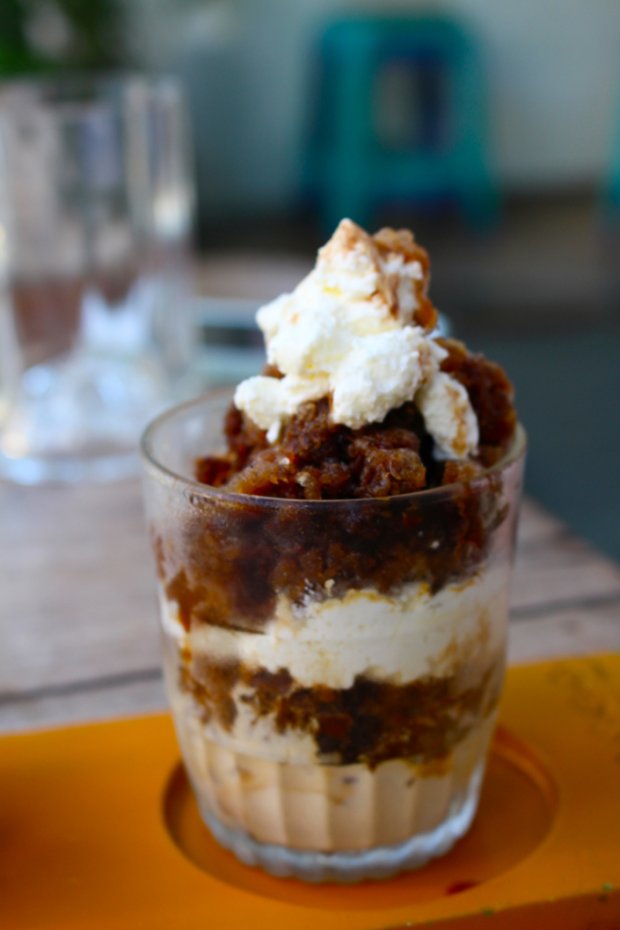 The coffee granita was oh-so-refreshing, with a nice touch of cream to give it a good body of flavours, and that coffee ice-cream was so velvety and luscious I almost swooned aloud. The cookies were also beautifully buttery, with a nice bite to it but the coffee liquor at the end was a tad too OTT for us to handle. And while I do love a good punchy shot every now and then, the coffee liquor was too sweet to down and way too strong for me to handle. That aside, I will gladly pay $6 for this dessert, even if I only consume 3/4s of it.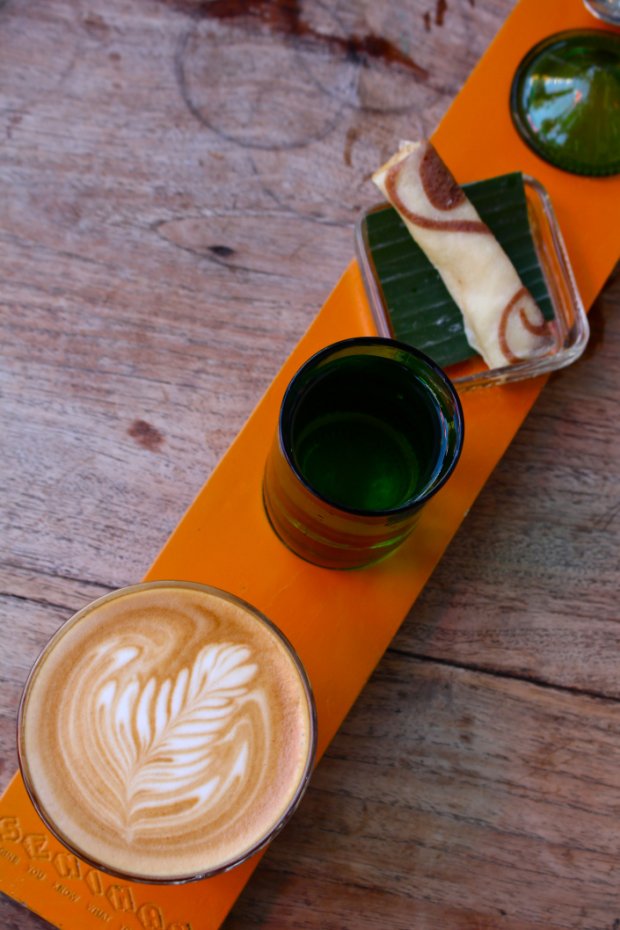 My flat white arrived and I took that first sip of heaven. It was good. Smooth, with a gentle acidity and a nice caramel hint at the end of it. To top it up, it came with a kueh dadar. Not your usual pairing but it went together really well surprisingly. The boy got a cold brew which was a lot more suitable for the weather and was bright and fruity on the palate with an almost tea-like finish. Perhaps I enjoyed it a lot more than usual as I was craving a good cuppa for the longest time but it is definitely worth a stop in Ubud town. They do quite a mean brunch menu too, which we didn't get to try but will return for at some point in this lifetime.
Address: Jalan Sriwedari, Ubud, Bali 80561, Indonesia
Tel: +62 361 972085
Melting Wok Warung
By now, you must have figured that we actually spent our the majority of our day in Ubud eating. Shortly after we left Seniman Coffee Studio, we rushed over to Melting Wok Warung, a short 10 minute walk away to grab a table.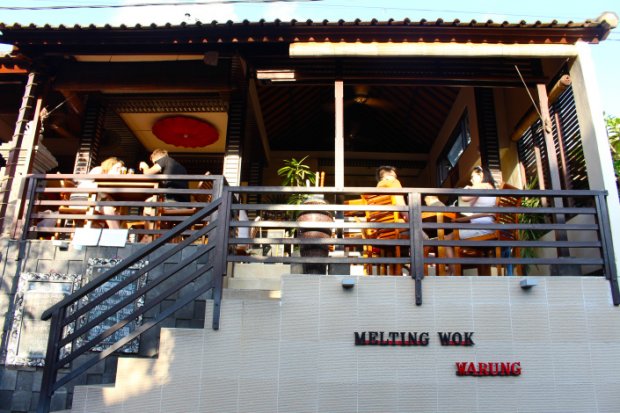 Earlier in the day, the boy was reading up on restaurants in Ubud and stumbled across the Melting Wok Warung. Tripadvisor's reviews were almost faultless, and it was cheap (approx $3-4 for a main dish). The boy's a sucker for cheap food and had been going on and on about the Melting Wok Warung for the entire day. When we came across it earlier in the afternoon, he went to check if we could make a booking but we were told by the lovely french lady boss that they were fully booked. There are only 8 tables in the restaurant so it's not hard to see how. Anyway, we were told that if we wanted to eat at the restaurant, we had to turn up around 5pm, just before dinner, so that explains the rush to Melting Wok Warung right after our afternoon coffee.
We got a table alright and although we were still quite stuffed, we went ahead with our orders. Greedy is an understatement. The menu was simple, with 2 daily specials written on chalk boards and a couple of standard curry and rice combinations. We gathered from the online reviews that their daily specials are the good ones and their creme brulee was really special, and so we stuck strictly to those.
I'm not sure if we were simply way too full to appreciate food,but nothing struck me as particularly fantastic. The salad we had had a good kick of chili and vinegar, which was pretty appetizing, but the dishes tasted like something mum could have pulled out of the kitchen. Okay, my mum's a good cook but I expected something pretty spectacular and inspiring after all the online hype but found none on my plate. The creme brulee was a fusion attempt to jazz up a french classic with the flavours of the coconut milk and cinnamon, and it was a delicious combination. However, the texture of the creme brulee was way too stiff and it felt like a nonya kueh, and that didn't sit too well with me. I like my creme brulee with the creme in it.
It's attempt at fusion is blatant but the result fails to excite. While I can see why people go there because it is cheap, the raving reviews leave me quite confused. Perhaps we were way too full to enjoy the food properly, or perhaps the food is just a diluted version of local cuisine made to suit the taste buds of westerners. Can't say for sure, but I won't exactly be too enthusiastic about dining here the next time round.
Address: Jl. Gootama 13, Ubud, Bali 80571, Indonesia
Tel: +62 361 9299716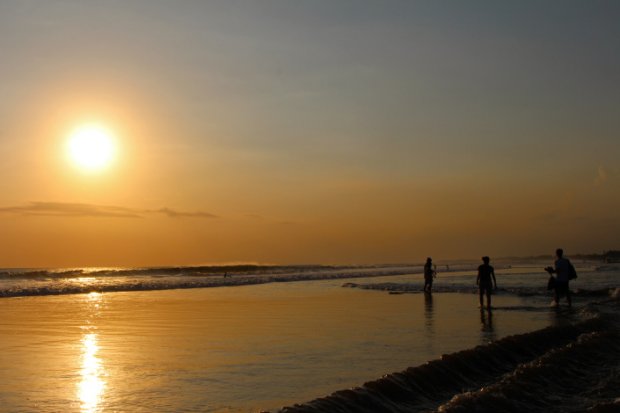 Leaving Ubud shortly after, I was fully stuffed and concluded in my semi-food-induced-coma-state that Bali fed me pretty damn well. While it may not be a gastronomy epicenter with the finest cuisines to boot (with our various hits-and-misses), there is undeniable variety and vibrance in the food scene on the island and we were spoilt for (food) choice with every corner we turned. Where it falls short in execution, it makes up with it's spectacular sea views and sunsets, which practically nullifies all negatives.
Also Read: Tips for Driving in Bali
On our way back to Kuta for one last sleep before heading for home, we caught the beautiful sunset once more as the sky lost its glow in the distance and gradually darkened it's hue. Once again, I was reminded of how incredible God is, and how beautiful the works of His hands are. Silently, I held these in my heart, hoping they will be more than distant memories as I return to the daily grind.
Take your pick from 3,785 things to do in over 50 Destinations in Asia with Voyagin!
With Japan experts Voyagin, you're definitely in good hands when it comes to planning for your next trip to Japan. Be spoilt for choice with a wide range of curated tours and activities offered at a discounted price, and even be entitled to FREE cancellation in the event that you have a change of plans. Imagine that! On top of that, should you need any assistance, you can easily engage in a Multilingual Live Chat and have all your queries answered on the spot.
P.S Not sure where you should stay at in Bali? Head over to TripZillaSTAYS for some awesome options to choose from! 
Contributed by GREEDY TWO SHOES.