It's 3:00 in the morning and my surroundings are pitch black, safe for the orderly line of bobbing lights trailing upwards. Darkness in this case is good as it amplifies the brightness of stars in the sky. You don't see a starscape like this – shining, gleaming gems dotting a blanket of black in a haphazard yet strangely organised fashion – in the city where there are too many competing sources of light.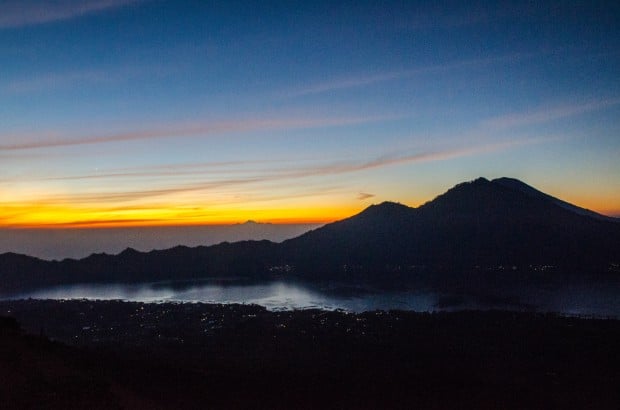 There are many of us, numbering in the hundreds according to my guide Made. Each one of us came from across Bali, picked by SUVs at different times in the night to journey to the foot of Mount Batur. Though we are of different nationalities, we all have one common purpose, to make it to at least sunrise peak of the mountain that stands at 1,717m. It's not the tallest peak on the island though, that honour belongs to the nearby Mount Agung.
It's not an easy trek, according to various brochures available; yet there people in various types of clothing and trekking equipment, a clear indication of the varied preparation that everyone is at and also the price that they paid to be guided up the mountain. There are those in layers to combat the cold in the early morning and those climbing in shorts as if it were bright and sunny during the climb instead of the cold air that was lingering in the sky. For those who paid more, USD80 (SGD114) and up per person, their light source in the dark are fancy head lamps as their hands are otherwise occupied with hiking sticks, similar to the ones I encountered that seasoned elders were using for their climb when at Halla-san in Jeju, South Korea. The rest of us commoners, I paid IDR 250,000 (SGD24), had to navigate with torchlights in our hands.
Perhaps it's a good thing that I can't really see my way as I trudge up the mountain. This way, you are really taking it a step at a time and without the clear end in sight, giving up is less of an option as you don't know how much more there is to go. That and the steady stream of other sunrise seekers that are behind you will stop you from giving up. That is not to say that taking a break isn't allowed.
The guides here are well-versed with the mountain, climbing it five times a week on average, at least according to my guide. Hence they are familiar with the "rest stops" available and perhaps because they are aware of how unprepared some people might be, there is a constant asking of "Do you need to take a break?" As a Singaporean, our highest peak is Bukit Timah Hill that stands at a measly 164m, but my companions, Rashid and Maria, grew up in the mountainous areas of France and this is a walk in the park for them and they seem to never need a breather, so my group stops only just once on the way up, purely for my benefit.
Also read: Hiking Up Indonesia's Most Active Volcano: Gunung Merapi
There is little banter up the slopes as everyone is more or less focused on getting to the top without tripping over our feet on the rocks in front of us. Proper shoes will definitely by easier for non-frequent mountain climbers as my sneakers hardly make the cut – I'm struggling to find any grip and have to use my hands to grab nearby rock to hoist myself up whilst my companions in their trail shoes easily navigate the volcanic ash as if walking up a flight of stairs.
Surprisingly time does fly by despite the struggle I face while traversing up the mountain, and soon enough, after just under two hours, we've reached the sunrise point. It has been a journey I nearly didn't complete if I had given in to my desire to give up along a way – can't say that the thought never occurred to me on the way up, but I'm stubborn that way. We find a protruding rock away from the crowds and settle on it to wait for the sunrise which is framed by Mount Agung and Lake Batur. As we're waiting, we're served with the standard fare of banana-filled bread and a hard-boiled egg. Hot Chocolate, coffee and tea are available, at additional cost, of course. The sky turns a dark, bright blue with lines of orange and yellow streaking across and soon after, the sun peeks out, shining across the lake beneath. All chatter surrounding me comes to a halt as everyone stops to admire nature's beautiful sight.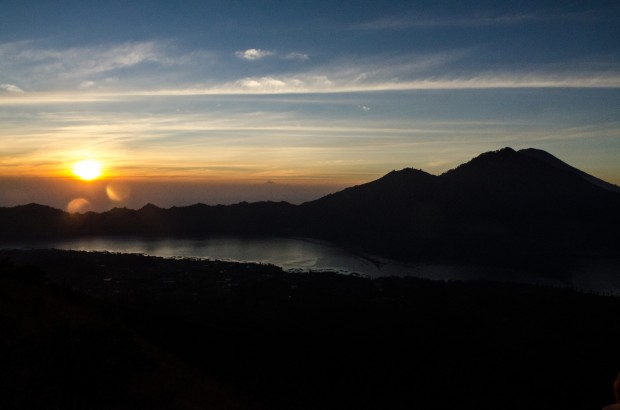 The sun peeking out from the horizon, the moment we have all been waiting for is finally here
As it turns brighter, we're brought around to witness the 'evidence' of Mount Batur's status as a still active volcano (one reason foreigners have to have a local guide with them at all times), the small pockets of geyser like holes that emit hot steam, a welcome respite from the cold still air. When these used to be warmer in the earlier years, the steam was used to cook the eggs and warm the bread that were given to us for breakfast.
Also read: Catching the Surreal Sunrise on Mount Bromo, Indonesia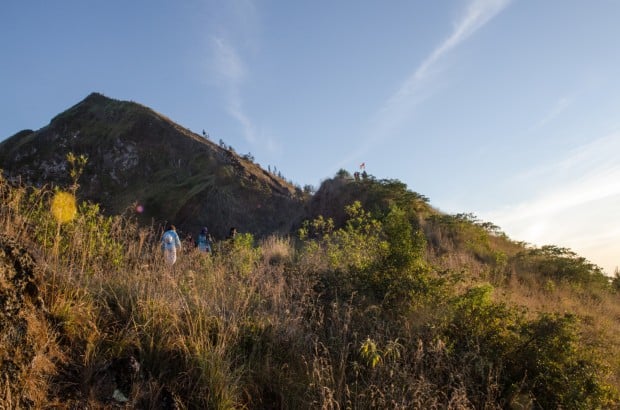 That's the peak of Mount Batur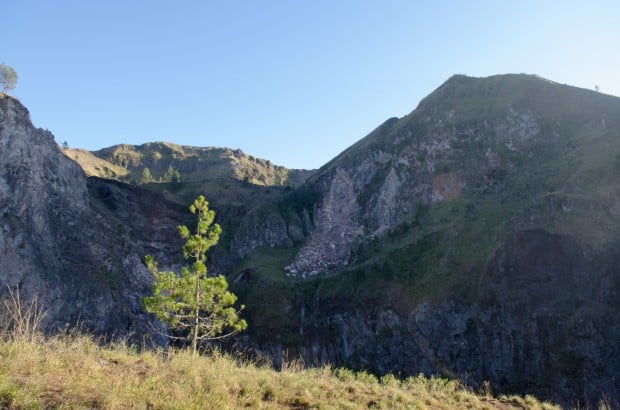 The walk down is easier yet more difficult at the same time. We take a slightly different path down, one that's longer but flatter according to Made. Going down requires less physical exertion but more sure-footed steps. I was panting less, but managed to slip and fall twice, on flat ground too. Unlike the morning where it was a race to the top to catch sunrise, there's more time to admire nature's beauty around Mount Batur on the way down. Indeed the Mount Batur experience is not one to be rushed, but to take your time and savour.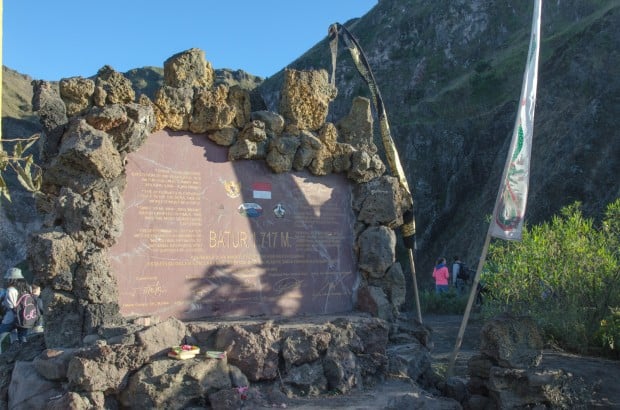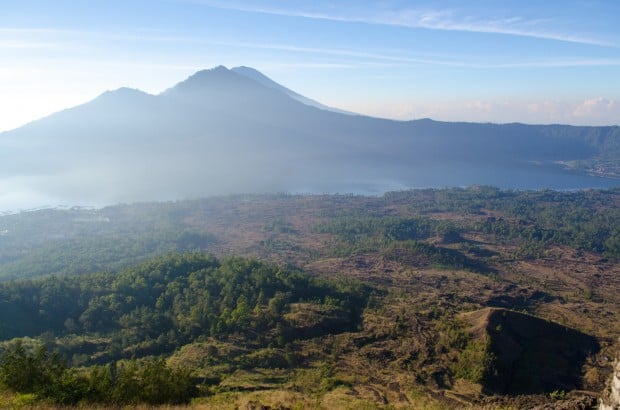 Essential information: There are many tour operators offering sunrise walks in Mount Batur and you can probably haggle it down from the IDR 500,000 (SGD48) that most operators would start with. Haggling power increases if you are booking for a bigger group of people. Do note that you will be paying more if you want to have hiking sticks, head lamps and the works for your journey. From Ubud, the pickup time is at 2am and arrival back to Ubud after the climb depends on how fast your group makes your descent but 11:00 AM or so seems to be the norm.
Also read: 5 Mountains in Indonesia with the Most Spectacular Views
Remember to check the weather forecast if you are able to play around with the date that you climb to ensure that you get a clear sunrise and make the climb fully worth its while. I did, and it paid off with a brilliant sunrise, the best in the week that was otherwise plagued with cloudy weather says my guide.
Contributed by The Wanderer's Notes.