For quite some time now, I've heard of people going beyond the cliché touristy spot that is Bali and heading to the Gili islands, which is closer to Lombok. I'm a self-proclaimed lover of Bali and all its wondrous beauty North of Kuta, but I had to see to it that I made the journey to discover the Gili islands for myself. Getting there can be quite the hassle, requiring a flight, a drive and a boat ride, so I crossed my fingers the destination would be worth it.
Also read: Tips and Tricks: Getting to Gili Islands from Bali
I originally looked at flying to Lombok to catch the ferry to Gili Trawangan (the most popular of the three islands), but the schedules weren't fantastic, the prices were kind of steep and they included layovers of up to 6 hours! Instead, I decided on a mid-morning flight to Bali and stayed a night at Seminyak, which secretly I didn't mind at all, because I had been wanting to return to Bali for months. Even a night's stay would suffice for me.
Day 1: Bali

The villa I put up at was way more than I'd expected, with a sizeable private pool and deck area; I almost wished I didn't have to leave the next morning.
After lounging in the pool and enjoying the room for a bit, I headed to Seminyak Square for dinner, not really knowing what my growling belly was craving. If you've been to that bustling stretch of road, you'll know that it's easy to find all sorts of cuisines – the trouble comes when trying to find actually good food. I took my chances on a place called Chandi Restaurant, that serves authentic local fare. I ordered a crispy duck main and an entire platter of assorted satay, complete with a mini charcoal grill at the table. I made the right choice to give the place a chance because the crispy duck was simply divine! Perfectly crisp on the outside and juicy and tender on the inside. It's definitely the kind of dish that'll give you cravings.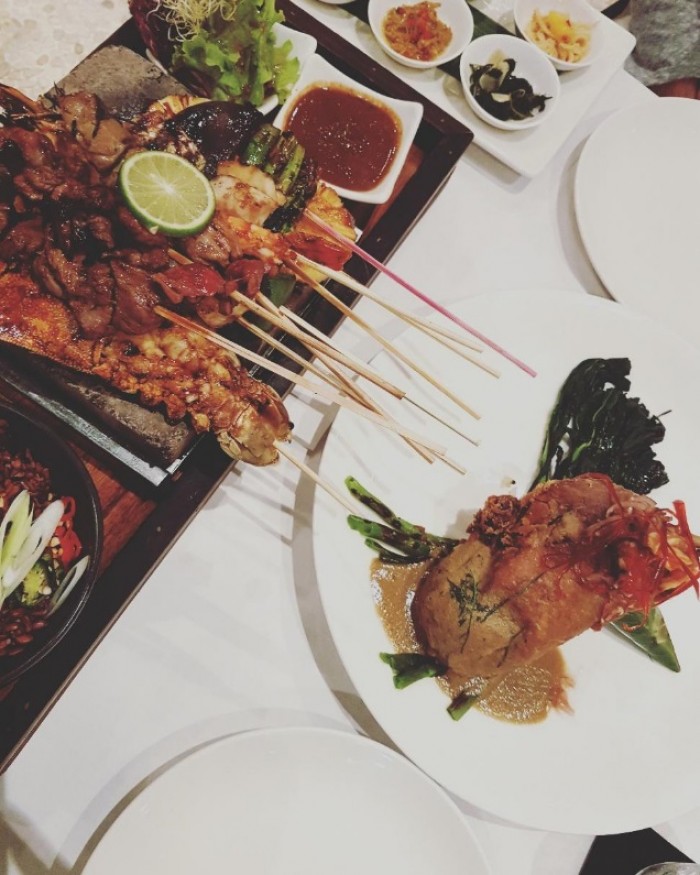 Having called it an early night, I was checked out by 7 am, when the pick-up to the ferry terminal arrived and I had about 1.5 hours of driving ahead of me before reaching the jetty. The weather in Bali wasn't very promising, with showers abound when I arrived, but I hoped that the islands would hold better weather. The boat ride was another 1.5 hours or so, with short stops at the surrounding islands before finally arriving at Gili Trawangan.
Day 2: Gili Trawangan
My first impression of the island was busy, crowded and pastoral. With the assistance of Google Maps, it read that my villa was only a 15-minute walk from the ferry terminal, so I took my chances and hiked it on foot, while taking in my surroundings. What I didn't necessarily take into consideration was the sweltering heat, coupled with my fully-packed 40-litre backpack and attempting to navigate narrow lanes made of sand and stones. By the time I found the place, I was literally a hot mess and immediately jumped into the shower and changed into my bikini. As Gili Trawangan's main mode of transport are bicycles and horse carts, I decided to stick to walking as the island itself isn't terribly huge.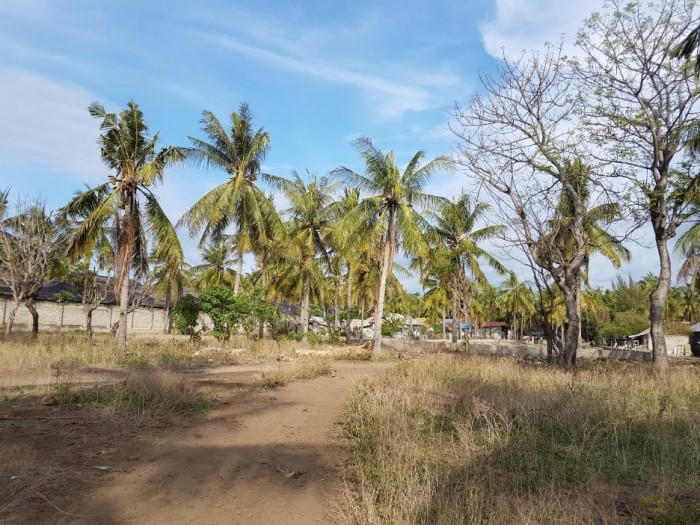 I found myself literally in locals' backyards, with them chilling in their gardens, with cows and chickens running astray and it's surely something you don't encounter often. They are very welcoming and friendly, so finding your way even when lost is really not an issue.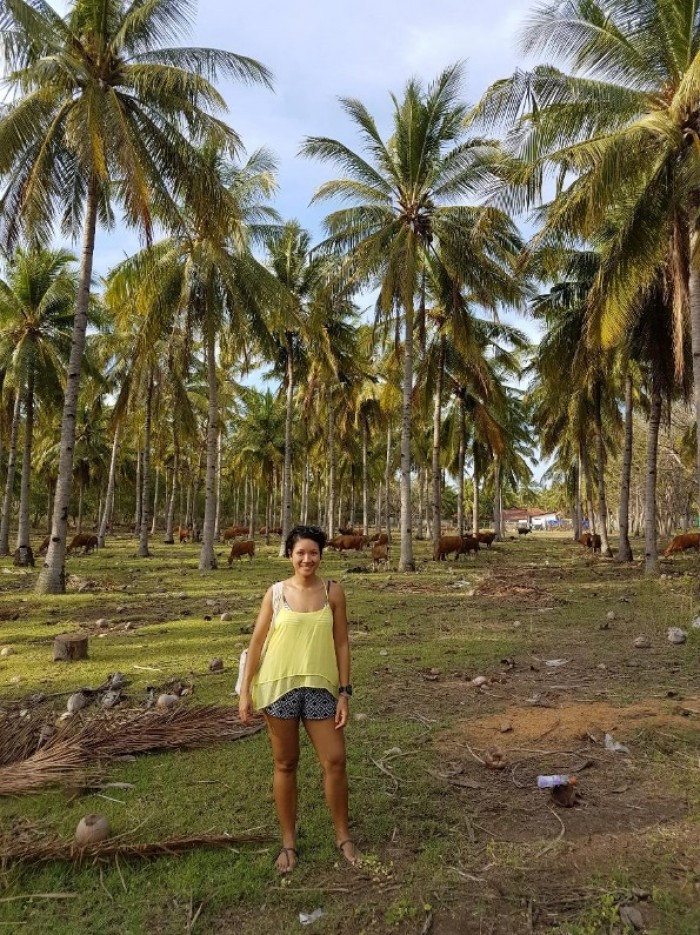 After walking for almost 2 hours or so, I headed to the West end of the island to catch the sunset and wind down for the day. Although the beach wasn't picturesque and wasn't made of soft, powdery sand, the atmosphere was worth soaking in – complete with locals bathing their horses in the sea (which is quite a spectacle!).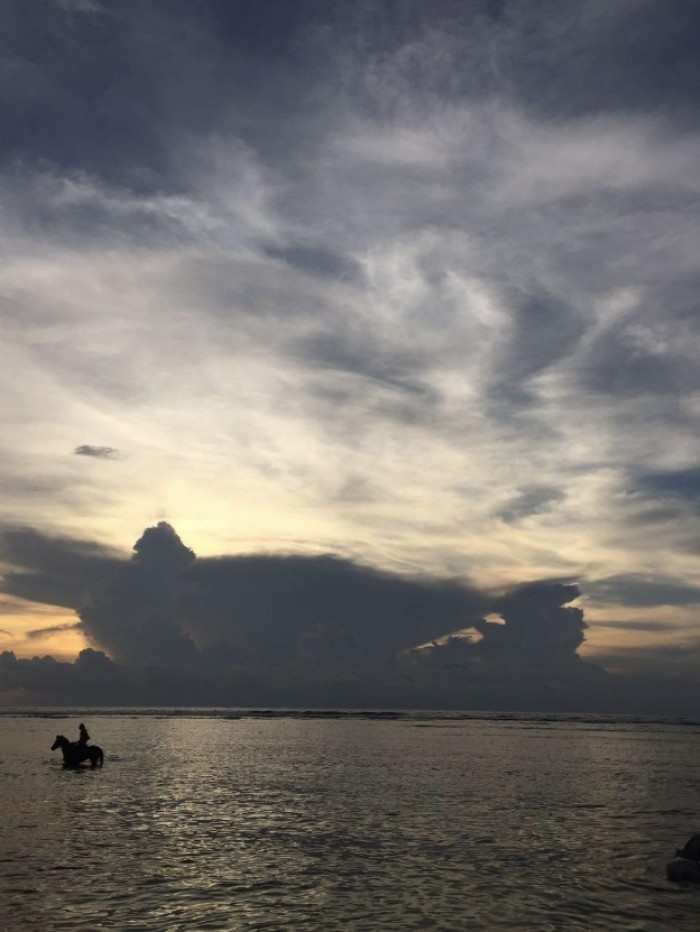 Seriously, though, isn't that a sight to behold?

As the sun set, I decided to make my way back to the other side of island, where there's a stretch of restaurants and bars that makes Gili Trawangan famous for its party scene. Unconsciously, I didn't remember to take any photos of that evening (not because I was drunk!), because I guess I was so busy taking in my surroundings and honestly quite overwhelmed when I found out what the other guides meant when they said 'party in Gili T'. Be expected to be greeted by throngs of hyped up Caucasians, swaying carelessly to heart-thumping club hits that'll drown out even your own thoughts. And then there are those wilder spirits who take it upon themselves to get on top of bar counters and tables in hopes of impressing their fellow drunk mates.
A night that I'd expected to find a cool spot to chill went up in smoke, as I resigned to my villa relatively early as I was due to hop on another ferry ride to Gili Air the next morning. At that point, I was glad I decided to stay only a night at Gili Trawangan, as my plan was to get a feel for it and if I really liked it, I'd cut my stay at Gili Air short to return and spend the rest of my vacation at Gili Trawangan. Between the Gili Islands, the boat rides take no more than 20 to 30 minutes, so I reached Gili Air around noon.
Day 3–7: Gili Air
Learning from my lesson on Gili Trawangan, I decided to take a horse cart to my villa (which cost about Rp. 100,000, which is about SGD$10) and was a leisurely 12-minute gallop from the ferry terminal. The vibe was instantly different the moment we set off towards the villa, with a sparse amount of people, a more laid-back feel to the place and all with the same warm hospitality that I was met with in Gili Trawangan.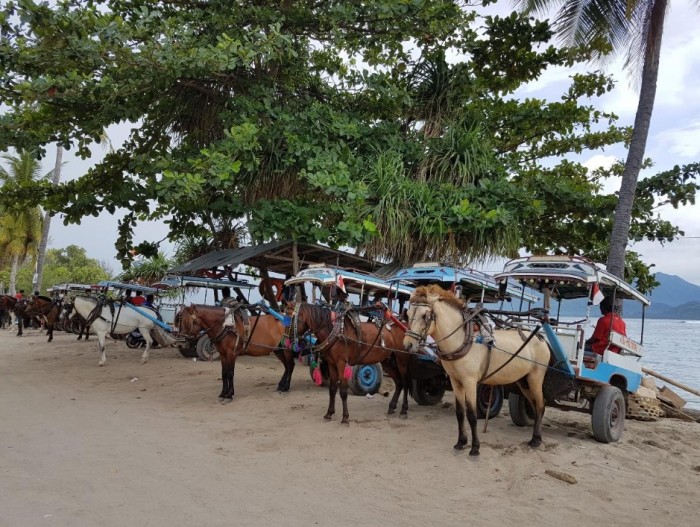 What I arrived to was definitely unexpected as I was greeted by a humble cluster of about 5 straw hut villas surrounding a quaint garden area, paved by large stones. Villa Coco Republic won me over the moment I laid eyes on it, even before I got to see the room itself! It's situated right across from the beach and I felt like I struck gold when I was told that the stretch of water that sits right outside the villa is popular for spotting turtles when snorkelling.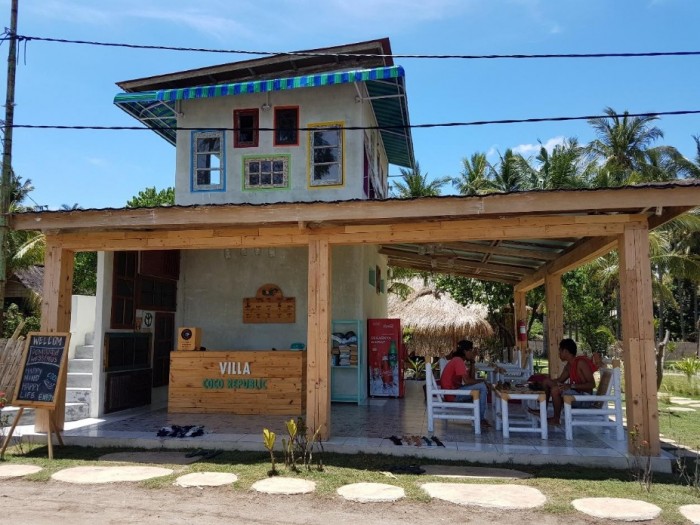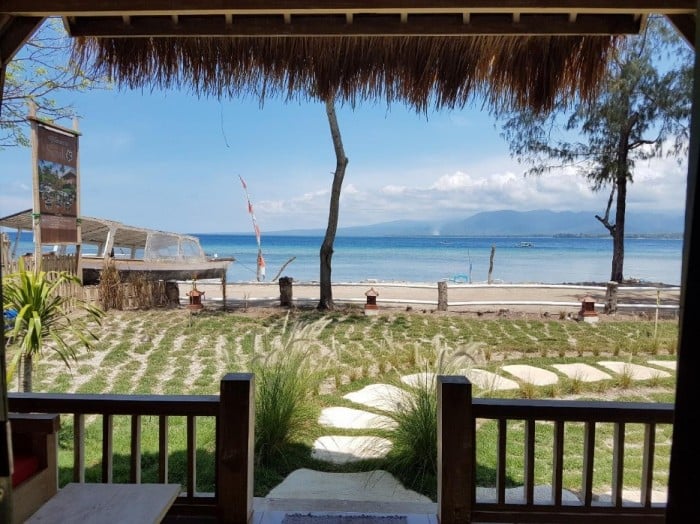 When I headed to my villa, it was even better than I'd expected – with a spacious interior and outdoor bathroom that'll make you look forward to shower time, all the time. First order of business, was to change into my bikini, slather on some sunblock and head to the next-door shop (that is also owned by the villa) that rents out snorkelling gear and bicycles, as well as boat trips to the surrounding islands. I must add, that at this point, although I had only booked Villa Coco Republic for two nights, I knew instantly I'd enjoy myself here that I went ahead and extended my stay immediately. With that settled, I rented snorkelling gear for the day and a 4-day bicycle rental for ease of transport. The prices aren't too shabby, with a full-day snorkel rental about SGD$7 and less than SGD$30 for the bicycle for 4 days.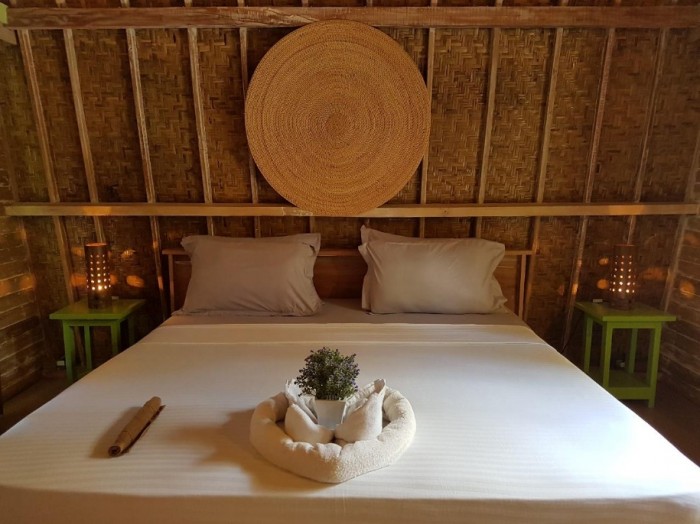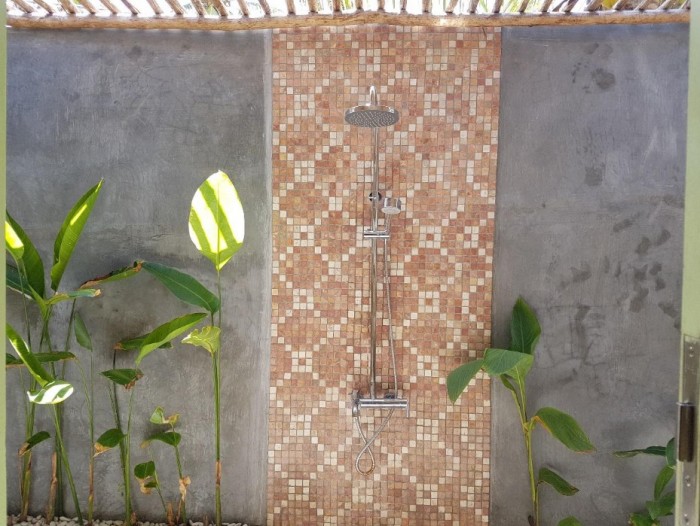 I stripped down to my bikini and headed straight out to the reefs. The beach is made up of broken coral, so by no means is it one where you'd want to lay out a picnic mat and have a lie-down. Also, watch out for sea urchins close to the shore as they can be quite well-hidden. But once you get further out, you'll be greeted by some of the most colourful and liveliest fishes I've witnessed while snorkelling, especially so close to shore. The corals themselves aren't impressive, but I was pleasantly surprised to find it teeming with so much marine life! There were handfuls of schools of fishes swimming, feeding, hiding, loitering… you name it.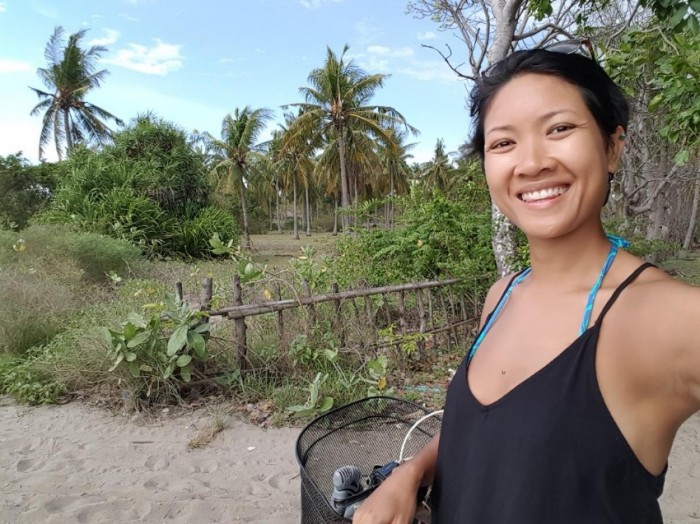 The rest of the day was spent on my bicycle cycling along the coastline to get a better sense of the island and it was lined with an endless stretch of beach bars and restaurants, that you're sure to never go hungry. Most of the places serve relatively the same types of dishes, especially grilled seafood and local Indonesian fare; all you have to do is decide which one draws you in with their vibe and décor. As the sun sets around 6.30 pm, I pulled my bicycle up to this really cool bar called Mowies Gili Air, Bar and Bungalows, that sets up rows and rows of bean bags on the beach for people to have a pint while watching dusk settle into the horizon.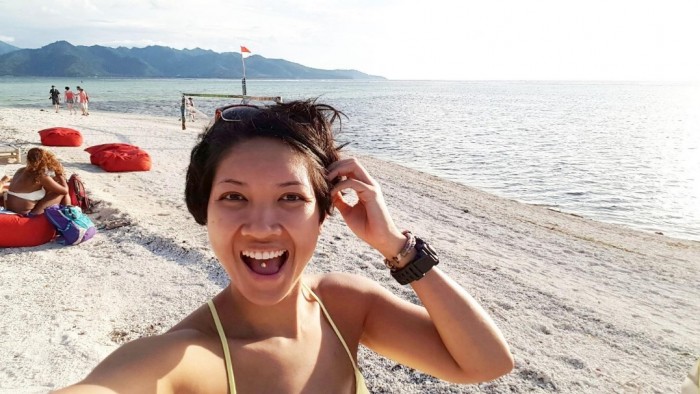 The menu here offers diners loads of healthy options, from gluten-free, vegetarian and even raw vegan dishes! Definitely an impressive selection, considering I'm cast away (okay, not literally) on a remote island.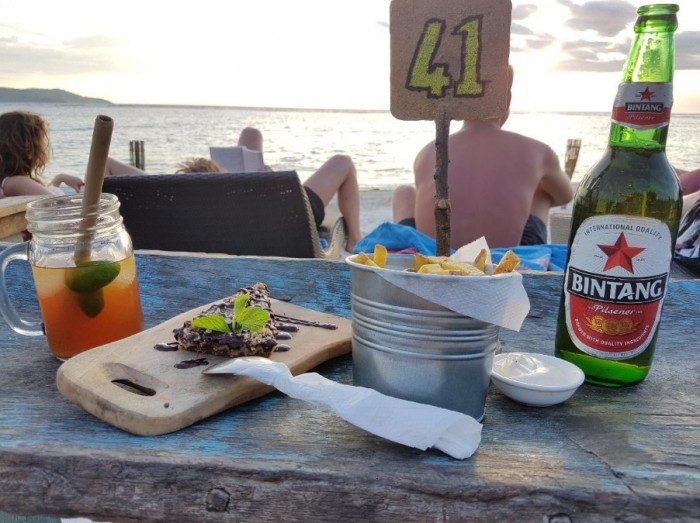 I was feeling utterly relaxed and content watching the light fade into the distance, as the moon rose above all of us. I stayed on a little longer till it got dark before getting on my bicycle to find a hearty dinner. The rest of my 3 days at Gili Air were just as care-free, with more snorkelling, cycling, sun tanning, eating and a wee bit of working. There are two places I'd recommend to check out for food, one being Scallywags Beach Club, which serves freshly grilled meats with a buffet of sides during dinner. You have the option of dining on the sandy beach itself, for a romantic night out.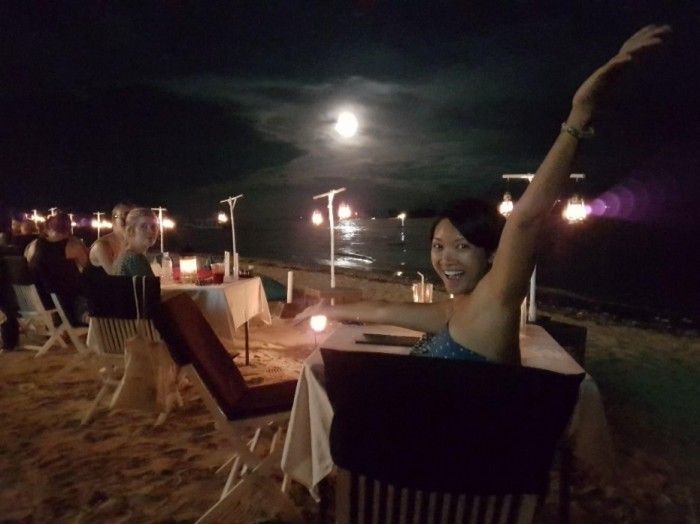 The other place I stumbled upon on my last day at Gili Air, when I was casually riding my bicycle and not enjoying the bad bout of cloudy weather. Sunrise Resort was the place, and I was praying that it would satisfy my growling belly because I hadn't had a bite since breakfast and it was already past 4pm I wasn't disappointed when I ordered the Nicoise salad and a fat, juicy burger with guacamole and jalapeno.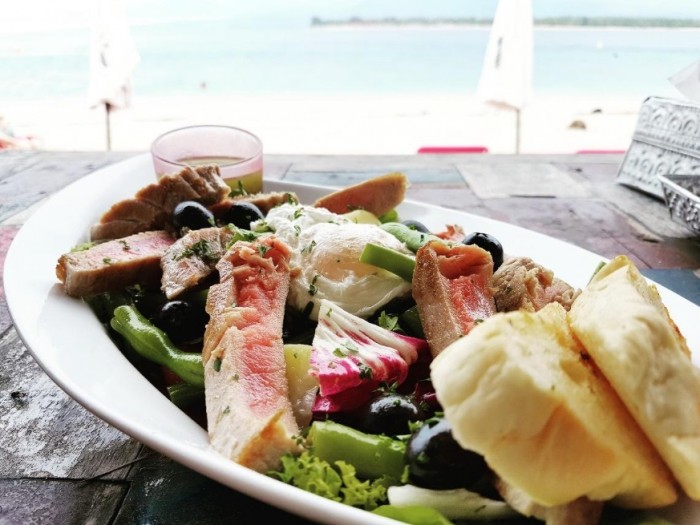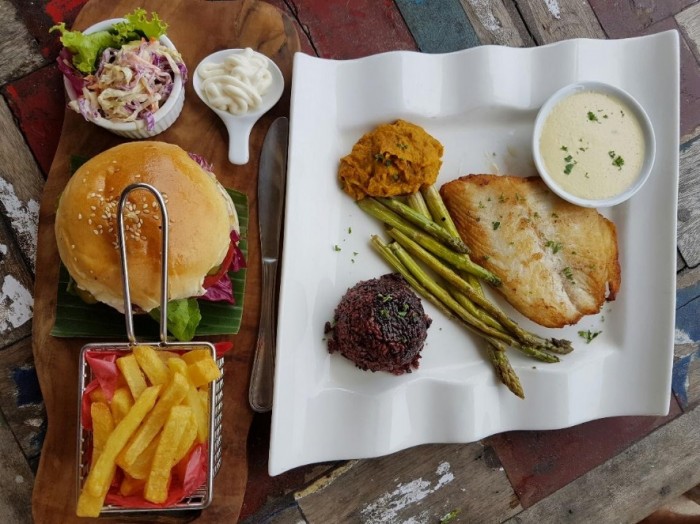 For those of you who are slightly more health conscious, even on vacation, you'll love to know that there's a place called Pachamama Organic Café that serves all-day breakfast starting from 10 am. I skipped one of my already-included breakfast sets to hunt for this place because I discovered it was barely a 5-minute walk from where I stayed. The café is hidden but well worth the visit because they serve such gloriously delicious sounding mains, and even more exotic smoothies and coffee roasts. I settled for a breakfast wrap with egg white scramble, slaw and cherry tomatoes and a cup of Lombok coffee with coconut oil. Yes, coconut oil in my coffee. The first sip wasn't very pleasant because I had to overcome an unfamiliar oily feel from drinking one of my favourite beverages in the world. But the more I drank it, the more I loved it!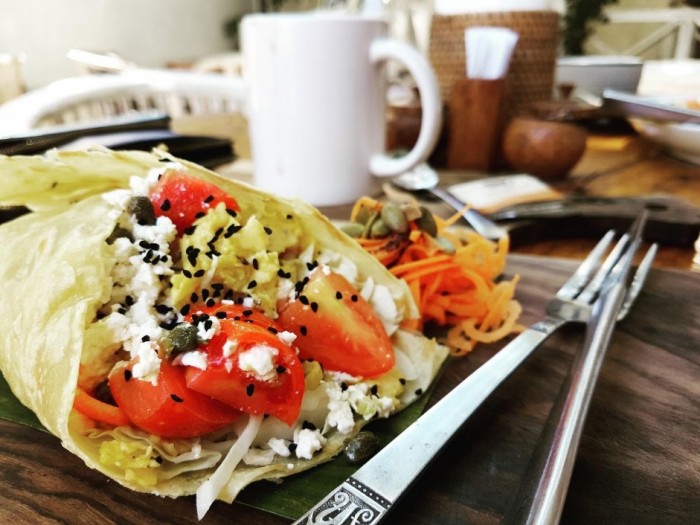 All in all, after 4 days on Gili Air, I was glad that to have taken the extra effort to make my way to this island. Of course, besides being a beach bum, the more adventurous travellers can take up diving courses, freediving courses and snorkelling trips. Sadly, there aren't many sea sport activities to take up like the usual banana boat rides, jet skiing, parasailing, etc. But I'm also glad there aren't, because we get to see the pristine water and take in the calmness of the surrounding nature.
A few handy tips I would give to those thinking of travelling to Gili Air, would be to stock up on mosquito repellent, plenty of sun block and be mentally prepared to be technologically disconnected. There is Wi-Fi available in the villa I stayed at, and at many cafés and restaurants, but it can prove to be quite a challenge to be constantly connected. Also, as the island is powered by the mainland (i.e. Lombok), if there's a blackout, it affects the entire island, so you'll just have to ride out the darkness (which can be quite serene with a full moon above).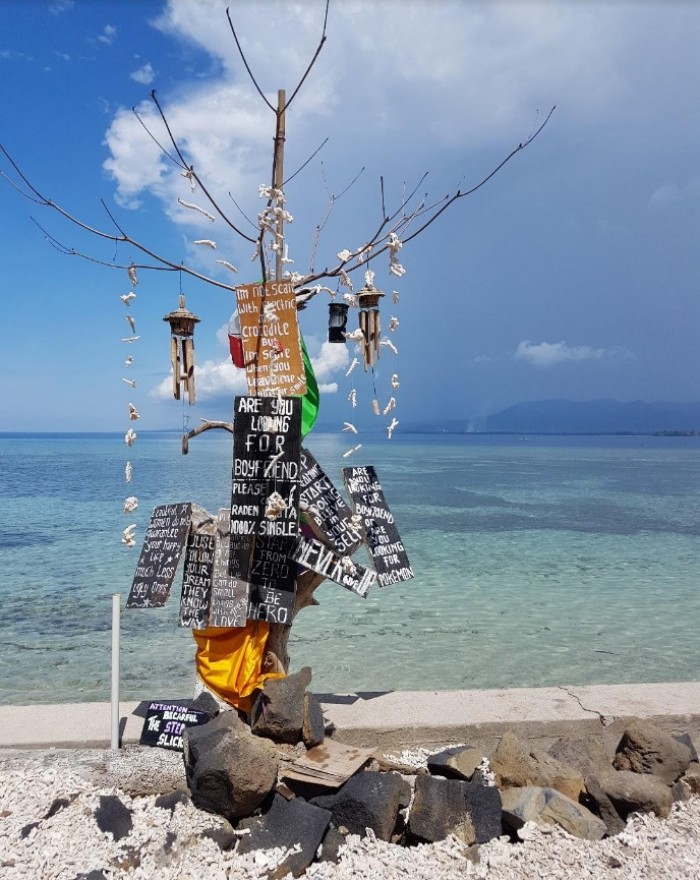 Also read: 7 Reasons to Explore the Gili Islands
The time it takes to get to any of the Gili Islands is a little lengthy from Singapore, but well worth the extra patience, especially when the only really expensive expenditure is the flight out. The ferry ride, accommodation, expenses and activities are very affordable in comparison to many other bigger, more touristy islands in the region, and the location in itself makes for a great getaway to truly disengage and de-stress.