Not a fan of vacation destinations swarming with tourists, but unsure of where else to head to in Asia? Tired of the same old feasting on ramen in Tokyo? Cosmetic shopping in Seoul? Frolicking on the beaches of Bali? We know, you've been there and done it all before. Well, we're here to change that!
If you're itching to head somewhere you've never been that will push you out of your comfort zone and discover the extraordinary, here's a list of 5 underrated destinations around Asia to inspire you.
1. Bagan, Myanmar
Skip touristy Yangon and say hello or min-ga-la-ba to Bagan, a sleepy, quiet town located in the Mandalay region of Myanmar!
Bagan can be divided roughly into three areas: Old Bagan, New Bagan and Nyaung U. Most visitors will be in Nyaung U when they arrive, be it at the ferry or bus terminal. Nyaung U is the "city" part of Bagan where there is more activity and a livelier atmosphere.
Old Bagan is where you'll find yourself in the thick of temples that most certainly cannot all be explored within a day. For those who love shopping, Myinkaba – which is just south of Old Bagan – is your best bet. You'll find all sorts of trinkets and crafts to take home, such as famous traditional Mon-style lacquerware. You can also do handicraft shopping at New Bagan, although the range will not be as extensive as what you'll find down at Myinkaba!
Bagan Plains
Also known as the Bagan Archaeological Area, the landscape of Bagan consists of seemingly endless plains that are dotted with over 2,000 Buddhist monuments. It is one of the richest archaeological sites in Asia and the views here are certainly like no other!
Bagan is an interesting place to explore not only because of the beauty and mystery that shrouds it. Its rich culture and history present in the architecture of the magnificent temples, also proves the artistic skill of Myanmar craftsmanship.
As you romp around the temple grounds (real-life version of temple run!) look out for the two distinctive styles of temples: the stupa-style solid temple and the gu-style hollow temple. The stupa-style temples have a stupa on top, which look like bells whereas the gu-style temples are square-ish and appear to have "stacked" roofs.
Cost: The entrance fee to Bagan costs MMK25,000 which roughly amounts to SGD25.
How to get there: Take an overnight bus from Yangon. Check out this link for bus tickets.
Nyaung U Market
Nyaung U Market is the village's main market, and an excellent place to make a new local friend. Here, you can mingle with the residents and get a glimpse into their everyday lives. The market sells nearly everything – from fresh vegetables, fruits, poultry to products such as rattan-made handicrafts, longyi (traditional costumes), tea leaves (a Myanmar specialty) and other daily necessities.
You will even see vendors selling a "natural cosmetic", thanakha, that the people in Myanmar wear on their cheeks and forehead. Thanakha is made by grinding the bark of the Wood Apple tree on a wetted stone slab. The Myanmar people believe that thanakha acts as an effective sunscreen which helps to tighten the skin and prevent oiliness. A new skincare product to try out, perhaps?
Cost: FREE
How to get there: Take a taxi or e-bike, where the market is roughly 4km from Old Bagan.
2. Flores, Indonesia
With a namesake that's derived from "flowers" in Portuguese, Flores is an island located to the east of Sumbawa and Komodo, and the west of Lembata and Alor Archipelago. This hidden gem is filled with so many postcard-perfect views that once you've set foot on this place, you'll find it terribly hard to leave!
Here are some of our top places to visit while you're there:
Komodo National Park
Komodo National Park is a national park in Indonesia that, like Flores, is also located within the Lesser Sunda Islands. The park includes twenty-six small islands along with three larger islands known as Komodo, Padar and Rinca. The national park was officially founded in 1980 to protect the world's largest lizard, the Komodo dragon, before being declared as a UNESCO World Heritage Site in 1991!
Be prepared to have your mind completely blown away at the rich greens and blues that the park has to offer. If you're a nature lover who is all about travelling through off the beaten paths, get to see different animals besides the komodo dragons that include water buffalos, wild boars and crab-eating macaques up close as you explore the island. If you're up for a greater adventure, hop on a boat trip out to snorkel or dive and see the extensive plethora of coral and marine life!
Cost: IDR20,000 (~S$2.00), ticket is valid for three days
How to get there: Take a flight from Bali to Labuan Bajo and take a boat tour to the islands.
Mount Kelimutu
Mount Kelimutu is a volcano in Flores that is 1,639m tall and is famous for its beautiful tri-coloured lakes. The mountain has volcanic crater lakes that change colour according to different chemical reactions within the craters.
The locals consider the lakes to be the resting place of departed souls, with each lake being known by separate names: Tiwu Ata Mbupu (Lake of Old People or Ancestors), Tiwu Nuwa Muri Koo Fai (Lake of Young Men and Maidens) and Tiwu Ata Polo (Bewitched Lake). The Lake of Old People or Ancestors is usually black or blue, while the other two lakes, Lake of Young Men and Maidens and Bewitched Lake, are separated by a shared crater wall and are typically turquoise-green, red or dark green. However, the lakes can also turn black and white due to different chemical reactions!
How cool is it to see three different coloured crater lakes side by side? This amazing natural phenomena is definitely one to check off the bucket list!
A life-changing moment for all explorers would probably be to catch the sunrise over the crater lake of Kelimutu. The hike takes about 20 minutes and is relatively easy. Stay the night before at Moni village and leave early in the morning with a local guide if you wish. Don't forget to bring a jacket as it gets cold early in the morning. If you are able to, give the local coffee a try! You will find local vendors at the summit selling traditional coffees made with ginger for a strong oomph to kickstart your morning and warm your soul.
Cost: IDR20,000 (~S$2.00)
How to get there: By car or taxi, the turning to Kelimutu National Park is about 5 minutes outside the village of Moni on the way to Ende. It's about a 30-minutes' drive up the road to the car park.
Spider Web Rice Fields
You can find unique rice fields planted in the shape of a "spider web" in Manggarai, which is in Western Flores. Long before wet rice cultivation, the Manggaraian people grew dry rice, corn and tubers in the fields. Although it has adapted to common wet-rice cultivation today, the fields still offer an interesting glimpse into the methods of farming and how the locals lead their everyday life.
Cost: FREE but a small donation is expected when you pass through the village
How to get there: Cancar is easily reachable from Ruteng by motorbike or car. From the terminal in Cancar, it is about a 1km walk to the viewing point in Cara Village.
3. Luang Prabang, Laos
Laos is often one of the forgotten places of interest when it comes to deciding on a holiday vacation in Southeast Asia. Many usually go for its more popular neighbours such as Vietnam or Thailand, with the common misconception that Laos has nothing much to offer. If you're looking for a place that's off the beaten path, why not check out the area of Luang Prabang that's just excellent for learning about a new culture?
Situated in northern Laos, did you know that Luang Prabang became a designated UNESCO World Heritage Site in 1995? Here are some places to check out while you're there:
Royal Palace
Officially named "Haw Kham", the Royal Palace in Luang Prabang was built in 1904 during the French colonial era for the king and his family. The site was chosen as official visitors could disembark from their river voyages and be received directly at the palace grounds. After the monarchy was overthrown, the Royal Palace was converted into a national museum, which exhibits royal religious items that date back centuries ago, as well as the crown jewels of Laos in the mirrored Throne Hall.
Cost: LAK30,000 (~S$5)
How to get there: Hop on a tuktuk or just take a 15-minute walk from downtown Luang Prabang.
Mount Phousi
Situated right in the centre of town is Mount Phousi. At 150m, this distinctive structure is what makes the Luang Prabang's skyline unique. To get to the summit, climb the Thanon Phousi staircase, which consists of 355 steps that zigzag all the way to the top and you'll be greeted with the golden That Chomsi stupa. Here, you can buy some flowers to offer as blessings, or release caged birds, as they are said to bring good luck!
Mount Phousi is a popular spot for watching the sunrise or sunset over the Mekong River, as you'll get to enjoy a stunning panoramic outlook across the city and its temple grounds, against the vast backdrop of its lush mountainous landscape.
Cost: LAK20,000 (~S$3.20)
How to get there: There are two ways to scaling Mt Phousi. (I) Access via Sisavangvong road, opposite the Royal Palace Museum; or (II) Take the Thanon Phousi stairway with a total of 355 steps and several viewpoints along the way to the top.
Wat Xieng Thong Temple
There are plenty of temples to visit throughout Luang Prabang, but one of the more significant ones that warrant a must-see would be Wat Xieng Thong or 'Golden Tree Monastery". Wat Xieng Thong is one of the most important monasteries and temples in Luang Prabang, as it is a significant monument that represents the values the country holds dear, such as the spirit of religion, royalty and traditional art.
The temple or wat, is also considered to be an important representative of Laos craft. These structures are carefully crafted, carved and embellished with intricate detailing such as gilded wooden doors that depict scenes from Buddha's life, to the rear gable being decorated with glass mosaics.
Besides the main temple structure, you will also find on the grounds of Wat Xieng Thong, various other shrines, pavilions and gardens adorned with various flowers, ornamental shrubs and trees, making this a tranquil and peaceful place ideal for quiet contemplation.
Cost: LAK20,000 (~S$3.20)
How to get there: 15-20 minutes' walk from the Royal Palace, hop on a tuktuk if you're feeling tired since there isn't public transportation here.
4. Ninh Bình, Vietnam
Gorgeous Ninh Bình promises an invigorating escape into nature, away from the bustling streets of Hanoi and Ho Chi Minh City. From National Parks, to quaint little temples, museum complexes, and dramatic karst rock landscapes dotting endless fields of green and yellow rice fields, Ninh Bình's exceptional beauty gives tourists an authentic taste of rural Vietnam.
Tam Coc & Trang An
Tam Coc promises dreamy landscapes where the seemingly endless paddy fields are surrounded by majestic karst limestone cliffs. In the middle, rests a meandering, tranquil lake that trails off into the horizon – what a picture perfect view! To best explore Tam Coc, rent a bicycle to tour the paradisiac surroundings or go for a boat ride, where local women will paddle you slowly through caves and paddy fields.
For a quieter and more localised experience, go for a boat ride at Trang An Grottoes. Head down the different connecting lakes for a breathtaking view of the numerous cross-water caves and mountainous valleys that spread across this region.
Cost: Prices differ from different vendors but a rough gauge would be:
Boat ride (Tam Coc): VND150,000 (~S$9.00) for adult and VND120,000 (~S$7.20) for child
Boat ride (Trang An): VND200,000 (~S$12.00) for adult and VND100,000 (~S$6.00) for child
How to get there: Take a taxi to your destination as public transport is not available.
Hoa Lư Ancient Capital
Hoa Lư is one of the most popular destinations in the Ninh Bình province, where you'll get to see temples of the Ðinh and Lê dynasties. In the late 10th century, Hoa Lư was the capital as well as the political, economic and cultural centre used by the Dai Co Viet, the Ðinh, and Lê dynasties.
The Hoa Lư area include remains of both the inner and outer citadels, palaces, temples and shrines, so there's plenty to walk through and wander around for a slow meander through the past!
Cost: VND100,000 (~S$6.00)
How to get there: For the fastest route, take a 30 minute taxi or car ride.
Van Long Nature Reserve
Van Long is nicknamed "bay without waves" because of the still waters that perfectly reflect the clouds and mountains. Cradled amongst more glorious limestone pinnacles, this tranquil nature reserve boasts a lovely wetland view that is superb for bird watching and bamboo boat tours through caves and hiking.
The Wetland Reserve covers more than 3,000 hectares in the Gia Vien district and is a popular eco-tourism location for its untouched natural beauty and lush flora and fauna. Did you know that this reserve is also the largest in Northern Vietnam? Do come during the summer, where you'll see numerous lotus blooms bobbing along the surface of the waters!
Nature lovers will definitely love their time here at Van Long as there is just so much to see and explore. Keep a look out for the Delacour's Langur which is a rare endangered species that can be spotted with the naked eye, here. The largest colony lives up in the Hoang Quyen mountain, so make sure to pay a visit to spot them!
Cost: VND15,000 (~S$0.90)
How to get there: Book a one day tour with tour operators, that comes with a guide and entrance fees included.
5. Nagano, Japan
Up in the mountainous regions of Japan lies the region of Nagano. A picturesque place to feast your eyes on spectacular mountainscapes of the Japanese Alps, and the surrounding forests and lakes, as well as to get your fill of air that's clean, crisp and fresh. You will definitely have no regrets in swapping out the crowded streets and touristy attractions of Tokyo, Kyoto and Osaka for a trip to one of Japan's best kept secrets!
Azumino's Daio Wasabi Farm
What's a visit to Japan without shamelessly pigging out on delicious Japanese cuisine? If you're a lover of wasabi, the quintessential condiment that is often paired with sushi and sashimi, then you definitely have to make a trip down to Daio Wasabi Farm where you'll encounter acres of wasabi plantation and learn how wasabi is farmed.
Did you know that the wasabi here are grown with water from the Japanese Alps? You can also try out different sorts of wasabi dishes at the eateries here, like wasabi beer, wasabi soba noodles and even wasabi soft serve ice cream!
Cost: FREE
How to get there: Take a train to Hotaka Station and hop on a taxi, or rent a bicycle and take a 10-15 minute ride out to the farm. A slow walk takes 30 minutes.
Norikura Highlands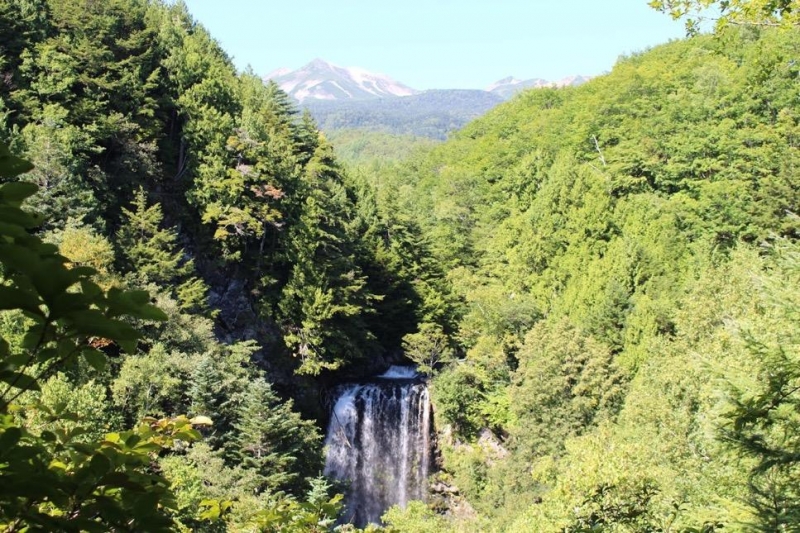 Norikura Highlands is located in between the Gifu and Nagano prefecture, and it is definitely a must-visit whilst in Nagano. Boasting scenic views at every corner of your hike, be sure to have your camera ready to snap away! Enjoy the lush green landscapes, splendid view of the Japanese Alps in the far distance, and numerous waterfalls and lakes throughout.
One of the top landmarks here is Zengoro Falls, nestled amongst thick vegetation and Mt. Norikura in the backdrop. If you're lucky, you'll even get to see a rainbow form at the foot of the falls on a sunny day, from the mist created at the bottom of the waterfalls. During winter, the whole waterfall is frozen solid, and people travel from all over the world to engage in the rather epic sport of ice-climbing!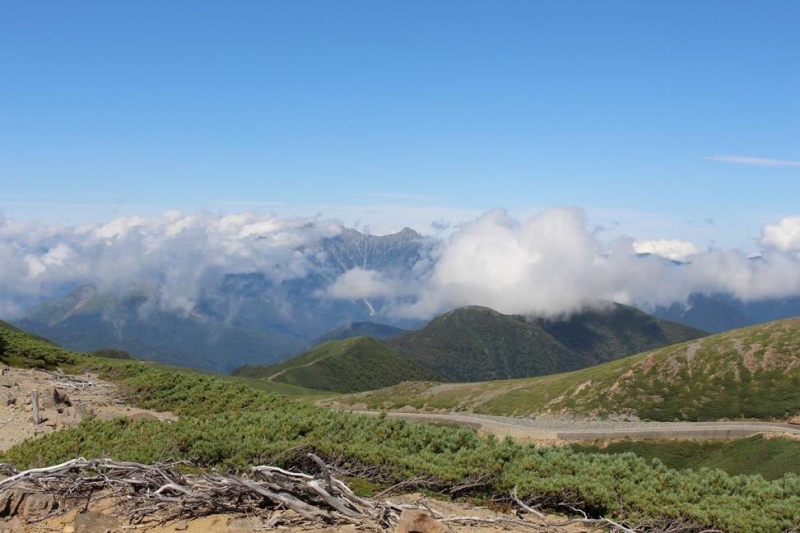 Continue your hike and take a bus up to the highest bus stop in Japan, which is the Norikura bus terminal! Then continue to make your way up Mt. Mao of Mt. Norikura where you'll get to savour the majestic beauty and sights from way up above the clouds that will truly take your breath away!
Cost: FREE, bus tickets can be bought at Matsumoto, Shinshimashima and Kamikochi Bus Terminals or Norikura Highlands Tourist Centre. There's also a 2-day transport passport that is definitely worth getting when travelling the area.  
How to get there:
To Norikura region and Zengoro Falls: Take the Matsumoto Dentetsu (Alpico Railway) from Matsumoto Station to Shin-shimashima Station, then change to a bus heading towards Norikura Highlands and alight at Suzuran-bashi bus stop.
To the peak: Take a 50 minute bus ride along the Norikura Echo Line route – from Norikura Tourist Center to Norikura Peak.
Kamikochi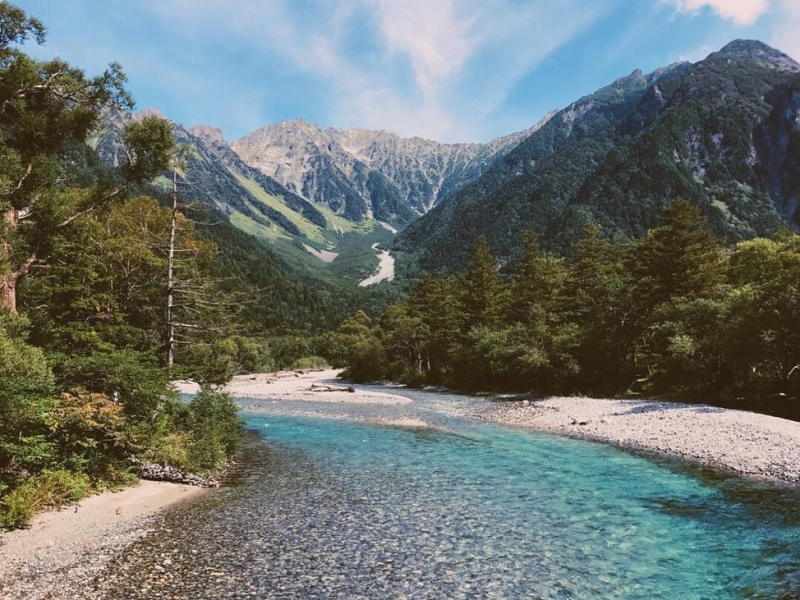 Along with Norikura, picturesque and remote Kamikochi is one of the top attractions in Nagano as well. Did you know that the Kamikochi area was designated as the Chubu Sangaku National Park in 1934?
In order to maintain the park's pristine nature, private cars are banned from entering the area and access is only possible via Alpico buses or taxis. From spectacular mountains to valleys and deep, clear blue lakes, this place is a godsend for us city folks indeed! Do note that the National Park is closed during winter (16 November – 16 April).
First up, visit the Kappa Bridge! Named after the mythical Kappa river monster, legend has it that the Kappa monster would drown people by luring them into the water and pulling them in. The Kappa bridge crosses over the Azusa river – a gloriously pretty, turquoise stream that shimmers in the sun. The view from Kappa Bridge is something that's just sublime. Blue waters, lush forests and the magnificent Japanese Alps – what a sight to behold indeed! As you continue to hike the trail, you will go through Dakesawa Wetlands. Take your time to walk along the boardwalks, with an occasional stop to admire the beautiful flora and fauna.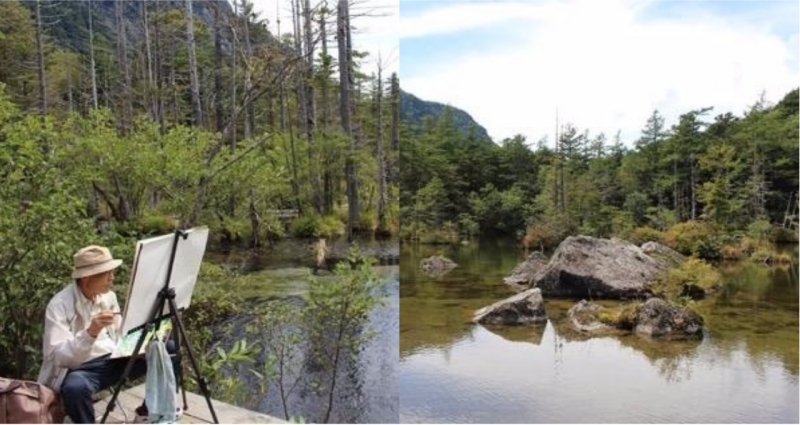 Continue on your hike to the stunning, tranquil Myojin-pond, which exemplifies the peace and tranquility of Japanese Zen. A crystal clear pond set in the midst of temperate trees and rocks, this place is so inspiring that you'll find artists spending their afternoons simply soaking up the atmosphere and painting away. Myojin pond is also a great spot to admire the autumn foliage when fall season is in full swing!
Cost: JPY300 (~S$3.70)
How to get there: You'll have to take a long hike from Kappa Bridge to get here, just follow the trail and signs along the way!
Are you sold yet? We guarantee that you will be filled with a sense of wonder and awe as you take in the beauty of these undiscovered gems. After all, the best adventures are usually found down paths that few have trodden, so why not go forth and take the road less travelled today?
---
Brought to you by HSBC Credit Cards.