Once known as the 'Jewel of Africa' with one of the strongest economies in the world, Zimbabwe is now a shadow of its former self as the country battled economic and political crises over the past few decades. Tourism in general has also been affected as I saw very few foreign travellers once I left Victoria Falls during my 17-day backpacking trip in the country. My experience there has been nothing short of amazing as I met some of most friendly and upbeat people (despite their circumstances) and saw a mix of breathtaking landscapes and historical sites.
Places to visit in Zimbabwe:
Victoria Falls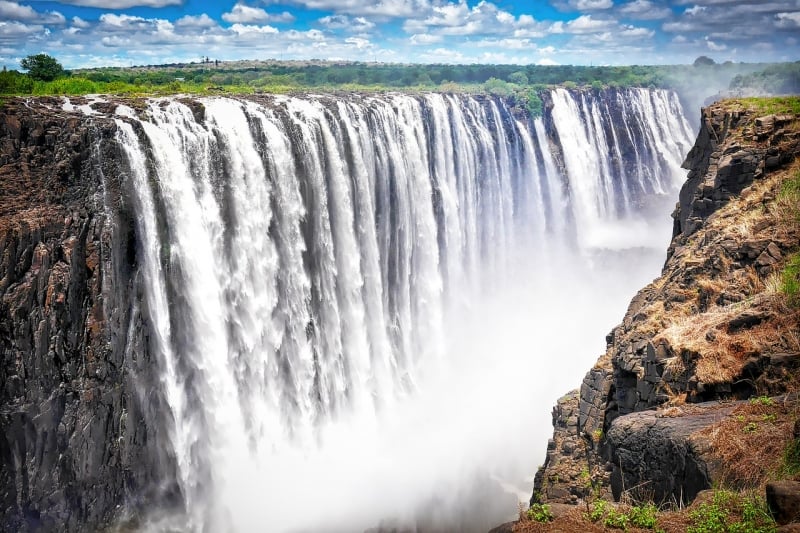 One of the Seven Natural Wonders in the world, Victoria Falls is considered to be the largest waterfall in the world (in terms of its mass). You can view the falls from either Zimbabwe or Zambia with Zimbabwe having more viewpoints of the falls.
For those who wish to do a day trip to Zambia to view the falls, you can purchase the 'Day Tripper Visa' which is USD20. Alternatively, you can do what I did which is to walk past the border to the railway bridge (free of charge). This gives you an opportunity to have a closer glimpse of Zambia and witness thrill seekers bungee jump off the bridge. If your budget permits, there are also many activities that you can do in and around Victoria Falls.
I did a day trip to Chobe National Park in Botswana (USD170) and White Water Rafting (USD130) on the Zambezi river which is rated as one of the best in the world with some of the finest Grade 5 rapids. You need to have a certain level of fitness as the climb down and up the gorge is not a walk in the park! I stayed at Victoria Falls Backpacker (USD18 for dorms) which was lovely and had friendly staff. The downside was that the hostel was a 20-minute walk from town.
Harare
From Victoria Falls, I moved on to Harare. There is only 1 bus per day (USD20, 12-hour ride) which leaves at 8pm from Victoria Falls to Harare, so be sure not to miss it. Harare is the capital of Zimbabwe and is commonly used as a stopover. I did an afternoon walking tour (USD25) to downtown Harare and we visited historical buildings such as the Parliament, The High Court, various churches and Mbare Musika (a local market).
I stayed at Small World Backpackers Lodge Avondale (USD15 for dorms) and they can get you in contact with a guide who does walking tours. There are local buses which leave frequently for Mutare (USD 7, 4-hour ride) at the Fourth Street Bus Terminal.
The Eastern Highlands
Stretching 300km down the east of Zimbabwe and bordering Mozambique, the Eastern Highlands has an abundance of natural beauty and greenery.
The region can be split into 3 distinct areas:  
(i) Nyanga National Park
Nyanga National Park is home to Mount Nyangani, the highest mountain in the country, and numerous waterfalls (including Mutarazi Falls – 2nd highest in Africa).
(ii) Bvumba Mountains
The Bvumba Mountains provide an awesome bird's eye view of Mozambique.
(iii) Chimanimani National Park
Chimanimani National Park is a hiker's haven with granite peaks to climb, caves to explore and pools to relax in.
Mutare is a good base to stay to get information for Eastern Highlands and to travel around the Eastern Highlands. I stayed at Ann Bruce Backpacker (USD15 for dorms) and organised a 1-day tour to Bvumba (USD35 for transportation + tips for the guide) from there. I also enquired about Nyanga  and went with the same guide (tips for guide) from Ann Bruce.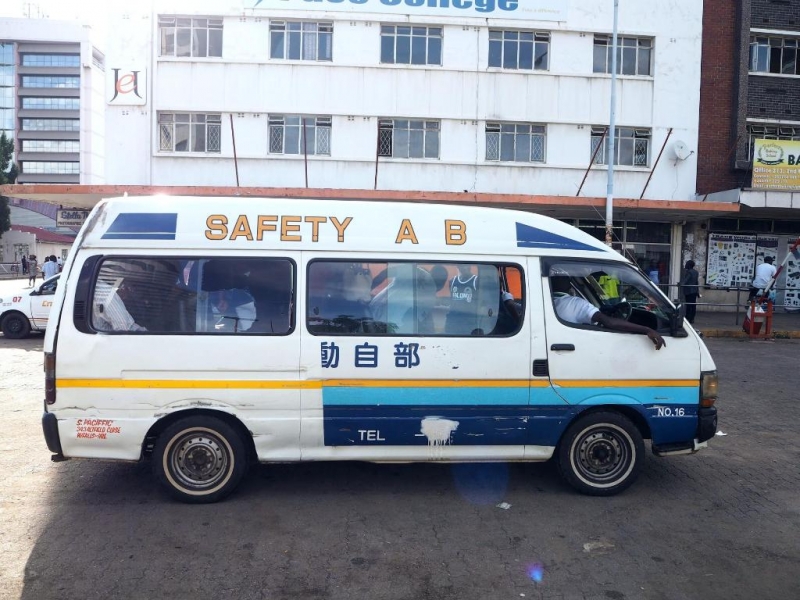 We took a kombi (shared taxi) to Nyanga National Park (USD5) and hitchhiked / walked within the park.  I camped there for 1 night. From Mutare, I took a kombi to Chimanimani (USD5) where I stayed at Heaven's Lodge (USD10 for dorms). At there, I arranged a guide to go hiking in the mountains for 3D2N (USD20 per day for guiding fee + USD20 for the transportation). From Chimanimani, I took 3 kombis (USD10 in total) before reaching Masvingo. If your luck is better than mine, you might be able to find a direct ride! The Eastern Highlands was definitely the highlight of my stay!
Great Zimbabwe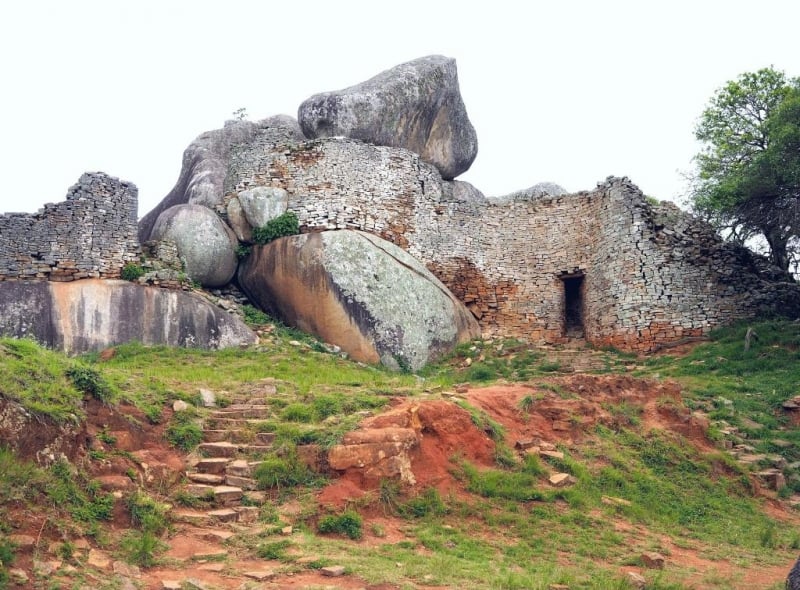 The ruins are some of the largest and oldest in Southern Africa and this is the place which gave the country its name (the name 'Zimbabwe' means 'house of stone' in Shona). It was impressive to see the ruins on a boulder-strewn hill ('Hill Complex').
To go to Great Zimbabwe from Masvingo, take a shared car from Hughes Street opposite Pick n Pay (USD2). The car will drop you at the Great Zimbabwe Hotel where you have to walk for 2km. On going back, walk back to the main road (via the hotel). There are many cars or kombis (USD 1.50) which will go to Masvingo. I stayed at Backpacker Rest (USD11 for dorms) in Masvingo – helpful staff but the place is quite run-down. Only stay there if you don't have a choice. I read that there is also budget accommodation in the compounds of Great Zimbabwe. From Masvingo, I took a direct bus to Bulawayo (USD7, 5-hour ride).
Bulawayo
Bulawayo is the second biggest city after the capital. I visited Matobo National Park (35km from Bulawayo) to see the balancing rock formations, thousand-year-old bushman paintings and World's End (where Cecil Rhodes's grave is). In Bulawayo, I visited the Natural History Museum which offers many insights on the natural world of Zimbabwe and Southern Africa. I also explored the city centre by foot – this is where the city hall, old colonial buildings and local markets are.
I did couchsurfing here (you probably can also couchsurf in other parts of Zimbabwe!), otherwise, you can easily find budget accommodation here. I visited Matobo National Park with my host's driver. Unfortunately, you need a vehicle to visit the park or you can consider booking a day tour.
Overall Tips
Plan your budget and bring enough US dollars. There is a cash shortage in the country but you can use your cards in major attractions (Victoria Falls, Matobo National Park) and supermarkets. I didn't try my luck with the ATMs.

Food is expensive in the country since it is imported. Save money by making your own meals and most backpacker accommodations have kitchens which you can use. However, do try the local meals (sadza with meat and vegetables, USD1-1.50) when you have the chance.

Camping is an option offered at most of the backpacker places if you want to save money on accommodation.

Hiking or walking tours generally do not include food or national park fees. Check with your guide on what is covered.

Zimbabwe is easy and safe to get around with the local buses and shared taxis (kombis). You can also hitchhike as locals are happy to give you a lift (especially if you are a foreigner). I recommend taking the buses over the kombis as they stop less often and try to squeeze fewer people however buses only go to the major cities.

Other highly recommended attractions I read online are Hwange National Park, Lake Kariba and Mana Pools National Park. However, I didn't visit these places due to budget and time constraints.
The reason I chose to visit Zimbabwe was due to its proximity to South Africa and lower tourist numbers during the holiday season. However, the country far exceeded my expectations especially when it comes to the ease of getting around, the hospitality of the locals and the lush green landscapes. With the recent change in the leadership of the country, now is also an exciting time to visit as the locals are open to chat with you about their past and share their hopes for the future.