Perhaps the most compelling argument for becoming a digital nomad or a traveller who can work from anywhere, we've found the most stunning vacation homes in Tulum that you can book on Airbnb right now. Famous for its ancient Mayan ruins and pristine shores, the town of Tulum offers a vibrant escape near the coast of the Carribean Sea. You can swim in gentle beaches, sleep in rustic villas overlooking the jungle, or take a dip in crystal-clear cenotes, which are natural sinkholes filled with fresh water. 
Whether you're planning your future bucket list in Mexico or you just want to fantasise about travelling for a while (don't worry, we've all been there), these are the best Airbnbs in Tulum for any budget. 
Best Airbnb homes in Tulum for a relaxing stay
TripZilla Tip: If you're lucky enough to spend a few days on Tulum, keep in mind that you will need to rent a car, take a taxi, or ride a bike in order to find your way around town. Make sure to pack bug spray or earbuds too, especially if you're a light sleeper. 
1. The luxury condominium with a vast pool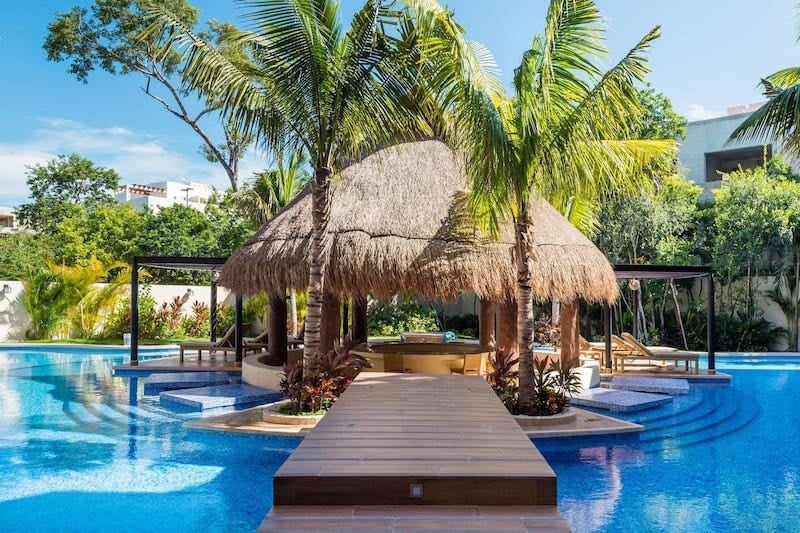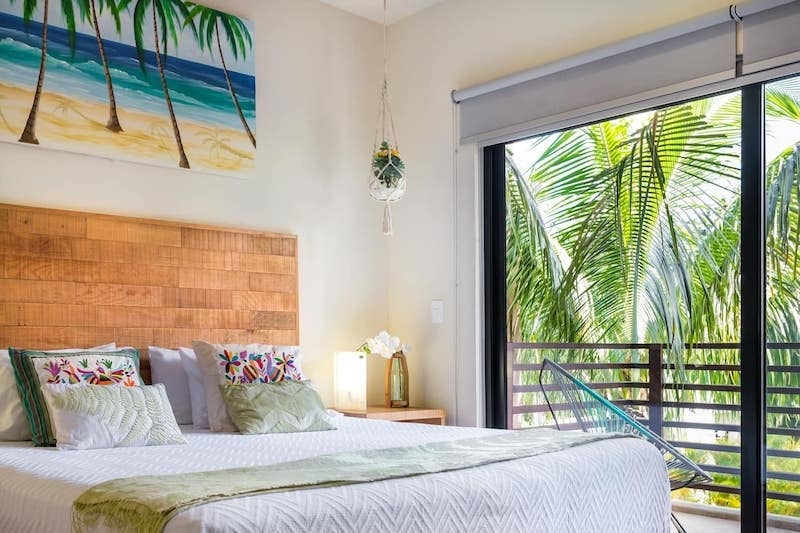 Listing name: Casa Ya'ab – Luxury Apartment – Aldea Zama – Free Bikes
Listing type: Entire condominium
Max. no. of guests: 8
No. of bedrooms: 2
Waking up at this two-bedroom condominium delivers the sight of palm trees and the sounds of the jungle at your window. Expect to find a peaceful home with essential amenities and a seamless check-in process. What's more, this Airbnb in Tulum enjoys a good location between the main strip of Tulum and the nearest beach. Bikes are also available at the property to help you navigate this tourist-friendly town. Anytime you feel like cooling down, you can hang back on the sun loungers and enjoy a refreshing drink by the poolside. 
2. The charming apartment with a plunge pool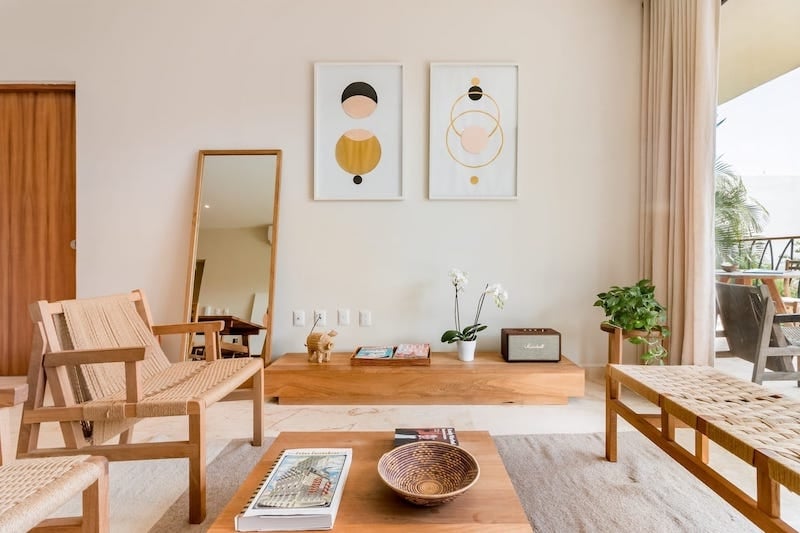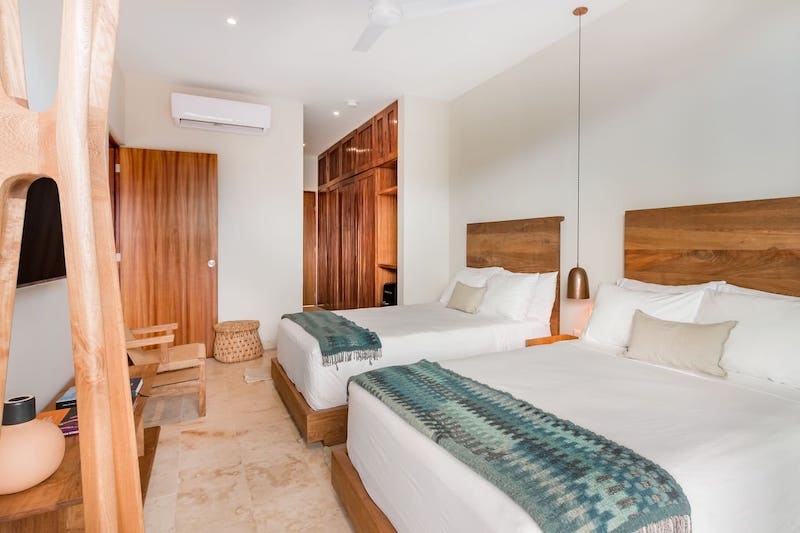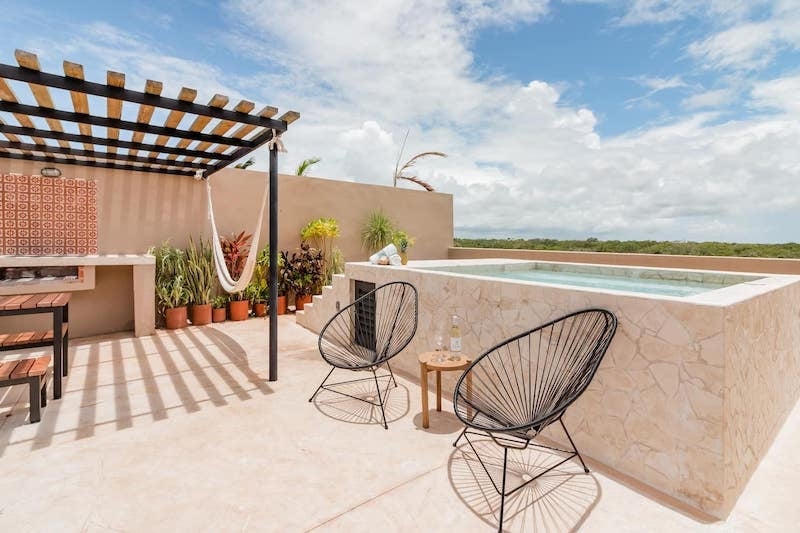 Listing name: Take a dip in the private swimming pool at this charming apartment in Tulum
Listing type: Entire apartment 
Max. no. of guests: 6
No. of bedrooms: 2
For a retreat that embodies the breezy, laid-back ambience of Tulum, this charming apartment will wrap you in its zen embrace. All of the furniture inside this Airbnb has been made by Mexican artisans, who give this two-bedroom apartment a colourful and minimalist touch. After a long day of sightseeing, why not submerge yourself in the plunge pool? There, you can whip up a meal over the grill or watch the sun setting over the terrace, the town's irresistible energy humming below you. 
3. The tropical house with a pool and a lush garden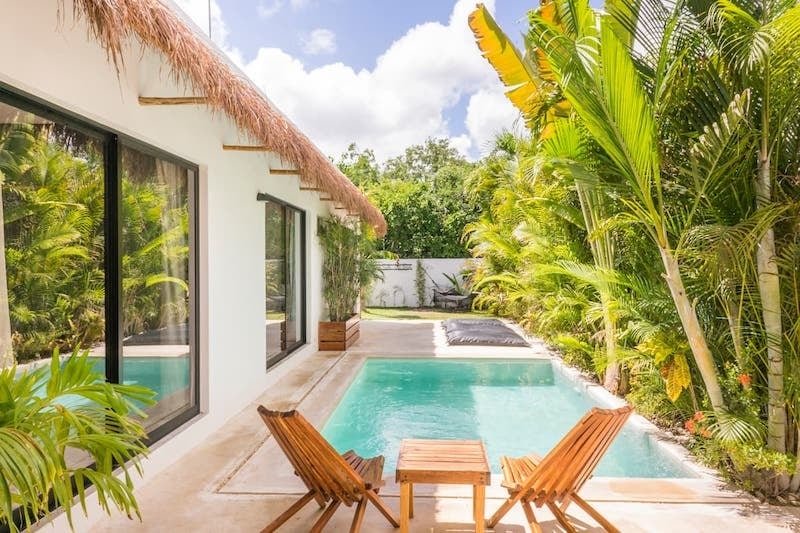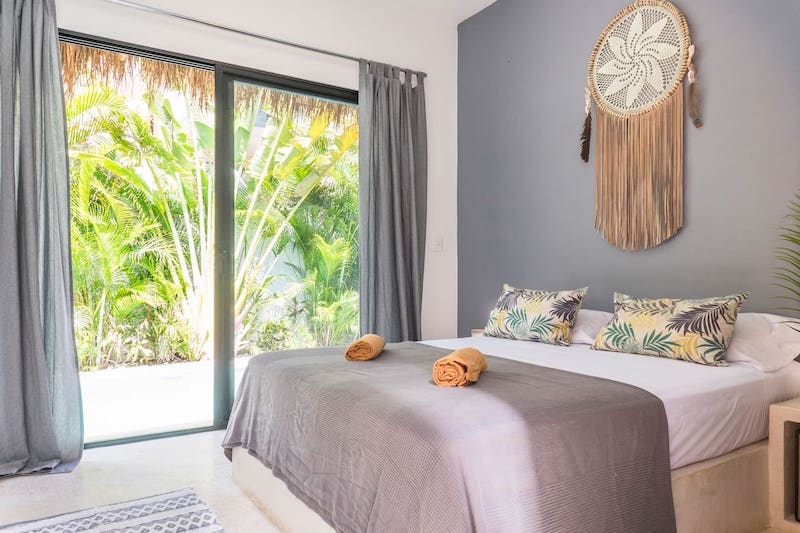 Listing name: Tropical House
Listing type: Entire house 
Max. no. of guests: 6
No. of bedrooms: 2 
Looking for a stylish place to fit your entire family? Say no more, this tropical house with a pool can accommodate up to six guests without anyone fighting for more space or room. For scenic nooks around the property, take your pick from the cosy beds with dreamcatchers, the open dining area, or the chairs by the garden's pool. Even though it's only a quick drive to the nearest shore, this well-appointed home in the La Veleta neighbourhood presents a solid argument for spending most of your downtime at your Airbnb. 
4. The immersive villa with a yoga area and a fire pit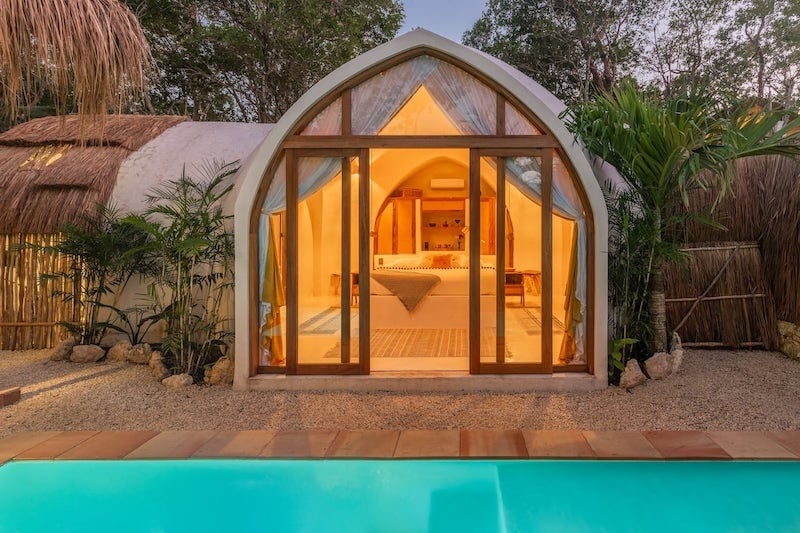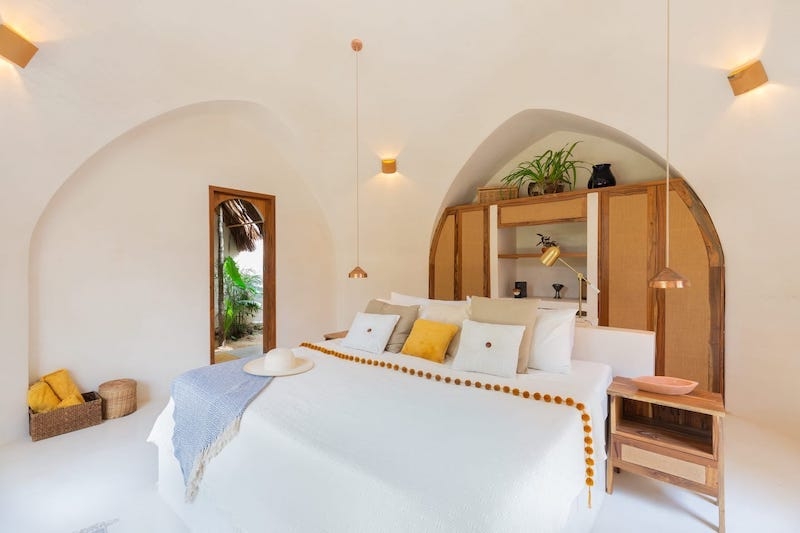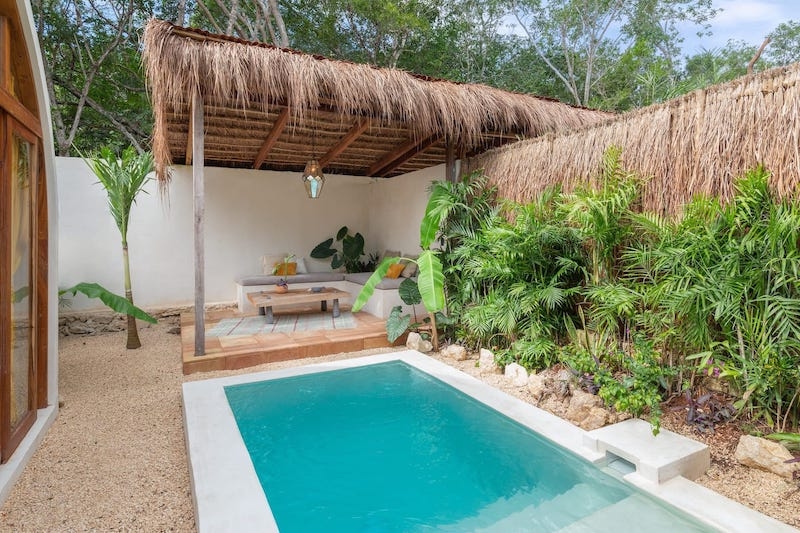 Listing name: ☀Sanah Villa☀Private Pool 5★NEW-WellnessExperience
Listing type: Entire villa 
Max. no. of guests: 2
No. of bedrooms: 1
If you're hoping to slow down in Tulum, Sanah Villa is a private villa that offers everything you need for a healing stay. Designed to blend in with its natural environment, this Airbnb in Tulum comes with a beautiful garden, a yoga area, a terrace, a fire pit, and a swimming pool just outside your doorstep. Plus, it's only a short drive or bike ride away to the downtown area of Tulum. Steam baths and massages can also be arranged without stepping away from the comfort of this villa. We can feel the stress and anxiety melting away from our vacation-deprived husks already. 
5. The chic poolside home near a wellness centre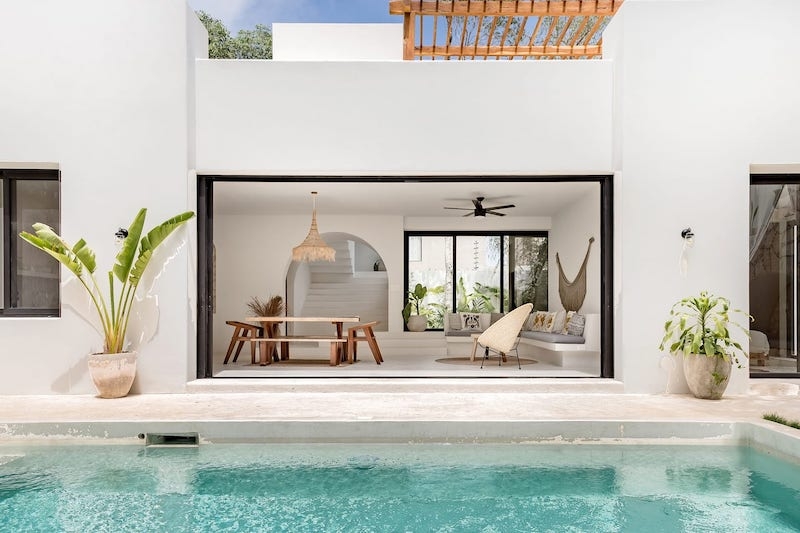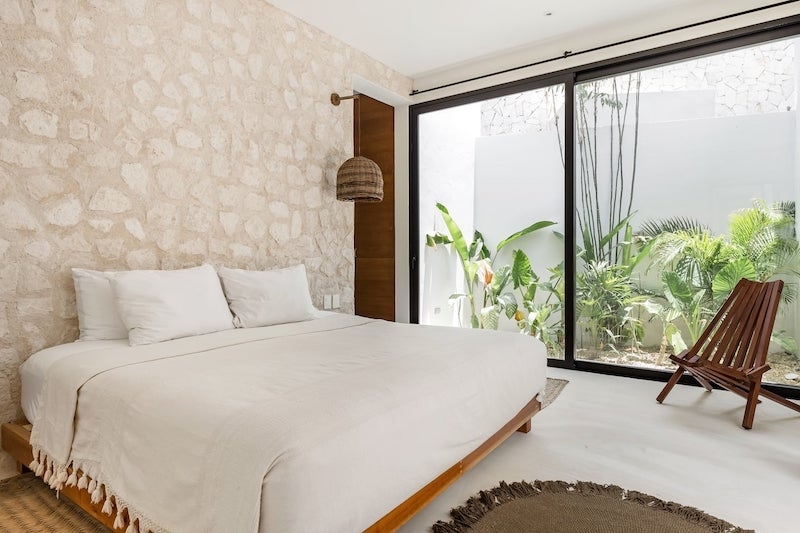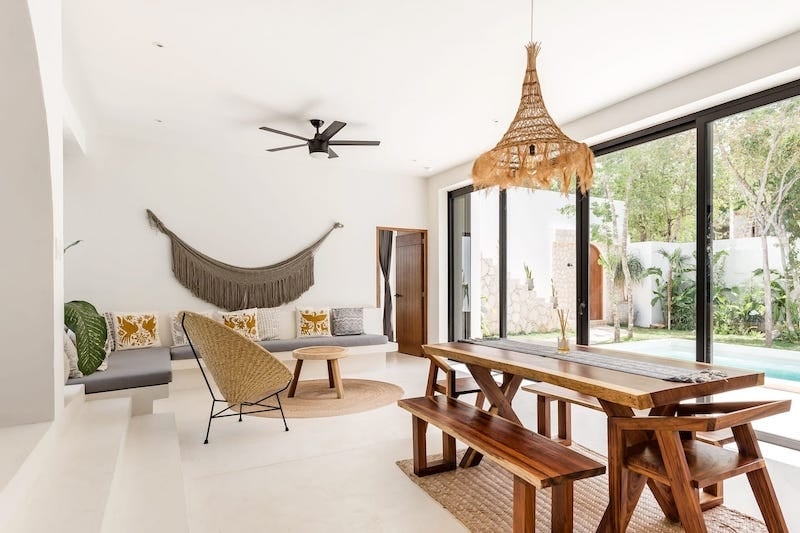 Listing name: Chic Stunning Poolside Casa Paloma in Tulum near Holistika
Listing type: Entire house 
Max. no. of guests: 6
No. of bedrooms: 3
Many travellers come to Tulum seeking sunshine and a calming retreat that makes them feel right at home. Like a Mexican wellness retreat and a self-care session rolled into one, this chic poolside home provides an experience that soothes from the inside out. It features three stunning bedrooms, a marble-clad kitchen, a boho-chic dining area, high-speed internet, floor-to-ceiling glass doors, and a gorgeous patio with a swimming pool. Everything about this architectural gem exudes peace and relaxation, whether you've come to Tulum for a "workcation" or you're thinking of trying out the yoga classes at the Holistika centre nearby. 
6. The well-lit house that sets a high bar for local hospitality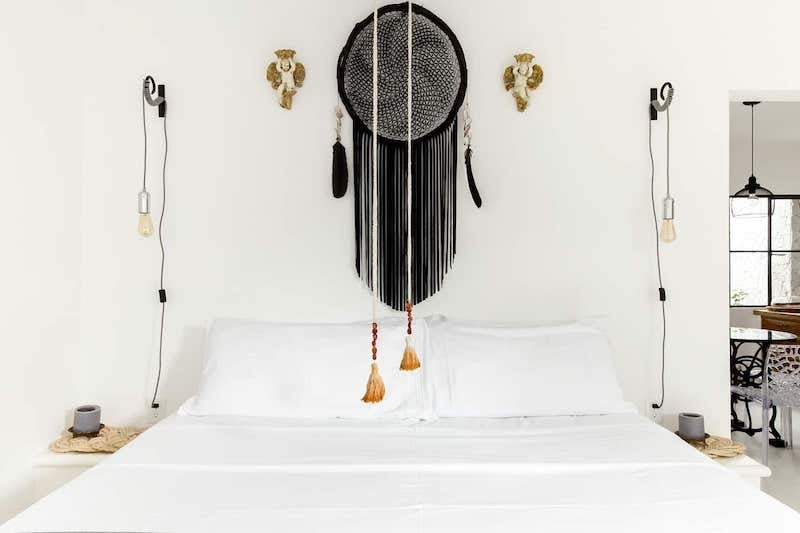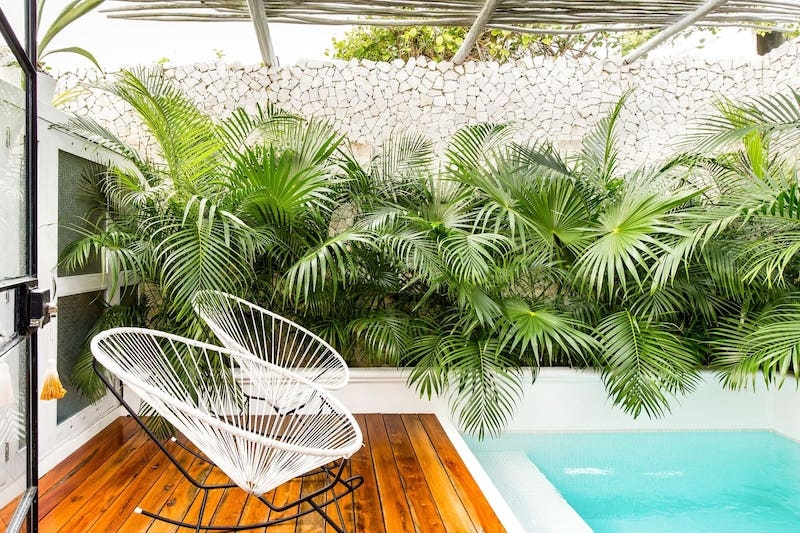 Listing name: La Casa Blanca Tulum Private pool, kingsize bed, quiet neighbourhood
Listing type: Entire house 
Max. no. of guests: 2
No. of bedrooms: 1 
Guests have heaped praises upon La Casa Blanca, highlighting everything from its California king bed to its strategic location. This well-lit house with a pool sits in a quiet area frequented by tourists and expats, while staying just within a five-minute drive from the beaches of Tulum. But the thoughtful hospitality from Dmitriy and Tania is the biggest standout here. Communicative and approachable, these kind hosts have been known to surprise guests with pastries upon arrival.
As a result, this one-bedroom house has an average rating of 5.0, as of publication — practically a rare blue-moon sighting by Airbnb's review standards. When your Airbnb in Tulum comes as highly rated as this one, you know you're in the right place. 
7. The designer villa for art lovers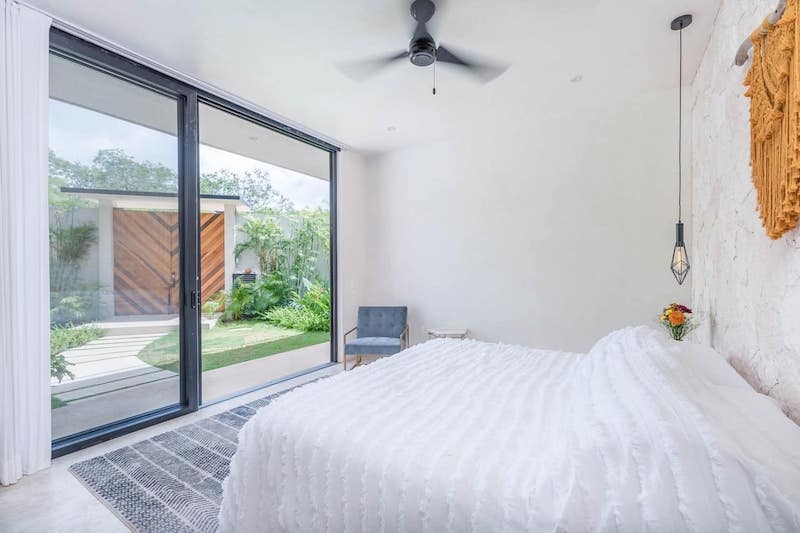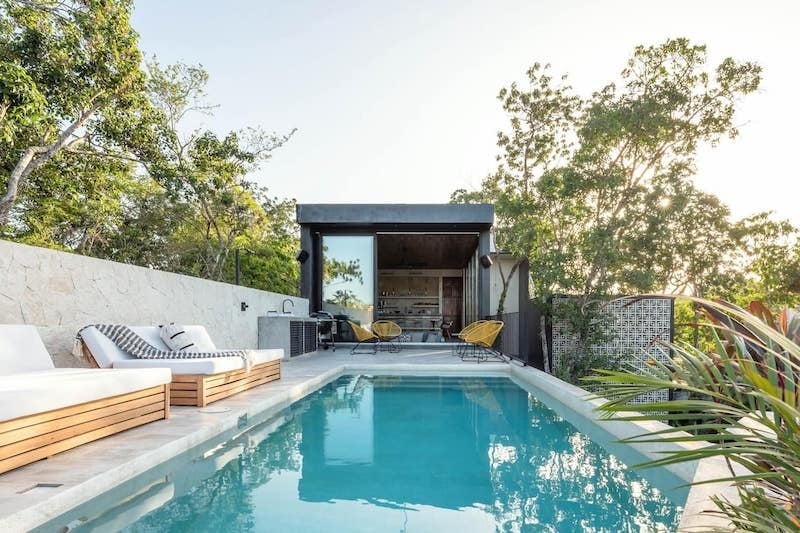 Listing name: Luxury Jungle Masterpiece-Villa LaGú
Listing type: Entire villa 
Max. no. of guests: 14
No. of bedrooms: 5
Want to live in the lap of luxury in Tulum? Big enough to accommodate 14 guests, Villa LaGú steps it up with enhanced sanitation protocols and high-end amenities that are worth the splurge. It comes with five bedrooms, a living room with modern artworks, a well-equipped kitchen, a breakfast bar, a garden with a rain shower, a private hot tub, and a one-of-a-kind swimming pool that's perfect for watching the sunset. Coming home to this designer villa will surely be worth the investment in comfort and experience, if the jungle views from the topmost floor are anything to go by. 
8. The serene room in a hotel near the Sian Ka'an Biosphere Reserve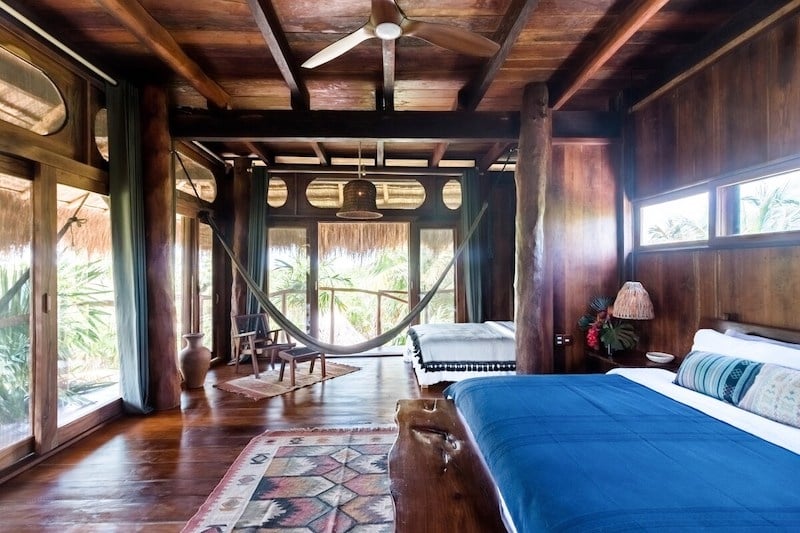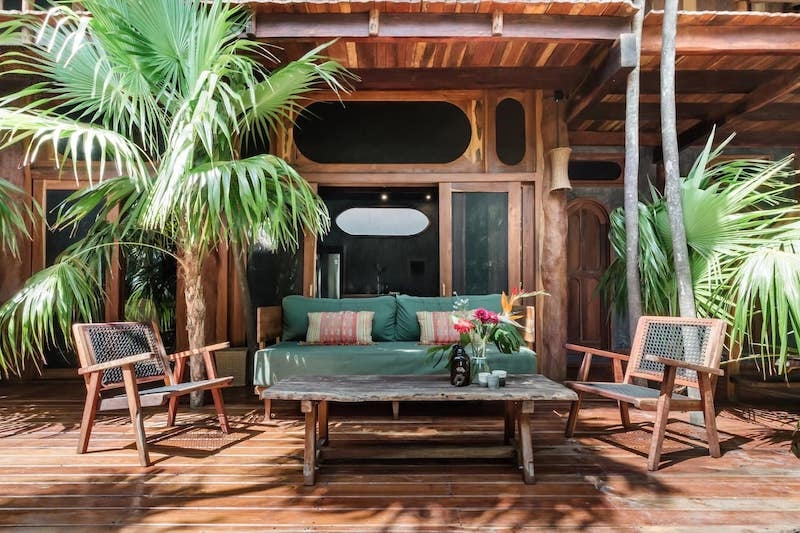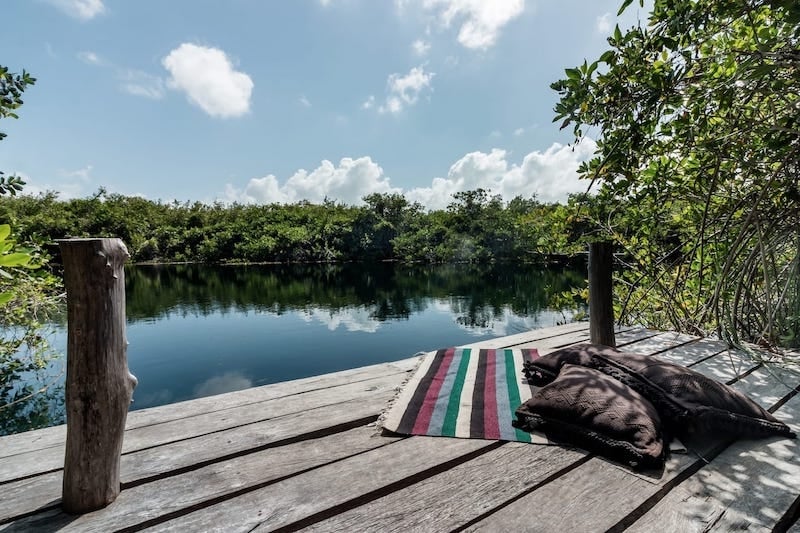 Listing name: Sunset Loft — Over the Jungle View
Listing type: Room in boutique hotel 
Max. no. of guests: 3
No. of bedrooms: 1
We're struggling to pick our favourite reason to book this serene room in a boutique hotel — the daybeds for jaw-dropping vistas on the waterfront, or the fact that it lets you access a UNESCO World Heritage Site without breaking a sweat? Located near the Sian Ka'an Biosphere Reserve, this Airbnb in Tulum overlooks the treetops and serenades guests with the gentle breeze that whistles through the jungle.
This dreamy hideaway can fit up to three guests inside its spacious bedroom and shared living room, making it ideal for couples, families, and solo adventurers alike. Spend a few tranquil hours on the deck over the water — it's pure magic. 
9. The rustic casita just a few steps away from the beach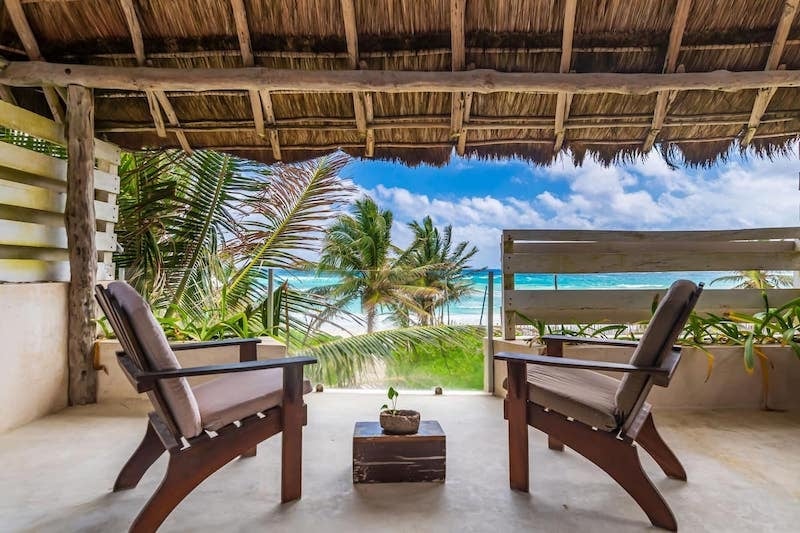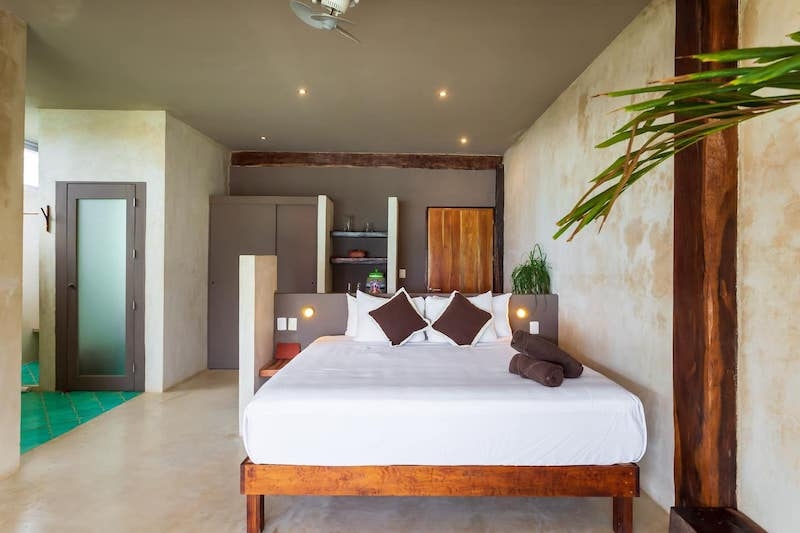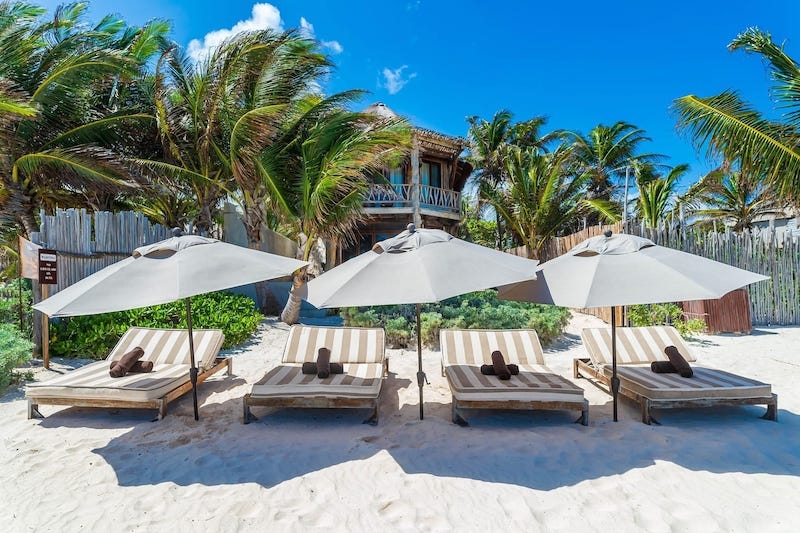 Listing name: Beachfront casita Top Level
Listing type: Entire house 
Max. no. of guests: 3
No. of bedrooms: 1
Ready for the sun-soaked getaway you've been planning all year? If there's an Airbnb in Tulum that will have your friends seething with envy, it's this beachfront casita just a few steps from the shore. Between the rustic ambience of this abode and its proximity to the ocean, you won't have any problem making the most of your vacation here. You can lounge on the deck chairs with umbrellas for shade, swim in the pool, or head straight to the beach for much-needed vitamin sea. 
For more splurge-worthy homes owned by the same host, check out Bryan's other Airbnbs in Tulum: Casita Ganesh, Villa Aakbal, and Casa Monos. 
10. The jungle dome in a treehouse within walking distance to cenotes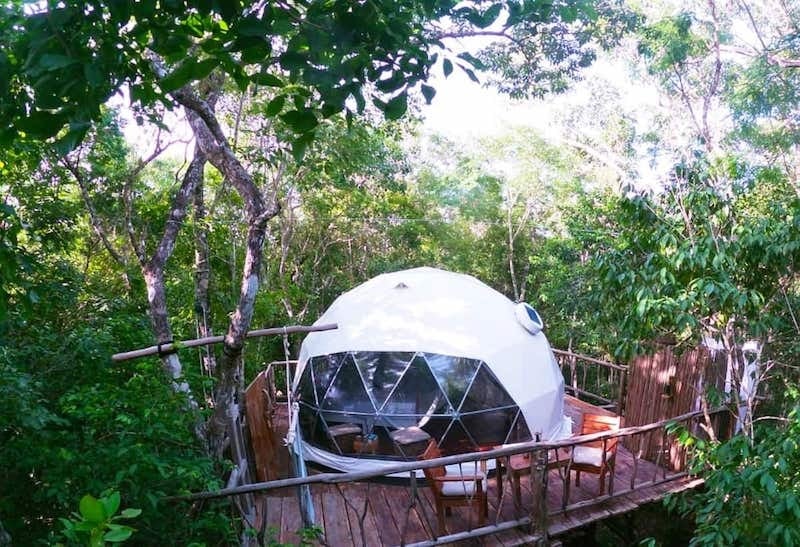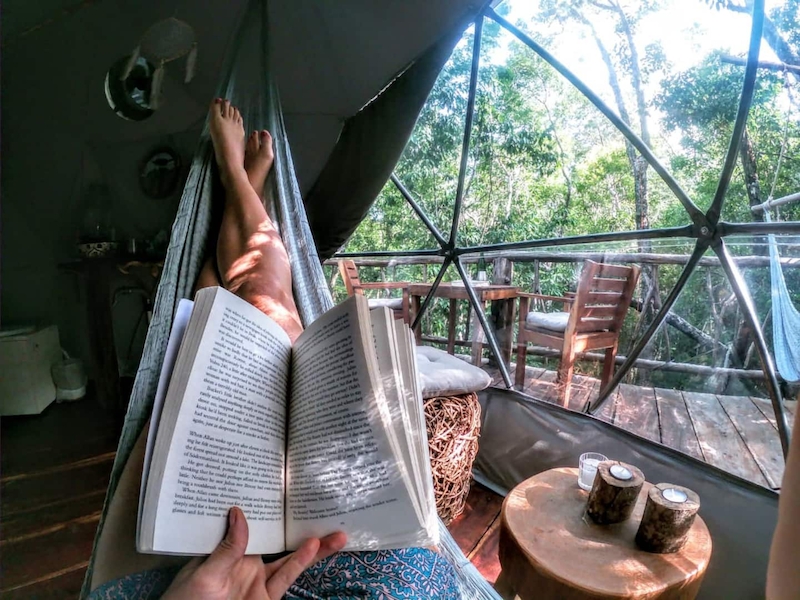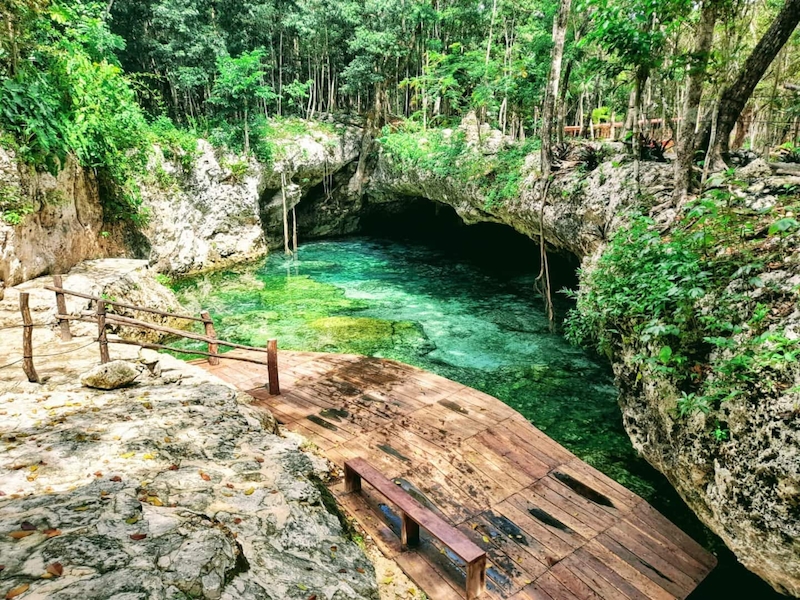 Listing name: Jungle Eco Tree House walking distance to cenotes
Listing type: Treehouse 
Max. no. of guests: 2
No. of bedrooms: 1
It's not every day that you get to sleep in a treehouse in the Mayan jungle, which is why this eco-friendly retreat is as breathtaking as it gets. Perfect for travellers who crave an off-the-grid escape, this treehouse delivers on the experience of a glamping retreat without sacrificing your comfort. Fancy a morning swim? You're just a short walk away from discovering the turquoise waters of a cenote. 
More unique perks of the treehouse include the outdoor shower and the wide terrace built from natural materials — great for curling up with a book or stargazing at night. Wildlife lovers can even spot monkeys, toucans, and other birds from this dome. Really, how many people can say they've spent a night or two above the treetops in Tulum? By the end of your trip, you'll have a story to tell. 
Also read: Treehouse Airbnbs: Fall in Love with These Listings from Around the World
Have you chosen an Airbnb in Tulum from this list? We won't blame you if your mind is already racing with ideas on what to do once you arrive in this beach town. Travel safely and responsibly, and don't hesitate to learn more about the COVID-19 protocols in your vacation rental by contacting the host of the property.