Knowing where to stay in Switzerland is as important as getting a Swiss Pass. You won't have to break a sweat as you hike through Alpine villages and meadows, indulge in cheese fondue and chocolates, and get your fill of arts and culture. Lucky for you, we've already done most of the legwork. From the waterfront promenades of Zurich to the ski slopes of Zermatt, we're sharing our favourite Airbnb and Vrbo vacation rentals in Switzerland to escape to. 
Whether you're craving a ski trip or a lakeside getaway, your next adventure in the Swiss Alps begins at these unique homes. Everything from traditional ski chalets to a real-life castle is waiting for you below. 
CHECK BOOKING OPTIONS IN SWITZERLAND
Best Airbnb homes & vacation rentals in Switzerland
1. The beautifully designed apartment with the best views in Zurich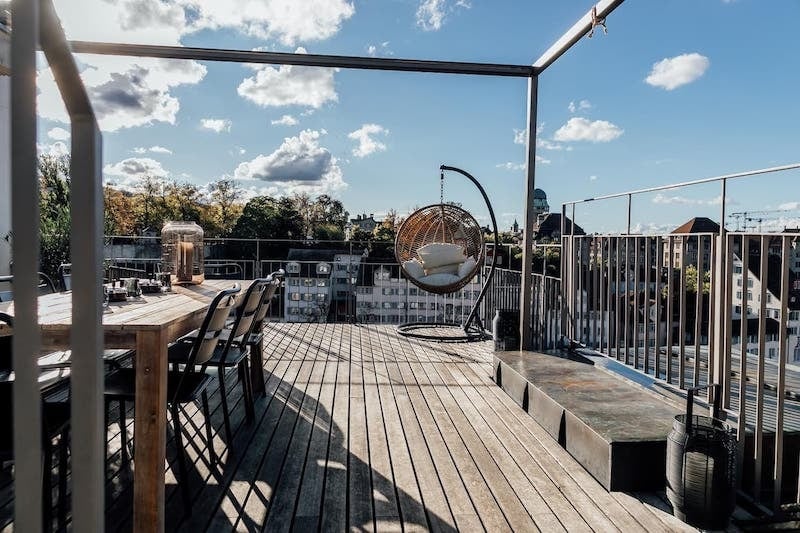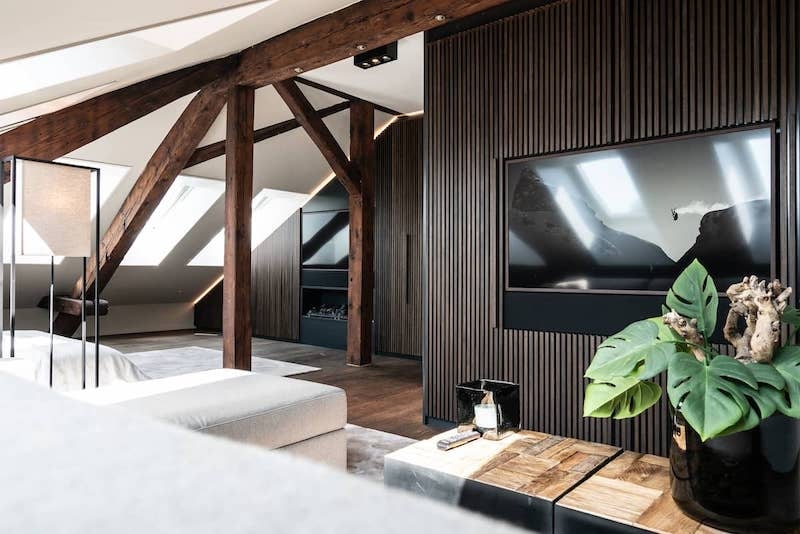 Listing name: Limmatquai River View Apartment With Jacuzzi
Listing type: Entire rental unit
Max. no. of guests: 8
No. of bedrooms: 2
From sipping hot chocolate at Confiserie Sprüngli to window-shopping for cuckoo clocks and Swiss watches along Bahnhofstrasse, you're bound to wind up in Zurich at some point.
Stepping inside this Zurich Airbnb, you can already spot the green spire of Fraumünster Church from the apartment's windows. Even better, the stunning roof deck lets you choose between the swing chair and the Jacuzzi to admire the city's skyline.
2. The cosy apartment in Zermatt facing the Matterhorn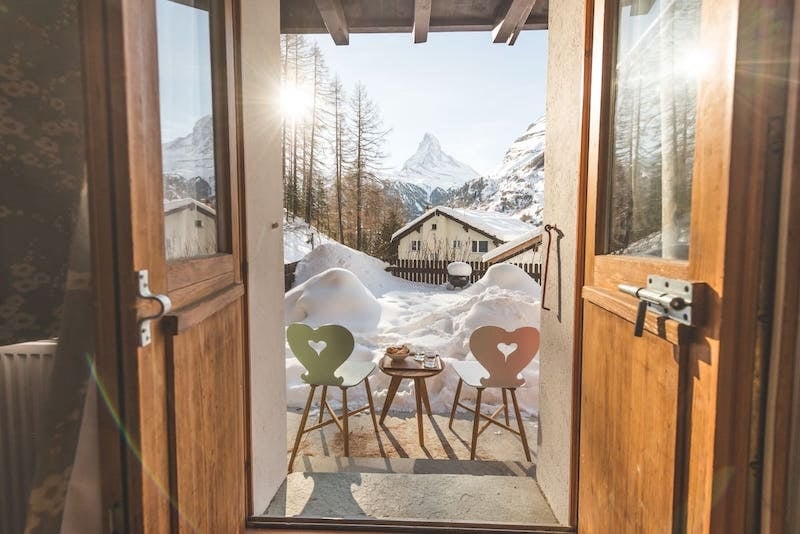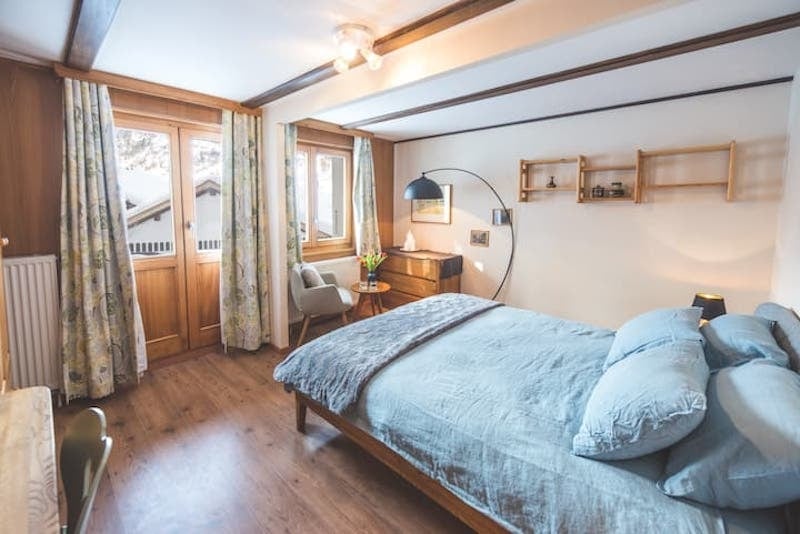 Listing name: Trudi's Terrace: Matterhorn Views you can't Beat!!
Listing type: Entire rental unit
Max. no. of guests: 6
No. of bedrooms: 3
Hitting the jackpot on your next Airbnb in Switzerland looks a bit like staying at Trudy's Terrace in Zermatt. Start every morning by drinking coffee or stepping outside the chalet to greet the iconic sight of the Matterhorn, clear as day from the terrace. The only caveat is the uphill climb before arriving at this Zermatt Airbnb, but sporty travellers and adventurers shouldn't be deterred. Waking up to Switzerland's "Toblerone mountain" is its own reward, after all.
3. The charming house overlooking Lake Lungern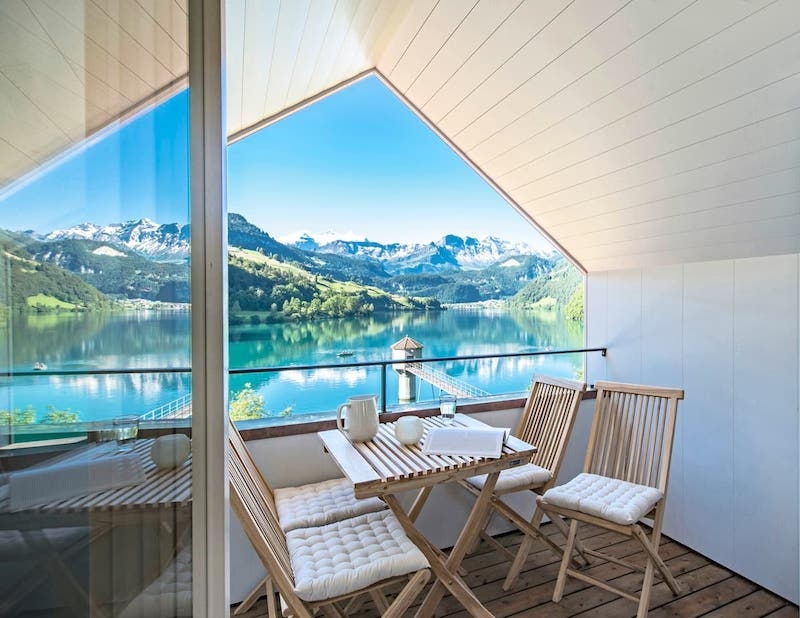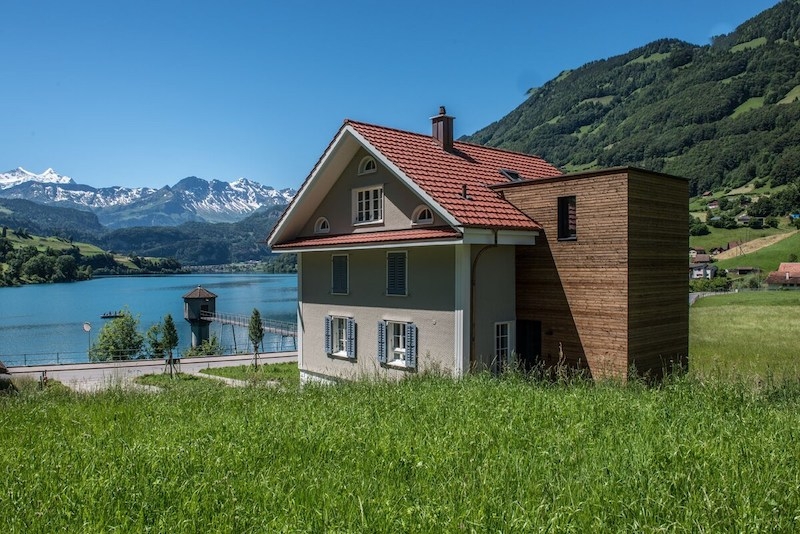 Listing name: Cozy, unique & stylish next to lake and mountains
Listing type: Entire rental unit
Max. no. of guests: 2
No. of bedrooms: 1
Nothing prepares you for the sight of Lake Lungern at this renovated countryside home in Switzerland. Perfect for two guests in search of peace and quiet, this vacation rental makes a pleasant home base for day trips to Sarnen, Lucerne, and Bern. 
What's more, this Central Switzerland Airbnb offers year-round activities for every traveller, from jogging around the lake to exploring nearby hiking trails. Don't miss out on the panoramic views from the balcony, where you can see the mountains reflected on the turquoise water.
4. The riverside apartment in Interlaken for village-hopping and outdoor activities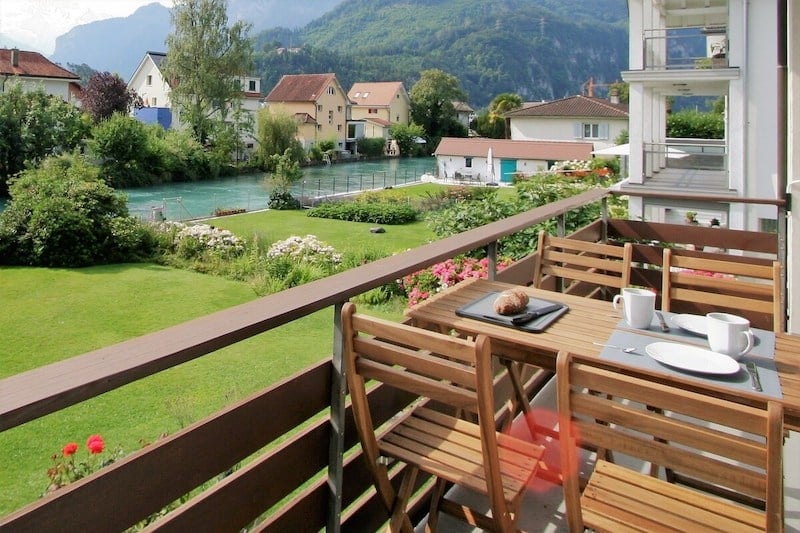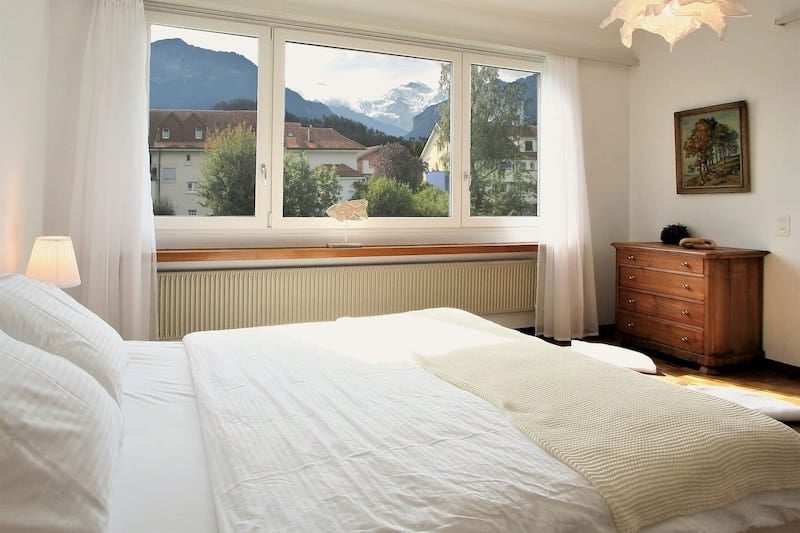 Listing name: Aare Riverside, Interlaken West
Listing type: Entire rental unit
Max. no. of guests: 3
No. of bedrooms: 2
One way to make the most out of your sightseeing in Switzerland is to choose an Airbnb in Interlaken. Not only does Interlaken ("between two lakes" in English) enjoy a strategic location in the Bernese Oberland region, but it also makes an excellent starting point for outdoor activities: paragliding, hiking, skiing, kayaking, visiting Alpine villages by train, and so on.
Close to Aare River and the Interlaken West railway station, this riverside apartment can comfortably fit up to three guests. Whether you're enjoying your breakfast next to a flower-filled garden or peering through the windows to catch glimpses of Mönch and Jungfrau, you won't run out of scenic nooks to discover here.
5. The Swiss chalet in Iseltwald overlooking Lake Brienz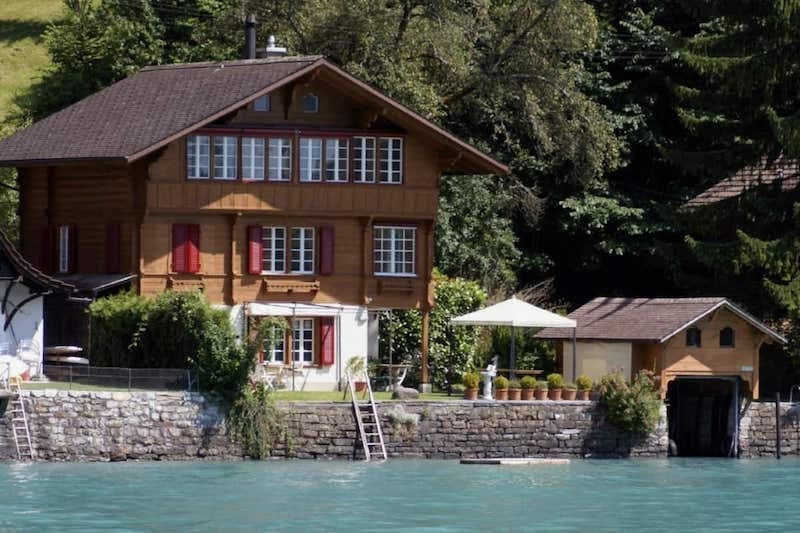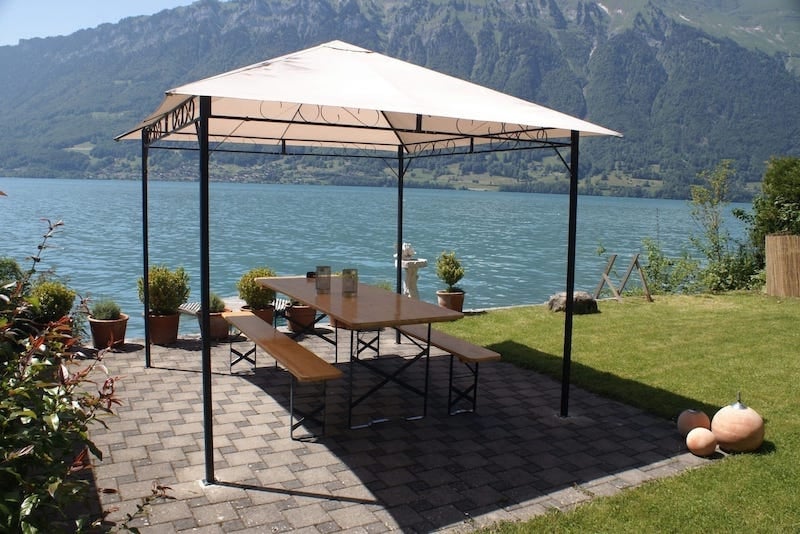 Listing name: Relax on Lake Brienz, Chalet Glashütte Iseltwald
Listing type: Entire rental unit
Max. no. of guests: 2
No. of bedrooms: 1
If you're hoping to find an Airbnb in Switzerland to remind you of Crash Landing on You, then say hello to this lakefront chalet in Iseltwald. Avid fans of the popular Korean drama will recognise this location as the village where Yoon Se-ri (Son Ye-jin) hears Captain Ri Jeong-hyeok (Hyun Bin) playing the piano near Lake Brienz. Similarly, this chalet brings equally picturesque views to your doorstep, such as the private garden and dining area overlooking the water.
6. The penthouse with dramatic mountain views in Grindelwald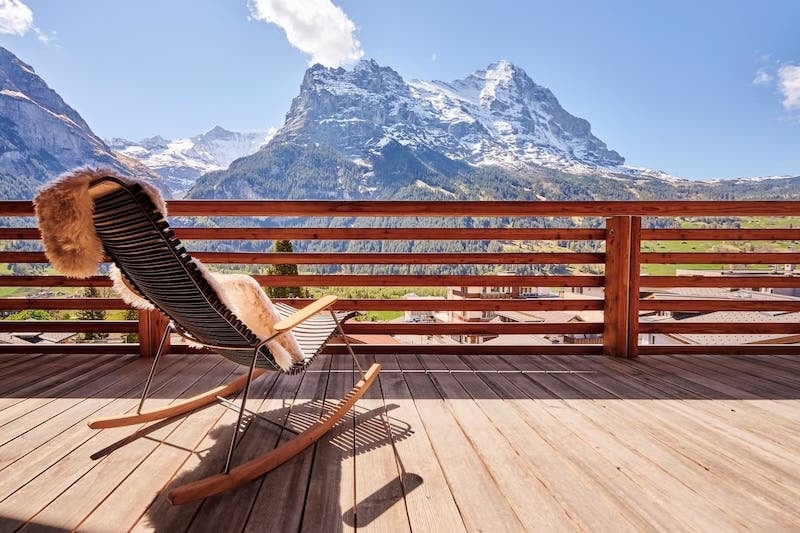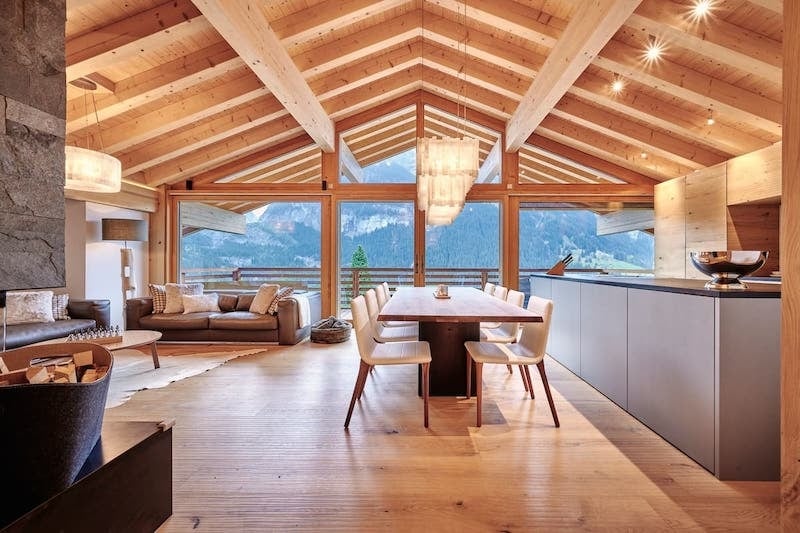 Listing name: The Grindelwald Penthouse
Listing type: Room in aparthotel
Max. no. of guests: 8
No. of bedrooms: 4
Make room on your itinerary for a visit to Grindelwald, a Swiss village that puts most postcards to shame. Settle into this four-bedroom penthouse that embraces "cottagecore" to the fullest, offering warm interiors that are as cosy as they are photogenic.
Anywhere you look, this Grindelwald Airbnb commands impressive views of snow-capped mountains. From here, you can also set off for Kleine Scheidegg, a mountain pass that lets you take the train to Jungfraujoch, also known as the "Top of Europe."
7. The family-friendly chalet in the Alpine village of Wengen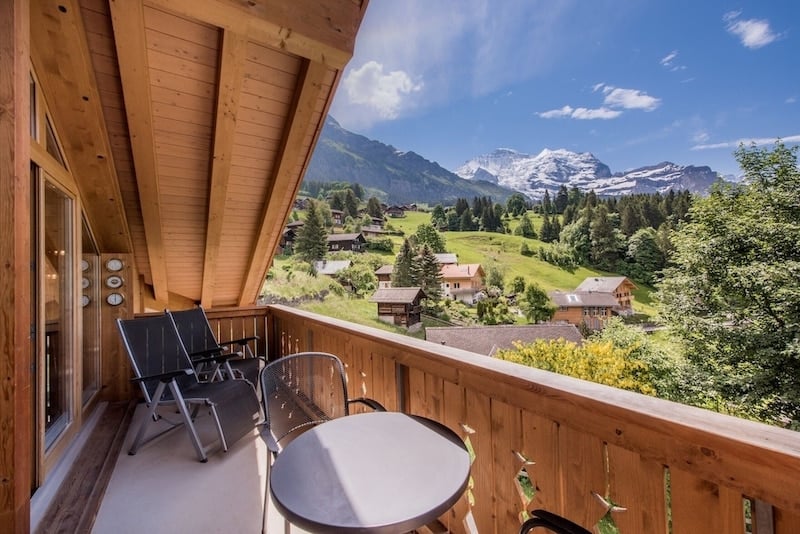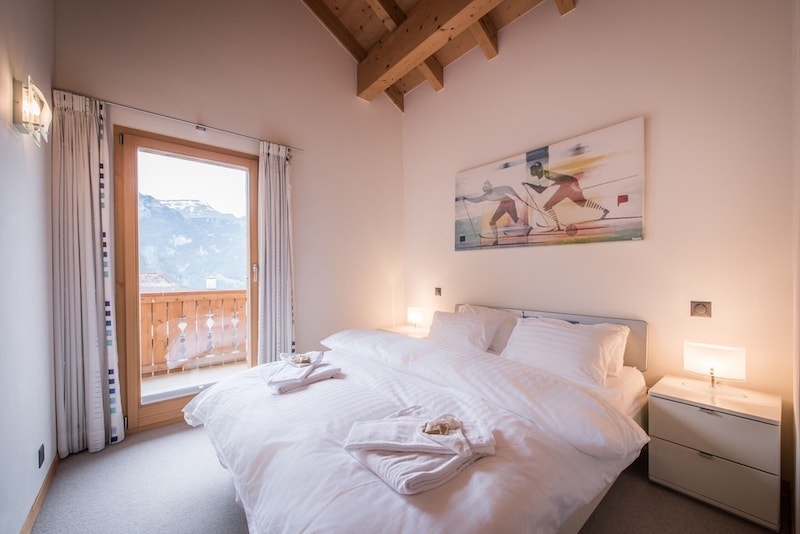 Listing name: Chalet Fortuna 4 Penthouse
Listing type: Apartment 
Max. no. of guests: 6
No. of bedrooms: 3
If you thought Switzerland couldn't get any more breathtaking, wait until you enter the Chalet Fortuna in the mountain village of Wengen. It features three bedrooms and an equal number of bathrooms, while the living room greets you with floor-to-ceiling views of the snowy mountains and wooden chalets dotting the fields. Bring up to five of your dearest family members or friends to this jaw-dropping vacation rental on Vrbo, an ideal hideout in Switzerland for any season. 
8. The secluded chalet near Trümmelbach Falls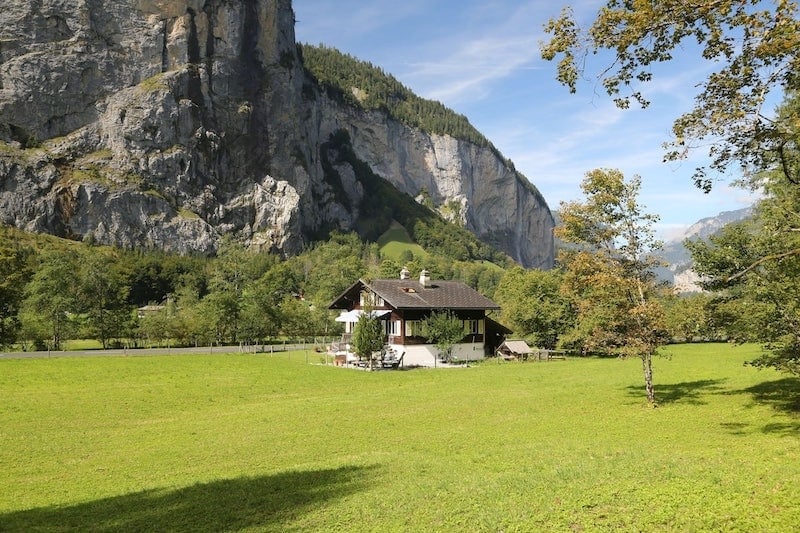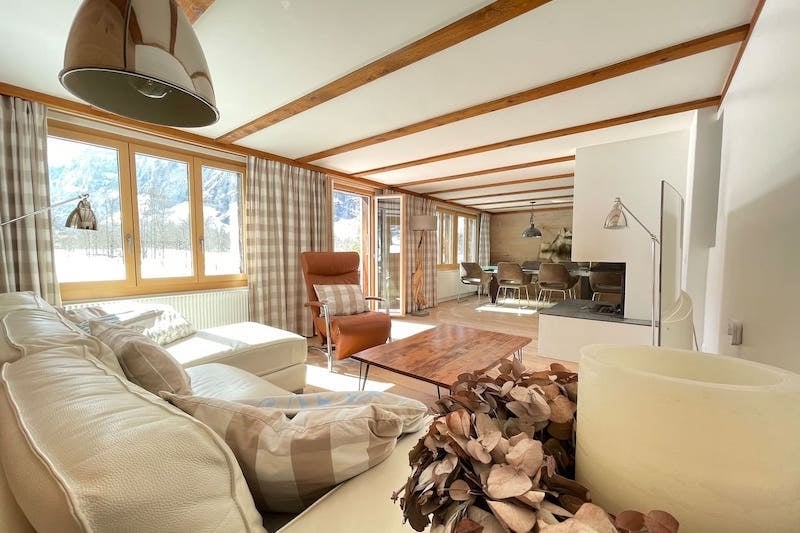 Listing name: Private Chalet by Trümmelbach Falls
Listing type: Entire chalet
Max. no. of guests: 8
No. of bedrooms: 3
Switzerland is dotted with hidden gems that seem as though they were lifted from a storybook, and this secluded chalet in Lauterbrunnen Valley is no different. Paving the way for your adventures to Trümmelbach Falls, this Swiss chalet is all about slowing down and embracing nature — even if that only means gawking at the giant mountains rising around the property.
Also read: How Switzerland Inspired the Magical Landscapes of 'The Lord of the Rings'
Be it summer or winter, this Lauterbrunnen Airbnb makes the perfect escape for group travellers looking to escape the city. Inside, the modern-day chalet's rustic vibes are spruced up with modern comforts, such as fast WiFi and a wireless home sound system for entertainment.
9. The dreamy castle with its own restaurant in St. Gallen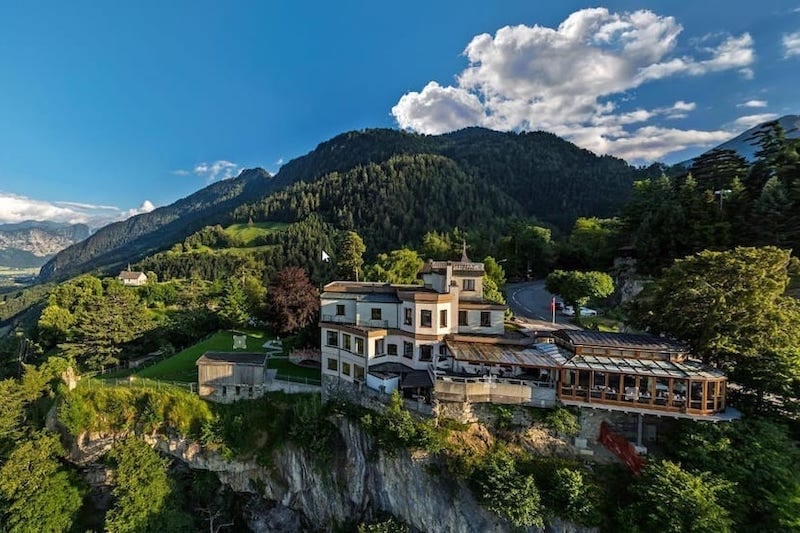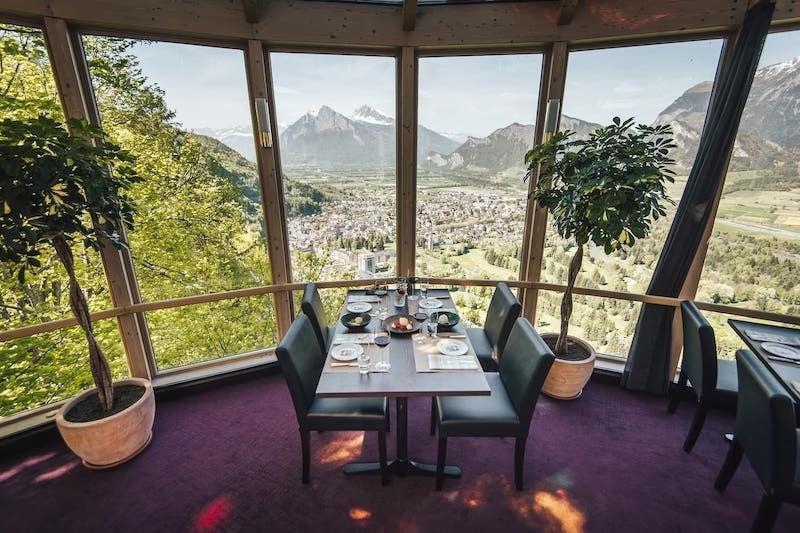 Listing name: Rent the complete Hotel Schloss Wartenstein
Listing type: Castle
Max. no. of guests: 16
No. of bedrooms: 10
Consider this your excuse to live like royalty for a while. Staying at the Hotel Schloss Wartenstein is one way to take your bucket list in Switzerland to the next level. Just be warned: One step inside this majestic castle in St. Gallen, and you may never want to leave.
Also read: 16 Magnificent Castles on Airbnb That Will Make You Feel Like Royalty
Located in the municipality of Pfäfers, this castle residence on Airbnb beckons to visitors with opulent rooms and a private restaurant fondly called a "winter garden." Glass windows bring panoramic views of Rhine Valley as you tuck into delicious cuisine. What's more, this stately property is conveniently located for excursions in Eastern Switzerland, whether you plan to visit the thermal baths in Bad Ragaz or explore Heidi's Village.
10. The yurt with refreshing views of Lake Lucerne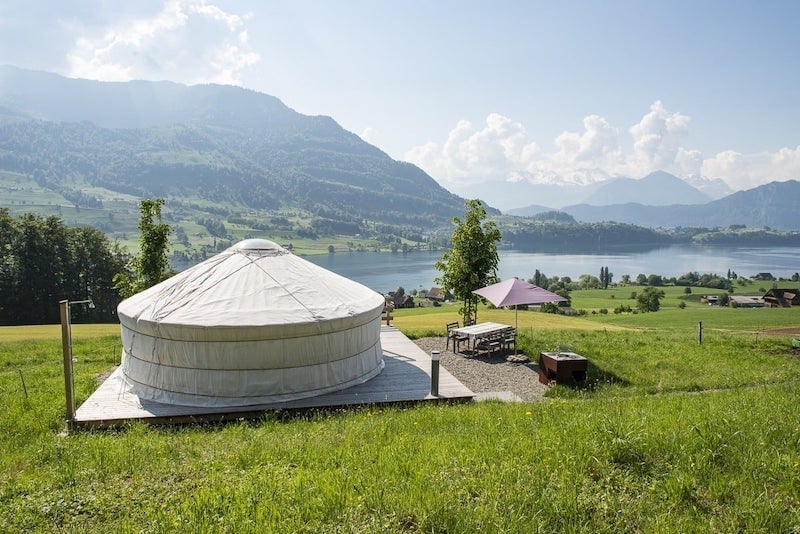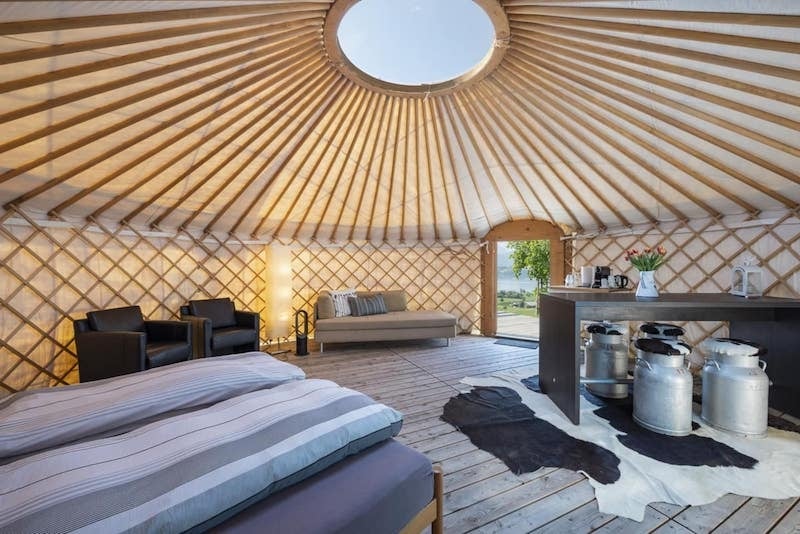 Listing name: Yurt with fantastic views
Listing type: Tent
Max. no. of guests: 3
No. of bedrooms: 1
Sitting on a farm near Lake Lucerne, this unique yurt offers an idyllic getaway you'll never want to leave. The tent provides all the essential amenities to make you feel at home even as you're living off-grid, from a fridge to comfortable heating. But if you have difficulty parting with the generous views from the property — like the shimmering lake or the sunrise over the mountains — rest assured that this Airbnb in Switzerland is available for long-term stays as well.
11. The elegant apartment with a balcony in St. Moritz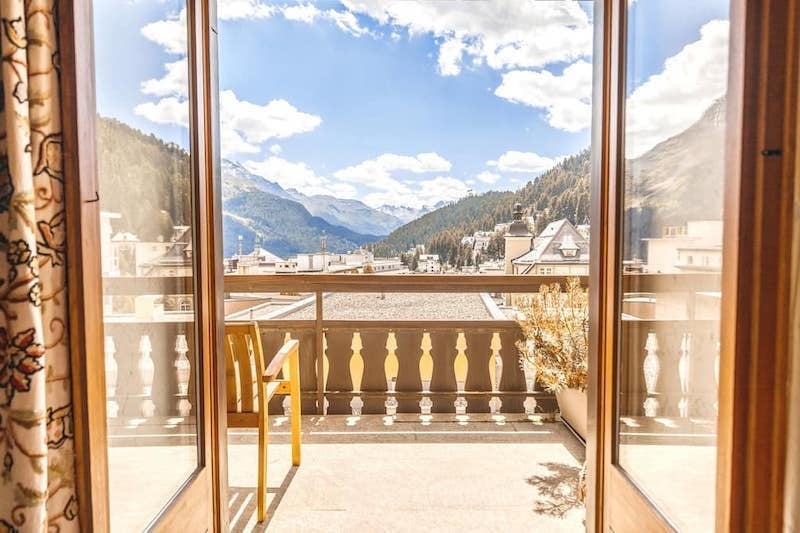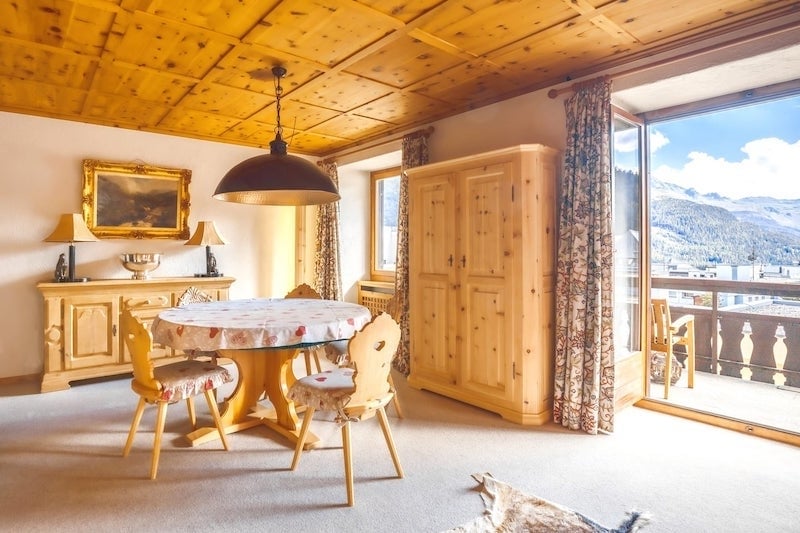 Listing name: Nenasan Luxury Alp Retreat
Listing type: Entire rental unit
Max. no. of guests: 5
No. of bedrooms: 2
Open the windows and breathe in the fresh mountain air from this ultra-luxe apartment, where the balcony frames a stunning view of St. Moritz. Even in a famous holiday resort, this St. Moritz Airbnb stands out above other vacation rentals in Switzerland for its elegantly appointed interiors and high-end amenities. We can't picture a cosier way to pass the time than by reading a book by the fireplace or soaking in the bathtub after a long day on the slopes! 
Craving apple strudel or Swiss hot chocolate? Fortunately, the apartment is easily walkable to restaurants, coffee shops, and other major attractions in St. Moritz. That includes the glassy surface of Lake St. Moritz, a must-see during any visit to Switzerland's Engadin Valley.
12. The ultimate mountain escape surrounded by the Swiss Alps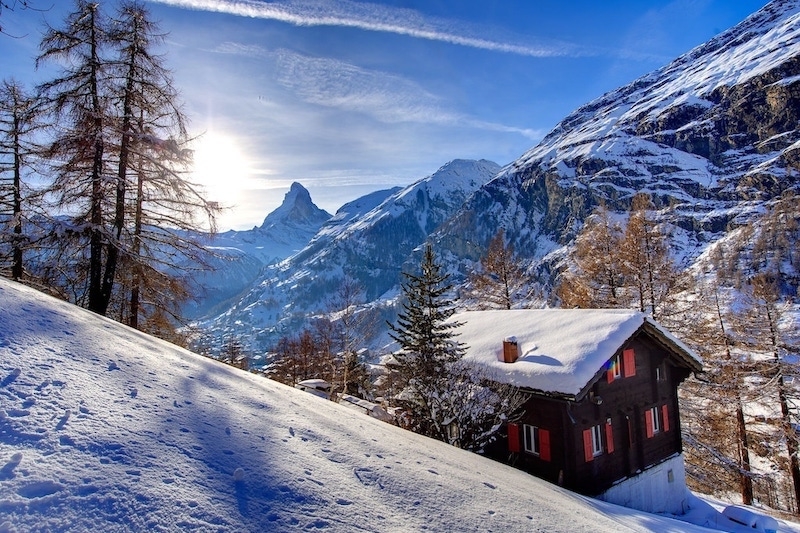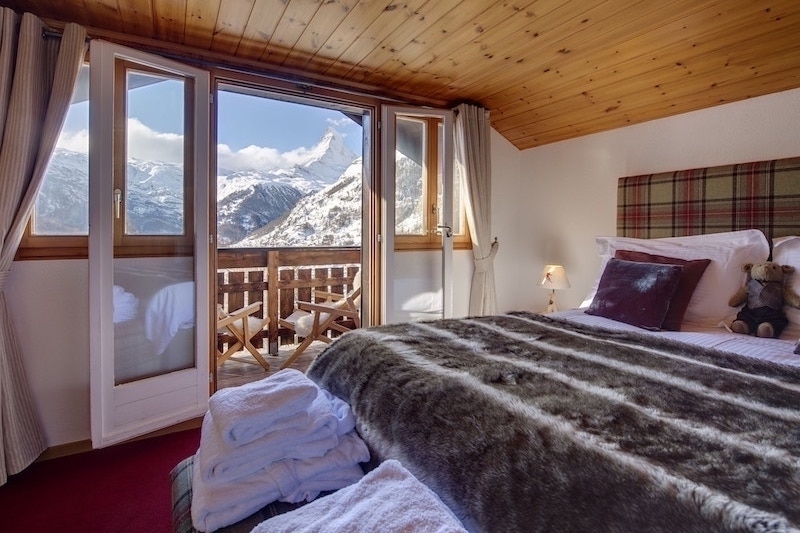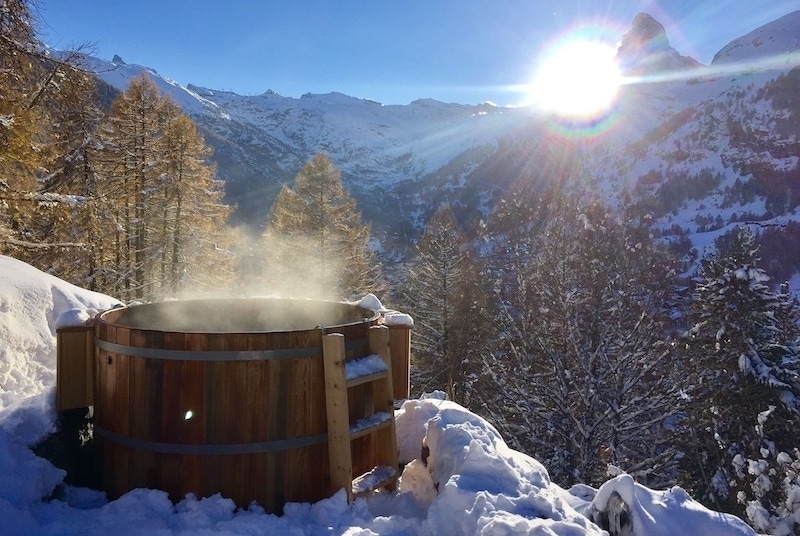 Listing name: Chalet Bergheim – Unique, Private, Ski-in/ski-out Swiss Mountain Chalet
Listing type: Chalet 
Max. no. of guests: 8 
No. of bedrooms: 3 
Imagine a retreat where you can live near the Swiss Alps and wake up to epic views of Zermatt and the Matterhorn every day. That's exactly what the Chalet Bergheim offers for guests who are lucky enough to book this Switzerland vacation rental on Vrbo. 
From the living room to the master bedroom, you can fuel up on travel inspiration without even leaving your chalet. Alternatively, you can play in the snow in winter or take a stroll through the meadows in spring or summer. If the view from your bedroom already looks too good to be true, well, guess what? It gets even better from the outdoor hot tub. 
Also read: 15 Reasons Why You Must Visit Switzerland
No matter where you choose to stay in Switzerland, your opportunities for frolicking in verdant pastures and swimming in crystal-clear lakes are endless. One glimpse at these vacation rentals, and you can start to see why many people call Switzerland paradise on earth.
Planning a trip to Europe? Check out our favourite places to stay in Greece, Spain, France, Germany, and Croatia to take your adventure to the next level.
Got a property you'd like TripZilla to feature? Inquire with us here.
---
This article contains affiliate links. When you book through these links, we may earn a small commission at no additional cost to you. All images courtesy of the respective property listings.