It's time to draw up the plans that you've been withholding; we're talking about that trip to the Greek Islands. ("Alexa, play Dancing Queen.") As the sunny summer months approach, there's no better time to start picking your next Airbnb in Greece. Will it be alongside the white coastal houses and blue-domed churches of Oia? Or the historic neighbourhoods of Athens? Perhaps the less crowded fairy tale-like islands for a secluded getaway?

No matter your destination of choice, we'll give you a head start. From the cliff houses of Santorini and the colourful abodes of Mykonos, to the hidden gems scattered across the Greek Islands, these are the best Airbnbs in Greece to get you dreaming about your next trip. Feast your eyes on the most stunning vacation homes this side of the Mediterranean. 
Airbnb vacation homes in Santorini, Greece
1. This famous Hector Cave House in Oia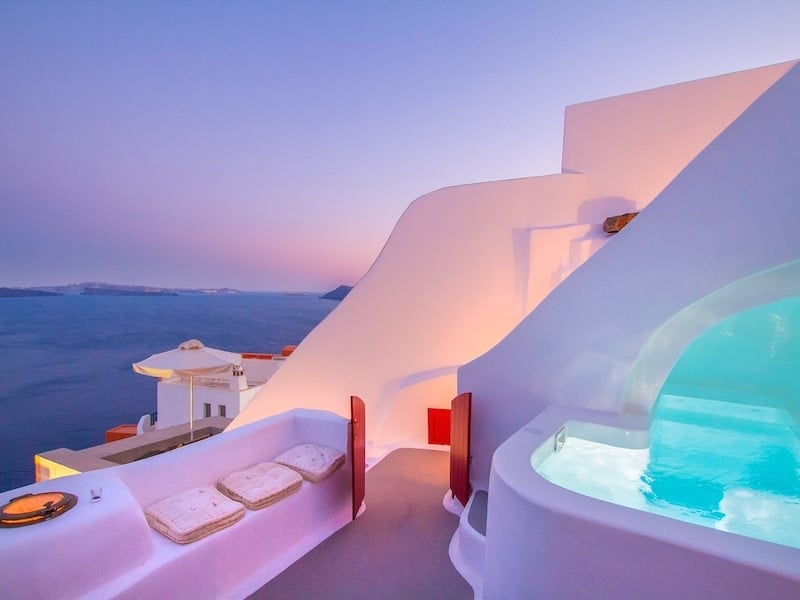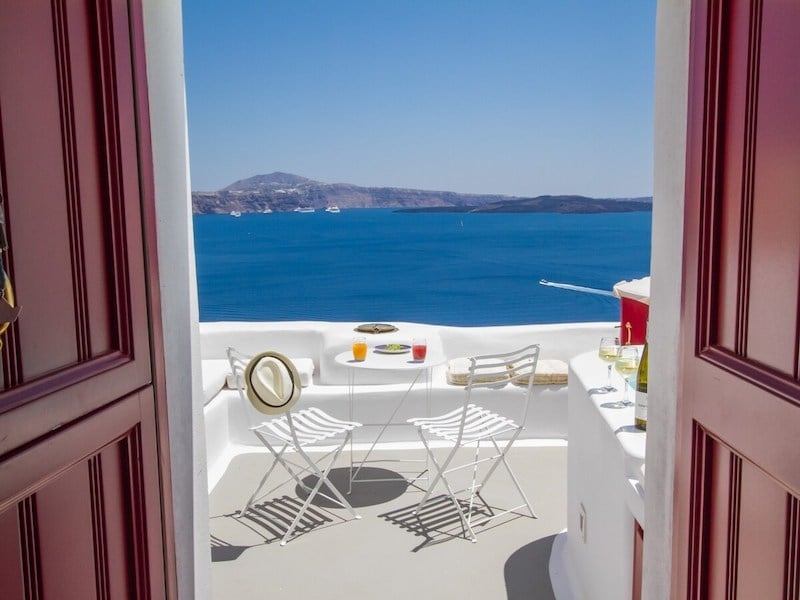 Listing name: Hector Cave House
Listing type: Cave 
Max. no. of guests: 5
No. of bedrooms: 1 
One of the most popular Airbnb vacation homes in Greece, the Hector Cave House is practically a legend among travellers. Carved into the cliffs of Santorini more than 250 years ago, this centuries-old cave house in Oia was originally a wine cellar. Now, it's a summer hideaway that attracts travellers with its peerless views of the caldera. If you plan your trip accordingly, you can enjoy the best lookout from the plunge pool, available from April to November. 
2. This gorgeous home right next to the blue domes in Oia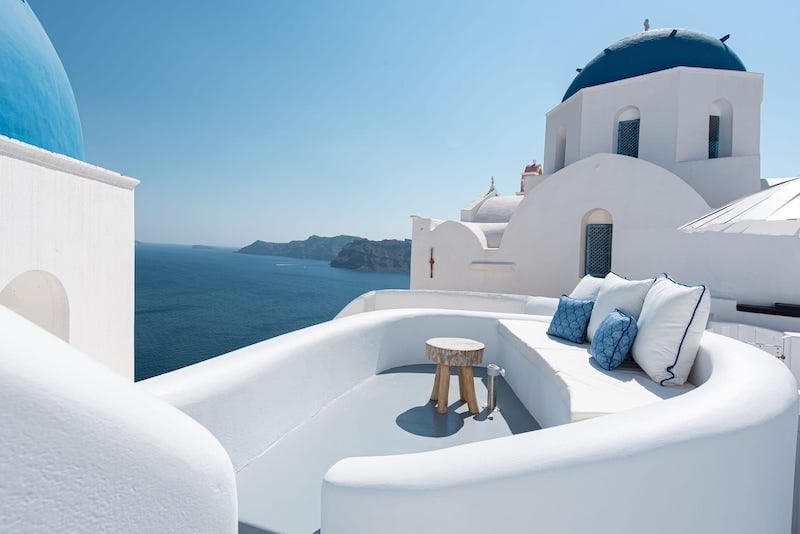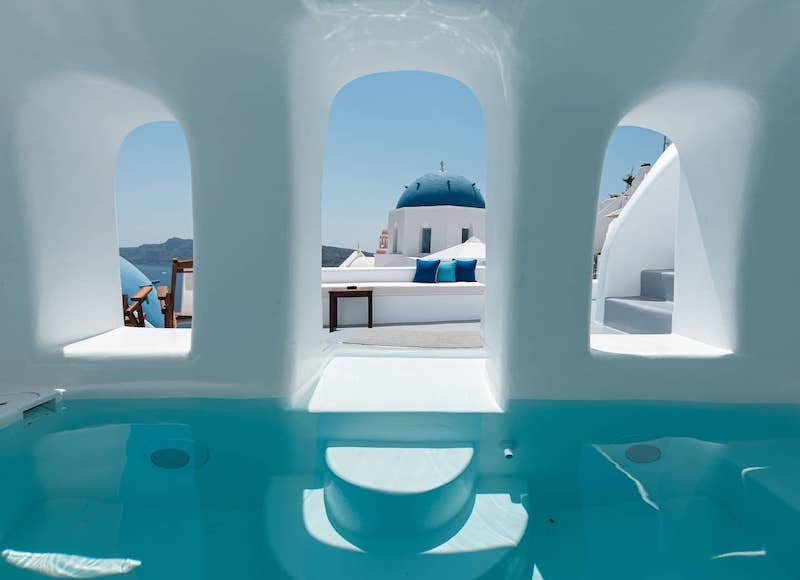 Listing name: Suite with Outdoor Plunge Pool & Blue Domes View
Listing type: Entire guest suite
Max. no. of guests: 2
No. of bedrooms: 2 
It's one thing to visit the blue-domed churches of Santorini, but it's an entirely different matter to sleep just moments away from these iconic attractions. Of course, that's precisely why this stunning suite blows most luxury resorts out of the water. Part of a complex of traditional cave houses, this two-bedroom Mediterranean retreat flaunts a cave pool, where you can enjoy up-close-and-personal views of the caldera and Oia's blue-and-white buildings. 
3. This Kalipso Beach House near Kamari Beach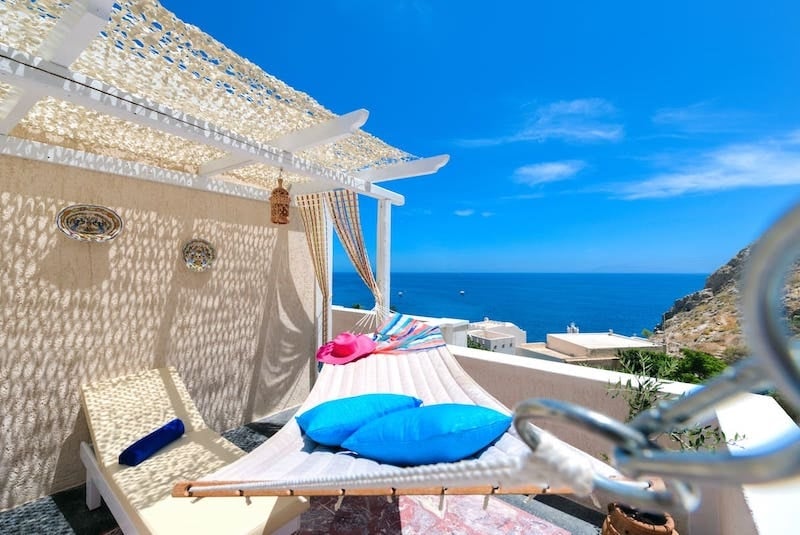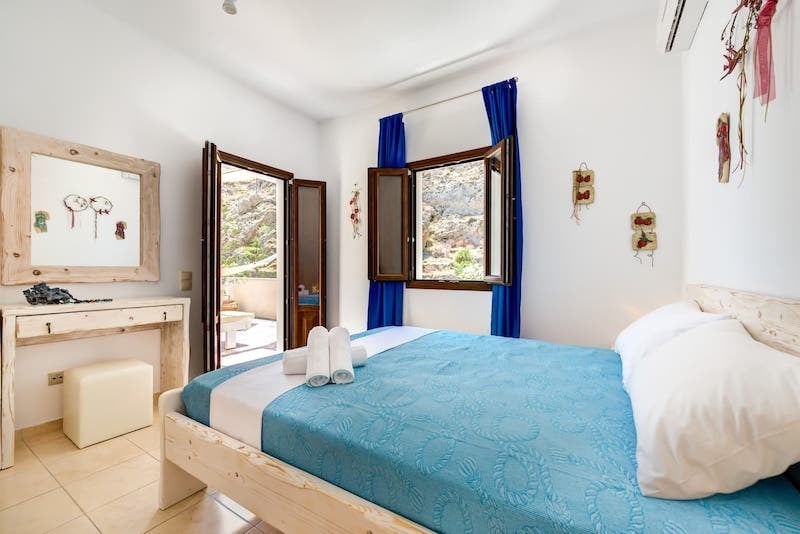 Listing name: Kalipso Beach House
Listing type: Entire apartment
Max. no. of guests: 2
No. of bedrooms: 1 
Picture having a secluded corner of Santorini all to yourself. Located in the quiet coastal village of Kamari, the Kalipso Beach House brings the rugged landscape of the island to your doorstep without the tourist crowds. It comes with a terrace with deckchairs and a hammock for relaxation. Anytime you feel like going for a swim, the clear waters and black sands of Kamari Beach are less than five minutes away from your apartment. 
4. This Terracotta Cave House with unique architecture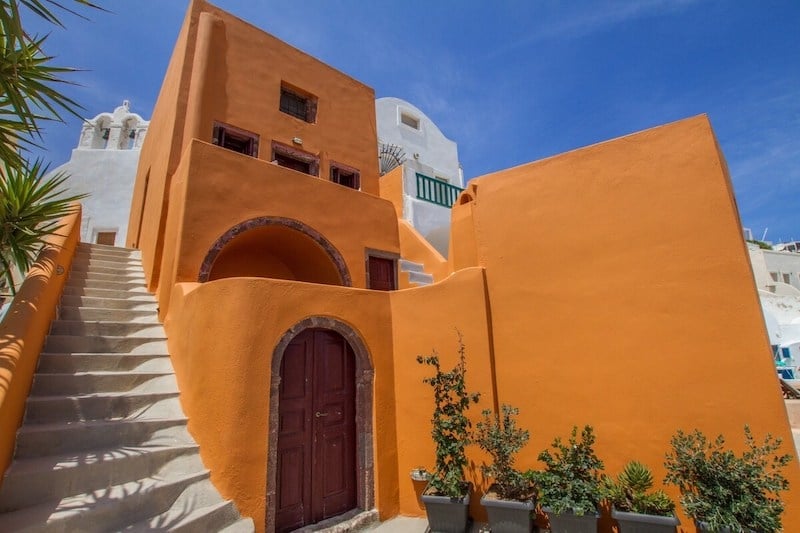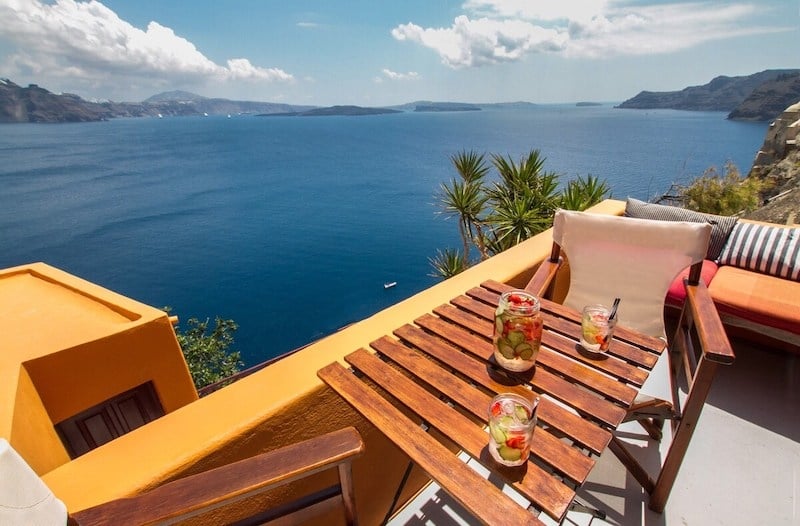 Listing name: Terracotta Cave House (2)
Listing type: Cycladic home
Max. no. of guests: 3
No. of bedrooms: 1
Thanks to its distinctive facade, some guests say that you can spot the Terracotta Cave House even in candid photos taken by other tourists. This Greek cave house is painted orange, allowing it to stand out in a village of white and blue houses. Head to the picturesque balcony, where you can soak up an unobstructed view of the volcano and the caldera. 
5. This pristine cave house in the heart of Oia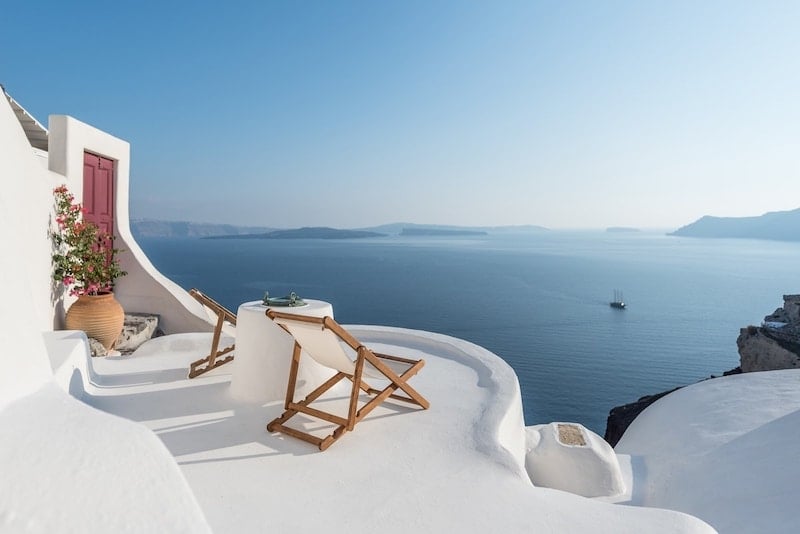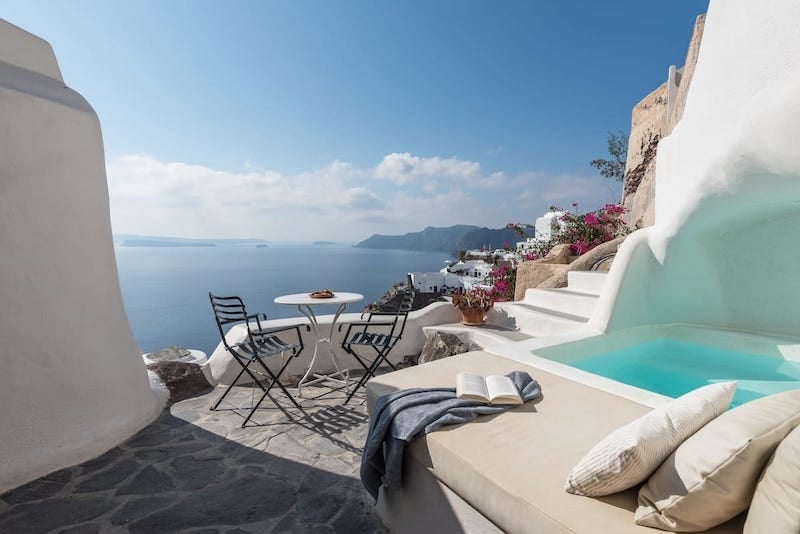 Listing name: Unique Architecture Cave House by Cycladica
Listing type: Cycladic house 
Max. no. of guests: 4
No. of bedrooms: 2
Who wouldn't want to wake up to breathtaking views from a whitewashed cave house? This Cycladic house belongs to a family of architects, who renovated the structure as part of a traditional complex of cave houses. It has two bedrooms, a sloped terrace with a lounge area, a hot tub, and modern amenities such as air-conditioning and WiFi. You're only a short walk away from the main pedestrian street of Oia, but if you ask us, the real Santorini is right here. 
6. This Vima Villa in the inland village of Emporio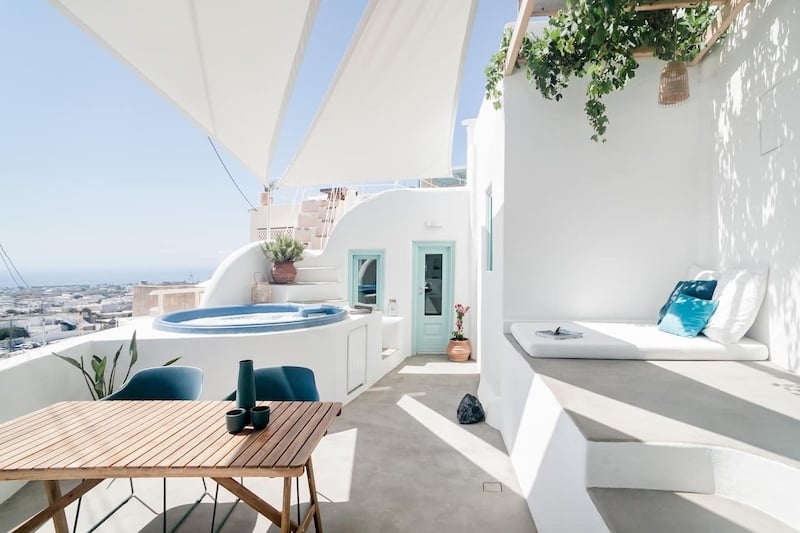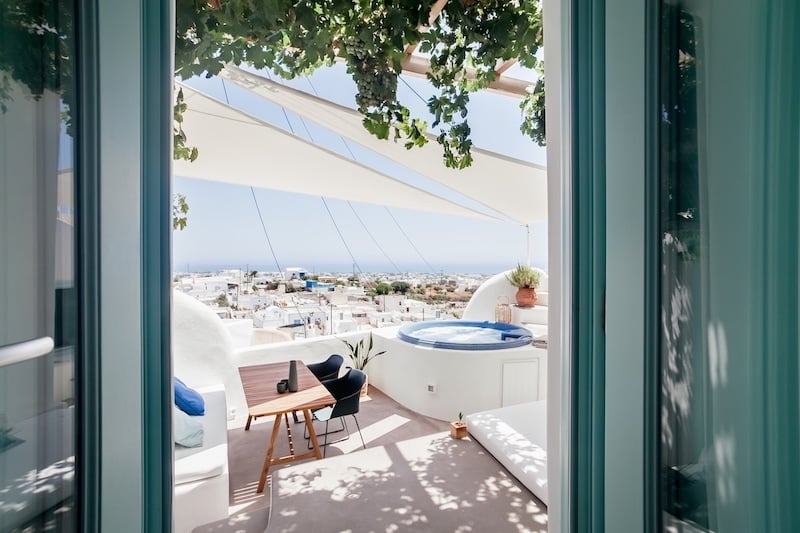 Listing name: Vima Villa. Traditional, Modern, Luxury
Listing type: Cycladic house 
Max. no. of guests: 4
No. of bedrooms: 2
A traditional villa constructed more than 300 years ago, Vima Villa is tucked away amidst an enchanting labyrinth of restaurants, tavernas, churches, and quaint cafes that serve yoghurt parfaits. It sits in the whitewashed village of Emporio, a soothing alternative to the busier parts of the island. Under the climbing vines of the patio, you can unwind with a glass of wine in the Jacuzzi, which overlooks the Aegean Sea. 
Also read: 10 Stunning Airbnbs in Santorini That Are Worth the Splurge
Airbnb vacation homes in Mykonos, Greece
7. This vibrant apartment in Mykonos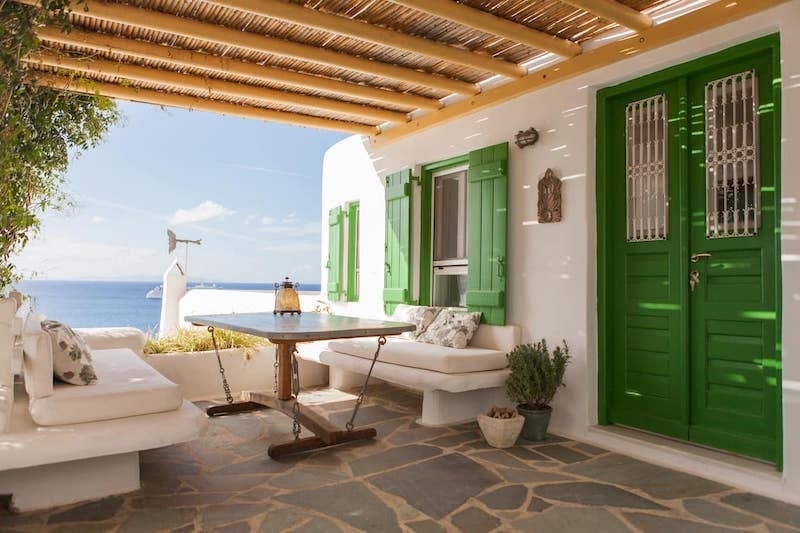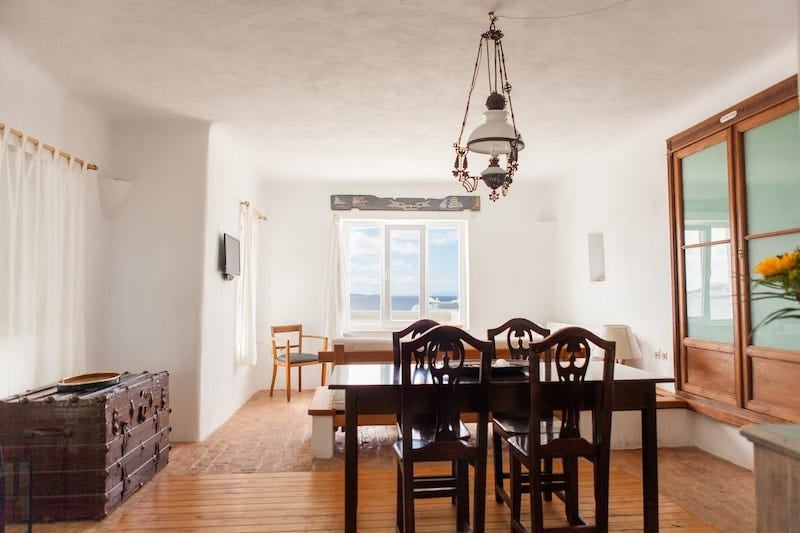 Listing name: Serenity-traditional house with stunning sea view
Listing type: Cycladic home
Max. no. of guests: 4
No. of bedrooms: 1
Looking for a home away from home in Mykonos? This vibrant apartment boasts a strategic location that's just five minutes away from the liveliest restaurants and bars in town. But it also gives you the best of both worlds: a peaceful retreat away from the party-till-dawn scene, this one-bedroom has the ambience of an oceanside cottage. Plus, the shaded terrace is a lovely place to watch the sunset. 
8. This family-friendly home with a central location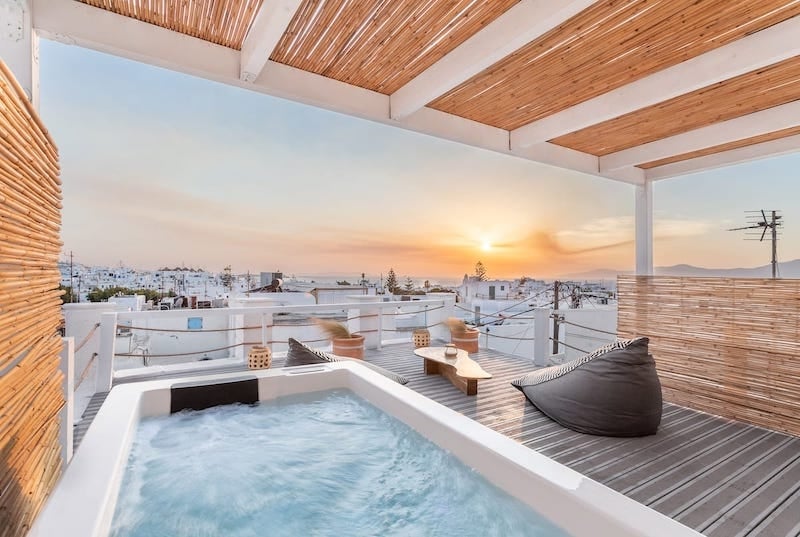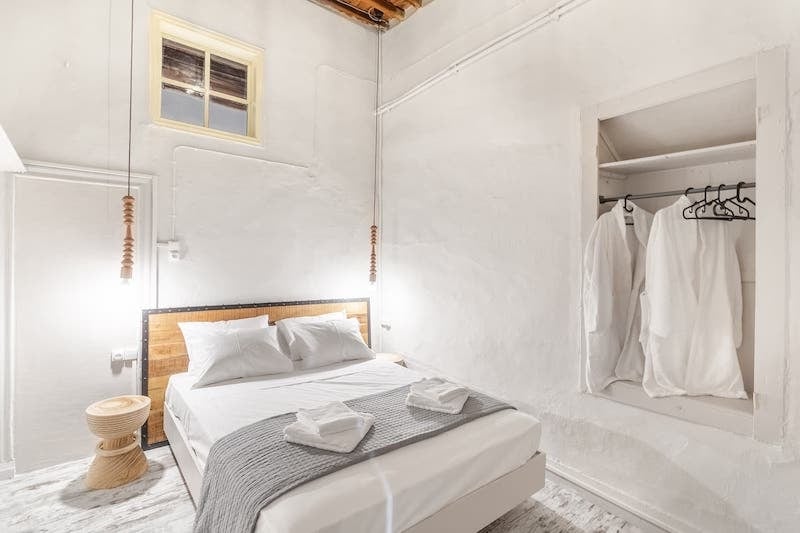 Listing name: Cosmo Luxe – 8 pax with Jacuzzi, Mykonos center
Listing type: Entire home 
Max. no. of guests: 8
No. of bedrooms: 3
With enough room for up to eight people, this family-friendly home in the heart of Mykonos comes highly recommended for travellers who need space to move around. For its sophisticated design, this Airbnb in Mykonos has been featured by magazines in Greece. The house is fitted with three bedrooms, three bathrooms, a living room with a comfortable sofa, and a large terrace with a Jacuzzi. From the terrace, you can appreciate a unique view of the island's houses and feel the pulse of the town below. 
9. This studio with a dining table facing the Aegean Sea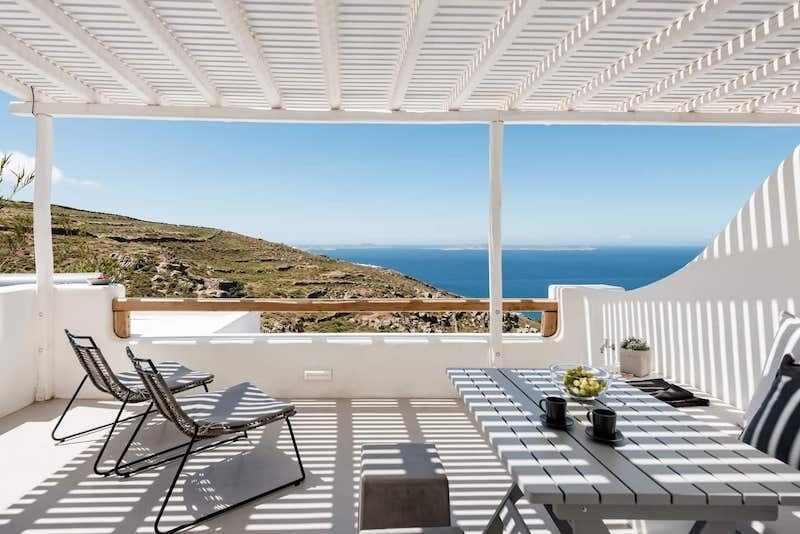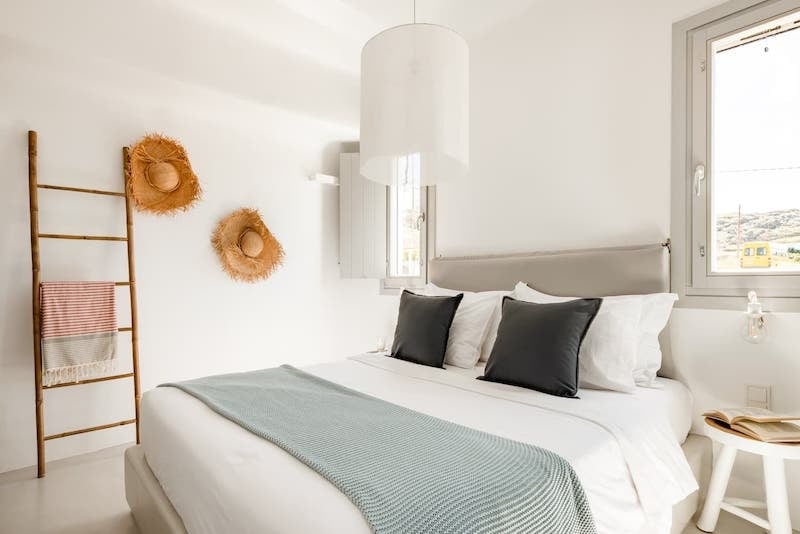 Listing name: Biatriza's Summer Shelter 1
Listing type: Entire apartment 
Max. no. of guests: 4
No. of bedrooms: 1
Here's an apartment we'd bookmark for the views. Biatriza's Summer Shelter flaunts a wide terrace and a dining table that's simply begging for you to set up a breakfast picnic. Upon entry, the minimalist bedroom and soft grey furniture are just as aesthetically pleasing. You can whip up a meal in the fully equipped kitchen. Or, lounge on the sofa beds by the window. But what truly steals the show at this studio are the sunsets over the Aegean Sea. 
Also read: 7 Picture-Perfect Airbnbs in Mykonos, Greece 
Airbnb vacation homes in Athens, Greece
10. This modern apartment in sight of the Acropolis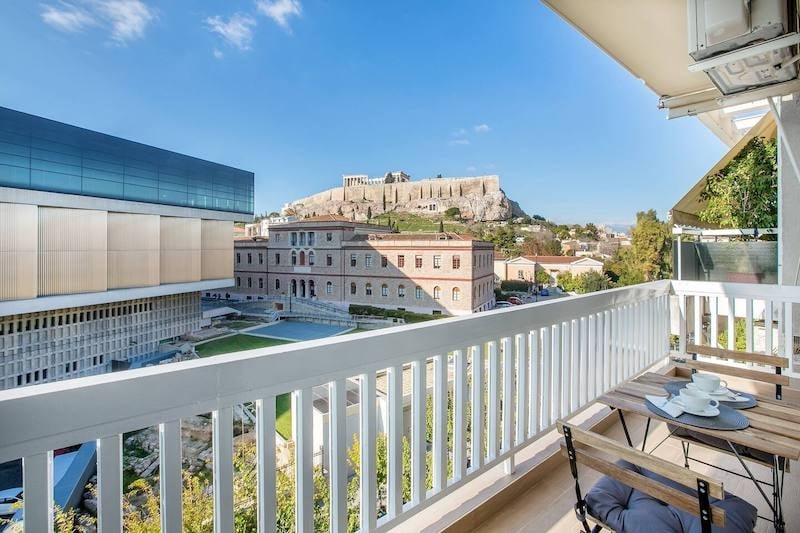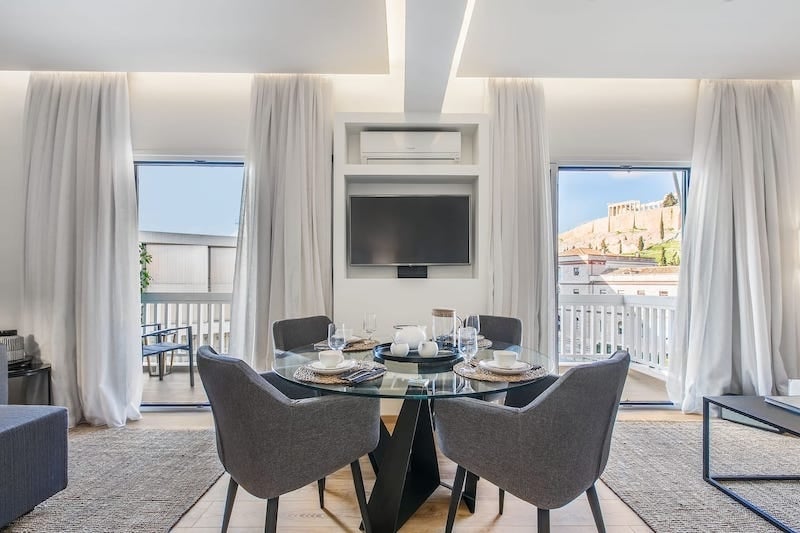 Listing name: Modern flat in the grounds of Acropolis monuments
Listing type: Entire apartment 
Max. no. of guests: 7
No. of bedrooms: 2
If your Airbnb in Athens doesn't surprise you with ancient Greek monuments from the moment you walk in, what's the point? From the balcony to the window of the living room, you can see both the Acropolis and the Acropolis Museum — almost like they're your next-door neighbours. Guests at this modern two-bedroom apartment can count themselves lucky, for they get to enjoy shopping and sightseeing in the historical centre of Athens. 
11. This penthouse with a private roof garden over Athens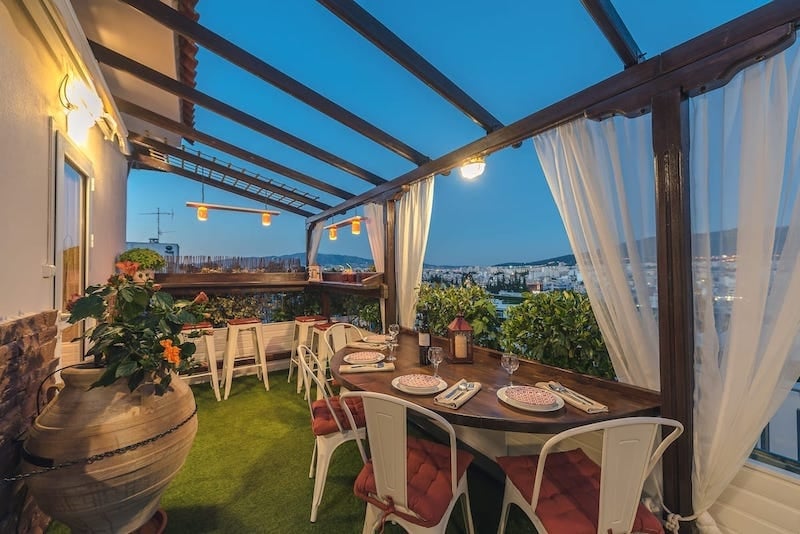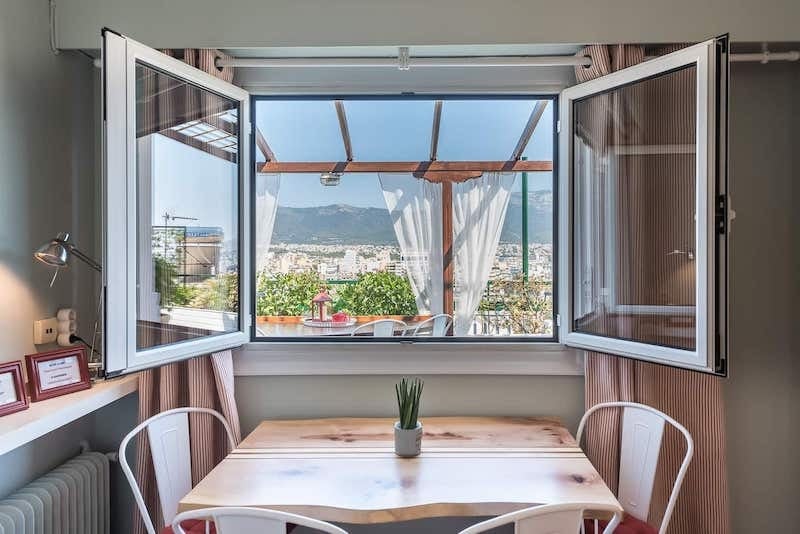 Listing name: Diamond Penthouse + Roofgarden with View 
Listing type: Entire apartment 
Max. no. of guests: 4
No. of bedrooms: Studio
For a hidden gem in Athens, The Diamond Penthouse beckons to guests with its beautiful roof garden. You can bring up a glass of wine up to the terrace, where the outdoor seating area and the romantic lighting are ideal for al fresco dining. Ira and George's apartment is tucked away in a safe residential neighbourhood, which offers a calming oasis from the hustle and bustle of city life. It's perfect for almost any occasion, be it a relaxing getaway or a date night for two. 
12. This boutique apartment with a special view of the Parthenon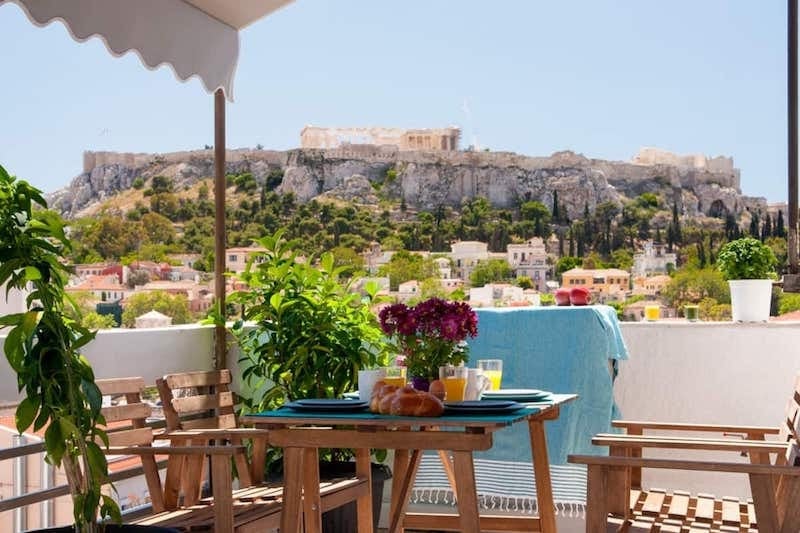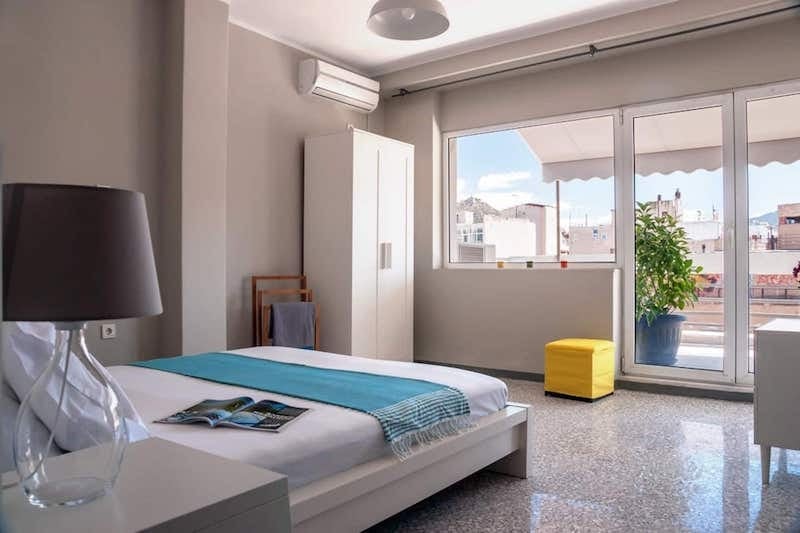 Listing name: AMAZING PENTHOUSE – ACROPOLIS VIEW PRIVATE TERRACE
Listing type: Entire apartment 
Max. no. of guests: 6
No. of bedrooms: 2 
Located in the Monastiraki neighbourhood of Athens, this penthouse apartment with a balcony offers views of the Plaka and the Acropolis without breaking the bank. Inside, you can relish your coffee and breakfast from the balcony, as the Parthenon looms in the distance. The two-bedroom apartment also grants easy access to tourist sites like Monastiraki Square, Ermou Street, Varvakeios Market, and the Temple of Hephaestus. This Airbnb in Athens serves as the perfect home base for eye-opening discoveries in the capital of Greece. Oh, and have you ever tasted Greek coffee before? Luckily, it's on the house. 
Also read: 10 Beautiful Airbnbs in Athens for the Perfect Grecian Holiday
Unique rentals in the Greek Islands that you can book on Airbnb
13. This charming stone villa in Chania, Crete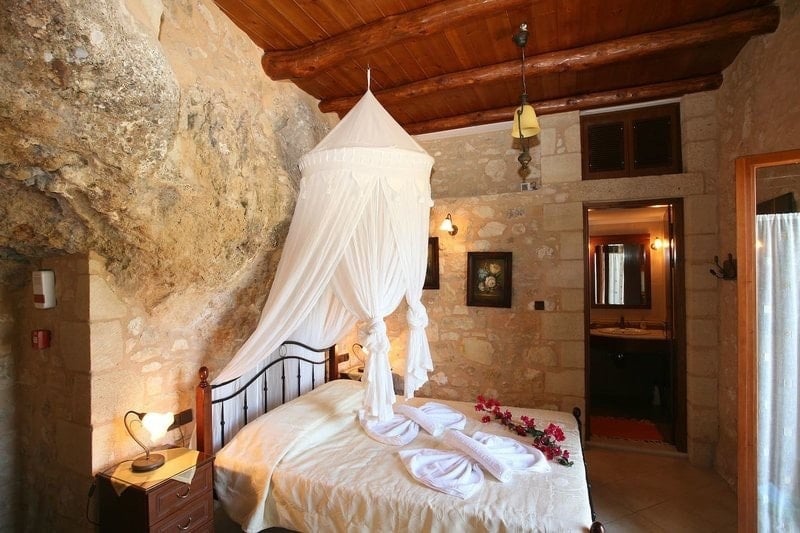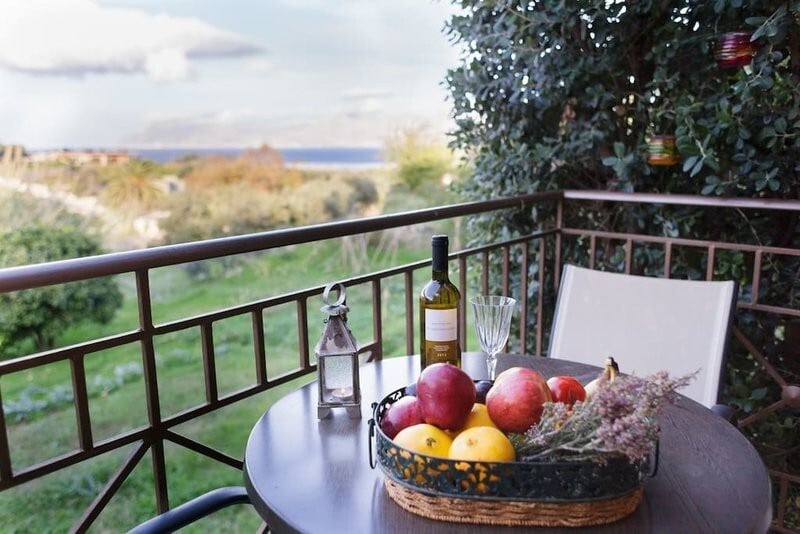 Listing name: Luxurious stone villa in Crete
Listing type: Cave
Max. no. of guests: 3 
No. of bedrooms: 1
Fancy staying in a traditional house in Crete? Situated on the biggest island of Greece, this charming stone villa offers a unique experience in a cave house. Past guests were left in awe at the sights that greeted them at this home base, from the fabulous sunsets on Kissamos Bay to the sound of the goats' bells coming from the hill. Besides the leisurely way of life in a sleepy village, you can enjoy a great location to tourist hotspots, such as Elafonisi Beach, Balos Beach, and Falasarna Beach. 
14. This Casa Filakopi farmhouse in Milos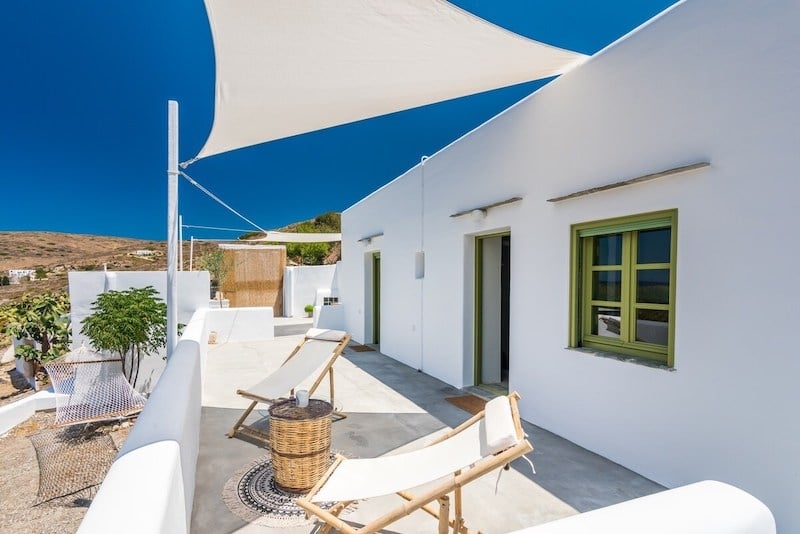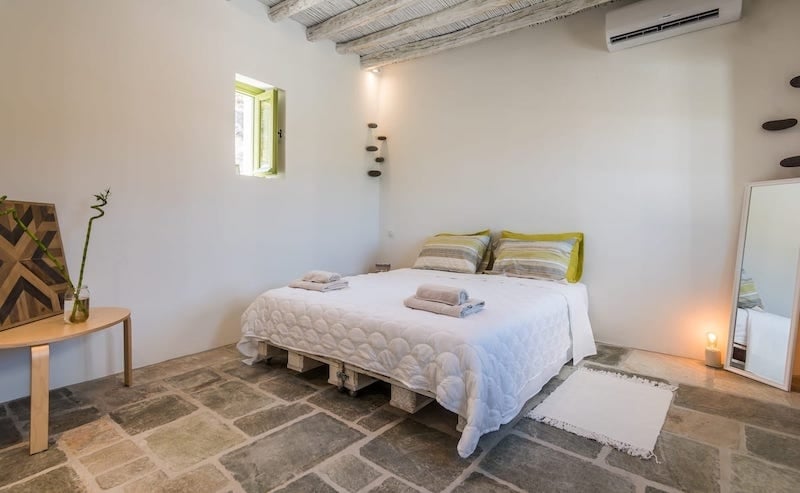 Listing name: CASA FILAKOPI 
Listing type: Cycladic house 
Max. no. of guests: 4
No. of bedrooms: 2
Tired of the usual stomping grounds on the Greek Islands? Check out Casa Filakopi, a restored farmhouse that offers guests a luxurious and meaningful stay. It's located in Milos, one of the quieter destinations for beach-hopping in Greece. It boasts two spacious bedrooms, a well-stocked kitchen, a garden with a hammock, and a terrace for candle-lit dinners or stargazing at night. Compared to mainstream tourist spots in Greece, this Airbnb in Milos stands out for its refreshing change of scenery and pace. As one of the guests playfully remarked: "If you're tired of drones and influencers in Santorini, come visit Milos and stay here." 
15. This postcard-worthy beach house facing a turquoise bay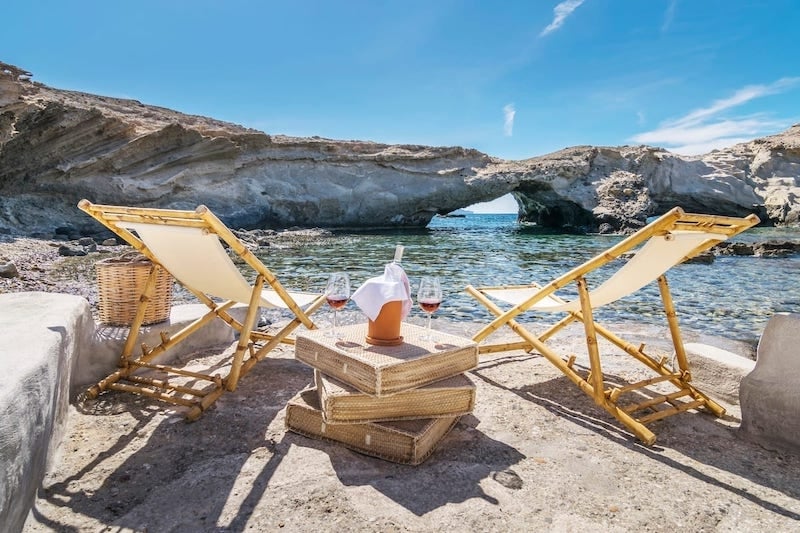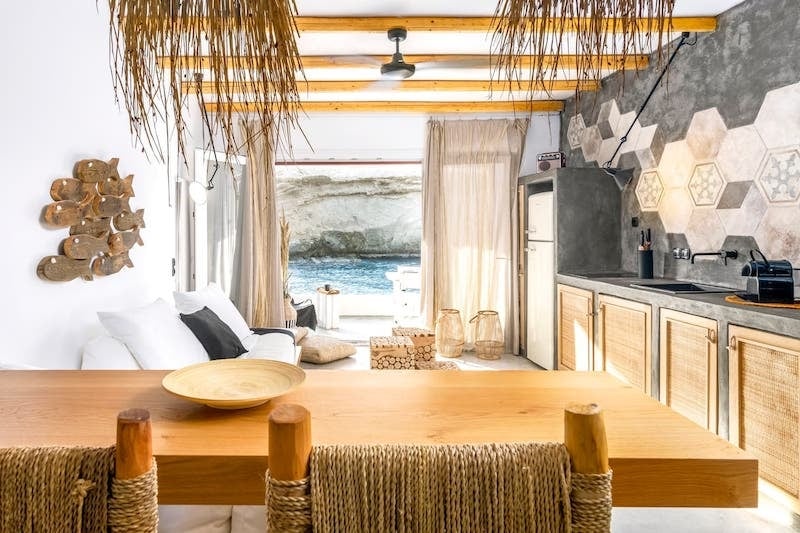 Listing name: AQUA HOUSE 2 
Listing type: Cycladic house 
Max. no. of guests: 6
No. of bedrooms: 2 
Rarely will you find an Airbnb in Greece that feels like having an entire island to yourself, yet this postcard-worthy beach house on Milos lets you live right on the water's edge. Here, you can drift off to the sounds of the waves, swim in turquoise waters, or bring a glass of wine to the rocky shoreline facing the sea. With private beach access and free parking space, this Cycladic house allows sun-seekers to dip their toes back into the paradise we call Greece. 
16. This pastel pink villa with a pool in Paidochori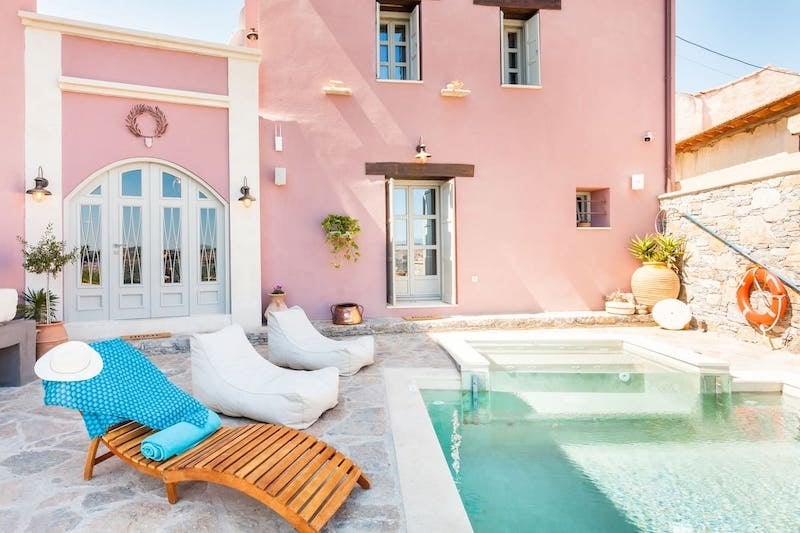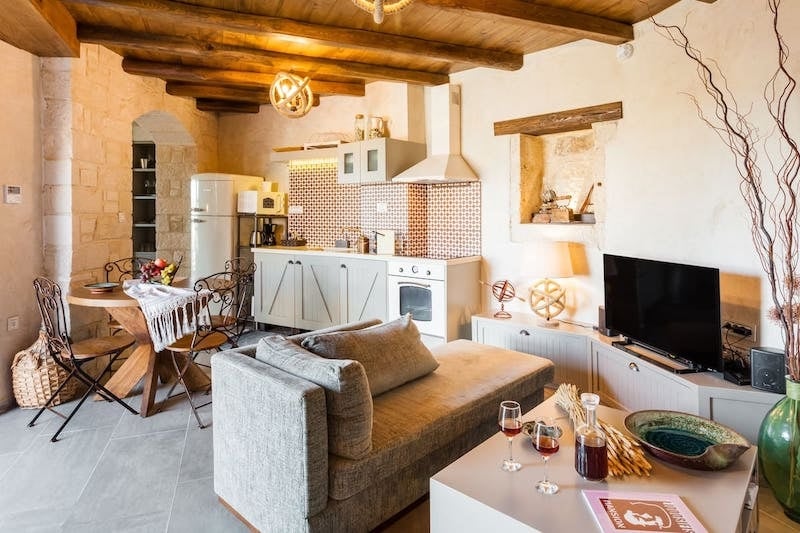 Listing name: Listen to Nature in a Renovated Traditional Hilltop Villa
Listing type: Entire home
Max. no. of guests: 7
No. of bedrooms: 3 
How about a laid-back trip to the countryside? Located near the resort town of Georgioupolis, this pastel pink villa provides a serene escape in the sleepy village of Paidochori. It offers cosy interiors and three bedrooms within stone walls, complete with a swimming pool and a shaded terrace outside. While the villa itself can be reached after a steep climb, this Airbnb in Crete rewards guests with its seclusion and views of the rolling terrain. 
17. This Cycladic house with limitless ocean views in Treis Ekklisies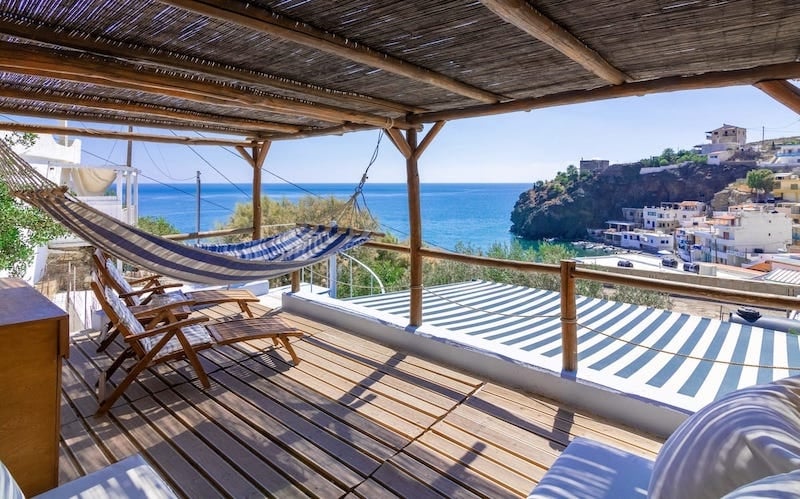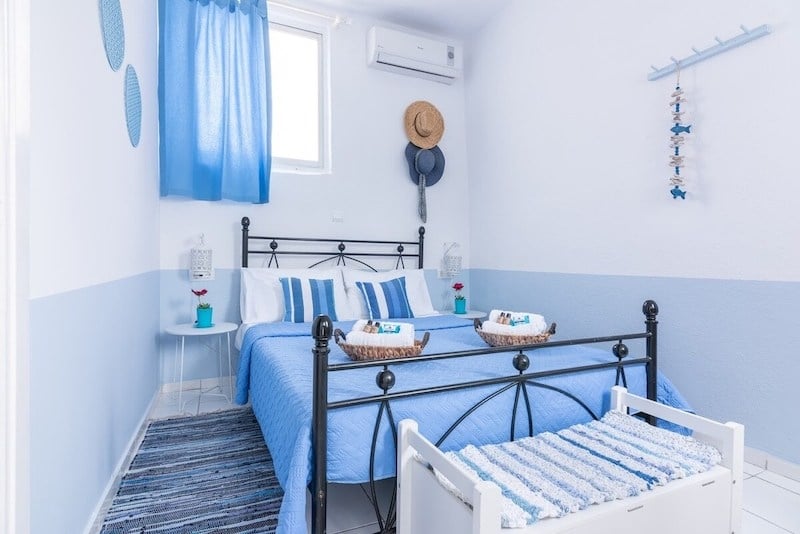 Listing name: Best seaview sundeck where time stops & world ends
Listing type: Cycladic house 
Max. no. of guests: 4
No. of bedrooms: 2
Described as the place where "time stops [and the] world ends," this Cycladic house in Treis Ekklisies is one of the most stunning Airbnbs in Greece. Here, you have everything you need for a comfortable stay. There are two tastefully decorated bedrooms and a well-stocked kitchen with olive oil and spices. Furthermore, the hosts George and Anna like to surprise guests with a delicious homemade meal upon arrival. Outside, you can savour aperitif at the shaded terrace and take in incredible views from this sapphire abode. That you're just a short walk away from beaches and hiking trails in Crete makes the deal even sweeter. 
Beautiful Greek vacation homes that you can book on Vrbo
18. This 1891 home in the heart of Kefalas with an amazing view of the Aegean Sea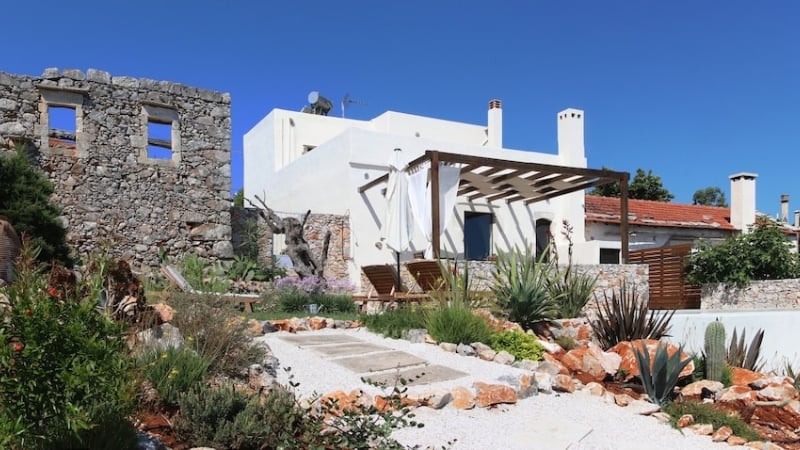 Listing name: 1891 Home Epitomizes Relaxation With Magical Views In The Heart Of The Village
Listing type: Entire villa
Max. no. of guests: 6
No. of bedrooms: 2
You'll be surprised to find out that this stunning villa initially served as an olive mill way back in 1891. Over a hundred years later, it has been renovated to accommodate guests who are looking for a well-designed retreat house. Its architecture and interior design add character and show off authentic Greek aesthetics to the home. That's not even the best part! Here, visitors have full access to a magnificent view of the Aegean Sea and the beautiful Mediterranean sky. 
19. This quaint stone home tucked in the traditional Cretan village of Mirsini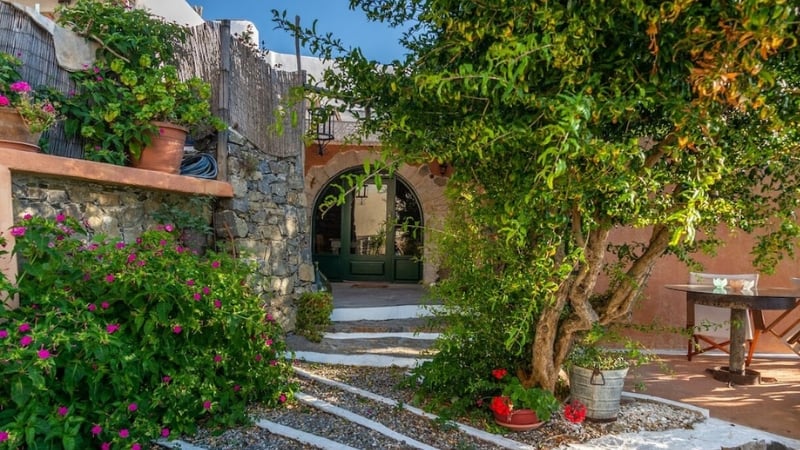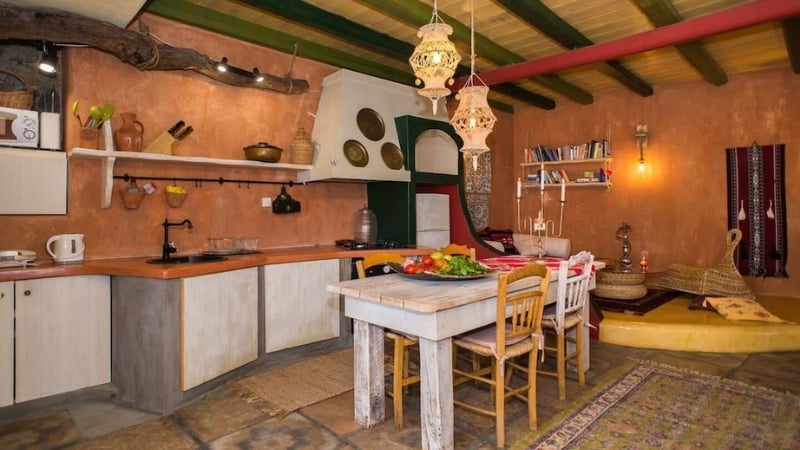 Listing name: The Old Pomegranate House – Sea view – AC – WIFI – SAT TV
Listing type: Entire house
Max. no. of guests: 4
No. of bedrooms: 2
This charming stone home may be off the beaten path, but it's centrally located for those who wish to explore the eastern side of Crete island. This home is situated in the small yet quaint village of Mirsini, perfect for visitors who want to veer away from touristy places. Its interior welcomes guests with intricate boho-chic furniture that add a lot of vibrance and personality to the living space. Additionally, its outdoor area offers a cosy and secluded nook designed around an old pomegranate tree.
20. This modern and bespoke retreat house that poses authentic Cretan architecture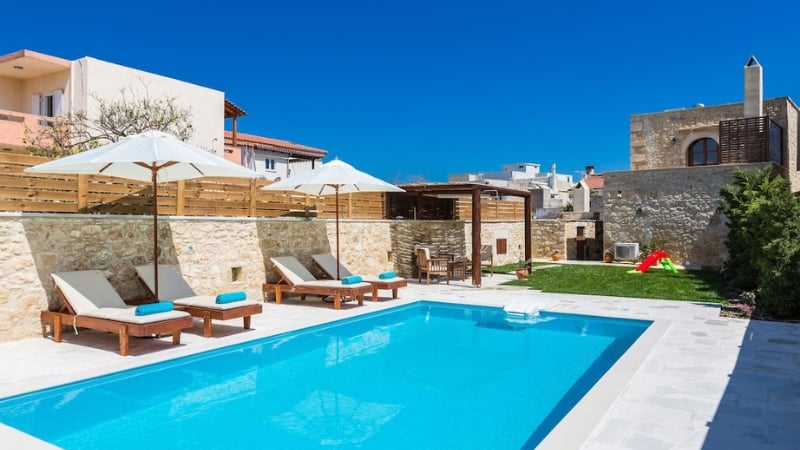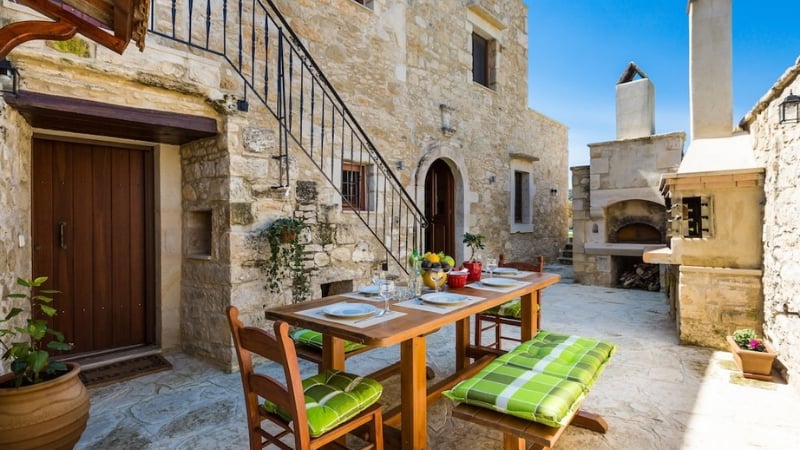 Listing name: Authenticity of Cretan architecture, with beautiful stone-built design
Listing type: Entire villa
Max. no. of guests: 7
No. of bedrooms: 3
Experience the Cretan way of living in a stone-built holiday home that offers an extensive selection of indoor and outdoor amenities. This gorgeous villa consists of three spacious bedrooms, a kitchen area that doubles as a dining space, and a living room decorated with wooden furniture. Outside, guests can soak up the sun by the pool area or have a BBQ party by the terrace. Additionally, there are some shops and great food places worth checking out for those who wish to explore the area. 
Also read: Beyond Santorini and Mykonos: 8 Fairytale Islands in Greece You Need to Visit 
There you have it: The best Airbnbs in Greece for your island-hopping adventures under the Mediterranean sun. Which of these vacation homes across the Greek Islands caught your eye? 
Got a property you'd like TripZilla to feature? Inquire with us here.
---
This article contains affiliate links. When you book through these links, we may earn a small commission at no additional cost to you. All images courtesy of the respective property listings.