Few destinations can hold a candle to the alluring sights of Spain, where elegant boulevards, colourful festivals, and ancient fortresses compete for your attention. It's no secret that this country has one of the most blissful climates in Europe, as it's blessed with mild temperatures and around 3,000 hours of sunshine. Fortunately, the same holds true for its accommodations. From coastal hideouts to rustic cottages, the best Airbnb vacation homes in Spain echo the country's rich culture and natural beauty.
If you're curious about where to stay in Spain, we've rounded up our favourite Airbnbs in Spain for a year-round getaway, whether you're visiting beloved cities like Madrid and Barcelona or flocking to warmer shores across Ibiza, Mallorca, and Tenerife. Check out these sun-soaked retreats and dreamy villas, which are ideal for any season. 
Top Airbnb vacation rentals in Spain
1. The apartment with an excellent location on the Plaza de Santa Ana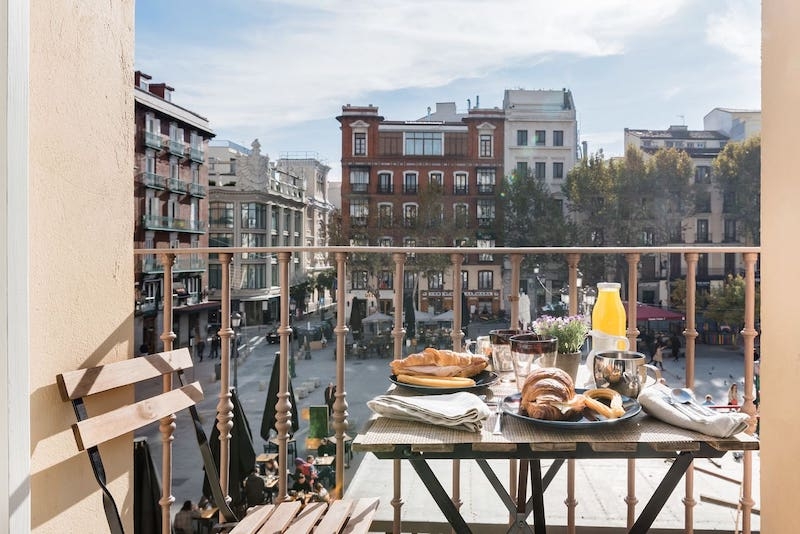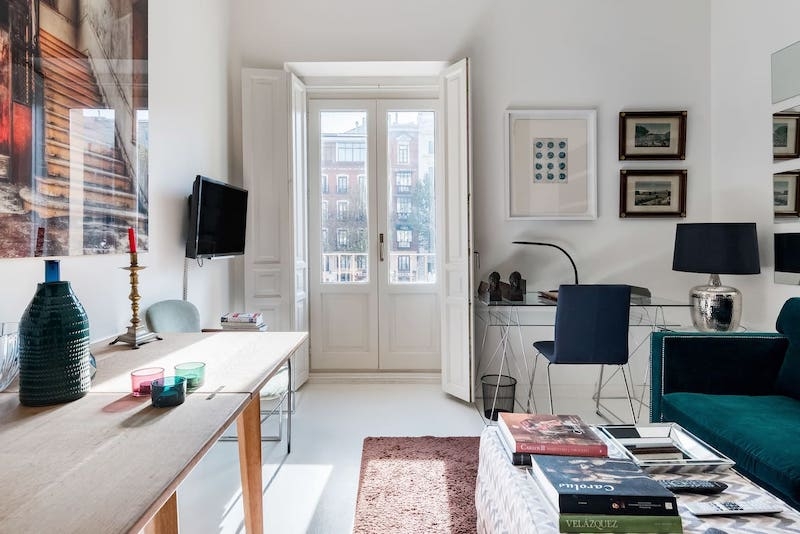 Listing name: Privacy with spectacular views of the Plaza de Santa Ana
Listing type: Entire apartment 
Max. no. of guests: 3
No. of bedrooms: 1
Madrid has no shortage of lively streets and historical buildings to discover, yet we're partial to this charming apartment with an unbeatable location on the Plaza de Santa Ana. It sits at the heart of the Barrio de las Letras, the bohemian literary quarter where famous Spanish writers like Miguel de Cervantes and Lope de Vega once lived. Cap off your day with aperitivo at the balcony, dine at open-air cafes and restaurants, or set out to explore the famous Paseo del Prado avenue — all of these are a short walk from this Airbnb in the capital city of Spain. 
2. The cosy apartment with a movie projector and scenic balconies in Madrid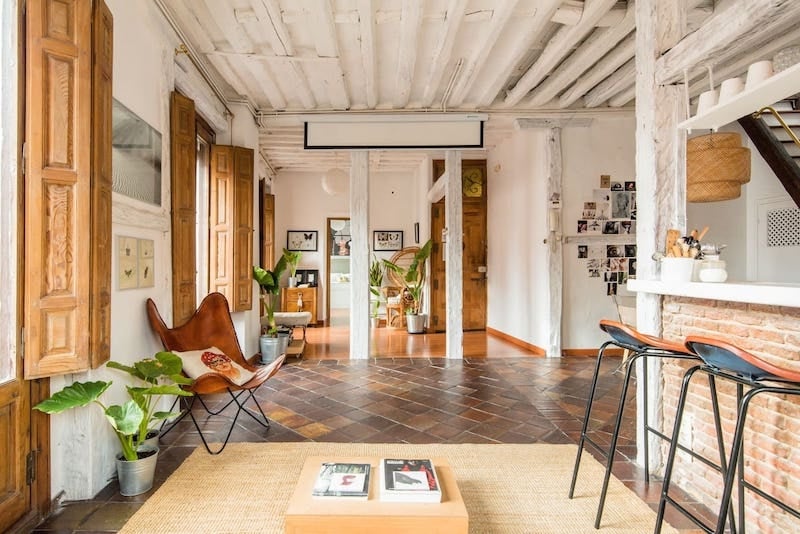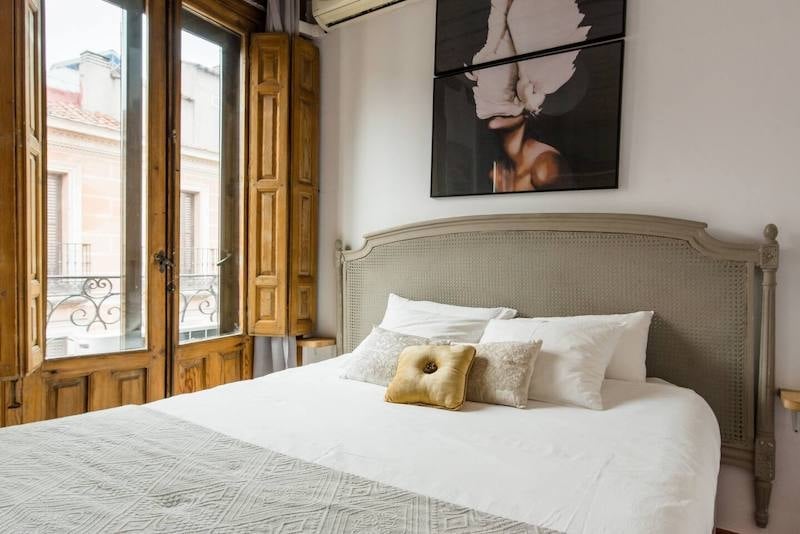 Listing name: Terrific Location with Video Projector and Netflix
Listing type: Entire rental unit 
Max. no. of guests: 4
No. of bedrooms: 2 
If retreating into art-filled hideaways and shopping for vintage goods are high on your itinerary, you're never going to want to leave this two-bedroom apartment on Calle del Pez. Set in the hip and student-friendly Malasaña district, this Airbnb in Madrid offers enchanting views of the city, a movie projector in the living room, a full kitchen with a bar, and several balconies that allow you to peer outside the streets. Although the unit is located on the fifth floor, it won't tarnish the feeling of waking up to church bells and embracing the local side of Madrid.
Also read: 8 Airbnbs in Madrid That Will Make You Feel Right at Home
3. The elegant penthouse with a terrace in Barcelona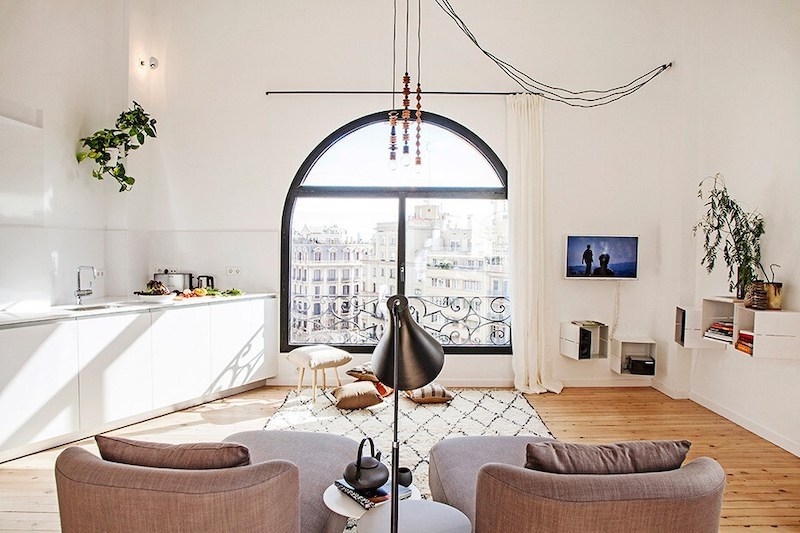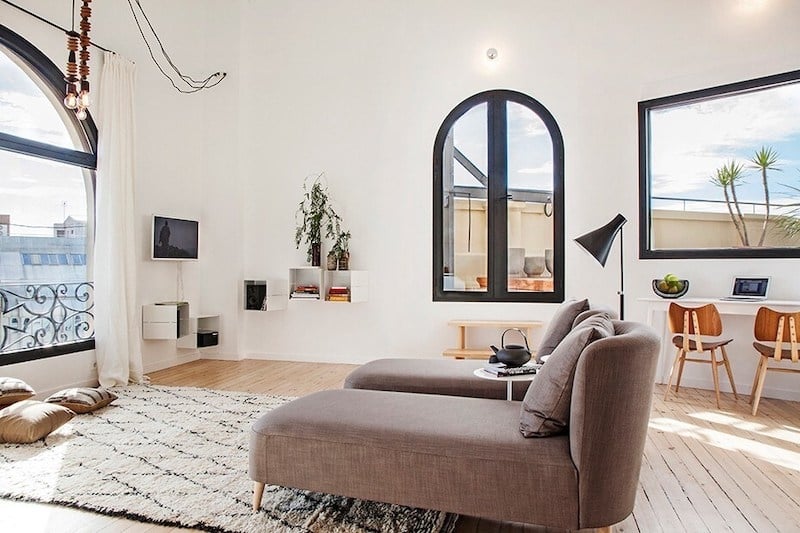 Listing name: Sky High Penthouse with Terrace
Listing type: Entire rental unit 
Max. no. of guests: 2
No. of bedrooms: 1
It's only fitting that your next Airbnb in Barcelona looks as stylish as the city itself. Expect nothing less from this well-decorated penthouse, where an arched window frames your elevated view of the Avinguda Diagonal. Besides its elegant interiors, the penthouse also enjoys close proximity to the high-end boutiques along L'Eixample and Gràcia. Despite its location on a busy avenue, the apartment's walls are thick enough to keep the noise out. 
Also read: 10 Stunning Airbnbs in Barcelona You'll Want to Move Right Into
4. The breezy Mediterranean-style loft near the beach in Valencia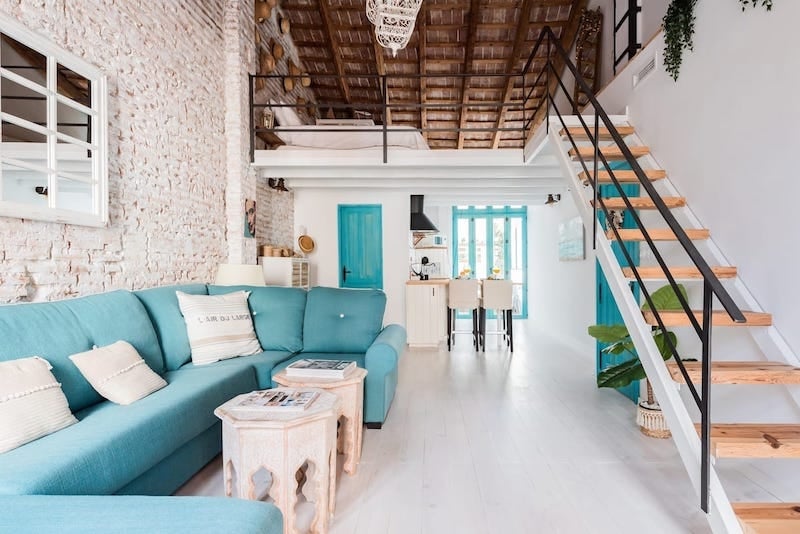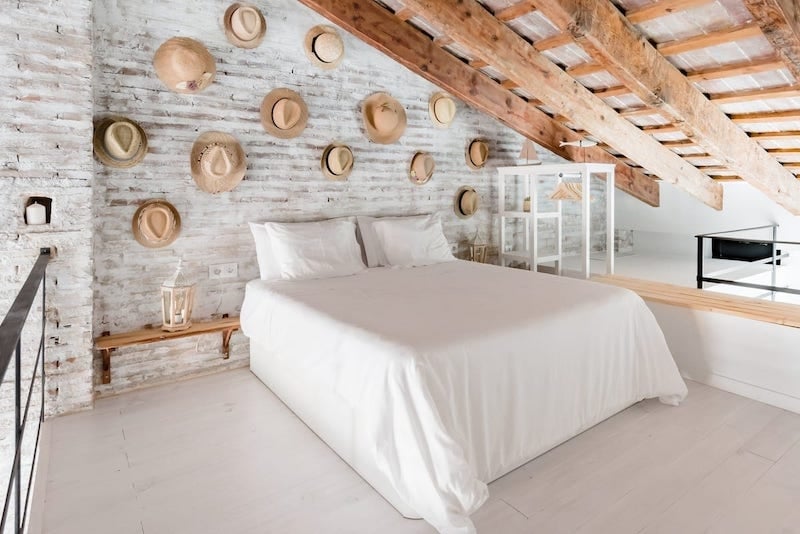 Listing name: Amazing Mediterranean beach loft, luggage storage
Listing type: Entire loft 
Max. no. of guests: 4
No. of bedrooms: 1 
Home to a large public market and celebrated as the birthplace of paella, the Spanish coastal city of Valencia offers one colourful surprise after another. For a retreat that's worthy of your foodie adventures, this breezy loft exudes the warm and laid-back ambience of a Mediterranean villa. 
Inside, you can find cool blue accents and indoor plants, as well as a sunny terrace and beach essentials for guests. Coincidentally, the loft is only a leisurely walk to La Malvarrosa Beach, a popular golden-sand beach filled with restaurants and cafes.
5. The sun-drenched retreat with a terrace facing the sea in Palma de Mallorca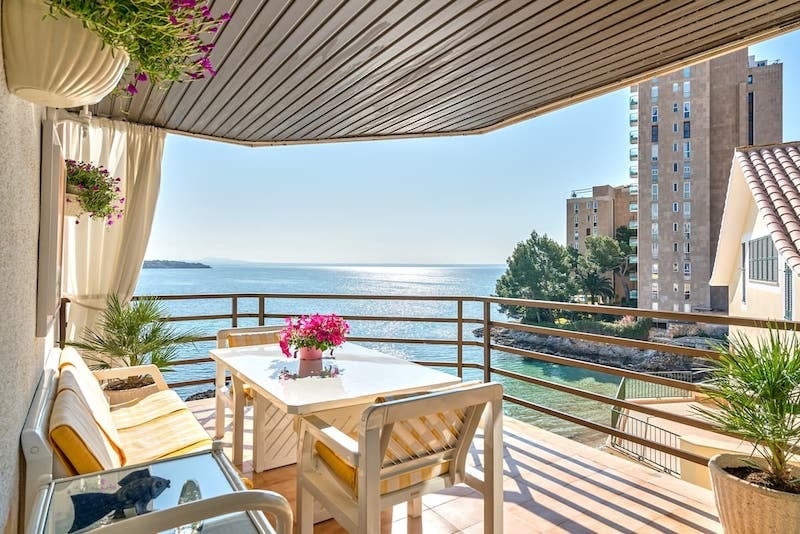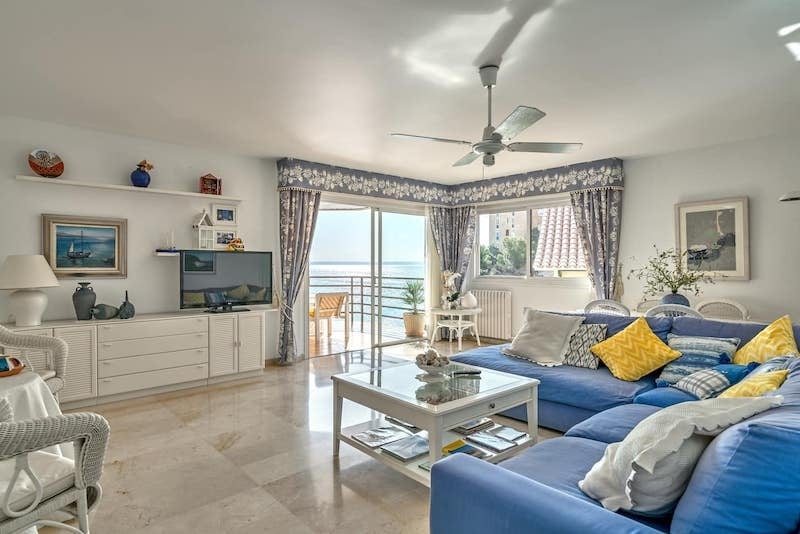 Listing name: Puntamar_ A Balcony Over Palma de Mallorca Bay
Listing type: Entire apartment 
Max. no. of guests: 6
No. of bedrooms: 3 
If you're in the mood for sunshine, sea views, and seafood paella, then pack your things and head to this idyllic retreat on the island of Mallorca. Not only is it one of the best vacation rentals in Spain, but this Airbnb in Mallorca also features sweeping views of Palma Bay from the living room and the terrace. Plus, it sits moments away from nearby restaurants and supermarkets, as well as the turquoise waters of Ses Illetes beach.
6. The dreamy seaside villa overlooking the bay of Pollença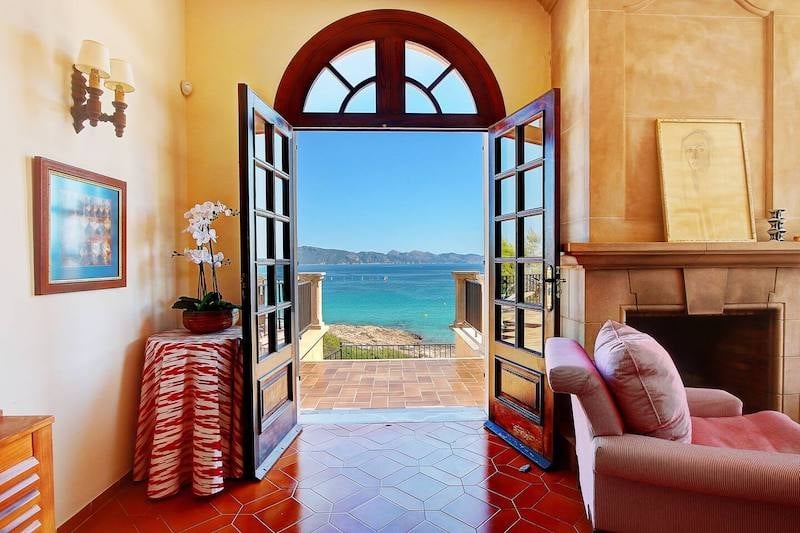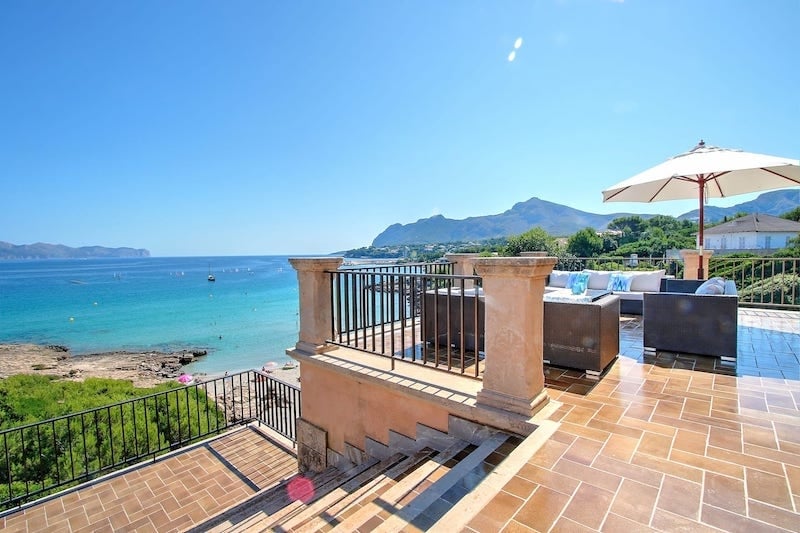 Listing name: Can Jeroni – Seafront villa direct access beach
Listing type: Entire villa 
Max. no. of guests: 12
No. of bedrooms: 7 
Take your Spanish holiday up a notch by renting this dreamy seaside villa near the town of Alcúdia. Rarely will you find a beach house as perfectly located as this one, where each of the seven bedrooms comes with a stunning lookout of the Bay of Pollença. Even better, you can walk right up to the crystal-clear waters of Sant Pere beach. 
Additionally, this Mallorca-style villa provides everything you might need for outdoor activities, from surfboards to mountain bikes. If you prefer to hit the sand running, this is one of the best Airbnbs in Spain to rent for group trips. 
7. The quiet cottage with a fruit orchard in Ibiza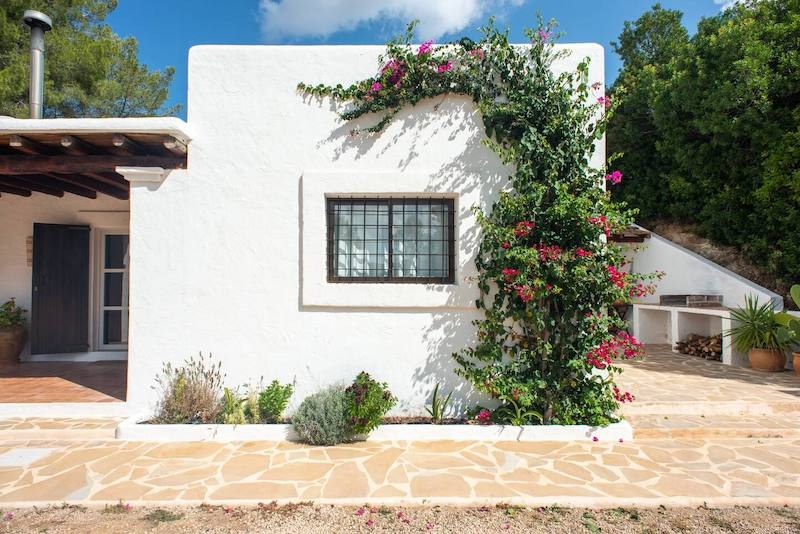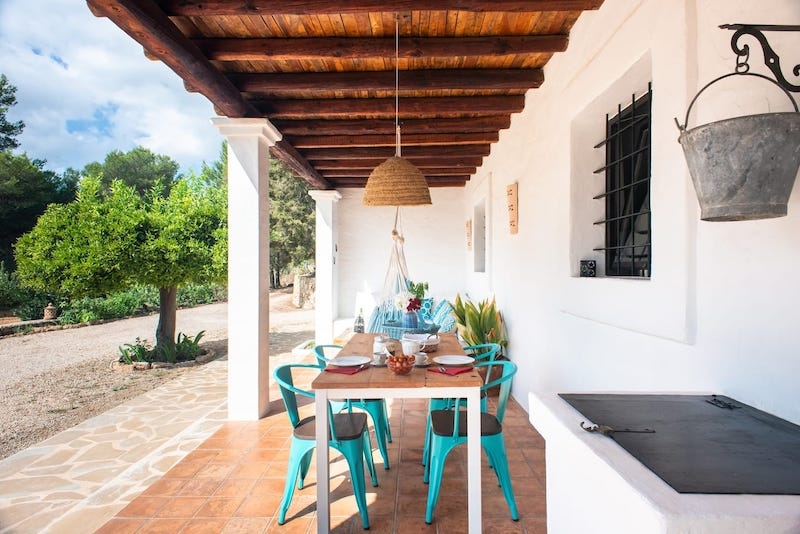 Listing name: S´Hort den Cala Ibiza, Wifi, Barbecue, Parking.
Listing type: Entire cottage 
Max. no. of guests: 4
No. of bedrooms: 2
When you aren't dancing until dawn and soaking up the Spanish nightlife, take some time off to roam the verdant grounds of this peaceful two-bedroom cottage. Located in the village of San Rafael, this Airbnb in Ibiza has a vegetable garden and a thriving fruit orchard surrounding the property.
Throughout your stay, you're welcome to feed the chickens, harvest fresh vegetables, pick apples and lemons from the trees, and enjoy farm-to-table dining on the patio. All the while, you're a quick drive away from exploring the lush vineyards and hillsides of Ibiza; not to mention crowd-favourite tourist spots like San Antonio and the Old Town.
8. The secluded apartment in Tenerife with the sounds of the ocean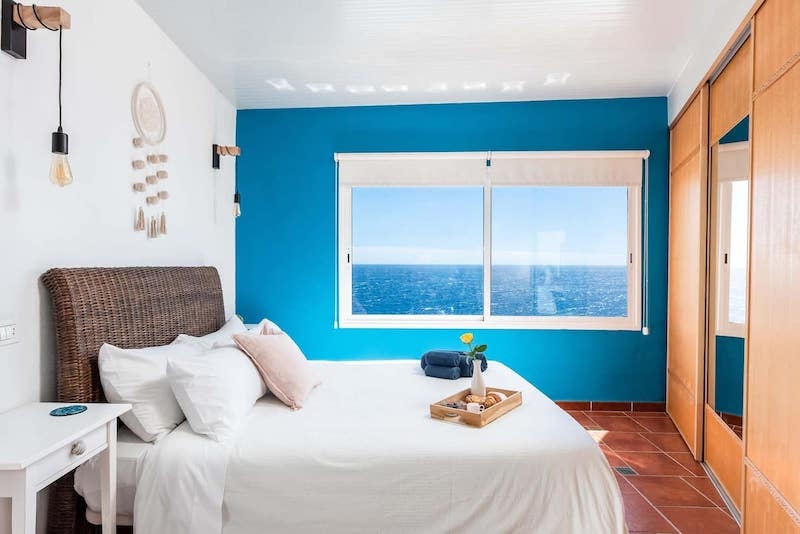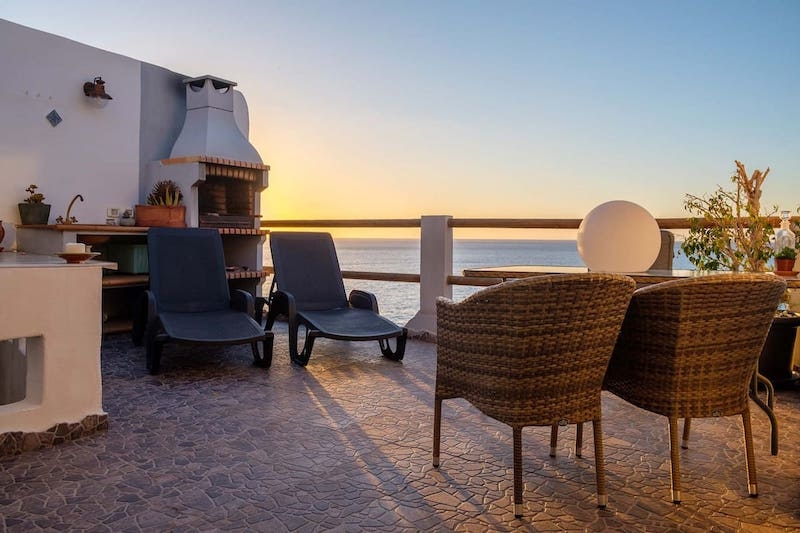 Listing name: Luminous Loft Apt. Above the Atlantic Ocean
Listing type: Entire apartment 
Max. no. of guests: 4
No. of bedrooms: 2
Tucked away in the port city of Santa Cruz de Tenerife, this secluded two-bedroom apartment lets you wake up to the vast expanse of the Atlantic Ocean. From this Airbnb in Tenerife, you can admire the sunrise from your bedroom and even hear the waves from each room — almost like you're living inside a boat. Not to be missed is the enchanting scenery that awaits you at the terrace, where you can doze off on the hammock during siesta or drink wine under the stars. 
9. The family-friendly oasis with coastal views in Santa Ponsa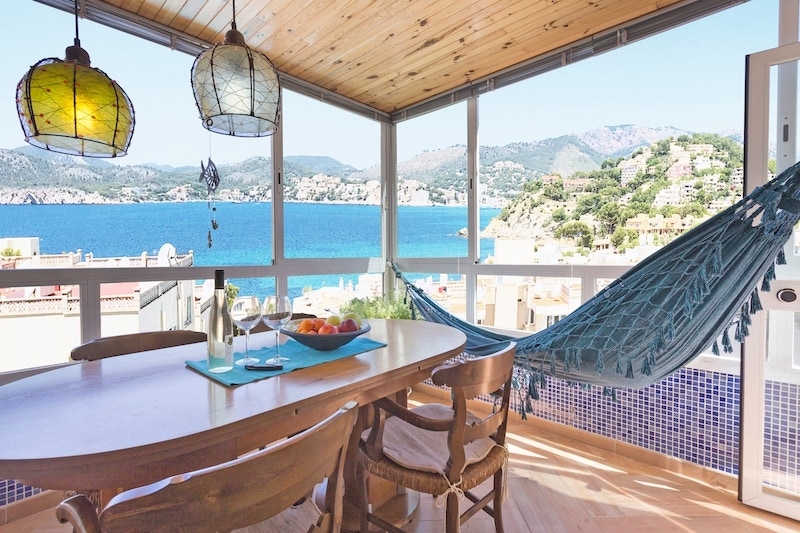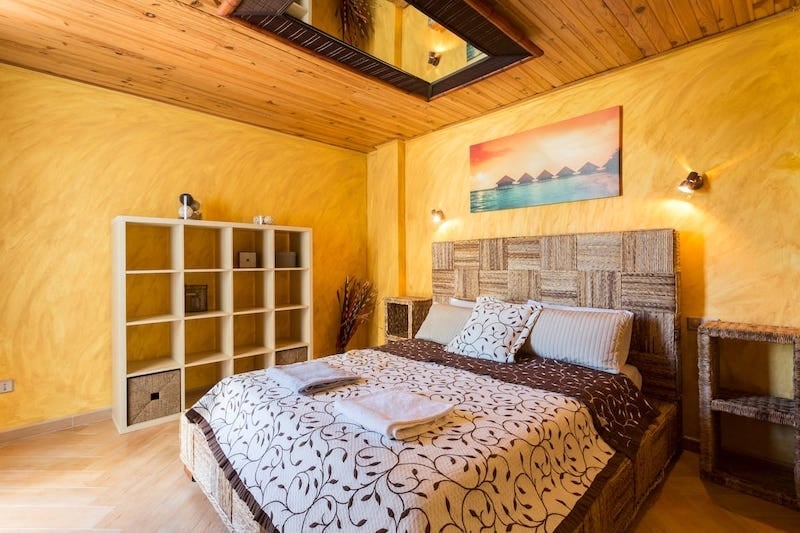 Listing name: Amazing apartment sea view quiet
Listing type: Entire apartment 
Max. no. of guests: 6
No. of bedrooms: 3
Nothing sets the tone for a vacation quite like a well-equipped beach house, as guests will instantly learn upon entering this stunning three-bedroom apartment. Located in the southwest region of Mallorca, this Airbnb in Santa Ponsa supplies everything you need for a relaxing stay, including comfortable beds, high-speed WiFi, and coastal views for days. What's more, it's an easy walk to Playa de Santa Ponsa, a family-friendly beach with seaside bars and restaurants.
10. The romantic escape for two in front of the Alhambra in Granada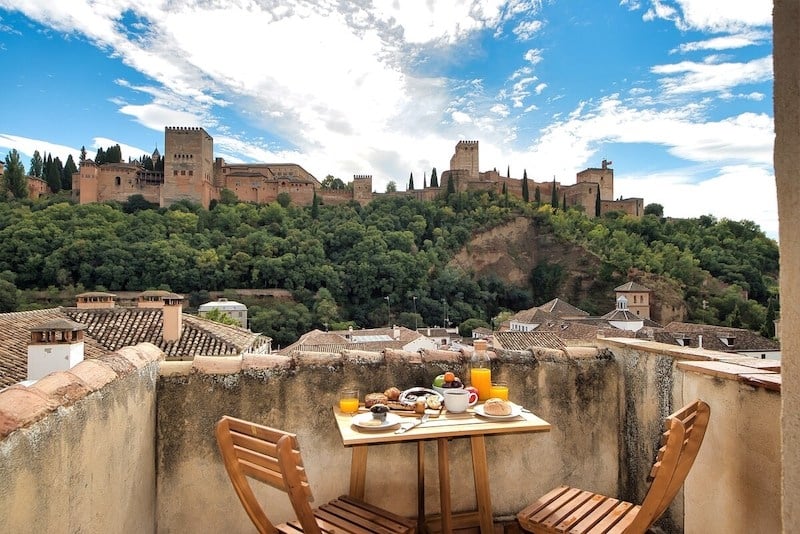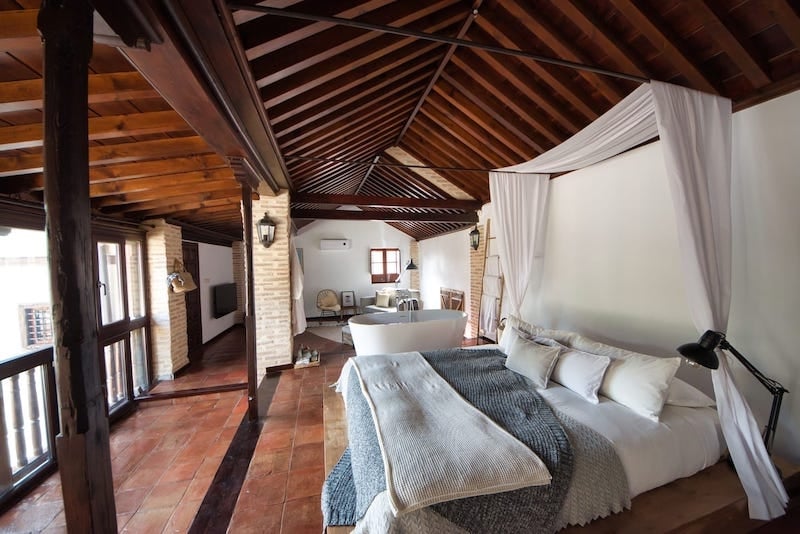 Listing name: THE LOVERS ATTIC
Listing type: Entire loft
Max. no. of guests: 2
No. of bedrooms: Studio 
Surely, no trip to Spain is complete without a visit to the ancient ruins of Granada. Aptly named "The Lover's Attic," this romantic loft for two guests directly faces the Alhambra and showcases the best views in the city, while making travellers feel as if they've stepped back in time. 
Easily one of our favourite Airbnb rentals in Spain, this Airbnb in Granada also features multiple vantage points to gaze upon the Moorish fortress, from the dining area on the balcony to the large soaking tub in the bedroom. Come nightfall, you can't miss the dramatic sight of the palace illuminated against the dark sky. 
Also read: 8D7N Itinerary Around Spain: Barcelona, Valencia and Madrid
With the best Airbnb vacation rentals in Spain, you won't have any trouble swimming in secluded beaches, feasting on tapas, and experiencing a cultural immersion that ventures beyond the usual tourist stops. All that's left is to brush up on your Spanish, and finally book the holiday you've been waiting for.