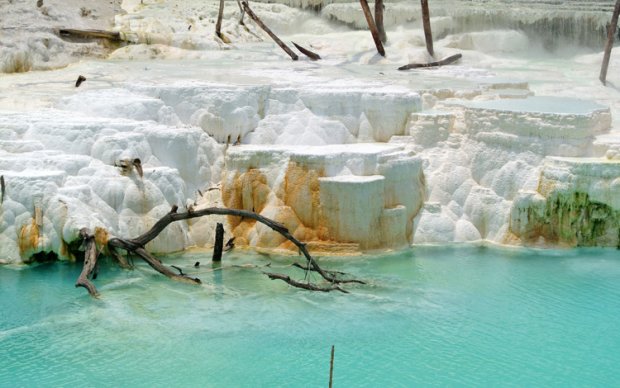 A sight to behold – Kawah Putih Tinggi Raja, Indonesia
At a glance, Kawah Putih Tinggi Raja resembles the natural rock pools of Pamukkale, Turkey. "Kawah Putih" literally translates to "white crater" in Indonesian, and it is one of North Sumatra's best kept secrets. Found in the village of Tinggi Raja in the Simalungun province, Kawah Putih is a natural hot spring that has hardened to form white terraces rich in calcium carbonate deposits.
It takes about 4 hours to drive from Medan to reach these "warm snow" terraces. Bear in mind that this location is not a typical tourist hotspot with top-notch facilities. It's completely off the beaten path and the road leading to it is paved with huge uneven stones. If you don't mind a super bumpy car ride, hiring a four-wheel drive is the way to go. Luckily for me, transportation was arranged by my local friend from Medan and we left for Tinggi Raja early on a Friday morning.
Also read: Braving the Toxic Fumes of Ijen Crater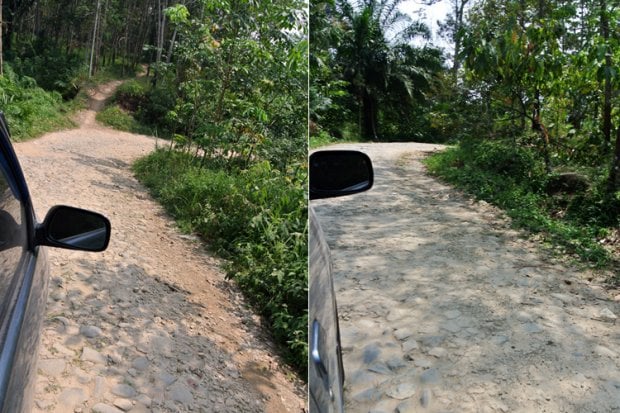 Rocky roads leading to Tinggi Raja
It's a long drive on rocky roads from the main road leading into the secluded area of Tinggi Raja. You will pass by about four to five villages, palm oil, cocoa and rubber plantations along the way. Just enjoy the scenery! From the lack of signage, it seems that the local authorities do not have plans to make Kawah Putih easily accessible to tourist. We had to stop a couple of times to ask for directions until we saw this sign: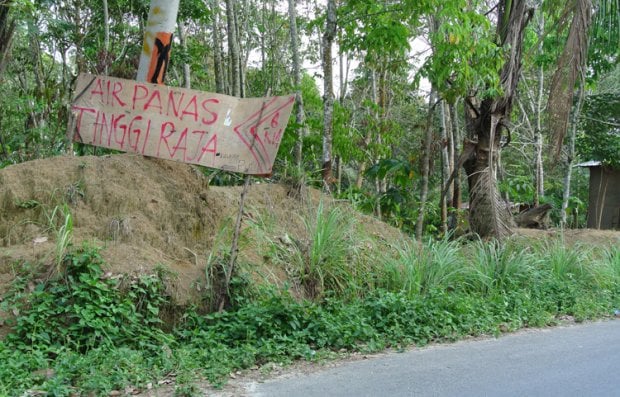 The only signage telling you that you're near. It says "Tinggi Raja Hot Spring, 6km".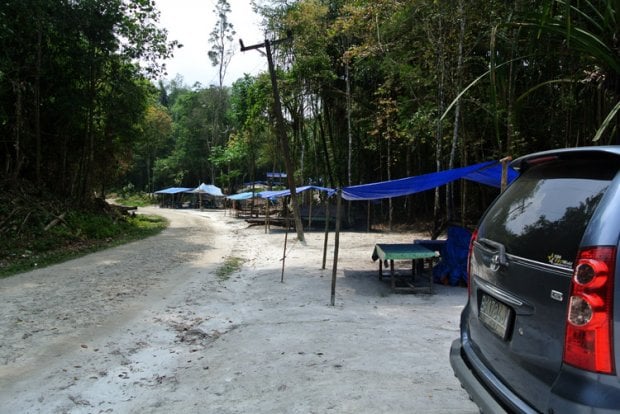 And we're here! The place seems deserted on a Friday, which is a working day so it's good for us to take photos without any hustle bustle distractions.
It is known that on weekends, this place is packed with local tourists and under the blue tents Tinggi Raja residents will be busy selling food and refreshments. There will also be some people waiting at the entrance of the path to Kawah Putih to collect some "entrance fees" from the visitors. Let's just say that you're not issued an official receipt or entrance ticket after you pay – so go figure it out.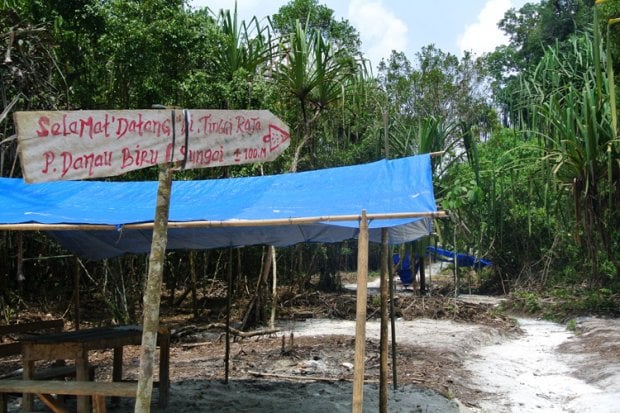 Another sign pointing to the path to Kawah Putih. From here it takes about 10 minutes on foot to reach the hot blue lagoon.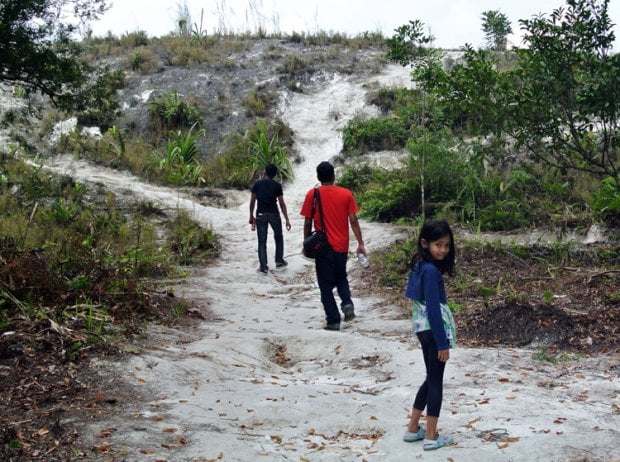 Don't worry, there's not much hiking or climbing – even a 7-year old can do it. Just follow the path! 🙂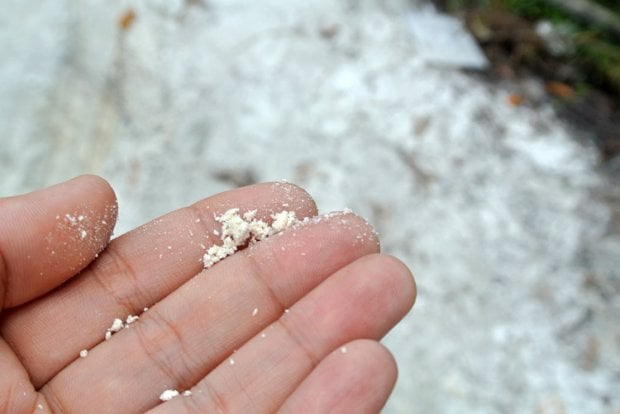 I noticed that the white sand in this area has a sticky texture.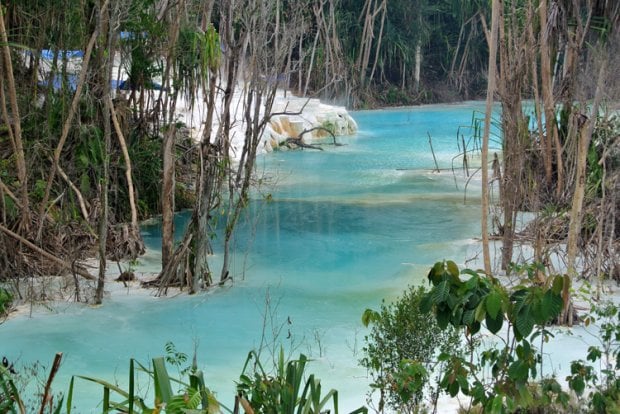 And amidst the trees…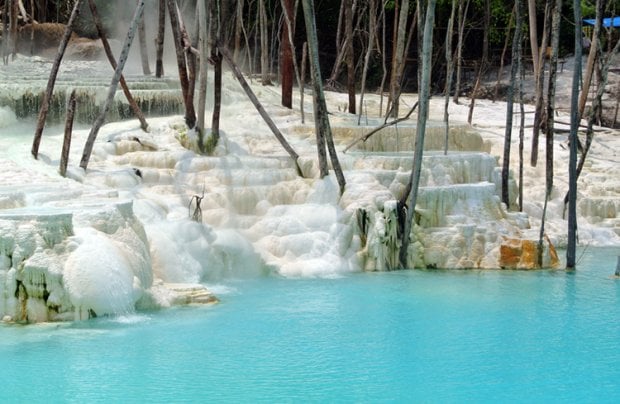 The hot terraces of Kawah Putih Tinggi Raja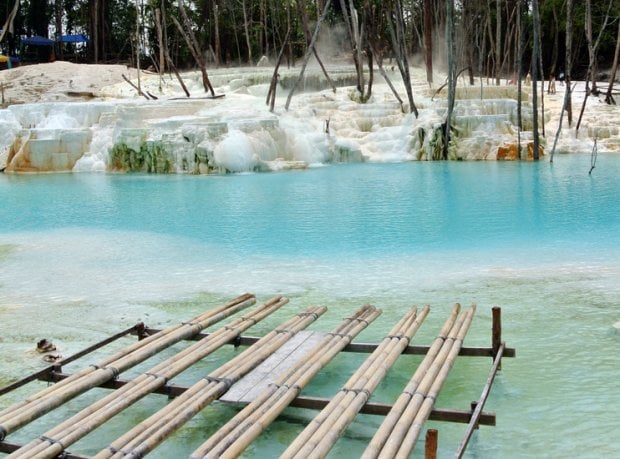 Unlike the Pamukkale pools in Turkey, the water here is too hot for swimming. Be careful not to step into the water – its temperature is so high it can boil an egg in mere minutes!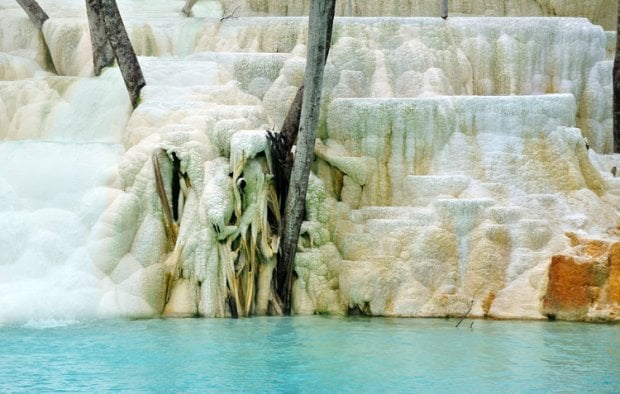 A close-up of the terraces
A panorama of the area
One of the locals we met there told us that the location of these terraces differs slightly from year to year due to the shift in the location of the underground hot water source that creates this magnificent view. So the photos of terraces you capture this year may look different from the one you take when you come back in a few years' time. How cool is that!
Also read: Mystery of Kawah Ijen Volcano's Blue Lava Unveiled
Nature's art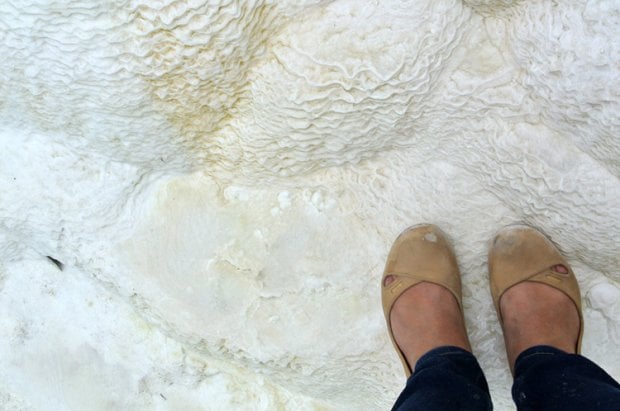 Amazing textures (and my trusty Crocs 🙂 )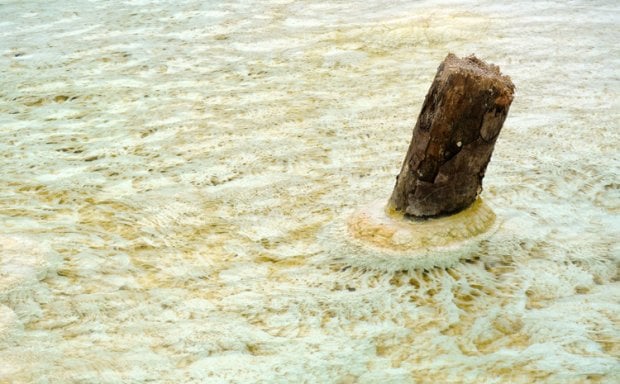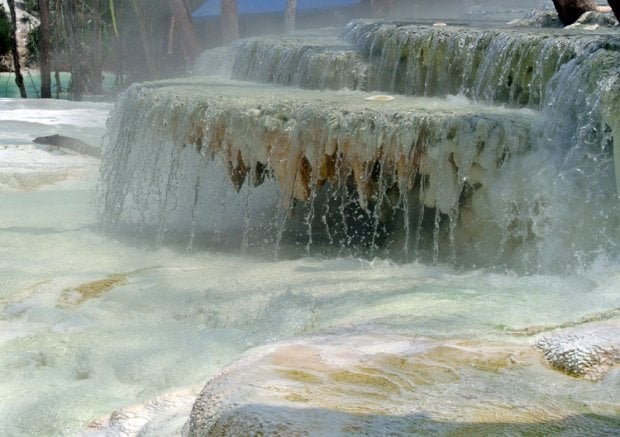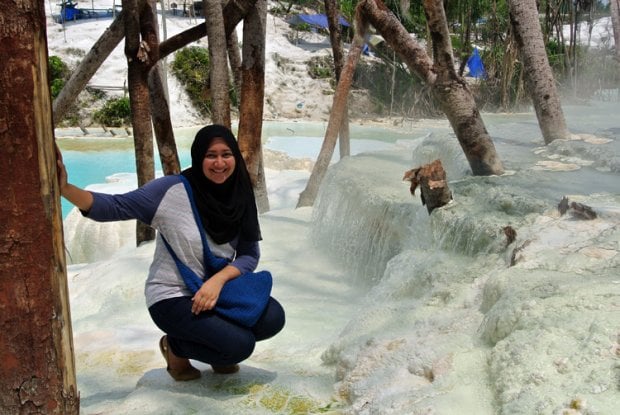 It's like being in an outdoor sauna. Tip-toe to avoid the scalding hot water!
Even though the journey here is tough, the view and the experience are definitely worth it. Here are some useful information and tips you need to know:
What to bring – food and drinks, wet wipes and a change of clothes.
When to visit – if possible, visit on a weekday when the place is almost clear of tourists and to avoid paying unnecessary 'fees'.
Start early so that you can beat the crowd and have the place for your own photographic pleasure!
Fees – be prepared to pay a small fee (RP 1000/person) to stand on one of the wooden bamboos to take photos (which is actually not allowed). Also beware of some locals trying to extort you for guiding fees.
Since this is a remote place, modern infrastructure here is close to none – there are no public facilities like proper toilets or signage, something the local authorities should look into improving, along with the preservation of this area.
We came across a local who willingly guided us down the path of stairs to see what's in store for us at the bottom.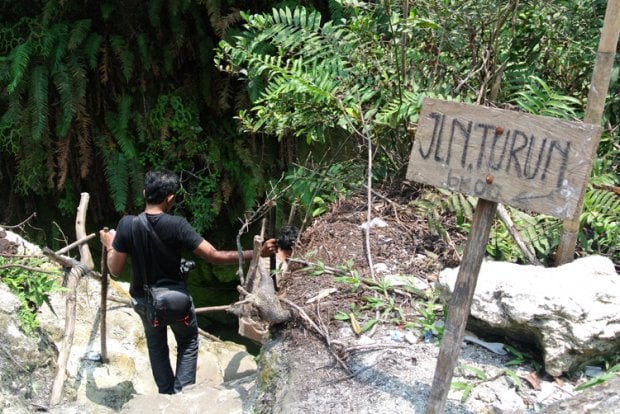 Thinking of heading there yourself? Browse through the Indonesian travel deals and packages now!
Also read: Volcano With Lakes in Indonesia – A Fascinating Phenomenon
Contributed by WebMaya.