Have you ever thought of a theme park vacation in Bandung? Bandung may not be famous for their recreational and theme parks, but there are plenty to keep you occupied for your vacation. Here are three to start you off.
Also read: 7 Things to Do in Bandung on Your Very First Visit
Trans Studio Bandung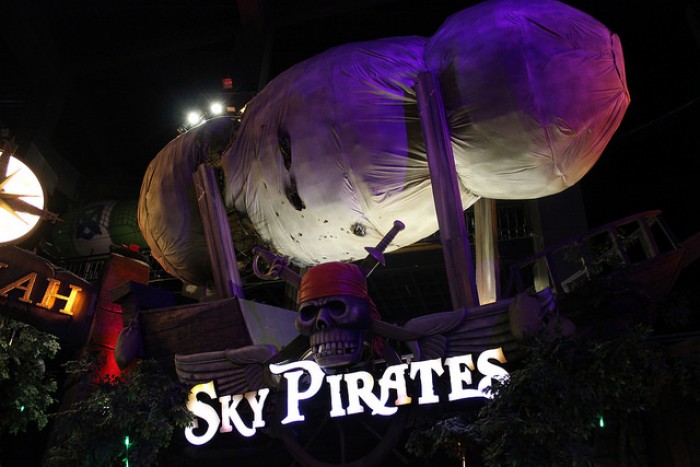 Image credit: indra.kurniawan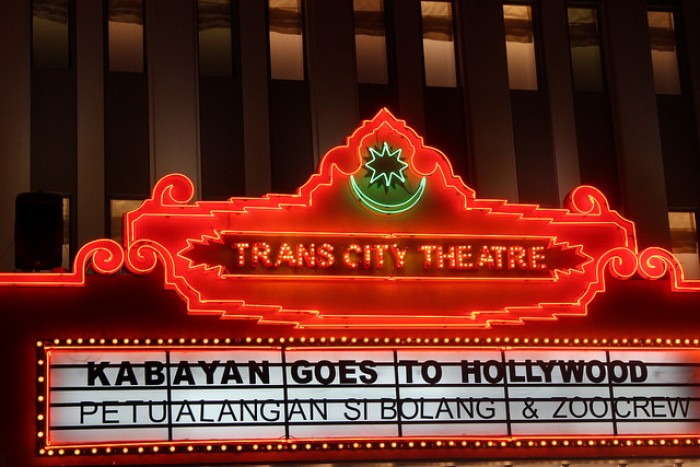 Image credit: indra.kurniawan  
Trans Studio Bandung is the second largest theme park in Indonesia after its Makassar predecessor. Considered to be more magnificent and thrilling than the latter, Trans Studio Bandung boasts 20 mind-blowing rides and entertainment venues that are separated in three different sections — all located within Bandung Super Mall!
In Lost City, an adventurous rescue game awaits, where you will see inspirations of Indiana Jones, Lara Croft and other adventure-laden films we could possibly think of. From cruising through an African jungle to climbing up a tall wall for the king's jewel, the safari aura of the park is a masterpiece package of four different attractions, including a world class amphitheatre.
For those who require an added thrill, or shall we say, a hint of spook, the Magic Corner welcomes you! Inspired by the mysterious Harry Potter with a dash of Old England, the neon-filled Magic Corner unforgivingly invites visitors into its six attractions. Don't worry about the children getting scared though; there are rides and games perfect for little ones to enjoy a mysterious dose of magic.
Lastly, the Studio Central is the one place you will spend most of your time at; it accommodates up to 10 exciting attractions. Themed in the 60's Hollywood era, this section brings you through the heart of the entertainment world — Michael Jackson, Marilyn Monroe, and even the Marvel Superheroes. You can also look forward to Indonesia's first giant swing and the Yamaha racing coaster, which is the third fastest after its two predecessors in USA! There is also a racing circuit for the road-crazy, and children-friendly attractions such as the Science Centre and the Kiddy's Land.
Kampung Gajah
Image credit: Ikhlasul Amal
Image credit: Saylow's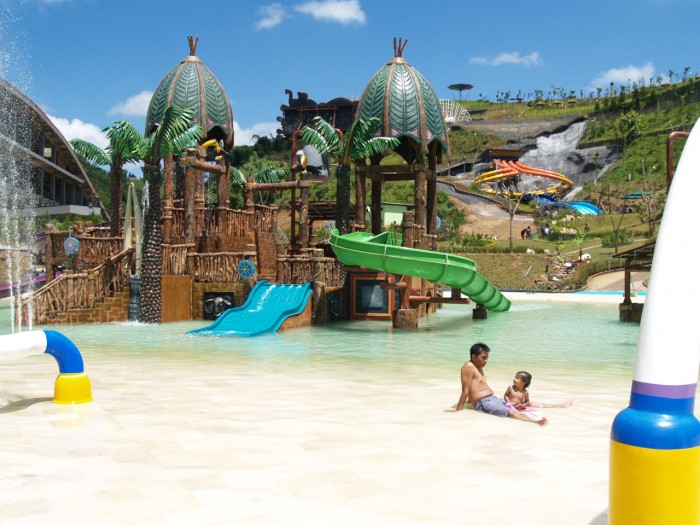 Image credit: Aneka Tempat Wisata
Image credit: Star Hero
Kampung Gajah Wonderland, located at Lembang, is a wonderland indeed; it is home to a strawberry field, a wet and dry theme park, a hotel and multiple restaurants offering local and international delicacies. That's probably why it's called "gajah" (which translates to "elephant" in Indonesian) though we cannot confirm how this place got its name.
If you have decided in advance that Kampung Gajah will be the place for your recreational vacation, book a room at Villa Diamond because not only is it located stone's throw away from all the fun, its surrounding lush green view of the land is marvellous! From mountainous slopes of green grass to fresh ponds, your morning walks will be refreshing to say the least.
To occupy your children's time with some slow leisure activity, prepare them for some strawberry picking! Make sure you point them to the juiciest strawberries to fill your baskets, but don't forget to fill yours too! And you know what's next — strawberry jam! After feeling accomplished with your best strawberry pick, it is time now to explore the two theme parks. We would suggest to keep one full day for each park if you are planning to experience all the rides!
In the dry theme park, the Tubby and Skyrider have been regarded as the best, and you might just want to make sure you get to the fun first before it rains as rides would close for safety reasons.
The Tubby is like a water slide… just without water. All you have to do is sit on a float (which has an oil-coated base), hold on to the ropes at the side and slide down. If that feels too mainstream, ask the staff to spin the float before sliding down. But please though, don't attempt this if you had just eaten!
If you thought sliding down a slope didn't quite give you the adrenaline you dearly craved for, perhaps the Skyrider might do the trick. Similar to the flying fox, this attraction lets you glide through the air while allowing the cold wind to slap right at your face. Don't worry about safety; all the necessary gears are sure to keep you in good hands!
But that's not all! For the children, there are several other activities, such as horse riding, bumper and aqua boat rides, and not forgetting the bungee trampoline!
Now time to get wet! The water park at Kampung Gajah, which can be reached on a buggy from other parts of the village, has various attractions as well. The wave and children's pool are perfect for an enjoyable family water recreation. However, water parks are not complete with their mega slides! In the Octopus Racers, you lay face down on a soft black mat as you slide down the colourful slopes. Take care of your eyes and noses though; the water isn't forgiving for this one! The Big Tornado, another one of their great slides, may look scary, especially when you're travelling through a tunnel where you have no clue of what is to come next. But come on, what are these parks without surprises?
Apart from all the exciting rides and activities, don't forget to stop by their restaurants, which usually open on the weekends. However, if you choose to beat the crowd, weekdays will be a preferable option.
Also read: Bandung, Indonesia Activities and Attractions for the Adventure Enthusiasts
Bandung Treetop Adventure Park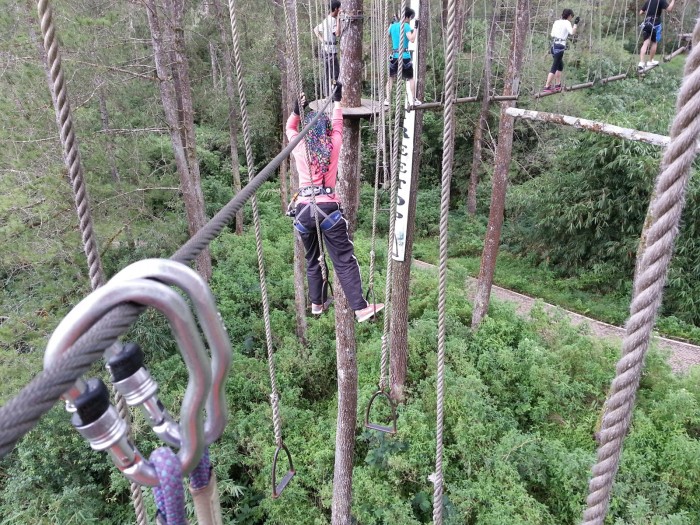 Image credit: Taking Time Off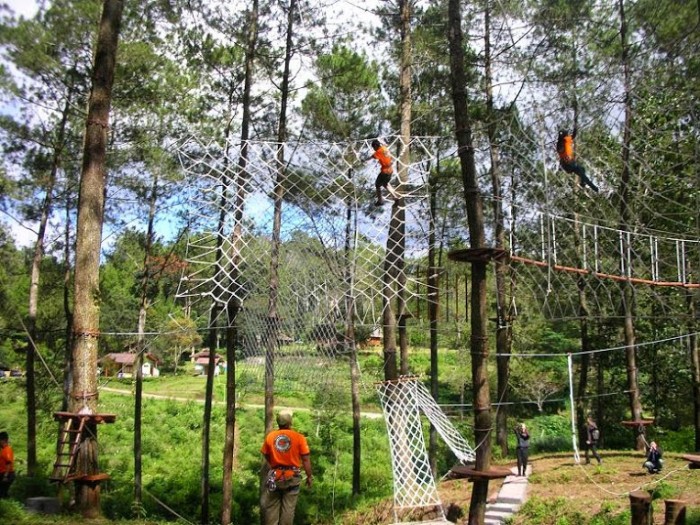 Image credit: PHRI Bandung Barat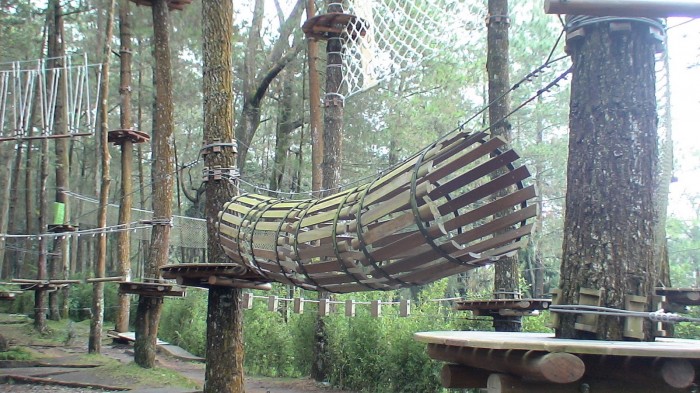 Image credit: Outbound Java Lembang
Part of the Treetop Adventure Park, which originated from the French Alps and now has a network of 350 such parks across the world, the Bandung Treetop is a perfect adventurous activity for those looking for an outing that works every muscle of your body.
The word "tree" is already a valid indication of your constant association with nature. If the Skyrider at Kampung Gajah didn't give you the experience you really wanted, Bandung Treetop is where you should probably head to next. At up to 160 metres in height and 20 metres in length, you can glide like a flying fox from tree to tree in a rhythmic fashion that is comfortable to your own ability.
Each of the six circuits have designated difficulty levels, and even children as young as four can give this activity a try at a height of two metres. The more adventurous circuits are installed with mini challenging games that will require a little more courage and strength.
Don't mind getting a little rugged by the end of it. It's all part of the experience!
Bandung has yet to be fully explored for its myriad of recreational parks that many may not have ever known of. Share with us what else in the city that deserves a mention!