Pulau Seribu, which translates into Thousand Islands, is a group of islands off the coast of Jakarta. Being just a short boat ride away, Pulau Seribu has become a popular beach destination for both locals and tourists alike. However, due to heavy tourism, many of the islands have lost their natural beauty and aquamarine life. My experiences from some of the more commercialised islands can be summed up in two words: dirty and overcrowded.
Hence, I was skeptical when I heard of Pulau Macan, an eco-resort within Pulau Seribu which claims to promote responsible tourism while providing guests with the opportunity to live in harmony with nature on the micro island. My friends and I were in need of a weekend getaway, so we decided to give it the benefit of the doubt. To our immense surprise, our 2D1N trip to Pulau Macan turned out to be the perfect escape from the hustle and bustle of Jakarta.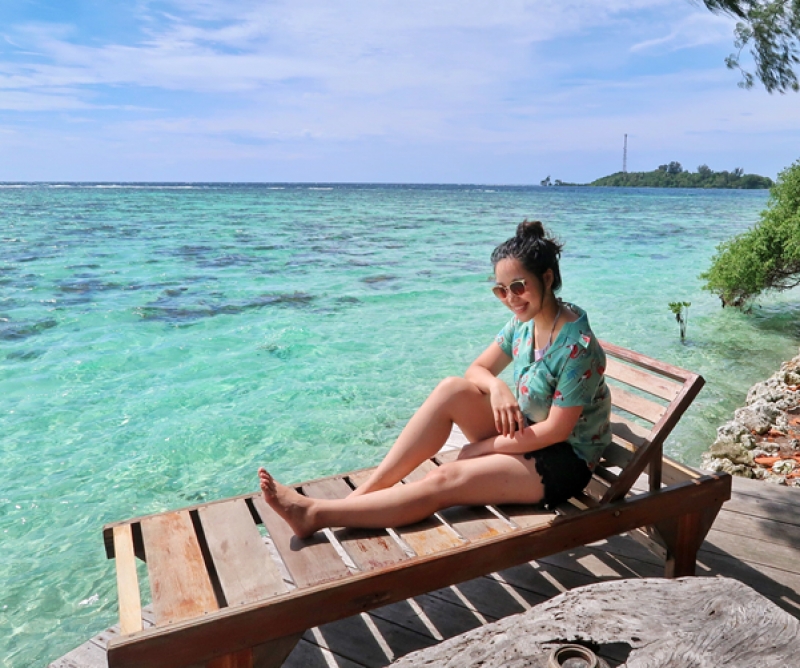 Planning your trip
Reservations can be made directly on their website. Alternatively, you can email them at [email protected] or call +6281297531395 to book.
The price varies depending on the room you choose but the all-in rates include:
Accommodation

Round trip boat transfer

Full board meals (breakfast, lunch, dinner, snacks and beverages)

Use of all equipment and facilities (snorkelling gear, canoes, paddle boards etc)

Snorkelling trip

Tax and service
Accommodation types:
Pulau Macan offers two main types of accommodations – huts and cabins. As I was travelling in quite a large group, we booked one of each so I will share with you the pros and cons of both.
Huts
All the huts allow you direct access to the water, the ocean is literally just a few steps away! Not to mention the amazing unobstructed view of the clear turquoise waters (bonus if your hut has a sunset view!) and the star speckled night sky that you can appreciate from the comfort of your room.
As the huts have no actual walls (just wooden curtains that can be rolled up or let down) some may feel that there is a lack of privacy. We did not have a problem with this as the accommodations on the island are spaced out far enough. Even though the island was full house during our stay, there were never any unpleasant intrusions in terms of noise and privacy. However, it can get quite windy and chilly at night, with quite a number of mosquitoes.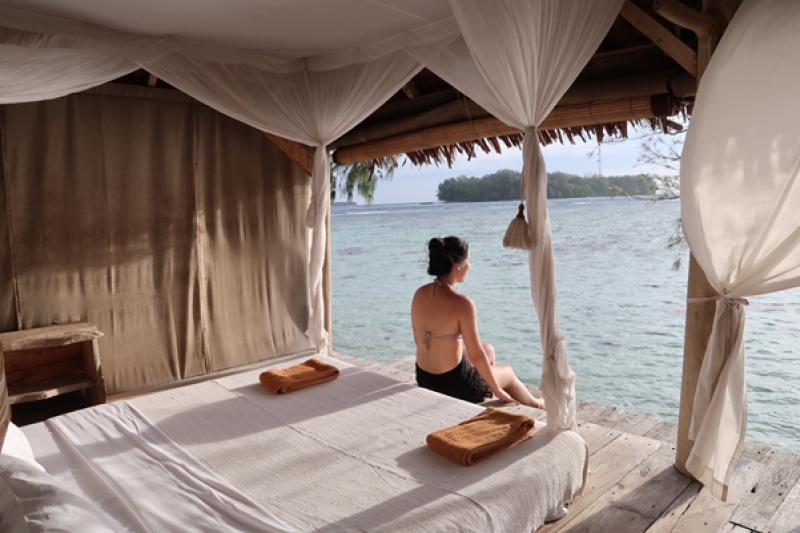 Cabins
The cabins definitely offer more privacy and security for those who do not like the idea of not having walls and a door that can be locked. In the day, the room can get a little stuffy and dark as the resort does not turn on electricity (one of their eco efforts), so there are no running lights or fans.
Personally, I would advise you to pay a little extra to stay in the hut instead of the cabins. The rustic driftwood décor and open plan of the huts offered a Maldives-esque charm and made our stay extra unique and memorable. I mean, just look at the breathtaking sunset view from our hut!
Getting there:
The speedboat that will take you to the island departs from Dermaga Ancol Marina in north Jakarta. Prior to the departure date, you will be notified which dock to report to (usually 16 or 17) and a representative from Pulau Macan will be waiting there when you arrive.
The boat will take about 2 hours to Pulau Macan and the water may be slightly choppy so don't forget your anti-motion sickness pills if you get nauseous easily like me!
Lazy days and island ways
We arrived at the island at about 10AM and were warmly greeted by the manager and staff who gave us a short explanation about the island and their values, meals and snorkelling schedule as well as a safety briefing. After having some welcome snacks and refreshments, we were free to explore the island before having lunch and checking in to our rooms at 1PM. The slow laidback vibe of the island was a very welcome change of pace from our busy city lives.
Plenty to do and see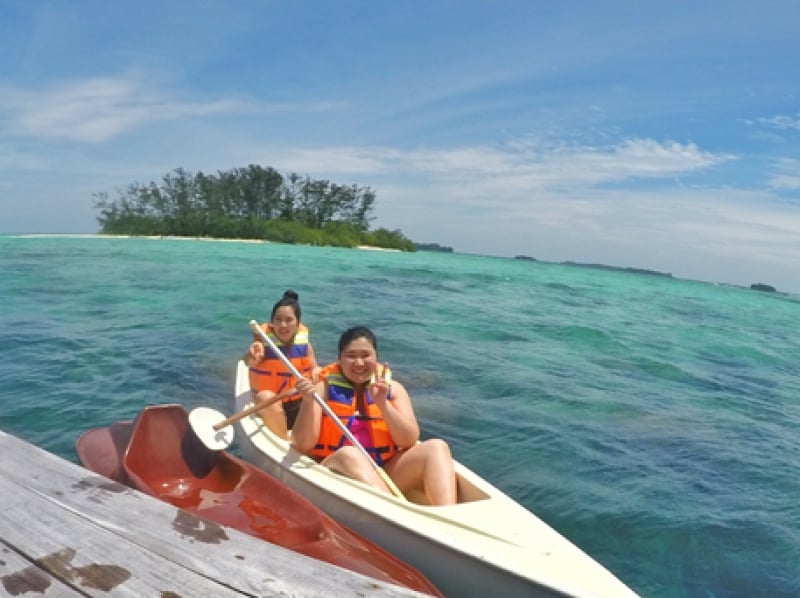 There are plenty of inhouse activities on the island to keep you entertained during your stay. The equipment shack is well stocked with water booties, snorkelling goggles, stand-up paddle boards and canoes to explore the waters with. The visibility of the waters around the resort is good and there are plenty of coral and fish to be found. Although, be careful of the sea urchins and stone fish that may be lurking at the sea bed and remember the tips from the safety briefing to keep safe!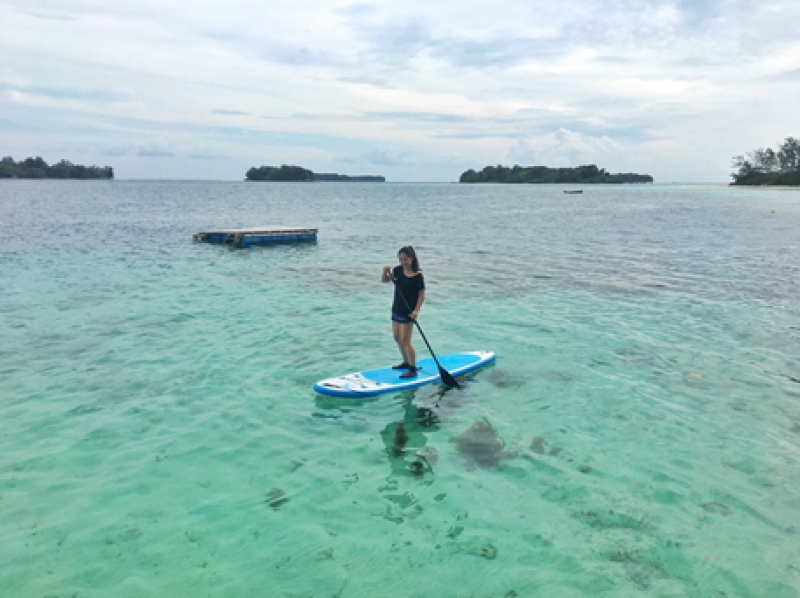 Grab a paddle board or canoe and island-hop to Pulau Macan's sister island just a few hundred meters away and be awed by the powdery white sand beach enveloped in azure waters. This uninhabited island is only frequented by guests from Pulau Macan and boasts pristine, soft sand and offers a nice private shore to sun tan and laze around on.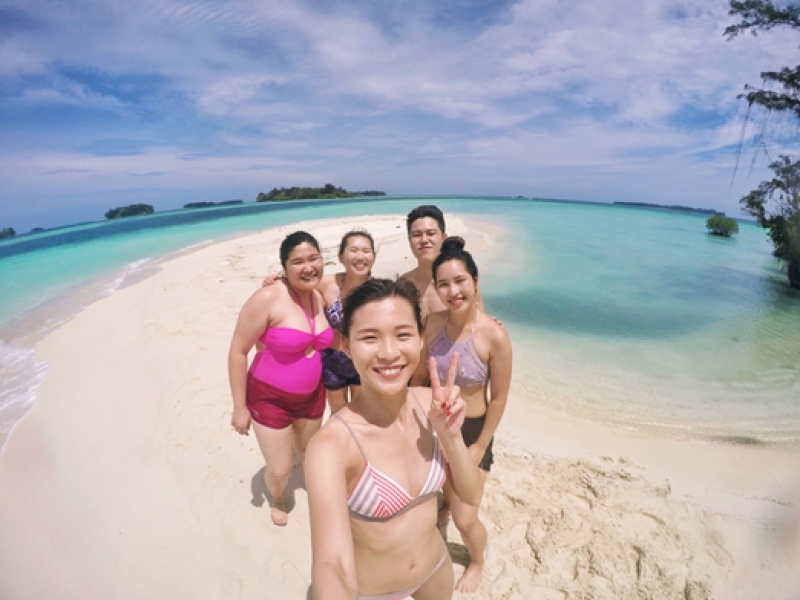 The staff at Pulau Macan will arrange a snorkelling trip which is included in the all-in package either in the evening or the next morning depending on weather conditions. A boat will bring you to the site about 20 minutes away where you will get to see more corals and fish!
For diving enthusiasts, it is possible to charter a private boat and equipment to explore the ruins and marine biodiversity around Pulau Seribu at additional costs.
If you prefer staying on land, revel in a game of beach volleyball, badminton or frisbee. Alternatively, you can stay cool in the clubhouse where there is a pool table and some board games. Of course, there is also the option of doing nothing at all! Grab a book and lounge on the deck to soak up some sun or head over to the spa hut for a relaxing massage.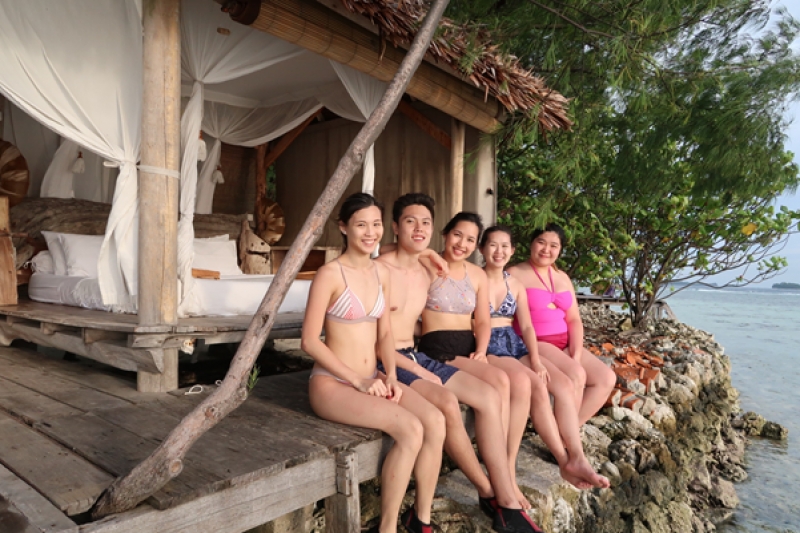 All in all, our stay at Pulau Macan Eco Village and Resort left us in awe. It was incredibly refreshing waking up to the sounds of the ocean and the gentle sea breeze. Every buffet meal served was absolutely delicious and well balanced. The managers and staff showed relaxed hospitality and always looked out for the needs and well-being of the guests. There was barely any cellular service and only very limited WIFI, which forced us to disconnect from the rest of the world and simply enjoy the present. The simplicity and idyllic pace of life on the island were just what we needed.
I hope this review has been useful for those who might be looking for a weekend getaway near Jakarta or even Singapore! Rest assured, Pulau Macan is an island sanctuary that will leave you feeling recharged and relaxed.