With all possible landscapes, no less than fifty countries and even more cultures, Europe can't be described in one mere sentence. Europe may be the second-smallest continent—only Australia is smaller—but it is arguably the most diverse of them all. Home to approximately 740 million people, it's also quite populated. It is, in fact, the third-most populous continent.
From Ancient Greece and Imperial Rome to the Vikings and the Renaissance, Europe's historical wealth is mind-boggling. And there are so many cultures and countries, it's almost overwhelming. Home to the world's smallest country (the Vatican) and the largest (Russia), Europe is a continent of extremes. Its landscapes vary from the arid Mediterranean and the plains of northwestern Europe to the towering Alps and the epic fjords of Norway.
Long story short, Europe is continent that's worth visiting. Luckily, all European cultures and countries are linked with one another via a superb network of public transportation routes and excellent highways.
Although it is generally a very expensive continent to travel around in, there are several ways to keep the part of your budget that's dedicated to transportation as small as possible.
Read on the find out how you can get around Europe affordably.
Also Read: 15 Experiences Every Traveller Should Have in Europe
Flights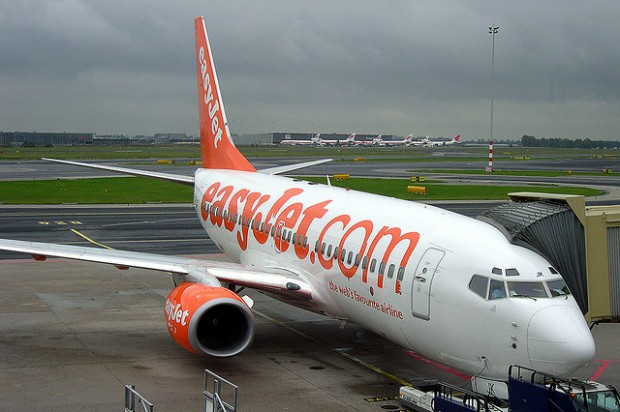 Image credit: Doug
Europe is the continent of low-cost airlines. There are several budget airlines and more are being founded on a regular basis. Competition is fierce, which keeps the prices incredibly low. Cross-continent fares of only USD 20 are no exception. A few weeks ago, I flew from Milan-Bergamo (Italy) to Eindhoven (Netherlands) for no more than USD 15.
Flying is by far the cheapest way to cover great distances in Europe. Flying, however, as cheap as it is, also has the downside of requiring you to skip regions. Instead of seeing certain parts of Europe, you will fly over them. Another downside of flying with low-cost airlines is that you have to fly light. Many of them charge extra for checked baggage.
Popular budget airlines in Europe are Ryanair, EasyJet, Vueling and Germanwings.
Trains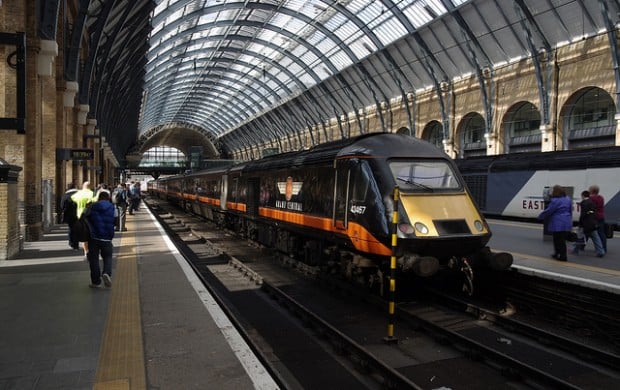 Image credit: Matt Buck
Trains are arguably the best way to get around Europe. Just like planes, trains cover huge distances in Europe. Trains, however, have the additional perks that they depart and arrive in the middle of cities and that they are an incredibly scenic means of transportation.
Short train rides between two destinations in the same country tend to be quite affordable. If you want to cross borders and cover greater distances, you may want to opt for a railpass—Eurail for non-EU citizens and Interrail for Europeans. These passes allow you to travel by train for a certain amount of days within a particular period of time. They can save you a lot of money when you're travelling between cities that are far removed from each other. Be aware, though, that travelling on high-speed and sleeper trains may require you to make reservations and/or pay an additional fee.
Get your Eurail Global Pass for unlimited train travel in 28 European countries! The passes are available for various time periods, from consecutive 15 days to 3 months. You can also get a flexible pass for a fixed number of days of travel within 1 or 2 months. Special prices for youths are also available!
Buses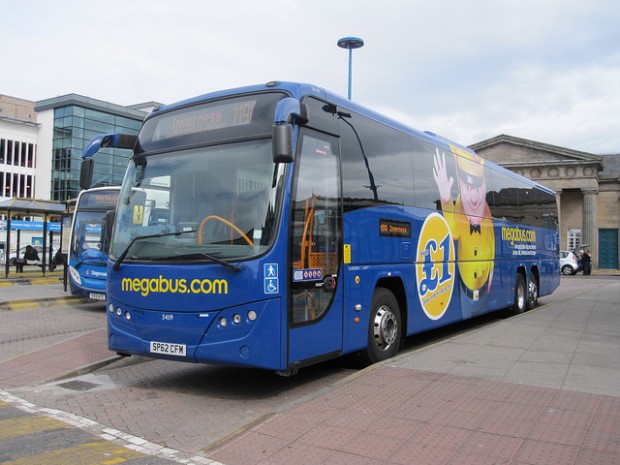 Image credit: Glen Wallace
Buses are also a cheap option to travel around Europe, but they have the downside of being less comfortable than trains and slower than planes.
People travelling around the United Kingdom should definitely look into getting around with Megabus, a company with routes across England, Scotland and Wales, and a few other countries in western Europe. They're unbelievably cheap, with fares as low as $1.50—fares that only apply to pre-booked tickets on popular routes.
Another bus company is Busabout. They offer bus services all over Europe and you can hop on and off wherever you want. There are a few different passes you can buy, depending on the length and location of your trip.
Eurolines is the continental bus company in Europe. While individual countries have their national bus services, Eurolines serves the entire continent with its long-distance routes. These buses are generally cheaper than trains, but are, of course, less comfy.
Self-drive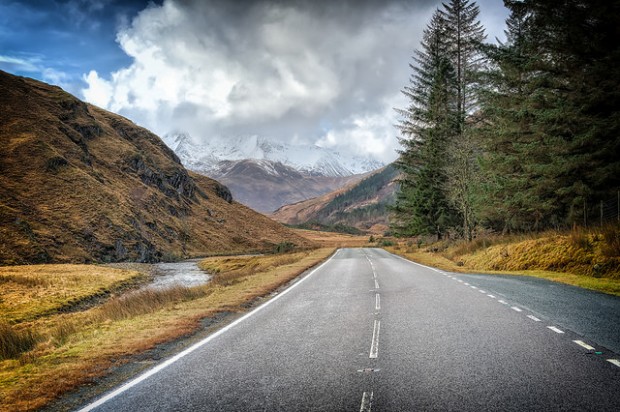 Image credit: Andi Campbell-Jones
It's a small continent and it's possible to drive across Europe in less than a day. No one wants to do that, though, for there are way too many stops on the way that shouldn't be missed. Although fuel is very expensive, the distances between places of interest are (relatively) short, making car travel a pretty economical way to get around Europe as well.
When renting a car, it's not necessary to get a GPS. With a detailed map and decent map reading skills, you will be able to find your way around easily. Only within larger cities, things may get confusing. Therefore, if you only want to visit cities, you're better off with trains and buses. To see the countryside, however, driving is absolutely recommended.
When driving in Europe, you will notice that road numbers aren't always useful. Instead, plan your route beforehand and write down the cities and towns that you will pass on the way. Following signs to those towns and cities is much easier than following specific roads.
Car rental companies are found virtually everywhere in Europe. Each decently sized city has several of them.
Cycling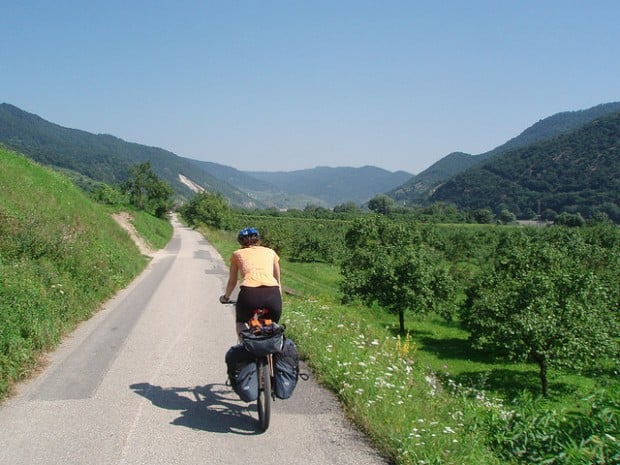 Image credit: stefan m
The place of the Tour de France, Giro d'Italia and Vuelta, and many classic one-day races, Europe is a cycling-mad place. Bicycles are a preferred means of getting around in cities, while signposted long-distance bicycle route crisscross the continent.
From laidback cycling holidays in a certain region to epic and adventurous long-distance bicycle tours, Europe is the place to explore on two wheels. The best countries for cycling, in my experience, are France, Belgium, the Netherlands and the Scandinavian countries. That being said, you will be able to find world-class bicycle routes in pretty much every country.
The Danube Cycle Path, for instance, follows the mighty Danube river and passes through Vienna and Budapest—definitely making for a memorable active holiday.
Cycling in Europe is generally safe; the bike paths often separated from the road by hedges, trees or fences. Facilities are among the best in the world.
If you're an active traveller, cycling in Europe is definitely a must-do!
Also Read: 10 Underrated Countries in Europe You Might Not Know About
Any questions? Let me know in the comment section below!