Trying to pick which area to stay in Tokyo? The answer lies in what you hope to get out of your stay. Tokyo is a huge city with 23 wards, each with its distinct character and unique offerings. To help you out, we've created the ultimate guide covering nine most popular areas in Tokyo so you can make an informed decision based on your interests.
Knowing what areas are best to stay in Tokyo is one thing, but finding an affordable place to spend the night is another! Fortunately, StayJapan offers a variety of places to stay in Tokyo. So skip the usual hotels (even the capsule ones), and check out StayJapan's listings for Tokyo apartments!
1. Shinjuku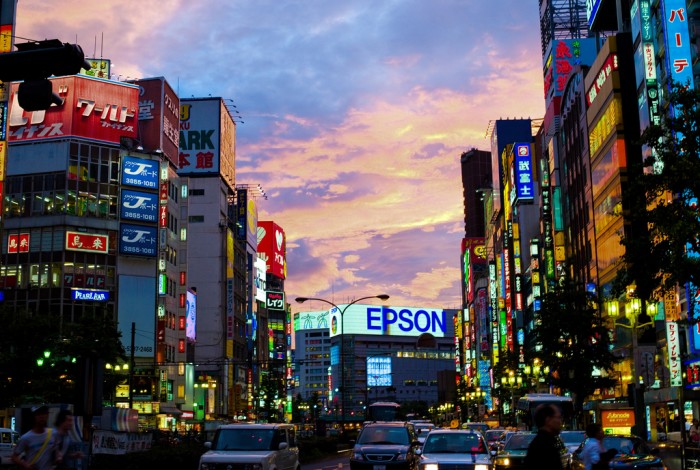 Image credit: Joi Ito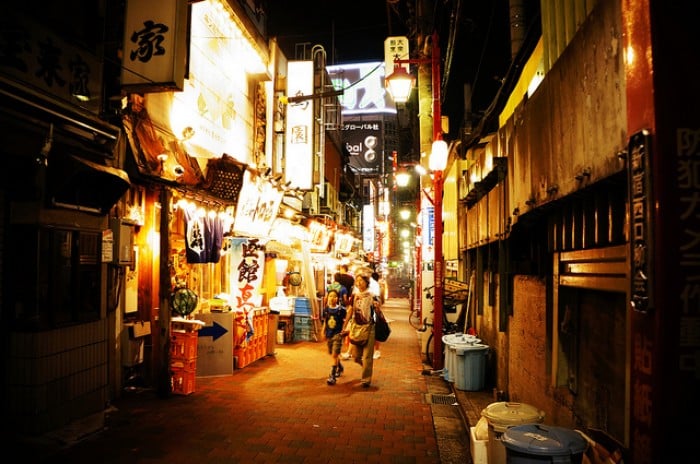 Image credits: shiranai
Pros: Shinjuku is a major tourist district and one of the most popular areas to stay for first-time travellers. It connects to Tokyo's main circular train line called the JR Yamanote Line which provides easy access to Tokyo's major districts. Shinjuku is like a large city itself with neon lights, skyscrapers, cheap eateries, plentiful shopping and scenic parks.
Things to do: Start with viewing Mount Fuji from the Tokyo Metropolitan Government Building Free Observatory. There are also stunning parks such as Shinjuku Gyoen Park and Meiji Jingu Gaien. For family entertainment, go to Ninja Trick House and Tokyo Toy Museum. Next, shop the streets of Kagurazaka and Omoide Yokocho. At night, check out the timeless alley of Golden Gai for little bars reminiscent of the 1950s.
Cons: The "Sleepless Town" of Kabukicho lie on the east of Shinjuku. It's lined with over 3000 hostess bars, okama (cross-dressing) bars, massage parlours, nightclubs and more. If you're travelling in a family, avoid choosing a hotel in this particular section. However, if you are into this style of entertainment, Kabukicho provides an interesting experience.
Transport: Access to Shinjuku Train Station, Shinjuku Bus Station, and the airport railway called Narita Express Train.
2. Takadanobaba
Image credit: Guilhem Vellut
Pros: Next is Takadanobaba, just a stone's throw away from Shinjuku. It is a university town and this area is much more affordable to travellers than Shinjuku! Students from Waseda University are this district's regular customers. Because of this, you will find plenty of cheap bars, ramen shops, izakayas (Japanese gastropubs) and karaoke.
Things to do: Experience Tokyo's tranquil side by visiting Hotel Chinzanso's Tokyo Garden, Mejiro Garden or Kishimojin shrine. After that, delve into history at Samurai Museum or Philatelic Museum. If that's not your cup of tea, how about the Pokemon Mega Center Tokyo? At night, experience great izakayas such as Manaita, Kuriya or Tofuro. If you want to do something more wild, dance the night away at Takadanobaba Club Phase.
Cons: The college kids in this area can be quite noisy. Also, since this is a haven for the young and broke, you will not find up-class fine dining or even department stores here.
Transport: Access to Takadanobaba Train Station.
3. Ginza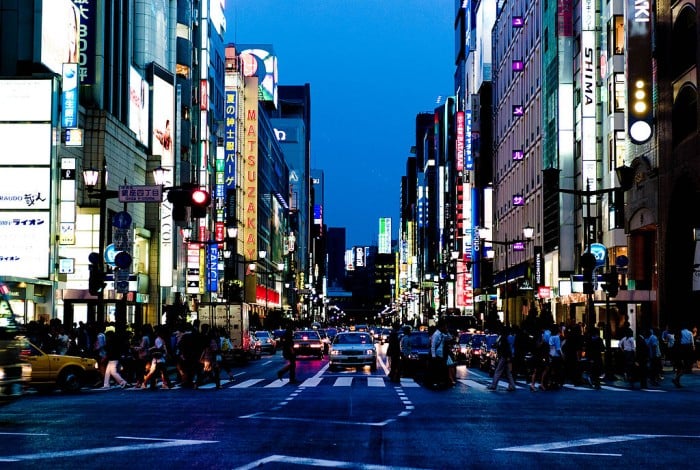 Image credit: Joi Ito
Pros: Ginza is an elegant and more up-class area. It is strategically located in central Tokyo and makes a great base for sightseeing. There is less crowd than in Shinjuku and yet still has a charming Japan atmosphere. Ginza has many excellent restaurants and classy wine bars, as well as cheap ramen shops for budget meals.
Things to do: Have Tokyo's freshest sushi and sashimi for breakfast at the famous Tsukiji Fish Market. After that, immerse in Japanese traditional culture at Kabuki-za Theatre, Hamarikyu Gardens, Hibiya Park and Imperial Palace. Shop the latest fashion at Ginza Chuo-dori and Pedestrians' Paradise, and cosmetics at Shiseido the Ginza and Laox. End off your day at The Iron Fairies Ginza for themed cocktails, Lupin to have a glimpse into the Showa period, or Bar Musashi for casual drinks.
Cons: Ginza is comparatively pricier than Takadanobaba and Shinjuku. Also, Ginza is not on the JR Yamanote-line.
Transport: Access to Ginza Metro Subway, which connects to the the JR Yamanote-line at Yurakucho Station or Ueno Station. Ginza is also connected to an airport shuttle bus. Take one stop down to Tokyo Station for access to buses or bullet trains to Kyoto, Osaka, Narita Airport and Haneda Airport.
4. Shibuya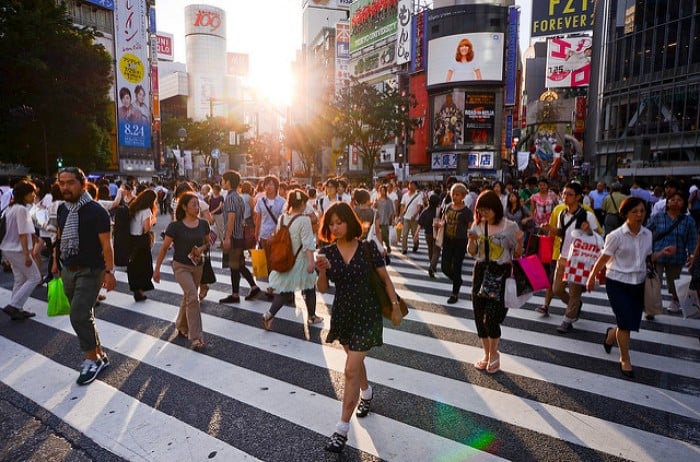 Image credit: Candida.Performa
Pros: Shibuya is the lively centre of youth culture in Tokyo. It has the world's busiest pedestrian crossing! The ambience is young and busy. There is also great shopping and food. The best part: a hopping nightlife scene!
Things to do: Have fun with local Japanese fashion at Harajuku, Shibuya 109, and Omotesando! Right next to Harajuku is the funky Yoyogi Park where cosplayers and fashionistas roam. Some famous streets for fashion and food are Center Gai, Koen Dori and Spain Slope. Lastly, party the night away at Atom Tokyo, Sound Museum Vision or Harlem. Visit the infamous Roppongi nearby for even crazier parties (many drink until the train starts in the morning).
Cons: Some feel that Shibuya is still quite pricey compared to areas such as Takadanobaba or Akihabara.
Transport: Access to Shibuya Station, a direct subway line to Ginza, and the airport's Narita Express Train and shuttle bus.
5. Ikebukuro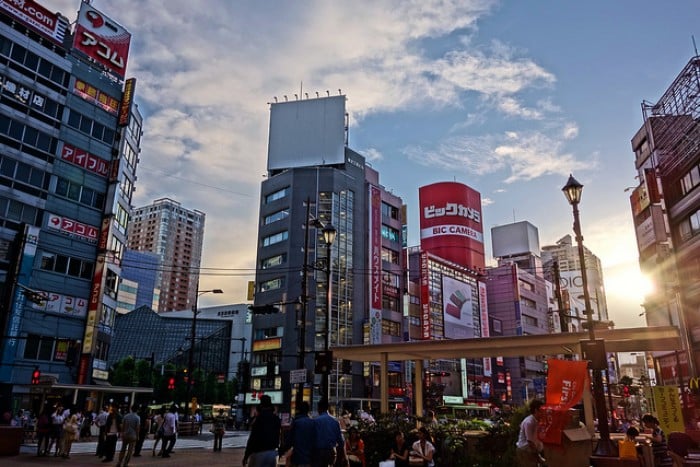 Image credit: namhdyk
Pros: Ikebukuro is similar to Shinjuku and Shibuya with department stalls, cheap eateries and late night entertainment. The difference is Ikebukuro is more frequented by middle class Japanese instead of foreign tourists. Also, accommodation here is significantly cheaper. It is ideally situated in central Tokyo and makes a great base for discovering the rest of Tokyo — it's only one stop from Shinjuku.
Things to do: Hunt down anime subcultures at Maiden Road. Other cultural icons are Tokyo Metropolitan Art Space, and more anime at Pop Culture (it has a MOE garden! So kawaii~), and Animate. Step into 1950s Japan at Fukubukuro 7th Shopping Avenue. Finally, get some tranquil time at Gokokuji, Book and Bed Tokyo, Ikebukuro Nishiguchi Park and Zoshigaya Kishimojindo Temple.
Cons: Ikebukuro has a reputation for turning seedy at night. However, it is improving and not much different than Shinjuku or Shibuya at night.
Transport: Access to Ikebukuro Station and Narita Airport's shuttle bus.
6. Odaiba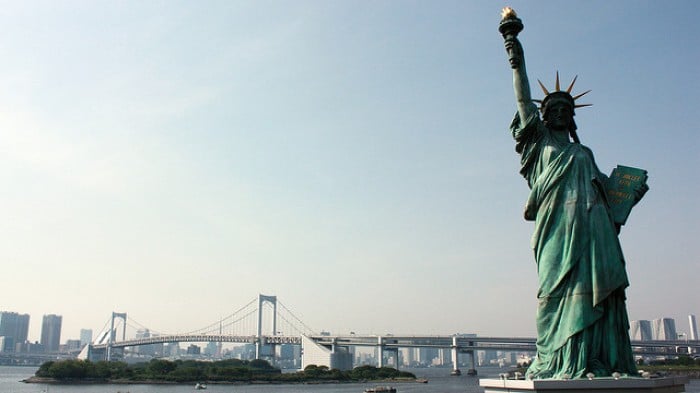 Image credit: Tristan Schultz
Pros: Odaiba is ideal for families with children. It is not crowded and resembles a resort area with prestigious hotels at much cheaper prices than you will find in Tokyo's CBD areas. Many hotels provide shuttle buses to Tokyo Disneyland. Other than that, Odaiba has fun malls and another kid-friendly free shuttle service called Tokyo Bay Shuttle.
Things to do: Take the Tokyo Bay Shuttle service to visit attractions like the National Museum of Emerging Science, Aqua City Odaiba and seeing a full-sized Gundam at Diver City Tokyo Plaza. A must-do is going to Tokyo Disneyland from here. If not, visit an indoor amusement park called The Sega Joypolis or Legoland Discovery Center Tokyo. Of course, don't miss the Japanese Statue of Liberty and futuristic Fuji TV Odaiba.
Cons: Odaiba is rather isolated, and transport out of Odaiba to the JR Yamanote-line is costly.  
Transport: Access to the Yurikamome monorail and privately owned Rinkai Line.
7. Akihabara
Image credit: Japón Entre Amigos
Pros: It is OTAKU LAND! Think rows and rows of maid cafes, anime and manga shops and manga cafes. Shop all manners of anime paraphilia you can think of from waifu pillows to figurines to keychains. Akihabara is also known as "Electric Town" and has many electronic shops selling gaming consoles and DVDs.
Things to do: Dine at maid cafes like @home cafe, Maidreamin, Pinafore, Mia-cafe, and Cure Maid Cafe. Then, hunt for video games at Super Potato and Gamers. Great places to purchase collectibles are Radio Kaikan, Mandarake, and Tokyo Anime Center. End off your day with dinner at Gundam Cafe.
Cons: Akihabara closes early and is quiet at night.
Transport: Access to Akihabara Station, Tsukuba Express Line, and the subways via Akihabara Station for Hibiya line or Suehirochō Station for Ginza line.
8. Asakusa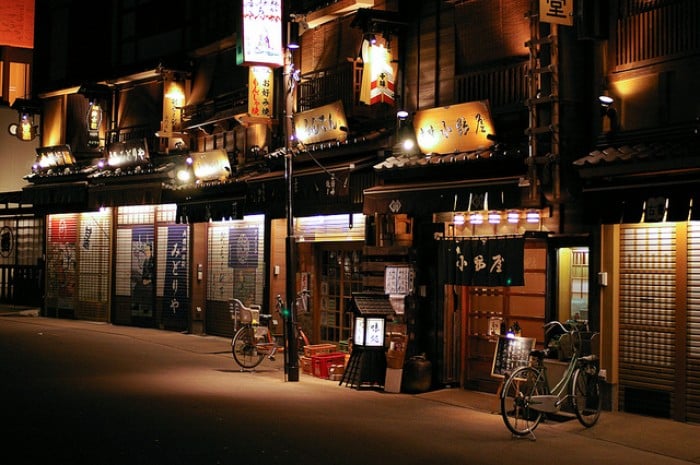 Image credit: Ippei & Janine Naoi
Pros: Asakusa is an old part of Tokyo and has a lovely down-to-earth vibe. You can experience a "shita-machi" atmosphere, which refers to neighbourhoods of nostalgic old Japan. Accommodation is cheap and there are a variety of hotels, hostels, and ryokans (traditional Japanese inns) to choose from.  
Things to do: Go temple-hopping at Sensoji temple, Dempoin Temple, Chingodo Shrine and Asakusa Jinja. Shop traditional crafts at Nakamise-Dori and Ekimise. Take a break and watch classic Japanese films for 1000 yen at Asakusa Shin Gekijo and Meigaza. Snack on senbei rice crackers or go for a meal of Asakusa's famous tempura at Sansada, Aoi-Marushin, or the 100-year-old Daikokuya.
Cons: Asakusa is quite touristy (many local Japanese tourists visit here) and some attractions are nothing more than tourist traps.
Transport: Access to the Tokyo Metro Asakusa Line and Ginza Station on JR Yamanote Line via a 30-minute walk.
9. Yanaka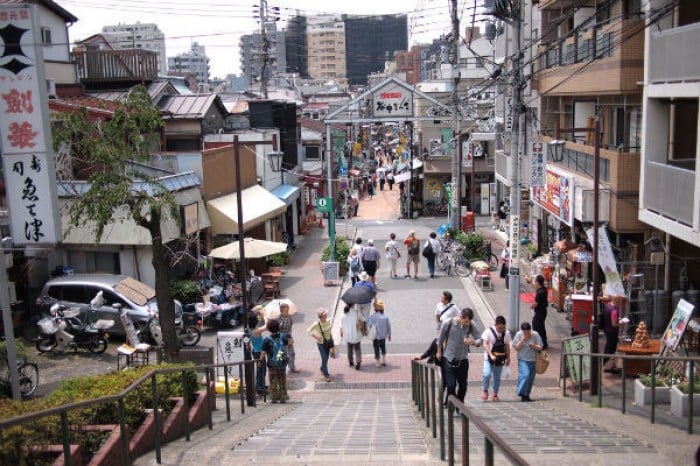 Image credit: yuki
Pros: Like Asakusa, Yanaka has the rustic, old-time charm of traditional Japan. It consists of winding alleys, family-run restaurants, and temples. It also has lots of cute cats! Yanaka is less touristy than Asakusa and also more conveniently located.
Things to do: Travel back to the Edo Period at Yanaka Ginza, Yanaka's main shopping street. Continue your heritage tour at scenic Nezu Shrine, Tenshin Okakura Memorial Park, Anritsuji Temple, Tennoji Temple, and Yanaka Cemetery. You can even get a great view of Mount Fuji from Fujimi Hill.
Cons: If you're looking for a hopping nightlife, look away from Yanaka.
Transport: Access to Nippori Station and to the airport via Narita Express Train.
You will never run out of things to do in exciting Japan! Whether you're here to for tranquil temple walks, crazy shopping or fangirl-ing your heart out, you will be able to find that best place for you to stay in Tokyo.