Hey there! Why not check out the latest 2018 forecast instead?

Let's be honest, the human eye is always constantly attracted to visually pleasing images. Beautiful faces, breathtaking scenery, you name it. We're so attracted to beautiful things that we sometimes go to great lengths to see them because it simply makes us happy.
As the season of spring is just around the corner, many of us are undoubtedly thinking about cherry blossoms. They are wonderfully pretty to look at when in full bloom and they are the symbol of spring, a new beginning. While most people are quick to associate cherry blossoms with Japan (sakura), there are other places where one can enjoy the full spectacle of a blooming cherry blossom forest. So, here's a list of the best places in TAIWAN to catch the cherry blossoms and the ideal time to catch them!
Also read: Japan's Cherry Blossoms 2017 Forecast: When & Where to Catch Them?
Note: Due to changing and unpredictable weather conditions, the cherry blossom season may arrive a little earlier or later than forecasted, so it's always a good idea to pay attention to more accurate information released later on – usually in March – by the relevant Taiwanese authorities.
Alishan National Scenic Area: Early to Mid March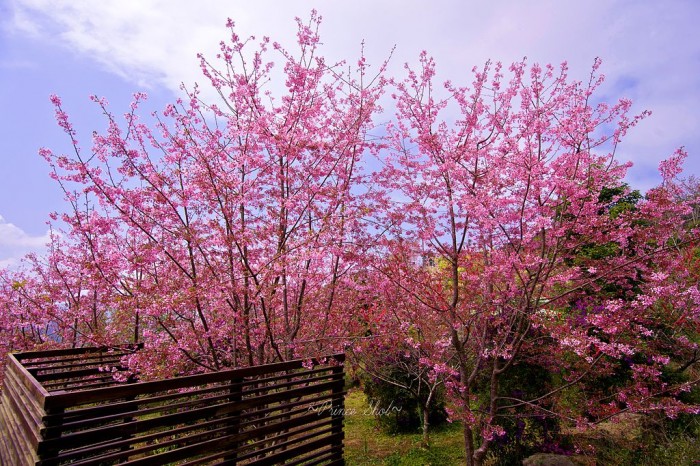 Image credit: pricecat95
Alishan is probably one of the very best places in Taiwan to see the cherry blossoms. Located high in the mountains, apart from the great scenery, there are also a variety of snacks made with said cherry blossoms, including mochi, which I highly recommend, and flavoured tea, perfect for the chilly weather.
Take note however that there are sometimes admission restrictions – about 16,000 visitors per day – during the height of the cherry blossom season in Alishan to maintain quality control and prevent overcrowding.  There are a number of ways to get to Alishan but the simplest would be to take the designated public transport, Taiwan Trip Alishan Route(s) A and B from the Chiayi High Speed Rail and Chiayi Train Station respectively.
Yangmingshan National Park: Early/Mid February to Early March
Image credit: Kinden Kuo
Yangmingshan lies near Taiwan's capital city of Taipei and is one of the earliest places to experience the cherry blossoms. Occasionally, they bloom as early as late January! However, your best bet is within the first two weeks of February.
The already impressive scenery there is further enhanced by the trails of blooming cherry blossoms along popular hiking and biking trails, making for a memorable experience.
The easiest way to get here is to take the shuttle bus 260 from the Zhengzhou Road bus stop outside of Taipei Main Station. The shuttle stops off at Yangmingshan's bus terminal.
Wuling Farm: Early March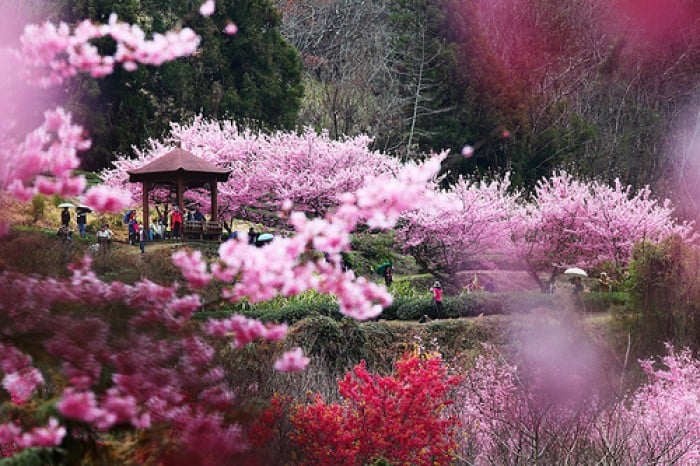 Image credit: Jerry Lai
The Wuling Farm lies in Taichung City, near the central region of Taiwan. Its location boasts an altitude of almost 2,000 metres and fair, cool weather all year round. Wuling Farm is one of the best places to admire the natural beauty of Taiwan, especially in September when most of the flowers bloom, but even more so in spring when the cherry blossoms come to life. 
For the hardcore hikers, you might be excited to know that Snow Mountain, the second highest peak in Taiwan, is also found close to Wuling Farm. But much like Alishan, there is a limit on the number of visitors during the cherry blossom season to ensure visitors' quality experience.
Getting here would be a little challenging but public transport is available from Taipei, Yilan and Fengyuan. You may also ride a tour bus which departs from Taipei Main Station, but advanced booking is needed.
Tamsui/Danshui: Late February to Mid March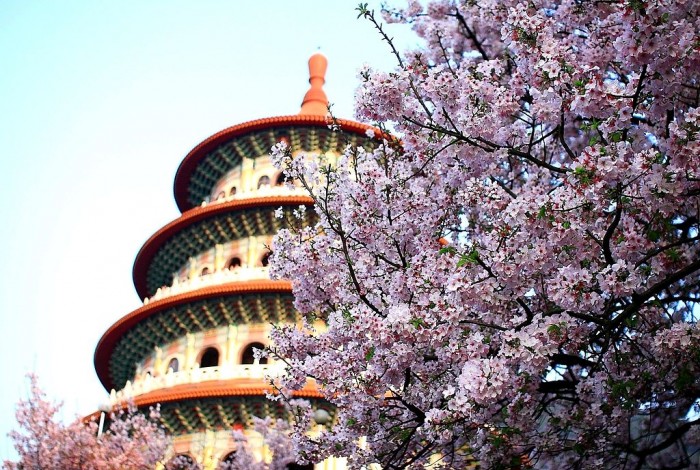 Image credit: RyanKao
The Tamsui District is found in New Taipei, which, while not to be confused with Taipei City, surrounds the capital. It's…complicated, but basically, it lies near the north of Taiwan, which is why its cherry blossom season is closer to Yangmingshan's than Alishan's.
Two great places to view the cherry blossoms in the Tamsui District are the Wuji Tianyuan Temple and the Wu Ancestral Shrine. The cherry blossoms in the Tianyuan Temple are of three different varieties, hence expect a tri-coloured kaleidoscope of blooming flowers, while the Ancestral Shrine, apart from a cherry blossom forest, also overlooks the Tamsui and Shilin areas, offering spectacular views.
Wulai District Scenic Area & Old Street: Early March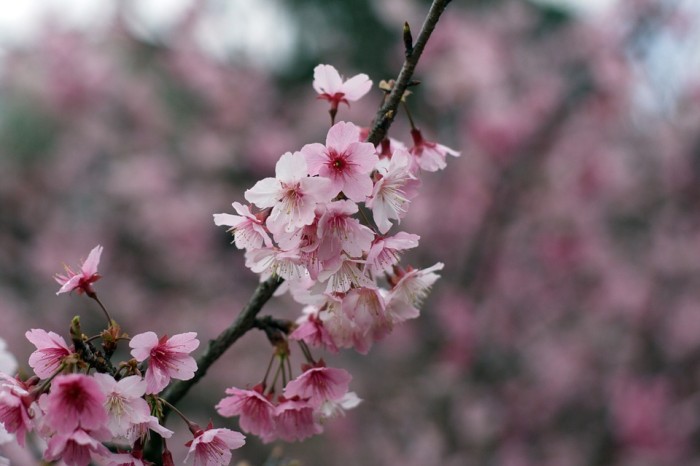 Image credit: Maxpixel
Not to be confused with Xiao Wulai Scenic Area in Taoyuan County, the Wulai District lies in New Taipei and features hot springs, aboriginal museums, yummy traditional local cuisine, and obviously, cherry blossoms as far as the eye can see.
During the height of the cherry blossom season here, usually around March, the Old Street of Wulai District is lined with hawker stalls selling traditional snacks – one must try the sausages – and blooming cherry blossoms. Food and sakura, what a wonderful combination!
Sun Moon Lake: Early to Mid February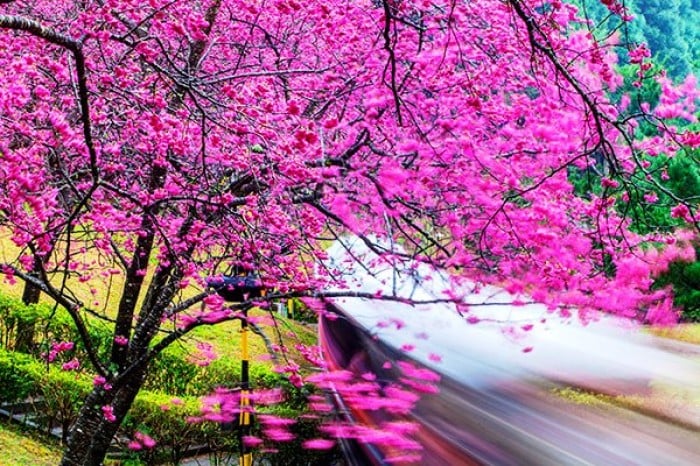 Image credit: YEH Jui-tsung
The Sun Moon Lake in Nantou County is one of the most popular tourist destinations in Taiwan, featuring the largest lake on the island nation. While the Sun Moon Lake area itself is beautiful throughout the year, it truly shines during sakura season, especially at the Formosa Aboriginal Cultural Village.
The Village is conveniently accessible via cable car from Sun Moon Lake and the gardens at the village are a true sight to behold when the cherry blossoms are in full bloom! You also get to go on an interactive experience to discover the history of the aboriginal tribes of Taiwan. Now that's awesome!
Renshan Botanical Garden: Late February to Early or Mid March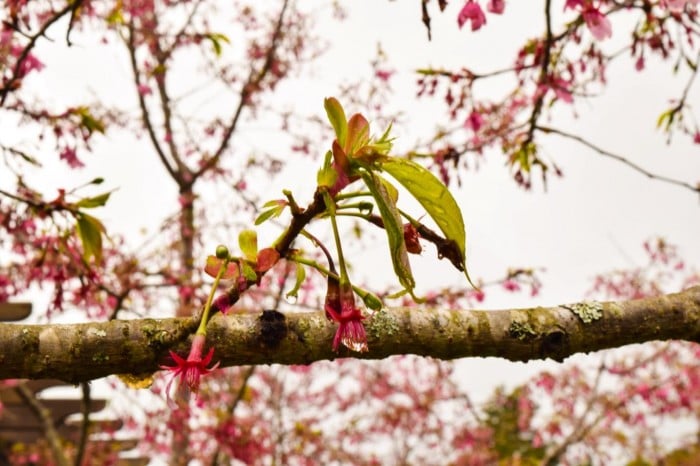 Some things need not be explained too much. You want food, head to the kitchen. You want flowers, your best bet is a botanical garden. The Renshan Botanical Gardens lie in Yilan County, which is in itself a popular destination for nature lovers.
There are several scenic hiking trails throughout several themed gardens in Renshan Botanical Gardens. And the views are even more impressive during spring when they are lined with blooming cherry blossoms. There is also an abundance of butterflies around, which makes this a great place for all photography enthusiasts!
Taipei City: Mid February onwards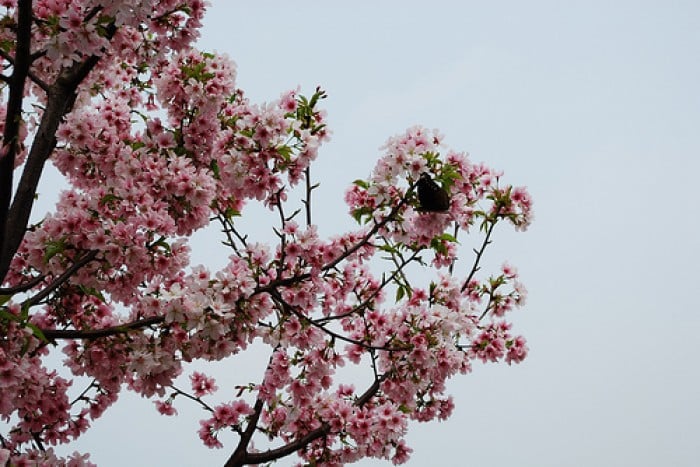 Image credit: Li-Ji
Obviously, the best places to enjoy nature is within nature itself. But it can't be denied that Taipei City is the hottest destination in Taiwan. So, for those who want to see the cherry blossoms but won't be travelling out of the Taiwanese capital, I got you covered.
Although slightly lacking in abundance, you can catch the cherry blossoms in Taipei City by visiting Bihu Park in the Neihu District; Songzhih Park and the Chiang Kai-Shek Memorial Hall.
Personally, I must insist that you visit the Memorial Hall regardless of the season but during spring, the cherry blossoms (supposedly around 11 varieties of them) bloom and add a vibrant atmosphere to the area. However, because the cherry blossoms in Taipei City are more easily susceptible to changes in weather, you only have a short window of opportunity to see them before they wither.
No Cherry Blossom Prophet
The thing about cherry blossoms though is that whilst they are beautiful, they are also extremely vulnerable to the weather. While most official forecasts claim that the full bloom generally comes around March or April, it sometimes differs. I was in Taiwan in late March last year and most of the cherry blossoms had already fallen. So, a good rule of thumb is to remember that most cherry blossoms wither roughly two months after the Lunar New Year. So you better act quick if you want to feast your eyes on lovely sakura this year!
Also read: Korea's Cherry Blossoms 2017 Forecast: When & Where to Catch Them?