Singapore has grown vastly throughout the years. We've seen old buildings get torn down, replaced by newer and sleeker modern ones. They may be slabs of concrete, but they are also the places of our childhood – where we went with our family, friends and maybe even first loves.
Only a few weeks ago, Singapore announced news that it will be demolishing popular tourist attraction Sentosa Merlion. However, that isn't the only iconic spot or attraction that has ceased to exist.
From amusement parks to trendy accessory shops, we've compiled together 10 nostalgic childhood spots in Singapore that no longer exist. It's no fun crying alone – so we've asked a couple of our friends at Tripzilla to look back on their favourite childhood spots too!
1 – Escape Theme Park
Kids born in Singapore after 2011 will never know the magic that was Universal Studios of our generation. Opening way back in 2000, this amusement park featured both thrilling and family-friendly rides. Located all the way in Singapore' eastern tip, this family attraction was home to a ferris wheel, kiddie bumper boats and even a haunted house! 
Time of 'destruction': 26 November 2011
"Escape Theme Park was every Singaporean child's answer to hair-raising rides, haunted houses and more we only saw in movies. My sisters and I used to beg our parents to bring us there every term break – they had some pretty cool rides, at least to a nine-year-old anyway." – Sarah Khan, Associate Editor 
2 – Underwater World
Before Resort World's S.E.A. Aquarium was the legendary Underwater World, which will always remain close to every Singaporean kid's hearts. After all, how could we ever forget our first encounter with marine life? Featuring over 25000 marine creatures across 250 species, this aquarium used to be one of the hottest attractions in Singapore. 
Also read: The Bubble Tea Factory: Southeast Asia's 1st Bubble Tea Pop-Up Exhibit Opens in Singapore
Time of 'destruction': 26 June 2016
"I remember squealing in delight upon seeing the pink dolphins whirling around. No trip to Sentosa was complete without a visit under the sea." – Nur Sofia, Associate Editor 
3 – King Albert Park McDonalds
Fondly known in short as 'KAP' to Singaporeans, KAP's McDonald's used to be the place where throngs of teenage lovestruck couples and friends would 'hang out'. Singaporean kids will remember KAP as the place where students had a quick spot of breakfast before school, studied for exams and even occasionally held birthday parties! 
Time of 'destruction': 16 March 2014
"I used to skip classes and spend time with my girlfriend at King Albert Park Mcdonalds. Sometimes we even spent the night studying for exams there." – Farhan Isa, Video Content Creator
4 – Thieves Market
Located between Jalan Besar and Rochor Canal Road, Thieves Market used to be Singapore's oldest and largest flea market. This unique hawking zone has colourful, decades-long history and we're still upset that we'll never see it again. 
Families who love finding good bargains will have dragged their then-young children in tow to this 'thrift heaven' a hot sunny Sunday. Sadly, this iconic market was closed down to make way for future residential buildings.
Time of 'destruction': 10 July 2017
5 – 77th Street
Yup, we're throwing it back to a time when big ear holes were cool. Big kids of our generation will remember walking round the very colourful shop, filled with dazzle and all that shiny bling! If memory serves us right, 77th Street had all the accessories and stylish trinkets for the cool kids back in the day. I distinctly remember heading down after school to get new piercings. (Wow I was such a badass.)
Time of 'destruction': August 2016
"I used to spend quite a bit in 77th street, buying their then 'trendy' wristbands and Zinc sling bag because I thought it would make me look cool, hip and trendy." – Afiq Amran, Video Content Creator
6 – Circus Circus Arcade
The nineties was surely the golden era of local arcade game centres. From the early 1980s to early 2000s, Circus Circus was one of the favourite hangout spots for youngsters. We're sure many remember going to Circus Circus after school – or even cutting classes to spend time there. These games were so popular then that the government had to put a ban on them from the mid 1980s to 1990s.
Time of 'destruction': Somewhere in the 2010s
"Circus Circus was arguably the most iconic arcade when I was in secondary school – especially the outlet at Queensway Shopping Centre. I'll never forget the one-of-a-kind Circus Circus tokens too, which were gold-ish, had groves and the branding etched on the coin" – (our very old) Sadat Osman
7 – Old National Library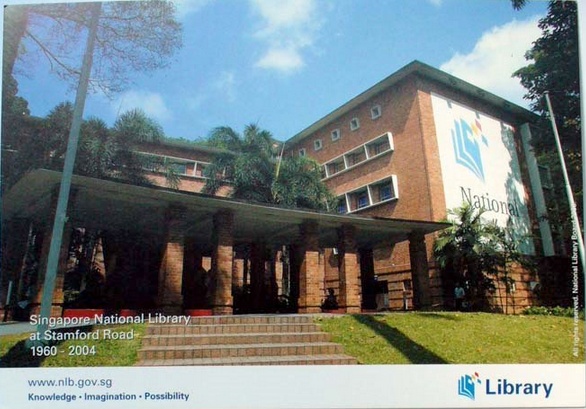 Also read: Southeast Asia's First Disney Exhibition Is Coming to Singapore's ArtScience Museum
This one's for the bookworms! Built in 1960, Old National Library was Singapore's first ever library. Parents would bring their young children to this brick-walled building and read books to them.  Unfortunately, the Old National Library was closed to make way for Fort Canning Tunnel (FCT) to help facilitate traffic into the city.
Time of 'destruction': 31 March 2004
8 – A&W Boathouse at Sentosa
What's better than having a rootbeer float? Why, having a rootbeer float on a boat, of course! Built in 1991, this boat was home to well-loved fast food chain A&W. The cosy boathouse was always such a hit with us kids. Boarding the boat allowed us to pretend that we were leaving Singapore and taking a short holiday! Unfortunately A&W decided to move out in 2003, depriving us of our favourite float. 
But fret not guys – A&W is back! It may not be at the same location, but you can now relive your childhood at Jewel Changi.
Time of 'destruction': 2013
Closing Soon…
9 – Sentosa Merlion
It's time to say goodbye to Singaporean's favourite Merlion. How could we ever forget the laser lights shooting out of this majestic being's eyes during its nightly laser shows? To the dismay of Singaporeans and tourists alike, this historic icon will make way for new thoroughfare that will link Resorts World Sentosa in the north to Sentosa's beaches in the south.
Projected time of 'destruction': After 21 October 2019
10 – Jurong Bird Park 
And another one bites the dust. By 2020, resident birds at Jurong Bird Park will leave the nests they've made homes at. This feather haven has almost close to 3500 birds across 400 species – but fret not, these birdies aren't going anywhere. They'll be flying their way to Mandai where they will reside along their fellow faunas. 
Projected time of 'destruction': 2020
As we make way for newer and shinier places and attractions, these iconic childhood spots will always remain in our hearts. How can we forget the places that have made us into who we are today? 
When we're 70 years old, we'll look back on our old pictures on Facebook, and smile.