Beach vs. mountains? Rural vs. urban? Which would you choose?
In the extensive Australian state of New South Wales (NSW), you absolutely don't have to choose! Through this Spring road trip itinerary, we'll show you how to have a good time exploring a wide range of attractions across NSW encompassing waterfalls, farms, flower gardens and cafes. Over the course of five days and four nights, you'll be travelling from Sydney down to the Southern Highlands, and back up through the South Coast on this suggested route:
Sydney → Bendooley Estate → Fitzroy Falls → Bowral → Canberra → Batemans Bay → Jervis Bay → Wollongong → Sydney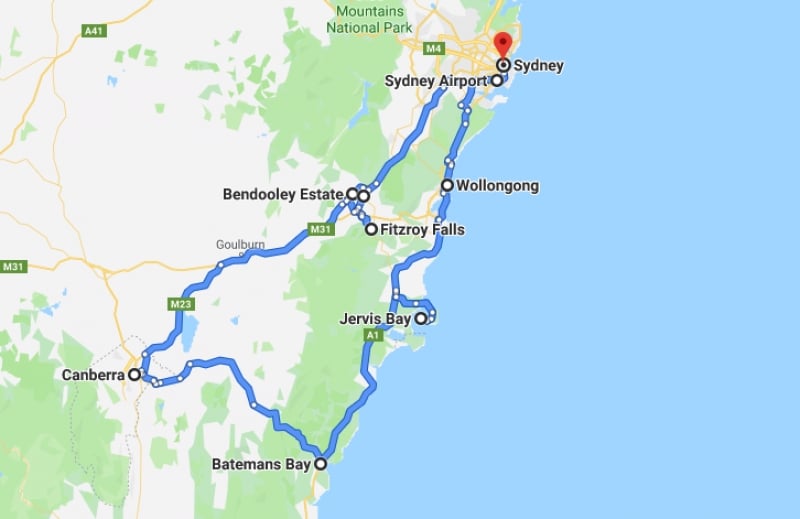 This route south of Sydney may not consist of typical places that one may expect at the mention of 'NSW road trip'. However, that's exactly where the beauty lies — you'll find that there's way more to explore in the state than you know!
There's also no better time to set off on your road trip than now as Spring is swiftly approaching, when the temperature remains not too warm nor too cold in NSW, but just right.
If you're ready for a unique road trip experience, let's get going!
Day 1: Sydney → Bendooley Estate → Fitzroy Falls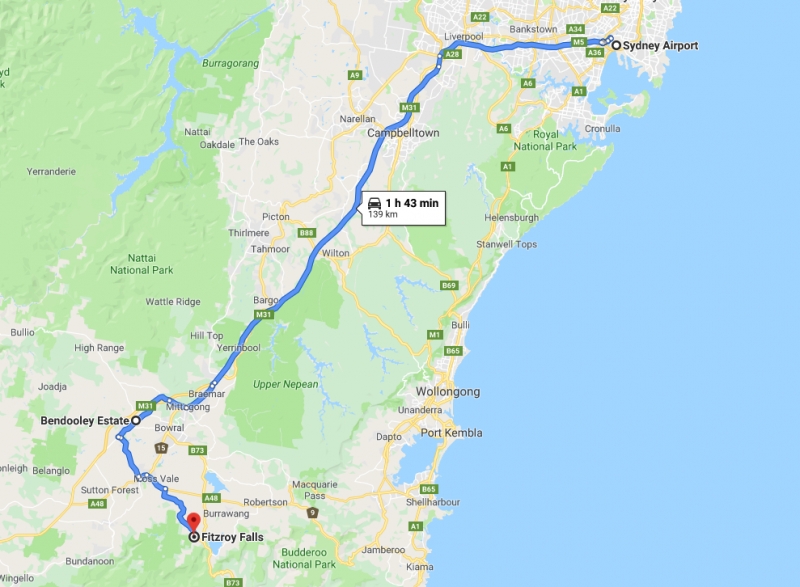 Take a red-eye flight and arrive in Sydney all fresh and ready to hit the road to make the most out of your road trip! Be sure to find a flight arriving at an optimal timing on CheapTickets.sg; especially since they're have a special promotion of S$20 OFF Qantas flights to Sydney from now until 17 Sep 2019.
Upon landing, pick up your car from the same terminal you've arrived in and you're all set to kick off your adventure! On this first leg of the drive, you'll be making your way down south, covering a distance of approximately 139 kilometres and spending about an hour and 45 minutes on the road.
Bendooley Estate
The first stop on your road trip is Bendooley Estate in Berrima. Nestled in the Southern Highlands, this romantic estate grants jaw-dropping scenery everywhere you turn. A bookstore, restaurant and cellar door all under one roof, you probably wouldn't stumble upon a place as atmospheric as this one if you hadn't already heard about it.
After taking in the wonderful surroundings, step into the iconic Berkelouw Book Barn, the centrepiece of the whole Estate. This charming bookstore with its beautiful cathedral ceiling and large iron chandeliers features seemingly endless shelves of rare books that will delight the bookworm in you. Cosy up by the fireplace with a book and be transported to another world!
Before you set off for the next stop, fuel up at the restaurant located within Book Barn. You may also want to indulge in wine tastings held from 10am – 5pm at the Cellar Door, which overlooks the estate's very own vineyard!
Address: 3020 Old Hume Hwy, Berrima NSW 2577, Australia
Opening hours: 9.30am – 5pm daily
Fitzroy Falls
After a hearty meal and another half an hour of driving, refresh your senses by making another pitstop in the Southern Highlands to see the majestic Fitzroy Falls. Marvel at the cascading waters as they plunge from over 80 metres high down to the valley below.
You'll want to find parking at Fitzroy Falls Visitor Centre, which also offers some fascinating insight into the region's Aboriginal history. Follow the boardwalk from the visitor centre for lookouts from where you'll be able to admire the waterfall.
Continue your venture into NSW's nature by walking along the East Rim and Wildflower route to check out the rest of Morton National Park, and see if you can spot any spring blooms in the park vicinity.
Address: 1301 Nowra Rd, Fitzroy Falls NSW 2577, Australia
Opening hours: 9.30am – 5pm daily
Overnight Farm Stay
At this point of the day, it's likely that you're all ready for some well-deserved rest. It's a good thing then that there are plenty of accommodation options around the Fitzroy Falls area, including places where you can experience a farm stay!
Unlike staying in the city or town, a farm stay will afford you with more space to frolic around, more peaceful surroundings, and of course, the chance to interact with farm animals! From rustic fireplaces to Southern hospitality and cozy cottages, you can't say no to this golden opportunity to experience rural life.
Come morning, you'll be awoken by roosters crowing outside and can even spend the early hours of the day tending to some of the farm animals in your own backyard.
Some options to choose from are Rowan Farm Fitzroy Falls, Farm Club Australia, and The Lodge FarmStay.
Day 2: Bowral → Canberra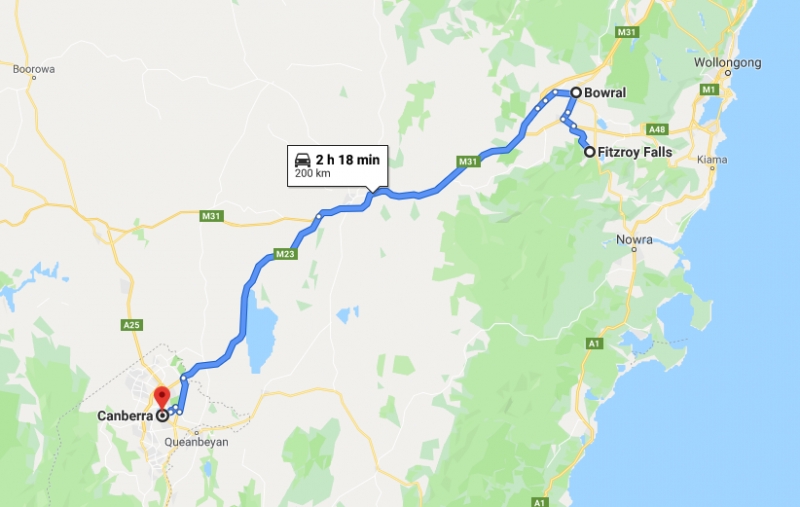 No matter which farm you've decided to call home the night before, the first stop of the day shouldn't be too far away, since Bowral is just a 30-minute drive away from Fitzroy Falls. Today, you'll be focused on getting from the Southern Highlands region to Canberra, which will mark you conquering half the total distance on your road trip already!
Bowral
There's so much more left to see in the Highlands, and you can experience its highlights by spending the day in Bowral.
Bowral is the largest and most prosperous town in the Highlands, and legend also says that it's where the story of Marry Poppins originated!
Although there are plenty of eateries, museums and other quaint establishments to visit in Bowral, the star attraction has to be the Tulip Time Festival that takes place annually in spring.
This year, catch the Tulip Time Festival taking place from 24 Sep – 7 Oct 2019 in the Corbett Gardens, where 75,000 tulips will bloom as its centrepiece. At the same time, there will also be live music entertainment and interesting market stalls to accompany your Spring frolicking.
Address: Wingecarribee St, Bowral NSW 2576, Australia
Opening hours: 9am – 4pm from Sunday to Friday; 9am – 5pm on Saturdays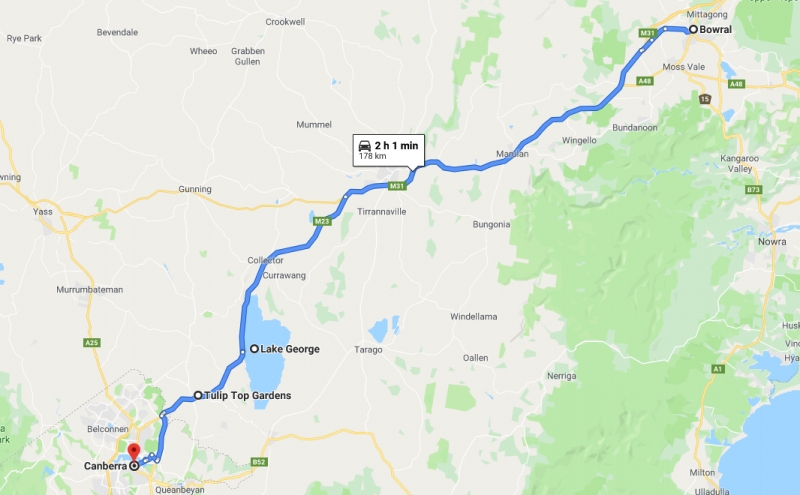 You can choose to spend a longer time in Bowral, or you can also set off earlier to enjoy other stops along the way before you end the day in Canberra. If you just can't get enough of tulips, you can catch more in bloom during the spring months at the Tulip Top Gardens, or check out the mysterious Lake George, an 'empty' or endorheic lake just on the outskirts of Canberra.
Rest for the night in an accommodation in Canberra or its outskirts. There are plenty of choices to choose from in Queanbeyan, including the Canberra Avenue Villas for a comfortable and spacious stay.
Day 3: Canberra → Batemans Bay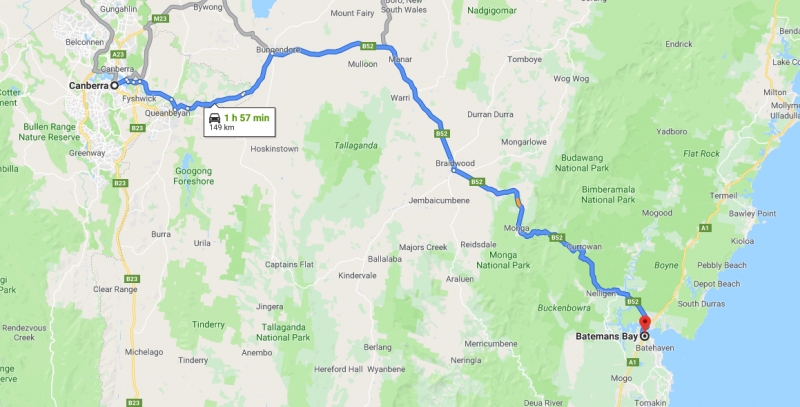 This day, you'll be embarking on the second half of your trip and begin your exploration of the South Coast of NSW. Make an early move to give you ample time to enjoy all that Batemans Bay has to offer. This scenic 2-hour drive will have you pass by mountains, forests and farmlands before finally arriving at the coast along the South Pacific.
Batemans Bay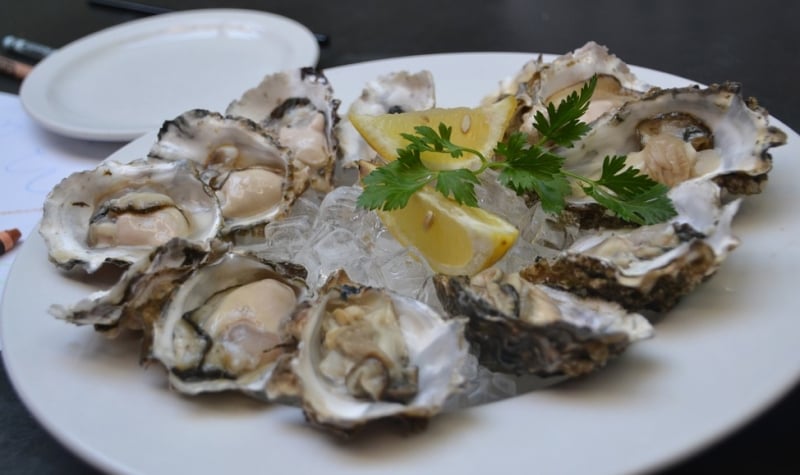 With pristine beaches and stunning river estuaries lining its coastline, it's not surprising that fresh oysters are one of Batemans Bay's renowned delicacies! At a famous restaurant on Wray Street, The Oyster Shed, taste premium oysters while dining alfresco. 
These Sydney Rock Oysters are said to be the best in the world due to the purity of the water in the Clyde River where they're being harvested from. Since the river is right next to the shed; it truly doesn't get any fresher than this!
Address: Last shed on Wray Street, Batemans Bay, NSW 2536, Australia
Opening hours: 9am – 5pm daily
To burn off those calories, spend the afternoon exploring Batemans Marine Park on a Glass Bottom Kayak Tour! Unlike typical kayaking experiences, the kayaks on this tour are fitted with a perspex bottom which allows you to view the underwater life beneath you. You won't have to peek precariously over your kayak to admire the stingrays, blue swimmer crabs, fishes and other colourful sea life!
Address: Surfside, Batemans Bay
Opening hours: Tours depart at 9am and 1pm daily 
Cost: AUD85(~SGD 79.85) for adults, AUD65(~SGD61) for children
Overnight by the Clyde River
For an affordable accommodation option with five-star views, consider BIG4 Batemans Bay At East's Riverside Holiday Park. Located right next to Clyde River, you'll be treated to panoramic views that'll make you want to stay forever.
The Clyde River, also known as Bhundoo to the Aboriginal people, is also not just any river. Apart from its magnificent water quality as mentioned earlier, it is also significant as a major river in eastern Australia. There's much to explore in its vicinity, including the Clyde River National Park. It's also said that Holmes Lookout nearby is the best place to be for amazing sunset views as it overlooks the bay as well as the Budawang Ranges to its northwest.
Holmes Lookout
Address: Rotary Dr, Batemans Bay NSW 2536, Australia
Day 4: Batemans Bay → Wollongong → Sydney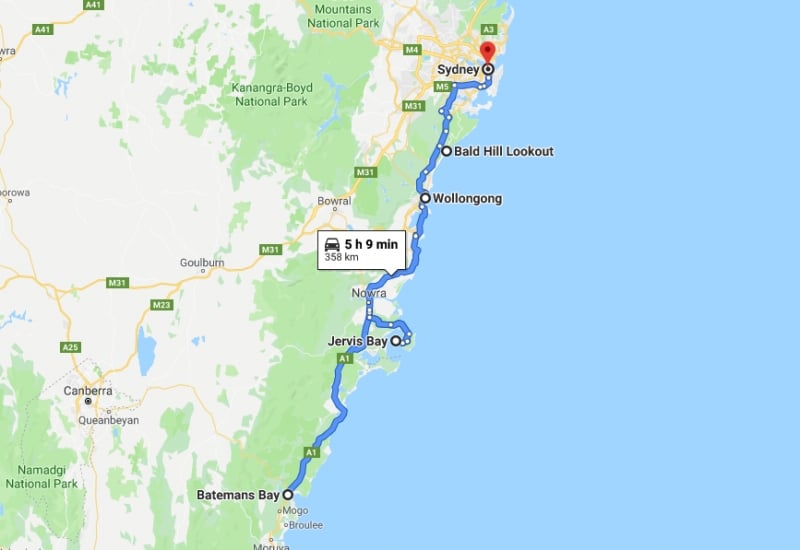 After a restful night by the river, we're finally on to the final leg of the drive before you arrive in Sydney. It's the longest stretch of drive you'll be attempting but fret not, it's definitely the most scenic one as you'll be cruising along New South Wales' beautiful South Coast.
This route along the South Coast will truly make you realise what an amazing region it is, with countless opportunities and attractions that you'll want to stop for. However, we've kept it to these few that you should definitely hit up if you have the time: Jervis Bay, Wollongong and the Bald Hill Lookout.
Jervis Bay
The first pitstop you can make is ​Jervis Bay​, which you'll come across at around the two-hour mark of your journey. The beaches here are home to some of the world's whitest sands and clearest waters! As you take in the rejuvenating views, try your luck and keep your eyes peeled for playful dolphins. Dolphin-watching cruises are also an option if you're determined to meet these marine animals.
Wollongong
After another hour and 45 minutes of driving, fill up your tummies in Wollongong. A spot with rave reviews that you should check out is Diggies Cafe! This cafe is well-loved for its tantalising brunch menu and freshly squeezed juices. The cherry on top has to be its unrivalled ocean views and chic beachside vibes.
Address: 1 Cliff Rd, Wollongong NSW 2500, Australia
Opening hours: 6.30am – 3pm from Monday to Friday; 6.30am – 4pm on weekends
After a hearty lunch, you can swing by Wollongong Head Lighthouse or Mount Keira Lookout located near the cafe to enjoy breathtaking views of the Wollongong area.
Sea Cliff Bridge
On the way to Bald Hill Lookout, take the Lawrence Hargrave Drive where you'll get the chance to travel on the Sea Cliff Bridge! A highlight of the Grand Pacific Drive, this snaking bridge will afford you an exhilarating ride along the South Coast, as well as many stunning photo opportunities.
Bald Hill Lookout
For one more scenic view of New South Wales' coastline before arriving in Sydney, Bald Hill Lookout will make the perfect stop. Only a 40-minute drive away from Wollongong, this spot is also popular for paragliding and the perfect place to stretch your legs before the final sprint to Sydney. You can also see the Sea Cliff Bridge from here.
Address: Lawrence Hargrave Dr, Otford NSW 2508, Australia
Overnight Near Darling Harbour
A little over an hour later, you'll find yourself back in a familiar city. With all kinds of hostels and hotels, you'll be spoilt for choice! To help you narrow your search down, we recommend staying in the Darling Harbour area as it'll keep you close to the action and offers magnificent views.
Day 5: Sydney
Finally, you're on your last day in New South Wales! Before you board your flight home, here are some things you can look forward to when you're in Sydney during the Spring months:
Jacaranda Spotting Around the City
The Grafton Jacaranda Festival in Grafton is held from 25 Oct – 3 Nov this year, but even if your trip doesn't coincide with NSW's most popular flower celebration, there are plenty of places around the city to catch these magnificent purple blooms during Spring!
Since Jacaranda trees are almost iconic to Sydney, you can find them at almost every turn, as long as it's blooming season which typically starts in mid-October. The most popular spots that are worth flocking to include McDougall Street in Kirribilli, the University of Sydney area, as well as around Circular Quay and The Rocks!
Sculpture by the Sea Bondi
From 24 Oct – 10 Nov 2019, catch the 23rd edition of Sculpture by the Sea, the world's largest free to the public sculpture exhibition held on Bondi Beach. Featuring 100 sculptures from both Australian and international artists, the coast from Bondi Beach to Tamarama Beach, also known as the 'Bondi to Tamarama walk', transforms into a 2km long sculpture park.
This is undeniably the most picturesque of ways to enjoy art outdoors!
Address: Starts at Bondi Beach, NSW 2026, Australia
Cafe-hopping
Before catching your flight home, fill your tummies with yummy food from some of Sydney's most Instagrammable cafes located less than a 15-minute drive away from the airport. 
With its whimsical setting and impeccably plated food, it's no wonder that The Grounds of Alexandria always pops up on many Instagrammer's feeds! However it's not just about the visuals — delight your taste buds with delectable selections from the cafe's ever-changing menu!
Address: 7a/2 Huntley St, Alexandria NSW 2015, Australia
Opening Hours: 7am – 9pm from Monday to Thursday; 7am – 10pm on Fridays; 7.30am – 10pm on Saturdays;  7.30am – 9pm on Sundays
After a lovely meal, continue your cafe-hopping adventures to other notable cafes nearby such as The Cannery Rosebery and Three Blue Ducks. For those with a sweet tooth, a visit to Black Star Pastry is mandatory. You simply have to pick up some of their famous Strawberry Watermelon Cake. It's touted as Australia's Most Instagrammed Dessert!
Once the time to board your flight approaches, head to the airport for home sweet home.
Be sure to find the best flight deals to and from Sydney on CheapTickets.sg. Don't miss out on the opportunity to get S$20 OFF Qantas flights to Sydney and save more on flights!
Promotion ends 17 Sep 2019.
Now that you have an itinerary and know where to rent a car and book your flight from, you're all equipped to get going on your unforgettable adventure across the Southern Highlands and South Coast of NSW!
---
Brought to you by CheapTickets.sg, Qantas Airways and Destination New South Wales.