With its stunning natural beauty and picturesque scenery, Perth has always been one of the destinations on my to-go list. My family and I took the chance recently to travel there and see the city, as well as to drive down to the town of Busselton and the Margaret River region. It was an amazing experience filled with sights and sounds, and we got to recharge ourselves, away from the hustle and bustle of the city.
Using CheapTickets.sg, we were able to book cheap return flights from Singapore to Perth on Scoot, which, after a $30 discount, cost us $351/pax with 20kg checked baggage, cheaper than if we booked directly via other channels (approximately $390)!
Want to experience Perth for yourself? Get a $30 discount for your flight to Perth when you use discount code
<GOPERTH30>
on CheapTickets.sg*! This deal is valid for all bookings until 30th June 2018, with no travel date restrictions.
*Do note that this discount may not be combined with any other discount.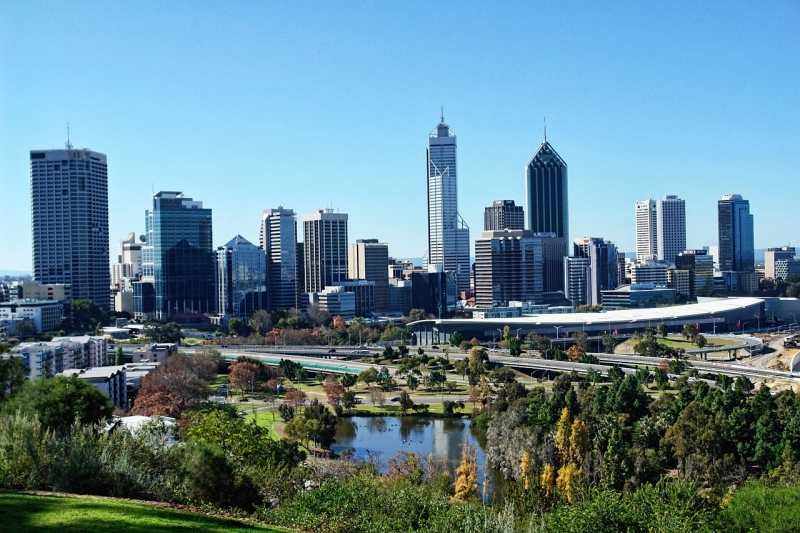 To travel around the great outback, you should definitely rent a car as there are not many public transport options. To compare car rental prices, we used CheapTickets.sg's search portal. Just enter the dates of your trip and where you want to pick up the rental car, and it aggregates different car hire companies for you to choose from. Using their platform, I found that you can rent a car from as little as S$25/day, cheaper and more hassle-free than booking from the companies directly. Check out these tips too on how to drive safely in Australia!
Don't know what to do in Perth? Fear not, here's my 5D4N itinerary that you can follow when you head to the Land Down Under!
Day 1: Perth
Go for an Eat the Street Walking Tour
Eating is my family's favourite pastime, so upon landing, we picked up our rental car, dropped our bags off at the hotel, and embarked on a gastronomic tour of Perth. Eat the Street Walking Tours, run by local couple Jacqueline and Mark, offers food-based experiences that introduce locals and visitors alike to the best venues in Perth.
We opted for their Brunch on Beaufort tour, and I won't ruin the surprise for you by telling you where we went, but rest assured that you will be in good hands with Jacqueline and Mark. With great food, plenty of drinks, and lots of laughs, it was a great introduction to the city of Perth. Mark was a great host and regaled us with his vast knowledge of Perth's food and bar scene in Perth. I highly recommend this walking tour for anyone visiting Perth!
Want to experience some of the best food that Perth has to offer as well? Use promotion code <VISITPERTH> to get 10% off and a free gift when you book a Perth walking tour via CheapTickets.sg. This offer is valid from 1 July 2018 to 1 December 2018.
Check out more Perth tours and package deals on CheapTickets.sg now!
See the sun set over the Perth skyline at the Swan River
Right at the doorstep of Perth lies Swan River, a tranquil respite from the city centre. My family and I took a leisurely walk around the river to admire the skyline, but you can rent bikes or even a Segway as well. For couples or families, you can pack a picnic to enjoy at one of its numerous grassy areas. At sunset, the orange sky basked the city with a warm glow, before the city came alive with light. Truly not a sight to miss!
Water sports enthusiasts can also go sailing, kayaking, or windsurfing at Swan River. If you're looking for something more guided, you can book a scenic or food and wine cruise of the river.
Stay at Comfort Inn & Suites Goodearth Perth
Using CheapTickets.sg to search for an affordable place to stay in Perth, I was able to find this hotel, conveniently located in the CBD just minutes away from Swan River and other tourist attractions. Perth's main shopping and dining attractions are within walking distance, but you can also catch the free city bus service as well to get around town.
We paid S$42 per person for a night's stay with buffet breakfast, and by booking with CheapTickets.sg we were able to save $16/pax as compared to booking directly with the hotel. Alternatively, you can choose Great Southern Hotel which costs S$47 per person a night.
Day 1 total savings per person: S$39 (flight) + S$16 (hotel) = S$55
Day 2: Perth to Busselton
See the sights of Fremantle
On our second day, we woke up bright and early and drove to the port town of Fremantle, just 30 minutes away from Perth. With its grand Victorian buildings, Fremantle feels like you've stepped into a different country altogether. We went to the Fremantle Markets, which opened in 1897 and boasts over 150 stalls selling fresh fruit and vegetables, as well as live music and unique handicrafts. My family and I really enjoyed the vibrancy of the area.
As we didn't have much time to spend in the centre of the town itself, we hopped on a Tram tour, which brought us around to see many of Fremantle's sights, including the Fremantle Prison, a UNESCO World Heritage Site. Built by convicts in the 1850s, it was used for 136 years before being decommissioned in 1991. With its foreboding 5m-high walls, the prison serves as a reminder of how convict labour was used by Europeans in the settlement of Australia.
Take a picture with quokkas at Rottnest Island
We took a short ferry ride from Fremantle to Rottnest Island, a protected natural reserve, and popular tourist attraction. Although we explored the island on our own, you can take a guided wildlife cruise, where you can discover secluded bays and inlets inhabited by birds, dolphins, and all sorts of marine life. You can also hire a bike and cycle out to one of the bays, or go for a swim.
On Rottnest Island, you'll also meet the quokkas – Rottnest Island's cute resident marsupials. These little critters are not scared of humans and will approach you closely, but do note that it is illegal to feed them and you can be fined A$300 (~S$303) for doing so!
Want to get a selfie with a quokka?
Use the code <SINGAPORE15> when you book a full day tour package with Rottnest Express and receive a 15% discount! This offer is valid until 31 December 2018. To see this deal and more, visit CheapTickets.sg!
Stay at Busselton Marina B&B
After a tiring day out, we just wanted to retire to a comfortable accommodation to rest. Using CheapTickets.sg, we found a charming Bed and Breakfast run by an elderly couple, Daphne and Brian. They were very welcoming, and their quaint place was clean and homely.
A two-bedroom apartment with breakfast cost us S$60 per person for a night's stay, S$3 cheaper than if we booked on other booking sites. We found it to be affordable considering the quality of the accommodation, and would recommend it to couples or families who want a quiet place to spend the night! You can also consider the Bayview Geographe Resort Busselton, which costs S$66 per person.
Day 2 savings: S$3 per person (accommodation)
Day 3: Busselton to Margaret River
Go to the Busselton Jetty
On the third day, we visited Busselton Jetty, which is the longest wooden pier in the world, stretching out almost 2 kilometers to the sea. You can choose to walk the whole length, but we took the jetty train to the end of the pier. Chugging by on the electric train while feeling the sea breeze and seeing fishermen casting out their lines made for an interesting experience!
At the end of the pier, we stepped down a spiral staircase to the underwater observatory, to see many vividly coloured corals and fishes. Here, you'll feel just like you're underwater with the fishes on the ocean floor!
Walk a section of the Cape to Cape Track
After the jetty, we proceeded to walk a section of the Cape to Cape Track, a 135km track from the Cape Naturaliste Lighthouse to the Cape Leeuwin Lighthouse. The full walk is a challenge and takes about a week to complete, but as we only had a few hours to spare, we walked the 3.7 km section of the track between the Cape Naturaliste Lighthouse and the car park of Sugarloaf Rock.
The walk provides some stunning coastal views, as well as scenic greenery, and we also saw wild kangaroos, which was a real treat! The trail is signposted well and has gentle slopes, so it should be of little difficulty. Nevertheless, don't forget to wear good walking shoes and bring a hat and water bottle! Pro-tip: Come during the golden hour and enjoy vibrant hues of red and purple streaked across the sky and enjoy the sunset view as you trek.
Stay at Margaret River Tourist Park
We then drove down to the Margaret River region to check into the Riverview Tourist Park, our accommodation for the next two nights. We stayed in a family studio for S$43 per person per night, which was affordable considering its location to the centre of the town. An alternative you can consider is Margaret River Tourist Park, which costs S$50 per person each night.
Can't wait to book your next holiday after Perth? Book a return flight from Singapore to Perth and a minimum of three nights' accommodation in Western Australia and get a massive $100 discount off your next flight ticket from
CheapTickets.sg
*! All you have to do is book before 30th June 2018 and travel before 20th November 2018.
*The discount is valid for all bookings before 31 December 2018, and may not be used in conjunction with other discounts.
Day 4: Margaret River
Visit Margaret River's stunning cave systems
We woke up early on the fourth day to drive down to Jewel Cave, the biggest show cave in Western Australia. Its towering crystal straw stalactites hang suspended from the ceiling, which makes for a truly awe-inspiring sight and will leave you feeling very small indeed. You can also head to Mammoth Cave, which is home to ancient fossil remains of Australian Megafauna, long-extinct giant animals that once walked the earth.
Go on a winery tour
As Margaret River is famous for the wines produced in its region, we decided to go on a cellar door hop across different wineries. We particularly liked Clairault|Streicker Wines, which has been in business since 1976 and features just under 200 hectares of vineyards. They brought us on a guided tour through the vineyards and a tasting of current and museum release wines, paired with fresh and seasoned canapés from the kitchen. Although it was a bit pricey at S$85 per person, the tour was a luxurious and exceptional experience indeed.
Picnic amongst giant Karri trees at Boranup
To end off the day, we drove up to Boranup Karri Forest to see the karri trees. The karri tree, which only grows in the forests of South-Western Australia, is the third tallest tree in Australia and one of the tallest species in the world, with some reaching heights of up to 90 metres. The forest is also home to many species of wildflowers, orchids, and birds. We also drove to the Boranup Lookout in the forest to have a small picnic and take in the picturesque view of the forest and the turquoise waters of the nearby Hamelin Bay.
Day 4 savings per person: S$13 (winery tour)
Day 5: Margaret River to Perth
Visit Cape Leeuwin Lighthouse
Before we embarked on our drive back to Perth, we visited Cape Leeuwin Lighthouse, the tallest lighthouse on mainland Australia. It is located at the most south-westerly point of Australia, where the Southern and Indian Oceans meet. With high waves crashing into the cliffs, you'll get some great shots of the coastline, if you can handle the strong winds.
Entrance to the lighthouse grounds costs S$8 per person, and you can choose to do a guided tour of the lighthouse to learn more about maritime history and how it is used to help vessels navigate the treacherous waters.
Splurge a little at Millbrook Winery for lunch
On our drive back to Perth, we stopped by Millbrook Winery, an award-winning restaurant located amongst picturesque surroundings in the historic town of Jarrahdale, which is a 50-minute drive from Perth. It only uses fresh produce grown in its garden and locally-sourced meat and fish, ensuring the highest standards of ingredients. Every dish on its ala-carte menu includes a suggestion for a wine pairing, which we felt was a nice touch.
We thoroughly enjoyed our meal here, and although it was a bit pricey, we wanted to treat ourselves for our last meal in Perth. We also felt that it was worth it due to the quality of the ingredients and great attention to detail by the staff.
If you are dining at Millbrook on Thursday or Friday, add 'Wine of the week' in the comments section of the booking form, and you'll get a free glass of wine for every person that orders the $75 three-course set lunch! This offer is valid until 31 Dec 2018. See this deal and more at
CheapTickets.sg
!
After our meal, it was sadly time to head back to Perth, drop off our rental car, and fly back to Singapore. My family and I thoroughly enjoyed our time in Perth, Busselton and the Margaret River region, as it was a good chance to explore its wondrous scenery and enjoy a slower pace of life. I can't wait to come back!
The cost breakdown of our trip is as follows:
Flight: S$351
Car Rental: S$125/4 = S$31
Accommodation: S$42 + S$60 + S$84 = S$188
Miscellaneous fees: S$8 + S$85 = S$93
Total cost of the trip per person: S$663
We had a hassle-free experience when we were booking our Perth trip on CheapTickets.sg. This one-stop search portal allows you to book your flights, accommodation, and rent a car all on the same website, which not only saves you the trouble from having to book directly from the various companies but also provides you with special discounts, allowing you to save money as well! Don't hesitate and book your trip now to embark on your Western Australia adventure!
CLICK TO BEGIN YOUR PERTH ADVENTURE!
---
Brought to you by CheapTickets.sg