There are plenty of things to do in and around Bangkok to stop you from ever getting bored – exciting shows, shopping malls, grand palaces, tours and markets are in great abundance. However, there is one thing that usually gets left out of travellers' itineraries: theme parks.
Well to be honest, who thinks of theme parks when picturing Bangkok, or even Thailand in general? It's usually the white sandy beaches, palm trees and the occasional ladyboy show. It might surprise you to learn that Thailand does have theme parks, and plenty of them too! 
Let's take a look at some of the top ones in, or nearby Bangkok. [fzPrice]BKK[/fzPrice]
1. Dream World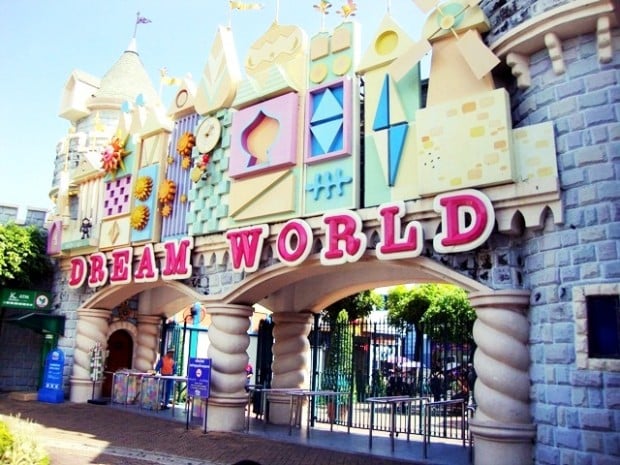 Image credit: sheilapepito
Dream World is located in Thanyaburi district, Pathum Thani province, on the outskirts of Bangkok. It's an amusement park that features roller coasters and water rides. If you have young kids with you, there are plenty of rides suitable for them such as the Thunderbird, Antique Car, Sightseeing train and the Grand Canyon, which is a white water rapid ride that will take you for a trip down the twisting and churning water.
Teenagers and adults can enjoy some bigger, more exciting rides such as the Raptor, Tornado and the famous Sky Coaster. On the Sky Coaster, you will dangle above the ground in a harness, whilst zooming around the track, tackling twists, sharp turns, and the occasional loops.
If you feel a bit dizzy from all the rides, take a break and catch shows like the World Parade show, the Hollywood Action show and Uncle Tom's Farm, an animal show very popular with kids.
Ticket prices:
850 baht (rides only)
1050 baht (adults, with buffet)
950 baht (kids, with buffet)
2. Jurassic Water Park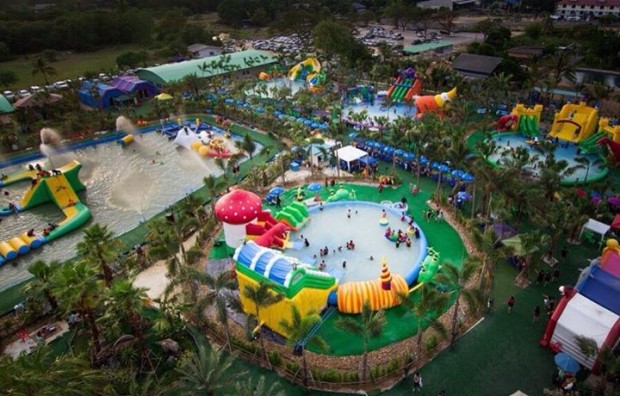 Image credit: Jurassic Water Park
This place is totally incredible. It is one of Thailand's newest theme parks, which takes on a dinosaur theme throughout the park – clever name huh?
Located less than an hour away from the centre of Bangkok, Jurassic Water Park is definitely worth a visit. It's a family favourite and suitable for all ages. Made from giant inflatables, all of which are surrounded by water, you can bounce, slip and slide your way through huge obstacle courses.
There are also life size replica dinosaurs dotted throughout the park, which actually move and make noises! Catch a show and dine in one of the many restaurants inside the park. Another plus of this park is the ticket prices; With tickets at only 299 baht for an adult and 200 bath for an adult, Jurassic Water Park is well worth a visit!
Ticket prices:
299 baht (adults)
200 baht (kids)
Also read: Top 12 Water Parks in Asia
3. Safari World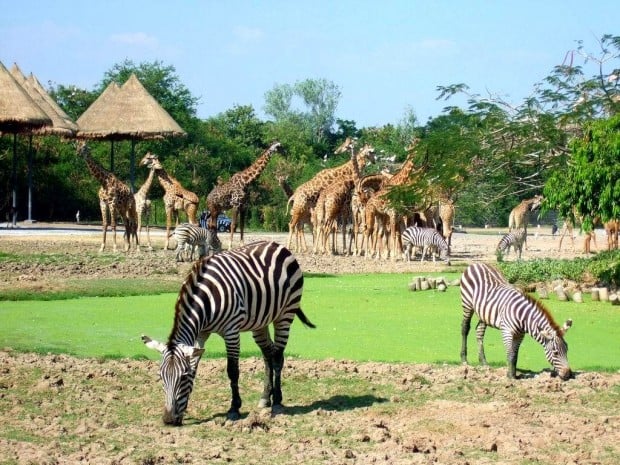 Image credit: taxifortour
While Safari World is not actually a 'theme' park, in the sense that it is not home to roller coasters, you can still look forward to an action-packed day. The clue is in the name!
Safari World offers a variety of entertaining animal shows including a bird show, a dolphin show, a sea lion show and even an orang-utan boxing show! That's not all – there are also several attractions where you can get up close and personal with the animals. Catch the Jungle Walk and Marine Park, where you can watch a White Tiger Show and take a cruise through the jungles of Asia and Africa on the back of a log flume. You can find Safari World at Samwatawantok, Klongsamwa, Bangkok.
Ticket prices:
1400 baht (adults, Safari World and Marine Park)
1800 baht (adults, with buffet)
1100 baht (kids, Safari World and Marine Park)
1450 baht (kids, with buffet)
350 baht (per person for River Safari Ride)
4. Siam Park City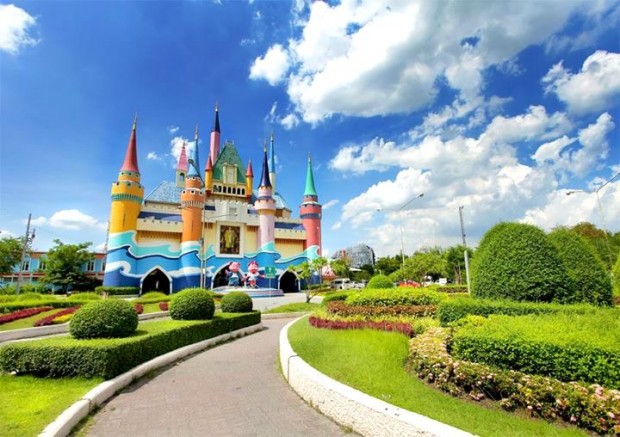 Image credit: Siamparkcity
Siam Park City was built back in the '80s, so it's starting to show its age a little, with slightly outdated rides. However, don't let that you put you off – there's still plenty of fun to be had here! There are several different zones to enjoy:
Small World – A place to bring the young kids to enjoy smaller rides such as the Mini Carousel, Mini Motorcycles and Mini Boats.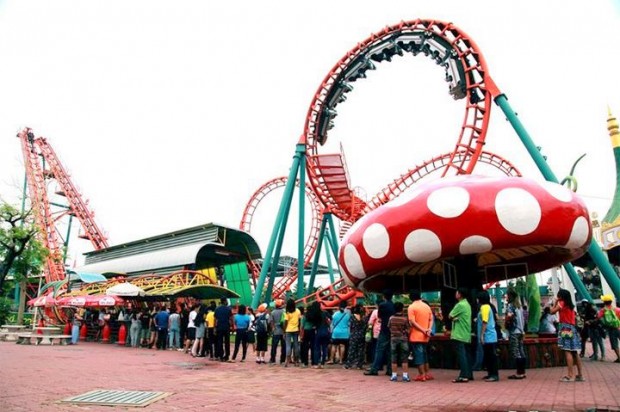 Image credit: Siamparkcity
Fantasy World – Suitable for older kids, teenagers and adults, here you will find the bigger more exciting rides and roller coasters.
Family World – Rides to suit everyone above 100 cm. Here you will find a mixture of rides, from small and gentle to big and wild!
X-Zone – I assume the 'X' stands for 'extreme' as that's the sort of rides you will find in this part of the park! Suitable for teenagers and adults, here you'll find the big kids' playground!
Water Park – Last but not least, we have the water park. Be prepared to get wet and wild when visiting this area of the park which is suitable for the whole family!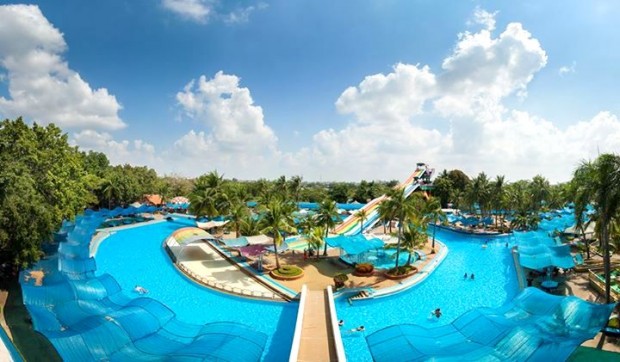 Image credit: Siamparkcity
Ticket prices:
1000 baht (adults)
850 baht (kids)
Also read: 5 Iconic Theme Parks You Need to Experience At Least Once
5. Flow House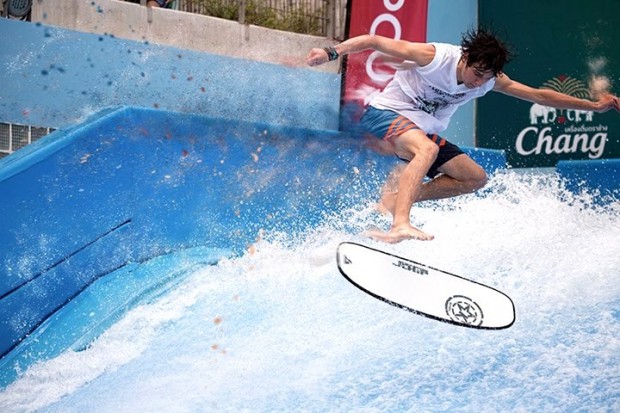 Image credit: Flow House Bangkok
Flow House in Bangkok is totally awesome! It is Bangkok's only urban beach club where you can experience that feeling of being by the seaside without actually leaving the city. It doesn't have any roller coasters, but what it does have is the FlowRider, a simulated wave surfing machine! Suitable for the whole family, you can come here to enjoy some fantastic food whilst hitting the waves in between.
Don't worry if you have never surfed before, the onsite instructors will guide you through the whole process to ensure you have a fun filled day and learn a trick or two! There's also a plunge pool along with other on-site games and activities. Best of all, Flow House is open from 10am till midnight everyday, and entrance is free!
Ticket prices:
750 baht per an hour of surfing
6. Cartoon Network Amazone Water Park

Image credit: Cartoon Network Amazone Water Park

Image credit: Cartoon Network Amazone Water Park
Fancy a splashy day with your favourite Cartoon Network characters? Amazone Water Park is the place to go! From Johnny Bravo's Banana Spin Bowl to Power Puff Girls' gigantic wave pool, this is the paradise for all Cartoon Nework fans! (Oh did I mention they even have a Ben 10's Omnitrix Water Roller Coaster? Yes you hear me!)
While you're there, don't forget to join Gumball, Darwin, and other lovable Cartoon Network characters at Cartoonival, the world's largest aqua playground packed with over 150 water attractions. Wait no more! Pack your bag and make your way to this splashtacular world of Cartoon Network now! Amazone Water Park is definitely worth the two hours drive from Bangkok (20 minutes only from Pattaya)!
Ticket prices:
1590 baht (adults)
1290 baht (kids & seniors)
All of these places sound so unbelievably exciting! What are you waiting for? Pack your swimsuit, sunscreen and favourite towel and go have splashing fun at these water theme parks!