143300
Looking for some awesome travel deals for your next trip? NATAS Travel Fair 2023 is back again this year from 11–13 Aug at the Singapore EXPO, featuring some of the top travel providers in the industry.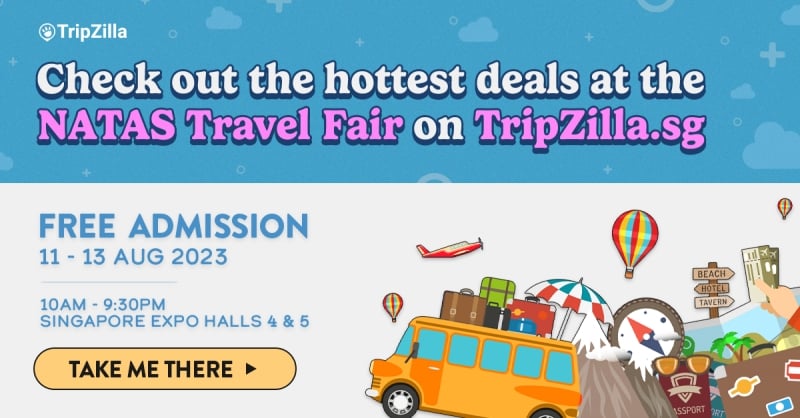 Whether it's a winter getaway to Jeju, a pilgrimage to Saudi Arabia, or a scenic autumn trip filled with flowers and valleys in Chengdu, you're sure to find a package that works for you. Here's a curated list of top picks for the best deals to Asia at the Aug NATAS Travel Fair!

Offered by: Nam Ho Travel
Departure period: 30 Nov 2023 to 29 Feb 2024
Price: From S$1,898 (early bird promotions)
Deal Highlights
✓ Stay at classy accommodations throughout the trip that are near top attractions
✓ Indulge in fresh abalone, Jeju black pork, and more
✓ Visit Seoul,  Incheon, Jeju, and Gangwon in South Korea in one go during the winter season
✓ Enjoy horse-back riding, skiing, fruit picking, sheep feeding, and cheese making
This 8D7N trip to South Korea will enchant you with some winter attractions and activities in Seoul, Jeju, Gangwon, and more! Visit popular attractions like Seongsan Sunrise Peak, Gyeongbokgung, and Dongdaemun. Have a go at skiing in Gangwon or horse-back riding in Jeju. You also enjoy relaxing activities like fruit picking and cheese making. 
On top of that, enjoy some warm and delectable Korean cuisines like fresh abalone and Jeju black pork BBQ. Feast on seafood sashimi and hotpot to enjoy the best of Korea's gastronomic delights! This comprehensive eight-day tour is probably the best way to enjoy a winter vacation in South Korea!

Offered by: Webuy Travel
Departure period: TBD
Price: From S$1,488
Deal Highlights
✓ Visit Dubai's popular city attractions like the Dubai Frame, Bur Khalifa, and Palm Jumeirah
✓ See UAE's largest mosque, Sheik Zayed Grand Mosque in Abu Dhabi
✓ Explore Dubai's desert on a jeep and try out sandboarding 
✓ Enjoy a local cuisine buffet 
Explore Dubai's gorgeous city and vast deserts with this 6D4N tour package! You'll be amazed at the beautiful skyscrapers and architecture, from the world's largest "photo frame", Dubai Frame, to the stunning palm tree-shaped island, Palm Jumeirah. During this trip, you'll also visit Abu Dhabi, where you can see the largest mosque in the country, Sheik Zayed Grand Mosque. If you love shopping, you'll be sure to enjoy all the trips to the malls, as well as the bustling Spice and Gold Souks, where you can find jewellery and spices that are unique to the country. 
Furthermore, head out into the vast desert of Dubai in a jeep. There, you can try out fun sandboarding activities, or even dune bashing. This tour will certainly make you fall in love with Dubai for its diverse sights and sounds!

Offered by: EU Holidays
Departure period: Now till 19 Dec 2023
Price: From S$1,488
Deal Highlights
✓ Meet adorable pandas at Dujiangyan Panda Base
✓ Admire the scenic valleys in Jiuzhaigou, Mt. Emei, and immerse in the rich Tibetan culture of Mao County
✓ Enjoy the rich and flavourful Sichuan cuisine
Looking for a healing trip to gaze at natures' wonders, relish authentic Sichuan cuisines, and come face to face with the cutest pandas? This 8D7N tour package to Jiuzhaigou and Mt Emei will be perfect for you! Your adventure includes an unforgettable visit to the Dujiangyan Panda Base, enchanting journeys to Jiuzhaigou, Huanglong National Scenic Areas, and Mt. Emei. 
You can also enjoy a calming boat ride tour down San River, where you can marvel at the beauty of the Leshan Giant Buddha. 
Apart from scenic views, immerse yourself in cultural and culinary delights. Learn more about Tibetan culture at Tibetan Qiang Village, where you can immerse yourself in local customs and traditions. On top of that, you'll get to try iconic Sichuan cuisine during your tour. Savour the spicy hotpot, relish the classic Kung Pao Chicken, and be utterly entranced by the performance of preparing Jinsi noodles. This tour package will give you the right blend of natural beauty, cultural immersion, and gastronomic pleasures as you explore this region of China. 

Offered by: Chan Brothers Travel
Departure period: Now till 31 Mar 2024
Price: From S$2,388 (up to $2,000 off per foursome)
Deal Highlights
✓ Visit popular scenic attractions like Ha Long Bay, Ho Chi Minh Mausoleum, Sapa's terraced rice fields, and Trang An Landscape Complex
✓ Enjoy a unique tram ride up to Fansipan Mountain
✓ City tour to see Ho Chi Minh Mausoleum, One Pillar Pagoda, and the Literature Temple
Here's a scenic and relaxing 8D See Northern Vietnam Anew that takes you through Hanoi, Halong, and Sapa. Visit not one, but two UNESCO World Heritage Sites: Ha Long Bay and Trang An Landscape Complex. Can you picture the breathtaking panorama of magnificent limestone structures? You'll be cruising around these geological marvels for an up-close experience. That's not all — snap photos of the beautifully layered rice fields at Sapa and stare in awe as you ride the tram up Fansipan Mountain, the highest of its kind in Indochina! 
Apart from natural attractions, you'll also get a glimpse into village life at H'mong Village and Cat Cat Village. There, you'll be able to learn more about the culture and observe the agricultural activities of the locals. What's more, you'll get to marvel at the architecture of buildings like Ho Chi Minh Mausoleum, One Pillar Pagoda, and the Literature Temple. With all that this tour package has to offer, you'll be sure to have a memorable adventure through northern Vietnam's treasures.

Offered by: JTB
Departure period: From 4 Dec 2023
Price: From S$5,288 (early bird discounts up to $600 per couple)
Deal Highlights
✓ Admire the winter landscapes of north central Japan at attractions like Kawagoe Town, Ikaho Onsen Town, Matsumoto Castle, and more
✓ Unique experiences like Daruma Painting, Strawberry Picking, and the Dogashima Cruise
✓ Special gourmet delights to enjoy Japanese kaiseki cuisine
✓ Ryokan stays with an authentic onsen experience
In this 9D7N tour in North Central Japan, soak in an onsen, stroll through quaint village towns, and gaze at the breathtaking Mt. Fuji, surrounded by a blanket of white snow. Immerse yourself in the essence of traditional artistry as you paint Daruma dolls, explore the Kawagoe Old Town's Edo-period charm, and bask in the mesmerising winter illuminations at Ashikaga Flower Park. 
Can you imagine being pampered at an authentic Onsen stay in Ikaho? Picture indulging in a sumptuous multi-course Japanese kaiseki dinner, a feast not only for the stomach but the eyes as well. It's a culinary experience unlike any other! 
On the seventh day of this trip, you'll also get to visit the bustling city of Tokyo for a free and easy day of shopping and exciting activities. Embrace the extraordinary, immerse yourself in an authentic experience, and discover Japan like never before with this winter tour package!

Offered by: Azza Travel
Departure period: TBD
Price: From S$1,100
Deal Highlights
✓ Provides Umrah necessities (Bag, Prayer Kit, Ihram, Book) and Umrah classes
✓ Six-seater HiAce to ensure smooth travels
✓ Accommodation in Madinah & Makkah
✓ Optional Day tours to Taif, Alula, and Jeddah
This 6N umrah package is designed to provide a seamless, stress-free experience for this sacred trip for Muslims. This extensive package covers accommodation in Madinah & Makkah, umrah necessities, umrah classes, and transport to get around. You can also add on for day tours to Taif, Alula, and Jeddah, which includes some meals. Each of these locations holds its own unique historical and cultural significance; it's a chance to delve deeper into the Islamic heritage. Book this package for a smooth-sailing umrah travel!
This list is just a glimpse into what you can find at the 2023 NATAS Travel Fair from 11–13 Aug. Head down to check out the full range of exciting deals and packages!