After spending hundreds of days stuck at home, our feet — itchy with the need for adventure — all want to hit the road. Now we're just a plane ticket away from our next trip, with borders reopening left and right. So here's our top suggested theme for your soonest getaway: Rediscover Thailand through an excursion to the underrated sights in Phuket and its less-travelled destinations. 
It doesn't matter if you've been to the Land of Smiles before; you can never go wrong with exploring beyond the famous Phi Phi Islands and Phang Nga Bay. Here are the 12 best yet underrated activities and sights in Phuket to add to your travel plan.
Explore hidden gems with AirAsia's non-stop flights from Singapore to Phuket.
For as low as S$69, you can visit the home of fine-sand beaches, lip-smacking Thai food, and solemn Buddhist culture. More underrated attractions at Phuket await, so why don't you book that flight today?
Indulge in authentic Thai cuisine
1. Raya Restaurant
Raya Restaurant is a must-try bistro if you want to do away with the formalities of modern fine dining yet still treat yourself to authentic Thai food. The restaurant's interiors are embellished with Sino-Thai design elements, giving a warm, nostalgic vibe apt for its setting: a historic ancestral home.
Imagine yourself sitting on a rustic chair, inside an old-fashioned restaurant, with antique photographs hanging on walls and a vintage phonograph on the side. A plate of crab meat with curry and coconut milk is on your table to top it all off. Now that's a dining experience you'll certainly remember.
Also read: Unique Experiences in Phuket: What to See, Do, and Eat
2. Bang Pae Seafood
After a long day of touring the sights of Phuket, you'd want to mellow out in Bang Pae Seafood, a beachside al fresco restaurant. Here, you can breathe in the fresh sea breeze right off the beaten tracks of Phuket's east coast. Add their scrumptious seafood delicacies to the mix, and you're in for an authentic by-the-bay dining experience.
You can also take a peaceful respite in the nearby Bang Pae Waterfall while you're in the area.
3. Patong Sunset View
Spoil yourself with a fiery sunset view whilst munching on Thailand's iconic dishes with a European twist at Patong Sunset View. The restaurant offers a 180-degree view of the busy streets below and the magnificent Phuket skyline. Patong Sunset View also provides a fusion of Thai-European cuisine that'll surely get your mouth watering. So if you're looking for a perfect location to hit your nightcap after a long day, Patong Sunset View won't let you down.
Wake your shopaholic spirit at Phuket's quaint markets
4. Old Phuket Town
You'll likely be grabbing your cameras and mobile phones first before pulling out your purse in Old Phuket Town. As a hotspot of Phuket's long history and culture, the whole area is an Instagram post waiting to happen. It's most known for its pastel-colored Sino-Portuguese townhouses. 
Old Phuket Town isn't as large as you might imagine. You can finish strolling here in about an hour or two if you're in a hurry to see the sights in Phuket. However, we suggest taking your time in these culture-rich streets. In Old Phuket Town, every door is like a portal back to a paused moment in the past.
In the morning, go through quaint shophouses and handicraft shops to bargain for some keepsakes. While you're at it, drop by the Shrine of the Serene Light — one of Phuket's oldest Chinese temples. Every Sunday, a night market quickly takes over Thalang Road. There, you'll find stalls of street food, booze, and souvenirs. Don't leave without tasting their moo ping (pork satay) and kanom jeeb (Thai steamed dumplings)!
5. Lard Ploy Khong Indy Market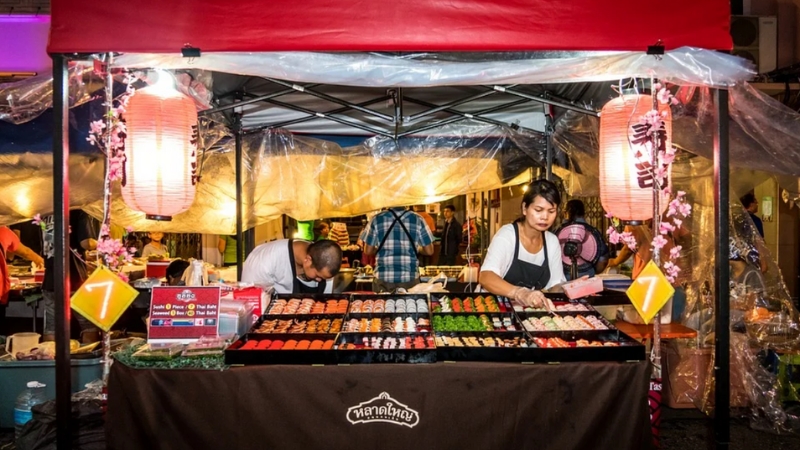 Sometimes, we find the best things in the smallest of places. Indy Market is precisely that. This small night market has a lot of grilled street food stalls that smoke out the most alluring, drool-inducing scents. The satay and look chin (grilled meatballs) here are gastronomical delights you wouldn't want to miss. Aside from food, there are also products like batik, soap flowers, and T-shirts in some stalls. These make for the perfect keepsakes, don't you think? 
6. Chan's Antique
But you should know that not all keepsakes are created equal; some are sold at Chan's Antique, which means that they take on a more curated appeal. Chan's Antique House is a stand-alone shop of unique souvenirs and antiques. If you're looking for a travel memento with the loudest "I've been to Thailand" look, grab some Thai lacquerware. Worried about your baggage allowance? Think no further — they offer professional packaging assistance and shipping options worldwide.
Want to shop in Bangkok, too? Discover Bangkok's Chatuchak Market, home to over 8,000 stalls and 200,000 weekly visitors.
Complete your Thailand excursion with Phuket-to-Bangkok flights easily secured on AirAsia's booking platform!
Discover Phuket's lesser-known activities
7. Tree Tops Elephant Reserve
When we think of Thailand, the first things that come to mind are beaches, night parties, and elephants. Being the country's national animal, elephants symbolise royalty, hard work, and strong family ties. But unfortunately, the boom of animal tourism across the globe has slowly devalued these gentle giants into mere attractions — sometimes at the expense of their well-being.
Fortunately, pro-animal movements have altered animal tourism in Thailand for the better. Tree Tops Elephant Reserve offers a reformed way of visiting elephants. Keeping in mind the animals' comfort and safety, the elephant reserve provides more of an educational tour rather than an interactive one. Here, you'll learn about the elephants' daily routine, the stories of how they ended up in the sanctuary, and their plight amidst tourism.
8. Patong Boxing Stadium
Want to kick your Phuket trip up a notch? Visit the most extensive Muay Thai facility in Phuket — the Patong Boxing Stadium. You'll undoubtedly be at the edge of your seat when the bell rings and you witness real fighters go toe to toe in the boxing ring. We suggest getting VIP front-row seats for a more immersive exposure. You can also sign up for private Muay Thai training here!
9. Vanich Farm
As Asians, we all love rice. Rice is everything, in everything — fried chicken, chili crab, laksa, curry, you name it, just pair it with rice, and all is well. However, it's not every day that we get the chance to experience the back-breaking work that goes into putting rice on our table.
Vanich Farm in Phuket teaches us such lost wisdom through a day of agricultural immersion in their rice fields. Better warm up your muscles before changing into the farming clothes provided for that authentic countryfied look. Of course, the activity wouldn't be complete without posing for an Insta-worthy snap. Hashtag #RiceIsLife!
Explore Phuket's overlooked natural beauties
10. Laem Krating Viewpoint
Phuket is an island bursting with vantage points of picturesque skylines and golden sunsets. The most visited overlooking sites are Khao Rang, Karon, and Windmill Viewpoints. However, local and foreign tourist crowds often flock to these places. So, we suggest heading to lesser-traveled spots, such as the Laem Krating Viewpoint, to get a more serene sundown experience.
They say the best view comes after the hardest climb. Worry not because you don't have to pack heavy climbing gears to reach Laem Krating Viewpoint. There's still moderate trekking required, but it's nothing you can't handle! When you reach the vantage point, it's really all worthwhile — it has a 360-degree unobstructed panoramic view of the Andaman sea.
11. Samet Nangshe Viewpoint
Another vantage point to tick off your must-visit sights in Phuket is Samet Nangshe Viewpoint. From the top, you can see the famous Phang Nga Bay. Note that Samet Nangshe is facing east; so, if you like sunrises over sunsets, this is your spot. It's one of those rare places that'll make you think twice about choosing between taking photographs or enjoying the raw wonder with your eyes.
12. Banana Beach
A travel itinerary to visit sights in Phuket is incomplete without visiting at least one of its crystal-clear beaches. Among the most popular are Freedom, Kata, and Karon beaches. However, these are often bustling with beach bummers, especially during peak seasons. If your wanderlust dream is to lay by the beach in total tranquility, you'll have to search for more peaceful spots.
Banana Beach is a hidden little treasure as one of the last few unspoilt gems in Phuket. It has all the qualities of a world-class beach: powder-white sand, tree-fringed coasts, and clear jade-coloured waters. However, it remains relatively uncharted because of its remote, almost-secret location.
Still finalising your Phuket itinerary? Save money by booking via SNAP, AirAsia's cheaper flights plus hotel combos.
SNAP takes care of your flights and accommodations, so you can save time and budget.
Phuket, Thailand is indeed a world-class travel destination worthy of coming back to. However, with all the new establishments and crowded attractions, some things, especially those steeped in history and culture, could get lost in translation. So, if you're looking to rediscover Thailand in its authentic glory, consider adding these less-traveled sights and activities to your Phuket itinerary.
---
Brought to you by AirAsia and Tourism Authority of Thailand Singapore Office.