Mention a holiday to Taiwan and what do most people think of? The likes of the National Palace Museum, Taipei 101, the Chiang Kai-shek Memorial Hall immediately comes to most people's minds.
Truth is, Taiwan has so much more to offer than just these major tourist attractions within the city. Whether you're a hiking enthusiast, a fan of the Taiwanese entertainment scene, a cultural junkie, or a ardent appreciator of the arts, this 4-day itinerary gives you the more unconventional things to do around Taipei that you're unlikely to find on any guidebooks.
Also read: 13 Unconventional Things to Do in Taiwan for A Smashing Vacation
Day 1 – Embracing the Best Nature Taiwan has to offer
1. Hike at MaKau Ecological Park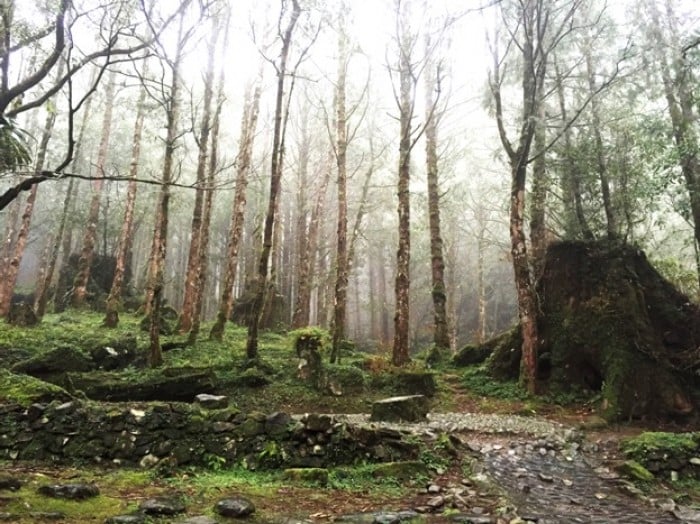 Escape from the city and immerse yourself in the nature paradise that is the MaKau Ecological Park.
Minchih Forest Recreational Area is situated between 1,150 to 1,700 metres above sea level, and is truly a hidden gem in the Yilan county of Taiwan.
One can easily spend a few hours at the Minchih Forest Recreational Area. The air is fresh and crisp, no sound of cars nor sight of skyscrapers.
You can hire a guide from the Cilan Resort to bring you around the Minchih Forest Recreational Area. We were told stories of how a poet from thousands of years ago wrote poems while sitting by this lake, apparently mesmerised by the beauty of the misty grounds.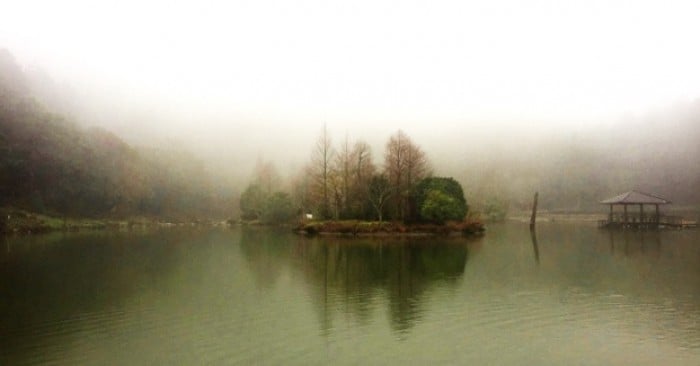 Other than the Minchih Forest Recreational Area, the Divine Trees Garden is also a must visit.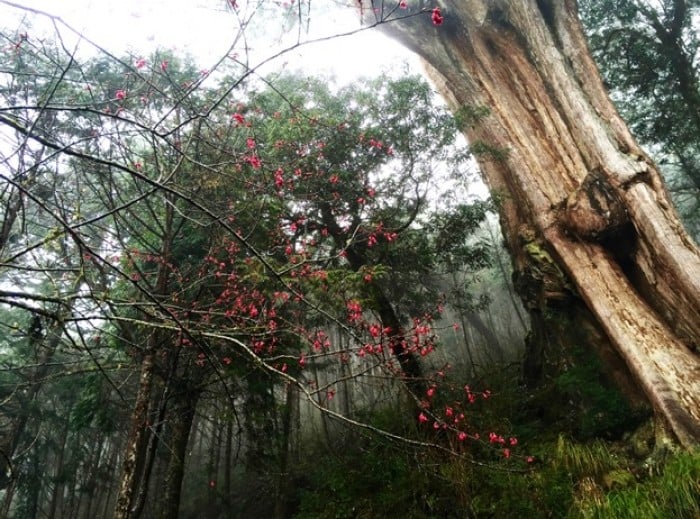 The biggest cypress trees area in the whole of Taiwan, the Divine Trees Garden is a must-go for nature lovers. There are more than a hundred trees over a thousand years old, all named after famous people in Chinese history, like philosopher Confucius and founder of the Mongol empire Genghis Khan.
*Keep an eye open for cherry blossoms if you're visiting during the blooming seasons.
It would be ideal to stay a night at the Cilan Resort, and then take a day each for the Minchih Forest Recreational Area and the Divine Trees Garden, all of which make up the MaKau Ecological Park.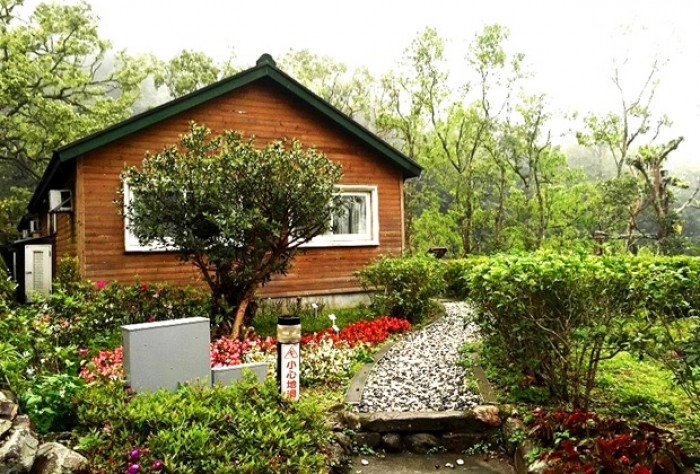 Doesn't this accommodation look like nice and cosy? Cilan Resort offers regular rooms as well as wooden cabins and cottages interspersed in the forest, making for a very idyllic and laidback environment to wind down your long day of hiking.
If you ever get tired of walking around the beautiful grounds within one day (which I assure you you won't there are so many flora and fauna and birds and animals to admire), there is also a karaoke and a cafe in the park.
Tip: As the MaKau Ecological Park is located quite high above sea level, it can get quite cold. It was 4 degrees celsius when I visited, so do bring more layers and a windbreaker! Also wear comfortable shoes that you don't mind getting dirty as the grounds might be muddy and wet.
How to get there: You can take the shuttle buses (at 7.30am, 10.15am and 1.00pm daily) from Mingchi Villa or Qilan Villa. Alternatively you can grab a taxi at Yilan Station.
Day 2 – Get your Art On
1. Visit Starry Paradise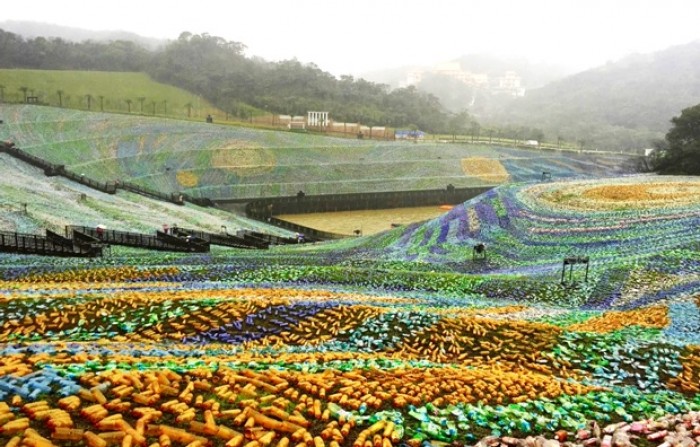 Starry Paradise in Keelung's Embrace Cultural and Creative Park (永恒文创园区) is an amazing park inspired by the famous painter Vincent Van Gogh. The sight that welcomes you as you enter the park is spectacular.
More than 4 million recycled plastic bottles form this gigantic mosaic sprawling 53 hectres.
"The project focuses on the concepts of healing and art, while serving as a charity that addresses environmental concerns," park spokesperson Jeffrey Wang (王志欽) said.
Check out the bubble houses (星空泡泡屋), a series of bubble houses designed by budding Taiwanese artists, and immerse yourself in the magical and fairytale-like ambience. Pop into the Starry Cafe (星空咖啡馆) for a cup of hot chocolate and some cupcakes, or buy specially curated vodka inspired by Van Gogh himself as a souvenir to bring back home.
How to get there: Free shuttle bus service available at Badu Station.
2. Explore Kengkou Community Mural Village
Kengkou Community Painted Village (坑口彩绘村) consists of mural paintings which cover more than 30 hectares of residential and factory walls, covering a total area of more than 3,310 square metres. The scenes painted commonly depict farm life in the 1950s or 1960s, but increasingly more and more cartoon and popular culture elements are being painted.
Also read: 7 Things to do in Taiwan for Art Lovers
Go trigger happy snapping pictures of these paintings! There are even some murals where you can include yourself in the picture like this: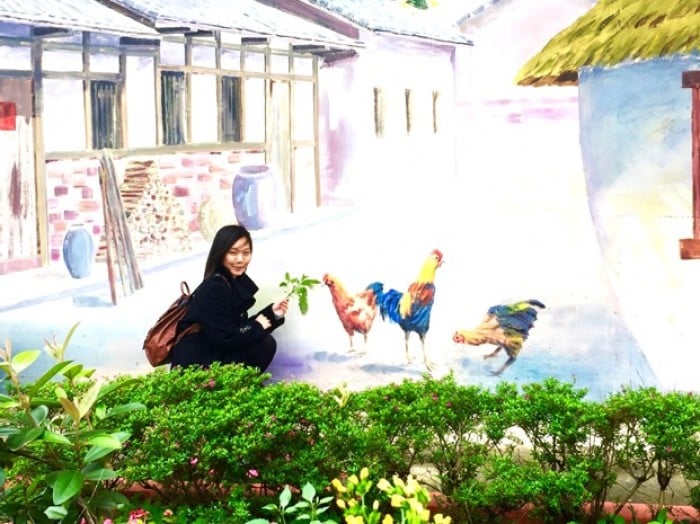 How to get there: Take bus no. 5020 or 5021 from Taoyuan Station, alight at Kengkou Station.
Day 3 – DIY you own Yummy Cake
1. Learn Cake-decoration at I-mei Factory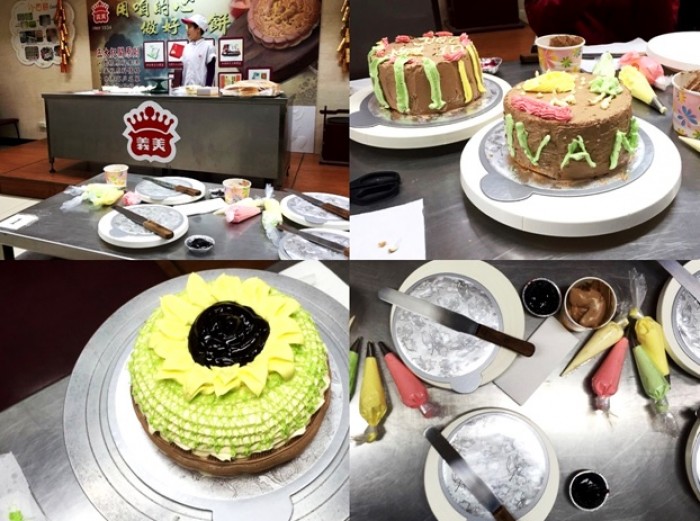 I-mei Foods has accompanied the people of Taiwan for over 70 years, and it's one of the most popular souvenirs tourists bring home to their loved ones. Now instead of just buying some traditional cakes home, learn about the history of I-mei and even decorate your own cakes or snacks. I drew clouds and trees on top of my cake, and even named it after myself. Fun times.
There's also a I-mei bakery right beside the factory which serves piping hot breads, snacks, and drinks.
How to get there: Take bus from Taoyuan Station towards Jhuwei, alight at Sijhou station. Then, turn right at South Public road and walk for 5 minutes to arrive at the destination. Click here for alternative routes.
2. Build your own biscuit house (or any other creation) at Castella Land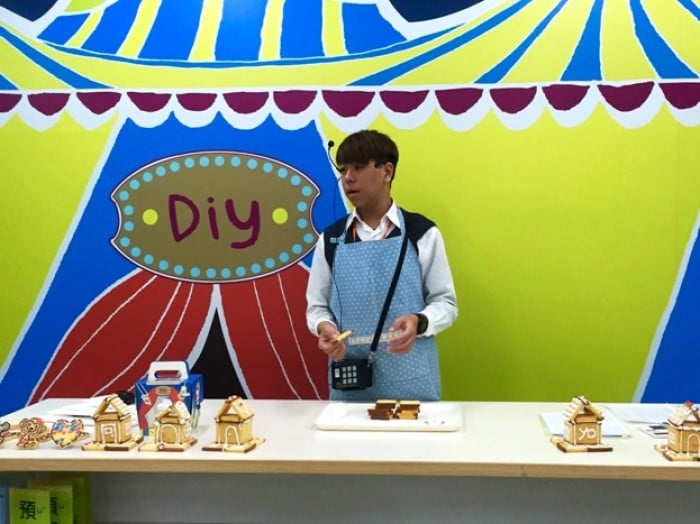 Castella Land is a both a factory and an interactive museum where visitors get to see and learn more about how the food are put together. It costs 200 NTD to enter (around 8 SGD) and the entry fee can be used to offset what purchases are made in Castella Land, as well as any DIY activities that tickles your fancy.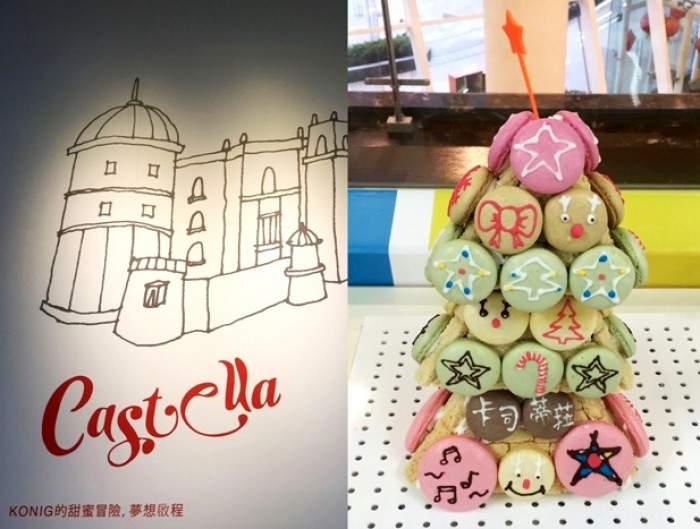 We took a biscuit house building DIY session and I was rather pleased with how mine turned out.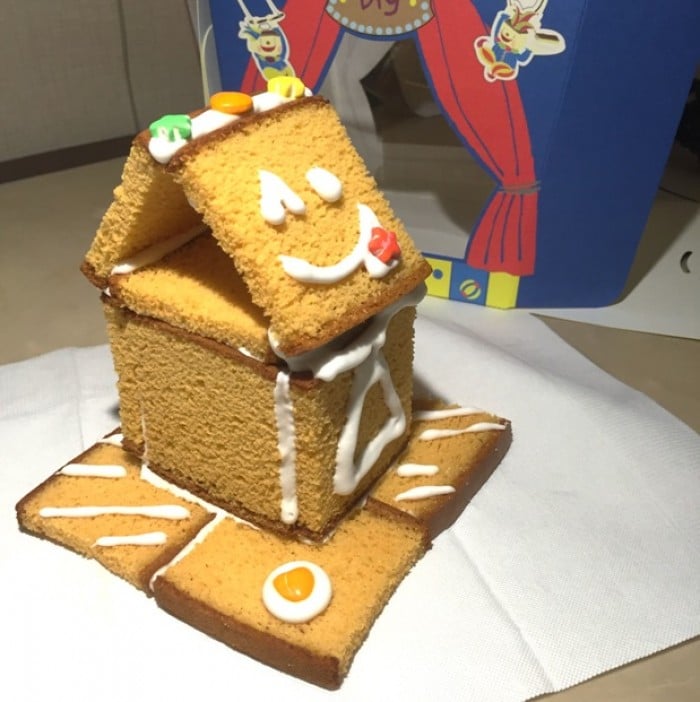 How to get there: Take the red-line shuttle bus from Taoyuan Luzhu Town Hall Station, alight at Yu-tso Station.
3. Wind down at Jiaobanshan Resort Park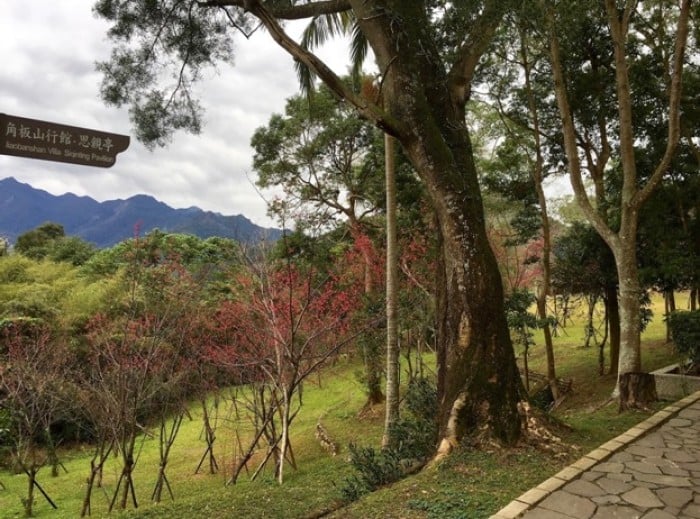 Jiaobanshan Resort Park (角板山行馆园) in the Fuxing District of Taoyuan is a wonderful place for escaping from the busy pace of the city. The park is 636 metres above sea level, and occupies 6 hectres.
Have a leisurely stroll around the park. Sit in the cafe at the top. Listen to the wind. Look at the all the nature surrounding you.
Best thing? There is no entrance fee.
How to get there: Take bus no. 5104 or 5106 from Daxi Station, alight at Jiaobanshan Park Station.
Also read: 7 Scenic Destinations in Taiwan for Nature Lovers
Day 4 – Culture and the arts, both modern and the old
1. Visit Jiaan W Rd, Longtan District, Taoyuan City, Taiwan 325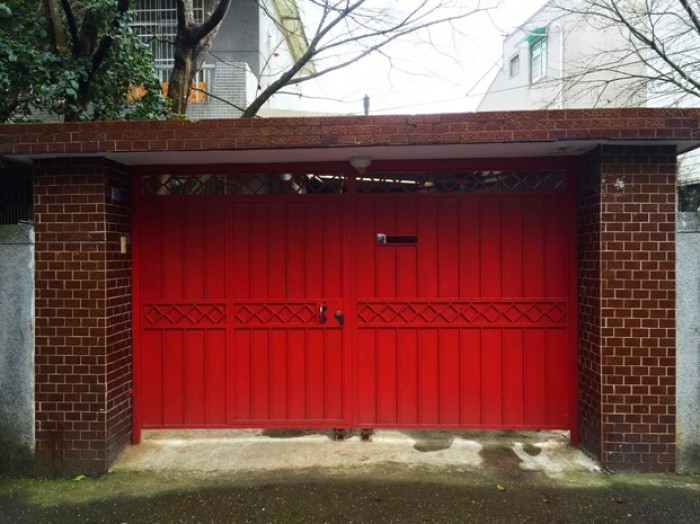 So what's so special about this place? Well nothing much except it's the home of the female lead in one of the hottest Taiwanese movie ever Our Times. If you enjoyed the movie, you can consider coming here and walking around the neighbourhood.
Even if you're not a fan, and is only here as a because of #BoyfriendDuties, you can still score some pretty good pictures, like this one:
How to get there: Take bus no. 5050 from Zhongli Station, alight at Shihmen Junior High School Station.
2. Marvel at Shihmen Dam (石门水库)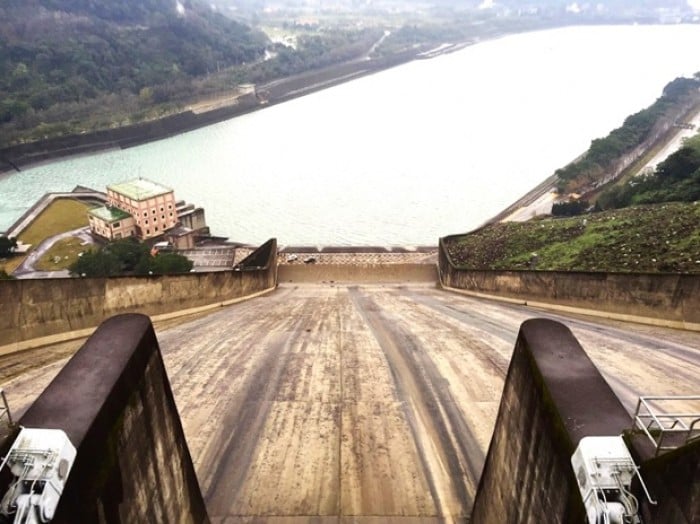 Although it was constructed for functional reasons back in 1964, Shihmen Dam is now a magnificent tourist attraction in its own right. The dam and reservoir supplies water to more than 3 million residents in northern Taiwan today, and is Taiwan's third largest dam and artificial reservoir.
Photography enthusiasts can revel in the many spots around Shihmen Dam that provides amazing vantage points for landscape photography.
How to get there: Take bus no. 5050 or 5055 from Zhongli Station, alight at Shihmen Station.
Also read: 7D6N Taiwan Itinerary Covering Taichung, Tainan and Taipei
Excited to zip off to Taiwan to try one of these unconventional things to do? You can check out some of our cheap Taiwan packages here.