Most of you probably use the festive season at the end of every year to have a nice overseas holiday. But for a variety of reasons, sometimes you just do not get the chance, which is what happened to me this year.
Not wanting to lose out to the deluge of vacation photos on Instagram (or to escape from them in the first place), I decided to do something a little crazy. I was to go on my own "walking tour"—a walk across Singapore.
From Tuas to Pasir Ris
This was how I ended up in Tuas on a fine Sunday morning, after an almost hour-long Uber ride from my home. Situated on the western-most end of Singapore, Tuas was once a sleepy fishing village that has since been developed into a sprawling industrial estate.
Given that I live in Pasir Ris, on the eastern-most end of Singapore, walking from Tuas back home seemed like a natural choice. I could walk across my country and walk back home simultaneously, making my choice of a year-end vacation a homecoming literally.
Taking reference from Google Maps (but not following its recommendations entirely), I headed off eastwards from the Tuas Link MRT Station, not before heading up the station to get take a peek of the sea first. After all, how can I say that I have walked across our island if I did not even see the sea at the start and end of my journey?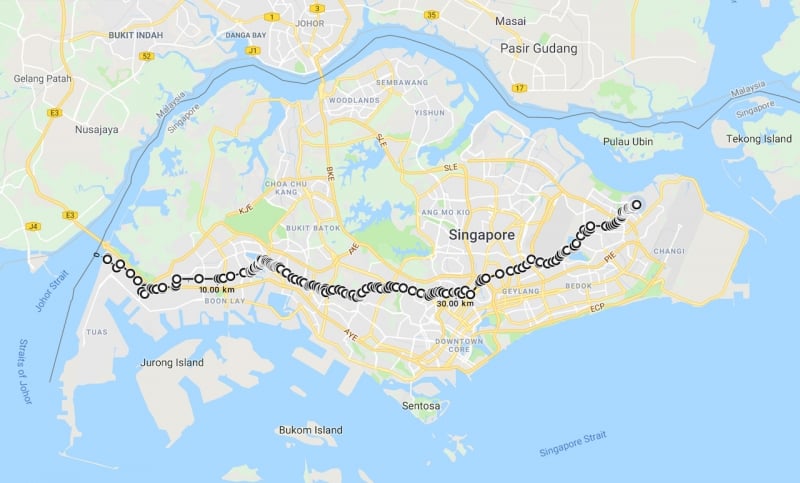 With that out of the way, I started my walk at 7.54am. It would take more than 14 hours, following the path charted in the image above, before I reached home at 10.18pm. It was to be a long walk, all 46km of it. According to my Fitbit, I had clocked 67,665 steps that day—67,665 blister-inducing, cartilage-crushing steps that took me past factories, gardens, housing estates, shopping malls and many other sights.
A stroll across our garden city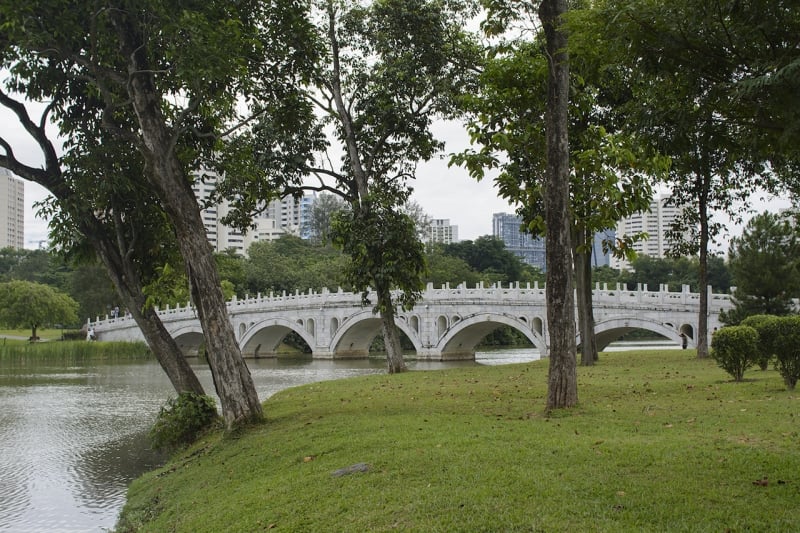 One thing that struck me during my walk across Singapore was the sheer amount of greenery that I saw. Granted, my route led me through or past a number of designated and purpose-built parks and gardens, namely the Jurong Lake Gardens, Botanical Gardens, Bedok Reservoir Park and Tampines Eco Green.
However, even in the built-up areas (which was most of Singapore), there were still many pockets of green all around. From the various species of trees that were lined along every road and waterway, to the bougainvillea bushes that seem be on almost every overhead bridge, there was always a good amount of green wherever I was. We are indeed a garden city, putting the green back into the concrete jungle.
Uncovering bits of our history
I did not plan to visit any specific place of interest on my walk, beyond a few key points which I had marked out to ensure that I was walking in an eastward direction. So you will have to imagine my pleasant surprise when I stumbled upon one of the bridges of the now-disused Jurong Railway Line while walking along the Pandan River.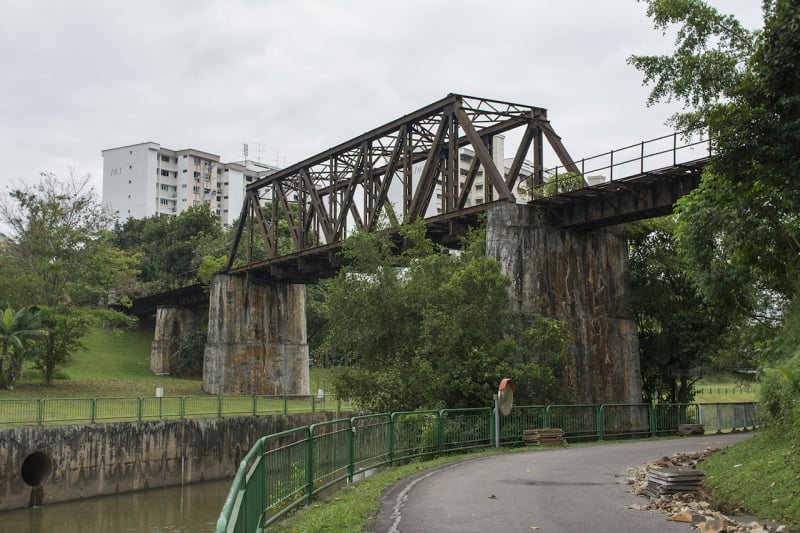 The bridge is apparently one of the points on the Jurong Heritage Trail, according to the information board conveniently placed beside it. I learnt that the Jurong Railway Line was built by Malayan Railways Limited in the 1960s with a loan from the Economic Development Board (EDB) to facilitate the transport of raw materials and goods to and from the Jurong Industrial Estate. However, in the mid-1990s, the Jurong Railway Line ceased operations, possibly due to better transport options being developed.
Today, only rusting remnants (and a few tunnels) of the railway line can still be found, as superbly documented in heritage blogs such as Jerome Lim's The Long and Winding Road. With the ever-present prospect of redevelopment in Singapore, the remaining segments of the Jurong Railway Line are perhaps worth checking out before they completely disappear.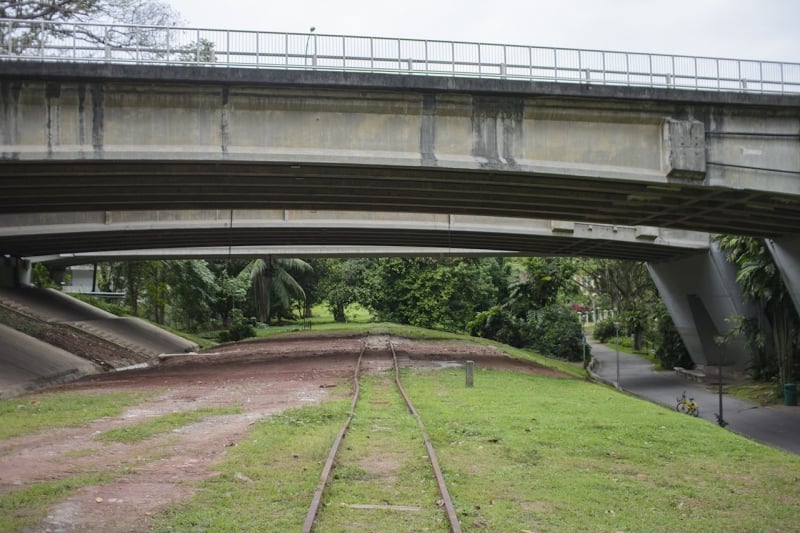 Another place of historical interest I happened to wander past was the former bottling factory of the now-defunct National Aerated Water Company on Serangoon Road. In fact, just weeks earlier, the Urban Redevelopment Authority (URA) had announced that the main building of the factory will be gazetted for conservation.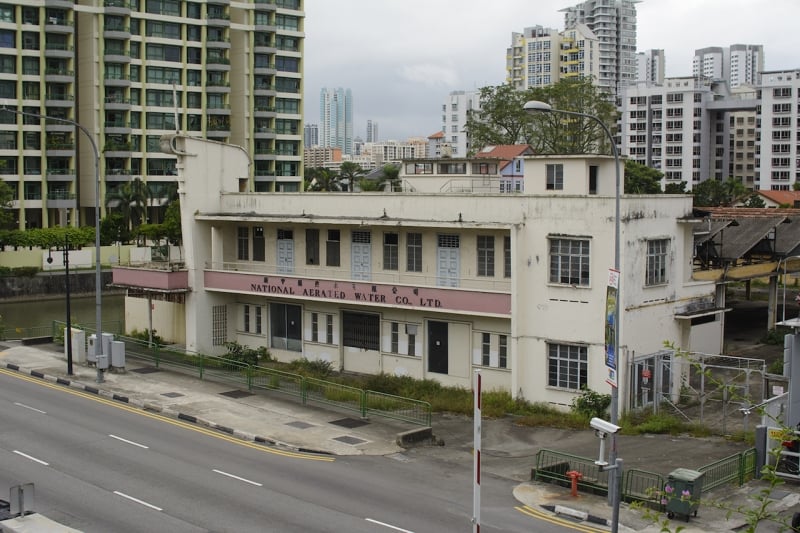 Opened in 1954, the factory used to produce popular soft drinks such as Kickapoo Joy Juice and Sinalco. However, the company wound up in the 1990s, with the factory falling into disuse and eventually sold to a Malaysian developer in 2016. According to URA's press release, the factory will be "transformed into a unique and lively commercial area", so I guess there is probably still some fizz left in this place!
Different places, different lives
Another notable observation along my walk was the diverse range of housing that I walked by. Beyond the quintessentially Singaporean HDB flats and spanking new private condominiums, my route also brought me past dormitories for foreign blue-collar workers, a hostel for foreign students, as well as bungalows that I can never afford.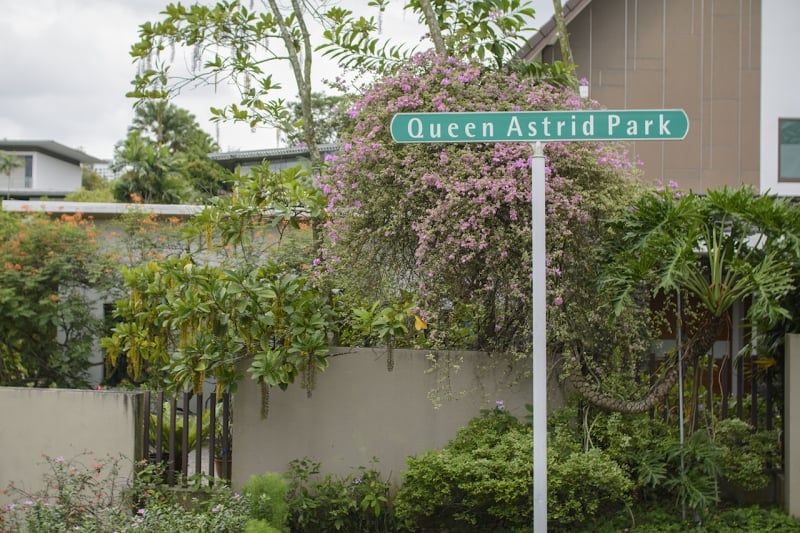 In a single day, I got to walk along Queen Astrid Park, the most expensive property on the Singapore edition of Monopoly, and the lodgings of foreign workers in Tuas and Kaki Bukit, whose wages are probably many orders of magnitude lower than the prices of the bungalows I had seen.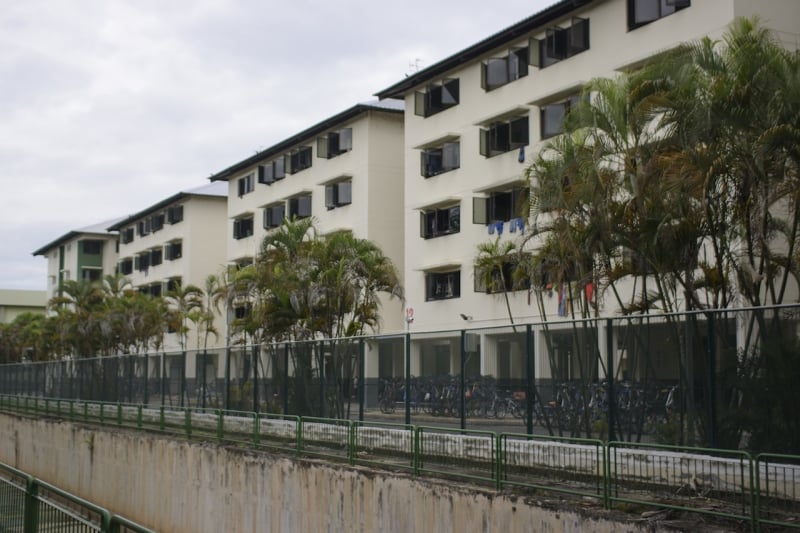 This was an interesting thought to me. After all, it is unlikely that the inhabitants of both places would meet in the course of their daily lives within months or even years, let alone a single day. Similar to how I saw some foreign workers playing a game at the Kaki Bukit Recreation Centre through a wire fence, there are probably many invisible barriers that underlie the human geography of any place.
Encountering little curiosities  
Along my walk, I also really enjoyed stumbling upon little interesting curiosities—seemingly silly or inconsequential things that I would not have known or encountered had I not walk a certain path. An example would be this vending machine located beside a canal on Tuas Avenue 1. I have never seen a vending machine out in the open like that, but I sure hope its profits justify its quaint location.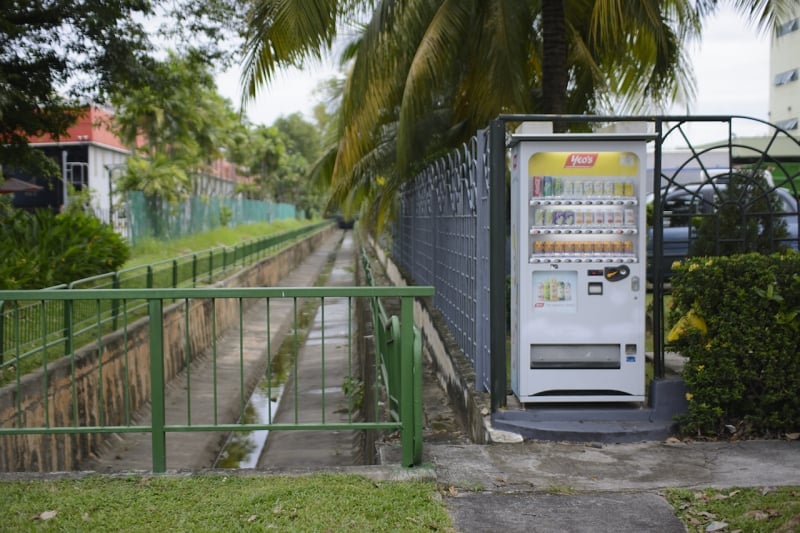 My favourite serendipitous find is definitely the lights outside Paya Lebar Air Base, presumably to guide aircrafts into the runway inside the base. Given the very specific directions that the lights were directed toward, I had not noticed them until I was almost right in front of a row of them. They are quite a lovely sight once the sun goes down, if you can see the row of lights in its entirety. Check them out at Kaki Bukit Road 2.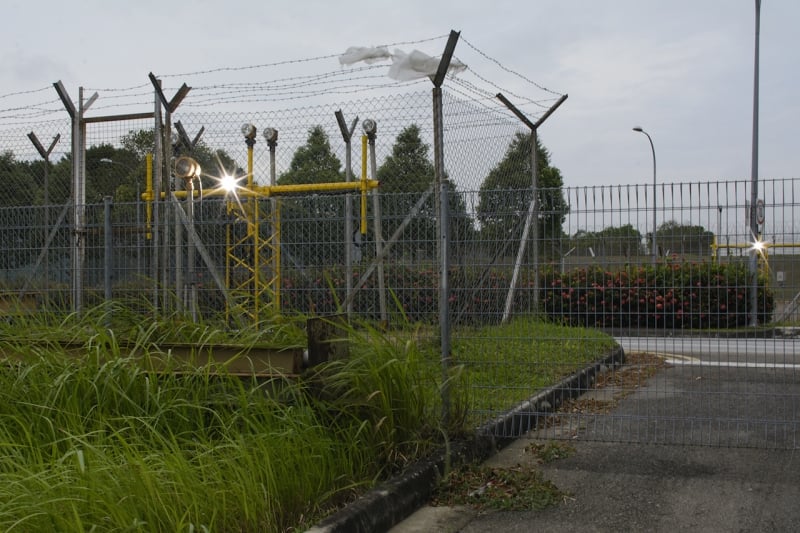 Staying in the present
I have always enjoyed the process of walking. It is travel in its rawest, most authentic form, through which one gets to literally feel the ground. By walking across Singapore then, I had wanted to lay down in my memories in as most vivid a fashion as possible of just some of the disparate things that make up my country and my home.
On a personal level, walking long distances was simply a great way to nurture some nourishing mental space. Away from the busyness of modern life, walking forces me to be totally present with myself, guided only by the gentle rhythm of taking the next step.
The popular adage spoken by the Chinese philosopher Laozi goes: a journey of a thousand miles begins with a single step. But I would add that it is still only through the continuous execution of those single steps that the thousand miles will be traversed.
As we look forward to the new year then, I can think of no better way than to keep walking right through it.