Sentosa—the nearest "overseas" destination you can go to without using your passport! Tourists and residents alike visit the island of fun, whether for its beaches, or Universal Studios Singapore, or Adventure Cove. Yes, Sentosa is well-known for these attractions, but is that all the island has to offer….? DEFINITELY NOT, and that's what I'm here for!
I went on a Sentosa staycation with my family a couple of months back, and here's my itinerary for your planning needs. Have a blast!
Also read: Sofitel Singapore Sentosa: Celebrate Special Occasions with a Perfect Staycation
Day 1
1. Cable Car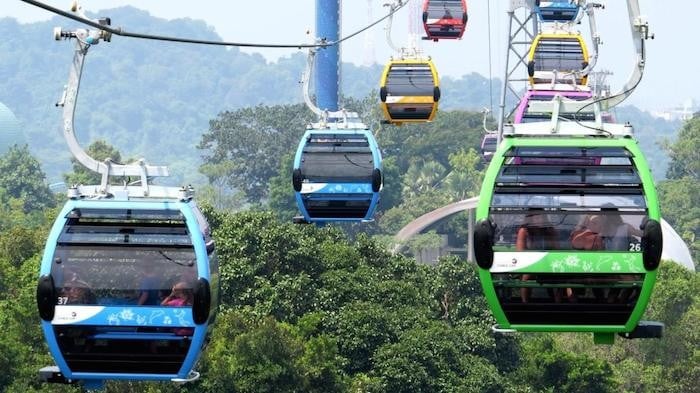 Image credit: TP Yap
We set out from home in the mid-morning after a leisurely breakfast, and reached Harbourfront Centre an hour or so later for the cable car ride in. Now, I'm well aware that there is the  Sentosa Express monorail and the Sentosa boardwalk in—both methods I often use and am very familiar with, and which are easier on the wallet than the cable car. After all, it costs $4 to take the Sentosa Express, and literally nothing to walk in (the $1 entry fee has been waived until 31 Dec 2016)! However, I hadn't taken the cable car in forever; the last time was way back when my age was a single-digit number.  Plus, the whole point of a staycation is to pamper oneself, right? So we headed for the cable cars on the Sentosa Line.
The cars came, we got on. It was pretty amazing to see the sights you see on an everyday basis from a new perspective—being high up in the air accorded one some awesome bird's eye views. Add to that the gentle speed of the cable cars sliding along the cable wires, and you have a good 10 minutes of ooh-ing and aah-ing time.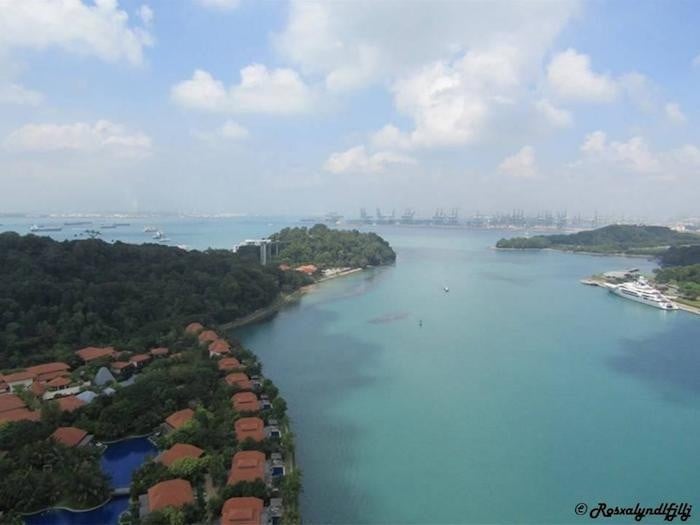 Just one of the many pictures I captured in the air.
All too soon, we touched down, and because we had free tickets, we headed for the Tiger Sky Tower.
2. Tiger Sky Tower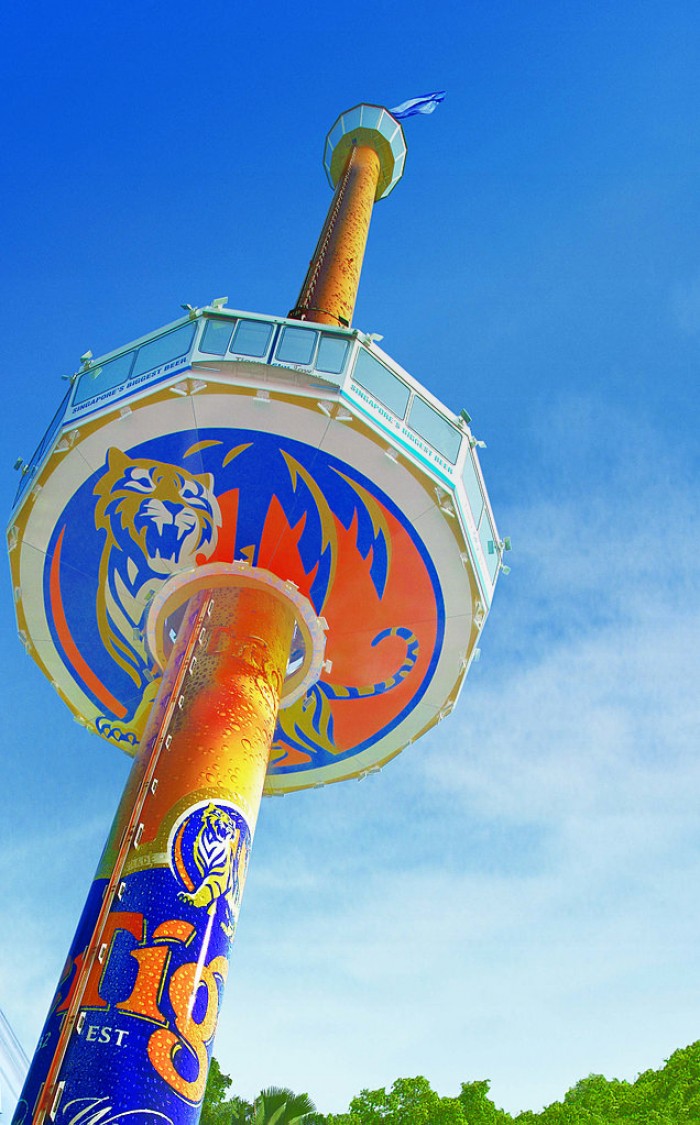 Image credit: Tiger Sky Tower
The Tiger Sky Tower boasts panoramic views at 131 metres above sea level, making it Asia's tallest observatory tower. That's about 50 stories high, or as high as the rooftop at Pinnacle@Duxton, I suppose! On a good day, one can see out as far as the Southern Islands, and the sights are simply just breathtaking.  A commentary piped throughout the cabin describes the history of Sentosa and its surroundings, and points out the various places of interest visible from your vantage point. Friends with children will find this a great way to make those geography and history lessons come to life!
The ride is open from 9am to 9pm, so if you time it right, you can watch the orange ball of fire sink down over the horizon! The best part? The air-conditioned cabin revolves in a 360-degree turn, so you can rest assured that you'll see all the view you want to see, and more, in the cool comfort of your seat.

Image credit: Chensiyuan
What next? Well, at this time we happened to be only minutes away from Madame Tussauds Singapore, so it came as a natural progression that we headed there.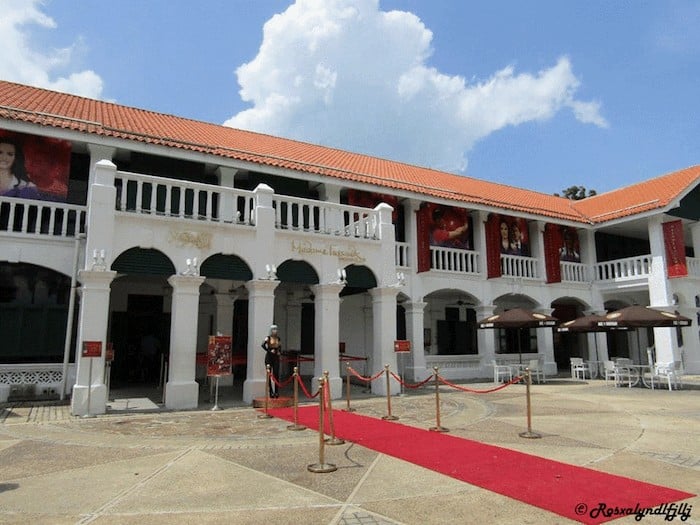 Where else would you be able to visit with the Queen, appear on the Oprah Winfrey show, kiss Marilyn Monroe, and rub shoulders with the likes of Leonardo Di Caprio and Andy Lau? Only at Madame Tussauds', of course. Unless you've made it big and are actually meeting all these people at huge events, in which case please help me get an autograph!
3. Spirit of Singapore Boat Ride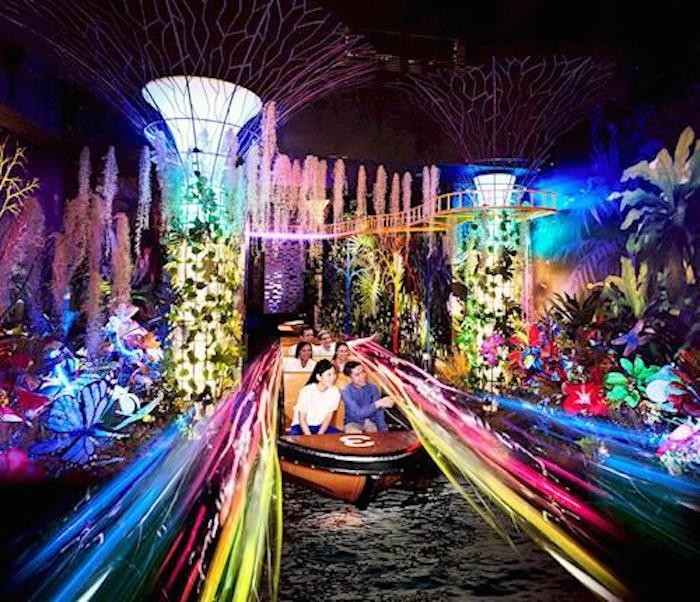 Image credit: Madame Tussauds Singapore
We were first treated to the Spirit of Singapore Boat Ride. The apt birdsong as we went through the jungle, the cacophony of the F1 Singapore Grand Prix, the smell of burning rubber, and the psychedelic models of Singapore's attractions and best features—they all culminated in wide-eyed wonder as we floated through the sights, smells, and sounds. I don't know about the rest, but I left feeling just a tad bit proud to be a Singaporean and of how far Singapore had come since its jungle days!
4. Madame Tussauds' Wax Museum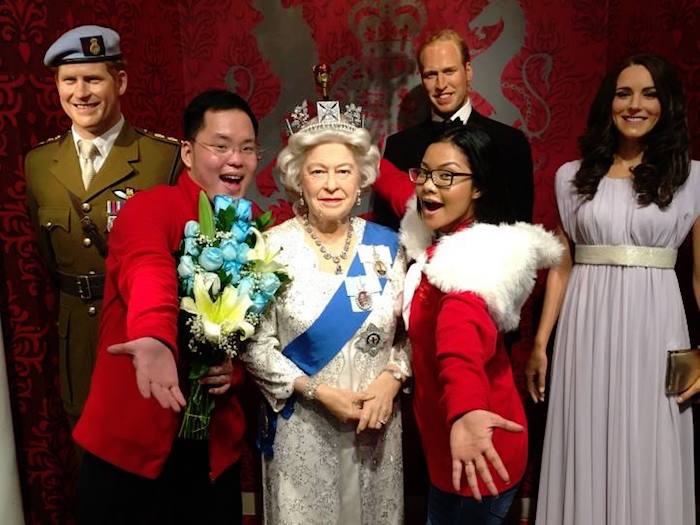 Image credit: Madame Tussauds Singapore Facebook
Since the first of them opened in London more than 250 years ago, its doors have welcomed millions of visitors, who flock to 19 museums all over the world. Each museum has personas and celebrities familiar to the country and region, making every Madame Tussauds' museum a unique one and different from its sisters.
Needless to say, I had a blast of a time living out my wildest dreams, posing and taking selfies with all the wax figures there: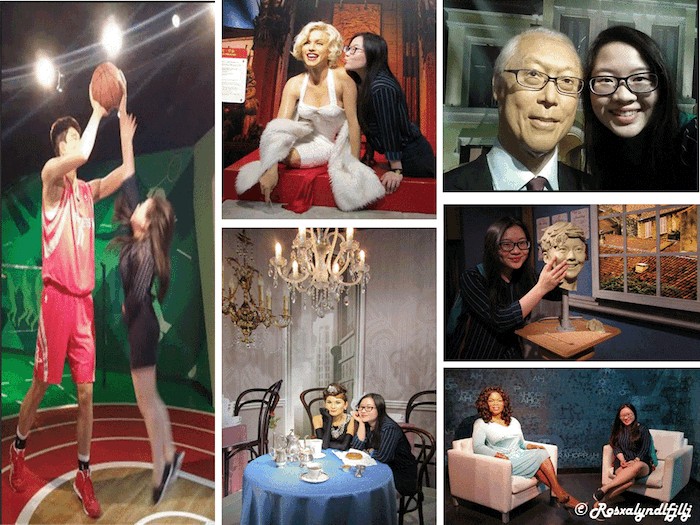 Credits to my sister for helping me capture some of these awesome photos!
I mean, playing basketball with Yao Ming or meeting Oprah in real life? Not gonna happen.
We spent the better part of two hours in here, putting our trigger-happy fingers to good use and marvelling at the detail of the wax figures. When we finally emerged from our "reel-life" fantasies and back out into the 35-degree sun, we were ravenous.
So we decided to leave Singapore for a bit, and head to Insadong for some grub.
5. Insadong Korea Town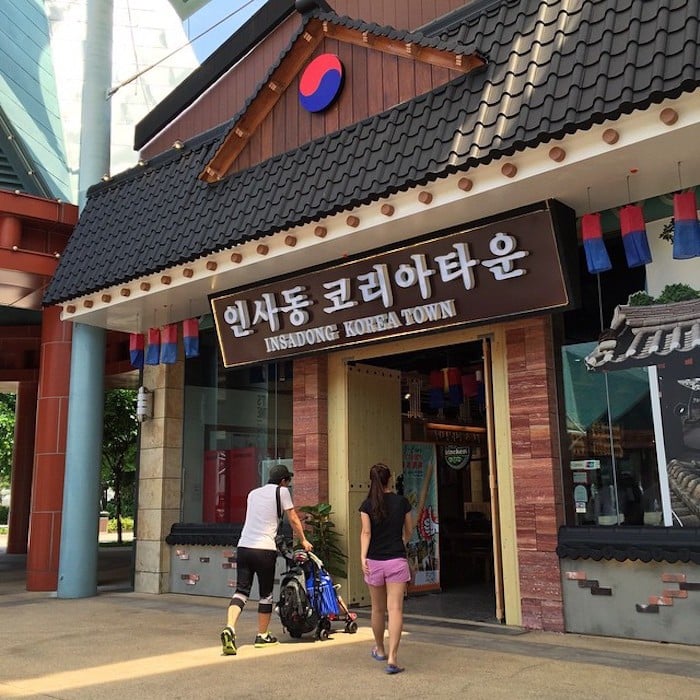 Image credit: RWScoop
I kid. Unless I have mad teleportation skills, I couldn't have done that! So I went for the next best thing – lunch at Insadong Korea Town, a restaurant with a Marché-like, self-service concept. How it works here is that you order your food and make payment upfront via e-kiosks, then head to various stations to collect the prepared food. The restaurant has a wide variety of Korean, Japanese and Western dishes despite its strong Korean influences, so we all found something to suit our taste buds.
6. Check in to your Accomodation
Since check-in at the Sofitel Sentosa Resorts and Spa was at 3, we made our way via shuttle bus to our accommodation for the night, where we processed our check-in, and proceeded to jump around on the comfy Sobeds. I shan't go into detail here, but I will say that they sure know how to pamper their guests, and their environment, nestled within the tranquil greenery of Sentosa and quite a distance away from the buzz of activity, is absolutely what one would look for in a restful vacation away from home.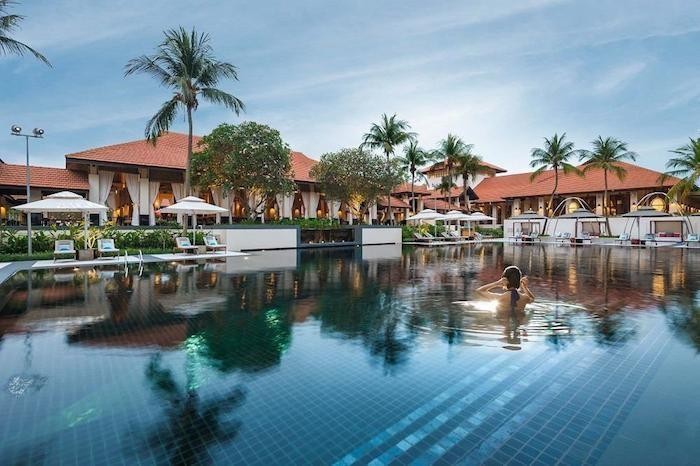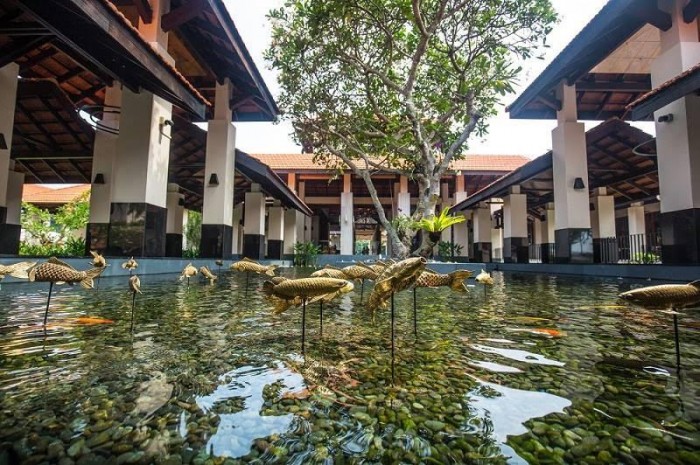 Image credit: Sofitel Sentosa Resort and Spa
Over here I must say that you can definitely check in earlier or later, depending on your accommodation's check-in policies and your itinerary; it just so happened that my parents wanted to rest for a bit and we wanted to put down our things.

We spent about a couple of hours there, and another half an hour or so getting back to the centre. Well rested, the next course in our Sentosa binge was…
7. Skyline Luge Sentosa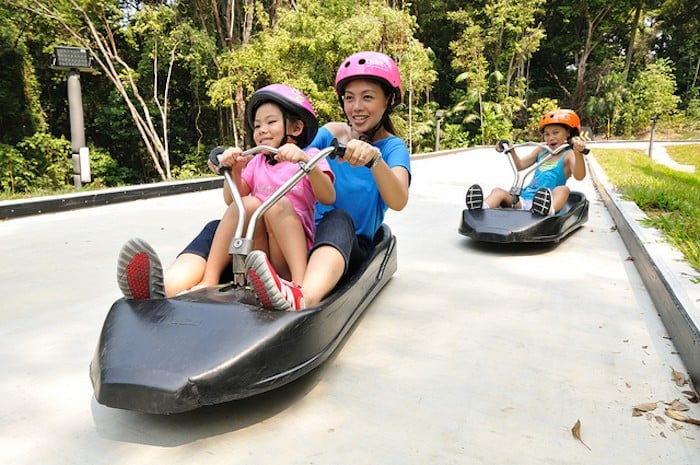 Image credit: Skyline Luge
With 2 different routes you can choose from—Jungle Trail or Dragon Trail—the Luge is a great activity for some family fun, even those with younger kids! The luge itself is a 3-wheeled cart, part go-kart and part toboggan.  It provides riders full control over their descent through some wonderful scenery of the forests and beach. Both feature hairpin corners, long straights and exciting slopes, so you can live your dreams of being a F1 car racer! With less of the speed than one might experience in go-karting and handlebars instead of a steering wheel, making it much safer for young children.
Or you might be interested in trying out the world's first and only night luge ride instead, where the tracks come alive with flashing lights and electrifying colours in a disco-like experience!
Also read: Top 10 Outdoor Outing Ideas in Singapore
8. Catch the sunset at Siloso Beach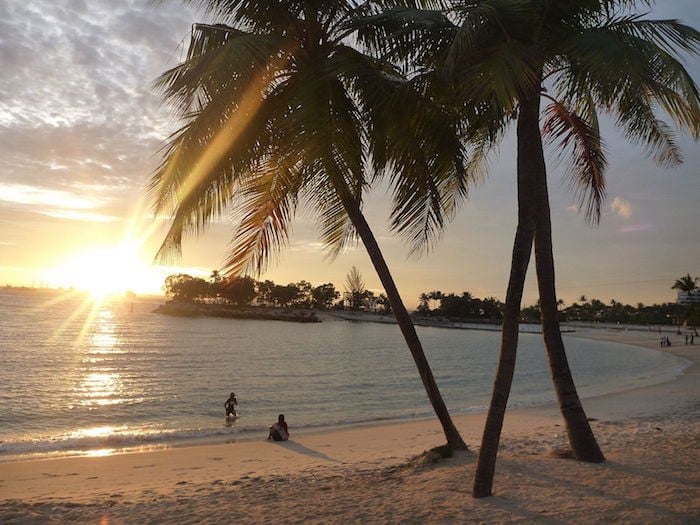 Image credit: Michael Spencer
The end of the Luge ride takes you to Siloso Beach, where you can go for a romantic or relaxing sunset stroll with your loved ones. Couples or groups of friends might also want to stop for a drink or two at the beach bars that line the beach.
Or you can also grab tickets to the….
9. Wings of Time Performance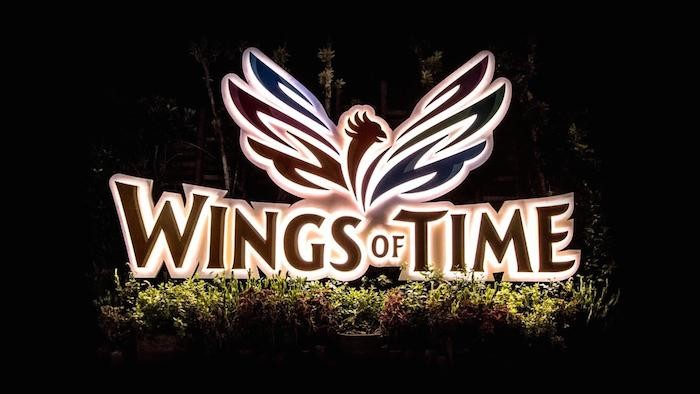 Image credit: xedsg
Children and adults alike will be wowed by the extravaganza-like permanent night show, the first of its kind to be set out in the open seas. The performance tells an epic journey of bravery, mystery, and some fantastical magic, brought to life by 3D projections, lasers, robotic water fountains, giant water jets, and pyrotechnics, besides the internationally acclaimed performers.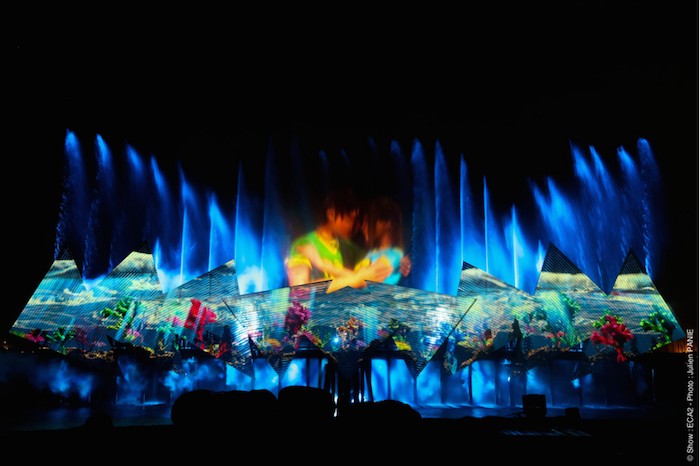 Image credit: Wings of Time Singapore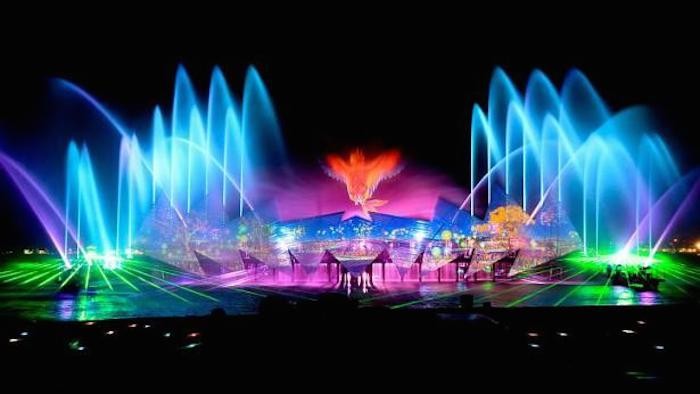 Image credit: Lucky Plaza
There are two performance timings—7.40pm and 8.40pm, so do plan your time well so you don't miss this wonderful performance!
We didn't feel like walking all the way up to the centre again. So we took a slightly more exciting version of the cable car — the
10. Skyride Chairlift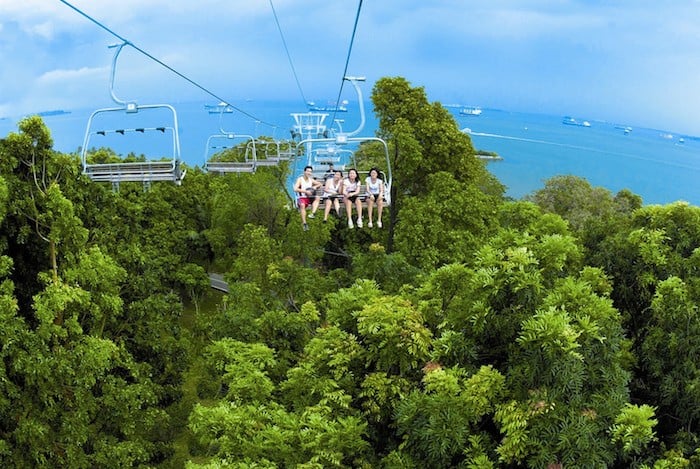 Image credit: Skyline Luge
The 4-seater Skyride Chairlift works very much like a cable car, except that this brings you from the ground to a high place, and vice versa. Did I mention that it does not have a "shell"? Or that the only thing preventing you from falling out of your chair is a light metal rod across your abdomen? Yup. Definitely not for the acrophobic! Talk about being one with the nature and sky.
Okay, scary and dangerous though it seems, I'm just exaggerating. Just take it as you're on a v-e-r-y slow rollercoaster ride that ends when you reach the top. I mean, you get to feel your legs dangling in the air! I love it! It's also a great way to wind down and end the day. The bright lights below illuminating your ascent up into the darkness and the gradual fading away of music and partying gives one a sense of leaving it all, and I could practically feel the stresses and excitement of the day leaving me the further up I went.
The short ride up is also a great time for some heart-to-heart talk with your friends or your loved ones, away from prying ears and eyes, because honestly, who is going to be able to hear you all those metres up in the air? Right? Don't say I bojio ah!
Tip: You can get bundle tickets for the Skyline Luge and Skyride Chairlifts, which can be used at different periods throughout the day. Click here to find out more! 
My day ended here, but there's no reason why yours should, especially if you still have the energy! The bars along the beaches are always great for a drink or two, and you can kick back on their lounge chairs and take in the starry skies with your favourite cocktail in hand and your heartbeat pulsing along to the music blaring from the speakers!
Day 2
Our second day dawned bright and early, with us heading down for breakfast around 8. What can I say, everyone in my family is an early riser. Anyway, after our scrumptious buffet breakfast and a hilarious incident in the ladies' involving yours truly and my epic clumsiness (ask me if you see me around!), we checked out, and made our way to the a perennial favourite with tourists and locals:
11. Underwater World Singapore
An oceanarium jam-packed with interactive learning experiences and opportunities to get up close and personal with these marine creatures, the Underwater World is great for families with young children. Visitors can touch and feel marine creatures such as the starfish, watch the pink dolphins and fur seals perform tricks at the Dolphin Lagoon, and even dive with the sharks! All in a day's work, eh?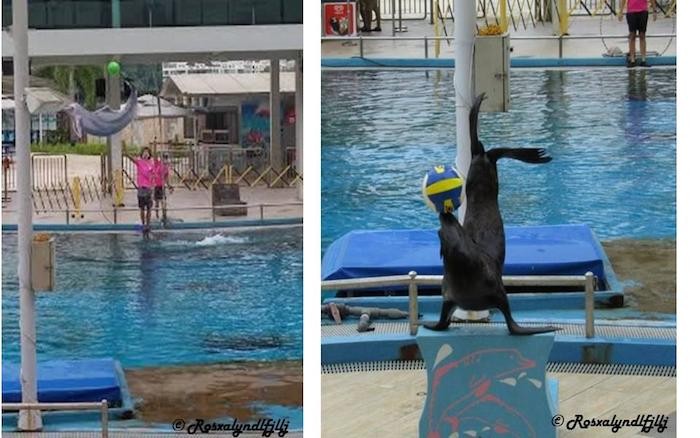 We were lucky to have reached just as the first pink dolphin and fur seal show of the day was starting. Needless to say, we made a beeline for that. And boy, were they good. The dolphins and seals were in complete understanding with their trainers, as they twirled and waved and sliced through both water and air with grace and elegance. Who wouldn't love them?!
We headed to the main exhibit after the show, where another kaleidoscopic sight greeted us.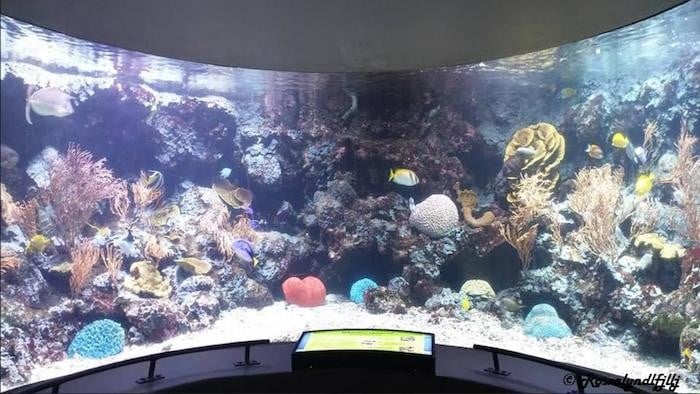 Fish. So. Many. Fish. Fish of all colours and shapes, sea plants, coral reefs, jellyfish, sea mammals—they gently waved their equivalent of arms, beckoning us forward into the tunnel that would transport us on a blue seabed journey via a conveyor belt.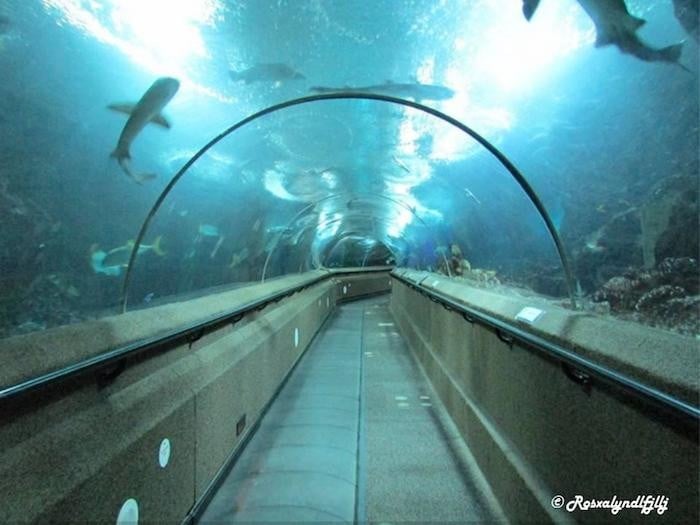 And so it was that we spent about half an hour here, looking at the underbellies of sharks and stingrays, and trying to spot some others lurking in the deep shadows.
Note: I expect that one can spend a much longer time here, especially if you're interested in Diving with the Sharks, or feeding sessions. I was here only for an hour or so, as I had been here previously.
With our breakfast half-digested and the skies cleared, my sister and I decided to go ahead with the highlight of our day—the ParaJump.
12. Mega Adventure Park
This adventure park is definitely not for the faint-hearted. With 5 thrilling activities, including a 450-metre long zipline, whatever you do here is bound to get your heart pumping like no other activity!
What activities are there, you ask?
Well, they've got Megazip- the zipline guaranteeing the flight of your life.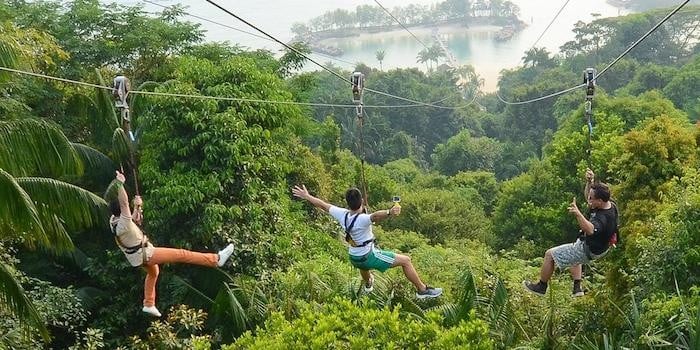 Image credit: Mega Adventure
They've got ClimbMax—a high ropes adventure course situated 5-15 metres up in the Eucalyptus trees, in 3 levels.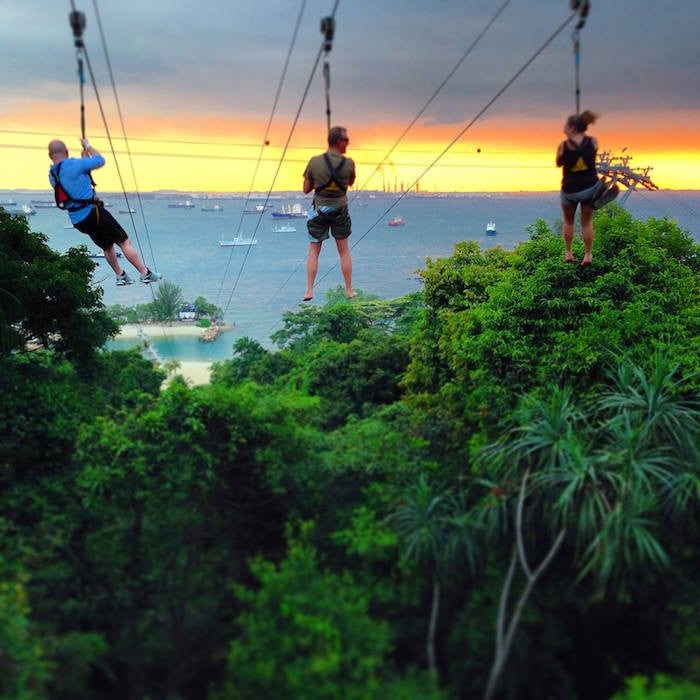 Image credit: Mega Adventure – Singapore
NorthFace—a 16-metre climbing wall, one of the highest in Singapore.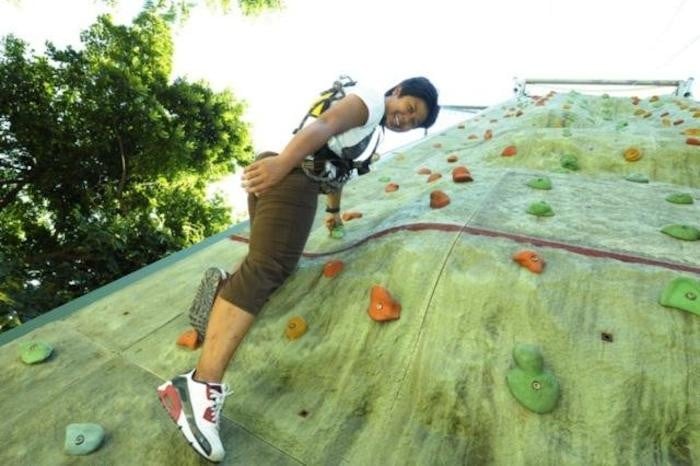 Image credit: Groupon
MegaBounce—a contraption that lets you somersault and bounce like an Olympic gymnast.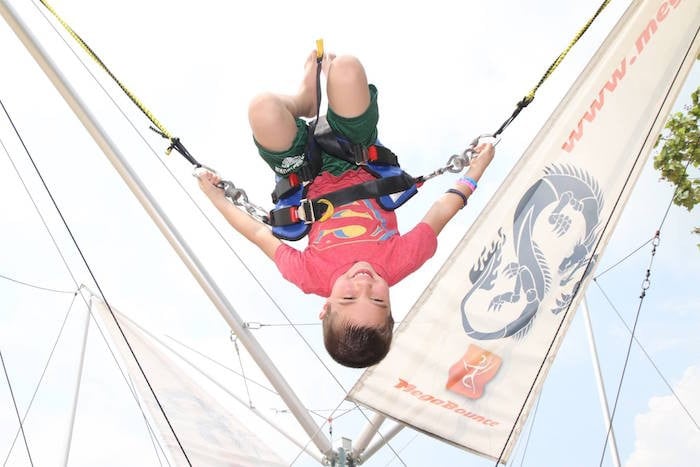 Image credit: Mega Adventure – Singapore
And they've got the ParaJump—a 15-metre high freefall jump that's been aptly described as "A Leap of Faith".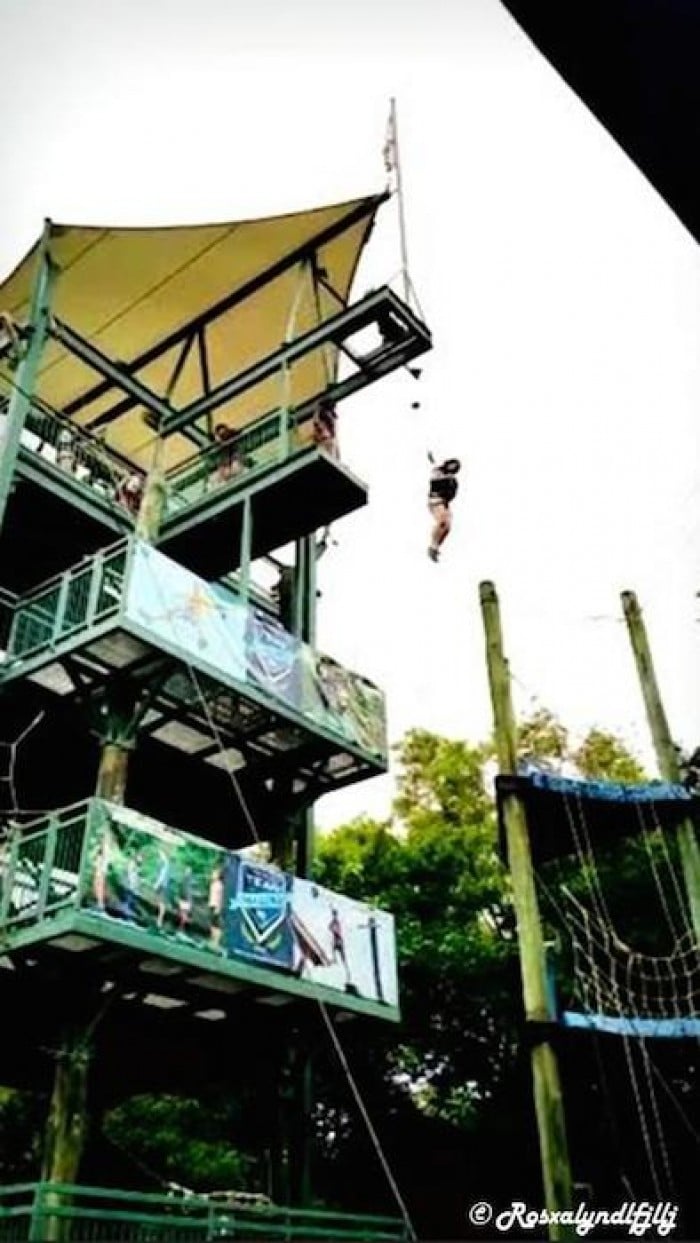 Also read: 10 Thrilling Activities in Singapore that Only Daredevils Should Try
My sister and I only went for the ParaJump due to the inclement weather, but there's no reason why you shouldn't try out the other activities as well! After all, you've already come this far, why not make the most of it and enjoy everything? In fact, they've got up to 10 ticket combinations, interestingly named after various animals—just choose an animal that you'd like to emulate, and get started on your journey of self-discovery and adventure!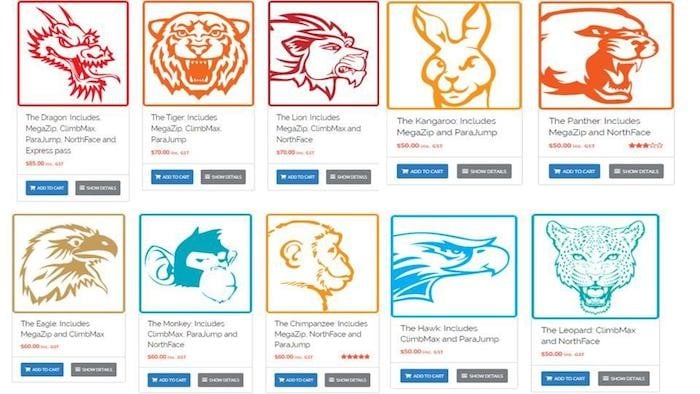 Image credit: Mega Adventure
And finally, finally, our last activity before we headed back to the mainland—
13. Desperados
Asia's first interactive 4D shoot-out game puts you in the shoes of a deputy sheriff in the Wild Wild West, where you have to keep up a balancing act on the back of a galloping mechanical horse as you display your shooting prowess as a marksman. Shoot 'em bandits down! But be careful, don't shoot the innocent civilians! About 20 other deputy sheriffs are with you as well, which injects a slight competitive element into the game, as each individual's scores are tabulated and flashed on the screen at the end of every round.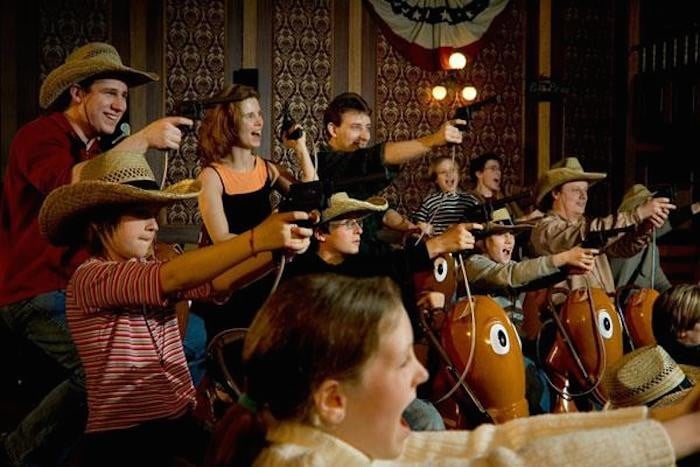 Image credit: Sentosa The State of Fun
And this was where I failed spectacularly. I mean, come on, who manages to hit just THREE bandits in THREE rounds?! Who? That's some serious skill there, I tell you. The best shooter had a score in the hundreds or something.*sigh* I think it's safe to say it's a good thing the nation's defence isn't in my hands.
That wrapped up my 2 day 1 night staycation at The State Of Fun. Of course, there are many other amazing things to do on Sentosa, and some of them might already take up about half a day to an entire day, so I can't say that mine is the best itinerary out there. But if you've been to the perennial favourites, done those, and you're on the lookout for something different, this might just do the trick for you.
As for me, I'd love to hear how your Sentosa staycation went, and whether you have other gems I should check out on my next visit, so if you do have any anecdotes or recommendations, let me know in the comments below!
Also read: How to Travel Singapore On a Budget