Yeosu and Suncheon are nestled in the deep southern valleys of the Jeollanamdo province, with the soothing pace of Suncheon being the perfect foil to the more energetic port city of Yeosu. One has serene natural attractions, while the other boasts dramatic coastal landscapes. Not more than 20 minutes between the two by train, here are a few reasons to visit them both.
Also read: Unexplored Korea: Scenic Cultural Cities of Suncheon and Yeosu
1. Odongdo Island
The lush and inviting Odongo Island is easily accessible from the Yeosu mainland via a 750m breakwater wall that runs from Yeosu port. Here, you can spot the famed camellia trees that bloom from November through to April, enjoy a picnic or take the lift up to the lighthouse observatory for some gorgeous views of the Yeosu harbour.
Jinnamgwan Historic Building
Jinnamgwam is a colossal 75-metre-long wooden naval base, said to the largest of its type in Korea. This historic site was first built in 1599 during the Joseon Dynasty – a critical cog in the skirmishes against Japanese forces at the time. Take some time to learn about Imjinwaeran War (that's the Japanese Invasion of 1592) at the small museum that greets you as you enter the building.
2. Fresh from the sea
Seafood is abundant in these parts, which gives you all the more reason to devour it. If you fancy your seafood cooking skills then you could stop by the West Market and grab the catch of the day. If you prefer a restaurant experience, then take a stroll down Gaejang Street and indulge in dishes like marinated crab legs, oysters, piping hot fish soups and even live seasoned octopus.
3. Hikes galore
Fitness enthusiasts will be thrilled to know that there's no shortage of peaks to traverse in these parts. Some of the best climbs include Bonghwasan (봉화산), Gubongsan (구봉산), Yongchwisan (영취산) and Ansimsan (안심산) on the outlying Dolsan island. These parts are very well maintained with lighting along most paths, so you won't have to stress about getting down before dark.
4. Walk around the Suncheon Drama Set
Koreans love a good K-drama, so it shouldn't come as any surprise that this period drama set garners a lot of attention from visitors to Suncheon. It's a reminder of how South Korea looked post-liberation, in the 1950s and '60s – a difficult time for the country, but nostalgic nonetheless.
5. Suncheon Bay Gardens
The Suncheon Bay Gardens were designed to preserve precious flora as well as create a tourist attraction showcasing different gardens from all over the world. Enter through either the West Gate of Light or the East Gate of Earth and meander through all of the different World Gardens. Expect to see more than 113 different types of flowers and 505 species of trees and be sure to visit the vast canola field, a visually striking spectacle which creates a canvas of yellow foliage every May when in bloom.
Also read: An Itinerary for Two Days in Yeosu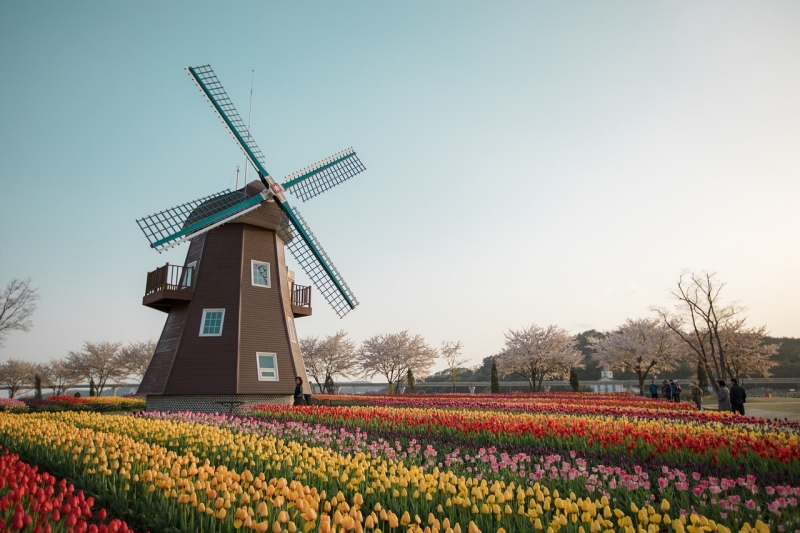 Nagan Folk Village
Folk villages might seem like a dime a dozen in Korea, but Nagan in Suncheon is a rarity in that it still houses residents who go about their daily lives without much fuss or fanfare. It's a sprawling estate of traditional Korean housing, with the periphery wall (which dates back to the Joseon dynasty) said to cover more than 1400m. Foodies and culture buffs descend on Nagan every October for the Namdo Festival, which sees more than 300 different Korean dishes on offer.