So, we're down to the last article of the Unexplored Korea series! The final stop I explored in the southern part of Korea was none other than Jeonju. Known for its historic architecture and delicious delicacies, it's no wonder why Jeonju was named a UNESCO City of Gastronomy in 2012. Most Koreans know of Jeonju as a popular place to visit, but it remains under the radar for foreign travellers, so…we're here to shake things up!
I visited the Jeonju Hanok Village and fell absolutely in love with it. With more than 800 traditional Korean Hanok houses clustered in a single area, the Hanok Village in Jeonju retains a rustic and elegant charm that transports you back to the Joseon Dynasty. It features a unique mix of the old and the new.
Exploring the Hanok Village will certainly leave you lingering for more! These are five exciting experiences that you definitely have to try out when you visit Jeonju Hanok Village!
1. Sleep like royalty in a cosy Hanok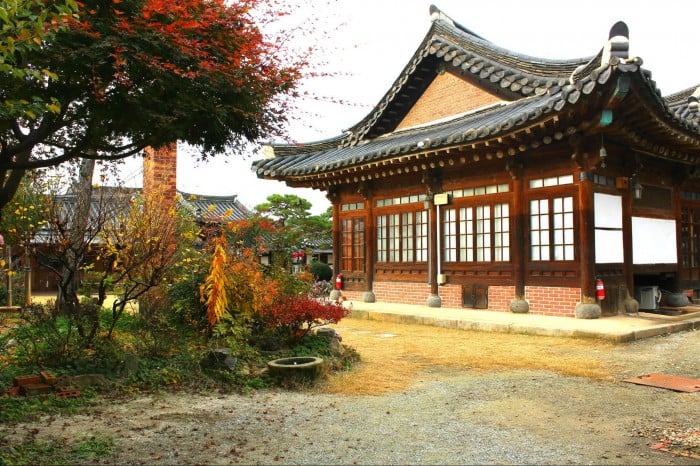 When visiting a Hanok village, you obviously have to experience staying in the traditional houses for at least a night! Besides, you won't find any hotels for your accommodation here anyway. Divided into two sections, Hanok houses comprise anchae where the women dwell, and sarangchae, where the men dwell. Men and women had to stay separately, so the anchae is usually situated deeper in the compound to ensure peace and privacy. This is definitely a one-of-a-kind experience you won't be able to try anywhere else outside of Korea!


A lot of the hanok houses here are very modern, and fully equipped with air-conditioning, attached bathrooms, televisions, refrigerators and more! So for all you pampered souls out there, you don't have to worry at all. Some rooms even have exquisite folding screens, secret compartments in the room for you to sip tea behind folding doors, as well as luxurious silk mattresses fit for royalty! Awesome or what?
Another unique trait about these traditional houses is that they employ a sub-floor heating system known as ondol, which ensures that the floor is heated 24/7. For Koreans who enjoy eating, sitting, and sleeping on the floor, this heating system will keep them warm in the cold autumn and winter days.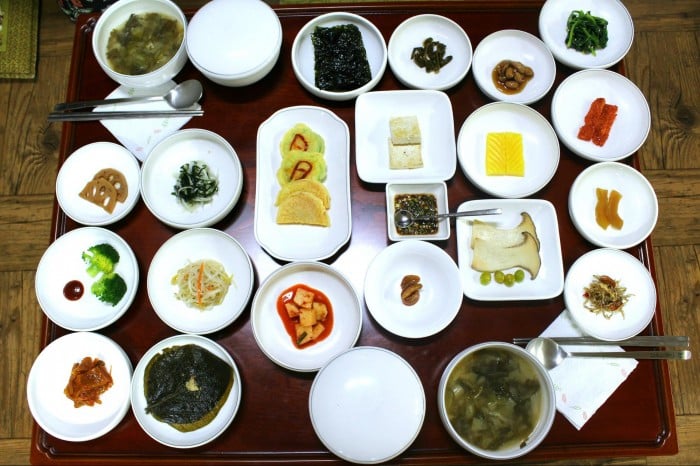 Oh my…just take a look at this sumptuous feast! After a restful good night's sleep, the best thing you could possibly wake up to is a mouthwatering feast for breakfast. And that's exactly what you get when you stay in a hanok! Help yourself to more than 20 delicious side dishes, best paired with fragrant white rice, and piping hot seaweed soup. Mmm, that's pure bliss. Besides, they offer free refills for any of the side dishes – so go ahead and ask for more, don't be shy. My travel companion and I shamelessly asked for refills of our favourite anchovies… FOUR times.
The hanok we stayed in was Hak In Dang (전주한옥마을 인재고택 학인당), but there are many other guesthouses around for you to choose from.
Address: 105-4, Wansan-gu, Jeonju-si, Jeollabuk-do, South Korea
2. Rent a Hanbok and snap lots of photos

Now that you can cross "Hanok stay" off your to-do list, what's next? To up the ante of your authentic Korean experience, you've got to rent a beautiful Hanbok and take a million photos with it. It's all part of the traditional Korean cultural experience! Personally, the pièce de résistance of exploring Jeonju was strolling around in a Hanbok for sure. The Hanbok shops offer a spectacular variety of all kinds of Hanbok for both males and females – you'll definitely be spoilt for choice! Guys can choose to don the robes of a Crown Prince or even a eunuch just for laughs.

I had such a difficult time choosing because the kaleidoscope of florals and patterns were just too pretty! Also, one huge tip for the girls is to pick those with more vibrant colours so it will stand out in your photos.  You can choose to rent a normal Hanbok for one hour, which costs 5,000 won (S$6.20), or a themed Hanbok with more fancy designs for one hour, which costs 15,000 won (S$18.60). They'll even style your hair into braids or buns, and jazz it up with delicate pastel hairpins.
If one hour's too short a duration for you to prance around and fulfil your fantasies of being a prince/princess from the Joseon Dynasty, you can opt for longer durations such as 2 hours and 4 hours! Additional accessories, shoes, and handbags are also available to complete your ultimate look. Best friends and couples can even get matching sets of Hanbok as well!
3. Wander around and explore Jeonju Hanok Village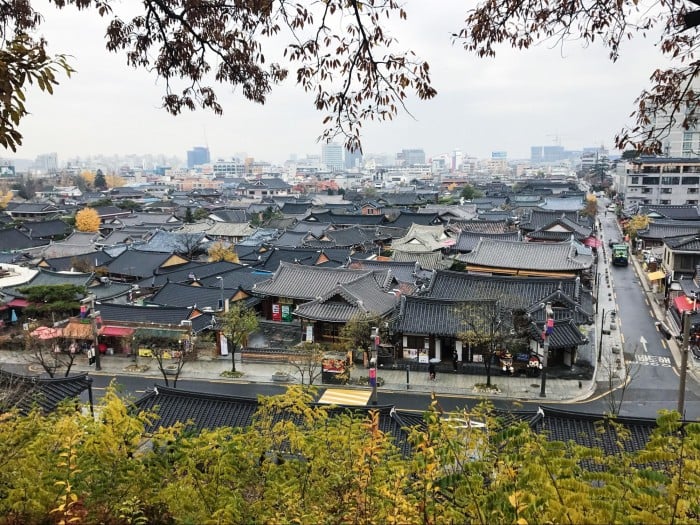 Now that you're properly attired, it's time to head out and stroll leisurely along the cobblestoned streets! We first ventured up to the Imokdae and Omokdae pavilions, located atop a hill overlooking the entire Hanok village. The boardwalk leading up to the pavilions provided a breathtaking panoramic view of the entire Hanok village – it was a truly mesmerising sight.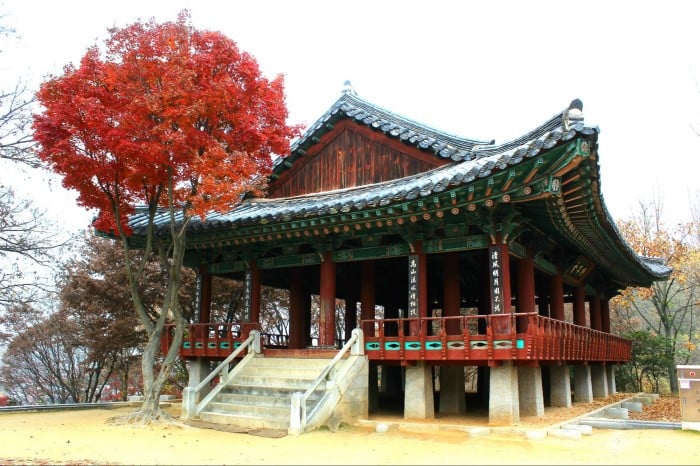 The Omokdae is known as a victory pavilion where General Yi Seong-gye stayed for a period of time, after returning triumphantly from defeating Japanese pirates. The respected General went on to become King Taejo, the very first king of the Joseon Dynasty. Next to it stands Imokdae, a smaller pavilion which houses a stone inscription written by King Gojong himself. This monument was erected in 1900, intended for the ancestors of Yi Seong-gye.

Image credit: (left) Kevin Sato
Next, you can head to Gyeonggijeon Shrine, which was built to preserve the portrait and memorial tablet of King Taejo (also known as Yi Seong-gye) – the founder of the Joseon Dynasty. Exploring the grounds of the shrine offers you a glimpse into the life and achievements of the revered King. The tranquil and picturesque surroundings are perfect for a leisurely stroll while you gain knowledge about Korean history. Visiting the shrine certainly made me wonder about how life was like back then in the Joseon Dynasty. For Love In The Moonlight fans, you might find this place familiar, because several scenes where Ra-On injured her leg were filmed right here!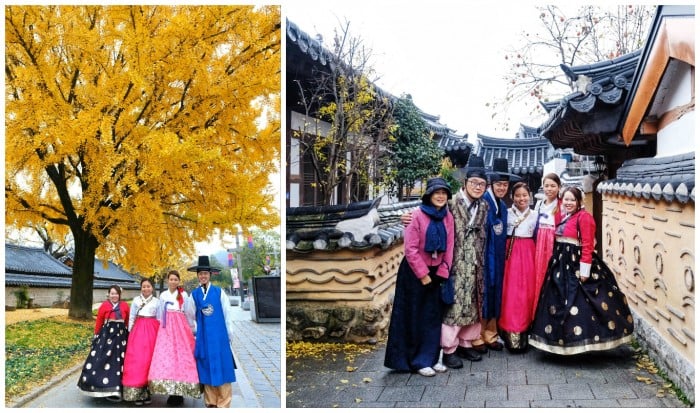 Aside from all the historical places of interest, you'll also have an enjoyable time wandering around the streets! There are still some hanoks which remain as private homes, but there are others that house workshops, museums, teahouses, boutiques, guesthouses, and more. Walking through the maze of alleyways, you will adore the aesthetically alluring traditional architecture and antique facades at every corner you turn. And of course, the whole point of renting a hanbok is so you can stroll around the village and take TONS of photos with it!
4. Feast on street food and choco pies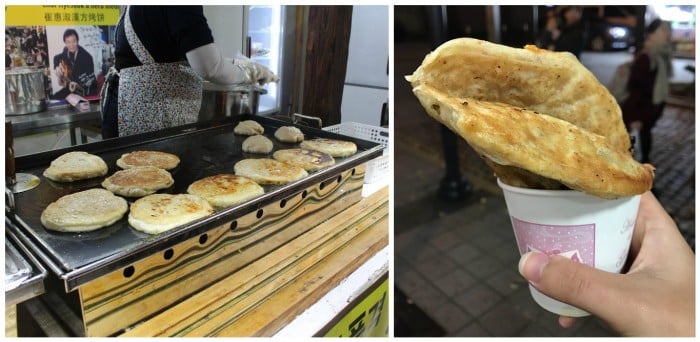 You definitely can't leave this city of gastronomy without feasting on street food! Classic treats like hotteok are a MUST-TRY. Take a look at how huge it is compared to the size of my hand! Hotteoks sold in Seoul and elsewhere are barely half the size of those sold in Jeonju. Personally, I preferred the savoury kimchi cheese flavour over the sweet red bean flavour found at this street stall. Freshly made, juicy and oozing with goodness, it's an enticingly sinful treat perfect for supper. Other stalls also sell unique flavours such as cream cheese and soy milk, so go ahead and give your adventurous tastebuds a treat!

Image credits: (right) Hanachrisantyjioe
You can't miss out on PNB Bakery's famous choco pies when you visit Jeonju Hanok Village! While strolling around the neighbourhood, you might have seen long queues stretching all the way to the intersection right outside this renowned bakery. It is housed in a gorgeous modern hanok, and has passed down through three generations since its establishment in 1951! Home to an assorted variety of choco pies, as well as traditional cookies and bread, these delectable pastries make great souvenirs for your loved ones.
Unlike the Orion or Lotte choco pies sold in supermarkets that have marshmallow fillings, these choco pies have fresh cream and flavoured jam instead! These choco pies are coated in milk chocolate or white chocolate, and have many different flavours such as strawberry, green tea and more. You'll fall in love with these soft and moist choco pies at first bite, just like I did!
5. Don't miss out Jeonju's signature dishes: tteokgalbi and bibimbap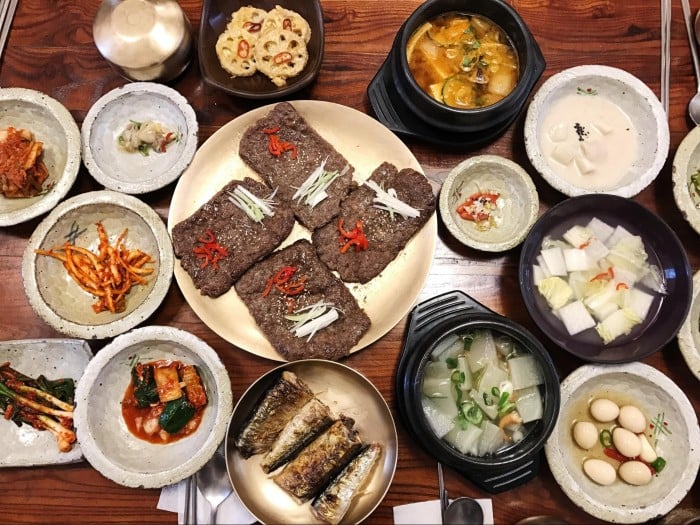 Tteokgalbi, also known as Korean beef patties, are a must-try when you are in Jeonju. Tenderised and marinated in a sweet sauce, the meat just melts in your mouth with every bite. I feasted happily on a huge piece, much to the dismay of my waistline. You can eat it on its own, or pair it with a bowl of delicious white rice. Aren't you just drooling at this sumptuous spread?
Damun (다문) is famous in Jeonju for its delectable spread of dishes, cooked with only the freshest seasonal ingredients and is absolutely free of any MSG. Make sure you visit them while in Jeonju!  
Address: 82, Gyo-dong, Wansan-gu, Jeonju, Jeollabuk-do, South Korea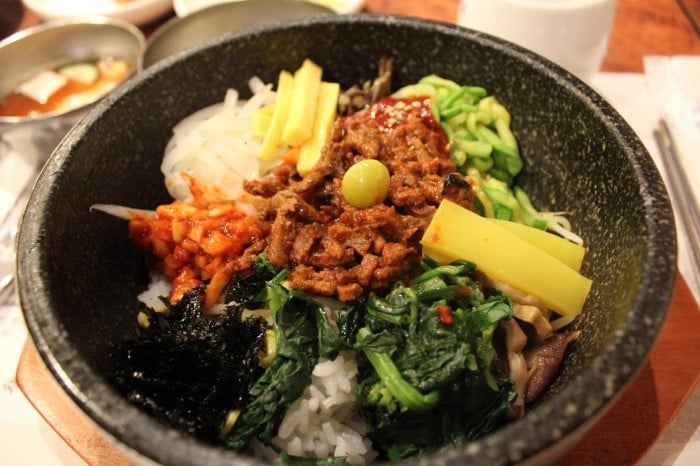 Did you know that Jeonju is the birthplace of bibimbap, one of the most classic Korean dishes? Jeonju bibimbap was a royal cuisine during the Joseon Dynasty! Depending on the season, an elaborate assortment of more than 30 toppings can be used. The unique characteristics of Jeonju bibimbap are the three main ingredients – yellow mung bean jelly (a local delicacy), soy bean sprouts, and beef tartare. In addition, the rice is made with beef bone broth, enhancing its rich flavour.
I had an immensely satisfying bowl of hot stone bibimbap at Han Kook Jib (한국집). This restaurant was established in 1952, and has been passed down through three generations of the family over the past 65 years. They have even served notable customers such as the late President Park Chung Hee, as well as Lee Byung Chul, the founder of Samsung! I recommend the hot stone bibimbap, because the slightly charred rice at the bottom and sides of the bowl gives more texture and flavour to your meal with the added crunch.
Address: 119 Eojin-gil, Jeon-dong, Wansan-gu, Jeonju, Jeollabuk-do, South Korea
So, make sure you've inserted Jeonju Hanok Village into your Korea itinerary. It's definitely a rustic and charming area that you've got to explore! Come prepared with a feisty appetite to gobble down all the delicious foods that Jeonju has to offer!
---
The directions in this article are taken from VisitKorea, and my wonderful trip to Korea was made possible by Korea Tourism Organisation (Singapore Office). For more Korea off the beaten track suggested itineraries to inspire you for your Korea trip planning, click HERE.