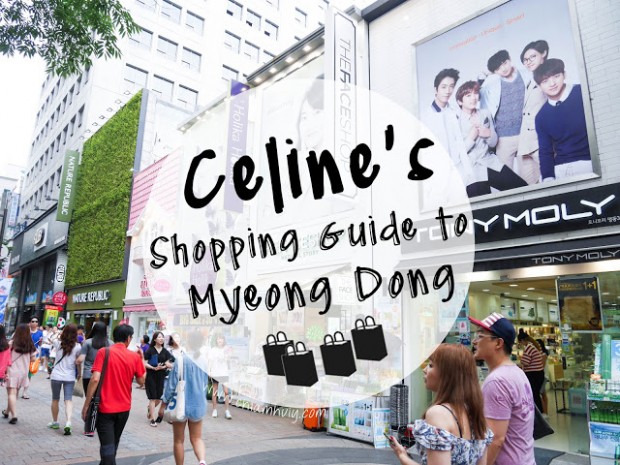 Despite being in Bangkok three days before this Korea trip and having all the cosmetics and skincare I need, I still lost control in the heaven of cosmetics in Myeong Dong, Seoul. Let me share my very own shopping experience and tips to make the most of your shopping haul in one of Korea's busiest shopping districts.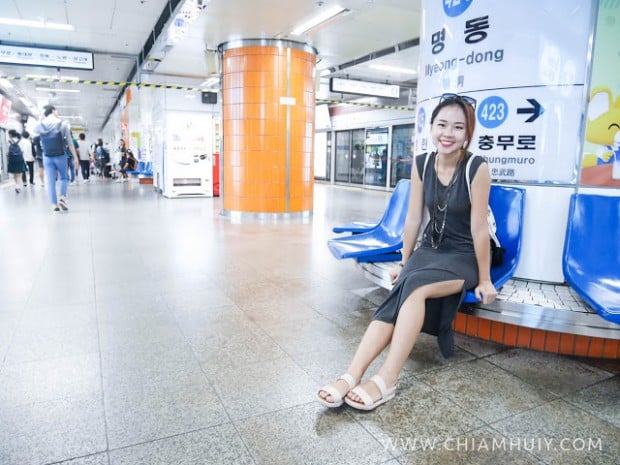 I barely had enough time in Seoul because we spent some days on a K Shuttle tour by US Travels and two days in Busan. Despite the shortage of time here in Seoul, I still managed to visit Myeong Dong three times on different days because my hotel was only 15 minutes walk away from this district. I love how much Myeong Dong can offer me both shopping and food opportunities.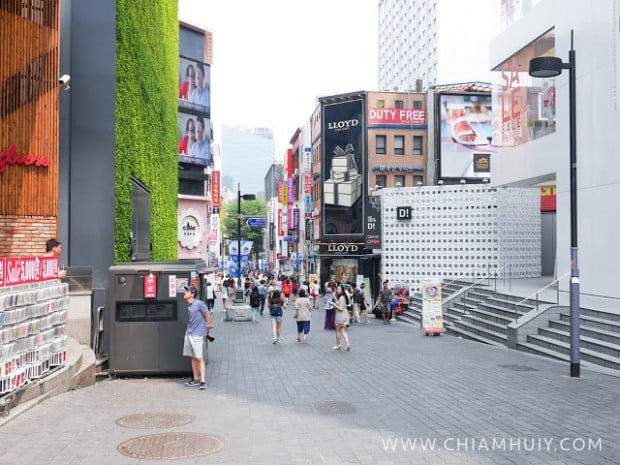 Before you ask, what is Myeong Dong?
Myeong Dong is one of the most popular shopping districts in Seoul, Korea. Here, you can find lots of beauty brands, luxury brands and even department stores. I would say the price range can be $$ to $$$.
How to get to Myeong Dong
To reach Myeong Dong, alight at Myeong-dong Station, Subway Line No.4, Exit #6, or you can take Euljiro 1-ga Station, Subway Line 2 (4 minutes) Exit #6.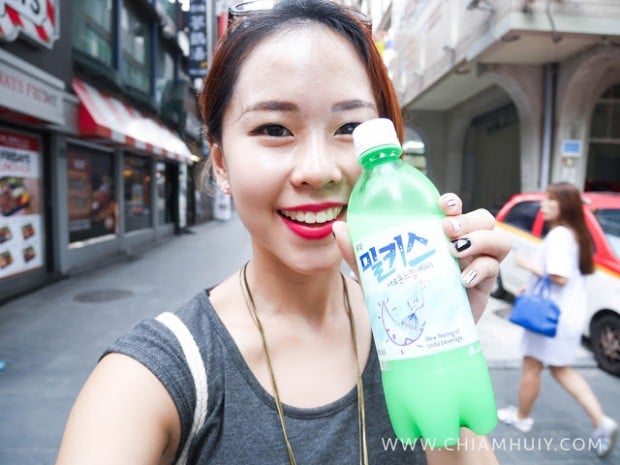 Myeong Dong is amazing. My travel companion / roommate Dina and I agree that Myeong Dong is a cosmetics and skincare heaven. Beauty stores such as Etude House, Nature Republic, ARITAUM and Olive young line the streets, and they appear so frequently, you can have the same beauty brand appearing just a stone's throw away from each other.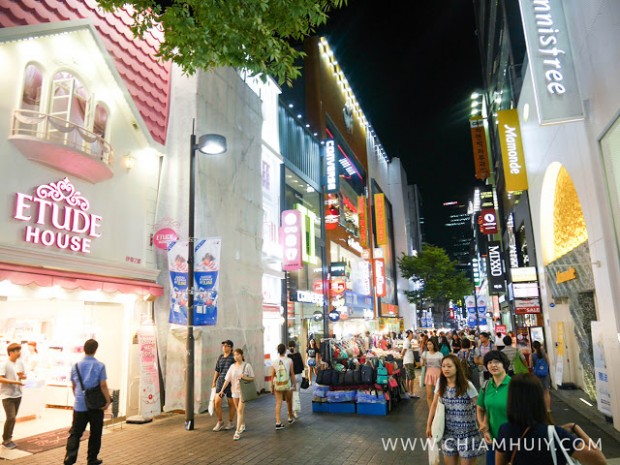 Aside from your popular trusty beauty brands' flagship stores, they also have beauty stores that house a few brands together. Here's a list that is definitely non-exhaustive:
Beauty brands:
Etude House
Nature Republic
TheFaceShop
TheBodyShop
Innisfree
Skinfood
Tony Moly
Holika Holika
The SAEM
MISSHA
Clio
Beauty stores:
ARITAUM (Amore Pacific brands like LANEIGE, Sulwahsoo)
Watsons
Olive Young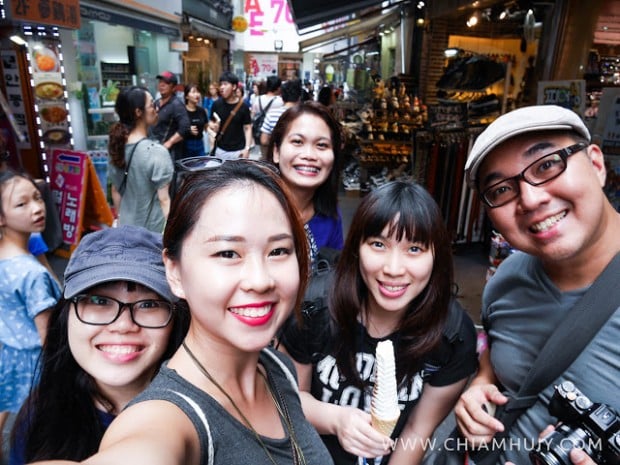 With one of the best travel companions on this trip!
Myeong Dong has an abundance of beauty stores and brands, your heart will literally fly away the moment you step into this crazy shopping district.
Here are some of the things you need to know about shopping in Myeong Dong:
1. You can get TAX-FREE claims
Simply tell the cashier that you want to have tax-free privileges and they'll issue you the receipt and keep in a nice paper envelope for you. However, there's a certain amount to hit, and for most of the stores, it's usually only KRW30,000 (~SGD37).
Do note that claiming taxes at the airport can be troublesome and not economically worth it if you're not buying very high-value items. I spent really a lot on cosmetics and the amount I could claim from tax-free global was barely SGD30, so I thought it wasn't worth the hassle.
In case you are unaware, to claim your taxes, you have to:
Check in at the counter but not luggage
Bring your luggage to the tax-free claiming counter
Open up your luggage for them to see the items you bought
Get a stamp
Bring back to the counter to check in your luggage
Yep, make sure it's at least some amount of money that is worth such effort needed!
2. Some service staff do speak Chinese
I apologise for the non-Chinese speaking shoppers for this. The reason why they have Chinese-speaking staff is because most of the tourists here come from China. It's definitely more convenient to be able to speak to someone using a common language and get to understand how a product works before blindly purchasing them.
Unfortunately, some of the Koreans do not really speak very good English so it can go quite frustrating when you want to ask about a product. Usually people already know what they want to get, and if the Korean staff can't speak good English, they'll usually use a calculator to tell you the price. So, all is well!
3. They lure you into the shops with free masks (HAHHA)
Sorry for the haha but it's an inside joke between me and my friends. When we feel like taking that one free mask, we would actually enter the shop even though we had no intention to buy anything, but we usually end up buying trivial items like nail polish. Nonetheless, I've not tried taking the free mask without buying anything. My friend has done it before and she managed to leave the place. I would feel bad if I don't get anything, so I buy nail polishes that cost around KRW3,000-5,000  (SGD4-7) per bottle instead.
4. There are both expensive and cheap stuff
It depends on how you shop, and how well can you find treasures. I noticed that the facemask from Nature Republic uses really good quality mask sheets, but not so much from TheFaceShop's. Of course, the price can differ a lot and you get what you pay for.
Bags can also go from expensive to really cheap at KRW10,000 (~SGD12). I got a huge backpack with decent quality at only KRW10,000  (~SGD12)! I can put so many things, including my laptop.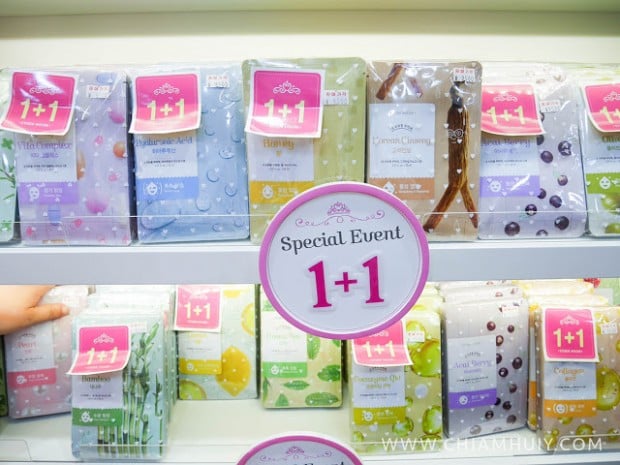 5. Look out for unbelievably cheap items
It's not a secret that cosmetics and skincare in Korea are very cheap, since that is where they come from. But you might not know that some items can be crazily cheap because they can go on a 1+1 (buy 1 get 1) promotion, of 50% discount! If you happen to be shopping with friends, you might get to enjoy even cheaper price tags just by sharing! So my tip is to look out for incredible promotions, especially those 1+1.
For example, my all time favourite, Thefaceshop sunscreen, costs SGD 28.90 in Singapore, SGD17.90 in Singapore DFS, but in Korea, it was only KRW16,900 and was on 1+1 promo, so that makes it 16,900/2 = ~KRW8450  = ~SGD10! Way too cheap right?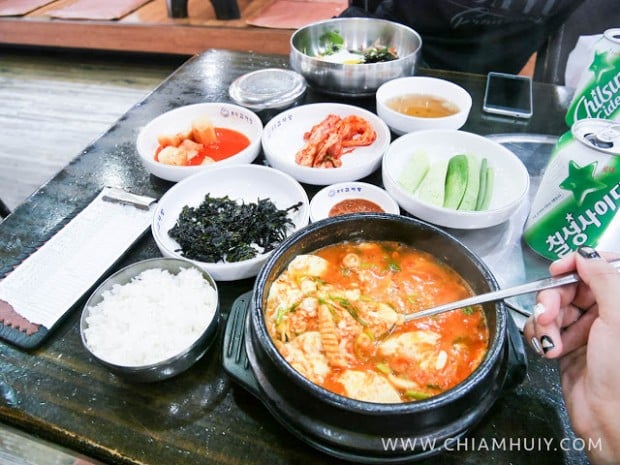 This meal was only KRW8,000 (~SGD10)
6. Food might be slightly more expensive here
My suggestion is to get out of Myeong Dong area for food. Simply walk out of Myeong Dong for barely 5 minutes and you can easily find local eateries along the main road. They are very affordable and yummy, quite a safe bet.
I also noticed that the street food is more prominent in the night scene and not so much during the day. You'll find toppoki, Nutella banana crepe cake and many local street food.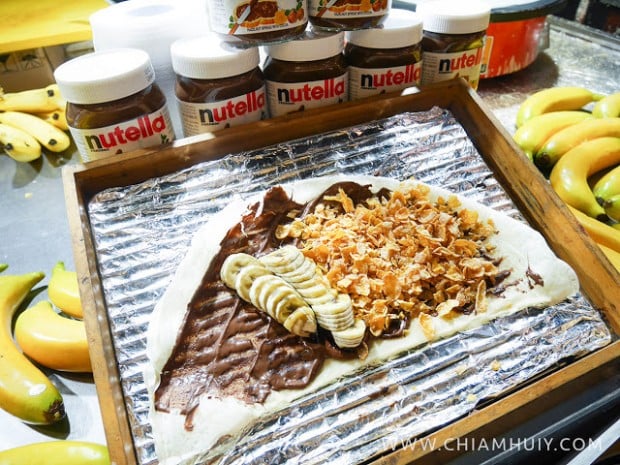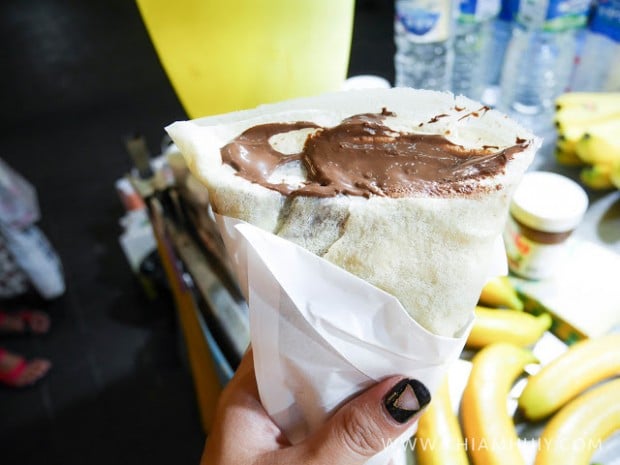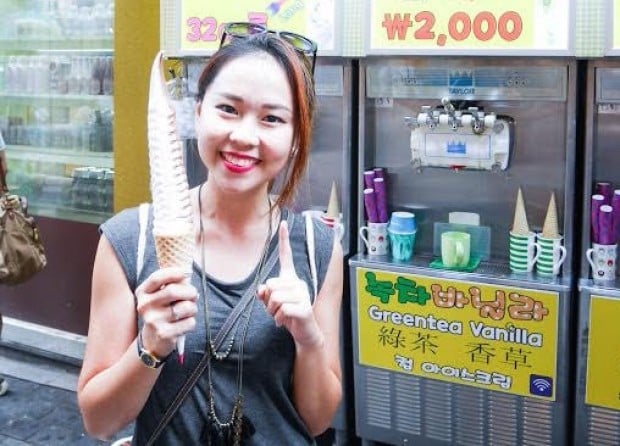 7. There are lockers at Myeong Dong Station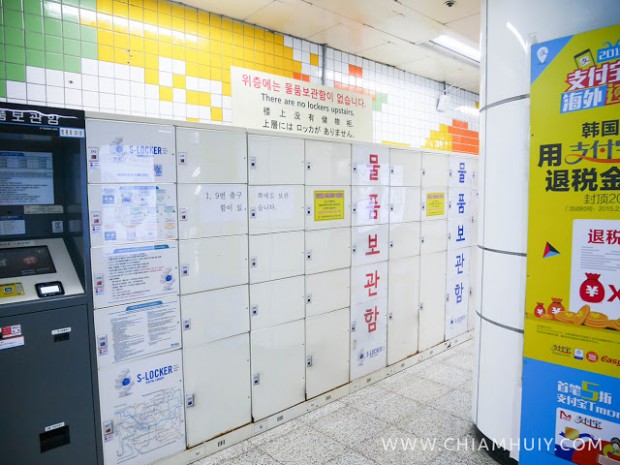 Congratulations! There's practically nothing to stop you from shopping now! Fear not if you have to drag your luggage around especially if you have not checked in yet, or you are going to other cities in Korea, because there are lockers in Myeong Dong station as seen in the photo above.
8. Prepare a shopping list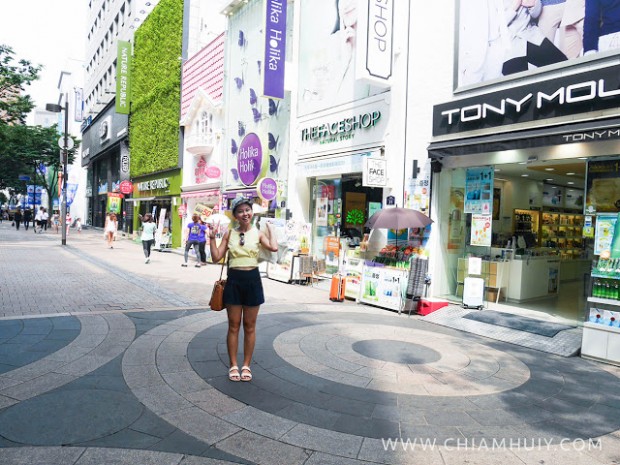 You may find it useful and more efficient if you already have a shopping list on hand before you shop in Myeong Dong. Some of my girlfriends in this trip actually have a list of things they want so they practically head in, get the stuff and get out. They saved a lot of time, and in some sense, were not caught up into buying more random stuff like I did.
It will also be useful if your friends can tell you what they want so that you can compile them into a list and plan your expenses.
9. Do not overspend at one go and at one place
Here's an advice from my roommate, Dina, who seldom shops for cosmetics but went so excited with me as we shopped together: Do not immediately buy all the things you saw for the first time. There are many chances for you to get the same item elsewhere, so don't do impulse buy. You shouldn't also spend all your money only at one place so as to enjoy your whole trip.
10. Bring a huge shopping bag / backpack
You won't know how much you would be buying, but having a big bag to contain all your purchases is surely better than carrying many small little bags of stuff.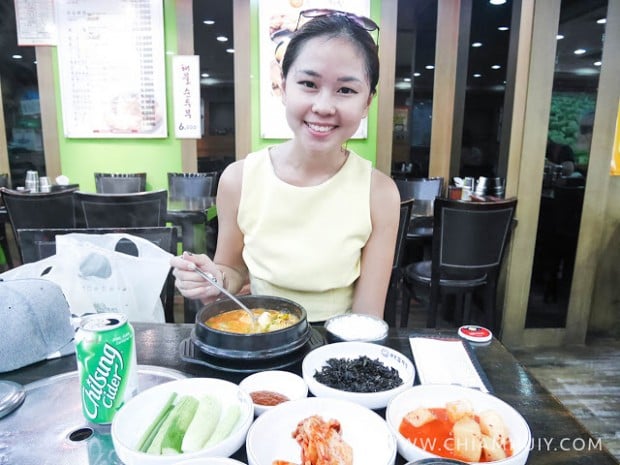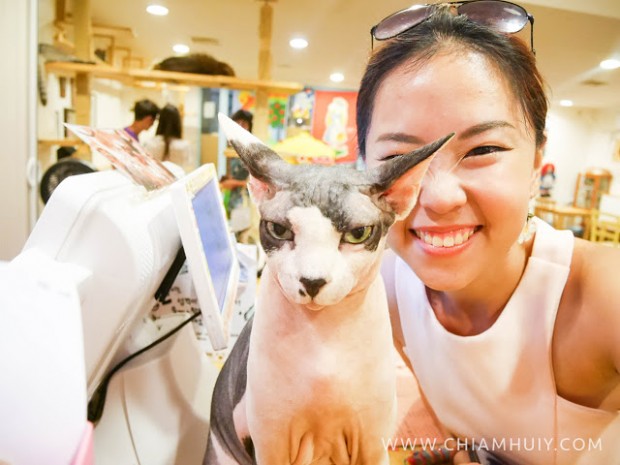 And that's about it! I hope this Myeong Dong Shopping Guide would be useful to you, and feel free to share it with all the happy ladies out there!
Once again a huge thanks to KTO Singapore for making this trip possible, and Caro for taking such good care of us and leaving me an absolutely happy girl with all my shopping loots.
Next up would probably be some shopping haul guide and a simple travel guide to Korea, so stay tuned!
Also read: 24 Fun Things to Do in Seoul on Your Very First Visit
Thanks for reading! ❤
If you like the post, follow me on instagram too!
Love,
Celine
Contributed by Celine Chiam.