Bordered by East China Sea on east and south, Macau is one of the most densely populated regions in the world. As a former Portuguese colony, Macau is culturally infused with both Chinese and Portuguese influences. Several Portuguese-inspired foods and architecture is seen amazingly amalgamated with the culture of local Chinese dwellers.
If you're travelling to Macau, here is a list of top 15 things one may do to enjoy few days in the culturally unique province.
1. Gamble away at the world-renowned casinos
Macau draws a large number of tourists because of their famous casinos. In the year 1847 gambling was legalised in Macau and ever since then, Macau has been attracting millions of people for this reason. The posh and glamorous city often gives a "Las Vegas" feel at night.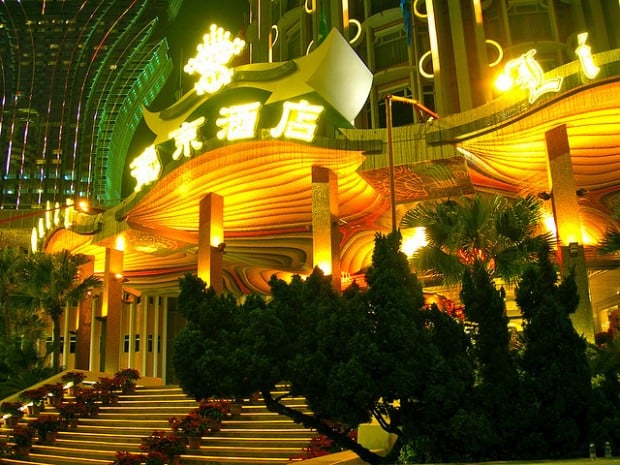 Image credits: Jennifer Morrow
Casinos are an extensive part of the architectural and cultural development of Macau. The casino resorts are of towering magnitude and they look stunning at night with the dazzling lighting displays.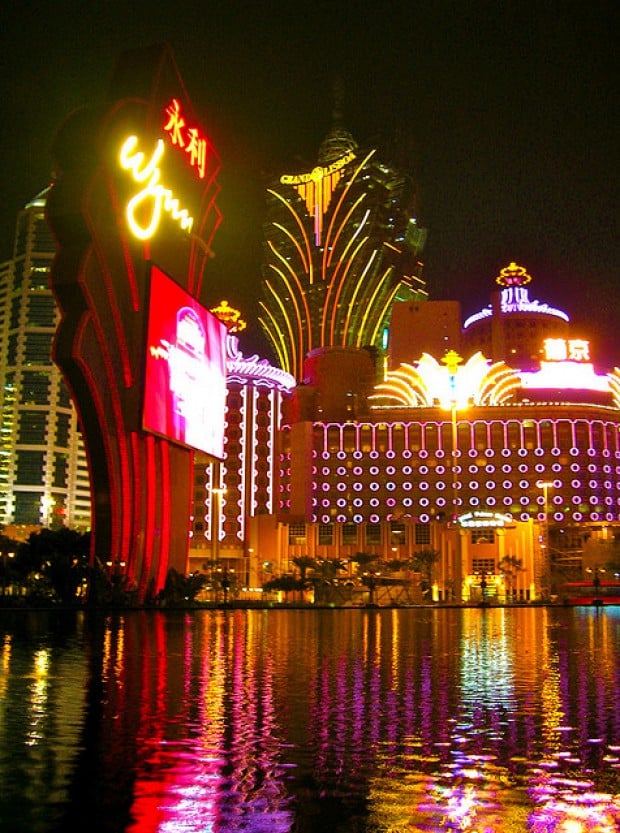 Image credits: Jennifer Morrow
There are shuttle services available to hop from one casino to the other, which gives the perfect excuse for a night of casino-hopping.
2. Stroll hand-in-hand at Senado Square
Senado Square is the urban hub of Macau. This is the place where all the big events and holiday celebrations of Macau are hosted. Relax, walk around and marvel at the Portuguese-styled architecture, with pretty windows and colorful mosaic stones.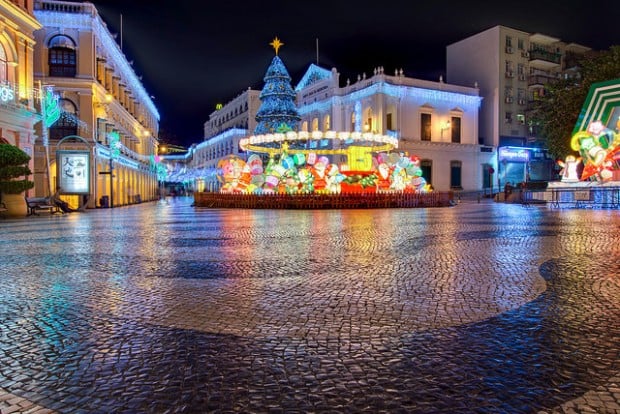 Image credits: Tristan Schmurr
You should also drop by one of the many cafes in Senado Square, and have a sip of Portuguese Espresso. The Senado Square is strikingly beautiful at night, too and is the perfect romantic spot to stroll around lazily with your partner.
3. Indulge in delectable food
The streets of Macau offer a variety of restaurants, which will delight every food lover. A food-hunting mission is extremely recommended when you are in Macau.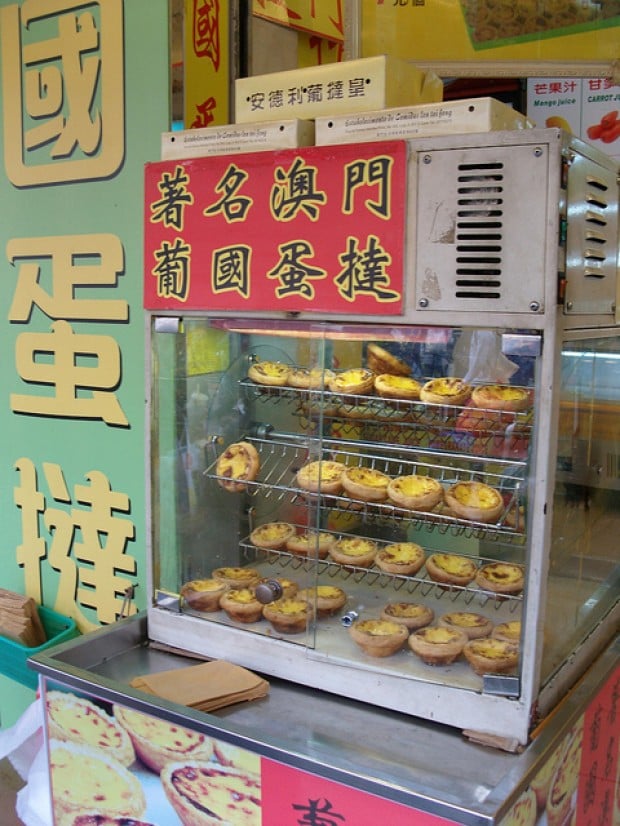 Image credits: shankar s.
Macau is a place where Chinese and Portuguese cuisine dwells together amiably. Some of the special dishes you should try include steamed and boiled seafood, grilled and roasted pork/beef, egg tarts, almond cookies, pork chop buns, dim sum, crab congee, and durian ice cream.
Image credits: Alpha
There is something for everyone in the eateries of Macau. There are also plenty of healthy food options for health-conscious tourists.
Also read: 10 Foodies-Approved Yummies in Macau That Leave You Wanting More
4. Visit the Ruins of St. Paul's
The 17th century Ruins of St. Paul's, which is dipped in Portuguese history, architecture and art, is roughly a ten-minute walk from Senado Square. It is usually crowded year-round, and visitors can go into the Crypt to see the sacred arts of Jesus.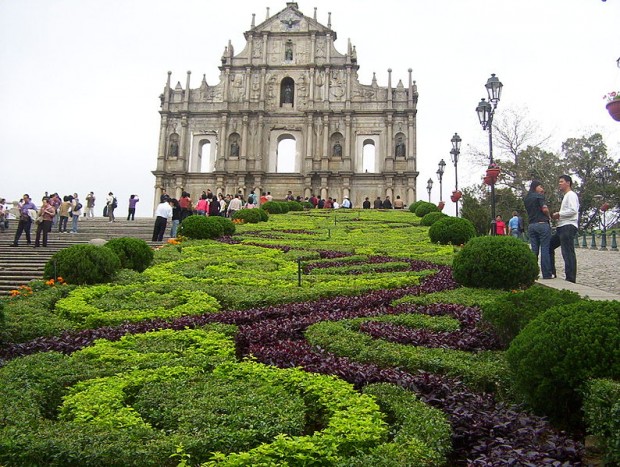 Image credits: id.wikipedia.org
5. Visit a Taipa Village
Taipa Village is a charming enclave, away from Macau's facade of glitz and glitter. Taipa Village houses many rustic shops and restaurants. Walk through the narrow streets and alleys of Taipa Village and admire the Portuguese-styled buildings in light hues of green, yellow and blue. Visit the Chinese-styled shops and shop to your heart's content.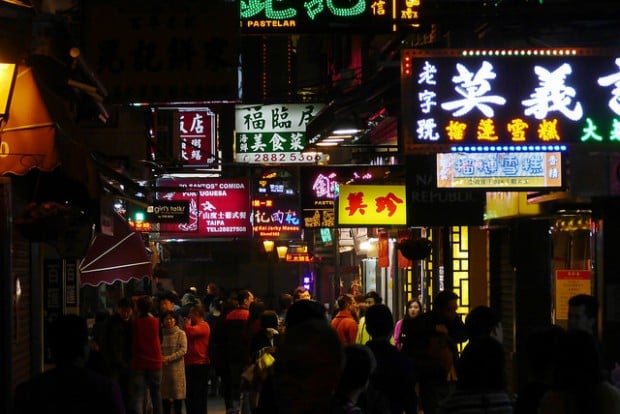 Image credits: travel oriented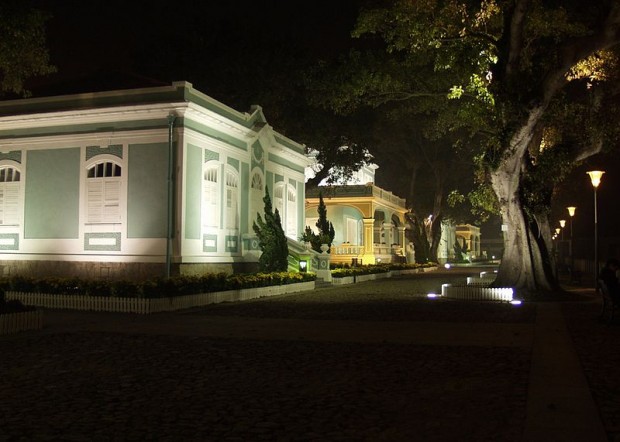 Image credits: commons.wikimedia.org
6. Head up the iconic Macau Tower
Macau Tower, standing at 338 metres, is famous for offering the second highest bungee-jump in the world. Try it – if you dare. Other than that, the Macau Tower houses an observation deck which provides breathtaking views, a revolving restaurant and even a cinema.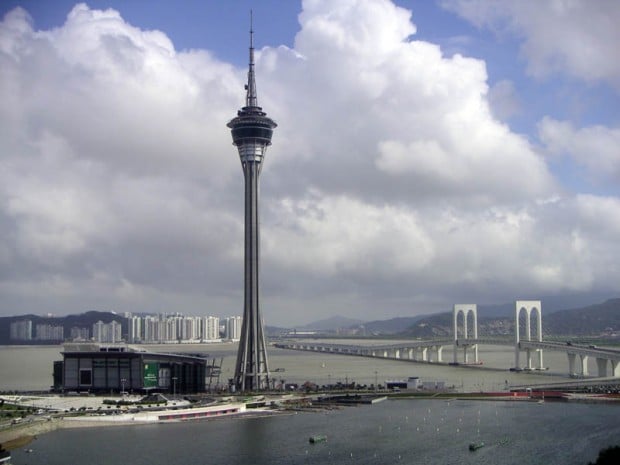 Image credits: commons.wikimedia.org
7. Visit Kun Iam statue
Kun Iam is a 20 metre tall bronze statue of the Goddess of Mercy. It is built on the top of a dome, shaped like a lotus and it faces Macau, as if to protect it. The statue looks amazing during sunset. Beneath the statue is the Kun Iam Ecumenical Centre which features a souvenir centre and a Contemplation room, among others. Do note that this Ecumenical Centre is closed after 6pm and remains entirely closed on Fridays. Local cabs and shuttles are easily available, which take you to Visit Kun Iam statue for reasonable fares.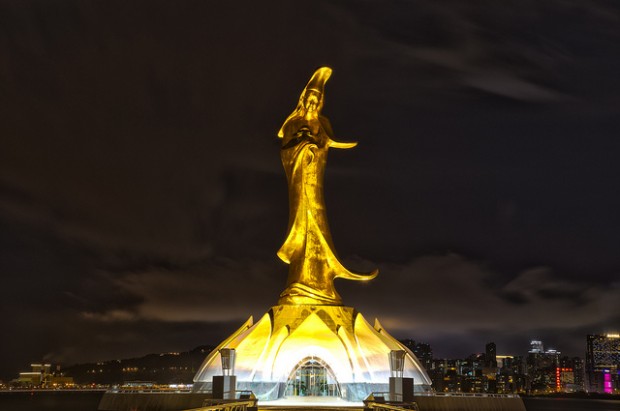 Image credits: Global Reactions
8. Admire the aerial view of Macau from Macau Fort
Macau Fort or Monte Forte is a famous tourist spot. It was built in 16th Century and was used as a military base. It features a public park, an observatory and the Macau Museum. This perfectly preserved architecture is open to visitors everyday and is located just a short distance from the Ruins of St. Paul's. The fort offers a superb aerial view of Macau city below and the lush green hills at a distance.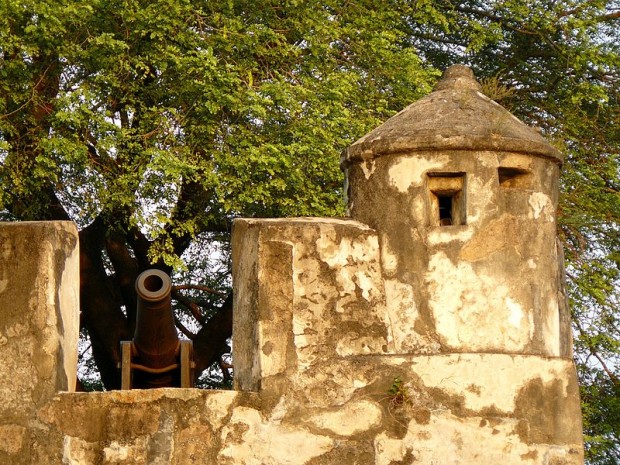 Image credits: commons.wikimedia.org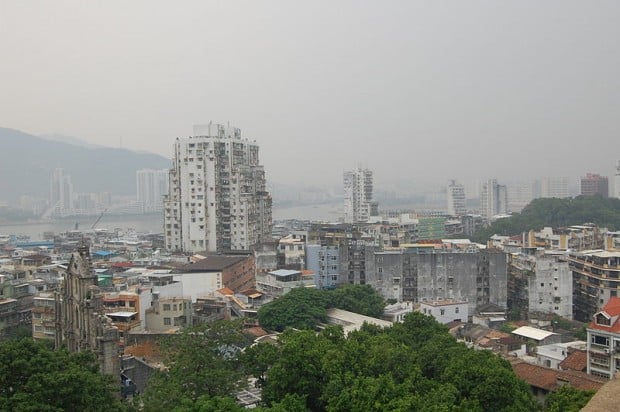 Image credits: commons.wikimedia.org
9. Laze at the Hac Sa Beach or Black Sand Beach
The Black Sand Beach is a short forty-five minutes ride away from Macau. It is one among the best beaches of Macau. The beach is not covered with black sand, as the name suggests, but it is a great beach to visit nonetheless.
Also read: 10 Unconventional Beach & Island Honeymoon Destinations in Asia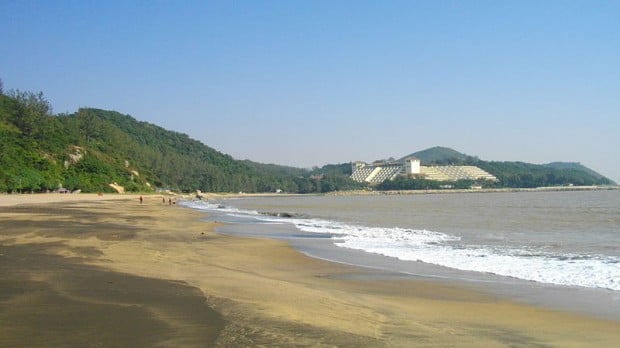 Image credits: en.wikipedia.org
10. Visit some Chinese temples
There are many traditional Chinese temples in Macau. Visiting these temples is a very calming experience, and it provides the chance to study the Chinese traditional rituals and culture. The most famous among these temples are Na Tcha Temple and Aha Ma Temple. Another one at Taipa Village is also worth visiting.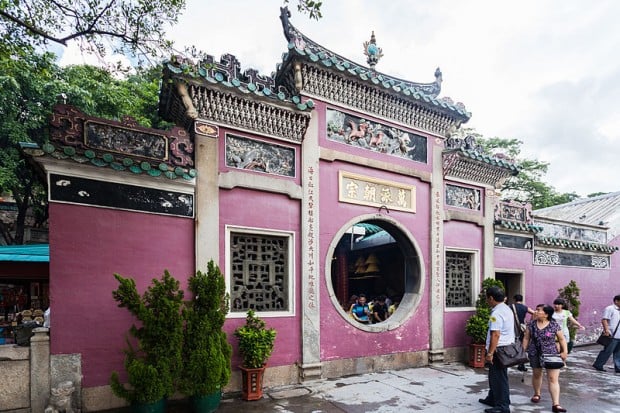 Image credits: commons.wikimedia.org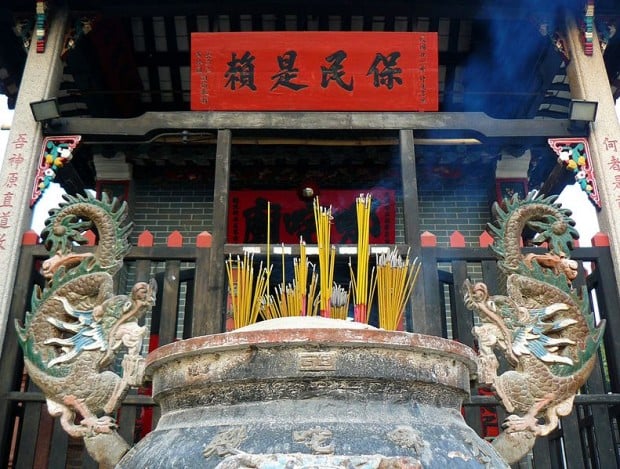 Image credits: commons.wikimedia.org
11. Catch a glimpse of the bridges of Macau at night
The many bridges in Macau offer amazing views at night and is a must-visit for all. Macau, despite being a tiny island, has many majestic bridges, which look especially stunning at night. There are three long bridges connecting Macau Peninsula with the Taipa Island:
Sai Van Bridge or Ponte de Sai Van
Image credits: Thomas Lok
Macau-Taipa Bridge or Ponte Governador Nobre de Carvalho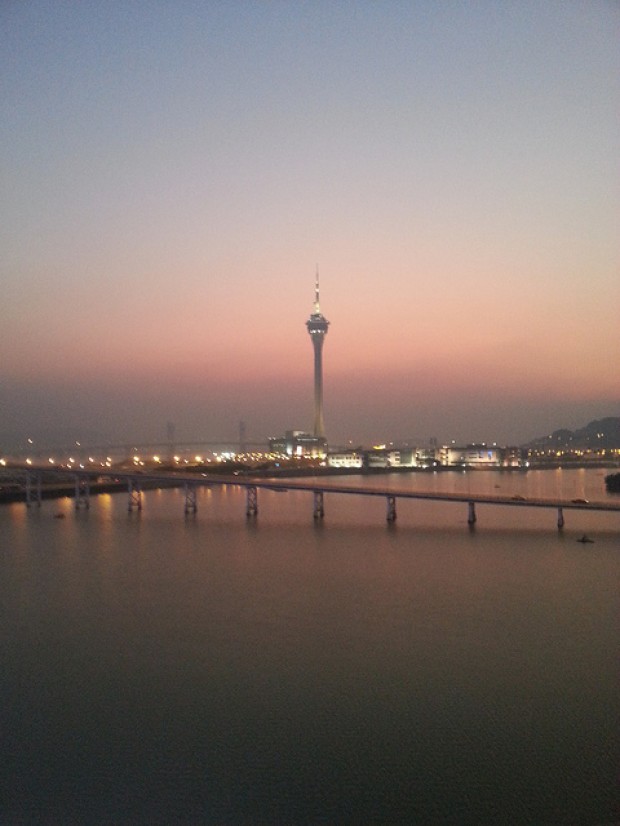 Image credits: Azchael
Bridge of Friendship or Ponte de Amizade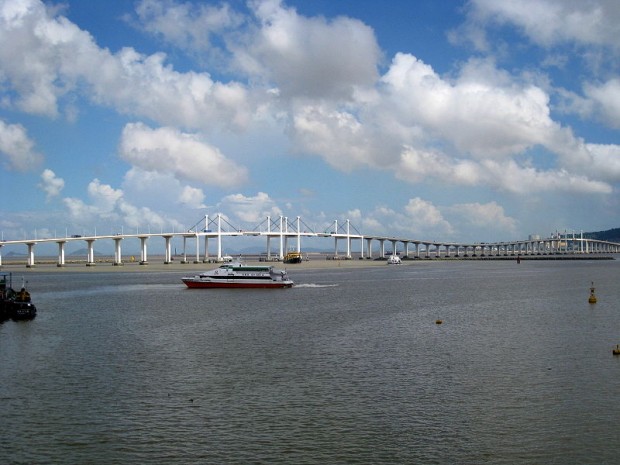 Image credits: commons.wikimedia.org
12. Visit the many museums
There are quite a number of fine museums in Macau, which will delight history-lovers. Macau Museum situated inside the Macau Fort area, beside the Ruins of St. Paul's, is one of the more famous museum to visit.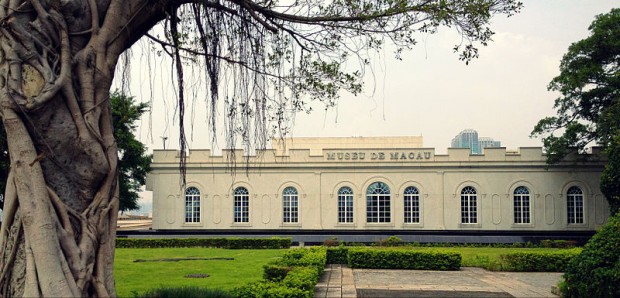 Image credits: en.wikipedia.org
Other museums you can check out include the Grand Prix Museum, the Wine Museum and the Macau Maritime Museum.
13. Make a day trip to Zhuhai
A day trip to the neighboring city of Zhuhai, in China, can be very refreshing, if you have some two to three days in Macau. The Zhuhai Port Plaza is a huge underground mall, and is the place to go if you're into shopping. It is basically a kind of flea market that sells everything from electronics to clothings.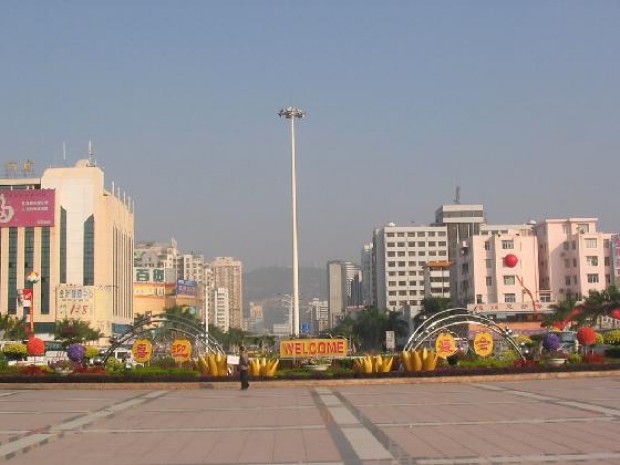 Image credits: commons.wikimedia.org
There are small eateries and restaurants serving traditional Chinese seafood at very reasonable rate. The nearby attractions are Lotus Road, Fisher's Girl Statue and Lover's Road. Zhuhai is not entirely safe for tourists after it gets dark, so, try to return back to Macau before sunset.
14. Drop by Red Market
Red Market is located at the corner of Avenida Horta e Costs and Almirante Lacerda. It looks attractive from outside and is a good place to shop in Macau.
15. Visit Sir Robert Ho Tung Library
Literature lovers can complete their tour of Macau with a visit to the Sir Robert Ho Tung Library in Largo de St Agostinho.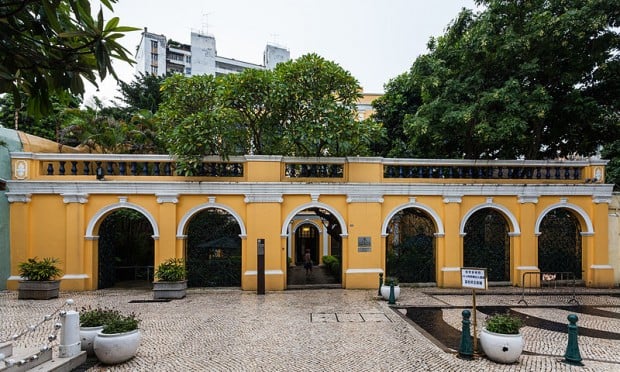 Image credits: commons.wikimedia.org
This 19th century colonial edifice is a charming building, featuring a dome, an arcaded facade, ionic columns and Chinese-styled gardens. It has been given a modern extension not too long ago.
On top of these fifteen attractions in Macau, there is a whole list of other exciting places to visit. This include the Mandarin House, Coloane Island, Guia Fort and Guia Chapel and St. Lazarus Church District. What are you waiting for – make your way to Macau now!