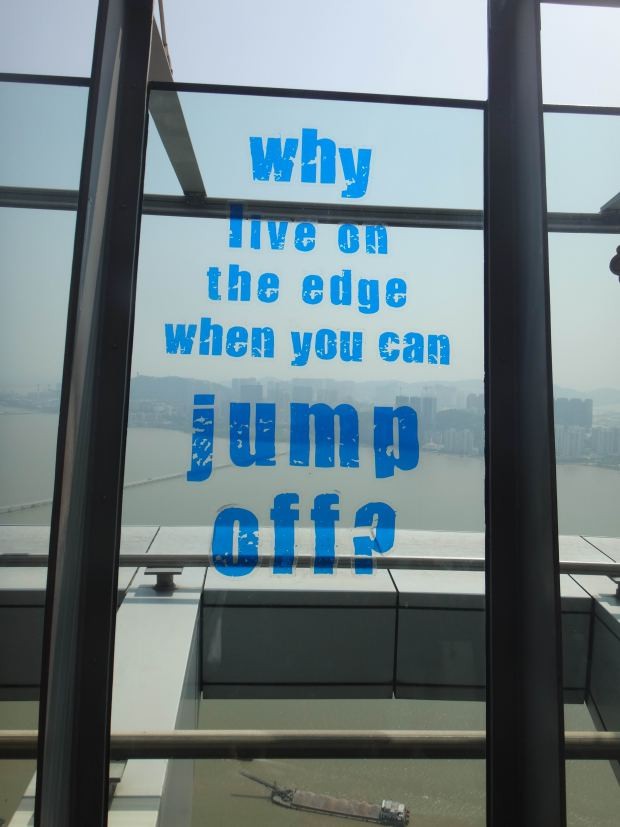 Push yourself off the edge
Ever since I jumped, people have been asking me, "What did it feel like?" Up until now, I still don't know the answer. I still have no words for what it felt like, but let me share the whole experience from start to end.
Bungee (or Bungy) Jump, everyone has this on their bucket lists. Maybe not everyone, but I know it is something people wish or hope to do, based on travel bucket lists you can search on Google. It's not for the faint of heart. It's for people who take risks, who are adventurous enough to try something new and those who crave that adrenaline rush.
When I was checking out P1 sale flights, Macau was the cheapest. So before I booked it, I researched bucket list worthy items to do in Macau, and I saw the AJ Hackett bungee jump activity. I didn't think twice. When I saw that the world's highest bungee jump was in Macau, I immediately booked the flight. I knew I had to do it before I turned 25. That's what I thought at the moment. I did not know all the details – price, height, etc. I just knew I had to do it.
A week later, I looked into the bungee jump more. How much it would cost? Where would it be? How would it happen? I WAS SO SURPRISED! It was so expensive. MIND YOU, the value of this jump is no joke. I did not expect it to cost a lot. You can check out their rates.
There are 2 packages:
(A) Bungee Jump, Entrance to Tower, Shirt
(B) Bungee Jump, Entrance to Tower, Shirt, USB with 70 photos & 2 videos (1 normal and 1 GoPro)
What was the point of doing the jump if I would only avail Package A? I needed evidence that I did this, something to remind myself when I get old that I have no regrets in life.
After seeing the price, I really asked a lot of questions:
Should I still do it?
Is it really worth the experience?
Would I really spend that high an amount for a 9 second experience?
If I donated this, how many people can I feed? or send to school?
I could still go to Macau and do other tourist activities. I didn't have to jump. I actually listed advantages and disadvantages. My sister even guilt tripped me a lot. I also thought about how that cost could be put to other use like if I would just save it, donate it to social organizations I support, share it with people I love and many others.
I really thought about this a lot because all the money for my travels and these kinds of experiences are blessings that I worked hard for. I don't ask any from my mom. All these come from my savings for future dreams and needs.
I booked the flight in MAY 2014, but the trip was OCTOBER 2014. I had 6 months to decide, you only need to reserve a slot. They do not require any down payments, so a person can still choose to not do it. And by the way, when you DO pay, there would be NO REFUND. If you don't jump, you do not get anything back (maybe just the shirt and a few pictures of you at the platform). So if you pay, there is no turning back unless you want to waste that kind of money. You're already there, might as well do it, right?
The day before my jump, I had to take my mind off it. I concentrated on my itinerary. I forgot it at times but when the shuttle buses would pass by the Macau Tower, I would just breathe hard and say to myself:
"Bukas tatalon ako dyan…" (Tomorrow, I will jump from there.)
"Ano kaya mangyayari sa akin…" (I wonder what will happen to me…)
"S***"
"Will I be able to do it?"
"Ano kaya feeling…" (I wonder how it feels…)
I slept around 2:00 AM that night, why? Other reasons are explained in my Macau write-up but one reason would be the anticipation of the bungee jump. But I was determined. I would do it. I would really jump.
For first time jumpers, read some tips from AJ HACKETT.
Also read: Macau Tower: A Tower of Adventure, Fun and Entertainment
The jump
The next day, I arrived at the Macau Tower. It was really beautiful. There was a mall inside and different shops. I went to the AJ Hackett counter and gave my reservation details. She was really nice and asked me if I was ready. I immediately said, I'm really nervous. Then I gave my payment. This was it, no turning back. She gave me my membership card and asked me to ride the elevator to the 61st floor.
Wow, 61st floor. Can you imagine that height?
The ride to the elevator is part of the challenge. It was clear glass! You see the view getting higher and higher. When I reached the 61st floor, AJ Hackett employees welcomed me. They asked me to sign an application form, and of course, all those forms saying that the company would not be liable for any danger that may happen to me. I knew I was safe. I prayed a lot to God for this. I trust Him a lot. After signing, they gave me a shirt to change in. I had to change in the locker room and deposit all my stuff. This costs MOP 20 (PHP 120).
When I went to the prep area, a Filipino approached me. He was happy to know I was a Filipina. He asked me if I was excited and if this was part of my bucket list. I said it was. It was really nice, speaking Filipino, genuinely having a normal conversation with a fellow kababayan. It lessened the nerves. There was no language barrier. It helped me calm down a bit. There are 8 Filipinos working at AJ Hackett.
Filipino stars like Kim Chiu, Gerald Anderson and Lucky Manzano have tried the bungee jump too.
After he weighed me, we went to the base area where we were prepped. This was already outside! IT WAS SO COLD! The wind was so strong! When I forgot about the wind, I immediately saw the HEIGHT of the TOWER AND OMG! MATAAS SIYA! SOBRANG TAAS! (It was high! Really high!) I still couldn't believe I was there! I was tearing up a little.
I was third in line. The first guy who will be jumping was already sitting in the PREPARATION CHAIR. The second guy handed me an instruction manual on what to do during the jump.
STEP 1 Lean forward
STEP 2 Pull red string
STEP 3 …………………
When I read this, I really wondered WHAT THE HELL? They would still ask me to do some stuff after the fall? I don't even know what I will be thinking after doing the fall! I just had to figure it out when it was my turn.
The first 2 before me were brothers. They were both Koreans. Three guys were next to me as well, they were all Japanese. I was the only girl in the queue outside.
I had to wait for both of them to FALL before I FALL. I had to watch them DO what I had to DO. Can you imagine the anticipation? THE WAITING WAS THE HARDEST PART. It takes around 30 minutes for everything to be fixed before another person gets to jump.
While waiting, I was just talking to the Filipinos, even the Koreans, to calm my nerves. I asked the Korean next to me why he was doing the bungee jump, and I was really surprised because his answer was deep, and we were just strangers. He said that ever since he was kid, he lacked confidence, he was always bullied and he was very shy. He wanted to jump because he wanted to be more confident. He wanted to take more risks in life. He said that through the jump he could achieve it. He wanted to believe in himself more. I was really surprised by what he shared. He made me think WHY  WAS I REALLY DOING THIS?
At first, I knew I wanted to do this because this was part of my bucket list. I wanted to be more confident too. But the thought that really struck me is IF I DID THIS, I KNEW I COULD ACHIEVE ANYTHING, ANYTHING. And that is something that a lot of people find hard to believe about themselves. I have accomplished a lot in my life so far, I know it. I've been through a lot of challenges, too. This jump was both a challenge and a reward.
When it was my turn, I joked, "Kuya, uwi na ako, maiwan na ako ng flight ko." (I'm leaving. I might get left behind by my flight.) He said, "Tara na, kaya mo yan!" (Let's go! You can do it!) I sat on the PREPARATION SEAT while they fixed all the strings and stuff. He strapped some more harness on me and just talked to me. He asked how it was in Manila. And the first thing that came to my mind was, "Traffic! Sobrang Traffic." Then he said, "Wag ka magaalala, sa pag talon mo walang traffic, tuloy tuloy ka lang." (Don't worry. You won't encounter any traffic when jumping. You'll just go on and on.) I laughed.
Also read: 10 Reasons You Should Travel to Macau for Your Next Getaway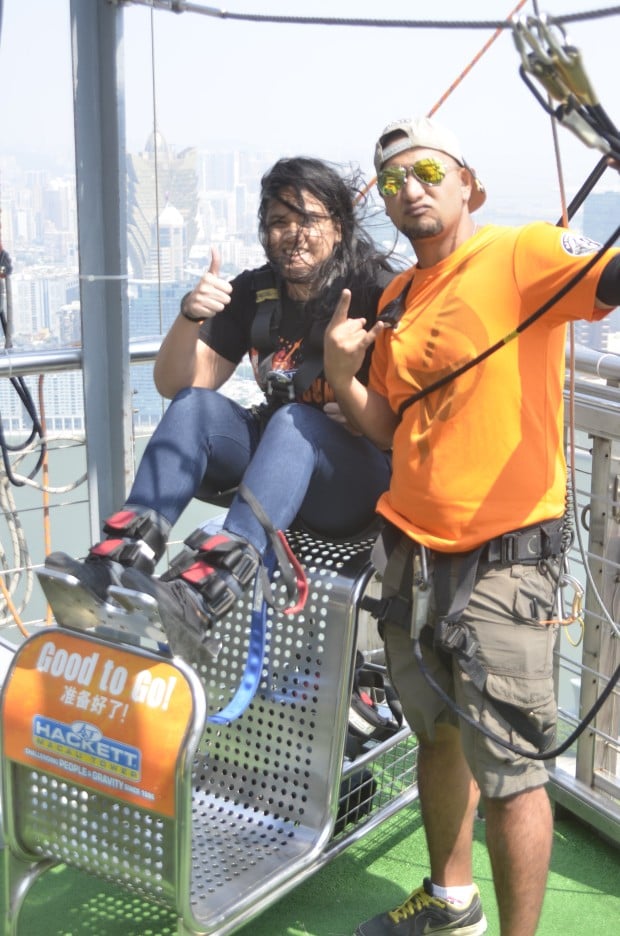 Good to Go? NOPE! 
When I was getting really nervous, the 3 Japanese guys that were next were just cheering me on, telling me to smile and just breathe. Wow! I had a support system. We were all there supporting each other.
KUYA SAID IT WAS TIME. THIS WAS IT. HAAAAAAAAY.
I had to walk to the edge. Can you imagine walking to the edge? Seeing that height? Seeing that view? 61 FLOORS!
The harness at my ankles/feet was very heavy. I could feel its weight. Add that to my nerves, I lost balance. The two Filipinos had to hold me still because I could not stand straight. If I fell wrong, it might be dangerous.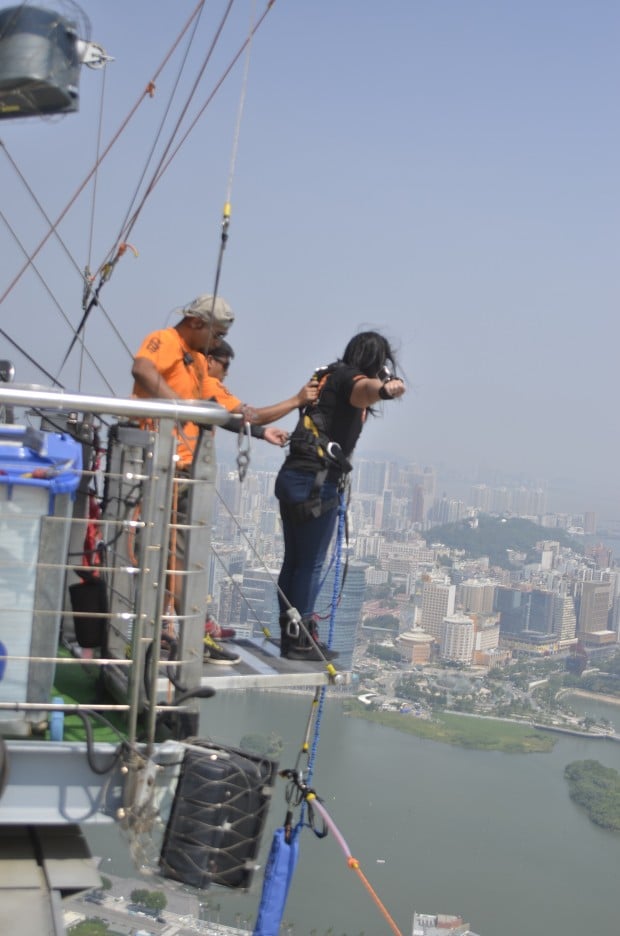 5…4…3…2…1
In my mind, 5 seconds, count 5 seconds, let the fear in and let go.
I raised my arms.
The 2 Kuyas counted. 5, 4, 3, 2, 1. I leaned forward.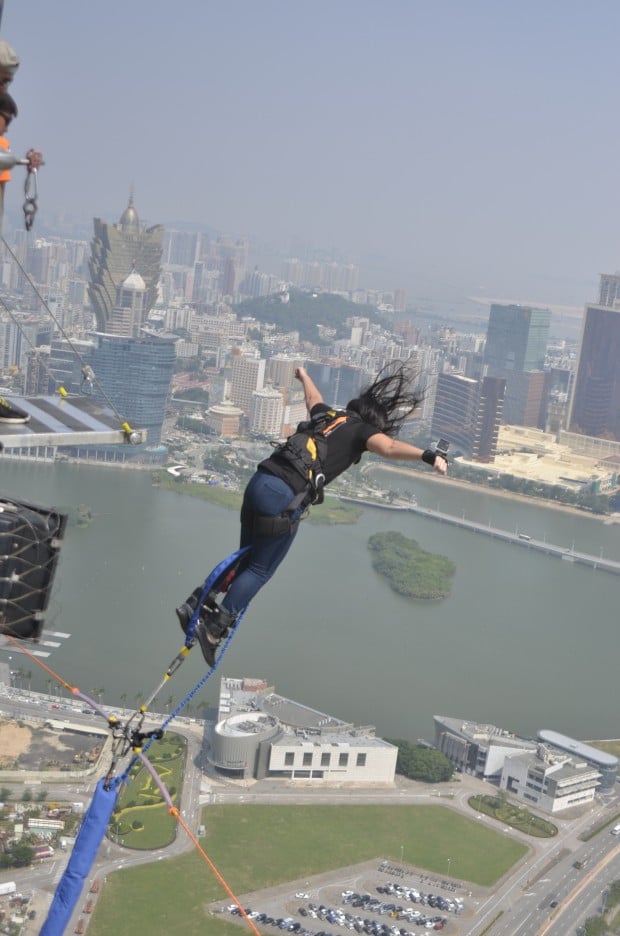 And off I go!
I still cannot explain the feeling.
When I felt the first bounce, I pulled the first string and I was right side up.
I was breathing, my hair was messy, and I just shouted.
I JUST DID THAT. Was all in my mind. This was an amazing, great and f****** experience, I said in my mind.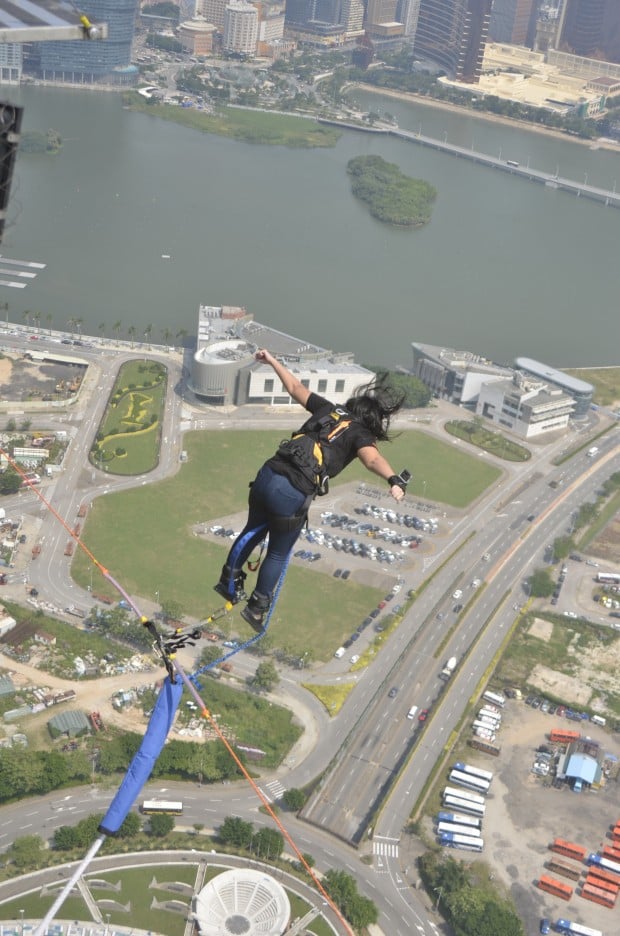 What's happening? Oh I just jumped off at 60+ floor high building!
I was breathing and just shouting at a few intervals.
When I reached the bottom, they removed my harness and asked me to wave at the camera. I succeeded.
I fell.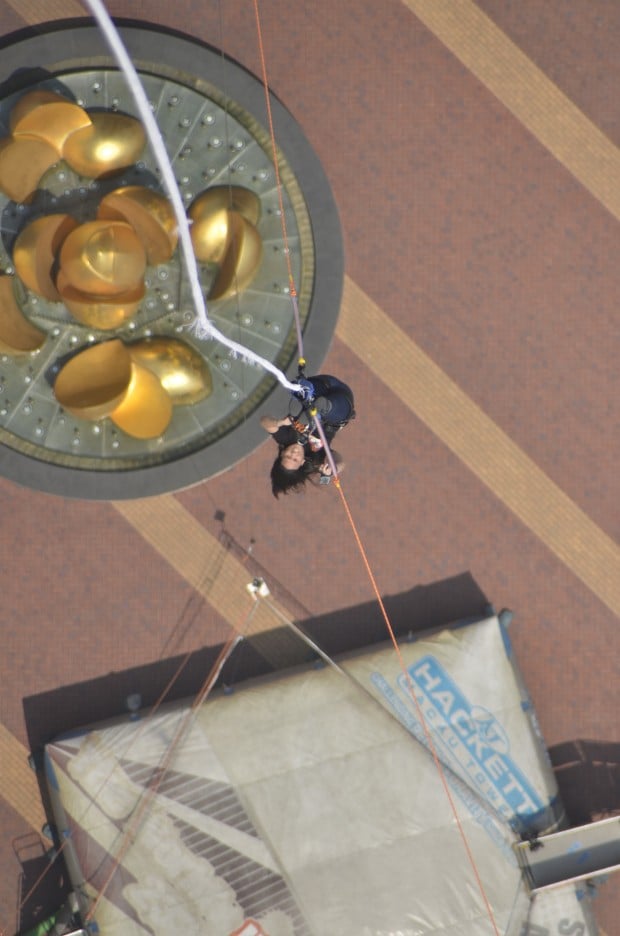 Pulling on the red string! Step 2?
I entered the mall entrance and back to the elevator. A group of American tourists were right behind me and the tour guide said, "Wow, everyone, we are very privileged to have with us a brave survivor. She just jumped off the Macau tower. We now know that girls are truly braver than boys." We all laughed.
Also read: 10 Insane Graduation Trip Ideas for the Hardcore Adrenaline Junkies
Some of them took my picture and took pictures with me. They asked me how it felt like. I told them I don't know and that I was still feeling THAT feeling. They congratulated me like I won an award or something. I thanked them a lot and I was really grateful to them.
This jump was really a grateful experience.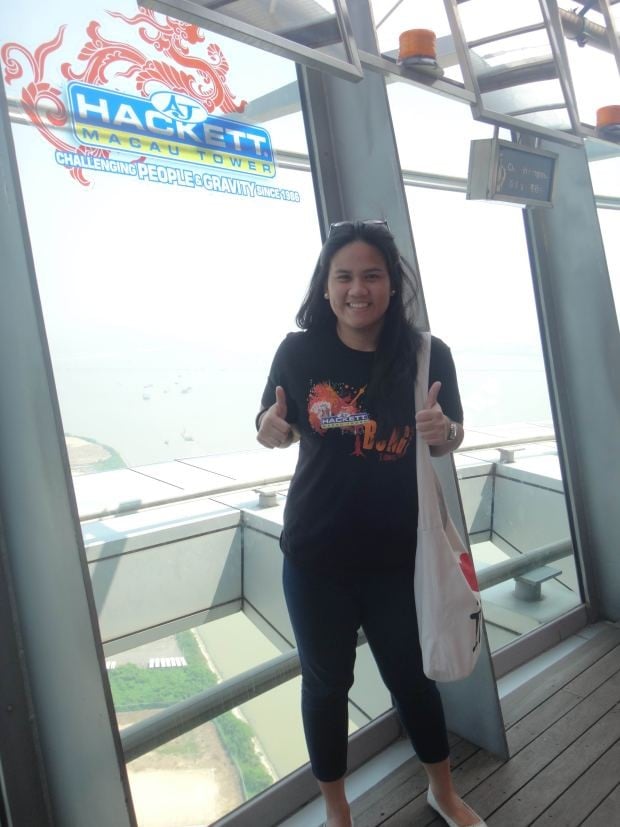 Bungee Jump DONE! Off to the next extreme activity!
BEFORE, DURING and AFTER, I learned a lot. FROM START TO THE FINISH, FROM BEGINNING TO THE END.
No amount of money can ever compensate everything that I learned and experienced. I'm grateful that I took this risk. I am very proud of myself.
In life, our decisions and experiences create our characters, our personalities. Push yourself to make the best decisions, experience the greatest successes and challenges, and never ever doubt yourself.
Push yourself off the edge.
I am very grateful for the money that I paid for these amazing travel blessings (amount is per person):
Macau Tower – AJ Hackett Bungee Jump
P20,360.41+
Macau Tower Locker
P115+
Estimated Total
P20,500
Contributed by Inspiring Grateful Travels.