The moment my boyfriend snagged a cheap flight to Macau, I immediately reacted, "Macau again?! Why?". We've been to Macau in 2012 and going there AGAIN didn't quite appeal to me. I thought I'd regret visiting Macau again, but I guess, like LOVE, it is sweeter the second time around. *insert flying hearts here*
But seriously, I truly enjoyed Macau so much more than expected. Why? Because we experienced a LOT of FUN activities there for FREE. Don't be discouraged by Macau's reputation as an expensive city because I tell you, it's NOT! Read on to know the fun and free things to do in Macau.
Also read: 3-Day Macao Itinerary: Top Things to See and Do to Experience the Best of the City
1. Hop on a free shuttle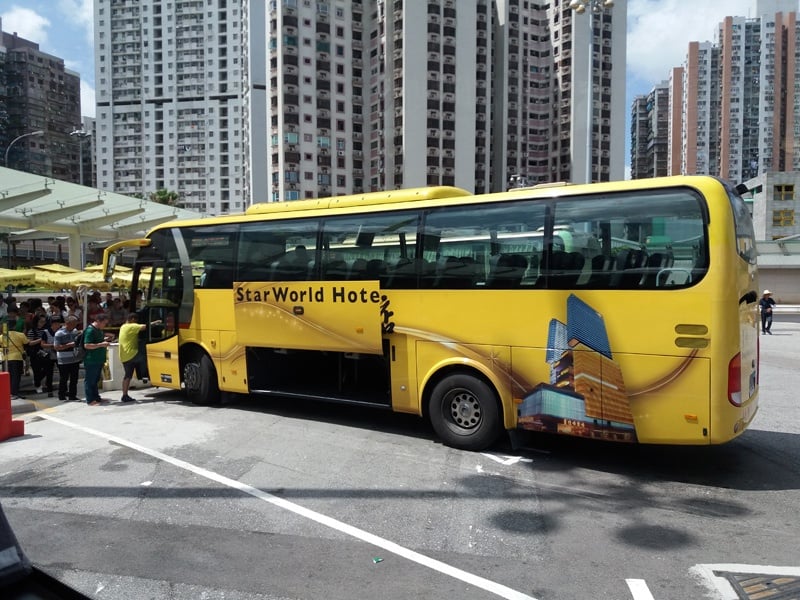 Major hotels in Macau have free shuttle services to and from the airport, border gate or ferry terminal. It was already quite late when we arrived so there were no more free shuttles, but we hopped on one on our last day, from The Venetian to the airport.
Free shuttle services usually run from 10am to 10.30pm. Also, you don't have to stay at one of the hotels to ride their free shuttles. Just hop on a shuttle at a hotel that's near your location.
2. Drop your luggage at any major hotel or casino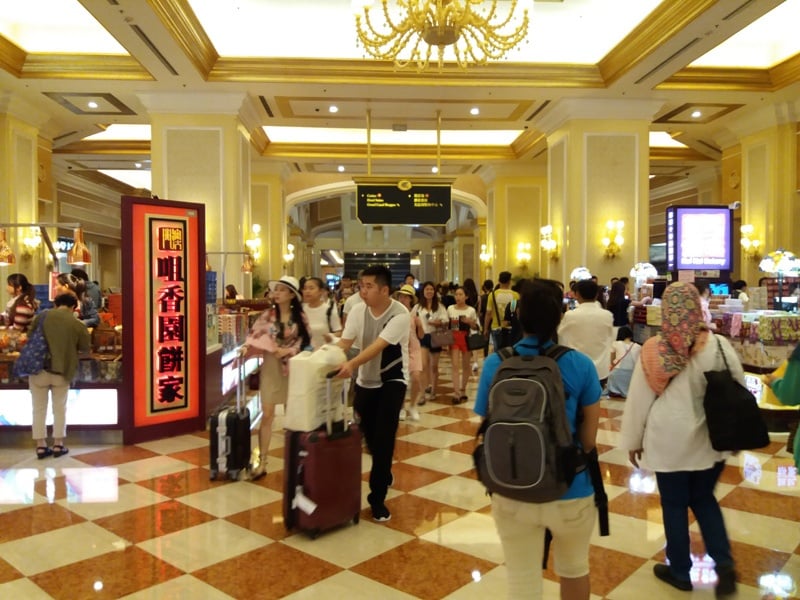 Arrived too early for check in? No worries! Most hotels and casinos have free luggage service where you can just drop your things even if you're not staying in that particular hotel. Yay! Say goodbye to your heavy stuff for a while and enjoy your free time luggage-free!
3. Go hotel hopping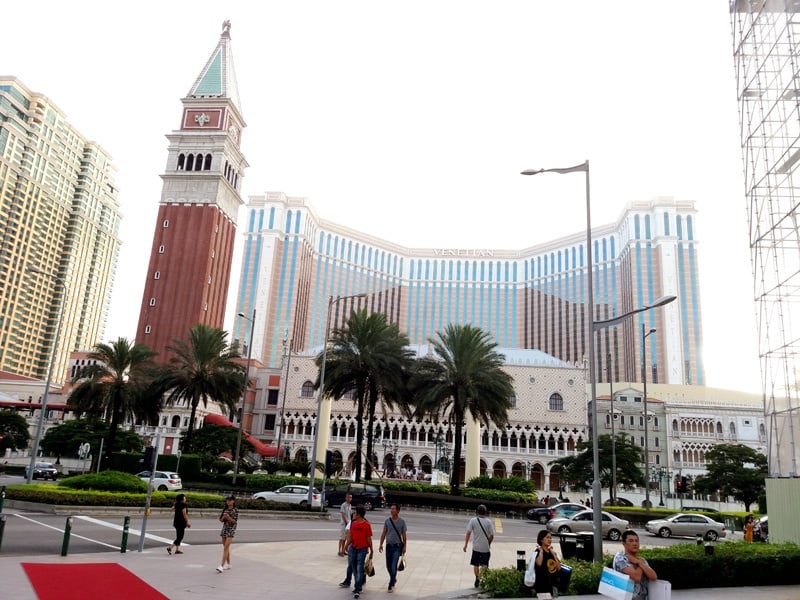 If you've dropped your luggage in a hotel in the Taipa area, it would be wise to hop from one hotel to another! Hotels are interconnected and some are just within walking distance from each other. From The Venetian, walk your way to other resorts and hotels nearby like the City of Dreams, The Galaxy, The Parisian (still under construction), Sands Cotai Central, Sheraton, Holiday Inn, St. Regis, Grand Hyatt, Four Seasons and many others.
Don't be intimidated by the luxurious ambience of these hotels, just walk into their lobby and explore! Most of the hotels also have shopping centres of their own, which brings us to #4.
Also read: 5 Amazing Hotel Experiences in Macao That'll Make You Come Back for More
4. "Window Shop" till you drop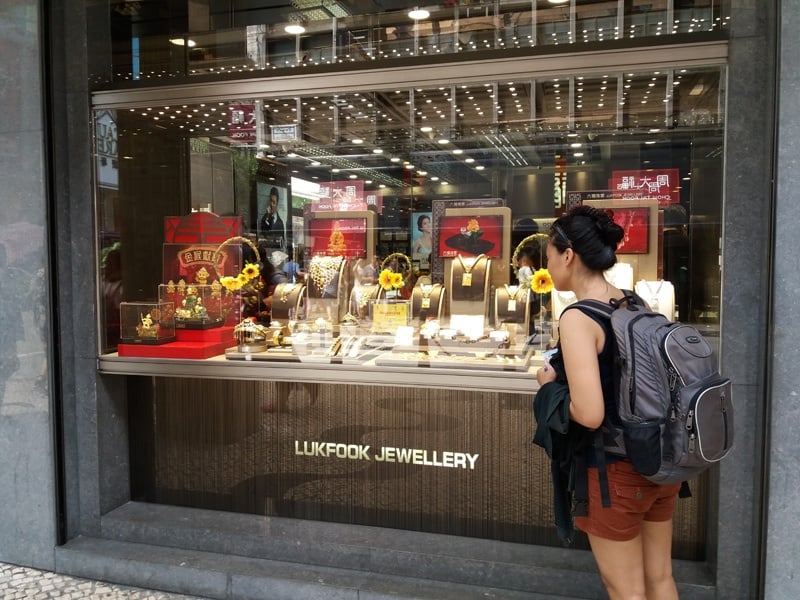 Frugals like me rejoice! One of the free things to do in Macau is "window shopping". I did this all the time. From glistening jewellery to super expensive designer clothes and bags — I can only stare in delight and slightly (really just slightly) wish to buy them. *wink*
5. Act like a PRO gambler in a casino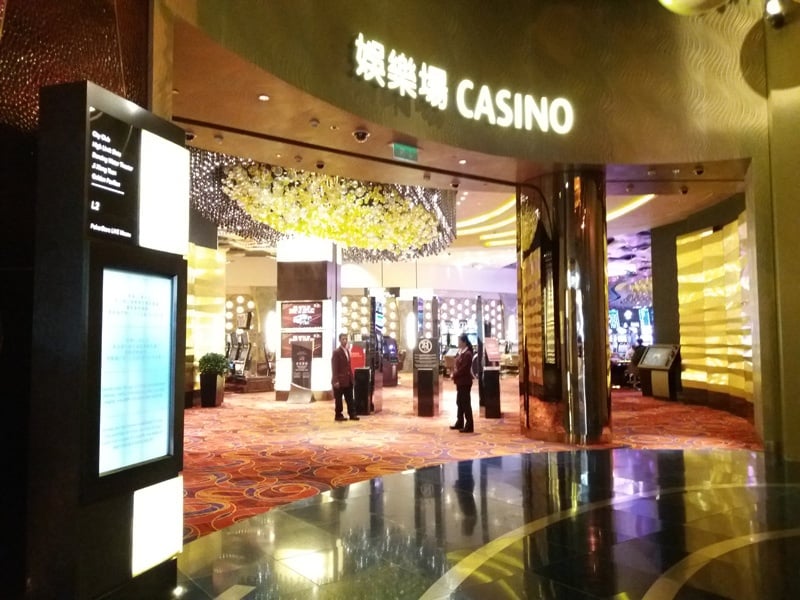 If there's window shopping, there's also casino hopping, which is also one of the free things to do in Macau! Yes, you can act, feel and experience the life of a real gamer or gambler at any grand casino in Macau. You can enter for free even if you do not intend to play, so long as you're 18 and above. Do note that some casinos observe a strict dress code so ask or observe before you enter.
6. Do your own walking tour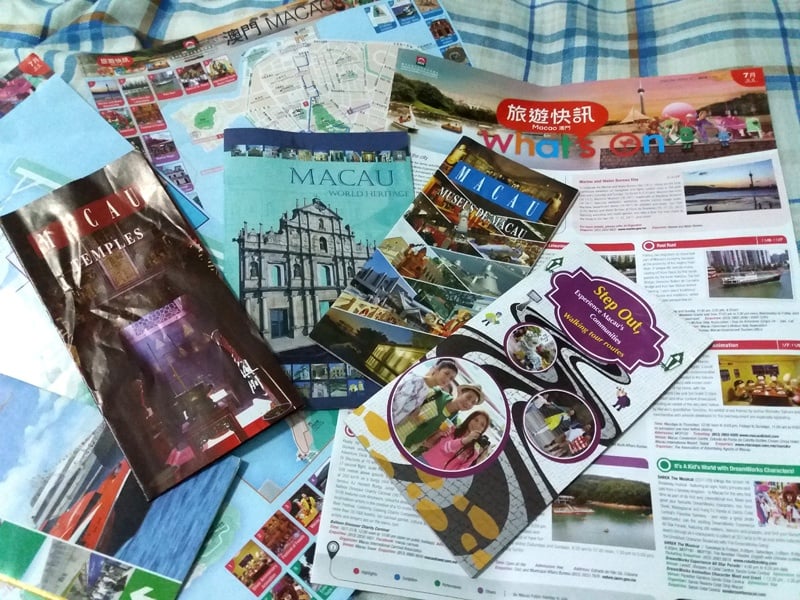 There are so many guided city tours available in Macau, but why pay for a tour guide when you can just walk around the city on your own? With a trusty map by the Macao Government Tourism Office (MGTO), you can follow the trail that leads you to different sites and attractions. Thanks to our Airbnb host for providing all the materials for us.
7. Hunt down all the heritage sites of the Historic Centre of Macau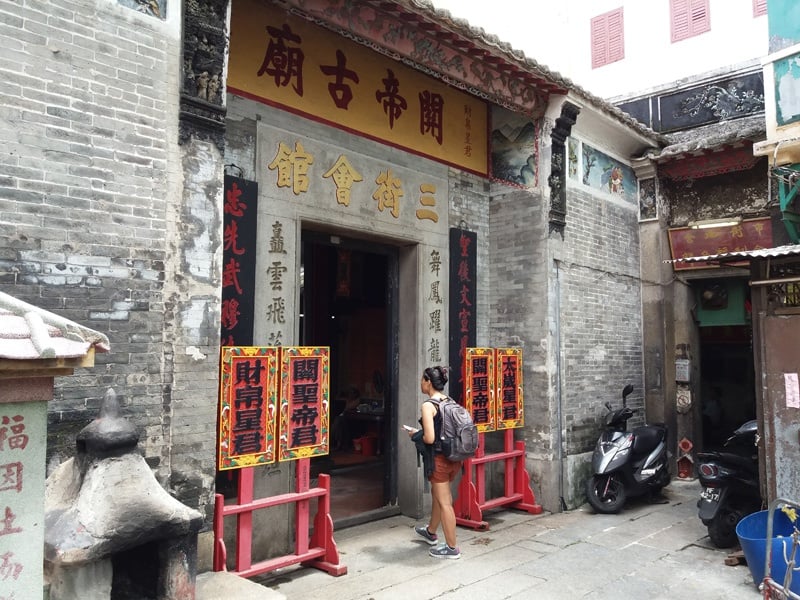 Not to brag about it, but BF and I managed to visit 24 heritage sites scattered around the UNESCO inscribed Historic Centre of Macau. We only missed the Guia Fortress. Would you believe that? It was like a treasure hunt game for us. Visiting heritage sites is truly one of the most enriching free things to do in Macau.
Also read: Macao beyond Casinos: 9 Beautiful Heritage Sites That You Should Visit
Here's a detailed map for your DIY Historic Tour:
8. Catch REAL Pokemons
Pokemon Go is coming really soon in Asia. While you're patiently waiting for its official release, you can catch – I mean spot – REAL pokemons in Macau!
Look, here's Squirtle!
I choose you Krabby!
9. Sample delightful delicacies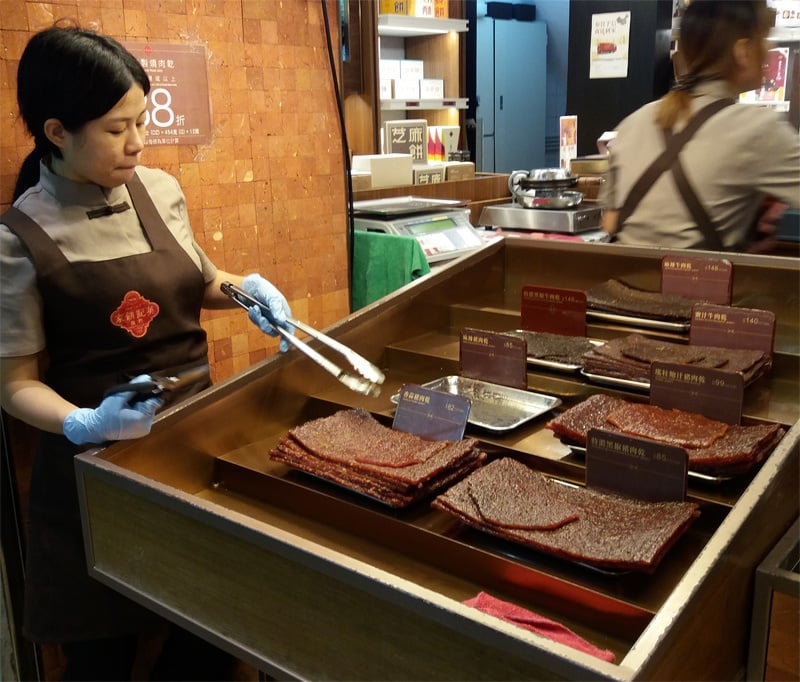 Who doesn't love free food? As you walk towards the iconic Ruins of St. Paul's, many vendors would invite you to taste their products. Don't be shy — pick, taste, and if you don't like it, just walk away. Of course, don't forget to say thank you!
Also read: 10 Delicious Food You Must Eat in Macau
10. Get free souvenirs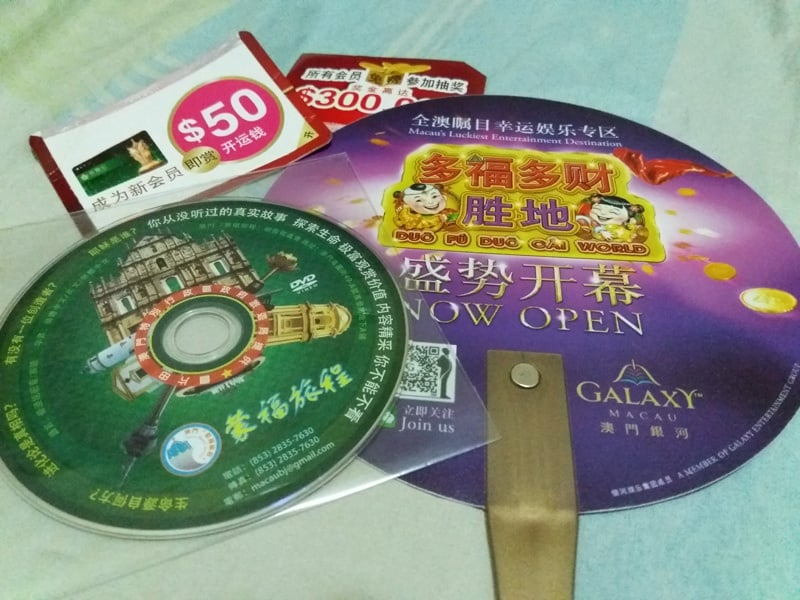 As you explore the city, you'll also get free souvenirs along the way. Free CDs, free pens, free discount cards or free fans. I got a free fan at Gongbei Port, and a CD at the Museum of Macao.
The fan not only saved my life from the sweltering heat, it also makes for a good souvenir since I don't want to buy a memorabilia for myself. Yes, #FrugalForever!
11. Step into mainland China at Gongbei Port, Zhuhai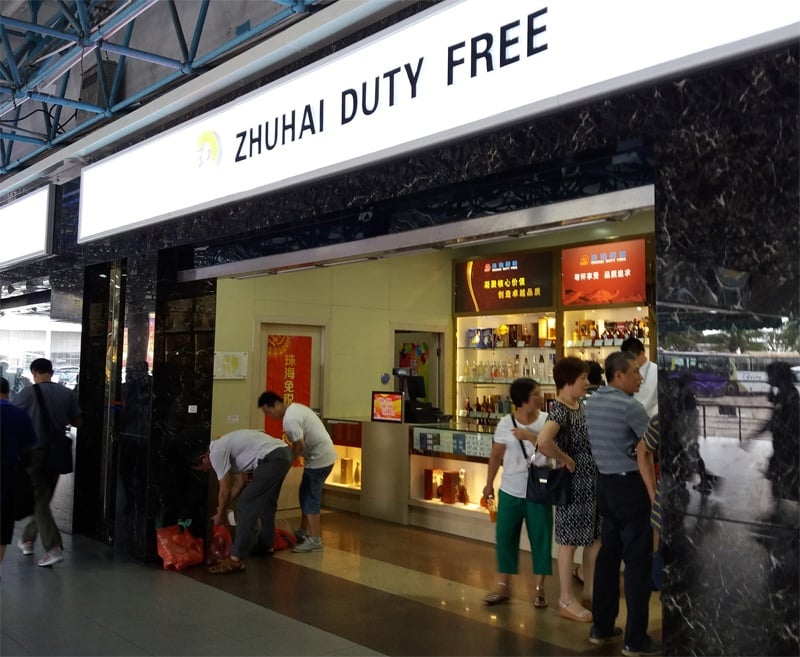 And talking about Gongbei Port where I got my saviour fan, did you know that some nationals can cross the border from Macau to Zhuhai, China through this port? Unfortunately for us, Filipinos are not eligible for a Visa on Arrival, even for day trip to its Special Economic Zone (S.E.Z.). Well technically, we already stepped into mainland China when we exited Macau and entered the Zhuhai border even though we did not get to pass through.
The visa requirements change from time to time so it's best to check your respective embassies. For Filipinos, click here.
12. Exercise in a playground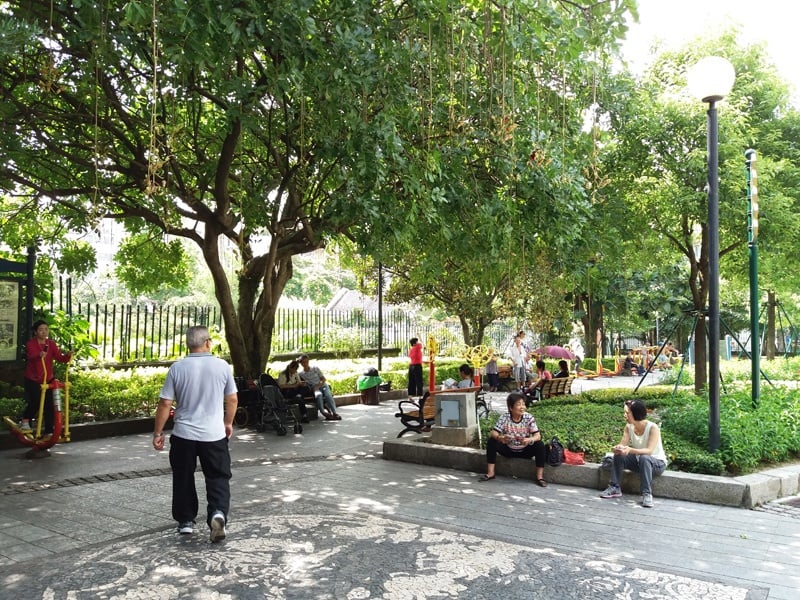 You may join the locals in sweating out those extra calories with the use of their public park facilities. How I wish we have the same number of free workout facilities in public spaces here in the Philippines.
Also read: 12 Kid-Friendly Parks and Play Spaces in the Philippines
13. Learn Tai Chi from the local masters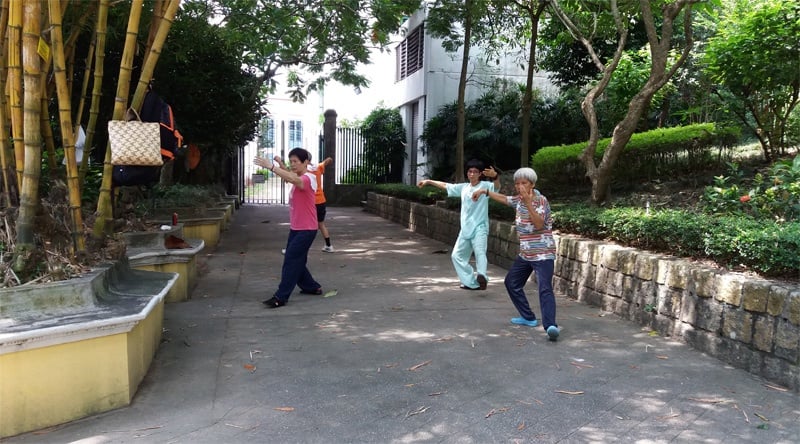 Locals practising Tai Chi in a public park is a common sight in Macau. Why don't you join them? This is another fun and unique way to burn those fats. We did not dare to disturb the locals who were doing Tai Chi when we were there, but it's definitely worth a try!
14. Study in a public library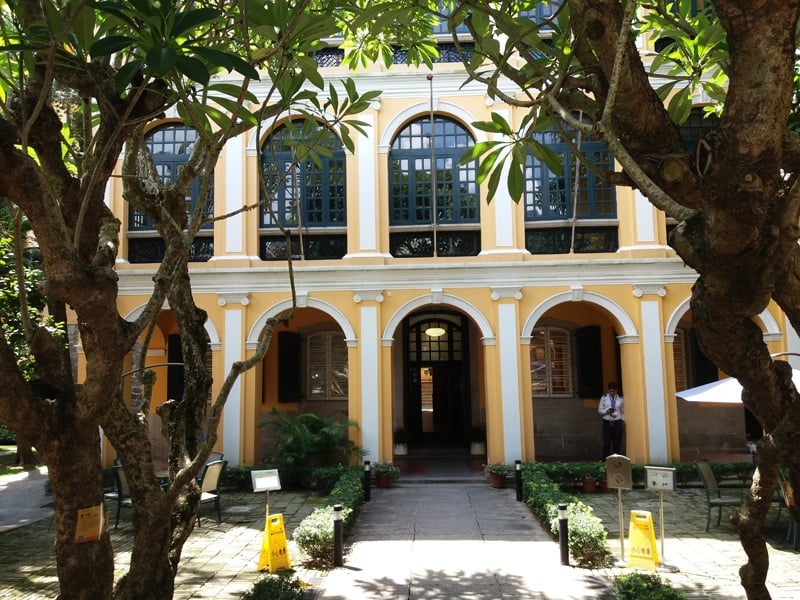 Bibliophiles and geeks, this one's for you! At Sir Robert Ho Tung Library, there are rooms and spaces for you to read a book, study and contemplate. Plus, there's free WiFi and electricity if you ever need to plug your laptops, tablets and other gadgets for studying purposes. The facilities are totally for FREE. BF and I wish to live in Macau because of this.
15. Visit museums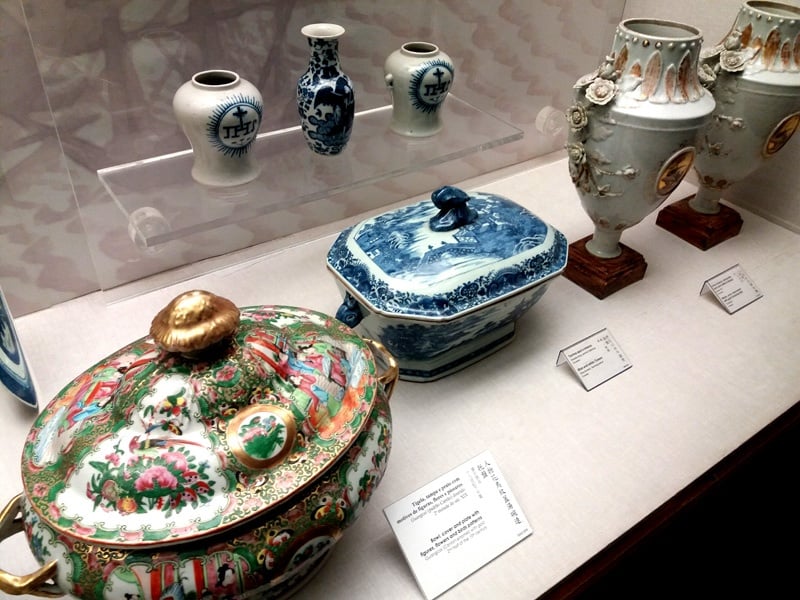 Museums with nominal or even free admissions are aplenty in Macau. At first I thought visiting museums in Macau is boring, but I was wrong. Their museums are highly interactive, visually-pleasing and never BORING. We ended up staying for long hours in museums. To know the official list of museums in Macau, click here.
16. Catch the sunset at Fortaleza do Monte (Mount Fortress)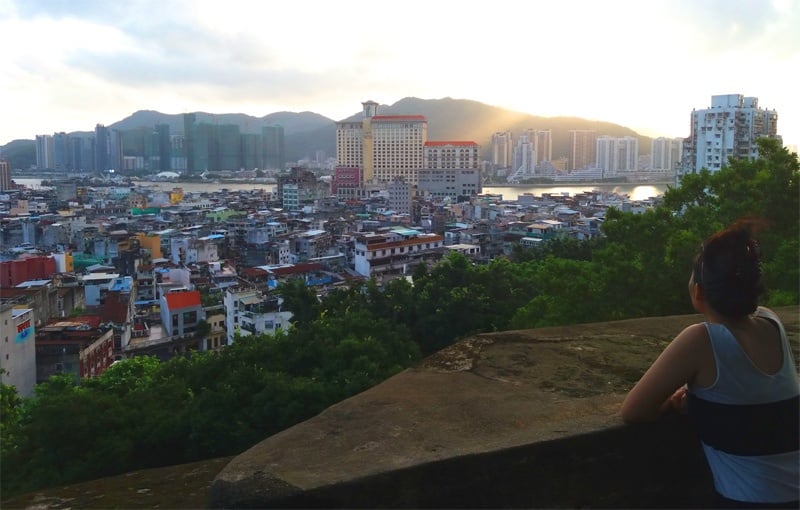 After your photo ops at the Ruins of St. Paul's, head straight to the Mount Fortress located just beside the Ruins. On top, you'll see the remains of old cannons and watchtowers which were used in the 17th century to protect the city from foreign invaders. Today, visitors here may enjoy a panoramic view of Macau, do some exercises or wait for the stunning sunset. Mount Fortress also houses the Museum of Macau, so if you're too early for sunset viewing, you may kill time and learn something concurrently inside the museum.
17. Get LOST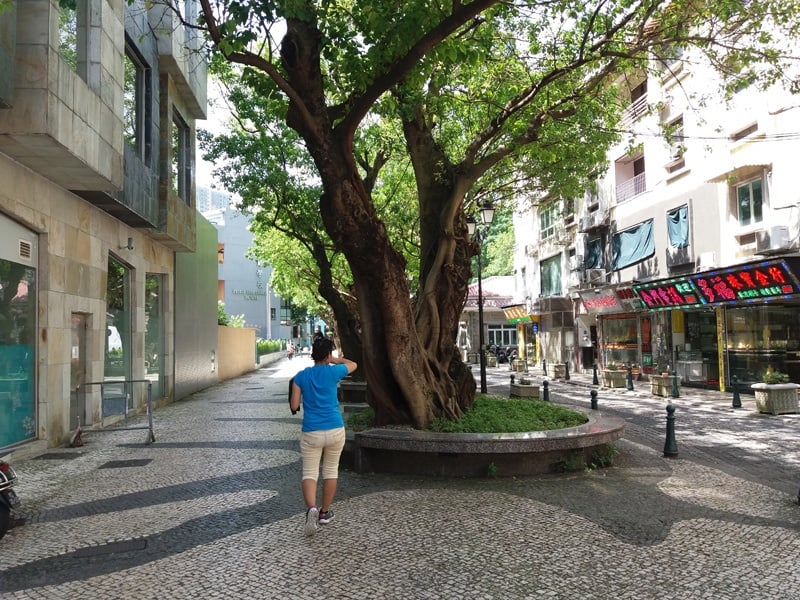 Seriously?! Who wants to get lost? Yes, getting lost while travelling could really test your limits — physically, mentally and emotionally. But for me, the pain is truly worth it! This is the BEST and most unconventional way of experiencing the REAL Macau. You get to explore the remote alleys with quirky finds, taste authentic, non-commercialised food, and best of all, you get to truly immerse in the locals' way of life, behind all the glitz and glamour of this grand city.
Also read: 7 Exciting Events and Festivals in Macao You Don't Want to Miss
There you have it! I hope these free things to do in Macau will add more colour and excitement to your trip soon! Enjoy!