Macau is known as the Vegas of Asia and it's only a mere 62 km away from the bustling metropolis of Hong Kong. Easily accessible by flight, ferry (from multiple locations, the most common of which is from Hong Kong) and land (usually through the border of Zhuhai in Mainland China), Macau is an incredible place to visit. It is a cauldron of diverse cultures, beautiful scenery and gob-smacking delicacies.
For those of you who may be heading to Macau for the first time (or revisiting it) soon and are not quite sure what you should do there, fret not! Having travelled to Macau a few times all within the past year, I have devised a comprehensive list of 17 must-do things for the ultimate Macanese experience in Macau! So let's get this started!
Top things to do in Macau for first-timers
1. Hop between extravagant casinos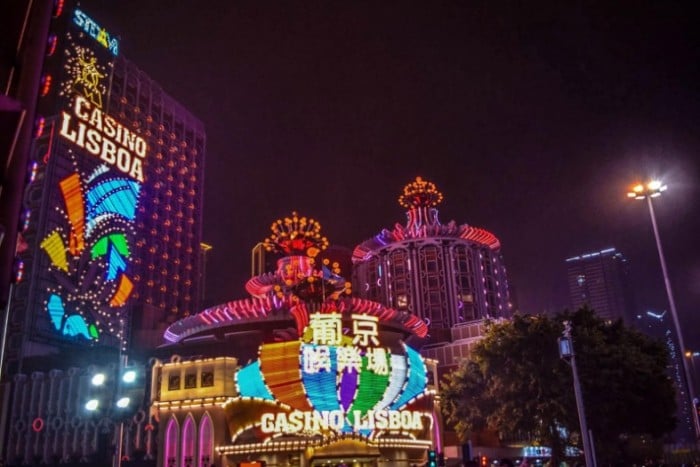 As is the case with Vegas, when one mentions 'Macau', most often, people tend to think of the flashy, dazzling lights emanating from the many casinos in Macau. So, obviously, we start off the list with exactly that!
There are plenty of casinos in Macau, and many of them are so beautiful that the gambling isn't even the main attraction. The most popular ones include the Grand Lisboa, The Venetian Casino, and Galaxy among others. In fact, the Grand Lisboa is an iconic structure of the city, being one of the oldest and most long-standing hotels in Macau. You will often find many tourists stopping in front to take pictures, which for me, is pretty weird for a casino! But when the lights go on at night, it's easy to see why this is a thing! And because most major casinos in Macau are located in hotels, there are many free shuttle bus services between the ferry terminals (Outer Harbour and Taipa) and the casino hotels. There also specialised shuttle buses between the aforementioned casinos as well.
So do take advantage of the free shuttle buses to visit the many beautiful (this is a strange way to describe a casino but meh) casinos and for those who are feeling lucky, well, go right on ahead! Just remember to challenge lady luck responsibly! (i.e. have enough money to make it home, at the very least!)
2. Have a 'Venetian' (pun intended) shopping experience
Speaking of the Venetian Hotel & Casino, there's a reason why it's called the Venetian. How do I put this into words? There's a shopping mall inside the hotel that is modelled after the city of Venice. The 'streets' are made of smooth cobblestone, the ceiling is painted to look like the afternoon sky, the buildings have a strong Renaissance era feel to them and did I mention they have a canal? Yes, an actual canal, with flowing water and gondola rides with a crooning boatman and everything!
The place itself isn't some pea-sized mall either. It's a full-sized shopping paradise filled with a variety of speciality shops and restaurants. From snacks and classy meals for two, to well-known casual sportswear and even luxury designer brands! I spent close to an hour in the mall, not looking for anything particular to buy, and still enjoyed the atmosphere there.
You could also get lost pretty easily in this almost city-sized mall, so do take note of the many guide maps available throughout the mall and make sure to take plenty of photos! The place looks so realistic that a few…ahem…touchups…can go a long way in fooling people into thinking you were somewhere else entirely!
3. Enjoy the many exciting shows on offer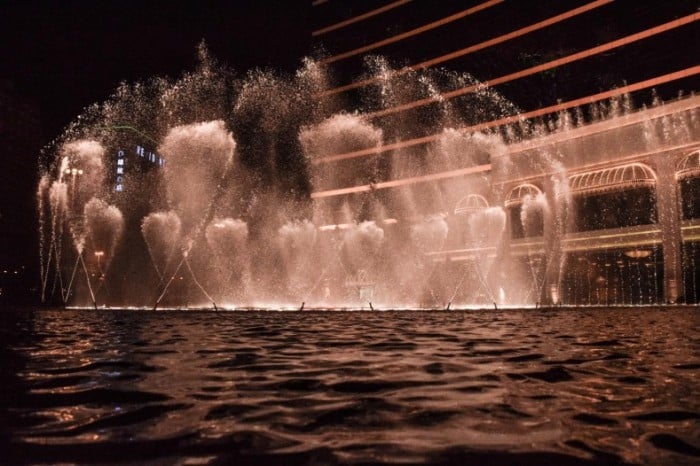 Now, it goes without saying, cities with casinos are often known as cities of entertainment. Macau goes the extra mile to live up to its 'Vegas of Asia' nickname and often puts on some incredible shows and performances not unlike the ones in Vegas!
From singing and dancing performance, to magic shows and opera, you could easily fill an entire day with the many different types of performances you can find around the city! For example, there's the light show in the foyer of the Galaxy Hotel, which never fails to leave me completely in awe.
Here's a funny story, I was wandering around the Wynn Hotel (not far from the Grand Lisboa) when I had my back to the huge pond which sits opposite the hotel entrance (more on that later on in the article) I think it was around 7.30pm when the music suddenly stopped and a couple of pyrotechnics went off all of a sudden around the pond. I turned, and I was greeted by a rather mystical performance of water art (I just butchered the technical term of the performance, I'm sure), the sight of which is shown in the photo above. Just goes to show, you never know what to expect when in Macau and a 'performance' could break out anywhere at any time.
4. Stroll through Senado Square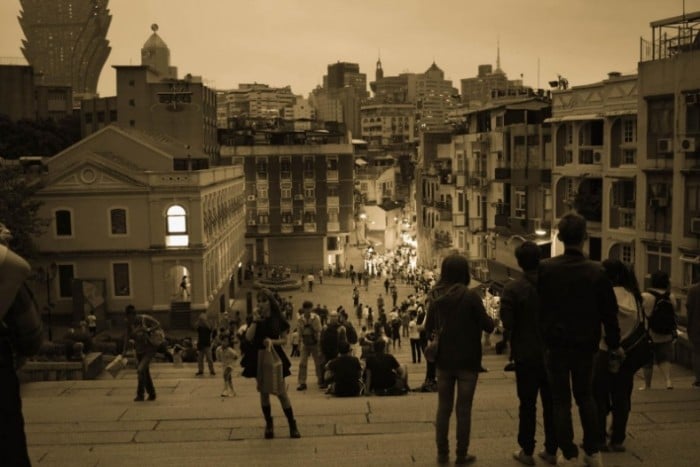 Senado Square is perhaps Macau's most recognisable public spaces/centres. It is filled with many shops, heritage sites, restaurants and various snack and souvenir vendors. The streets inside Senado Square are a little narrower than usual and the paths are more maze-like but still easily navigable. You can window shop, stop by and sample same good dried meat at various shops, linger at a café and soak up the atmosphere and so much more.
The main square is also decorated accordingly based on the current festival of the month/season and it's simply a rather photogenic place ideal for great shots. The food there is also excellent, with many shops even boasting decade/century-long history and tradition! 
5. Gaze in awe at the Ruins of St. Paul and Conquer Mount Fortress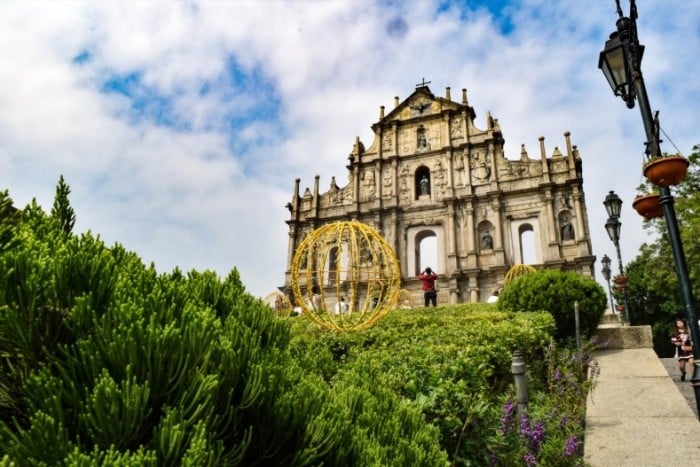 Located within Senado Square is arguably the most famous historical structure of Macau: the Ruins of St. Paul. It is a world heritage site and it receives a large number of visitors daily! You'll be hard pressed to find the ruins (or even the steps leading to the ruins) empty of tourists trying to take a good picture.
The Ruins of St. Paul overlook Senado Square and if you stand atop of the stairs, in front of the ruins, you can get a semi-aerial view of the busy square below. A fun activity I always like to try when visiting is to try to find a unique angle to photograph the ruins.
You could try from the bottom of the stairs, from the side, from a random alleyway in Senado Square. Psst, these angles make for much better pictures than the standard 'stand-in-front-of-the-attraction-and-smile' most people take!
While you're there, you could also try climbing to the top of Mount Fortress (another world heritage site which is in itself another activity of its own) located right next to the ruins. It represents a crucial part of Macau's history and houses many artefacts (read: cannons) from the 1600s!
Apart from the Ruins of St. Paul and Mount fortress, a temple dedicated to the deity Ne Zha can also be found within the vicinity, right behind the Ruins. So that's three bird with one…cannonball? I got that phrase messed up, didn't I?
6. Hike up Guia Hill
Apart from the aforementioned Mount Fortress, Guia Fortress is another popular tourist attraction which forms an integral part of Macau's Historic Centre of world-heritage sites.
The fortress features a chapel, an old military fort and the iconic Guia Lighthouse. Constructed in the 1600s, the fortress, much like most of Macau's architecture, is largely influenced by Portuguese architectural styles. Built on Guia Hill (duh), the fortress is actually geographically located on the highest point of peninsular Macau, offering breathtaking skylines and views of the cultural cauldron that is Macau!
There are multiple murals within the chapel which further exhibit Macau's connection to both western and east Asian cultural roots and are definitely worth a visit.
7. Pay homage to Matzu at A-Ma Temple
Adding to the list of historical sites is the A-Ma Temple, a Taoist temple built in the late 1400s, making it the oldest Taoist temple in the whole of Macau.
The temple was built in dedication to Matzu, the patron goddess of seafarers and fishermen, which makes sense, seeing that Macau is a port city! There are legends which claim Macau got its name from the temple when a few Portuguese seafarers misheard the pronunciation of the locals in describing the temple and just ran with it when naming the port city.
There are a number of interesting models and pavilions to be found here and the fact that it's located not too far from a busy street just gives off this mystique of seclusion and hermitage. Well, wouldn't hurt to pay homage and to ask for a safe journey back to Hong Kong (if you came by ferry), right?
8. Visit the Casa Do Mandarim (Mandarin's House)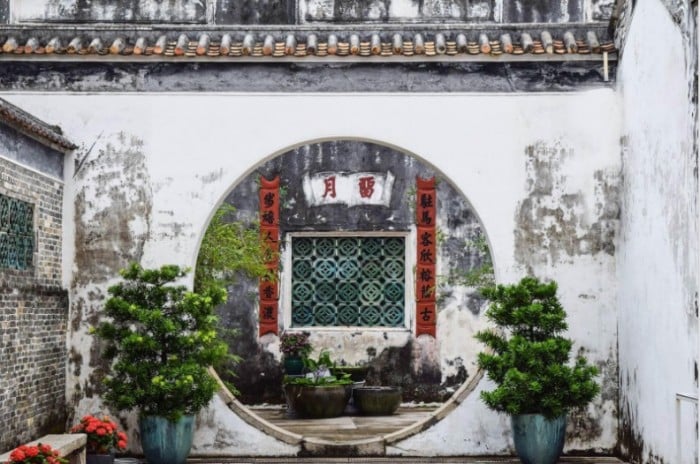 The Mandarin's House is a direct link between modern day Macau and its humble, historical beginnings. Once owned by a late Qing dynasty reformist and scholar, Zheng Guanying and his family, Casa Do Mandarim is now a free museum/historical building which showcases the history of Macau.
I stumbled across this place while looking for something else and I was pleasantly surprised by how well preserved the place was. You would feel as if you'd just taken a step into the distant past. The place is quiet except for the chirping of birds and running water. The interior of the house is kept just the way it was hundreds of years ago and the furniture in some rooms is untouched, offering visitors an insight into the way people used to live in the past.
I highly recommend the Casa Do Mandarim/Mandarin's House, especially for those who love cultural heritage and rediscovering the historical roots of a place.
9. Hunt down the rest of the monuments which make up the Historic Centre of Macau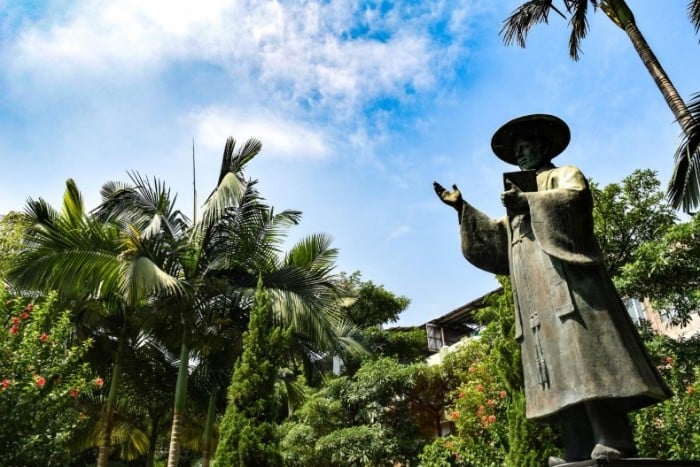 I could easily have filled this entire article with a list of cultural heritage sites in Macau but that wouldn't be fun. Instead, here's a fun challenge to try when you're in Macau: hunt down all the historical monuments/places/parks which make up the Historic Centre of Macau. Here are some places to start you off: the Dom Pedro V Theatre, St. Lawrence's Church, Casa Garden, the Moorish Barracks…
Including the ones already mentioned in this list, there are no less than 20 locations and monuments to find, so good luck!  
10. Furry Fun @ Seac Pai Van Park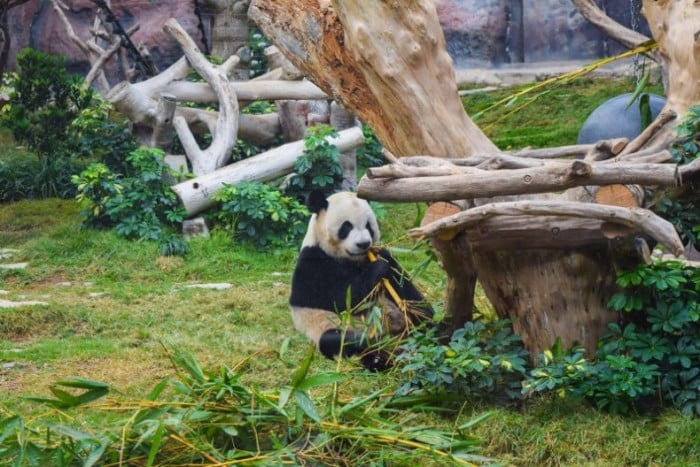 I suppose one of the downsides of being so close to a metropolis like Hong Kong is that some attractions get easily overshadowed by the more famous ones from across the Pearl River Delta.
Many people know about the giant pandas in Hong Kong's Ocean Park but few realise that Macau also houses a pair of those cuddly, but sadly endangered species. Seac Pai Van Park is an ecological park and apart from being a tourist attraction, plays an important part in educating visitors about nature conservation.
It houses many land and aquatic animals but its main attraction is the giant panda viewing pavilion which houses two giant pandas. Visitors can spend a maximum of an hour viewing the pandas (no flash photography, of course) and although it seems weird to simply view pandas for an hour, the bears more than make up for it with their often hilarious antiques. I once watched as a panda scratched its butt on a tree for a good 10 minutes. It was awesome. Ahem.
Do take note however that the pavilion does its best to mimic the ideal living conditions of the pandas, so do bring an extra jacket as it can get pretty chilly inside.
11. Visit the Fisherman' Wharf…or not?
Oh boy, this one's a slippery subject. I dueled with my conscience for quite a while before deciding to give this place the benefit of the doubt and put it on this list anyway.
Macau's Fisherman's Wharf is an iconic attraction (probably why I've gone ahead and included it) but…it doesn't really live up to its reputation. It's basically a sort of themed park, as in the place is divided into sections which all follow a different theme. There are restaurants, shops and models of famous structures such as the Roman Coliseum and not to mention a brilliant view of the waterfront.

You can get a few fun photos here, especially if you have kids, and many of the themed restaurants and bars serve up a mouth-watering menu. However, despite the themed sections and somewhat atmospheric feel of the place, Fisherman's Wharf honestly is a little bit lacking in terms of attractions.
If you find yourself short on time, it'd be best to just stop by here for lunch/dinner and then move on. But if you do have time to spare, I bet you can come up with some pretty whacky photos in this place.
12. Get your adrenaline pumping at the Macau Tower
Regardless of how you arrived in Macau, be it by plane, ferry or otherwise, you'll definitely always be able to catch a glimpse of the 338m tall Macau Tower.
You could take a few pictures of the dizzyingly tall structure and move on or you can (if you have the courage) challenge the world's highest bungee jump from a building. Yes. Jump more than 200m above ground and plunge towards the ground at an insane speed only to have death's doors slammed shut just before you get close enough to peer into it.
Korean celebrities like Song Jihyo of Running Man, Apink's Jung Eunji (a.k.a bae) and actor Lee Dong Wook have done it. I…am in the midst of collecting money to attempt it (not the most economical of activities). Apart from the bungee jump, you could also take a relaxing walk around one of the highest floors of the tower. Except you're walking on a narrow platform on the outside and held only by a suspension rope.
If there are any adrenaline junkies among you, definitely pay a visit to the Macau Tower! The activities there are sure to be to your liking.
13. Visit the many museums of Macau
Throughout this article, I've kept saying that Macau is a historical city, and that is best exemplified by the many museums the city has.
You have the usual history and art museums, sure, but Macau also has a variety of special themed museums. For starters, did you know that only port cities have a Maritime Museum? Apart from that, because of the religious influence of the Portuguese colonial era, there are many Sacred Art Museums in Macau as well.
But perhaps the two most popular museums are the Grand Prix Museum and the Wine Museum. I won't be divulging too much about what those museums are about (the names should be obvious enough) but trust me, they're pretty fun and are definitely unique compared to the usual museums you visit.
Also special mention goes to the Taipa Houses Museum in Taipa Village which is housed in a set of old residential buildings showcasing artefacts from the colonial era.
14. Discover the urban parks in Macau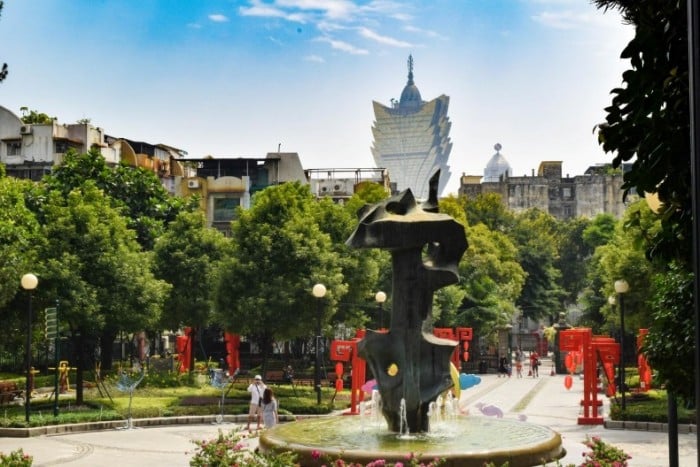 I've always maintained that Macau is a balanced city of modern infrastructure and enough quiet and natural spaces for those needing a quick reprieve from the bustling urban life.
In Macau, you'll find many large and active urban parks to stroll about appreciate some peace and quiet. Already mentioned on this list is Seac Pai Van Park but that's a more touristy selection. For the true 'local' urban park, try the Sun Yat Sen Park or Camoes Garden among others.
Often, these parks are more than just trees, benches, and locals practising taichi. Many of the parks house monuments dedicated to historical figures who contributed to the cultural development of Macau and most of these parks also double up as a sort of mini-zoo (usually aviaries).
It's a good activity to do when you're tired of exploring the crowded tourist spots in Macau and the parks will definitely leave you feeling refreshed!
15. Laze the day away on the sands of Hac Sa Beach
What's a port city without a good beach?
Hac Sa Beach is the largest natural beach in Macau and one of the top tourist destinations in the summer. The beach got its name from the natural black sand on the beach (Hac Sa means black sand in Cantonese) and nothing beats a good beach day, am I right?
However, because the beach has been eroding for the past few years, the Macanese government has filled the beach with some yellow sand to prevent it from disappearing completely. So, the sand isn't as purely black is it used to be, but the beach still retains its relaxing vibe.
As with most beaches, a worthwhile activity would be to relax and laze on the beach and catch the sunset over the horizon. Ahhhhh. Perfect.
16. Go on a photography run at night
So, remember the Wynn Hotel that I mentioned way back at the start of the article? Psst, scroll back up and have a look, I won't judge.
Well, there was a reason I was there when the water show caught me by surprise. You see, the huge pond in front of the hotel, for those who know how to work a camera, serves as a good prop for an immensely beautiful photograph.
When the conditions are optimal and the camera settings are just right, you can capture the entirety of the Wynn Hotel reflected perfectly in the water. My attempt did not go too well, all things considered. but I'm sure the better photographers reading this can do a better job.
My point is that when the sky turns dark and Macau lights up, the city is a beautiful symphony of lights perfect for a night photography tour. The Wynn Hotel and the surrounding area is one ideal spot. The Kun Iam Statue which overlooks the outer harbour near the Macau Science Center is another great place for night photography.
Macau's nightlife is not all about casinos and clubs, whip your cameras out and take a walk when it gets dark. You'll be fully rewarded!
17. Go on a Macanese food adventure @ Taipa Village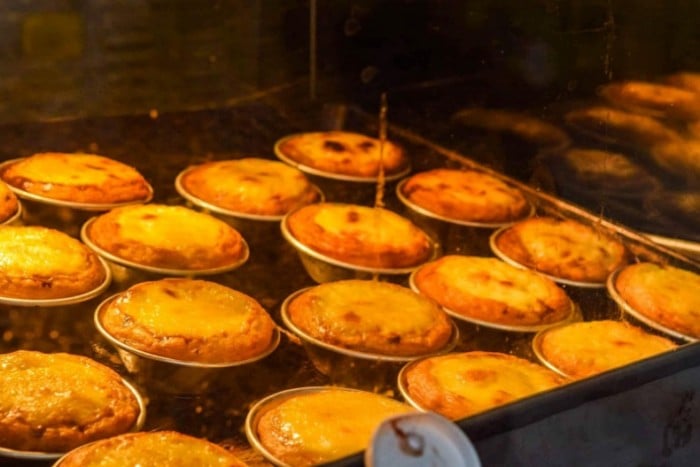 And last but not least, how could I forget the glorious street food of Macau? In fact I think they deserve an article of their own but we'll see.
A good place to hunt for the most authentic and delicious street food, in my opinion, is Taipa Village. Well, it's not technically a village anymore but it is still more dated than the area around Senado Square for example.
You can sample many local favourites such as the famous Portuguese egg tarts and pork buns. There was also a store selling musang king (durian) ice cream and many more selling traditional Chinese style dried meat. It can get quite crowded sometimes because of the narrow walkways in Taipa Village but the food is excellent and the experience is superbly 'foodgasmic'.
They say that the best way to understand the culture of any location is through their food, and you'll certainly find that in abundance in Taipa Village.
18. Fawn over lotus flowers at the Macau Lotus Flower Festival
Every year, Macau pays homage to the flower featured on their flag at the Macau Lotus Flower Festival, which is already into its 19th edition. Every year in June, the week-long event sees major areas and sightseeing spots in the country bloom with thousands of lotuses, with the main venue at Carmel Garden. Also tying in with the festival are dishes featuring the holey tuber, and can be seen on many special menus in restaurants across Macao.
19. Tuck into mutton hot pot
While Macau is warm most of the year, it does get chilly between October and March, and this is when the locals swarm hot pot restaurants. While there are no lack of hot pot places in Macau, one of the more unique and popular iterations of it is mutton hot pot, where chunks of mutton and other ingredients like lamb are dunked into a nourishing herbal broth. Traditionally heated over coal embers, it is only available during the colder months so do try it when you're there!
Also read: Macau for FREE: 17 Fun Things To Do that Cost Absolutely Nothing
A day trip is hardly enough
When I made my first solo trip to Macau last year, my family questioned the length of my stay, saying there's not much to do in Macau. I've now visited Macau three times and still I've only completed about 70-80% of the things on this list personally.
A day trip is definitely not sufficient to fully experience Macau and the many cultural gems it has to offer. So don't just think Macau is casinos and flashy lights, there's so much more to the place. In fact, you should consider it as your next destination so that you too, can check everything off this list! And maybe add a few more on it while you're at it!