Contributed by Wanders of Eve
Mention Cambodia and Angkor Wat almost immediately comes to mind. Much so when I saw it with my very own eyes, I was blown away. For most travellers, they go to Siem Reap for temple hopping, food indulgence, cultural immersion or drinking the night away in Pub Street. It is an inviting tourist destination that by merely looking at the throngs of remork drivers, you can almost imagine them in a jovial mood saying, "Have a break, have a Tuk Tuk". But Phnom Penh? I had no idea except for the travel stories I read and heard about its horrible past under the Khmer Rouge and how it was once known as the Pearl of Asia during French colonisation.
Also read: 13 Photos that Show You the Beauty of Siem Reap Beyond Angkor Wat
I travelled to Siem Reap last December 2016 for a holiday. Two months later, I would find myself in Phnom Penh for a 4-day business trip. It was a meeting cum team building participated by the company's local offices from Southeast Asia. On our way from the airport to the hotel, I noticed quite a similarity to Manila: traffic jam.
The two-day meeting for reports and discussions took place in the hotel. On the side, I wondered how the city looks like. I only saw a glimpse of it from my window when I watched the sun set on the second day. I wondered if the street vendors also sell my favourite one-dollar fruit shake like what I had back in Siem Reap. I wondered what story this city is eager to tell. The first two days went by swiftly.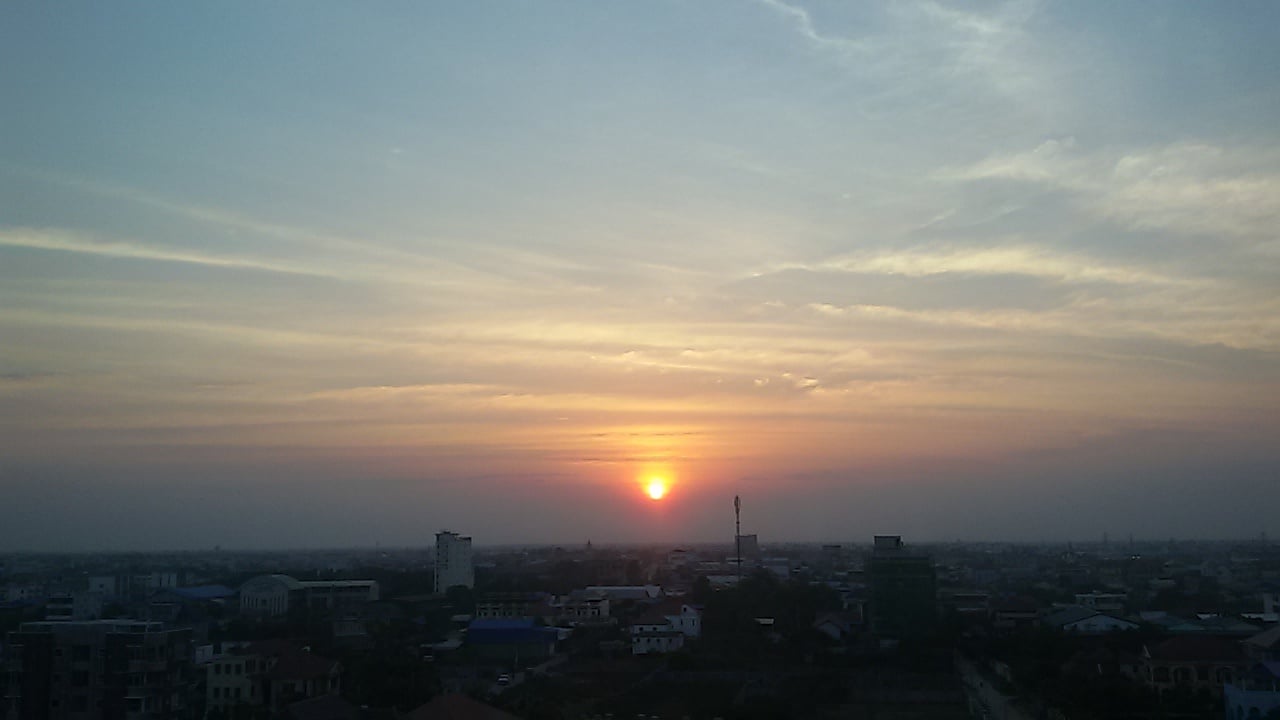 Watching the sunset on the second day | Image credit: Wanders of Eve
Little did I know the third day would turn out to be the highlight of my trip. We are to donate 101 bikes to underprivileged students in Chea Sim Angkor Chhay. Along the way, I caught a glimpse of what Phnom Penh looks like. There is a significant number of rising infrastructures, locals rushing about, school children here and there, not so many trees and greens. It seems to me that the capital of Cambodia is more of a developing industrial metropolis, a stark contrast to the merry atmosphere and touristy vibe in Siem Reap. I can only hope my perception is not misguided.
As we neared our destination, buildings faded as stilt houses came into sight and concrete pavements into dirt roads. There were quite a few big houses, though. About an hour later, we arrived in Chea Sim which is located in the outskirt of Phnom Penh. The place is a similar version of a humble barrio school in my country. The students have lined up from the gate to a makeshift stage within the premises. Cheerfully, they welcomed us, clapping as we entered the school grounds. What hit me is the smile painted on their faces. It was an admirable picture of resilience and hope.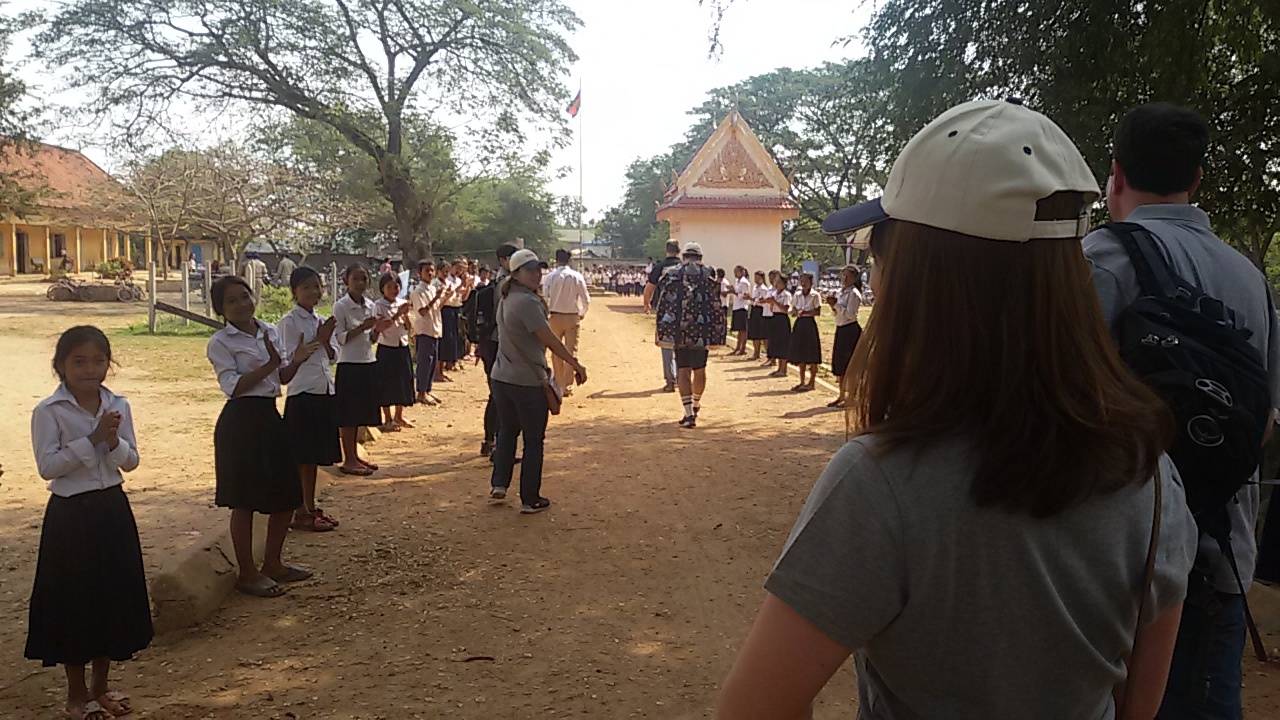 A warm welcome by the children of Chea Sim Angkor Chhay | Image credit: Wanders of Eve
During the Khmer Rouge, educated people were killed on priority. According to our tour guide in Tuol Sleng Genocide Museum, Pol Pot has aimed to create a population of uneducated Khmers, ones that would be easy to control and have no courage to fight back. Structures were destroyed and among them schools which were turned into prisons. Children were subjected to forced and excessive labour. Pol Pot's barbaric rule has shoved Cambodia into poverty. This has significantly affected education in the country.
Also read: 7 Days Cambodia Itinerary: The Best of Siem Reap, Phnom Penh & Sihanoukville
Why bikes? While the situation has been quite improving in urban areas, in the suburbs or outskirts, there is still a shortage of schools and distance has become a major challenge. Bikes come in handy when motorbikes are too expensive for an ordinary family to afford. A small bike costs $30, yet sometimes there isn't even enough money to pay for a bike. For the children in Chea Sim, the bikes meant easing the burden of walking three to four kilometres to and from school every day. It meant their sandals and their uniform will no longer get soiled like they used to when walking on dirt roads. The basket attached to the bike will help them carry their bags and books. These will inspire them to stay in school and pursue their education. Somehow, it will let them realise that a bright future will no longer be that distant. The bikes will somehow bridge that gap.
While they waited patiently as their names were called one by one, their enthusiasm was very evident. Their parents were also present during the turnover and were very happy for the kids. Aside from the bikes, we also gave colouring books and crayons and some snacks. Before we left the school, everybody was grateful.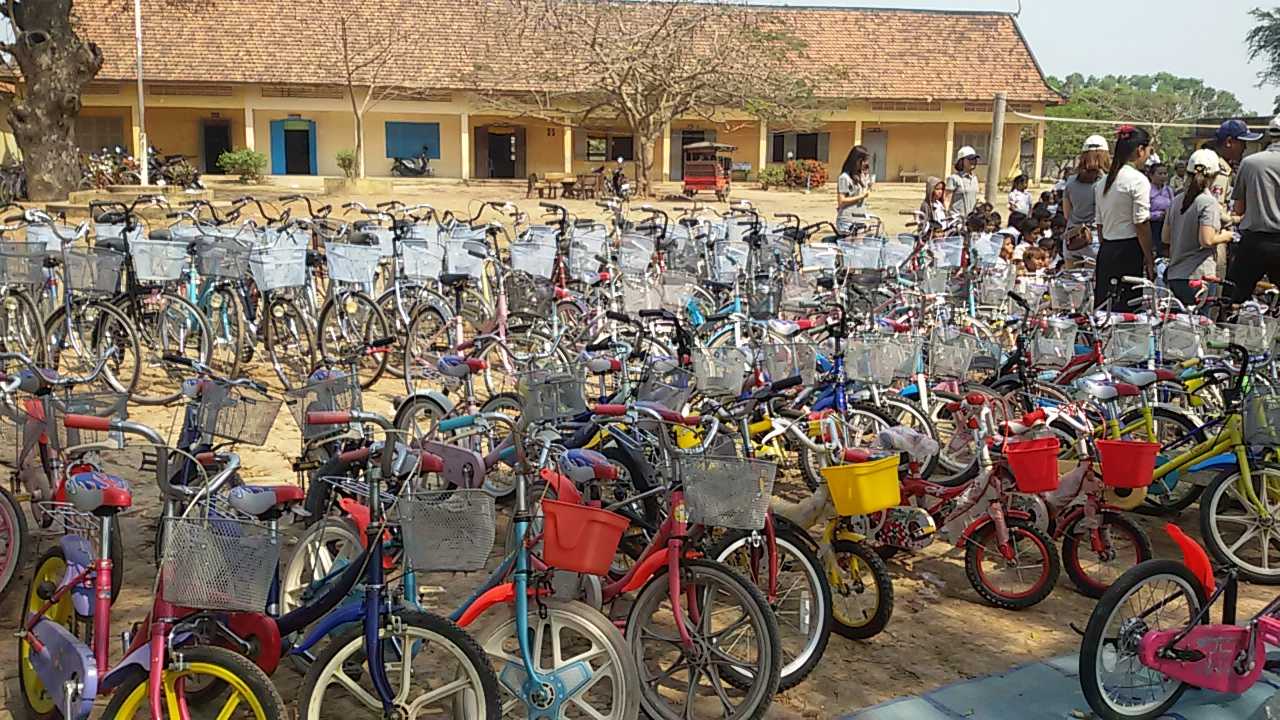 The bikes come in different sizes but aim to bring just one thing. Hope. | Image credit: Wanders of Eve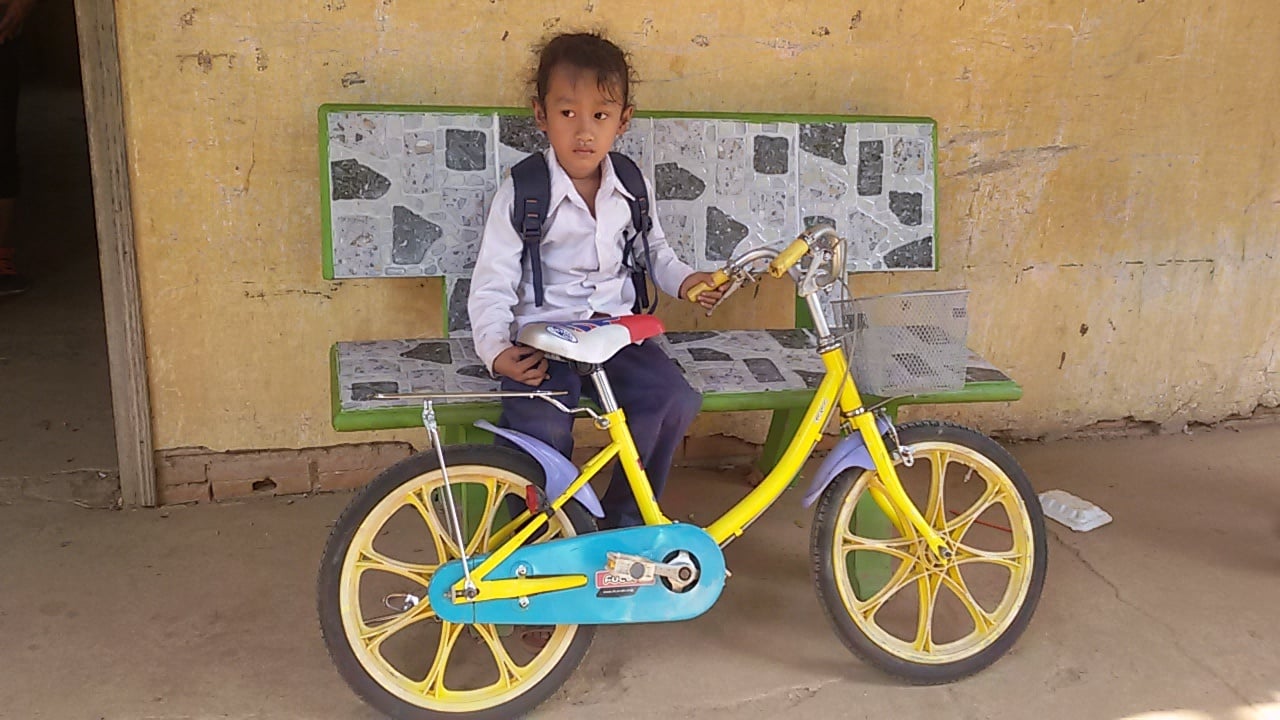 This is one of the two greatest commandments, to "Love your neighbour as you love yourself." | Image credit: Wanders of Eve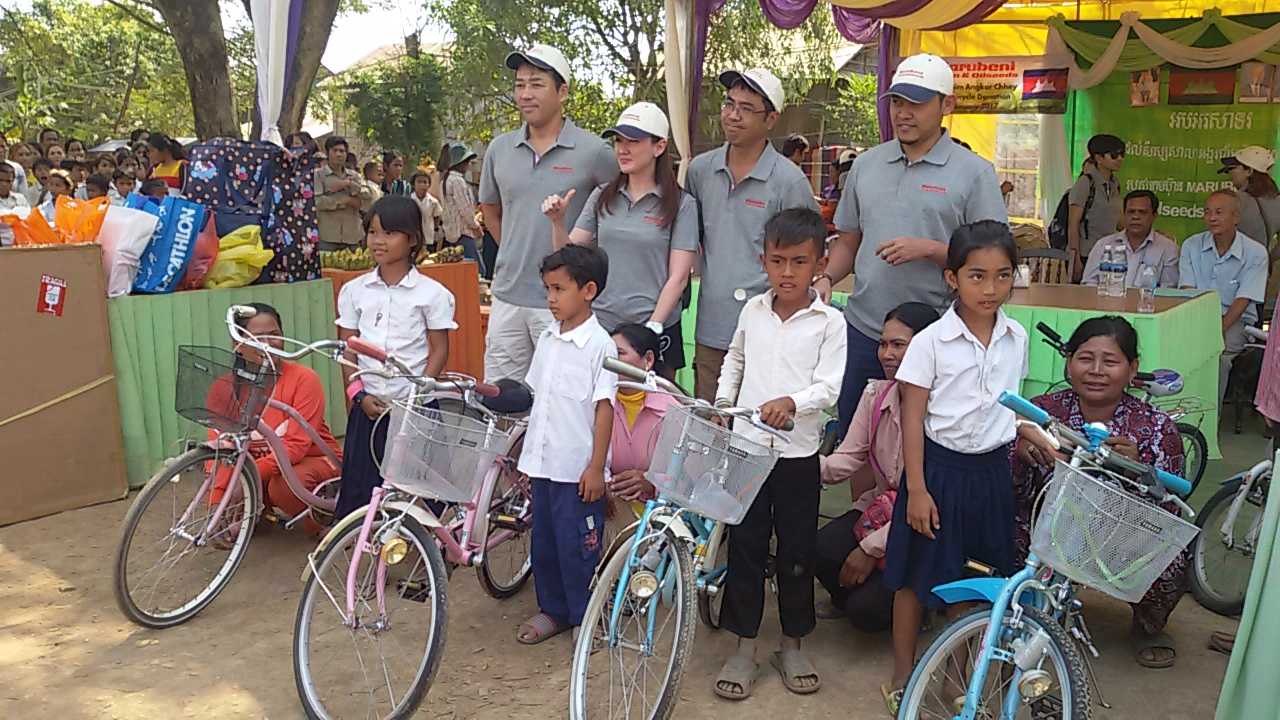 The children with their parents and my colleagues from Indonesia | Image credit: Wanders of Eve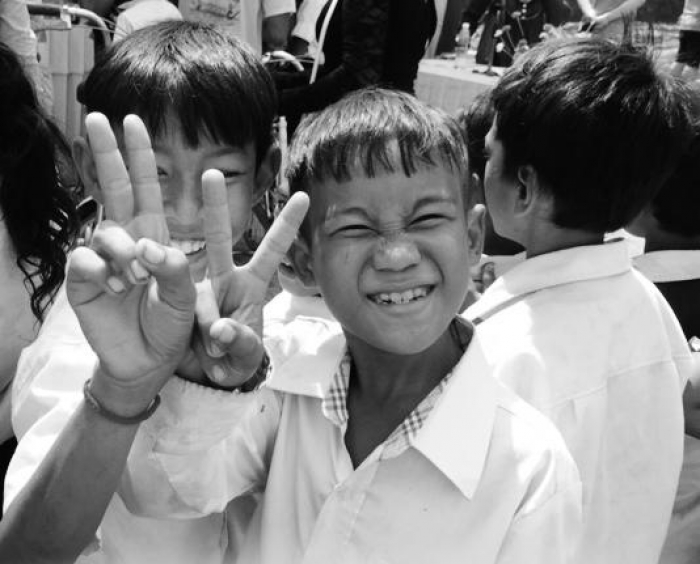 Priceless. | Image credit: Marubeni Grain and Oilseeds Trading Asia Pte. Ltd.
It was a brief encounter, but my experience in Chea Sim has taught me to look at the world with kindness and to always see the goodness in places and in people regardless of how they stand in society. It reminded me to be grateful for every blessing I receive. It encouraged me to start doing something worthwhile in places I travel to whenever I can no matter how insignificant an act may seem. The children in Chea Sim showed me that hope is a very precious commodity and how even in the direst of situations, hope will never run out as long as there are those who strive to make a difference in the lives of others.
Also read: How Travel is Changing Me
There is no better way to connect with humanity than by reaching out with compassion. Travelling has taught me that. This is one of the two greatest commandments, to "Love your neighbour as you love yourself."
Having been to Cambodia twice, this country has earned a special place in my heart. And who knows, maybe, just maybe, on my return, I might get the chance to give the 102nd bike.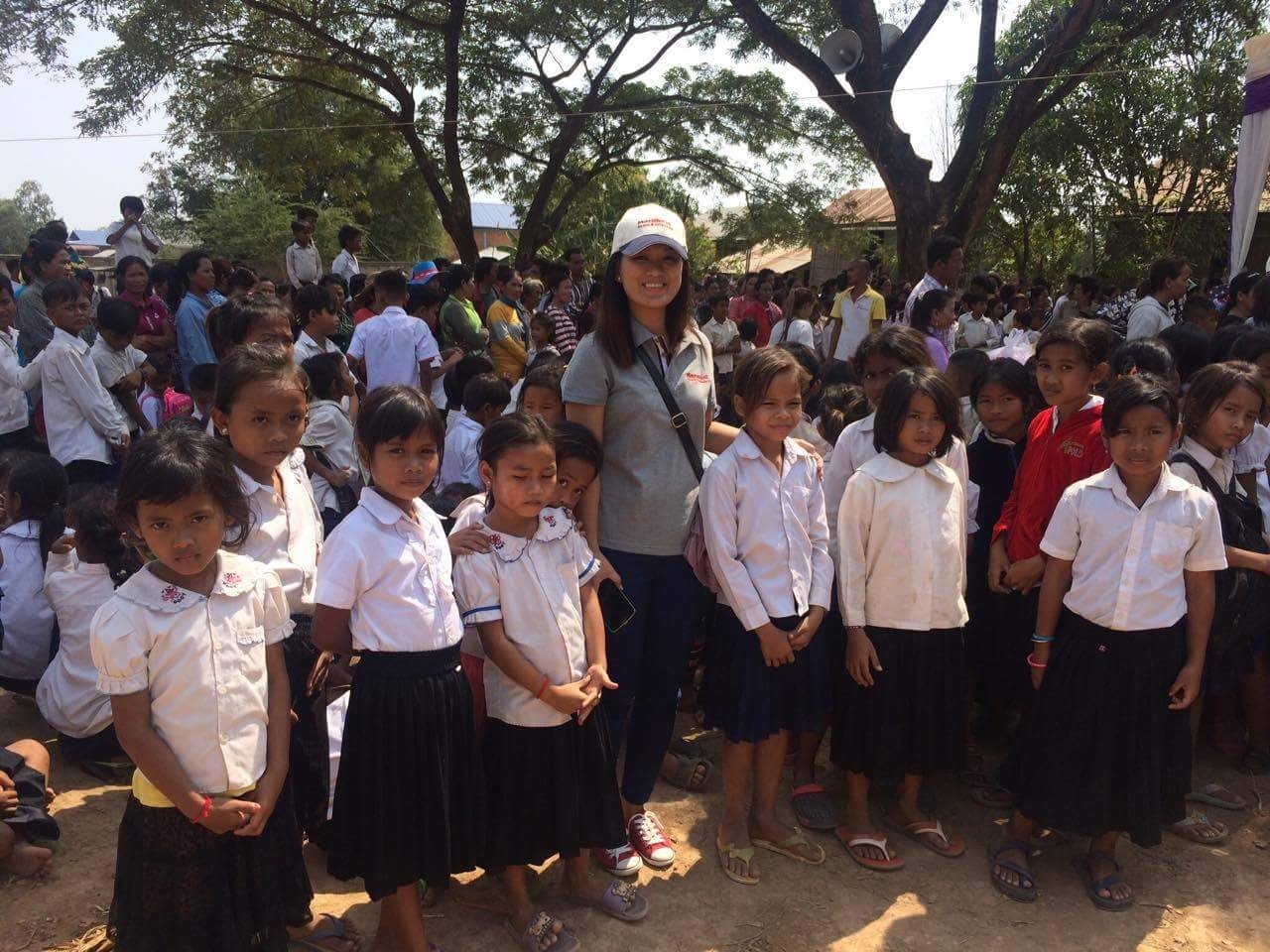 With the beautiful children of Chea Sim Angkor Chhay | Image credit: Wanders of Eve