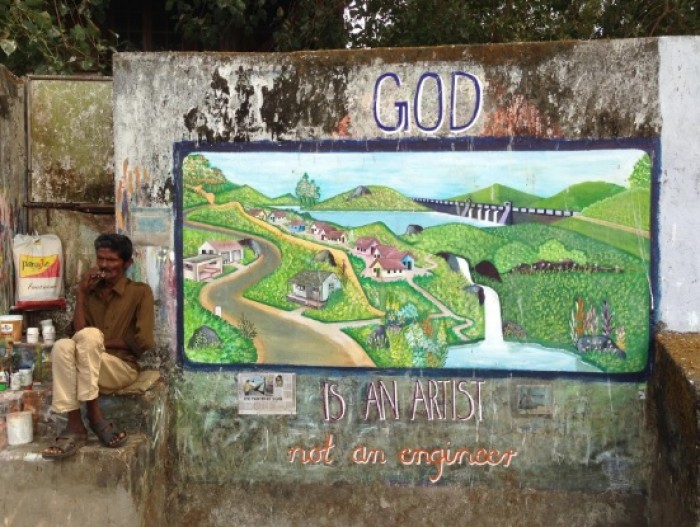 Known to many as "God's Own Country", Kerala is a place where Mother Nature is fiercely protected. From the rolling hills of the tea plantations to the meandering backwaters, there are many entertaining things to do here. Here's a list you could refer to while planning your first trip there.
Also read: The Craziest Things I Found Myself Doing While Backpacking Asia
1. Visit Dreamland Fun Park, Munnar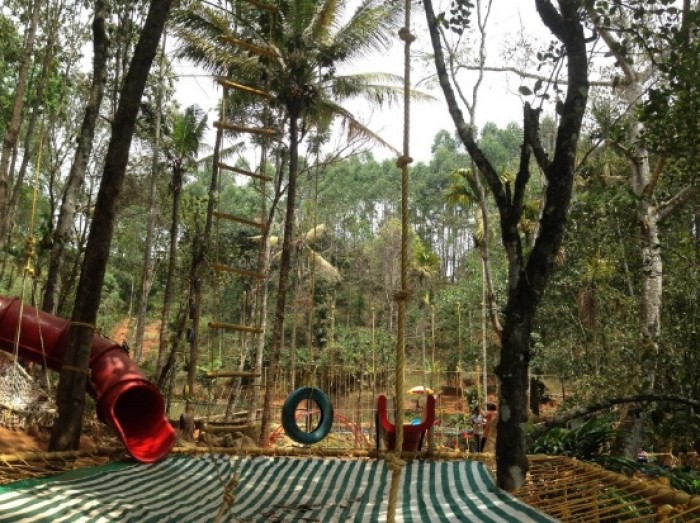 Tucked within proximity of the tea plantations in Munnar is an outdoor theme park called Dreamland Fun Park. Here, one can start with a ride on elephants and end the short ride by feeding these gentle giants. Then, proceed down a steep slope to go over to the main obstacle stations. Walk the tight rope, roll down a small hill in a bubble ball, and zipline through the park. A recommended place of interest especially for honeymooners, this attraction is as authentic as India can get.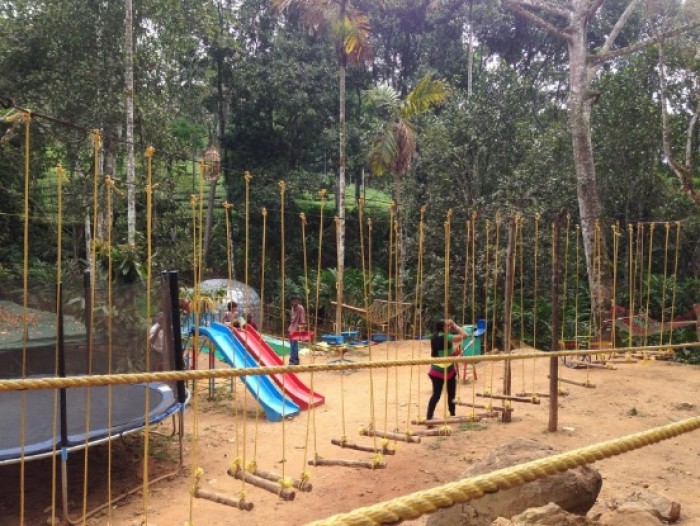 To amp up the mood a little more, the park blasts music that comes from a random 80's and 90's playlist, playing a mix of old school English techno songs, and classic Bollywood songs. One of the more "adventurous" things to do in Munnar, visiting this Dreamland Fun Park should definitely be on your list of things to do!
2. Trek around the tea plantations, Munnar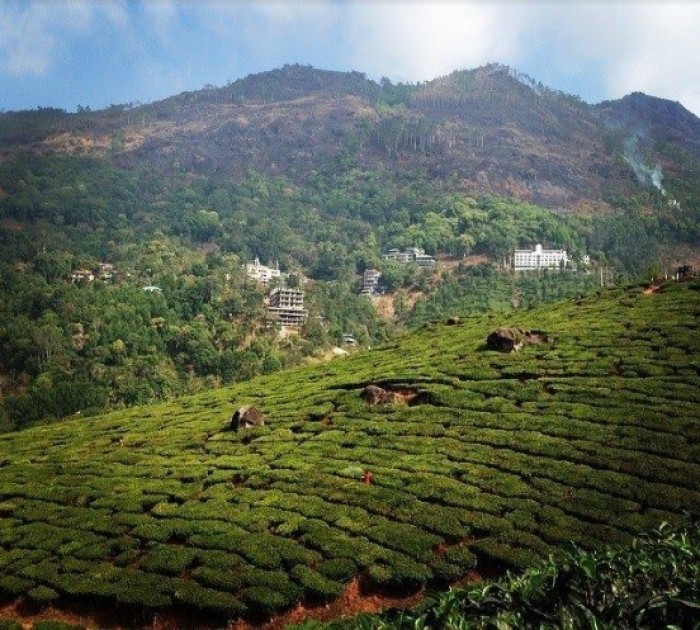 During my stay in Munnar, I met a kind and wonderful host at the guesthouse I was staying at, who brought me around the tea plantations in the surrounding area. We got up bright and early, and after a delicious breakfast of puttu, we started our walk. To be honest, it was more like a mini hike up the steep slopes. My host was wearing a pair of worn out leather sandals and me, my trusty New Balance. Surely, I shouldn't be panting just after three minutes? The walk was a breath of fresh air (both literally and metaphorically). At 7.30am in the morning, the sun wasn't too hot yet; the air was cool, and the view, perfect.
3. Pull up the Chinese Fishing Nets, Kochi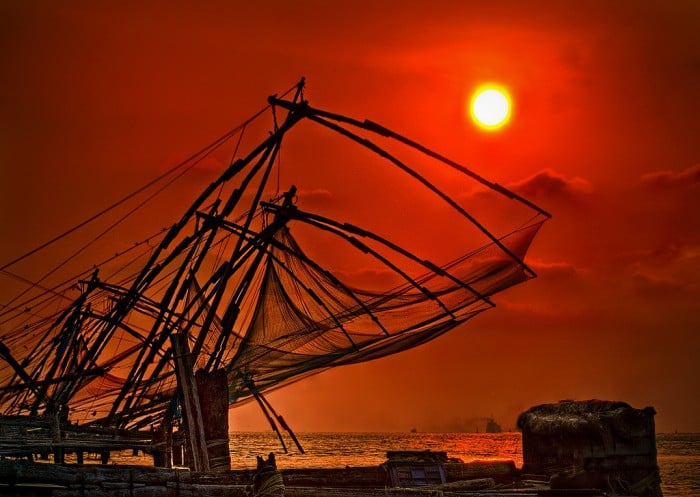 Image credit: Tim Moffatt
Kochi is a beautiful coastal city in Kerala and to this day, the fishermen here still use the Chinese fishing nets. These nets were not actually made or brought in by the Chinese; the Portuguese, who had colonies in China, introduced the technique in the 1500s. These fishing nets have since become an integral part of a fisherman's life in Kochi.
The nets are more than a visual spectacle and are more profitable compared to other nets. Due to its humongous structure and size, a bigger haul of fish may be caught each time. The hauling process is quite a sight to watch – I got "invited" by a local fisherman who asked if I would like to help in pulling up the net; he took multiple pictures of me using my camera and in return, I had to pay him a fee of 200 rupees.
Tip: If you don't wish to pay a fee, you can always choose to just stay and watch from the sidelines.
4. Visit the Jewish Synagogue, Kochi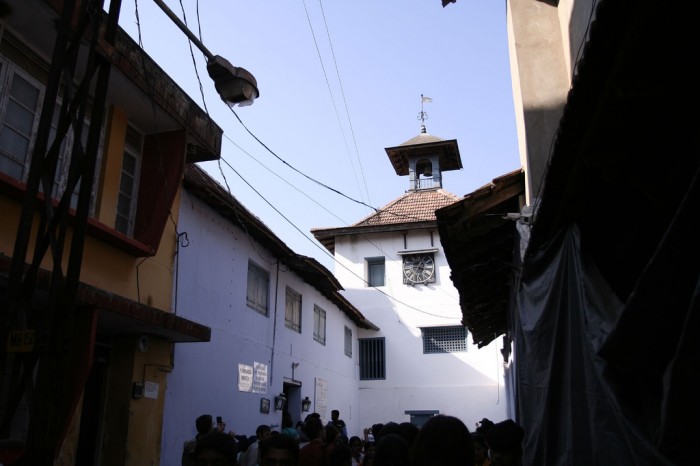 Image credit: Lian Chang
Kochi has many delightful landmarks dating back to the colonial times, but one, which I found fascinating and surprising (due to my own ignorance), was the Jew Street where one may visit a Jewish Synagogue. Not too long ago, Kochi had a thriving Jewish community. Though most of the Jewish population is no longer here now, the lane remains distinctively European as compared to the rest of the city.
Tip: Stop at one of the cool cafes and have yourself a cup of coffee or fresh lime juice to cool yourself off from the heat of the South.
5. Go for a chilled out beach getaway, Varkala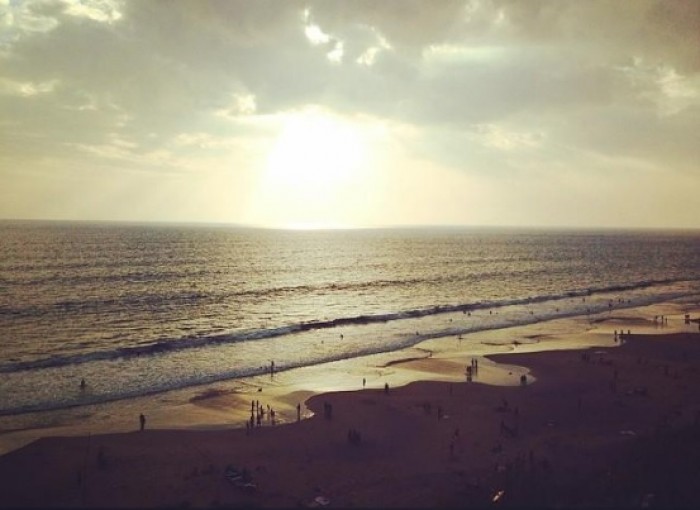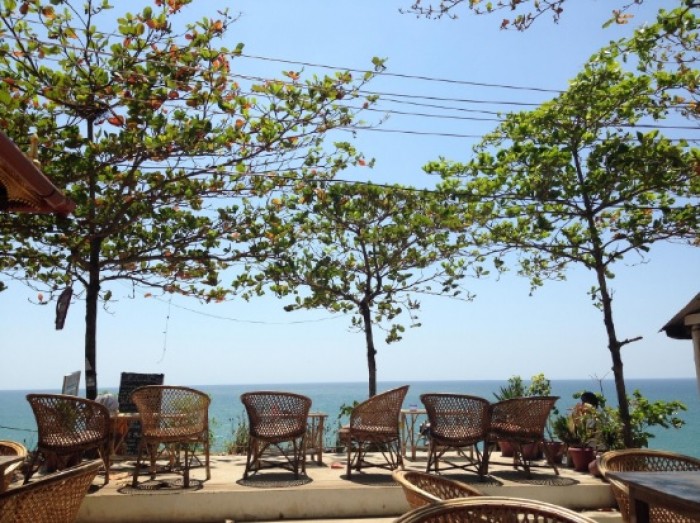 While most travellers might head on straight to the equally beautiful Lighthouse Beach, I'd recommend Varkala for a more chilled out atmosphere. The main shopping and eating area is located atop a cliff, which makes for stunning sunset views in the evenings.
Most restaurants make it a point to display their fresh seafood of the day at their entrance point and one can even choose which type of underwater species you'd like to have for dinner!
Tip: The restaurants here don't list "Beer" in their menus but they definitely do have it stocked up in their fridges. Ask for one – you'll receive a beer bottle wrapped in newspaper and conveniently poured into an inconspicuous looking beer mug. I'm not too sure why they practice this, must be something to do with the alcohol licensing. #onlyinIndia
Also read: 10 Places to Visit for Your First Trip to India
6. Go for an Ayurvedic Spa Treatment, Varkala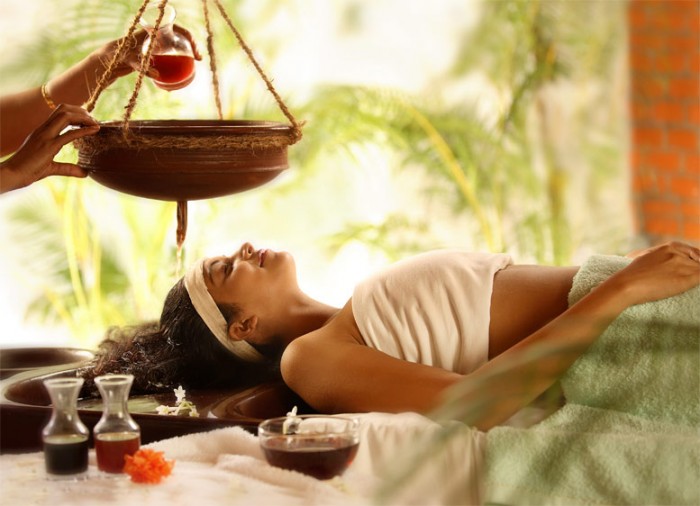 Image credit: Adams Homestay Cochin
While you're in Varkala, book for an Ayurvedic Spa Treatment. A little similar to Traditional Chinese Medicine, Ayurveda has been around for years and focuses on natural ingredients and holistic healing for the body. I went for a traditional Ayurvedic massage and I had two women working on me at one go! It was an extremely oily experience, but also a relaxing one nonetheless. Do this after you've spent enough time baking on the beach or swimming in the sea.
7. Take a boat ride in the backwaters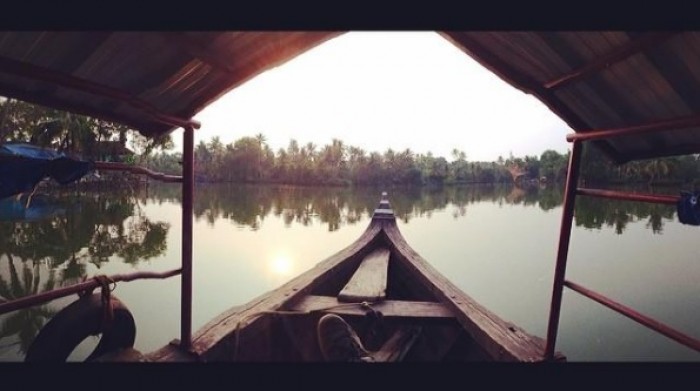 If there's one thing the locals would tell you about Kerala, it would have to be their backwaters. Made up of a network of 1,500 km of canals both manmade and natural, the backwaters of Kerala that was once used as one of the main transportation alleys, is now a major tourism product of the state.
There are plenty of places to do the backwaters boat ride – usually your tuk tuk driver will introduce you to his friend or family member who owns a boat to take you on the backwaters experience. My recommendation would be to do it from the late afternoon or in the early evening when the sun starts to set. As no motor-operated boat is allowed to run on these waters, the sights, sounds and atmosphere you feel in the backwaters, is like no other. All is still – even the sweet chirping of the birds sounds like it's coming through a loudspeaker. Take this time to enjoy the peacefulness and tranquility of the countryside.
8. Get a dose of culture through Kathakali and Kalarippayattu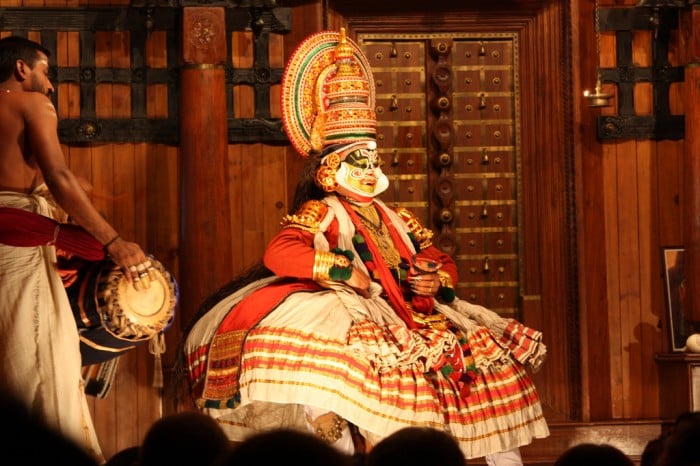 Image credit: Arian Zwegers
A stylized classical Indian dance-drama, Kathakali is known for its intricate costumes, elaborate makeup, and extremely detailed gestures and body movements presented in tune with playback music and complementary percussion. Put simply, this is Kerala's version of traditional Chinese Opera in Singapore.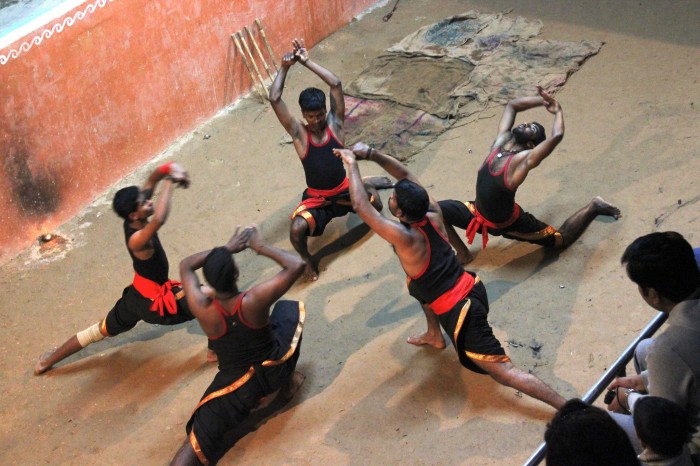 Image credit: Isabell Schulz
If you're not a fan of traditional dance and drama, then check out Kalarippayattu instead. Kerala's call to martial arts, Kalarippayattu is one of the oldest fighting systems, which was created during the 13th Century AD. The performance is entertaining and especially exciting, as young boys and grown men alike run and jump around the stage area using various sharp weapons and props.
Tickets to watch Kathakali and Kalarippayattu are available in major cities like Kochi or Trivandrum and would very likely be packaged together so that you may watch the performances back to back in a cultural centre.
Tip: Bring your cameras and a hand held fan, as it can get pretty warm when fire is used during the Kalarippayattu performance.
9. Marvel at the breathtaking beauty of Athirapally Falls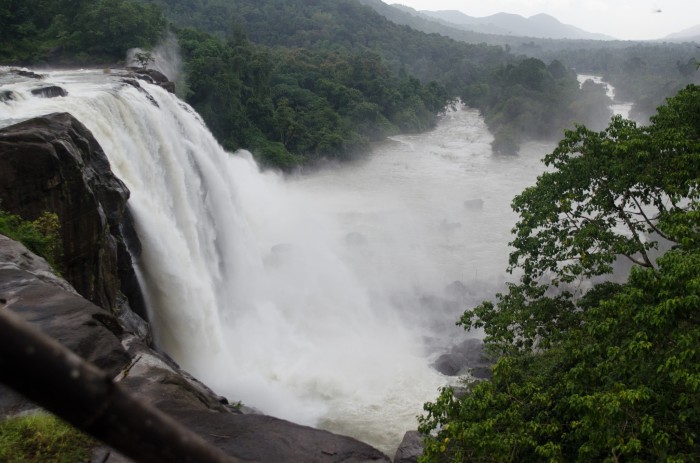 Image credit: Ashwin Kumar
Nicknamed the "Niagara of India", Athirapally Falls is a major tourist destination in Kerala. It's hard not to see why, and as with all natural wonders, getting to the waterfalls requires a steep descending climb. Needless to say, the view at the waterfall itself is incredible. If you can, get to the rock closest to the waterfall and enjoy the breeze. Just be careful not to lose your balance while you're trying to get that best Instagram-worthy shot.
10. Drink fresh toddy for breakfast
Image credit: Brian Snelson
Also known as palm wine, toddy in Kerala is an alcoholic drink made from the fermented sap of a coconut palm tree. The tappers climb up the trees in the morning (to avoid the heat) and collect the sap in an earthenware pot. Each "toddy tapper" makes his rounds and can tap from as many as 15 – 20 trees per day!
The collected sap is then fermented naturally, which results in a sweet tasting beverage that gets more alcoholic as the hours pass. The taste of toddy at 9am in the morning would change drastically when drunk at 11am that same day.  By noon, we could not bring ourselves to finish the leftover, as it had gotten too alcoholic for our liking! Talk about getting tipsy at breakfast!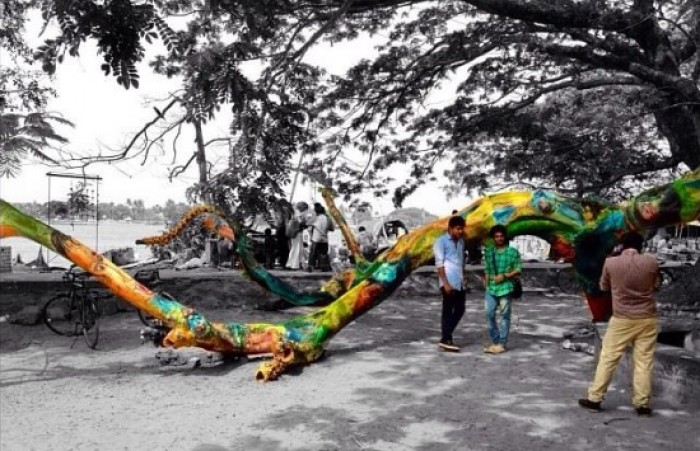 Also read: 25 Photos That Will Make You Fall in Love With India
Kerala is a large state and this short list just would not do it justice; give yourself more time to explore all the other beautiful places here; hill stations are aplenty, culture and traditions are ever present, and nature is all around.  Find time to chat with the locals – Kerala prides itself to have the highest literacy rate in India, so you can expect to have lesser communication barriers when speaking to the locals here. Embrace the heat and the spices from the South, for when it comes time to leave, you'll find it hard to say goodbye.