It was just the start of my trip in India and I had been in Chennai only for one day. A visit to the famous Mahabalipuram temple was recommended and I was told that the journey there and back would take some time. I was given a hand drawn map to follow – yes this is India after all.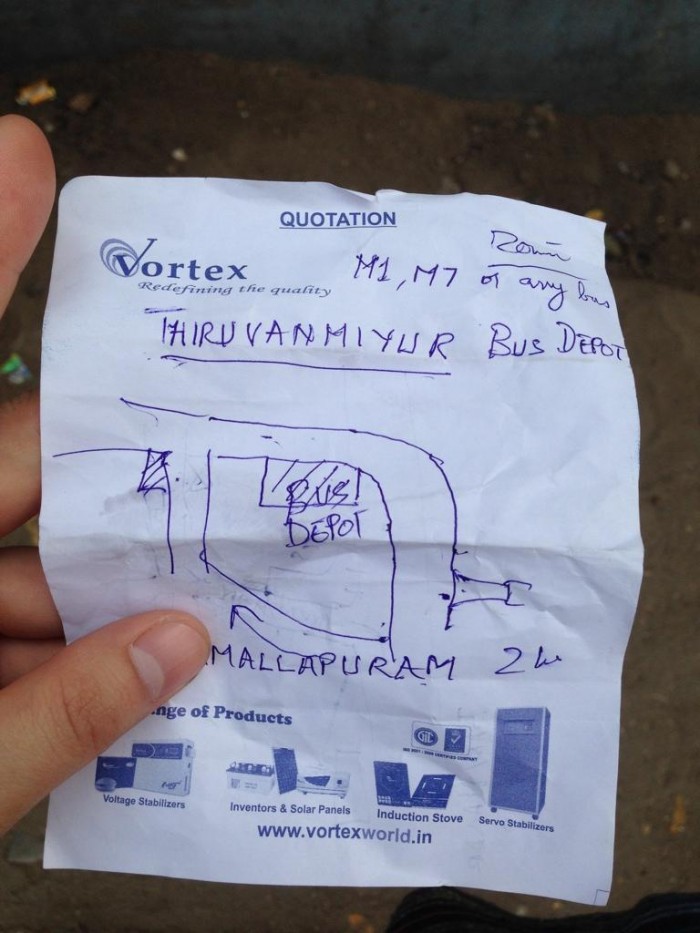 Mahabalipuram is an ancient town 60km away from Chennai, known for its stone carvings and history. The monuments there have been classified as a UNESCO World Heritage Site. It was a tourist town and any local person would know about it.
I made my way to the bus stop and stood waiting for a bus. After 20 minutes, the anxious Singaporean in me began to worry, am I at the right bus stop? Did I miss the bus? I approached a middle-aged lady and asked about a bus to Mahabalipuram. Turns out that she was making her way there too!
She spoke little English, but she managed to explain to me how we had to take a bus to Kovalam and then take another bus from Kovalam to Mahabalipuram. Soon after she said this, the bus to Kovalam arrived. We got on and started on the journey.
Also read: Backpacking India: Essential Tips from a Singaporean Traveller
Wanting to be friendly, I tried to make conversation with her but she shook her head and showed little understanding of what I was saying. I decided to offer her a snack I had. She accepted it, and that was the start of our friendship.
When we got off at Kovalam to change buses, I met her husband. He spoke a little more English than her – quite minimal and basic for understanding. Together, the three of us went to Mahabalipuram.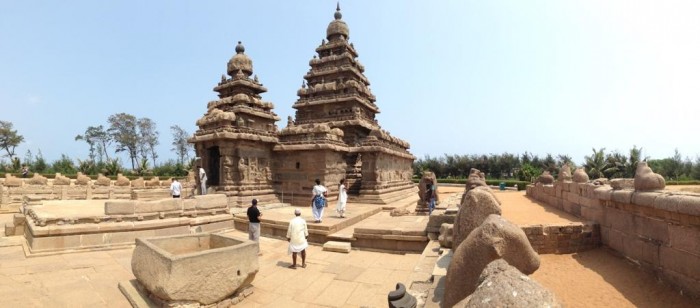 When I got there, I realised that the couple assumed the role of tour guides for me. I didn't expect that, and being skeptical and fully aware of scams on foreigners happening in India, I was afraid that I would have to pay them some money later.
After a short visit to the loo later, I saw that the lady was nowhere to be seen. My alarm bells rang. I asked the man where she went, and he said that their daughter had gotten into a little accident and she had to rush back to look after her. I thought to myself, "Hmm, coincidence?" I felt even more skeptical and uneasy, but I tried to push those feelings away.
I then asked him, "Don't you need to go back too?"
"No, all okay", was all he said.
And that was how I ended up with a stranger I had just met, who showed me around the whole complex and spent a good half of his day with a "funny looking foreigner". He tried his best to explain the history behind each of the carvings, using a mixture of hand gestures and limited English and a bit of Tamil here and there… But I wasn't really listening, because all I kept thinking inside my head was, "I hope he doesn't ask me for money, I hope he doesn't ask me for money, I hope he doesn't ask me for money."
Also read: 18 Reasons You Should Travel to India
During one of our water breaks, I asked him what he did for a living. Turns out that he works for a bus company, the same bus that we took to get there. He even showed me his ID card as proof of his employment. So at least I knew he wasn't a tour guide by profession. He seemed sincere.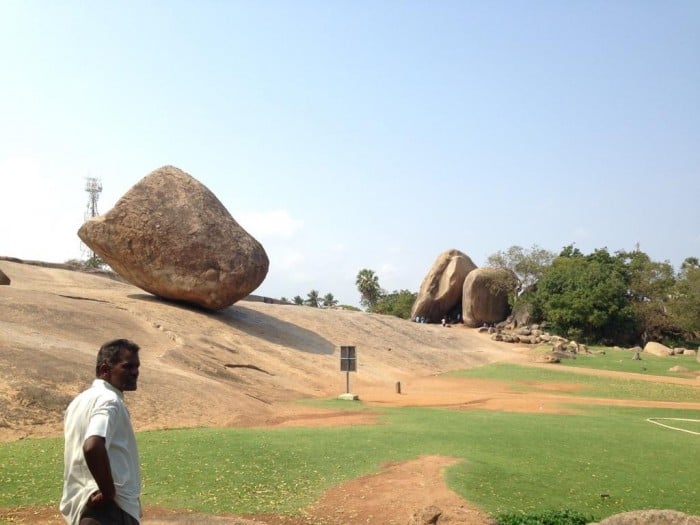 My "tour guide", and the naturally formed rocks at Mahabalipuram.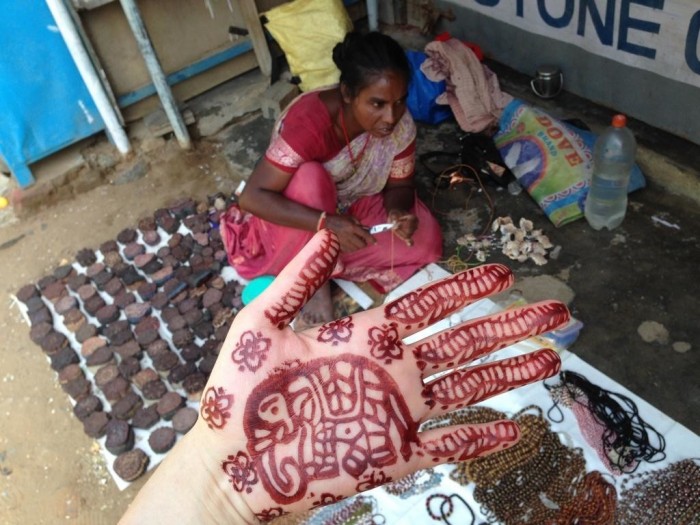 He told me, "You see my hand so black, but your hand so white, you must do mehendi it will look beautiful!"  
He then brought me to a vegetarian restaurant for lunch, where we had a traditional South Indian Thali – freshly steamed rice, and a variety of sauces and daals served on banana leaf. It must've been one of the best meals I had during my time in Chennai.
I paid for the meal, and I think he accepted that as a small form of "compensation" for bringing me around. Afterwards, we took the bus back to the main bus terminus together, where I had to search for a second bus to head back home.
While on that bus journey, he shared some namkeen with me and I let him taste a sour plum I had brought with me from Singapore. Then to my surprise, we spoke about the littering problem in India.
He looked out the window and pointed to the rubbish on the ground, "You see, India so dirty because all the rubbish on the street."
I said, "Yes because the people need to have a habit of throwing their rubbish properly, and there is not enough dustbins."
He agreed with me, but seemed a little shy to admit it, and instead said something along the lines of how he still dearly loves India and her people. I admired him for his patriotism. It is always refreshing to see someone so passionate and proud of his or her own country, despite its flaws.
Also read: 25 Photos That Will Make You Fall in Love With India
Afterwards, he changed the topic by asking if I had enjoyed my visit to Mahabalipuram. I said, "Yes, of course I did!" and thanked him. I could see that it was important for him to ask me this, especially since he had become my "tour guide" for the day. During this conversation, I tried not to think about the possible "scam". But at the back of my mind I still had those thoughts, "I hope he won't ask me for money… but should I give him some?"
And then, all at once, our farewell happened all too quickly. We had arrived at the bus terminus and as we walked towards the entrance, he told me the specific bus numbers I could take to go back home. One of the buses was moving out of the terminus and it happened to be the one I had to board. He turned to me and said, "Your bus, go, go!" I was so embarrassed by my own thoughts, for thinking that he was going to ask me for money before I left. He didn't ask for a single cent!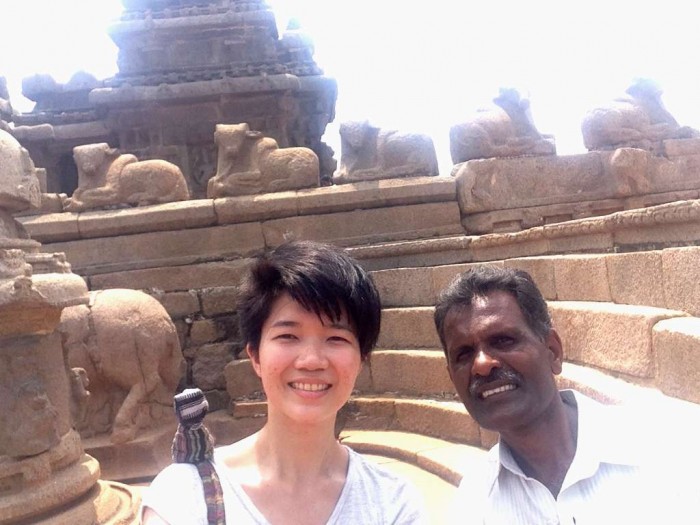 The sun was too glaring and clearly neither of us knew where to look or smile at.
I ran towards the bus and got in; turned around to look for him and there he was, with a bright grin on his face, waving goodbye. This person who was just a stranger to me at the start of my day, had become a friend and a kind soul to me, with whom I was fortunate enough to cross paths with.
Goodbye kind man, thank you.