There are many famous people in the world, but few have won the Nobel Peace Prize for promoting love and peace. As a pious Buddhist who is avidly keen in philosophy and the intricacies of love and happiness, I could not pass up the chance to meet His Holiness the Dalai Lama. This brought me to India, the world's spiritual hotspot for meditation retreats, discovering inner peace, and "finding oneself".
I put my name down at the Tibetan Buddhist Centre in Singapore and flew almost 5,000 kilometres to a city up in the mountains called Dharamsala. Lush cedar forests cover most of the mountain from where the Himalayas can be seen.
Also read: 5 Places to Start Your Spiritual Journey in India
The city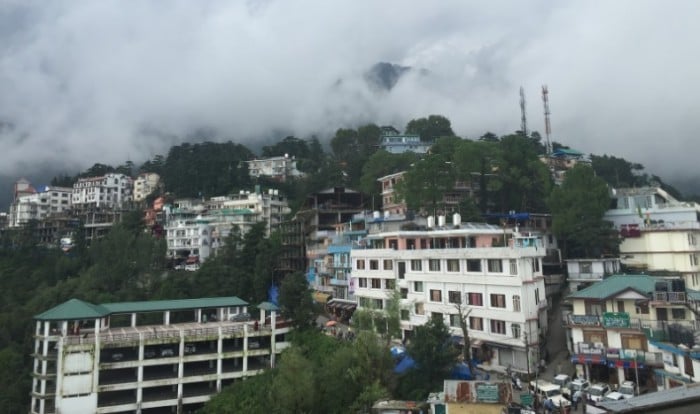 Dharamsala is where the Dalai Lama, the Tibetan Government in Exile and thousands of Tibetan refugees now live. It's a hodgepodge city perched on the side of a hill. Its narrow streets were not made for cars, so drivers get by with a symphony of horns and plenty of skills. When the clouds are clear, the view is breathtaking. It is often short-lived, though, and thick mist slowly crawls back in to envelop the city in chill.
Setting foot in Dharamsala was like entering a peaceful bubble. It felt like stepping back in time into a strange India-Tibet mix, where Tibetan-style houses stood next to local ones. It definitely wasn't perfect; cows and dogs freely roam the narrow streets and leave poop every few metres. Restaurants take almost an hour to cook food and I would have to ignore stains on the chairs and tables to keep my appetite. But people seemed content. The constant horning bothered me but locals just chuckled at my annoyance.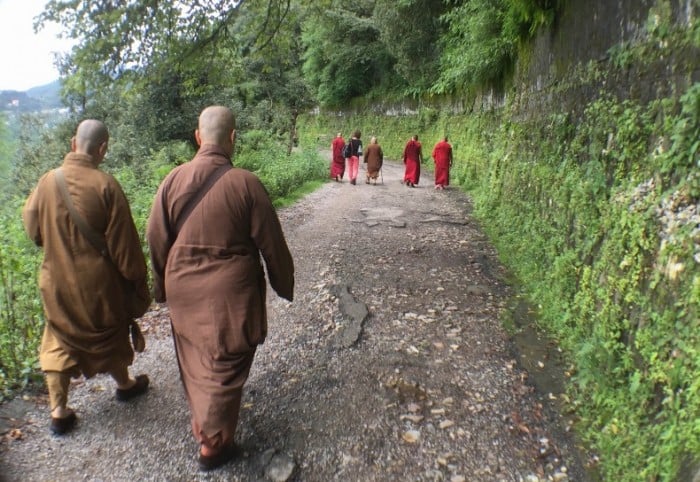 The peacefulness could be attributed to the simple, religious life in Dharamsala. Hundreds of monks live there and can be seen walking up and down the streets daily. Numerous bookshops pepper the streets where one can learn about meditation, anxiety control and even Tibetan medicine.
I was very intrigued with the wildlife in Dharamsala. The first interesting one I noticed was a lone hawk flying low over the monastery. Then I spotted more over the days and realised we were in the hawks' natural habitats. They flew almost right up to the windows! Instead of flapping their wings, they ride the air currents off of the mountains and glide alongside clouds. Animals were different in these high altitudes. There were the typical cats and dogs, but roaming the streets were also silver-grey baboons.
The Tibetan community
We squeezed in some sightseeing (naturally!) before our meeting with the Dalai Lama. It was a rare opportunity to peek into the Tibetan way of life, since it's hard to visit Tibet itself.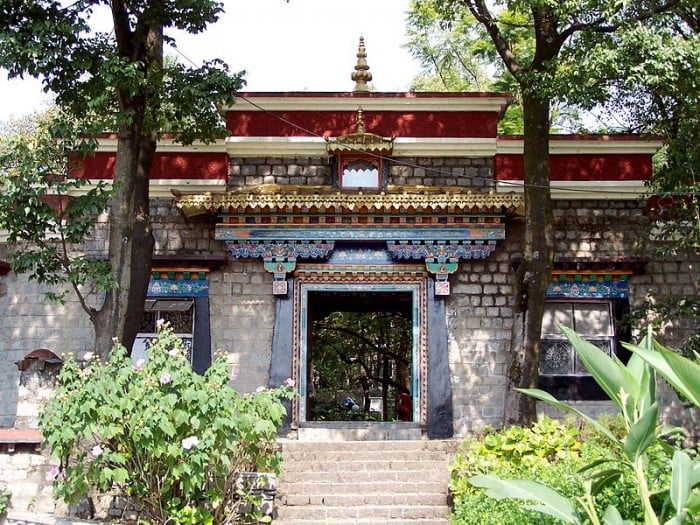 Norbulingka Institute, where the art of Tibet thrives | Image credit: Warren Noronha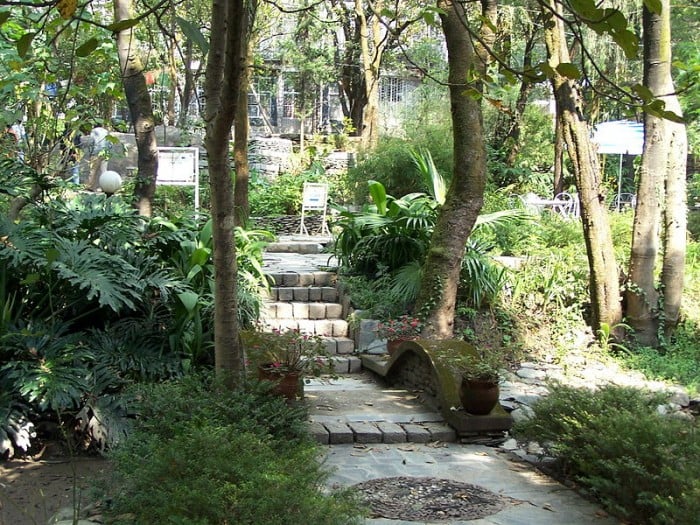 The quiet gardens preserve the almost otherworldly peace of old Tibet | Image credit: Warren Noronha
Tibetan culture lives and breathes within the stone walls of Norbulingka Institute, which is home to a community for Tibetans. The Dalai Lama, being the spiritual leader of the Tibetan people, hoped that it could actively preserve their centuries-old artistic culture. Meaning "Treasure Garden" in Tibetan, the institute was inaugurated by the Dalai Lama in 1955 and is now a safe haven featuring beautifully manicured gardens and cultural workshops for their youths.
The traditional art of Tibet is heavily influenced by Buddhism. The ancient techniques of creating Buddhist art are passed down from teacher to student in their nine workshops, which include traditional painting, creating statues, making appliques, wood carving, weaving, and screen printing.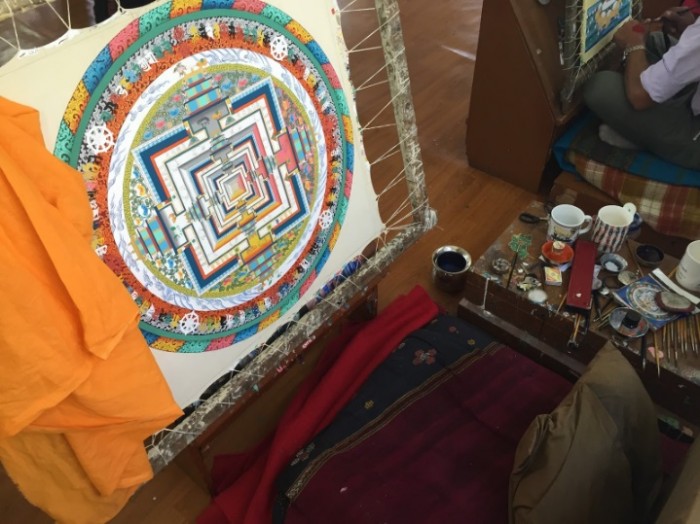 A half-finished painting of a mandala, a geometric circle that represents the universe
Each painting can take up to a week to finish. Young Tibetan men sit in the workshop for hours to produce the intricate images.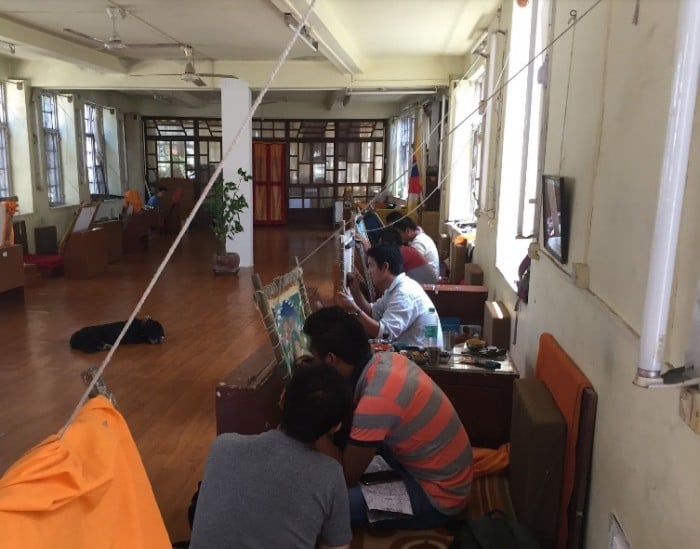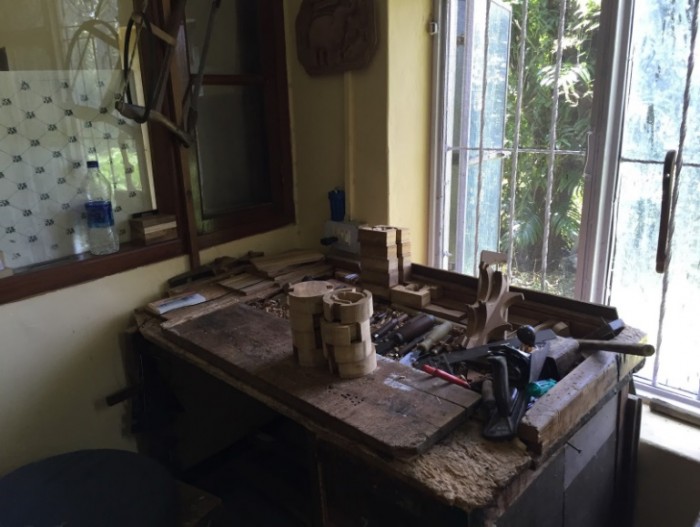 They also work their hands at wood carving. It is so refreshing to see artisans lovingly handcrafting wood in today's day and age. The hardest part about working with wood is that a mistake means throwing out the entire piece. With metals, mistakes can still be fixed through welding.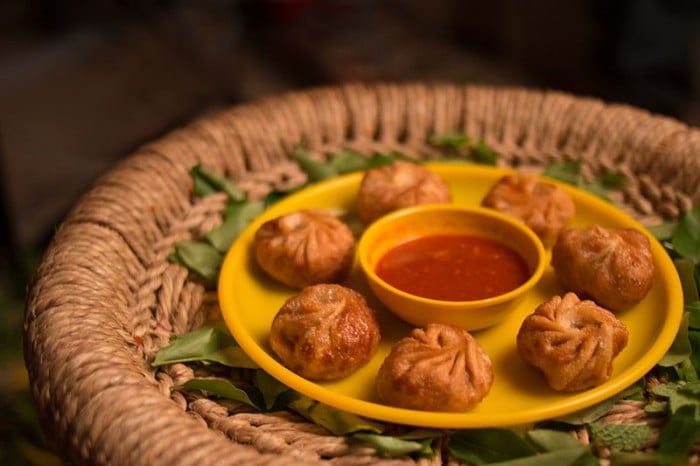 Image credit: Dhanwanthkurup
Aside from the serious stuff, during break times we indulged ourselves with classic Tibetan food. We ate these native Tibetan dumplings called "momos" every single day. How cute is that name!? These adorable little dumplings can be steamed or fried and are stuffed with either juicy meats or vegetables, cheese, tofu and even potato! Dip these babies in the super spicy but addictive accompanying chilli and you can eat just momos for lunch.
His Holiness the Dalai Lama
Finally, the day to see the Dalai Lama at Thekchen Choling Temple Complex arrived. I'd never really met anyone famous before so I felt a sense of excitement mixed with disbelief. Somehow I couldn't wrap my head around the thought of actually meeting him.
When I saw the monastery a few days earlier, I was very surprised to see how small its shrine hall was. Other surrounding monasteries had much larger shrine halls; surely the Dalai Lama lived more luxuriously? I even thought that maybe this was just for everyday use, and that there surely was another one for the actual teaching.
I was wrong. Hundreds of us squeezed into the hall. Actually, the majority of us had to sit outside the hall, and we took turns to be in the hall with the Dalai Lama. His fame and popularity evidently didn't change his way of life very much; he was content with the modest room and didn't spend money renovating it.
There was great anticipation as everyone waited over an hour for his arrival. Security was very strict and we were not even allowed to bring handphones.
Image credit: Christopher
I tried to contain my excitement but it exploded when we saw him arrive. Everyone stood up and rushed to the walkway and security held us back. He is already 81 years old and had to be supported by people as he walked. Still, he looked at us with a cheeky smile.
He didn't just walk past; he stopped to watch the crowd carefully and made sure he greeted all of us. This made us extremely elated. Who wouldn't want to have a chance to say hi? We all waved enthusiastically and he smiled kindly at us and waved back. I appreciated the time he took to acknowledge us.
Then it was time for us to settle for some real teachings.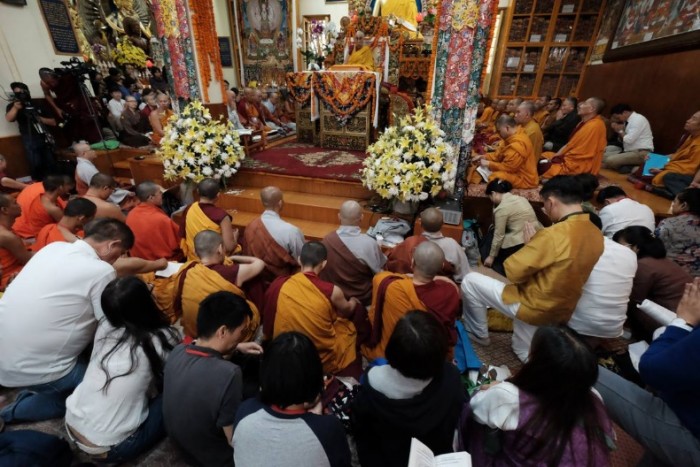 Snapshot of The Dalai Lama teaching | Image credit: Tibetan Buddhist Centre
His actual discourse was a beautiful introduction to reducing negativity through the pragmatic use of Buddhism. Buddhism is now often diluted and dulled into a kind of "tradition" or "superstition". The Dalai Lama brought it back to life with sharp and concise words.
On his large golden throne, he smiled and joked a lot, but behind his glasses was a sharp and careful gaze. "All humans are the same", he said, "in that we all want to be happy and free from suffering." In his eyes, this was the reason why all humans – without exception – deserve our love and compassion.
He urged us to see that our true enemy is not the person who is angry at us, but it was their anger itself. These people can be good too, and so love is the true remedy. The Dalai Lama advised us that we can counter negative actions but still treat people with kindness.
It was an eye-opening and compassionate experience. Looking at life's bigger picture helped me realise how stressed-out and negative I've been. Living in high-pressure Singapore is oftentimes tiring and frustrating, and the competition never quite eases. Taking time out to find inner peace, no matter how corny it sounds, is so important to remember why we're here.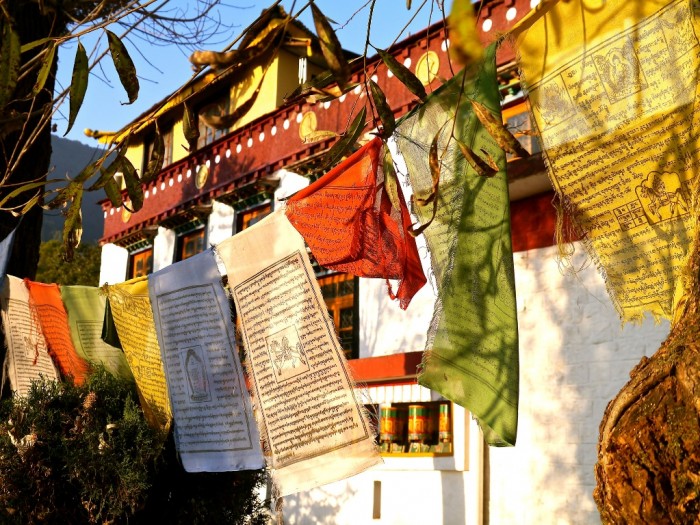 Image credit: Lisa Tully
Also read: Backpacking India: Essential Tips from a Singaporean Traveller
We were all sad to leave in the end. The beautiful, vibrant town grows on you very quickly. But seeing India makes you appreciate the little things, like having clean toilets and not worrying about stepping on poop. I left with a promise to cherish the people around me and not to be overly anxious about life – there is always a rainbow on the other end!