Welcome to Jaipur, a place so captivating that you'll feel like you've been transported to an epic novel or a fairytale story. This desert city is the capital of Rajasthan, and home to the royal Rajput warrior clan. It earned its moniker as 'The Pink City' in 1876, to welcome the British royals. In a show of extravagance, Maharaja Ram Singh had the whole city painted in pink: a colour that symbolises hospitality. 
Centuries later, the city continues to brim with fascinating culture and royal heritage. The well-preserved palaces and forts are a testament to the centuries-old architectural brilliance. Beyond the postcard-worthy structures, there are actually a lot more things to see and experience in the Pink City. Read on to find out about the best Jaipur attractions — from the timeless classics to the modern and exciting. 
1. The Hawa Mahal is a castle of rosy splendour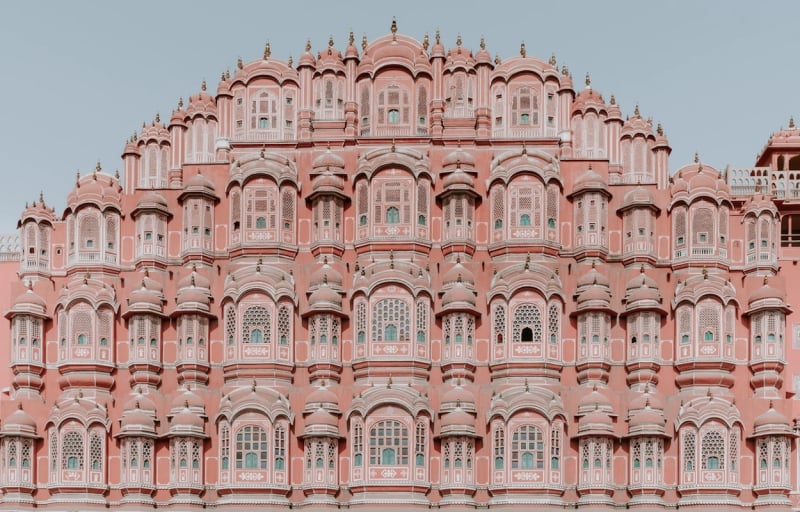 Upon the mention of the Pink City, this Jaipur attraction is probably what would first come to mind. Also known as the 'Palace of the Winds,' Hawa Mahal is arguably the most iconic structure in Jaipur. Pink and red sandstone primarily make up this five-storey building, giving it an enticing colour that attracts many globetrotters yearly. Hindu goddess Krishna serves as the inspiration behind the Hawa Mahal's elaborate and majestic form.
All in all, there are 953 jharokhas (the honeycomb-like bay windows). Would you believe that the women from the royal court used them to hide their faces as they peered below? This allowed them to see what was happening in the streets below while protecting their modesty. Suffice to say, they don't make screened porches that are this gorgeous anymore. 
Also read: Man Skips Exams And Cycles From India To Singapore
2. The City Palace embodies palatial brilliance
This prominent Jaipur attraction lies in the heart of the Old City. Built in 1729 for the Maharaja of Jaipur, the City Place complex houses several buildings, courtyards, and gardens. The grandest among these are the Chandra Mahal and Mubarak Mahal. Once inside, you'll be in awe of the fine artworks and engravings on almost every corner. With its symmetrical structure, dusty pastel hues, and ornate details, the City Palace looks straight out of a Wes Anderson movie. (Think The Grand Budapest Hotel meets The Darjeeling Limited!)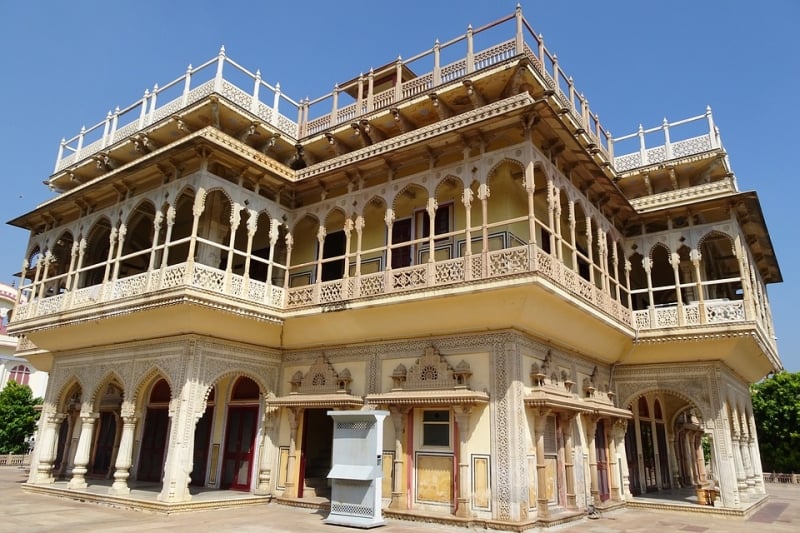 Mubarak Mahal is the only building inside City Palace that has Indo-Saracenic architecture. It serves as the welcoming committee for tourists as they enter the City Palace. Back in the day, this used to be a reception hall for foreign dignitaries. Now, it houses the Maharaja Sawai Man Singh II Museum, which showcases royal family artefacts. It has a massive courtyard, spacious rooms, and intricate gold-trimmed murals adorning its halls. 
Not to be outdone, Chandra Mahal has an inner courtyard with four different gates. Each gate represents one of the four seasons. The most popular one is the Peacock Gate (for autumn), which features intricate and colourful peacock renderings. This is also where the present Raja of Jaipur resides. Thus, only the ground floor is open to the public. 
Fun fact: The Gudliya Suite of Chandra Mahal has recently been listed on Airbnb by Maharaja Sawai Padmanabh! The one-bedroom suite includes a kitchen, lounge, and a private indoor pool. As of November 2019, rates start at US$10,599 a night. (No big deal.)
3. The soaring sundials of Jantar Mantar will spark your curiosity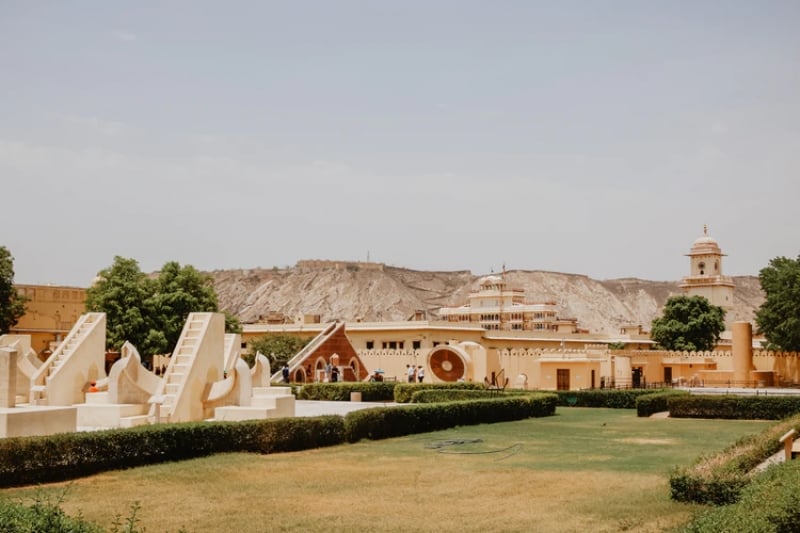 Opposite the City Palace lies Jantar Mantar Observatory, whose name literally translates to 'calculating instrument.' While observatories aren't usually a top-of-mind stop when travelling, you definitely have to make an exception for this Jaipur attraction. Astronomers from India's olden times gathered in this observatory to observe celestial bodies and measure time. Sawai Jai Singh II  built and completed this in 1734. He was the founder of Jaipur who was quite fond of astronomy, and some historians claim he was more interested in the sciences than he was in war and strategy. 
Go for a walk around the well-manicured gardens and marvel at the masonry and brass structures. You'll find  Samrat Yantra, the world's largest sundial, standing 27 metres tall. This is just one out of 19 astronomical instruments from Jantar Mantar's stunning collection. Indians built these instruments using the design principles of ancient Hindu Sanskrit texts. Space observatories may be far and plenty around the world now, but only a few are also UNESCO World Heritage sites like Jantar Mantar. 
Note: Jantar Mantar has a smaller but older (and pink!) version in New Delhi.
4. The walls and halls of Amber Fort are astounding
Alternatively called Amer Fort, this yellow sandstone structure looks straight out of a medieval/fantasy film. It's perched on top of Aravalli Hills, overlooking the countryside and Maota Lake. Amber Fort's fortified walls are the third-longest wall in the world. To get to the entrance, you can ride on an elephant, like the rajas used to back in the day!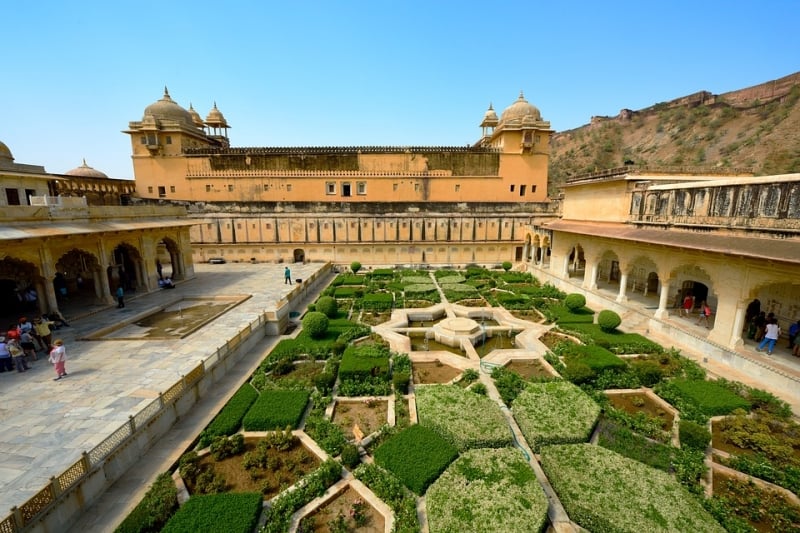 The complex has four levels, each with a courtyard. One of the courtyards features an impressive Mughal-type garden: shaped in a hexagonal design with narrow marble walkways and a star-shaped fountain pool in the middle. It's quite similar to the ones in Persian castles (or the one in Dorne from Game of Thrones, if we're sticking to pop culture references).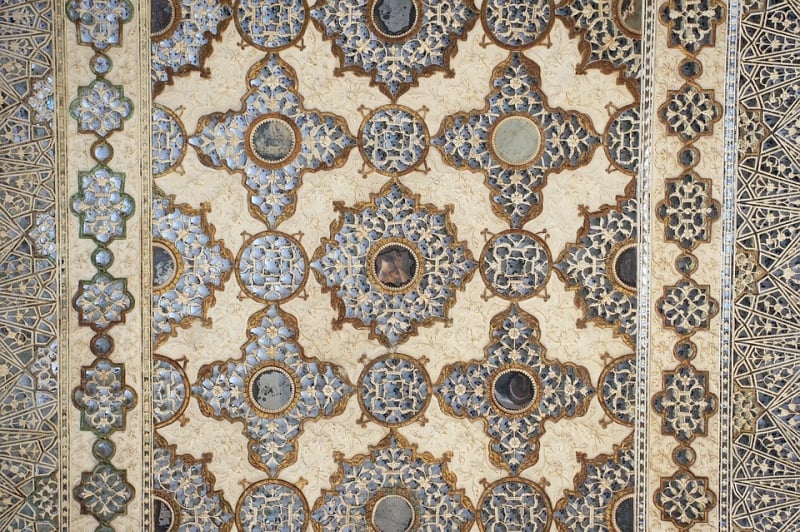 Inside the buildings, the opulence of marble fixtures, coloured glasses, and glittering mirror mosaics will take your breath away. The crowning glory is the Sheesh Mahal, also called 'The Mirror Palace' which houses the intricate Magic Flower. Carved on the base of a pillar, this marble panel features seven unique designs: a lion's tail, hooded cobra, lotus, elephant, trunk, scorpion, corncob, and fishtail.
5. The stepwells of Rajasthan are the most fascinating stairs you'll ever see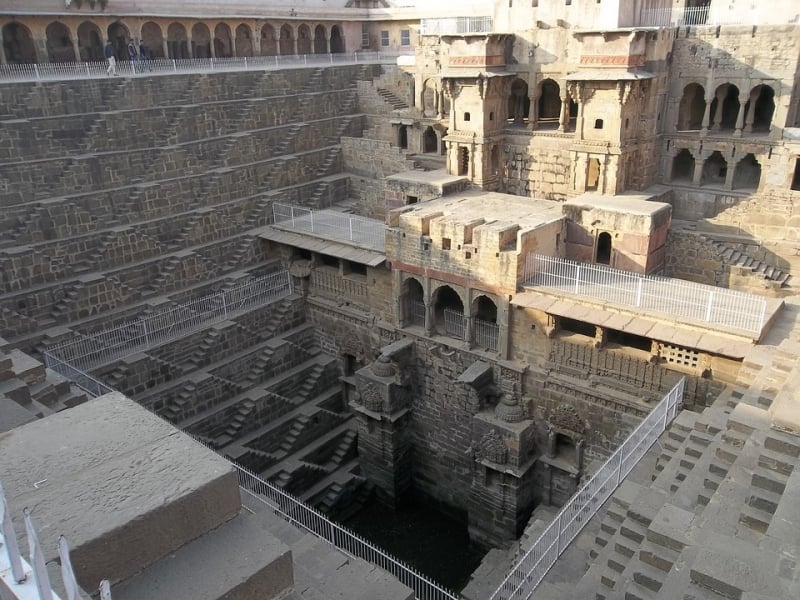 The state of Rajasthan has an abundance of ancient stepwells, wherein you need to descend a flight of steps to reach the water storage. This architectural form is prevalent in arid regions of Western India, where the water tends to be scarce. Indians built stepwells before water pipes existed. Though stepwells are mainly utilitarian, you can find some inside temples and palaces. 
One of the largest and most famous step-wells in India is Chand Baori. Located in the neighbouring town of Abhaneri, it's around a two-hour drive from Jaipur. At 13 storeys deep, it has over 3,000 terraced stone steps at its three sides and a temple at the fourth side. This exquisite medieval structure was built during the 10th century and dedicated to Harshat Mata, the Hindu goddess of happiness.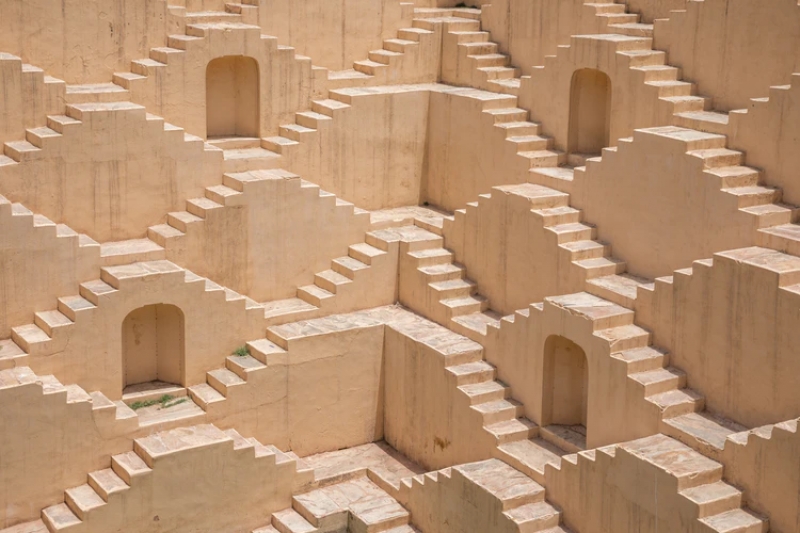 Amongst Jaipur attractions, there's the Panna Meena Ka Kund, which is just a few steps away from Amber Fort. You've probably seen its distinctive #aesthetic yellow steps on an Instagram post or two. Its semi-curved design gives it a waffle-cut look from afar, making for a pleasing backdrop. While not as big as Chand Baori, it's still a worthwhile stop for its well-preserved condition and close proximity to Amber Fort.
6. The Water Palace is a half-aquatic visual spectacle
Like a stunning postcard, the Jal Mahal sits on the man-made Man Sagar Lake, giving it its moniker, 'The Water Palace.' Though it appears to have only one storey, there are actually four more levels submerged in the water. Jaipur's royal family originally built this as a duck-hunting lodge and summer house. However, during a severe drought, the locals had to create a reservoir. This ended up drowning the lower portions of the palace. 
Though visitors aren't allowed to enter Jal Mahal, there are other ways to enjoy the breathtaking scenery. During the day, you can take in the view of the palace and the surrounding Aravalli Hills. Its light sandstone walls are a stark contrast to the deep blue lake and lush foliage on its rooftop. Alternatively, you can visit at sunset or early at night, when the palace is beautifully lit up. It'll be as if there's a secret royal banquet happening inside! 
Unfortunately, gondola rides around the Man Sagar Lake stopped a few years ago. But the good news? They're converting Jal Mahal into a restaurant! The price range is most likely going to be expensive though, so you might want to start saving up if you wish to have a romantic fairytale dinner here. 
7. Birla Mandir Temple is a study in all-white immaculateness
The Birla Mandir is a grand temple that is especially famous for Hindu pilgrimage. It is situated at the base of Moti Dungari Hill and is sometimes called Laxmi Narayan Temple. What sets this stunning Jaipur attraction apart from other traditional Hindu temples is its all-white marble form. It also features three domes that signify the three religions that originated in India: Hinduism, Buddhism, and Jainism. In sum, Birla Mandir recognises the significance of these religions in moulding the Indian philosophy. 
There are actually 14 Birla Mandir temples around India. The Birlas, a prominent Indian business family, built all of these impressive temples. Find the first Birla Mandir in New Delhi. The land wherein this temple stands was only sold to the Birlas for one rupee!
8. Patrika Gate is the place to be for #touristy photos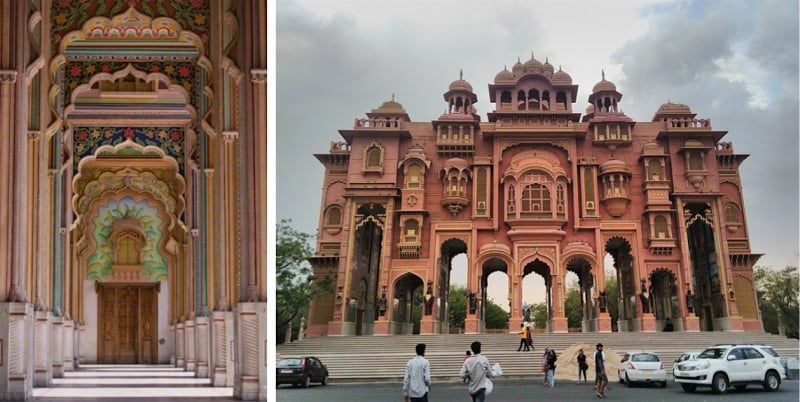 Don't leave the Pink City without walking through the pretty pink Patrika Gate. (The alliteration is too good not to use!) This vibrant structure is the entrance to Jawahar Circle — the largest circular park in Asia. A rose garden surrounds this park, with a fountain in the middle that hosts a music and light show every night. 
The Patrika Gate showcases Rajasthan's culture, which is as vibrant and colourful as the gate's design. With intricate carvings and hand-paintings, each pillar pays homage to Rajasthan history: from the forts, palaces, temples, to the lives of monarchs. Come here for the opulent facade and lively colours that have lured countless social media magnates (ahem, Kendall Jenner). Stay for the history depicted through stunning craftsmanship! 
Tip: Jawahar Circle opens as early as 5am, so best to come here early in the morning if you want to take photos at Patrika Gate. Make the most out of soft natural lighting and fewer tourists at these hours. Anything for fuss-free Instagram-ready shots, am I right? 
9. Albert Hall Museum has some of the coolest artefacts ever
Housed inside the royal Ram Niwas Garden in Jaipur's Old City, the Albert Hall Museum is the oldest museum in the Rajasthan province. Standing out amongst other extravagant centuries-old Jaipur attractions, it combines elements from Neo-Gothic and North Indian architecture. Maharaja Ram Singh originally built this as a concert hall, as to entice the Prince of Wales to visit Jaipur during the 1876  royal tour of India. 
This grand museum hosts an eclectic collection of artefacts like sculptures, tribal dresses, dioramas, paintings, jewellery, and carpets. But the main star here is the Egyptian mummy, gifted by the Museum of Cairo in Egypt. Oh, and did we mention that the museum is also open at night, from 7-10pm? Definitely a rare chance to make your Night at the Museum dreams come true! (Just don't disturb the mummy.)
Note: Photography is not allowed inside the Albert Hall Museum.
10. Jaipur's quaint stores have all sorts of unique finds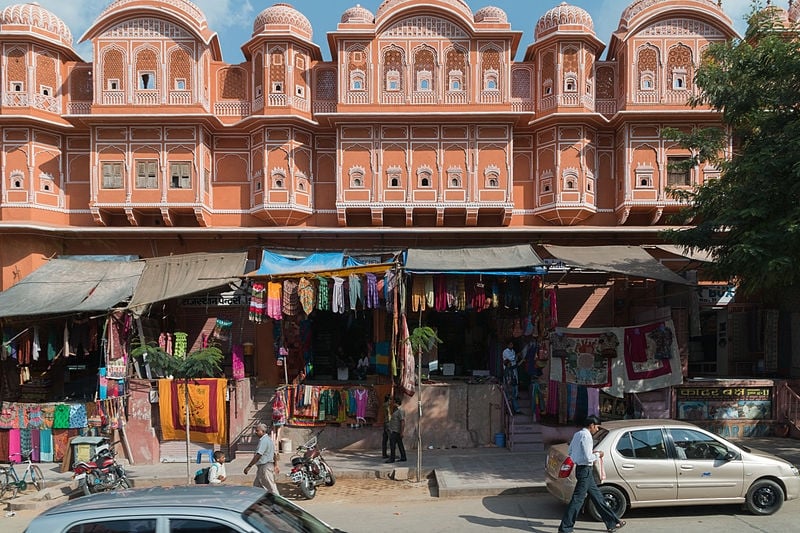 When in Jaipur, make sure to save some luggage space for goodies that you won't find anywhere else. If the majestic Jaipur attractions aren't enough to make you come back soon, then maybe countless stalls around the Jaipur bazaars will. Here, you'll find jewellery, textile, and handicrafts; you'll want to bring all of them home!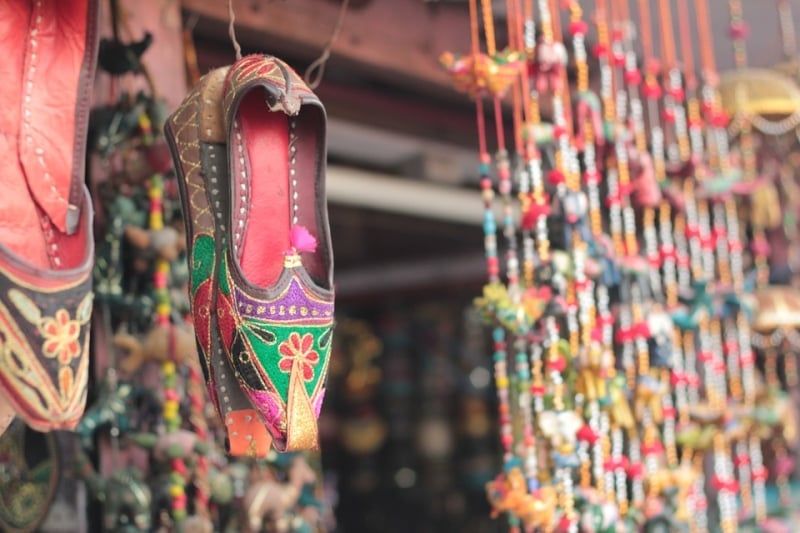 The most famous among these is the Johari Bazaar. Here you can find the best of precious gemstones like garnet, topaz, and emerald. If clothes are more of your thing, there are also shops that sell beautifully embellished sarees and lehengas. For more traditional chic finds, head over to Nehru Bazaar. It's known for selling the most colourful juttis! These traditional flat shoes (made of leather with intricate embroidery) could be your next style staple! For the best artisanal finds, Chandpole Bazaar is your best bet. Take your pick among various paintings, carpets, and handicrafts made of marble, stone, and wood. 
Outside the Jaipur bazaar scene, Kripal Kumbh is a must-visit for pottery collectors and enthusiasts. Kripal Singh, who was famous for reviving Jaipur ceramic art and blue pottery, founded this tiny showroom. Blue pottery is a lovely art form widely recognised as a traditional craft in Jaipur. This store also holds workshops, where you can learn from Jaipur's best. 
11. Rajasthani cuisine is a feast for your tastebuds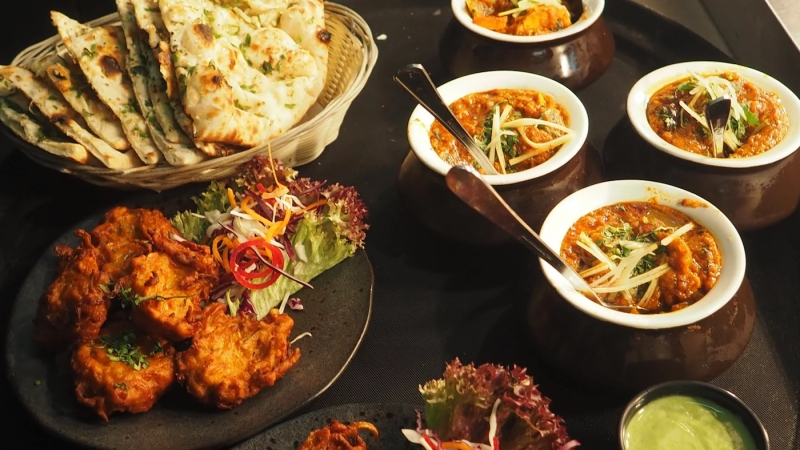 No travel is complete without trying out the local cuisine! You should know that Jaipur's burgeoning food scene is just as fascinating as its impressive structures and local products. Rajasthani cuisine is often characterised by local spices, milk, and ghee (clarified butter). Whichever your taste buds prefer, prepare your tummy for a whole lot of munching (or sipping). 
Head over to the centuries-old Lakshmi Mishthan Bhandar (or LMB, as the locals call it) for fresh authentic flavours. Try out their standard Rajasthani thali: an assortment of veggies, chutneys, bread, and rice. For dessert, order their best-selling paneer ghewar: doughnut-like sweets made from cottage cheese, flour, and sugar, then sprinkled with nuts on top.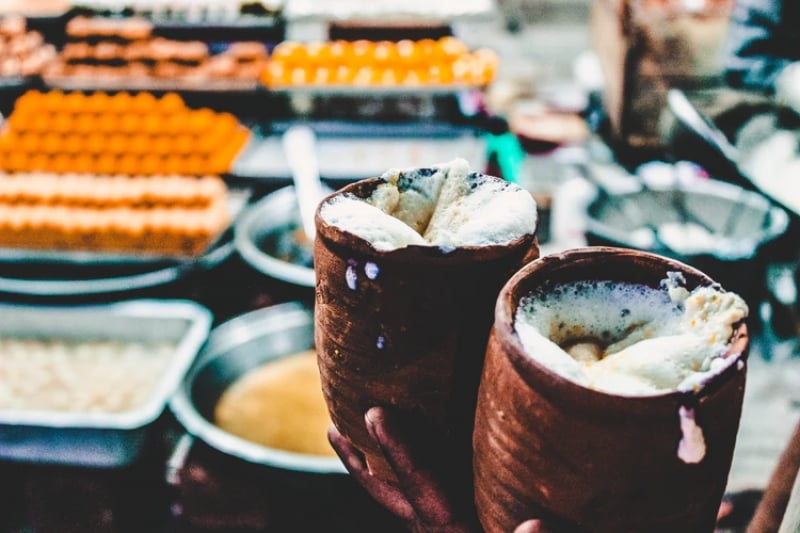 For spicier experiences, make sure to sample some jungli laal maas (mutton curry), keema baati (minced meat-stuffed bread), and kadhi (yoghurt curry with vegetable fritters) in whichever restaurant you visit. Meanwhile, the famous LassiWalla offers the best lassi (yoghurt-based cold drink) in the city. Available in sweet and sour flavours, the lassi is topped with malai (cream) and served in disposable clay cups, all making for a uniquely enticing aroma. 
12. Ranthambore lets you see India's wildlife up close
Take a day tour to Ranthambore National Park, approximately a three-hour drive from Jaipur. This vast wildlife reserve used to be a favourite hunting ground of the Maharajas of Jaipur. Now it serves as a sanctuary for various wildlife, most notably for the majestic Bengal tigers. Other native and/or endemic fauna include the Indian leopard, nilgai (Asian antelope), sambar and chital deer, and sloth bear. If you grew up watching The Jungle Book (or even National Geographic), then you'll find this place worth the trip!
Note: Tigers can be easily spotted even in the daytime. However, the best months for tiger sightings are from November to May.
Apart from the safari and wildlife-watching, Ranthambore National Park has several ancient ruins. The red-painted Jogi Mahal is a former hunting lodge by the banks of the lake Padam Talab. Feel free to take in the view; the locals recently converted Jogi Mahal into a guesthouse! There's also the Raj Bahg Ruins: an agglomeration of ancient structures like minarets, palace outhouses, and domes. 
Hike to the 700-feet Ranthambore Fort ruins. Once you get to the top, you can enjoy a panoramic view — from the exotic birds to the boars by the lake. Speaking of views, you can also take a hot air balloon ride for a breathtaking bird's eye view of the entire park. Don't forget to bring your camera and binoculars to take in the full scenery!
Note: The best season for hot air balloon rides are between mid-September and late March, when there are little to zero chances of monsoons.
Also read: 10 Surprising Reasons Why You Should Travel to India Soon
Follow the well-paved road and make a journey to The Pink City. With so many fascinating Jaipur attractions, you'd definitely want to see what the hype is all about. Which one of these are you most excited to experience? We'd love to hear all about it!