Whether you like it or hate it, shopping is more or less and inevitable part of travelling. Be it lavish spending at the most luxurious malls or bargain hunting at crowded street markets. you've most likely returned from a trip with a heavier bag than when you departed.  Some people shop for personal satisfaction while others shop for souvenirs to bring back for friends and relatives.
Now, Taiwan is an awesome destination to travel to and it has no shortage of items on sale at any given time. But, to help you pick out some of the best souvenirs from Taiwan for your loved ones back home (or for yourself), here's a list of 9 unique things to buy in Taiwan and where to buy them.
Also read: 4 Days Taiwan Itinerary: Unconventional Things to Do for Your Next Weekend Getaway
To make this list simpler to…ahem…digest (foreshadowing pun game is strong), the list will be split between edible and non-edible items. Let's start with things you can't eat!
Mini Sky Lanterns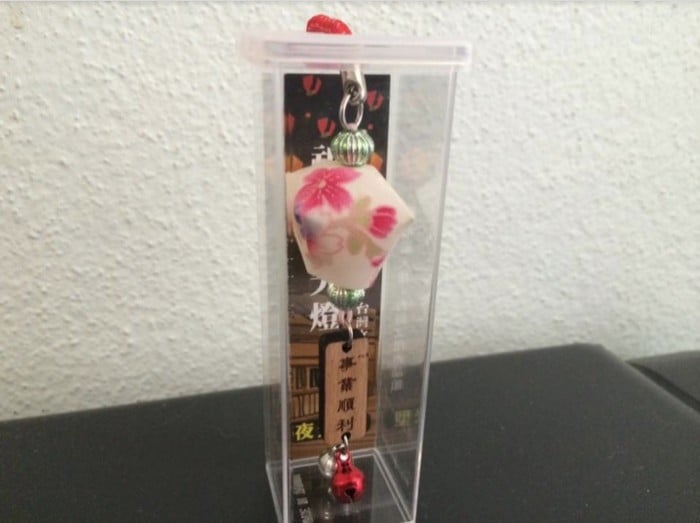 Now there are things and souvenirs which you bring back from a place which you have to tell people where you brought them back from. And then there are Taiwan's mini sky lanterns.
You see, in a small town called Shifen, a little ways east of Taipei, it's become a tradition (and more recently, a hot tourist activity) to release sky lanterns containing the wishes and messages of the people who bought them at night.
Of course, while they are lovely, you can't exactly buy a sky lantern, bring it home and release it in your backyard (in some places, it's illegal to do so). So, the good folk at Shifen came up with the mini sky lanterns. These little ornaments are perfect souvenirs, meaningful and uniquely Taiwanese. They even have different version, such as LED lanterns, glow in the dark lanterns, glow in the dark LED lanterns….
Where to buy them: You can find these trinkets in abundance in Shifen although there are also a few stores selling them outside Ningxia Market in Taipei.
Stone ornaments and wood carvings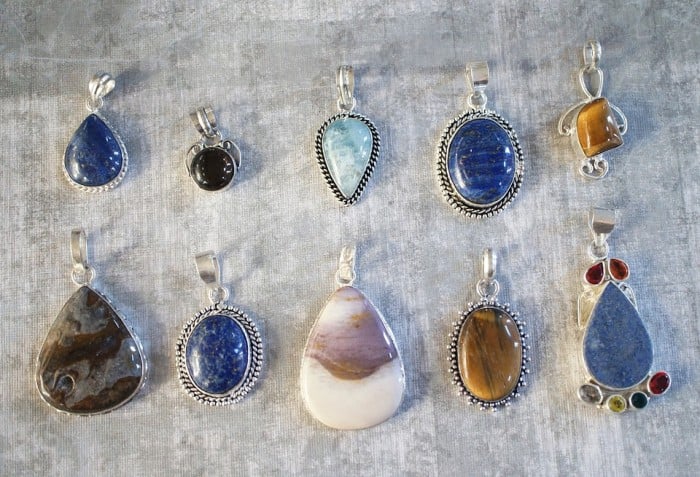 Image credit: starbright
Jade, precious stones and wood carvings are very typical Chinese style souvenirs and Taiwan obviously has its fair share these items. Wood carvings can range from Chinese deities to animals and even to furniture (though I doubt you'd be able to ship that back home, so forego the temptation).
In terms of stone ornaments, in addition to jade (which can sometimes be expensive), you can find a lot of stores or stalls which sell necklace pieces made of uniquely formed stones with beautiful natural designs. Out of all these stones however, the most uniquely Taiwanese is the Hualien rose marble. It's unique texture makes it look like a Chinese landscape painting.
Where to buy them: For wood carvings, you would want to pick those up while in Miaoli County. Although you can probably find carpenter stores in any place in Taiwan, the town of Sanyi in Miaoli County is known to be home to some of the finest wood craftsmen around. For stone ornaments, some of the finest marble can be found in Hualien, near Taroko National Park.
Of course, glass art is also quite popular in Taiwan, but it would be rather difficult to transport the item home without breaking it. It's not impossible, but a bit of a hassle. But if you insist, you can find the best glass art at Liu Li Gong Fang in Taipei. It's an old glass workshop that has been around since the 80s.
Anime goods and manga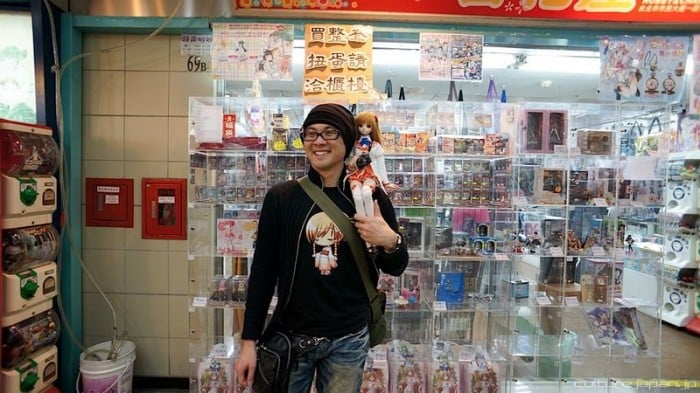 Image credit: Danny Choo
I know, I know, anime goods aren't exactly Taiwanese per se, but hear me out. Japanese culture runs very deeply in Taiwan and as such, anime and manga is a booming business in many of its largerst cities. While you can of course buy anime merchandise in your own country if you can find a store that sells it or by making online purchases, you will most probably find your choices limited unless you live in Akihibara in Japan, and more than 99% of the world population does not live in Akihibara Japan.
Colourful, pretty and easy to carry, anime figurines and manga are a perfect gift to bring back from Taiwan for all your otaku friends (make them call you senpai!) and in Taiwan, it's not ridiculously expensive either.
Where to buy them: Taipei Main Station. No, not kidding. Look, there's an underground mall at the main train station of Taipei called the Taipei City Mall and about 40% of the mall, which runs for over 800m, is dedicated to anime merchandise. You can find anime figurines, manga, DVDs and CDs and posters. Definitely worth a visit.
Trendy and/or wacky clothes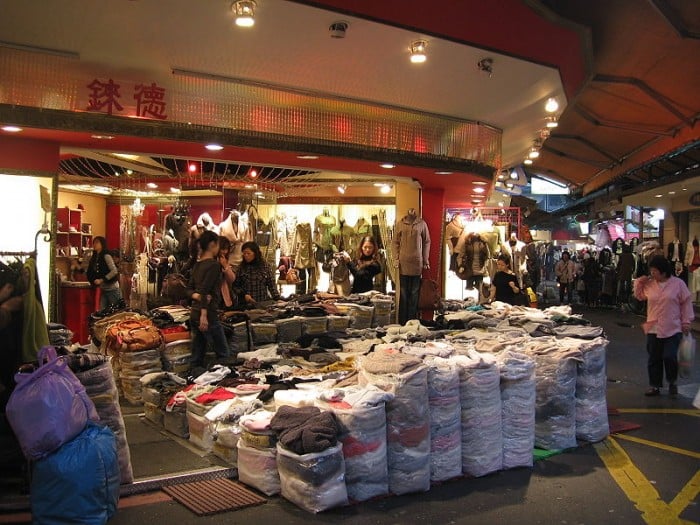 Image credit: Sengkang
When you typically buy a shirt as a souvenir, you buy one of those I – heart- City Initials T-shirts, like I heart SG, or I love HK. While they are popular, they're getting rather mainstream and typical, and some of them can lead really awkward phrases, for example, I heart [insert Beijing's initials]…if you don't know why that's awkward, you're doing well in life. But I digress.
In Taiwan (Taipei especially), you can find loads of trendy seasonal fashion items and T-shirts with wacky or funny vinyl images. For those who read Mandarin, there are even T-Shirts with funny jokes or puns on them and all of them sell for a relatively cheap price. They're light, easy to pack and an excellent gift.
Where to buy them: There's a district in Taipei not far from Taipei 101 called the Wufenpu District and it's bascially a place where clothes and other fashion items and accessories are sold in bulk and wholesale and depending on which store you visit, they cost next to nothing when compared to some of the malls in Taiwan.
Electronic Gadgets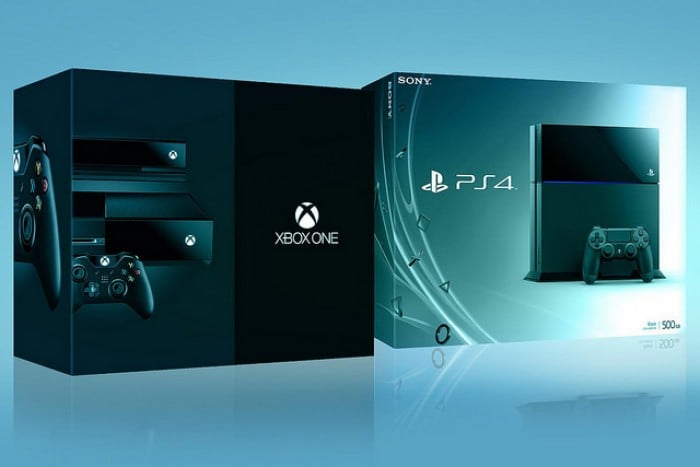 Image credit: Bagogames
This is a little trickier to get across. Depending on where you come from, electronics in Taiwan are either dirt cheap or luxuriously expensive. In my case, I almost collapsed in agony over the price of the Playstation 4 in Taiwan (I had spent about RM300 more to buy the same thing in Malaysia). But of course, I'm not here to encourage people to bring home a gaming console as a souvenir (or am I?)
But Taiwan does have an array of cheap electronic components such as USBs and powerbanks. And they often look much more trendy and appealing in design (such as a Captain America Shield USB which you can wear as a necklace). You can also purchase some vintage (read: old classic) gaming consoles like the Gameboy Advance.
Where to buy them: You can find electronics stores in any mall in Taiwan and there are some electronics stores in Taipei City Mall as well. But you would want to make a visit to Taipei's Guanghua market on Civic Boulevard, which, as fate would have it, is the street above Taipei City Mall.
Unique Stationery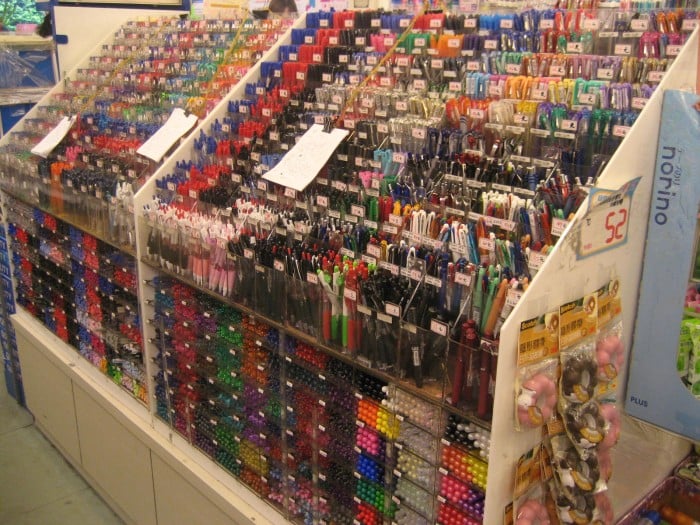 Image credit: Jia
Now, here's the thing about me. When I'm at a loss for what to buy for my friends, I go to the most typical, simple, 'manly' thing to get them. I get them..a pen. I don't know what it is with men, but more often than not, we receive and we give pens as gifts. What? It's a highly useful gift!
And in Taiwan, there are tons of unique stationery to choose from. There are colourful and wacky pens, cards made from foam boards, invisible ink pens, cute notebooks and files and one bookstore I visited even had fart pellets. No, that was not a typo, they had fart pellets. Fred and George Weasley flashbacks, anyone? If you find yourself with some free time, or like in my case, stuck in a storm with nowhere to go, do feel free to visit some bookstores and check out the special assortment of stationery.
Where to buy them: Not all bookstores were created equal. In Taipei, Eslite is a chain bookstore which is open 24 hours a day, one of the first in the country. It is stalked with the latest books and unique gift stationery.
Also read: 8 Must-Try Taiwanese Foods
Packaged Snacks
Taiwan has an assortment of unique packaged dried snacks, ranging from various (deliciously) flavoured cup noodles to iron eggs (which are eggs reboiled in a mix of spices and aired several times, ensuring a chewy texture and a rich blend of flavours.) And while these snacks are all unique and popular in Taiwan, one of my personal favourites is what they do with their meat over there.
I'm pretty sure you've heard of bakkwa, which is Chinese dried meat (usually pork) which is salty and sweet, with a texture similar to jerky. Well, in Taiwan, they have gone a step further with what they can do with dried pork. They've sliced the meat super thin and added in some almonds, yes, almonds and pork, to create this addictively crunchy snack.
Where to buy them: You can technically get these snacks in any convenience store (7-Eleven) or supermarket. You can also find them at the airport if you're on the way home and realised with horror that you forgot to pick up a souvenir, but I suspect that it would be a little pricier there. You can also find little snack shops (mostly in Taipei and on Zhongshan Road in Hualien) which specialise in the meat crisps.
Fine Tea Leaves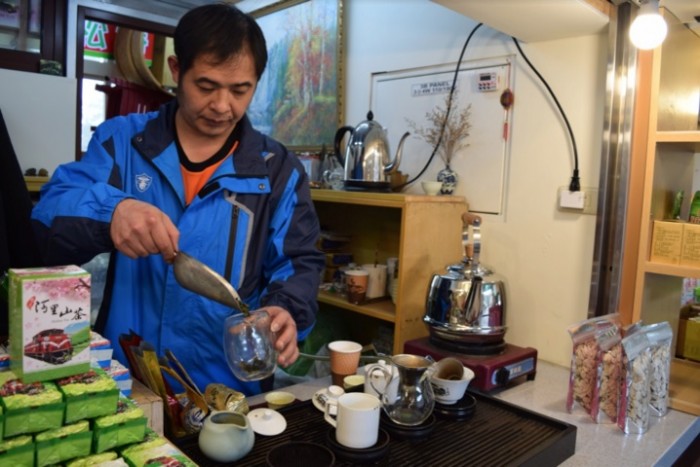 The Taiwanese take their tea seriously, and visiting a tea house for a cup of freshly brewed Chinese tea is a legit thing when visiting Taiwan. Much of the reason behind the popularity of Taiwanese tea is the quality of the tea leaves used. Some of the best tea leaves you'll ever find can be found in Taiwan, but none are as famous (and infamously imitated) as Alishan's high mountain tea.
The tea leaves are harvested from high altitude tea plantations in the Alishan mountain area, and packaged in air-tight seals after the drying process, ensuring maximum freshness and optimal taste.
Where to buy them: Alishan is the safest place if you're looking for the finest high mountain tea leaves. There are plenty of knock-offs and imitations in the cities which bear the name 'Alishan' but aren't exactly the legitimate product (such as 'Penang Hokkien Mee' in Kuala Lumpur which does not resemble Penang Hokkien Mee at all #shotsfired). However, do take time to visit different stalls on Alishan before buying any leaves, as you will most likely be able to find even better deals if you prod around different shops.
Mochi products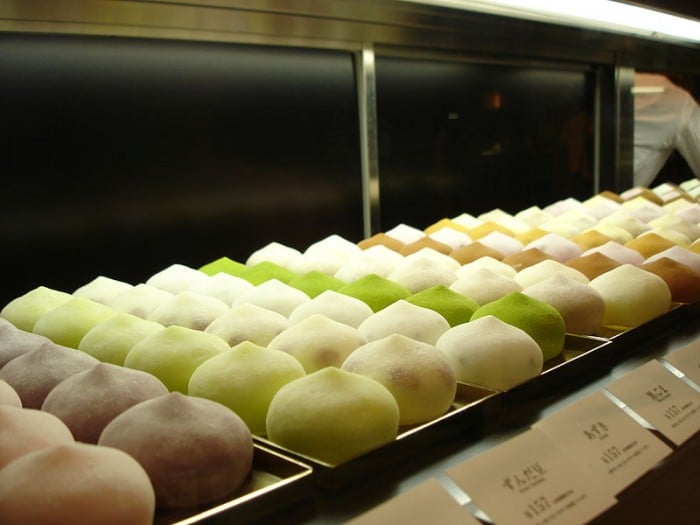 Image credit: Vcarceler
They're small, sweet, a little sticky in the mouth, a little chewy, gummy, have a multitude of different flavours and variations, can be frozen as ice cream and they're made of glutinous rice! Mochi, a cute package full of flavour. Well, technically, mochi is the Japanese name, the Taiwanese call them muaci (moi chi) in Taiwanese and ma-su in Mandarin.
You can find these fun-sized delicacies being sold in bulks at airports and other snack shops and even in some supermarkets. There are also special flavours in certain areas of Taiwan, such as cherry blossom mochi in Alishan.
Where to buy them: While you can get these rice ball desserts anywhere in Taiwan, if you ever find yourself in Hualien (Beautiful and picturesque county, you must visit), do stop by at Jota Food Enterprise, which is a mochi manufacturing company that doubles as a mochi shop. Here, you will be spoilt for choice as all sorts of mochi can be found in different flavours and even textures. They even have mochi cookies which is kind of like a soft cookie, only it's made of rice…well…yeah, I just said that.
And that concludes the list. Taiwan is a great place to shop for some unique things, so what are you waiting for? Go! And happy shopping!