"Okay, so you're finally going to go on a solo trip. Check your email, there's your airticket."
 I was like "What!? Are you serious?" And yes, it was true.
"The Bald Guy" had been pestering me to take a solo trip for a while now. I mean yes, I love travelling. But alone? I wasn't sure how I'd like it. Like most Singaporeans, I had this nagging feeling that it might be boring or dangerous. But with the tickets booked, and with all expenses paid (provided I didn't exceed 900 SGD in spending money), plus Japan being a relatively safe country, I agreed.
Also read: 13 Experiences Every Traveller must have in Japan
Cities Travelled
1. Osaka

2. Kyoto

​3. Tokyo

Also Read: How to Travel Tokyo on a Budget
Flight tickets and Transport: SGD 650
Airfare: SGD 280
SIN-Narita return flight tickets on Scoot: SGD 280
There was a UOB credit card promotion at that time, thus the cheap SGD 280. Because there are usually credit card promotions of some sort, it shouldn't be difficult to find a return ticket to Tokyo between SGD 450-500.
Transport: SGD 370
JR Pass 7 days: 28,300 JPY (SGD 310)
 The JR Pass settles your transport for 7 days including the Shinkansen for Tokyo – Kyoto –  Osaka – Tokyo and transport within the Tokyo subway also to JR Nara Station, BUT NOT for travelling within Kyoto/ Osaka.
Miscellaneous public transport: SGD 60
For travelling within the individual cities (those not covered by JR), it's advisable to buy a Day Trip Pass (around 500 JPY each) for unlimited rides unless your route is well planned out. (But whats the point of being so rigid? There's no fun travelling this way)
Getting there
Well, getting to Tokyo is pretty straightforward, so I won't have to elaborate on that. From Narita Airport, there are trains going to Kyoto & Osaka. You'll have to first take the train to JR Tokyo Station and change to the Shinkansen there though.
Food, drinks and 'happy spending': SGD 233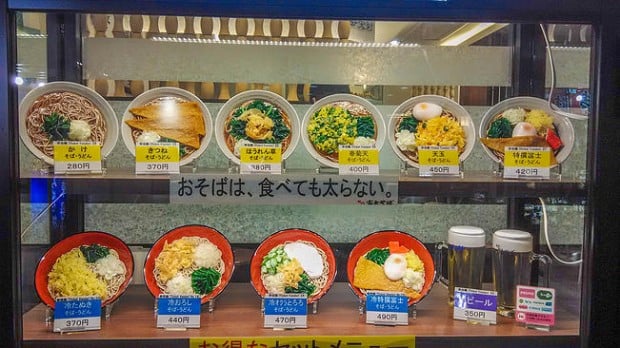 Japanese Restaurant in Ikebukuro, a suupposedly cheaper part of Tokyo. The truth is, you can find Ramen for 500–650 JPY EVEN in Shinjuku or Ginza.
No, I didn't live on a diet of onigiri and cup noodles
"Wah, you going Japan? Expensive leh. How much you spending?" I can't tell you how many times I've heard that statement.
 To be honest, Japan probably isn't the cheapest place, but expensive? Well, it's probably because you either can't be bothered to search for a cheaper restaurant, or you're a typical Singaporean who eats according to"recommendations" by food bloggers or because "so & so" said so.
I love my sashimi's, sushi's and yakitori's as much as the next Singaporean girl. But surely there isn't a need to have them for EVERY SINGLE MEAL? Just in case the picture (above) is too small, you can find Soba for AS LOW AS 280 JPY (SGD 3.10), ramen or Don's as low as 450 JPY (SGD 5).
It costs me 50 JPY (SGD 0.55) for each Tamago, and 100 JPY (SGD 1.10) for an Ebi Sushi. I can't remember the exact prices for every dish, but yeah, you get the idea.
When dining in Japan, all I did was follow these "Two Rules":
Rule 1
I'm here to experience and enjoy EACH type of authentic Japanese cuisine, My parents aren't millionaires, and neither do I earn 10k a month, thus I DO NOT DESERVE to eat expensive food for EVERY SINGLE MEAL.
Rule 2
Affordable restaurants are everywhere. Probably just 10 minutes walk away from a tourist trap. If in doubt, OPEN YOUR MOUTH and ask a local. If he/she does not understand, move on to another person and ASK AGAIN.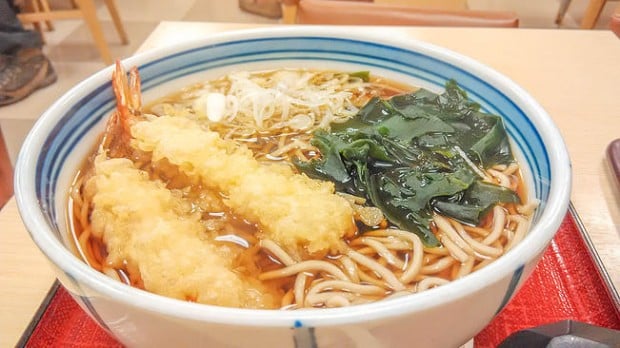 I know what you're going to say. "Those cheap food is the plain and boring kind, that's why so cheap. Like that where got enjoy?"
Before I move on to the next part on attractions, let me re-emphasize for the last time there is good, authentic and delicious Japanese food at the cost of what we would pay at a coffee shop or food court back in Singapore.
Okay, so the last example wasn't a great illustration. This was in one of the really local (Singaporean tourists wouldn't go) places. But yeah, you get my point. Even in Tokyo, it is possible to eat COMFORTABLY in restaurants at Singapore food court prices or less!
And just so it's clear, I got to experience and ENJOY a huge variety of Japanese cuisine this way. Also, to save money on breakfast, hunt for hostels that "Include Breakfast" as part of the room cost. For those that don't, there is usually a "Family Mart" nearby where you can get tasty Onigiri for less SGD 1.50!
You think blogs tell you where the most delicious food is? Wrong. Locals tell you where the most delicious food is.
Also read: 12 Underrated Foods You Should Never Leave Japan Without Trying
Attractions: SGD 20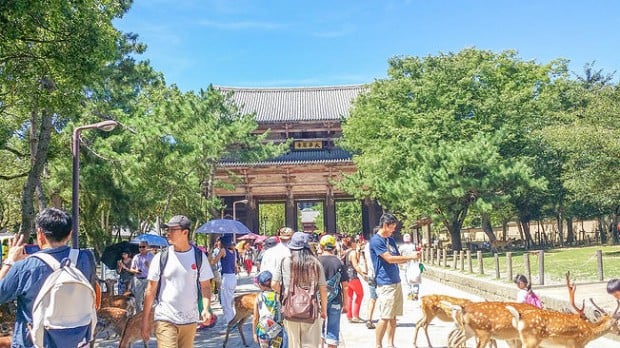 Nara Park, one of my favourite places! I love the deers!
I won't go as much into attractions as I usually do because this post is about Japan, a typical Singaporean favourite holiday destination. Yes, i'm not kidding, I spent just SGD 20 on attractions. There are a lot of attractions in Japan that are FREE.
(For example; Nara Park is free. Some temples in Nara Park have an entrance fee. So me, not the biggest fan of Japanese temples, didn't pay for entry to most of them).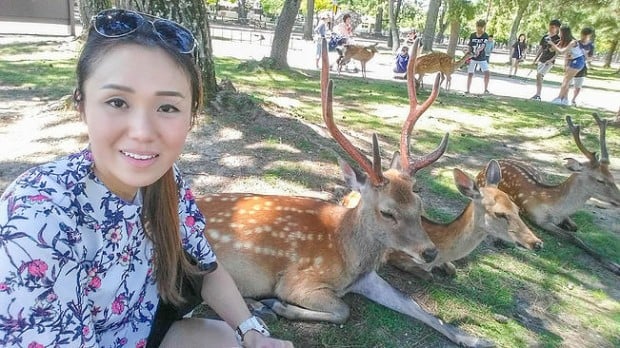 Nara Park was one of the highlights of my trip
I loved Nara Park and I would definitely recommend anyone visiting Kyoto or Osaka to drop by this place. You can do it as a day trip from Kyoto. Besides the deer, there are number of temples. Unless you're a hardcore temple person, Kyoto has enough temples to last you a lifetime. There's no need to pay to see those in Nara.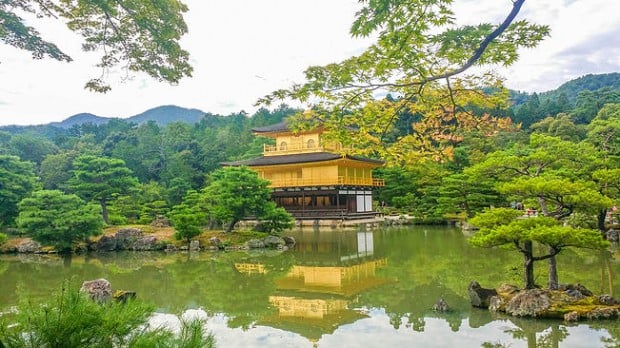 Kinkakuji (Golden Pavilion) is one of the most iconic temples in Kyoto. It's easy enough to drive there (if you have a group of friends to split the costs), As I was alone, I had to take the public transport in what turned out to be a rather long journey. I guess the Pavilion was nice, but perhaps the long journey took some of the fun out of it.
"The Bald Guy" had insisted I make the Fushimi Inari Shrine as part of my "Must Visit" list in Kyoto. Because it was way more accessible than "Kinkakuji", I enjoyed this a lot more. (Oh, and it's free too).
The most iconic thing about Fushimi Inari isn't exactly the "Shrine", but rather, the orange Torii paths that lead you to the "Shrine". I wouldn't say I felt like I was in a church service, but the peaceful, serene atmosphere walking through the orange paths wasn't lost on me.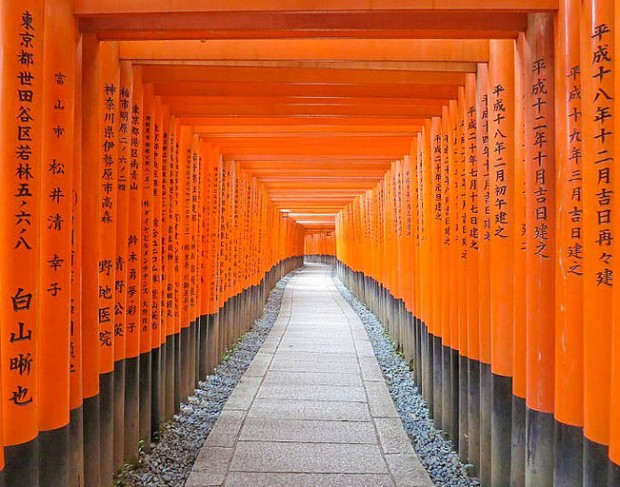 For those of you whose idea of a fun holiday is a 2 hour walk, you'll be pleased to know there are trails going up the mountain to many other smaller shrines. If you start in the morning [which you should, so you can get clear pictures of the orange Torri paths (above) without being photobombed], you should end in time for lunch.
Besides the usual temple sight seeing, I spent some time experiencing Japanese Traditions. I didn't convert to "Shintoism" though.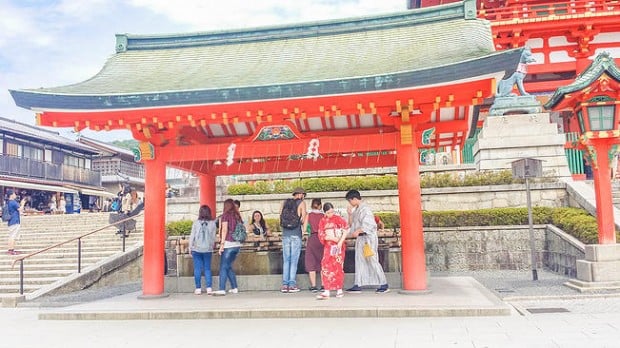 Doing the "Purification Ritual" was a rather fun experience, especially if there are other tourists around for you to observe and laugh at silently. Some tourists skip certain steps, others look awkward. I think I was one of the awkward ones. Sometimes, solo travel shyness hits in once in a while as well. I didn't feel like bothering a stranger to snap a photo of me rinsing my mouth.
Ladles for rinsing your mouth and washing your hands. No touching your mouth though! 
During my trip planning, I felt really excited that I would be seeing The Bamboo Forest. It looked so beautiful in pictures. Unfortunately, I think the colors weren't right the day i was there. Not to mention the huge number of photo bombers.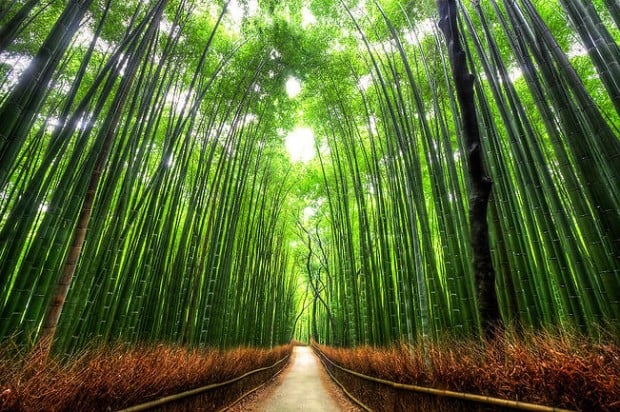 Picture from amazingworldoffical.weebly.com
The above picture was what it was supposed to look like. Below is how it"really" looked like. I made the mistake of visiting both the Bamboo Forest and Fushimi Inari Shrine on the same day. This meant for at least one of them (in this case the Bamboo Forest), I would arrive at a timing where there were more tourists than trees and when the light wasn't as good to really evoke that magical experience of being surrounded by green bamboo trees.​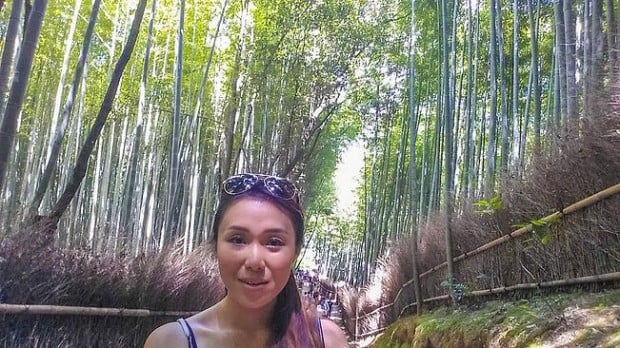 Nonetheless, I enjoyed Kyoto very much. The "old world" laid back feeling really grew on me. It was in Kyoto where I really felt relaxed and on holiday. I have absolutely no idea why Singaporeans love Tokyo that much. I mean, I love the food and shopping, but Tokyo reminds me of Singapore; not exactly the thing you want to be reminded of when you're on holiday, else I would have just stayed at home.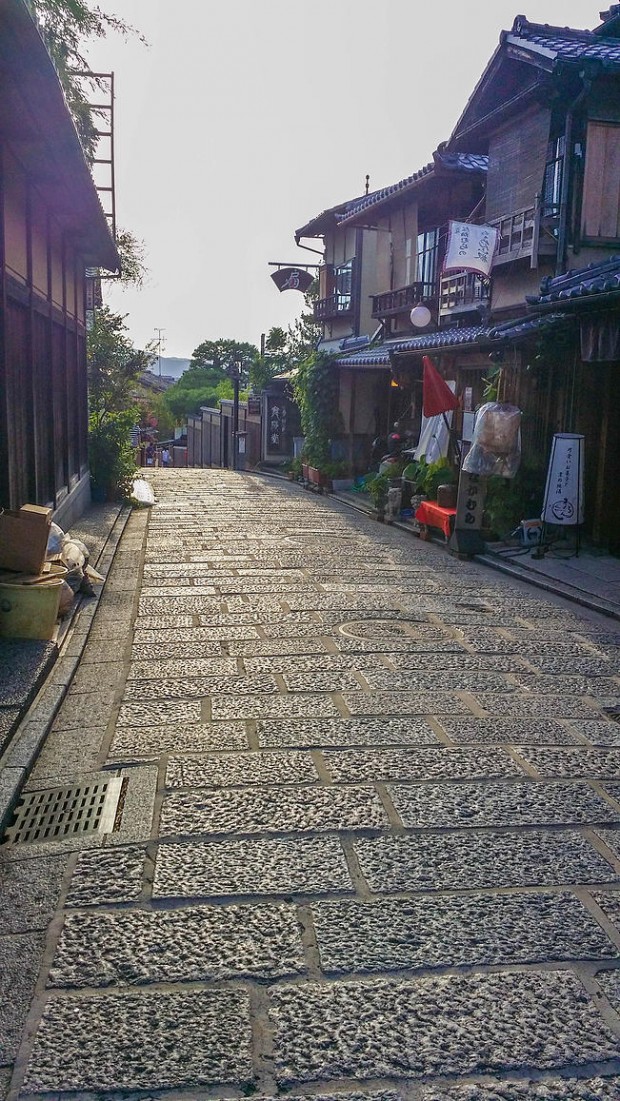 Osaka is like a mix of Kyoto & Tokyo; modern, yet un-modern (I don't think there is such a word, but yeah, you get my point). I didn't spend too long in Osaka though, just a couple of days mainly to see the "crab thing" everyone takes a picture with.
And of course, Osaka Castle. What else?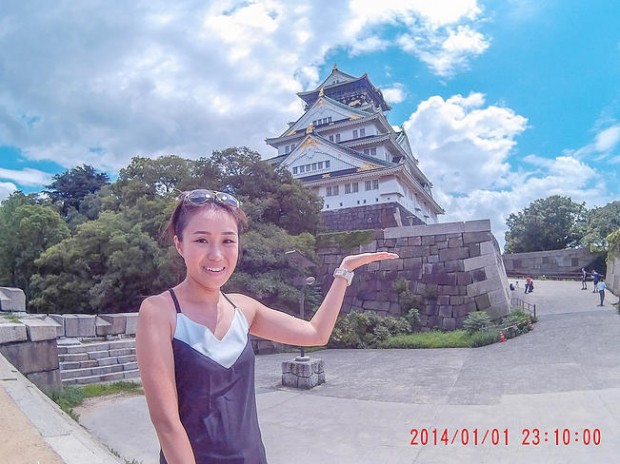 The truth is, Osaka Castle was kind of a disappointment. Perhaps i'm not really a "castle" kind of girl, but if you've visited Europe, you wouldn't be impressed. (I didn't like Dracula's Castle in Romania either, so maybe it's me) To make things more fun (since I was already there) I decided to doll myself up and become a Samurai for a while.
Guess what? It's free!
They allow you to try out their outfits and post for photos with your own phone. It's your choice whether you wish to pay for a professional to snap photos of you. Being a Singaporean, I politely declined, free photos were good enough for me.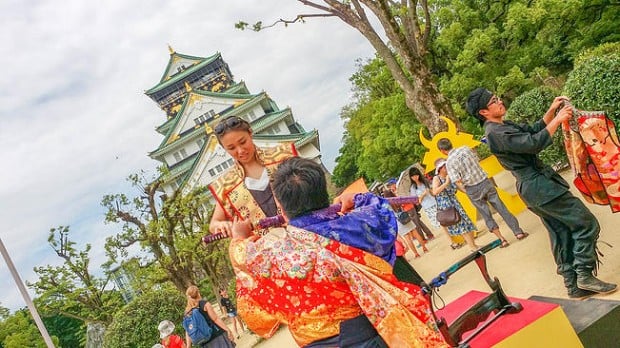 From Osaka, I made my way to Tokyo. Hello buildings! Hi Crowds! And of course, Shopping!  (Unfortunately, other than cheap beauty products, I couldn't do any real shopping; more than half of "The Bald Guy's" $900 had gone by now).
I was in Tokyo for around 3 days. And trust me, if you're not on a massive eating/shopping spree, or planning to go on a side trip to perhaps Hakone (for hot springs and views of Mount Fuji), 3 days is a little too long to spend in Tokyo. Because i bought day passes. I went all over Tokyo to kill time. From Ikebukuro, to Shinjuku, to Asakusa, to wherever. I think I must have memorized the subway system by the end of my trip.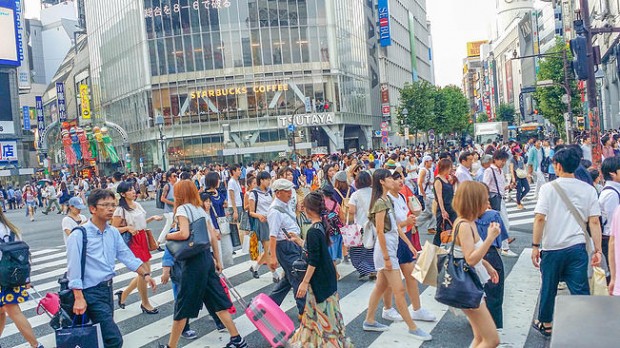 From the famous Shibuya Crossing……..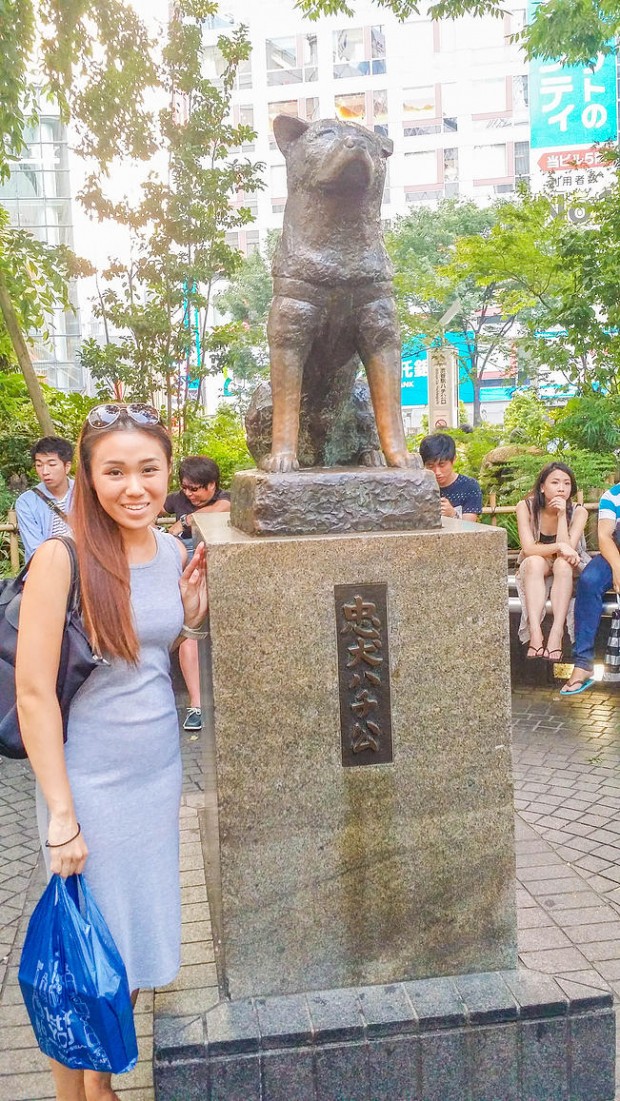 And Hachiko…..
Wow. I think I shared more about attractions that I originally planned to. I shall stop here. For more on what there is to do, just google Japan travel. There are loads of blogs on what there is to do there. A Girl & A Bald Traveller is a blog on "Exotic" Travel. If not because it was my first solo trip, "The Bald Guy" wouldn't have agreed to blog about Japan at all.
Accommodation: SGD 297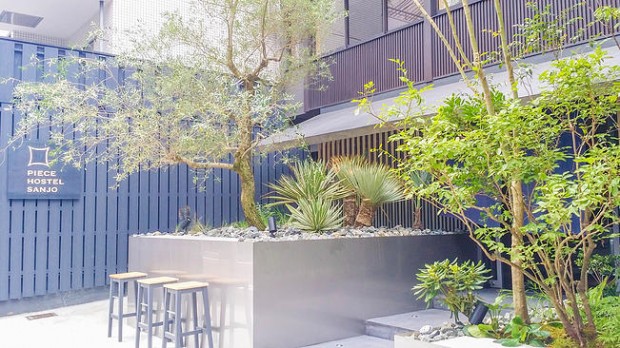 Now, "The Bald Guy" and I usually don't book our accommodation in advance because we try not to have a rigid itinerary. If you book all your accommodation in advance, you lose out on the flexibility in travelling. This time though, it was a mistake.
The sky was darkening above me, and for the first time, I was starting to get worried. It was my first day in Japan, and I was turned away from my 3rd hostel in a row. "No more rooms" I was told repeatedly. I glanced at my watch. It was 8:3o pm and I had yet to find a bed for the night. Not a great start to my 1st solo trip. I prayed…….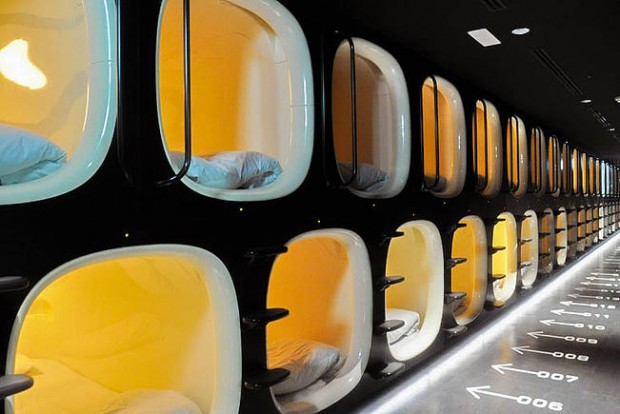 "4th time's the charm." At least it was for me. 9 Hours Kyoto had ONE last bed left. "Phew."
Before I left, I had told "The Bald Guy" I was not staying in capsule hotels. (I get claustrophobic when i'm squashed small places) Fast foward one day and everything's changed. I'd never been so happy to see a bed. I guess solo travelling really changes you. It forces you to adapt.
Anyway, it turned out that on the very weekend I arrived, it happened to be some Japanese festival held in Osaka & Kyoto, explaning the full house. If you can believe it, I was denied entry into a capsule hotel which had 437 rooms! That's how packed it was.
Despite this, I maintain that you don't have to book accommodation in advance when holidaying in Japan. As long as it doesn't happen to be a festival, or some major event, there will always be accommodation. (Applies in Europe, as it does for Japan).
A hostel or capsule hotel will cost you anywhere from SGD 28–40 a night. As you can see from the pictures, hostels aren't that garbage dump or"outfield" experience Singaporeans assume they are. In fact, they are almost like hotels.
Why are you in Japan? To sleep? For room service? Or are you in Japan to soak up the culture, taste the food, or even to do shopping. I don't know about Singaporeans. They can spend SGD 100 a night on sleep if they want. Me? I'll take SGD 33. (Average of 9 nights of sleep)
Just in case you missed out what I mentioned under "Food", remember to hunt for a hostel that "Includes Breakfast".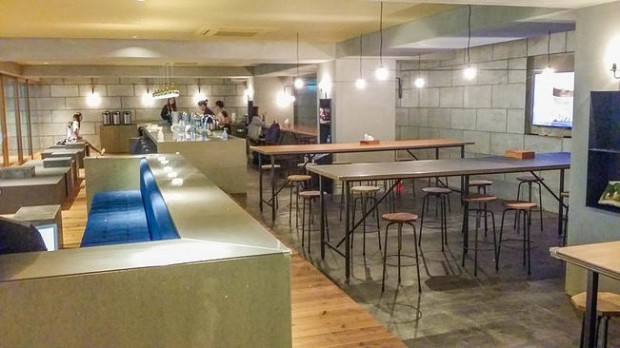 The dining area at one of the hostels in Kyoto.   
The experience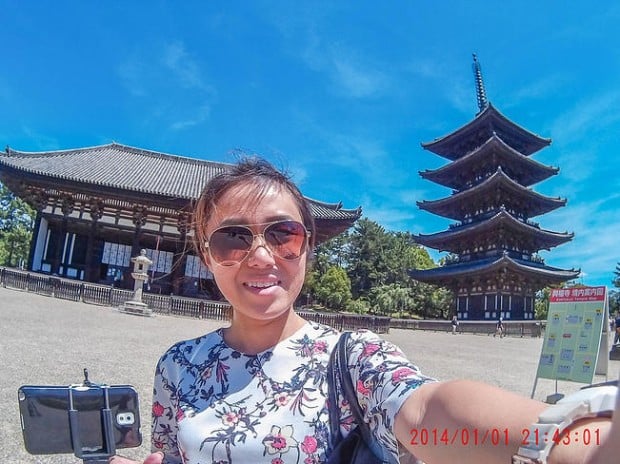 Mandatory solo travel item. Selfie stick! 
As you can see from the breakdown of my trip, Japan doesn't necessarily have to cost an arm and a leg. ANYONE can have an enjoyable Japanese experience without compromising on quality and activities. No one's asking you to sleep at a train station or beg for free food. All Singaporeans have to do, is to be open; open to new experiences. Having an elitist mentality just hurts your bank balance.
(Of course, if your raking in 10k a month, sure, YOLO my friend! You deserve it. If you don't, well. You decide your bank balance then, and the number of trips you can take in a year).
However, I wouldn't recommend Japan as a solo travel destination. Not because it's not a great place, I loved Japan; but because there are easier and probably more "engaging" destinations to visit.
Japan is still a quiet and reserved society. You are less likely to meet a fellow traveller and have a decent conversation at say, a bar or cafe. I did meet travellers at the hostels I was at, but let's just say in countries like Australia or Portugal. where the backpacking/hostel culture is more prevalent, it's a little easier to get by.
Still, my first solo travelling experience has been a blast. All Singaporeans (in fact, anyone!) should really get down to it. It's like Skydiving. Once you pay, you've no choice but to go through with it. When it's finally over, you'll be able to look back and savour how empowering the whole experience was.
C'mon! What are you waiting for? Book your solo trip today!​
Cost Breakdown
Transport (including airfare): SGD 650
Food, drinks, happy spending: SGD 233
Attractions: SGD 20
Accommodation: SGD 297
Total: SGD 1200!
Also read: Impossible! Just SGD 900 for 19 days in Europe?
Contributed by A Girl and a Bald Traveller