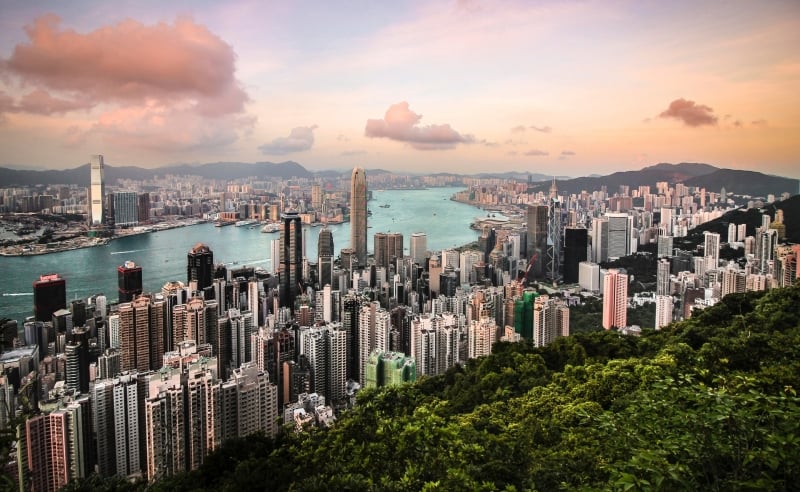 With the recent announcement of the Singapore-Hong Kong travel bubble, there is understandably an excitement at the thought of visiting one of our favourite Asian cities again. A big part is due to the chance to gorge on classic Hong Kong street food and cuisine while soaking up the charming sights and sounds of the city. Enter the Wine & Dine Festival 2020.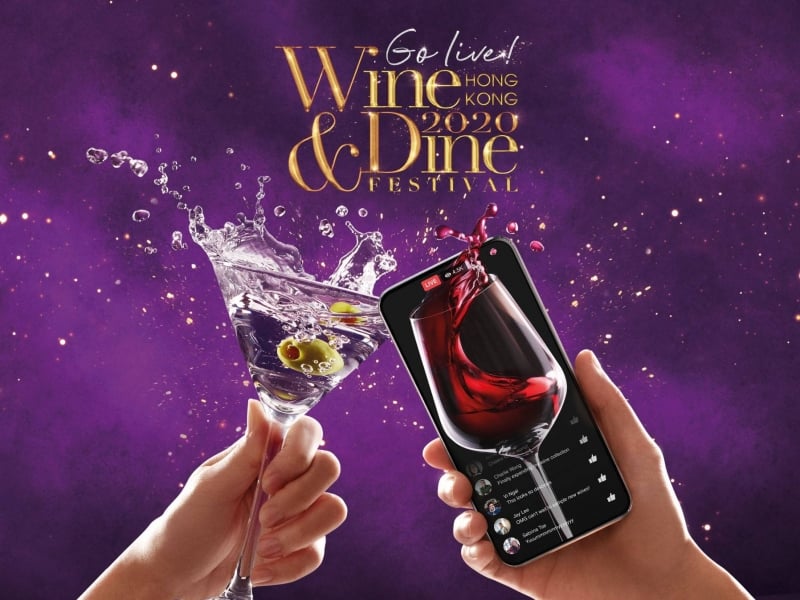 With this year's edition of the Wine & Dine Festival in Hong Kong going online for the first time, foodies and fans of Hong Kong can look forward to a unique yet tantalising epicurean journey. To give us a taste of what's to come, Hong Kong Tourism Board kindly took us on a delightful virtual foodie tour on 18 Nov 2020. The mission? To explore Hong Kong's dynamic Old Town Central while taking in the local food culture and visiting local food hideouts. This was done through a one-hour live streaming tour, where the hosts took us to five spots in the area that reflect Hong Kong's foodie culture in their own ways.
All 'packed' for the journey
To kickstart the tour, we were given a starter kit comprising of things that are both representative of Hong Kong and related to the five pit stops on the tour. In line with the "Online+Offline" theme of Wine & Dine Festival 2020, the goodie bag includes a bottle of light soy sauce, a tea-brewing cup, tea leaves, a palette knife, and a classic rooster bowl.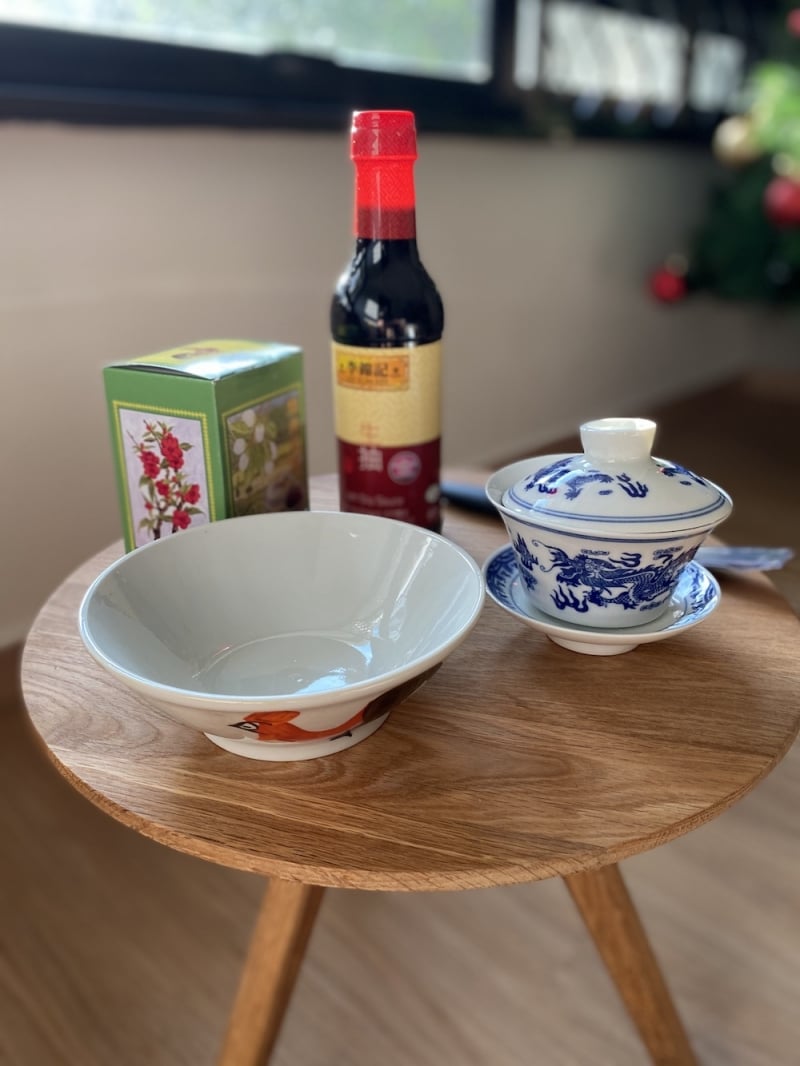 The motley selection of the items took us by surprise at first, since they do not remotely seem connected to each other. But it also made us excited about what's to come.
1. Lin Heung Tea House
Our first stop brought us to a one of Hong Kong's most iconic tea houses, Lin Heung Tea House. No trip to the country is complete without a meal at one of these old-school joints. And it's no wonder that its our first spot on the virtual tour. In operation since 1926, the tea house still retains its classic interiors, complete with the unmissable dim sum carts. The tea house is also one of the few places that still serve thousand-layered cake amongst their many dim sum, which according to our hosts is very hard to come by these days.
We got to admit: watching our hosts tucking heartily into an array of dim sum like siew mai, har gow, and egg tarts really got us missing Hong Kong's cuisine. On top of that, we also learnt interesting facts about the Hong Kong pastime of 'yum cha', including things like thanking someone who pours tea for you by tapping your hand on the table while shaped in a bowing gesture.
Lin Heung Tea House
Address: 162號 Wellington St, Sheung Wan, Hong Kong
2. Kowloon Soy Company
Our next stop is the only one that isn't serving up food. But it is an essential stop nonetheless. The Kowloon Soy Company may look like just another nondescript condiments store in Central. But with over 100 years of history, it is one of the few remaining soy sauce companies that still do their sauce the traditional way. This results in not only a uniquely flavoured soy sauce, but also a multifarious variety of sauces to cater to every preference.
Besides the usual dark and light soy sauces, there are also soybean pastes, hoisin sauce and sesame oils that are all artisanal and slow-brewed using the same age-old methods that have served them so well over the years. Make sure you don't leave Hong Kong without something from here!
Kowloon Soy Company
Address: 9 Graham St, Central, Hong Kong
3. Dai Pai Dong Area
Any foodie in Hong Kong would definitely make a trip to one of the country's many dai pai dongs, or roadside food stalls. A signature of Hong Kong's food scene, these humble stalls serve up some of the most delicious no-frills street food, from beer-friendly braised dishes to even sea snails. What's in common between these stalls? They serve their wares in the classic rooster bowls. According to our guides, the bowls also serve as vessels to hold ice cold beer as well!
4. Egg Stall At Graham Street Market
Home to a string of stalls selling fresh food and produce, the bustling Graham Street Market brims with the spirit of Hong Kong. The hosts brought us to an egg stall, where the baskets used to hold the eggs are probably older than most of us. Used to check on the freshness of the eggs, the hanging light bulb at the store front is an interesting element.  The many egg dishes of Hong Kong were also discussed, with special mentions for the tea egg and egg waffle.
Graham Street Market
Address: 14 Gage St, Central, Hong Kong
5. Cornerstone
Our last stop of a very informative and lip-smacking food tour takes us to the casual bistro Cornerstone in the heart of Soho. Opened by Australian chef Shane Osborn of Netflix's 'Final Table', the all-day diner recently got its Bib Gourmand certification. As part of the tour and the upcoming Wine & Dine Festival, Chef Osborn did a live cooking demonstration of the restaurant's signature Salmon with Piperade, which would also be featured as an Wine & Dine Festival exclusive DIY cooking kit.
Cornerstone
Address: 49 Hollywood Rd, Central, Hong Kong
Also read: Singapore-Hong Kong Air Travel Bubble to Start on 22 November: Here's What You Need to Know
About the Hong Kong Wine & Dine Festival 2020
For the first time ever, the Festival will adopt an "online + offline" format. Running for five weeks from now till 15 December 2020, it will feature a wealth of exciting online experiences, including an Online Wine Cellar, Gourmet at Home Menus, and live-streamed cookery and wine-tasting masterclasses on a new one-stop online platform. Offline experiences include special deals and gastronomic events offered by hundreds of dining outlets across the city for consumers to enjoy.
For more information, visit the Wine & Dine Festival website here.