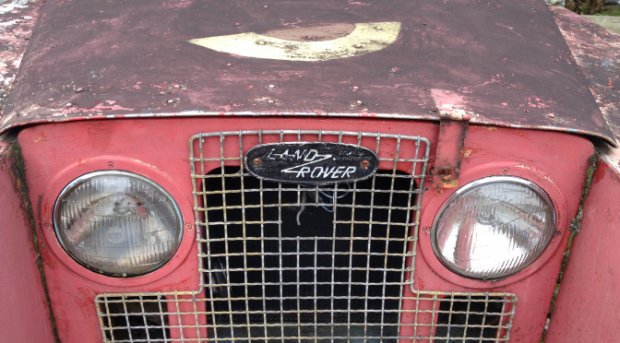 My friends think I'm crazy, but I love going on trips on a tight budget. It stemmed from my student-travelling days and it grew to become a habit. Whatever amount you think you should bring on a trip, I'll bring half of it and ensure I'll survive on it – even if it means scarcely. Call me frugal but hey, look at the amount of places I've been able to go to with this travelling lifestyle, all while studying full-time for three years.
There is no secret to how I've been doing this and it is no rocket science. The bottom line is: spend on only what you need. Not what you want. Always have that need vs. want mindset.
It was going to be 96 hours in Malaysia with RM350. (Although my friend would argue that I barely did it) I did it! :p
RM350 = SGD135
Also read: Which Parts of Malaysia You Won't Regret Visiting
Part 1. Cameron Highlands
1. Your bus ticket
I have said this before and I will say this again – Get your bus tickets at Larkin Bus Terminal in Johor Bahru. Period.
People have asked me if they need to buy their tickets in advance and I would gladly recommend you to do so, especially during peak periods. Sadly, you have to get down to the terminal yourself because there is no online booking whatsoever.
We took the morning coach with Maju headed towards Kuala Lumpur – cost us RM34.30 (approx. SGD 13) each. Upon reaching there at about 3pm, we went straight to Puduraya Bus Terminal for our tickets out to Cameron Highlands with Kurnia Bistari. They have plenty of tickets/timings for the day itself, so don't worry about having to book for this one.
Just a word of caution, avoid buying tickets from the touters scattered around the terminal. They are very persistent, aggressive and probably out to make more money off you. Just tell them firmly that you got your tickets and head straight to the ticketing counter.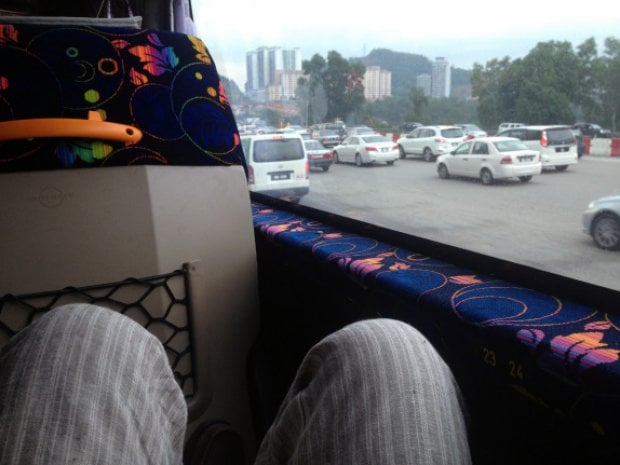 Spent the whole day traveling in the coach.
Total spent: RM34.30 + RM35 = RM69.30 (approx. SGD27) per person
2. Your hostel
As usual, I pre-booked my hostel online. We stayed at TJ Lodge at Tanah Rata. The room was clean, simple, with free Wi-Fi and has a great location.
If you are undecided between Tanah Rata and Brinchang in Cameron Highlands, I would suggest the former. Tanah Rata is the place for backpackers with the taxi counter and bus terminal conveniently located within a walking distance. The area is full of hostels, restaurants, cafes and shops providing tour services.
Also read: 11 Reasons Why I Never Want To Stop Backpacking
TJ Lodge itself offer tour services at one of the most competitive rates around. You could even rent a motorbike with them.
A double shared bathroom stay cost us RM60 (approx. SGD23) per night and we split the cost into two.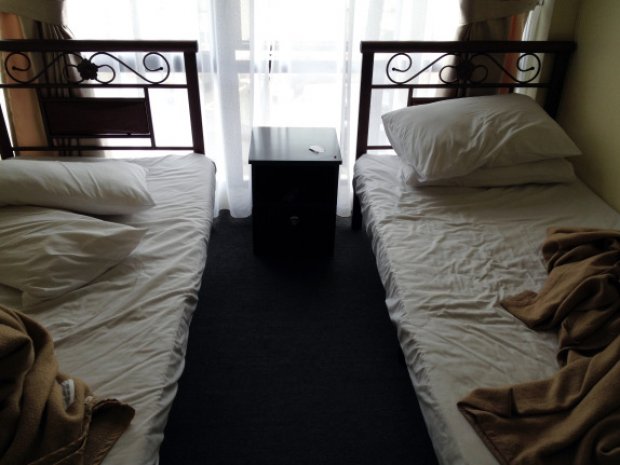 No air-cons here in Cameron hotels because all you need is to open the window.
Since we arrived quite late, at about 8pm, we decided it's more practical to extend a night. However, TJ was fully booked, so we had to shift to another hotel. We found this really cute new hotel cum souvenir shop called Meiko and spent another RM60 (approx. SGD23) for the similar kind of room. It had better rooms but because it was still new, they have not made Wi-Fi available for guests yet.
Total spent: RM60 (approx. SGD23) per person
3. Getting around in Cameron Highlands
Taxis are expensive. If you like to have a tour of the tea plantations, strawberry farms, visit the enchanting Mossy Forest or even hike up Mount Brinchang, take the tour package. It is much cheaper and you get a more comprehensive tour of the attractions. It ranges from as cheap as RM25 (approx. SGD10) for the basic sight-seeing tours to as high as RM120 (approx. SGD47) for the complete 'explorer tour'.
My friend and I didn't take up any of the tours because firstly, I've been here countless times. Secondly, there isn't much that I wanted to see except to indulge myself in a menu made up strawberry specialties. Strawberries in Cameron Highlands are some of the best.
If you are crazy like us, you walk. Yes, we walked a total of more than 10km from Tanah Rata all the way to Brinchang, up winding roads and inclined grounds. It was more of a hike actually, but very refreshing! Apart from the smoke from the passing trucks and cars, I enjoyed it.
We walked to and fro everywhere. In fact, we didn't even spend a single cent on transportation in Cameron. Everything is within a walking distance, so make use of those two legs God gave you.
For the benefit of those who can't bear to walk (I understand), there is a public bus that operates in the area but only at certain timings. It will only cost you less than RM3-4 (approx. SGD 1-1.5) per trip? Because I am such a gem, I managed to get hold of the timings and here you go: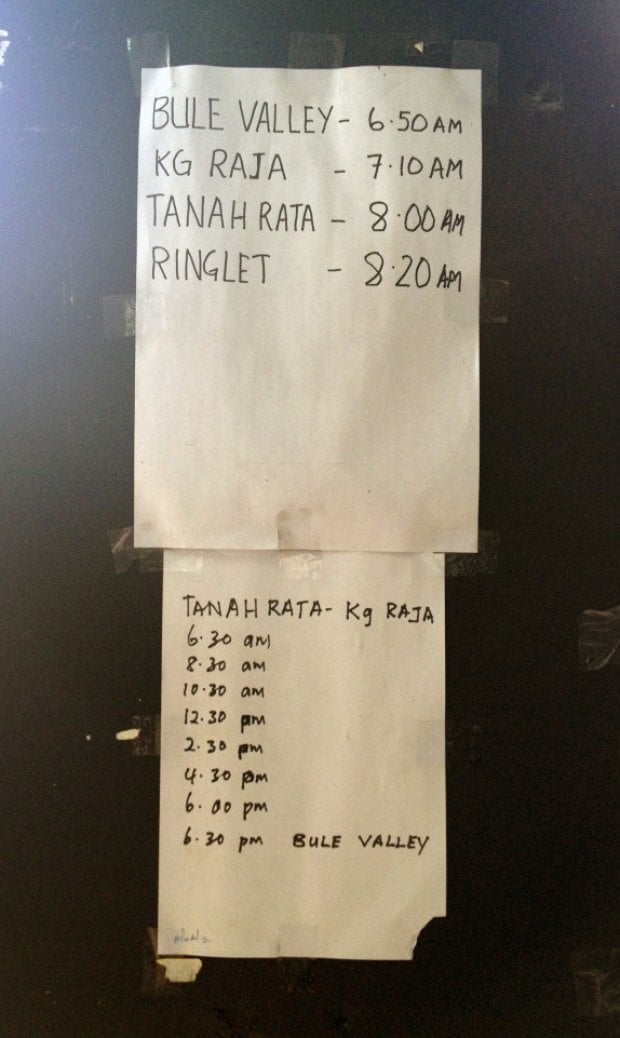 I think it's supposed to be Blue Valley instead of Bule Valley.
Total spent: RM0
4. What to eat/buy
Starbucks, fast food chains, Indian food, Western food, pastries, cold desserts, cakes (!), local food, they have it all. Oh, they have a bar too. You'll never go starving here.
Plenty of souvenir shops around too for that key chains, postcards, fridge magnets and whatnot. My friend got himself a quirky walking stick (not like he needed one), which was relatively cool I admit. He couldn't stop staring at it and hugging it afterwards for the record. He even went to bed with it.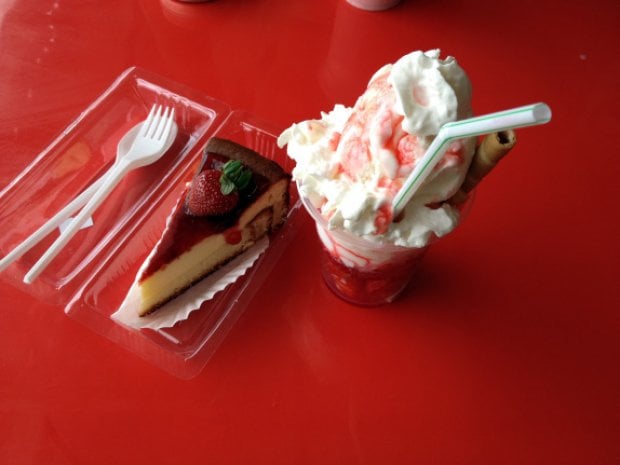 Loves.
I just got myself my much needed strawberry fix, a few pin badges and sketchy street food from the night bazaar at Brinchang, which happens every weekend by the way. One of my favourite things to get here are the honeycombs for RM5 (approx. SGD2) a piece. I really wanted to get myself a sailboat to add to my collection (because I'm obsessed with them) but then I realised I'm on mission to curb my spending. Oh well.
Then we discovered this underrated dessert cafe called Dinasti Tang, which is perfect hideaway from the crowd. I thought the food here was relatively better and it was just next to our hotel anyway.
Gotta try the Mixed Sago Snowflakes.
Total spent: Approx. RM40 (approx. SGD16)
That's it. That's about all that I spent at Cameron Highlands before going to Ipoh. Now let me sum up the total cost for you – a mere RM169.30 (approx. SGD66), which leaves me with RM180.70 (approx. SGD70.5) for Ipoh.
With RM180.70 (approx. SGD70.5) left, which is still relatively a lot in my book, I wanted to head out to Perhentian Islands next and eventually realised that it was going to stretch us a lot budget wise. Yes, it is possible to go to Perhentian from Cameron instead of taking the usual Kota Bahru route. In fact, many tour operators in Tanah Rata offer minivan services to Kuala Besut. Definitely doing this the next time! How to do Perhentian Islands with RM300 (approx. SGD117) perhaps?
So where was the next feasible destination for us? Ipoh, Perak.
Also read: 7 Must-See Attractions in Perak, Malaysia
I never knew Ipoh was an accessible day trip from Cameron Highlands. It was always KL-Cameron or Cameron-KL for me. Located just a mere 85km away, I realised that there are now tour packages that will bring you to the famous Tempurung Cave and Kellie's Castle. But here's my two cents: if you are heading back to Singapore or onward to other parts of Malaysia, it's better to just head to Ipoh altogether instead of making it a day trip because there is a major bus terminal there, unless you're looking back at going to KL.
Part 2. Ipoh
1. Your bus ticket
The only bus terminal in Cameron is Freesia Bus Terminal at Tanah Rata. There are tickets sold here to KL, Singapore, Ipoh and Penang (Butterworth). It is very small and limited so do not expect fancy VIP coaches.
The ticket to Ipoh was really cheap – RM18 (approx. SGD7) per person. We took the Unititi Express bus bound for Penang at 2.30pm and it stopped us at Amanjaya Bus Terminal. There is an earlier timing at 8am but we were so lazy to wake up that early. The journey took us about 2 hours with no stops in-between.
There were some traffic held-ups due to ongoing construction works and only one lane is allowed to move at a time. So if you had to pee, which I kind of had to, it was agonising! The road was bumpy mind you; I kept loosening my jeans. Moral of the story is: PEE PEOPLE. PEE BEFORE TAKING ON A LONG BUS RIDE AND DON'T DRINK WATER.
Total spent: RM18 (approx. SGD7)
2. Our hostel
We made a booking on the day of our departure itself while chilling out at Dinasti Tang because I don't really like the idea of walking around aimlessly looking for rooms. I don't know how some people do it but even the crazy spontaneous me like the idea of having some sort of preparation.
There are plenty of cheap hostels here in Ipoh. Ended up settling for DG One Stop Budget Hotel at Jalan Sultan Yussuf and never again.
Location wise, it was 6/10. Room wise? Fail. Initially they gave us a room that was so small that I am now having claustrophobia just thinking about it, and I don't have claustrophobia fyi.
Also read: 23 Telltale Signs You're Addicted to Backpacking
The toilet door was broken, no, ripped apart. You can't even get the door to stand and I am staying with a male friend. Not that I'm saying he has ill intentions towards me but at least let me keep my dignity or shower in peace man. So I went to ask for a change of room and the front desk woman was like, "Oh it's nothing. The door is meant to be like that." You should have seen my face when she said that.
I was mentally stabbing her sense of logic and insisted that we get a change of room. Hesitantly, she gave me the keys to a much bigger room with a working air-con and toilet door. Even so, the spray hose was broken and there were no clothes hanger.
I am not even that particular so I decided to let this one go, as long I get to have my hot shower in absolute solitude.
Total spent: RM37. 50 (approx. SGD15) per person
3. Getting around in Ipoh
I have nothing against cabs but I don't see the need to. Each cab ride would probably cost you around RM30 (approx. SGD12) – crazy expensive – and the drivers are adamant on not giving discounts. If you think it's not that bad, remember that they will never charge a local RM30 for a cab ride.
Buses are less dramatic here in Malaysia. Confusing but you'll get around, and people are always willing to help you out. From my experience, young women here are mostly blur (don't bother) while the older ones will look at you cray, the young men will only want your number, and the most insightful ones are the "pakciks" aka uncles in Malay, aged around forties to fifties.
We took two different buses on the Perak Transit from Amanjaya to our hostel and actually ended up lost for 3 hours because our hostel was located far off from the main town. What's worse was that all the shops are closed after 5pm, the streets were quite deserted and we were desperately looking for Wi-Fi connection to get access to Google map. The good thing was, the bus rides only cost us RM2.30 (approx. SGD0.90) one-way.
After locating our hotel and getting hold of a tangible map, as usual, we walked to the different attractions: Ipoh Railway Station, the Birch Memorial Clock Tower and everything else around the Heritage Walk. After the cool Cameron weather, sunny Ipoh was a killer! The only cab ride we took was the trip back to Amanjaya Bus Terminal for RM25 (approx. SGD10) because the weather was just painful.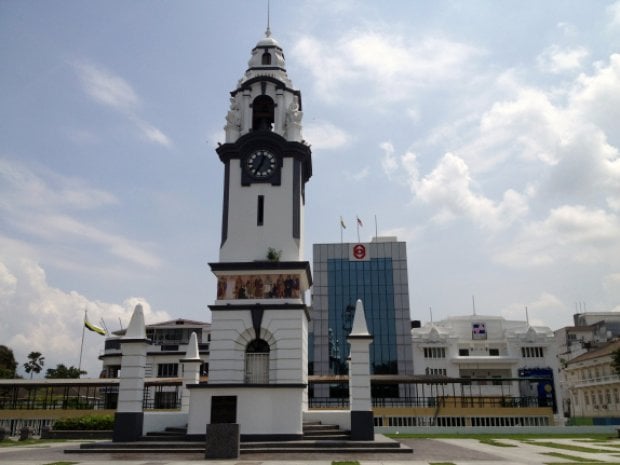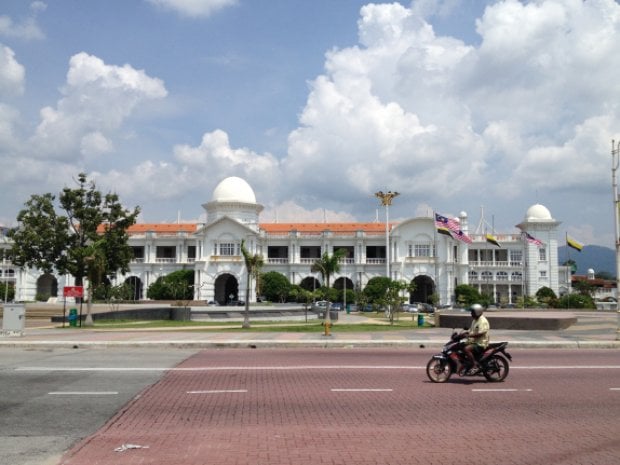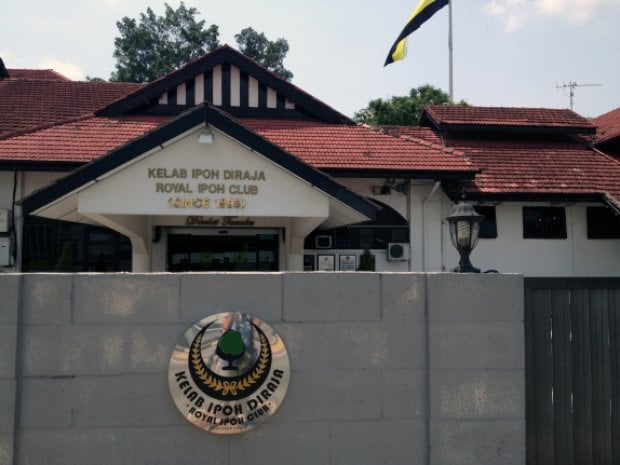 Total spent: RM17.50 (approx. SGD6.8) per person
4. What to eat/buy
Most of the shop houses are closed after 5pm, but even when we got up to eat at 11am, most of them are not open. So the question is, do they even open at all?
There are the staple Indian stalls and fast food chains, but we were looking for some legit Malaysian food to eat. Hunted high and low for the Ipoh hor fun but when we asked the locals, they seem to question the existence of such dish. Obviously someone who came up with "Ipoh hor fun" lied and decided to be canny about it. It's not even an Ipoh speciality dish.
We ate at this bustling night food court and asked what was their specialty, he recommended fried rice (err?). Not sure why, but I decided to go for it anyway and regretted it. My mom's fried rice is a Michelin star dish in comparison to his specialty fried rice.
So yeah, food is a little tricky especially when you don't have your own transportation to get around. Maybe I'll have more luck the next time. We did come across some famous-looking and funny-named Chinese eateries though.
Tauge Ayam seems to be a hit here.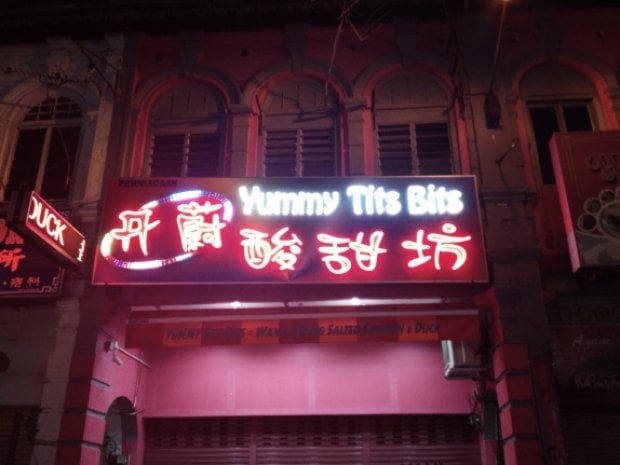 You want tits or just the bits?
We discovered a night and day bazaar that is worth checking out: Gerbang Malam (The Night Archway), opened 7pm-1am, and Memory Lane (Loke Kin), opened 7am-1pm. They sell the usual night market essentials at Gerbang Malam – clothes, shoes, toys and more clothes. We found a nice stall selling wooden signage and I just couldn't resist getting one for RM5 (approx. SGD2).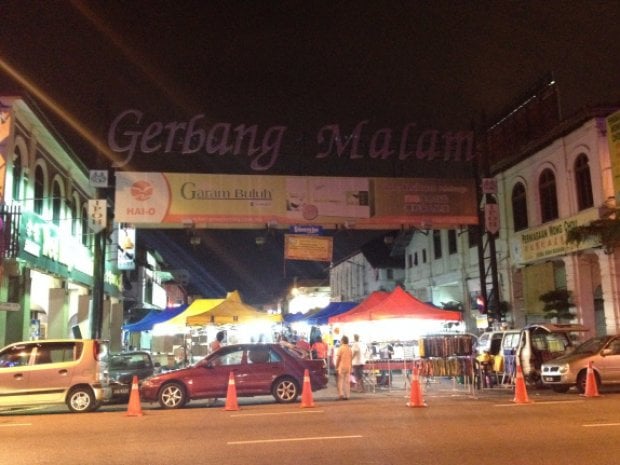 But the highlight was definitely Memory Lane. It's like a massive vintage fest with more than 300 stalls selling all kinds of antiques and quirky old items. We got there quite late (due to the walking) so we didn't get to bask in the atmosphere at its full glory. Best of all? It's dirt cheap – no pun intended. No, sadly I did not get anything.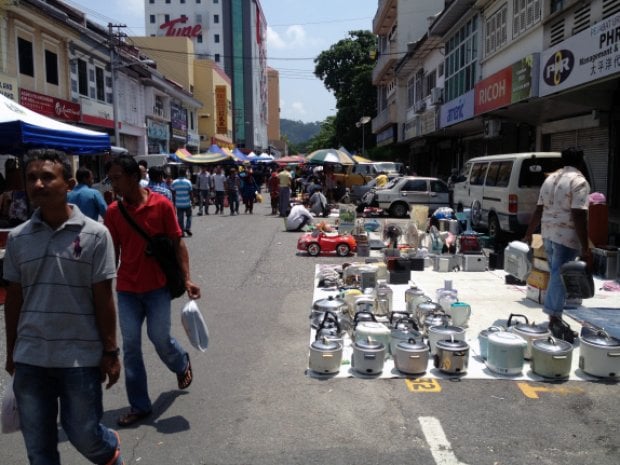 Total spent: Approx. RM25 (approx. SGD10)
For the record, we didn't even head back straight to Singapore from Ipoh because all bus tickets were sold out. So you definitely need to buy in advance for this one. Thus, our next feasible option was to buy a bus ticket out to KL and take the sleeper train back home.
Also read: Singapore-Kuala Lumpur High-Speed Rail Halves Travel Time
Bus to KL + train back to SG: RM21 + RM 39 = RM60 (approx. SGD23)
That's a bottom line total of RM158 (approx. SGD62) spent.
We ended up spending on Papa John's, Crispy Creme and for my friend, shopping (since he brought more money than me), with whatever we have left in KL.
Also read: 8-Days Quick Guide to the Best of Malaysia
And that people, is how I did Cameron Highlands and Ipoh with RM350 (approx. SGD137).
Contributed by Why She Travels.