Every year between March and April, the cosmopolitan city of Hong Kong climbs to a fever pitch as the Cathay Pacific/HSBC Hong Kong Sevens rolls around.
The largest sporting event in the country as well as the premier tournament of the World Rugby Sevens Series, the event attracts locals, expats, and foreign travellers from around the world to flock to the 40,000-capacity Hong Kong Stadium.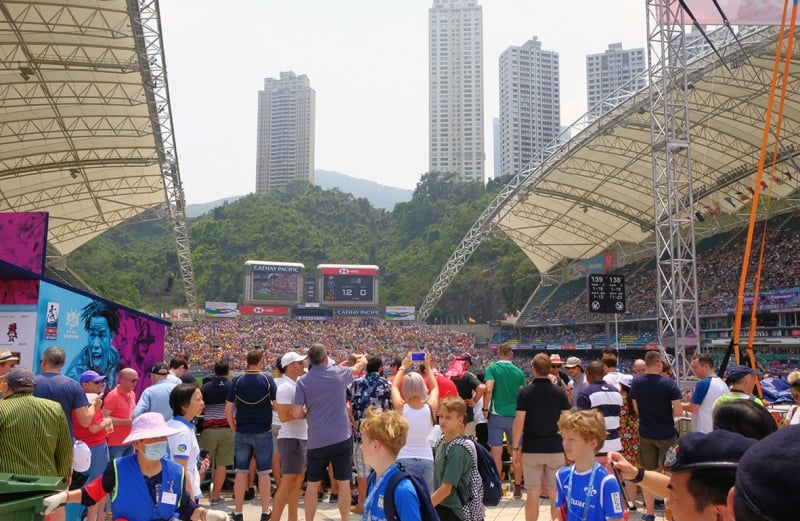 More than just what's happening on the field, the Hong Kong Sevens is a massive festival — with the atmosphere, concert, and pop-ups to match.
Curiosity got the better of us, and we too joined in the fervour. Read on for a recount of our experiences to find out what the buzz is all about!
Hong Kong Sevens
Hong Kong Stadium
Spanning the weekend from 5 to 7 April, the Hong Kong Sevens hosts 40 teams over a total of 95 games, divided into World Rugby Women's Sevens Series Qualifiers, World Rugby Sevens Series Qualifiers and the main event, HSBC World Rugby Sevens Series.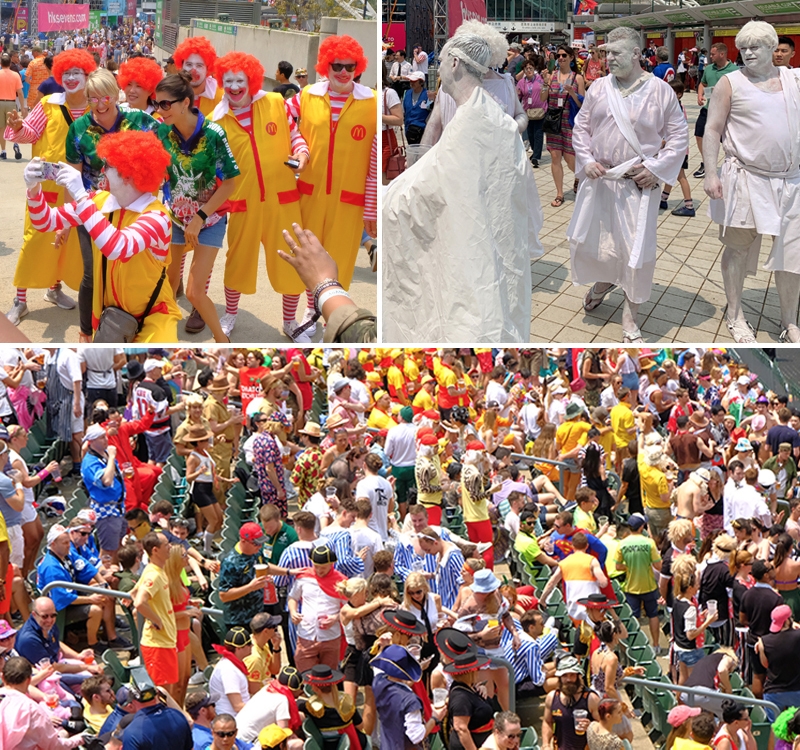 While we were making our way into the stadium, we could immediately tell that the fans here are dead serious about supporting their teams — and having fun. Look at the crazy costumes and see if you can spot any characters you recognise!
The vibe around the stadium was infectious, so we too had a little skip in our steps and knew that we were in for a good time over the next few days.
Kicking things off proper, the opening ceremony was a grand spectacle, impressing through elaborate displays that marked the international event with accents of Hong Kong's oriental roots.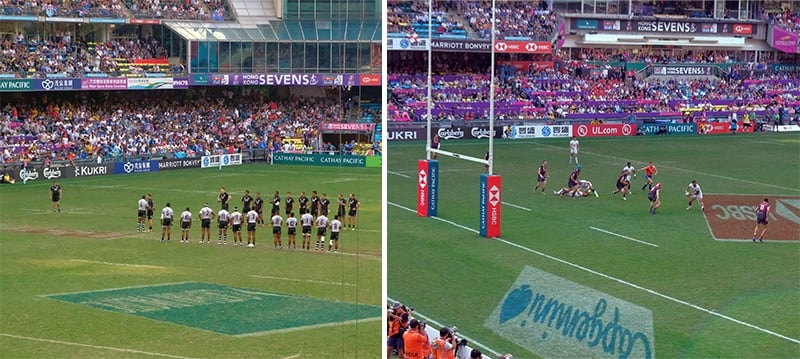 Each game was fiercely fought and had its share of action, whether it was a close battle or a thrashing that concluded in a half-century of points for the victor. The crowd (us included) oohed and aahed with every tussle, tumble, and try (a "goal" in rugby terms).
The matches of seven-minute halves came on in quick succession, with the next pair of teams running out of the tunnel barely after the previous match-up concluded their handshakes.
This means we were kept on the edge of our seats, with no time to actually get off our seats for a snack or toilet break!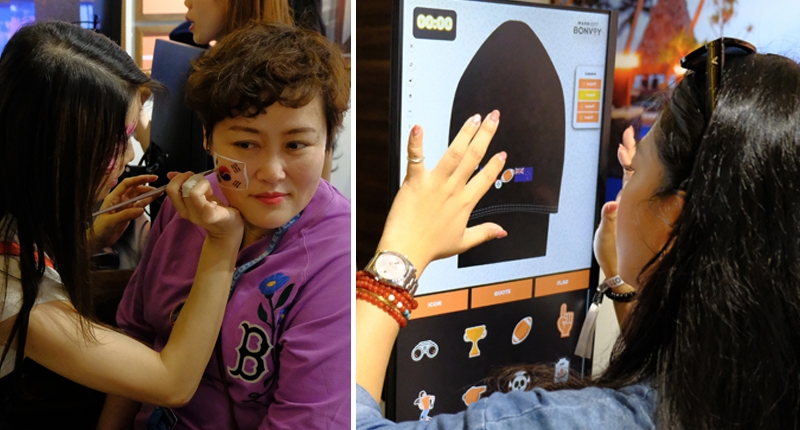 Thankfully, we watched the games from the Bali-inspired Marriott Bonvoy Hospitality Suite, treating us to a buffet and free flow drinks, massages, face painting, and even a customised jersey — keeping us well-fuelled and primed to show support for our favourite teams!
Marriott Bonvoy Presents: Gwen Stefani
Central Harbourfront
Circling back to Day 1, we headed to Central Harbourfront after the opening ceremony for some scintillating entertainment at the inaugural Hong Kong Sevens Festival, including headlining act Gwen Stefani!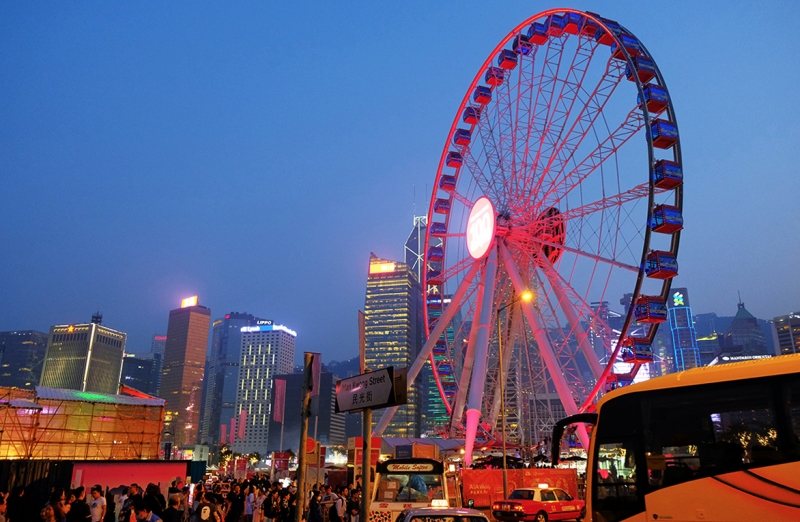 The newly-initiated Sevens Central brings live music and live broadcasts on the big screen — complete with the party atmosphere and all-day happy hour  — beyond the stadium.
The gates open from 12–8pm for free entry, so those who don't have tickets can soak up event festivities and have fun all the same!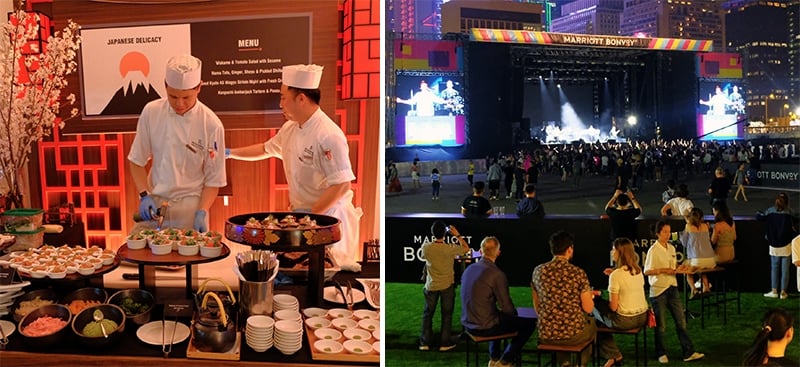 We arrived at the Marriott Bonvoy members-only VIP lounge just in time for dinner, and were treated to a curated menu ranging from Fijian seafood to Southeast Asian cuisine.
Away from the crowd, we enjoyed the concert experience from the comfort of our lounge, extending to an alfresco area where we had a clear view of what's happening onstage.
Local pop-rock band Supper Moment soon opened with their chart-topping hits to the audience's roaring delight, setting the tempo for the night. Even though we could barely understand the lyrics, the "Canto-rock" anthems got us groovin' and headbangin' along!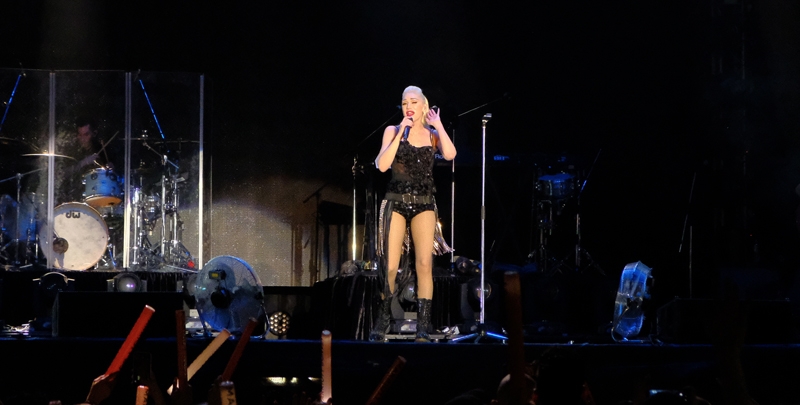 When the familiar intro of The Sweet Escape rang out from the wall of speakers, we immediately dropped everything we were doing and rushed out into the standing area in front of the stage!
Her first return to Hong Kong in over a decade, Gwen Stefani no doubt has a huge following in the area, as fans screamed and cheered at the start of every song and sang along religiously.
The three-time Grammy Award winner and global icon delivered a performance for the ages, belting out signature numbers embellished by her immense stage presence. Nostalgia and happiness filled the air at the end of the show, with chants of "one more song" fading into the darkness of the night.
What to Eat
Did you think we were gonna forget all about the good food you can find in Hong Kong? Not a chance! Since we were there only a few days, we went all out for local delights — from street food to designer restaurants.
Local Food Discovery
Wan Chai
We started the morning bright and early to walk the streets of Wan Chai for some local food haunts.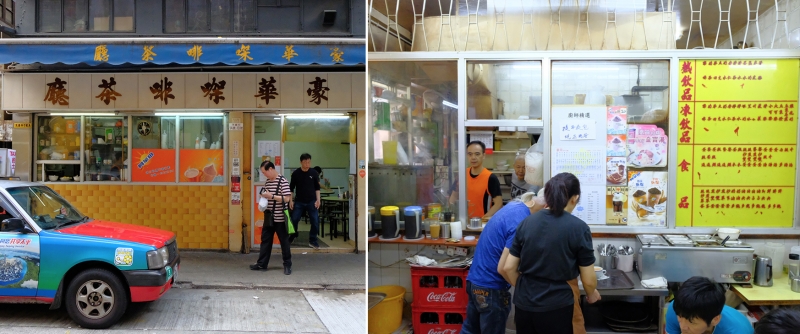 Our first stop for breakfast is at Ho Wah Cha Chaan Teng, a Hong Kong "tea restaurant" that's as authentic as they come. Ironically named ho wah (luxury), this humble shop is anything but that — starting business in 1952 as a street cart selling toast and beverages.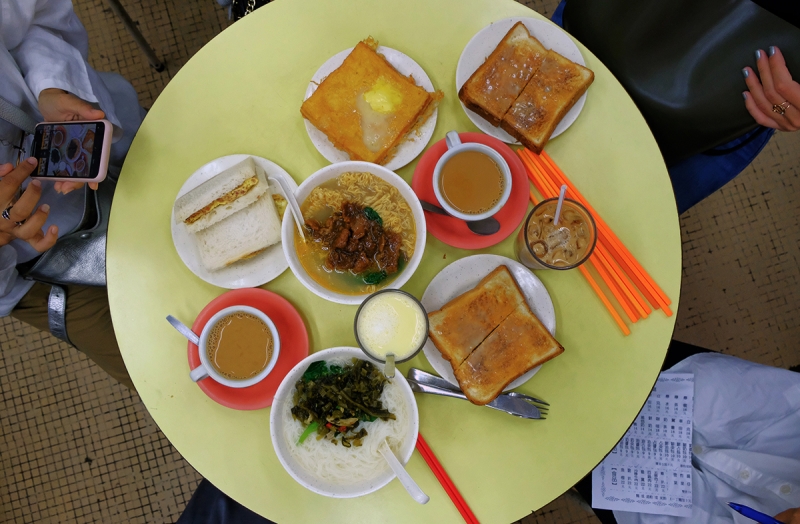 Today, its offerings have expanded to include the likes of beef satay sandwich, pork chop bun, and vermicelli with pork and pickled vegetables. Of course, the old favourites — hot milk and egg, milk tea, and the classic toast — are still around and as popular as ever.
I wasn't planning to have such a heavy breakfast, but I couldn't stop myself from reaching for more of these yummy dishes!
Ho Wah Cha Chaan Teng
Address: 226 Johnston Road, Wan Chai, Hong Kong
Opening hours: 7am–7pm daily (last order at 6.30pm)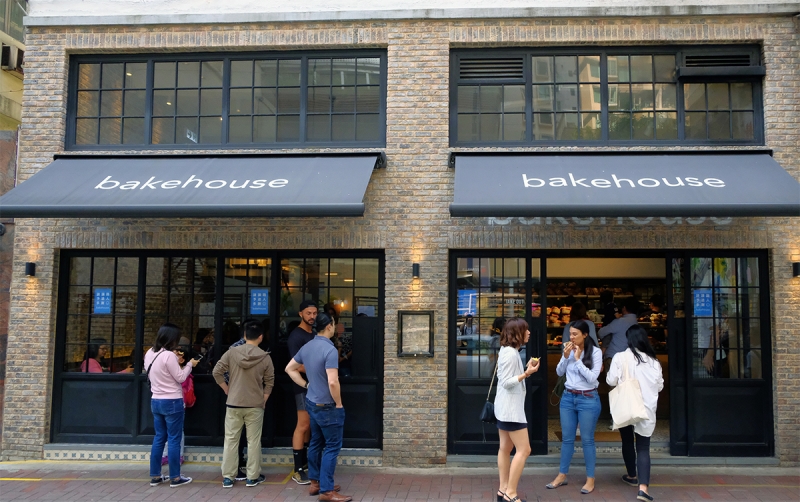 Our next stop was an artisan bakery and cafe that embodies the essence of East-meets-West. Bakehouse was founded by Grégoire Michaud, who previously worked as a chef in five-star hotels.
Today, he practises his craft out of an unassuming, brick-and-mortar shop that's fully packed inside. Still, there are telltale signs of Chef Grégoire's wealth of experience.
He demands the finest of ingredients such as acquiring flour from the Suire Mill in France, and leads a team of passionate and highly skilled bakers and pastry chefs who are undoubtedly influenced by his pursuit of culinary excellence and a smile on the customers' faces.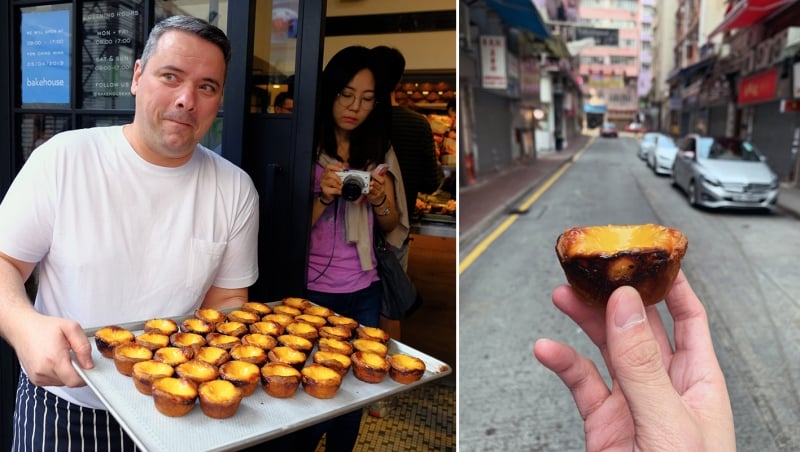 Before we even got inside, we caught whiffs of the fragrant smell of freshly baked pastries, the most notable of which is the sourdough egg tart – a Hong Kong classic with a Western patisserie spin.
Taking a bite into the egg tart's crispy and toasty exterior, the warm, "eggy" goodness of the cream oozed out in the mouth. After leaving the shop with an egg tart in hand, I almost ran back in after finishing it within seconds!
Bakehouse
Address: 14 Tai Wong Street East, Wan Chai, Hong Kong
Opening hours: 8am–5pm on Mon–Fri; 9am–5pm on weekends and public holidays
Website: bakehouse.hk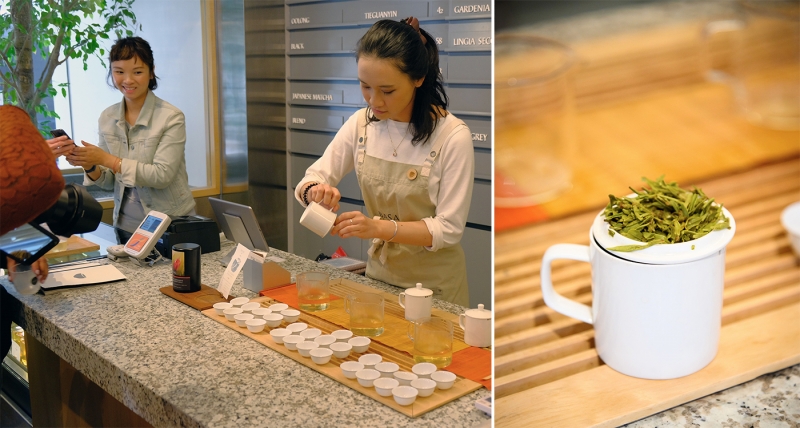 Speaking of artisan — and artistry — the team at BASAO Tea is extremely dedicated to the craft of tea making.
Teresa, the tea sommelier for our session, showed us how to prepare and drink tea the traditional way. Coming from a barista background, she made the switch to tea — explaining that the delicate and tranquil nature of tea appealed to her as a form of art to experiment in.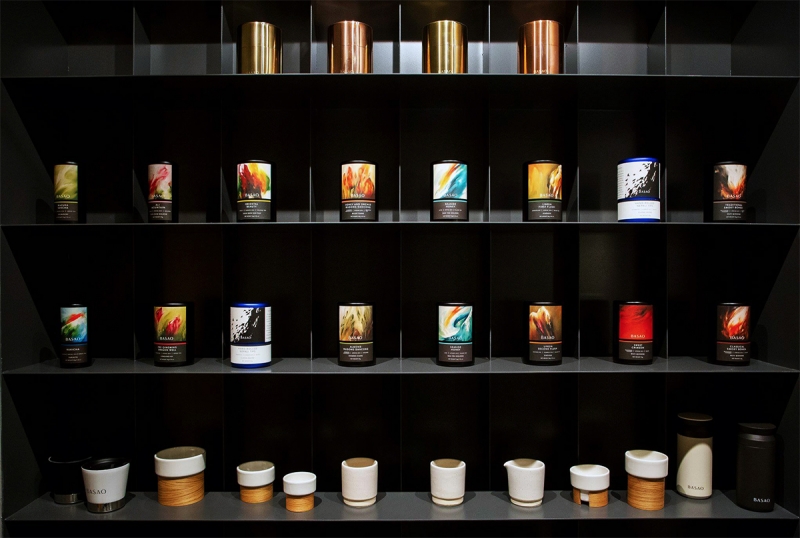 We tried the hand-brewed Dragon Well tea, a delightfully clean-tasting green tea with a mild roast that would almost go unnoticed if you weren't paying attention.
BASAO Tea's selection of Asian teas are all single-origin, sourced and grown ethically around the region — nothing less from the tea house's exceptional focus on quality.
BASAO Tea
Address: 17 Moon Street, Wan Chai, Hong Kong
Opening hours: 8am–7pm on Mon–Fri; 10am–7pm on weekends
Website: basaotea.com
Tosca at the Ritz-Carlton Hong Kong
West Kowloon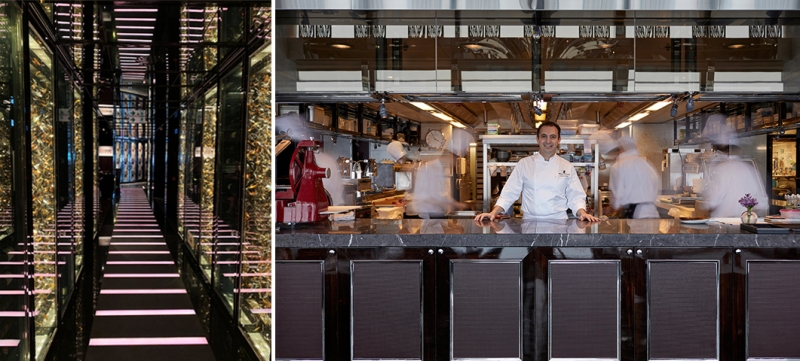 Located on level 102 of the International Commerce Centre in Kowloon, Tosca is a Michelin-starred Italian restaurant helmed by newly-appointed director and chef, Angelo Agliano. It's one of the six restaurants in the Ritz-Carlton Hong Kong.
The epitome of Mediterranean fine dining is matched by a stunning panoramic view of Victoria Harbour for a gourmet destination unlike any other. Guests are invited into the luxurious opera-themed establishment for its exciting seasonal menus that refreshes every three months, personally curated by Chef Angelo.

We had the good fortune of sampling the Burrata e Pomodori, which melts gleefully after tickling your taste buds. The Manzo Australiano, cuts of wagyu beef sirloin, is cooked to the perfect doneness. The tenderness, texture and richness combine together for a truly full-flavoured gastronomic experience.
Tosca
Address: Level 102, the Ritz-Carlton, International Commerce Centre (ICC), 1 Austin Road, West Kowloon, Hong Kong
Opening hours: 12pm–2.30pm on Mon–Sat, 11.30am–3pm on Sun for lunch; 6.30–10.30pm daily for dinner
Website
John Anthony
Causeway Bay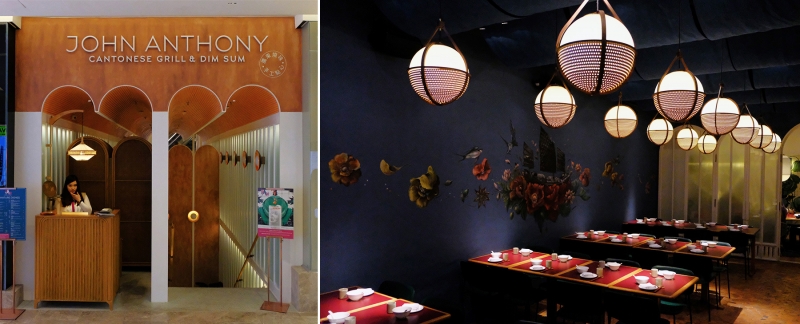 We can't decide which concept of John Anthony won our hearts more: the interior design or the culinary innovation. Perhaps we can only conclude that the combination of the two is what takes it to the next level!
Named after John Anthony, a Chinese native known as "the Father of Limehouse", the restaurant design draws inspiration from his time in Limehouse — London's first Chinatown — where he provided food and accommodation for Chinese sailors and protected their rights.
The designers describe the concept as the fusion of a British tea house and a Chinese canteen, paying tribute to a new-world culture that celebrates diversity, juxtaposition, and a melting pot of influences.
Personally, I'd say the dishes served at John Anthony are decidedly Cantonese in nature. But they're often accented with touches of external influences.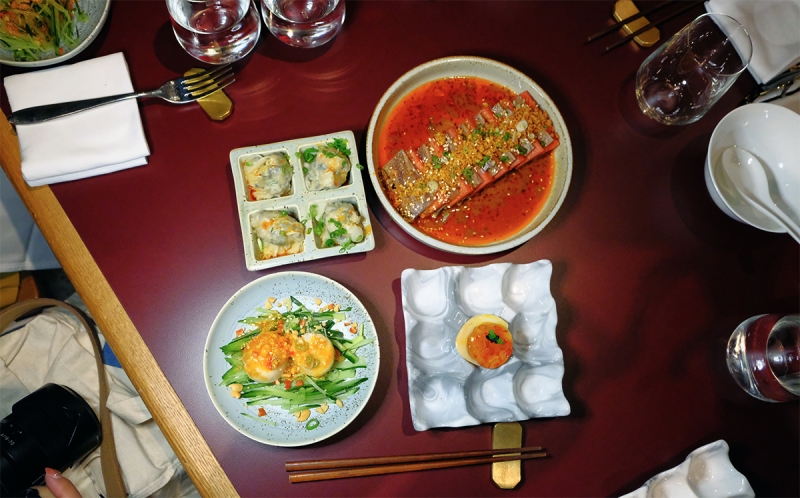 For example, we had slow-cooked wagyu beef cheek in Szechuan chili sauce. Nothing special, right? That is, until you realise the beef cheeks were stacked with watermelon slices, soaked in the spicy chili sauce to be eaten all together!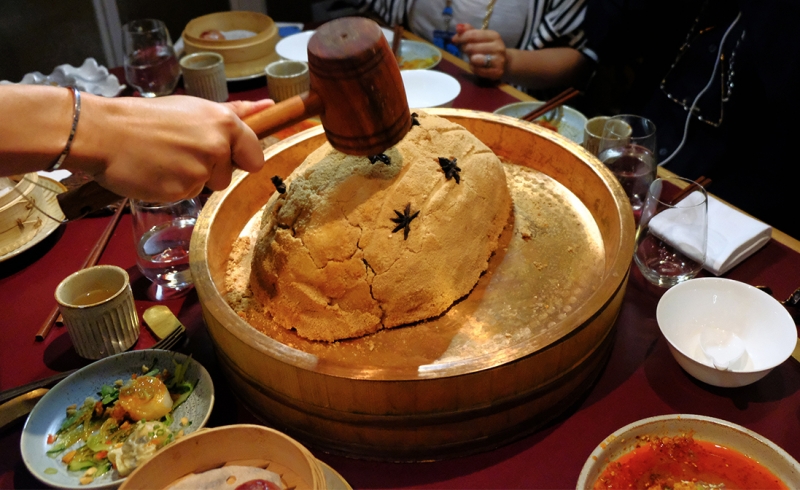 Another innovation we just have to highlight is the salt-baked pigeon with assorted mushrooms. Encased within a salt crust, the dish cracks open after repeated hammering with a wooden mallet to reveal a perfectly cooked pigeon within. We had quite a show before us while licking our lips in anticipation!
A progressive harmony of culinary diversity — that is what John Anthony seeks to achieve, and achieve it does.
John Anthony
Address: Basement Level, Lee Garden Three, 1 Sunning Road, Causeway Bay, Hong Kong
Opening hours: 11.30am–3pm for lunch; 5.30pm–10pm for dinner daily
Website: johnanthony.hk
Old Bailey
Central
Operating in Tai Kwun, formerly the Central Police Station compound and now Hong Kong's new heritage centre for the arts, Old Bailey marks a heritage conservation and revitalisation of its own. The restaurant and lounge pays tribute to the culinary traditions of Jiangnan — congregating in residences for private and homely meals.
The space within Old Bailey feels like a dining hall from the Ming Dynasty. Upon entry, you'll be greeted by an expansive lounge that looks perfect for some light reading and afternoon tea.
The outdoor terrace line the lounge and dining area along the full-length glass panels, inviting glorious natural light in the day that slowly shifts into a warm, intimate setting past sundown.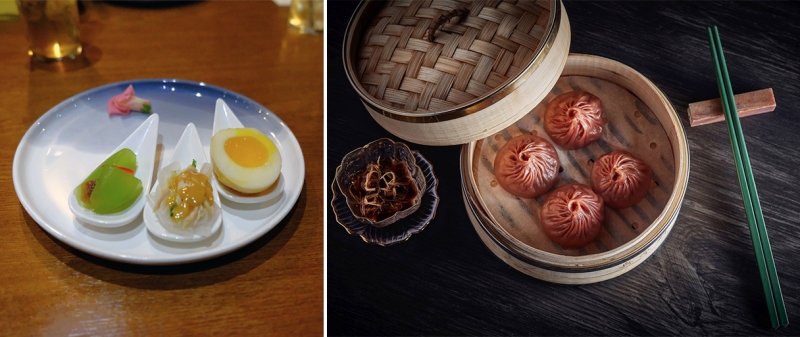 Our hospitable hosts treated us to an assortment of Jiangnan delicacies that spanned over an eight-course meal, among them an Old Bailey's signature platter that included a marinated egg in fermented rice wine!
The most memorable dish for me is perhaps the mala xiaolongbao, a basket of spicy Iberico pork soup dumplings. For those of us familiar with xiaolongbao, you know that the best part of this dish is sipping on the soup through the thin layer of flour wrapping.
While the soup in this instance is no less rich and brothy than the usual, it brings an extra kick and numbing sensation that may sound frightening, but tastes heavenly!
Old Bailey
Address: Level 2, JC Contemporary, Tai Kwun, Old Bailey Street, Central, Hong Kong
Opening hours: 12pm–3pm for lunch; 6pm–11pm for dinner; 12pm–11pm for casual dining and drinks at the lounge daily
Website: oldbailey.hk
Where to Stay
With so many places to visit, you might be wondering where you should stay to maximise your experience. Here we have a couple of hotels we definitely recommend that you check out (and check in to)!
Hong Kong Ocean Park Marriott Hotel
Aberdeen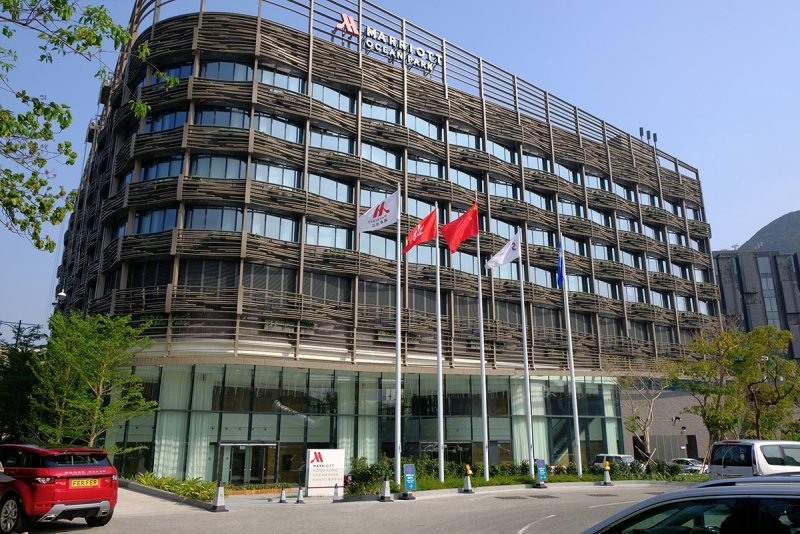 Located right beside Ocean Park Hong Kong, Hong Kong Ocean Park Marriott Hotel sets the right note for a weekend of fun and entertainment.
Directly connected to Ocean Park and the MTR station via an overhead bridge, it has easy access to all major commercial districts and attractions, with the city just minutes away.
Opened in October 2018, need we say that the hotel is super clean and absolutely gorgeous?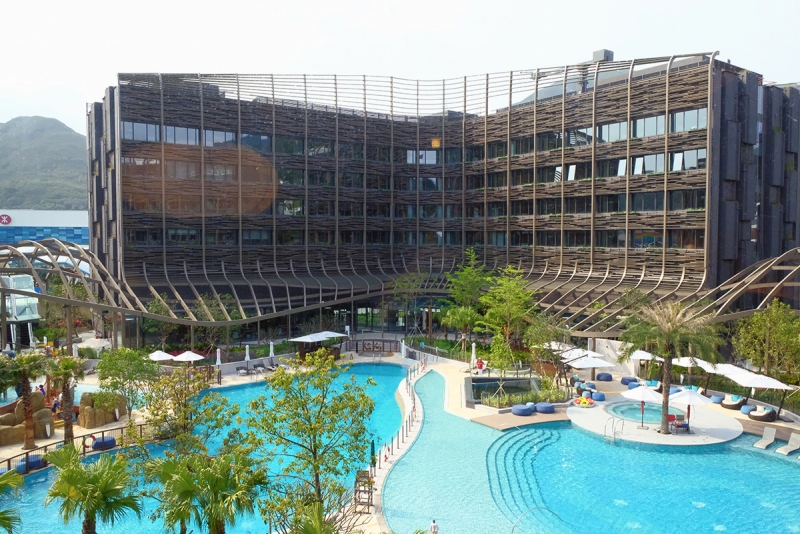 What's more, Hong Kong Ocean Park Marriott Hotel is a green urban retreat consciously designed with environmental sustainability in mind.
Eco features — like an organic rooftop garden from which the restaurants source some of its greens from, bamboo walls, and the use of paper cartons instead of plastic bottles for drinking water — make it a fully sustainable hotel, which is rare in Hong Kong.
Similarly, the interiors are purposefully designed with oceanic and environmental themes from the hallways to the guest rooms, including submarine and panda ones for children's bedrooms that are interconnected.
Within the hotel, the Central Lagoon is a beautifully landscaped swimming pool measuring 1,410 square metres, split between an upper pool for adults and kiddy pools.
There are four restaurants and lounges to tickle your fancy, and they serve a wide array of cuisines — from Cantonese delicacies to international dishes.
Hong Kong Ocean Park Marriott Hotel
Address: 180 Wong Chuk Hang Road, Aberdeen, Hong Kong
Website
The St. Regis Hong Kong
Wan Chai
If you're thinking of staying somewhere more centrally located, look no farther than the St. Regis Hong Kong.
Bearing the milestone of Marriott's 7,000th property, the stunning 27-storey luxury hotel is newly opened on 11 April in Wan Chai, a dynamic hub that finely blends commerce and culture.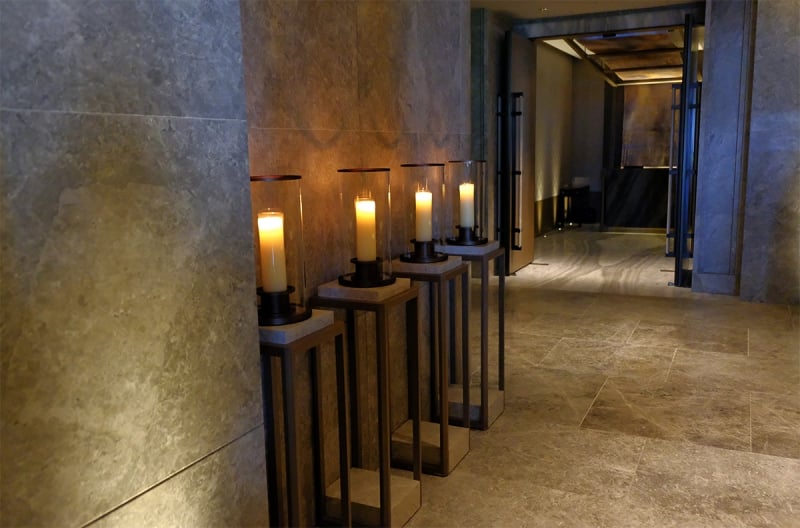 Much like the Hong Kong Sevens, or even Hong Kong itself, the St. Regis Hong Kong is a point of convergence for East and West, as well as for history and the future.
It's only fitting that the hotel is located opposite the Old Wan Chai Police Station, reflecting the old-world charm of Hong Kong!
A landmark of bespoke luxury, the St. Regis Hong Kong offers 129 exquisitely appointed guest rooms and suites, where careful and thoughtful attention is paid to every detail and desire of the guests through the signature Butler Service.
There is no better place to retreat to and unwind after spending the day amid the frenzy at Hong Kong Stadium. It also goes without saying that you'll be within walking distance of the amazing local food places in Wan Chai!
The St. Regis Hong Kong
Address: 26 Harbour Road, Wan Chai, Hong Kong
Website
As one of Hong Kong's biggest events of the year, the Hong Kong Sevens fills the streets with impassioned fans who sometimes border on terrifying whenever the tournament nears and finally comes around.
So make sure you figure out ways to get around the mania before you head to Hong Kong. Let this guide show you the way; don't waste any time getting lost or stuck in crowds — or the action is going to pass you by!

Newly launched on 13 February 2019, Marriott Bonvoy is Marriott International's loyalty program — replacing the previous programs Marriott Rewards, the Ritz-Carlton Rewards, and Starwood Preferred Guest.
In fact, over 6,700 properties from all 30 brands under the Marriott portfolio across 130 countries are participating in the program. Points can be earned not just from room reservations, but all hotel purchases — including dining, beverages, golf, spa, and more.
Points can be redeemed for hotel stays, air travel, and Marriott Bonvoy Moments —  money-can't-buy, exclusive and VIP experiences, including concerts (Gwen Stefani, Coachella), premier sporting events (HK Sevens, F1 Chinese GP, UEFA Champions League) culinary experiences (Atlanta Food & Wine Festival), celebrity meet-and-greets (Gwen Stefani, Lewis Hamilton), and more.
Derived from "bon voyage", Marriott Bonvoy represents a shift from a hotel rewards program to an aspirational travel program that strives to provide great experiences and global travel.
Weekends are not always long enough, and such was the case for us in Hong Kong — time practically blitzed through the weekend. While we just returned home not long ago, we're already getting excited wondering what next year's edition is going to bring. See you there!
---
Big thanks to Marriott International (Asia Pacific) for the invitation and hospitality!