ZUJI x Tripzilla: Presenting to you, our nifty 'ZUJI Keeps It Real' series!
Straight up, no fluff: arm yourself with candid travel cheat sheets that contain authentic stories, real life experiences and insider tips for fellow travellers. We've been inspired and we hope you will be too!
---
Ah… Bangkok. The city that immediately pops into our minds when we think of 'retail therapy' or 'weekend getaway!' without breaking our banks. The city that we can never get tired of shopping at, no matter how many times we've been there. With a plethora of huge shopping malls and streets for us to bargain our way through, there's no way one can leave Bangkok without being satisfied.
From the bustling streets of Chatuchak to the rustic and traditional floating markets of Damnoen Saduak, let me share with you my jampacked itinerary (complete with useful tips!) from my last trip to Bangkok. Get your legs and wallets ready, for the ultimate shopping escapade of your life!
NOTE: THIS FLASH SALE HAS EXPIRED, BUT DON'T MISS THE NEXT ONE! FOR INSIDER INFORMATION ABOUT THE NEXT FLASH DEAL, JUST:
Day 1: Central World > Platinum > Terminal 21 > Rod Fai Night Market
Travel Cheat Sheet Tip: We recommend booking your hotel around the Siam/Ratchathewi area, for greater convenience and easy access to many malls in Bangkok. If you get tired while shopping, you can simply head back and take a rest, before continuing! Book your hotel room with a Maybank card now and you'll get a coupon code for 12% OFF your hotel booking!
1. Central World
The largest shopping complex in Bangkok and tenth-largest in the world,  Central World is packed with everything you could ever want! From branded boutiques and internationally known brands to bookshops and tech-gadget shops, Central World is every shopaholic's heaven. Stepping into the mall will make you feel as if you're back at Orchard Road in Singapore, with familiar stores that line the mall's corridors.
But wait – skip those familiar brands and head for uniquely local brands such as KARMAKAMET, which is an absolute paradise for your senses. I was so enticed by the alluring scents, I bagged home some scented candles and aromatherapy oils for my loved ones! Popular shops like After You (for their mille feuille crepe cakes) and BAKE cheese tarts are here as well, so it's a one-stop haven for everything you need!
When you start getting peckish from all that shopping, head to the outdoor market situated at the entrance of Central World, where you'll find tons of delectable street food that you can feast on! They also hold occasional street markets as well, so keep your eyes peeled if you're headed there – you might be lucky enough to visit one! I was overjoyed to discover one on my visit there and it was amazing. Filled with bags, shoes, sunglasses and clothes from local brands, I literally shopped till I dropped. 
Opening Hours: 10am-10pm, Monday-Sunday
Address: 4,4/1-4/2,4/4 Ratchadamri Rd, Khwaeng Pathum Wan, Khet Pathum Wan, Krung Thep Maha Nakhon 10330, Thailand
You will find: Pretty much everything
Travel Cheat Sheet Tip: Wear comfortable shoes that provide support,  such as sneakers, rather than heels or sandals, in order to walk long distances without getting tired feet. You'll be walking A LOT, so be sure not to torment your feet!
2. Platinum Fashion Mall
An indoor version of everyone's favourite weekend market Chatuchak, Platinum Mall is a MUST GO, especially if you're on a budget! Specialising in wholesale fashion clothing and accessories and packed with over 1300 shops, you'll be surprised at how many items you can get here, for amazingly affordable prices.
It's pretty easy to get lost in the complex layout of the mall, so I shopped in a systematic manner, level by level, in order to cover as many shops as I could! From workwear to casual outfits, sunglasses and accessories, every level has been clearly labelled for your shopping convenience. I had a blast checking out the latest trends and sharing my best buys with my friends!
As night falls, you'll find an entire row of street stalls right outside the entrance of Platinum Mall, selling all kinds of street food and accessories. I happily grabbed myself a gigantic cup of freshly blended mango milkshake, along with some juicy pork skewers – to refuel for the exciting night ahead!
Travel Cheat Sheet Tip: Put your haggling skills to the test and remember, the more you buy, the cheaper things usually are! Shopping at Platinum is best done in groups so you can enjoy bulk buy discounts.  
Opening Hours: 8am-8pm (Weekdays), 9am-8pm (Weekends)
Address: 10400, 644/3 Phetchaburi Rd, Thanon Phetchaburi, Ratchathewi, Bangkok 10400, Thailand
You will find: Mostly fashion and accessories, plus some eateries.
After dinner, hop onto the BTS down to Asok Station, where a few more malls are located!
3. Terminal 21
Designed to look like an airport, Terminal 21 is unique for bringing the world to your doorstep, through it's edgy interior design that features several famous cities in the world such as London and San Francisco. Home to nine floors of 600 shops and numerous restaurants, I found myself wandering through the streets of Tokyo City or even Istanbul.  Needless to say, I spent more time roaming around the mall taking photos than shopping, but it's definitely worth a visit!
Opening Hours: 10am-10pm, Monday-Sunday
Address: 88 Soi Sukhumvit 19, Khwaeng Khlong Toei Nuea, Khet Watthana, Krung Thep Maha Nakhon 10110, Thailand
You will find: Fashion, Gifts, Home Decor, Electronics, lots of Restaurants, Cafes and a Food Court.
4. Rod Fai Market
No trip to Bangkok is complete without a few night market visits, of course! Also known as the Train Market, Rod Fai Market is an open-air bazaar that needs no further introduction. Filled with stalls and tentages of every colour, everyone LOVES Rod Fai Market for its hippy fashion, vintage goods and furniture. If you're tired of wholesale malls which sell the same stuff, do head here for a blast into the past and bag some unique vintage pieces.
Travel Cheat Sheet Tip: With numerous bars and street snacks available, grab a refreshing pint of beer and some supper after your long day of shopping! There's nothing better than kicking back and relaxing whilst listening to the latest pop tunes performed by the live band.
Opening Hours: 5pm-1am, Thursday-Sunday
Address:  Thailand, Srinagarindra Rd – Soi Srinagarindra 51, Nong Bon, Prawet, Bangkok 10250, Thailand
You will find: Vintage/Retro fashion, Antique Furniture, Restaurants & Bars, Street Food 
Remember to get a good rest after your long day, to prepare for yet another day of fun-filled shopping!
 DAY 2: Chatuchak > Union Mall > Victory Monument Station >Rod Fai Ratchada > The Esplanade
After breakfast, kickstart the day by taking the BTS to Mo Chit and take Exit 1, where you'll find yourself at Chatuchak Weekend Market, the most famous weekend market in Bangkok!
5. Chatuchak Weekend Market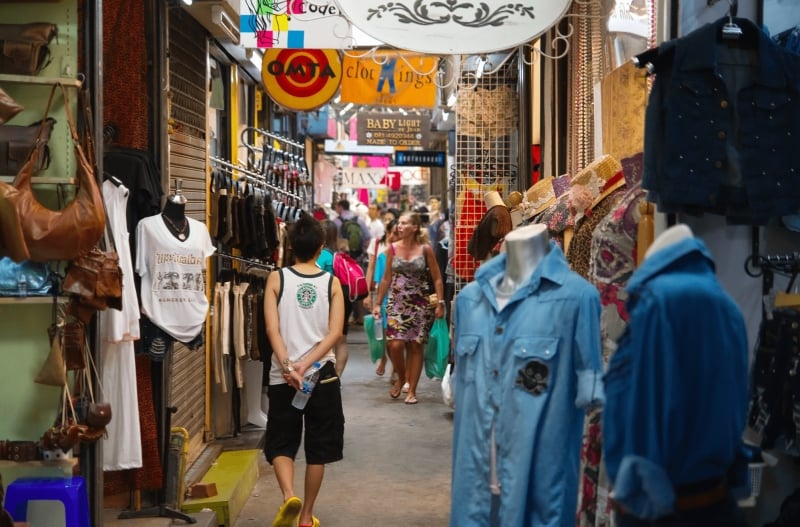 Home to more than 8000 stores selling clothes, shoes, bags, gifts, plants, antiques and basically EVERYTHING, it is also my personal favourite shopping spot in Bangkok! With 27 different sections, I found myself immensely spoilt for choice. The numerous alleys occasionally felt like a labyrinth and I got lost once or twice, but that didn't deter me at all. With stalls selling colourful tie-dye shirts, to hand-painted notebooks and adorable tote bags, I had to resist the urge to splurge on everything I liked!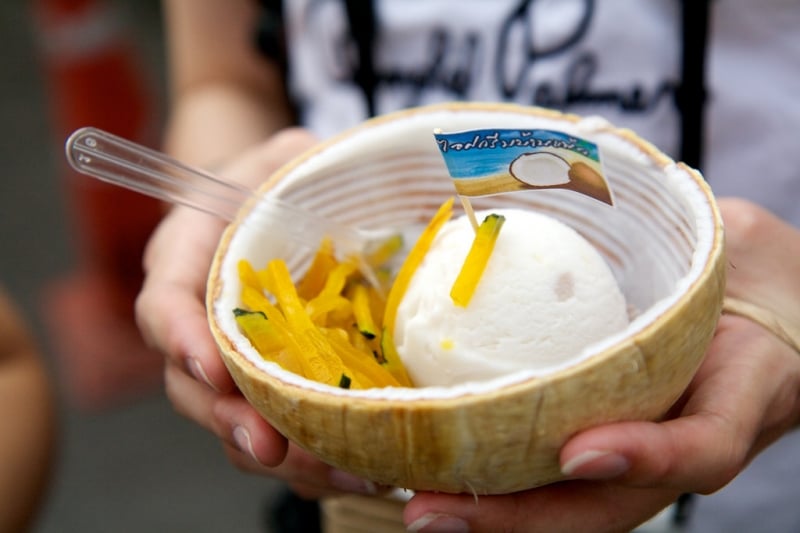 Feeling a bit peckish after all that bargaining, I popped by Chatuchak's famous coconut ice cream stall and boy, did it not disappoint! I also had a plate of Pad Thai from a local food stall and quenched my thirst with a refreshing cup of watermelon juice.
Travel Cheat Sheet Tip: Being a touristy place, prices may be marked up here. Do bargain, and if the price is still too high, just walk away. You'll probably find something similar in the next alley. It's also going to be boiling (mark my words!) so dress light and bring along a portable fan. Drink plenty of water to stay hydrated!
Opening Hours: 9am-6pm (Weekends), 7am-6pm (Wednesday/Thursday), 6pm-12am (Friday), Closed (Monday/Tuesday)
Address: 587/10 Kamphaeng Phet 2 Rd, Khwaeng Chatuchak, Khet Chatuchak, Krung Thep Maha Nakhon 10900, Thailand
You will find: Pretty much everything, but mostly fashion and food
Afterwards, take the BTS to Phahon Yothin where you'll arrive at Union Mall, just a short distance away from Chatuchak.
6. Union Mall
Slowly gaining popularity among young adults who seek fashionable clothes on a lower budget, Union Mall is Bangkok's best kept secret and THE place to go for cheap yet stylish clothing. Shopping here is a comfortable experience as you are less likely to be squeezing with throngs of tourists. The mall is large and spacious, and filled with local boutique brands that sell unique designs and the latest trends. Items are also not repeated as much as they are in Platinum Mall, but prices are slightly higher. I scored a few stylish and classy pieces suitable for work right here!
Travel Cheat Sheet Tip: Head here if you'd like to purchase unique clothing from local designers, and at a better quality compared to those from Platinum Mall or Chatuchak.  
Opening Hours: 11am-10pm, Monday-Sunday
Address: Ladprao Soi 1, Bangkok, Thailand 10900
You will find: Mostly inexpensive and fashionable clothing, boutiques by young local designers
Now that you've shopped in the comfort of some air-conditioning, take the BTS down to Victory Monument Station, for some more street shopping!
7. Victory Monument Station
Despite not being as touristy as Siam, Victory Monument still offers quite a few shopping options. If you enjoy street shopping, head down to Victory Point, an outdoor bazaar located just beneath the BTS's Skywalk. Catered to working-class locals, the things here are not very expensive and considerably less commercialised. There are also some makeshift bars that offer cheap drinks, so go ahead and treat yourself!
Opening Hours: 8am-9pm, Monday-Sunday
Address: Soi Ratchawithi 9 (Loet Penya), Khwaeng Thanon Phaya Thai, Khet Ratchathewi, Krung Thep Maha Nakhon 10400, Thailand
You will find: Mostly inexpensive street fashion, some food and makeshift bars
To end the night, take the BTS to Thai Cultural Centre to visit two more shopping areas.
8. Rot Fai Ratchada Market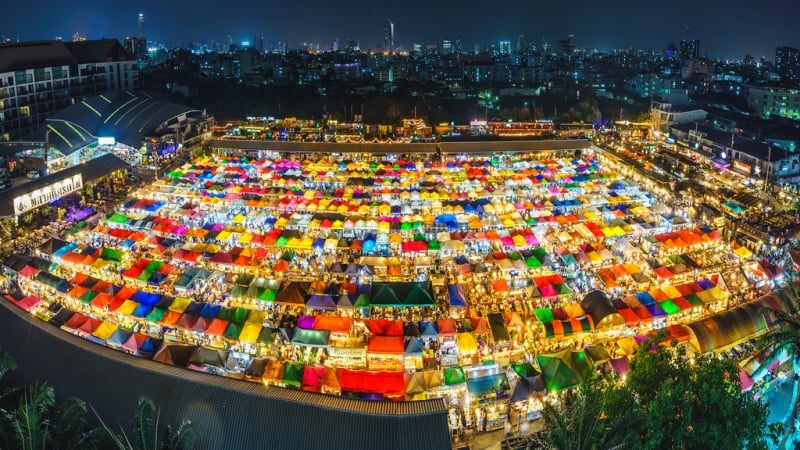 A second train market, Rot Fai Ratchada Market, has just opened on Ratchadaphisek Road, although it is not as big as the original. Flooded with numerous colourful tentages and possessing a similar vibe, Rot Fai Ratchada is well-loved by many, especially the young locals. Besides selling clothes, it has unique souvenirs and gifts as well, so put your bargaining skills to good use! I had an awesome night out here exploring the stalls while feasting on delicious street food like salted fish, squid eggs, fried chicken and more!
Opening Hours: 5pm-1am daily,  except Monday (closed).
Address:  Ratchadaphisek Rd, Khwaeng Din Daeng, Khet Din Daeng, Krung Thep Maha Nakhon 10400, Thailand
You will find: Mostly inexpensive and fashionable clothing, unique souvenirs, food
9. The Esplanade
If you're sweating from shopping at Rot Fai Ratchada, head to The Esplanade just right beside it, a 7-storey shopping and entertainment complex! With a host of retail shops, bookstores, restaurants, a 12-screen Cineplex, an Ice-Skating rink, a Musical Theatre and hypermart, is it even possible to not be entertained? Plus, the entire first level of the mall is dedicated to an indoor market selling shoes, clothes and accessories! I scored some good bargains on sunglasses and quirky phone cases while shopping!
Opening Hours: 10am-10pm, Monday-Sunday
Address: 99 Ratchadaphisek Road | Thailand Cultural Centre MRT, Bangkok, Thailand
You will find: Fashion brand names, Bookstores, a Musical Theatre, Ice-Skating Rink, Cineplex, Hypermart etc.
Day 3: Pratunam Morning Market > Pratunam Wholesale Market > Damnoen Saduak Floating Market
Good Morning! As they say, the early bird always catches the worm, so if you want to score some good deals, you'll have to wake up early for it!
After breakfast, I decided to kickstart my day by visiting a market I had heard so much about and had always longed to visit  – Pratunam Market, known for it's cheap prices and huge variety.
10. Pratunam Market 
Located in front of Baiyoke Sky Hotel, the Pratunam Morning Market is open from 4am to 9am daily, consisting mostly of street stalls selling clothing, accessories and street food. Targeted mainly at the locals, you can feast on delicious street food here for breakfast before perusing to your heart's content! The best part? As it nears 9am, the street stalls will close to make way for the Pratunam Wholesale Market, so you don't have to travel anywhere at all!  
Unlike Chatuchak, Pratunam Market doesn't just operate on weekends so no matter which day you visit, you won't be disappointed. The whole place was constantly buzzing with activity and despite the fact that it was hot and crowded with people, I enjoyed the lively vibes the entire place radiated. Bargaining here is an art which I slowly learnt to master as I went from stall to stall. Having managed to snag some tops and dresses at extremely low prices, I left feeling gleeful and contented!
Travel Cheat Sheet Tip: This is a wholesale market as well so prices are cheaper when you purchase 3 pieces and above! It's definitely worth waking up early to enjoy greater savings, especially if you're a serial shopaholic.
Opening Hours: 4.30-12am Daily, except Sundays
Address: 869/15 Ratchaprarop Rd, Khwaeng Thanon Phaya Thai, Khet Ratchathewi, Krung Thep Maha Nakhon 10400, Thailand
You will find: Fashion, Gifts, Street Food
Having covered most of the fashion malls and night markets in Bangkok, why not take a day trip out to Damnoen Saduak Floating Market, for a more rustic shopping experience? I wanted to escape from the hustle and bustle of the city, and hence decided to explore a floating market for a change! Located 100km Southwest of Bangkok, it took me just 60 minutes to reach there.
11. Damnoen Saduak Floating Market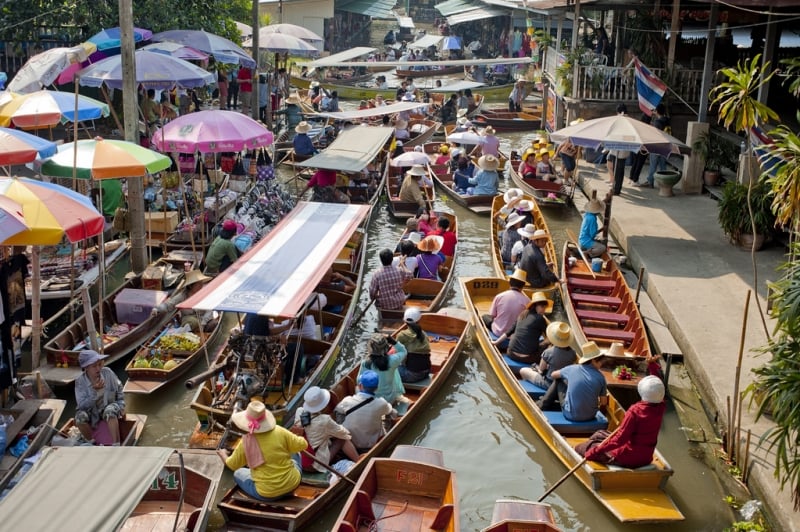 I truly enjoyed exotic Thailand at its finest, as I marvelled at the locals selling homemade dishes, fruits, handsewn bags and handicrafts in their fishing boats. Besides, who says shopping is only reserved for clothes and accessories? You can shop for local food products and handicrafts too!
For many of them, working at the floating market is a way of life and family tradition. If you like taking photographs, Damnoen Saduak offers great photo opportunities and selfie spots so remember to bring your camera along too! Besides taking a boat ride down the floating market, one can visit the  Orchid Farm and Coconut Farm as well. Make sure to try the local produce as they are fresh and home-grown!
Opening Hours: 9am-4pm (Monday-Thursday), 8am-5pm (Friday-Sunday)
Address: Damnoen Saduak, Damnoen Saduak District, Ratchaburi 70130, Thailand
You will find: Cooked food, Fruits, Homemade gifts & souvenirs, Handicrafts, Orchid Farm & Coconut Farm nearby
Ready to shop till you drop? If your answer is a resounding "YES!", I've got good news for you:
For first-hand information about ZUJI's upcoming deals and promotions, simply subscribe to their mailing list right here and have them delivered right to your doorstep: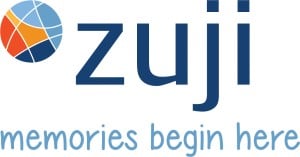 Thank you for your subscription.
By subscribing to ZUJI's mailing list, you will:
Be the FIRST to know about flash sales and exclusive airfares/promotions

Receive hints about flash sale timings – every minute counts!

Have first-hand information about ZUJI special promotions
Excited to start your shopping adventure? Even if you don't manage to finish everything on this itinerary, no worries! Just keep your eyes peeled for ZUJI's next flash sale and you're bound to be back in no time. Bon Voyage!
---
Brought to you by ZUJI and Maybank Cards.