Mention Thailand and the bustling city of Bangkok or the white sandy beaches in Phuket immediately come to mind. It is no surprise (and a shame, really) that Khanom, a peaceful little town in the Nakhon Si Thammarat province where only 30,000 people reside, is largely unheard of.
When TripZilla was offered a media trip to Khanom, we jumped at the opportunity to explore this hidden gem so we could bring it to our readers' attention. It didn't disappoint. Fringing the Gulf of Thailand and across the popular island of Koh Samui, Khanom feels like a rural village dotted with numerous rubber and mangosteen plantations. It's also framed by a dozen pristine beaches lapped with clear turquoise waters. Throw in some caves, waterfalls, mountains, jungle-shrouded trails and teeming wildlife, and a trip to Khanom is quite an adventure!
Here is a list of must-do things for first-time visitors in Khanom:
1. Watch pink dolphins swimming in the sea
Yes, you read it right: pink albino dolphins in their natural habitat, not the typical grey dolphins that are held captive in aquariums.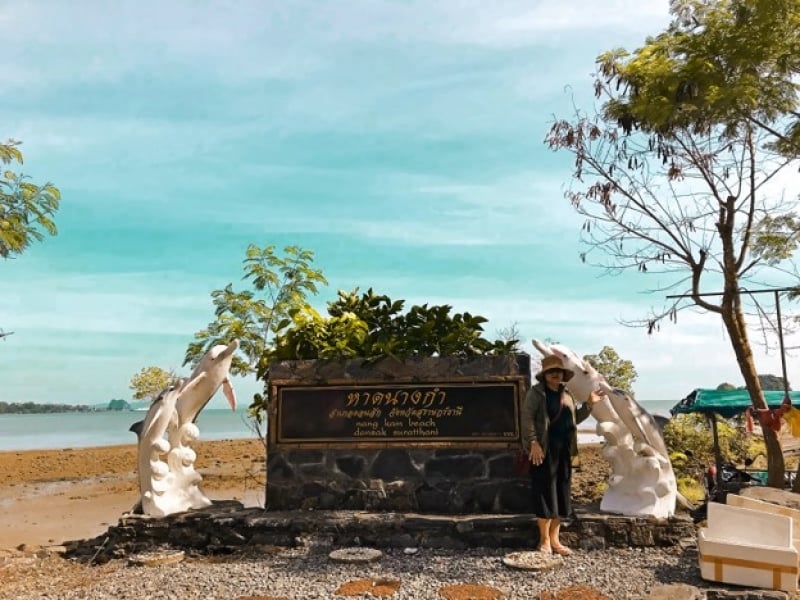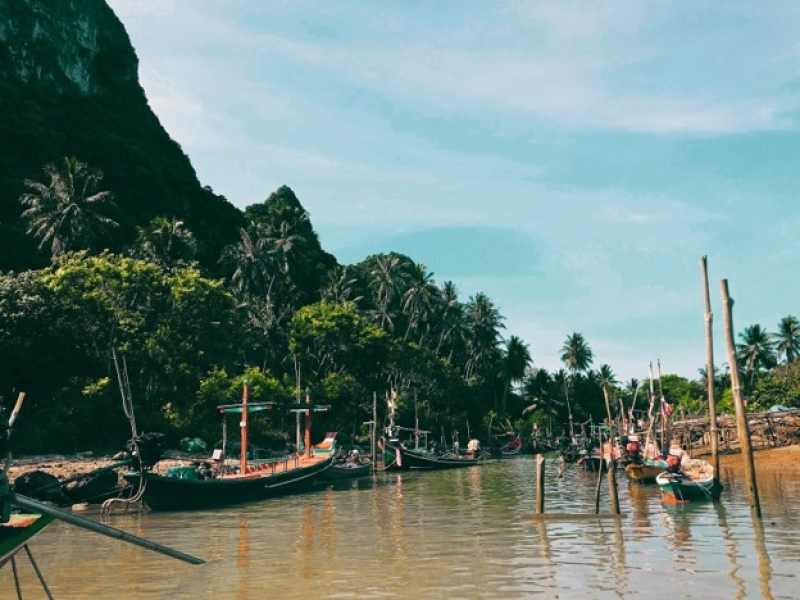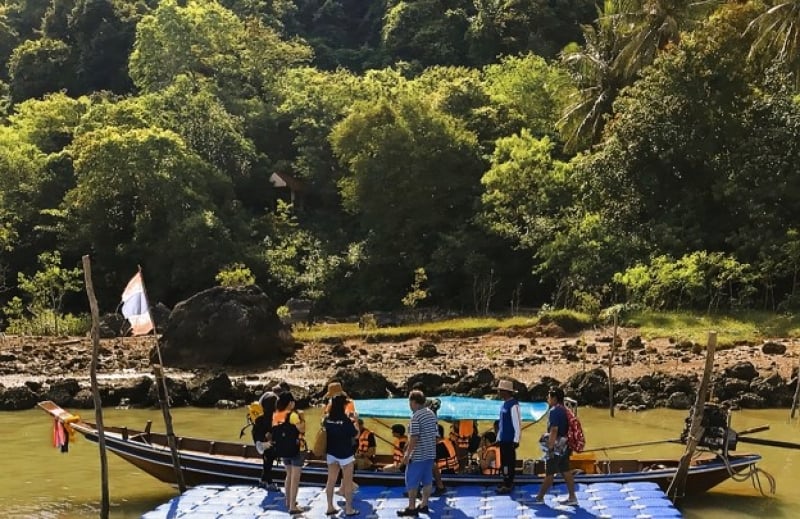 Did you know that pink dolphins are actually born grey or black but gradually change to pink as they age? There are only 2,000 pink dolphins left in the world and Khanom is home to 60 of them.
While sightings of pink dolphins in Khanom are considered rare, we couldn't help but try our luck. Setting off early in the morning, we drove to Nang Kam Beach, which is said to be the hotspot for spotting pink dolphins. The pristine beach with vibrant, colourful fishing boats bobbing on the calm sea was a visually appealing sight. From the pier, we hopped on a long-tailed boat and set off with hopes of spotting the adorable pink dolphins.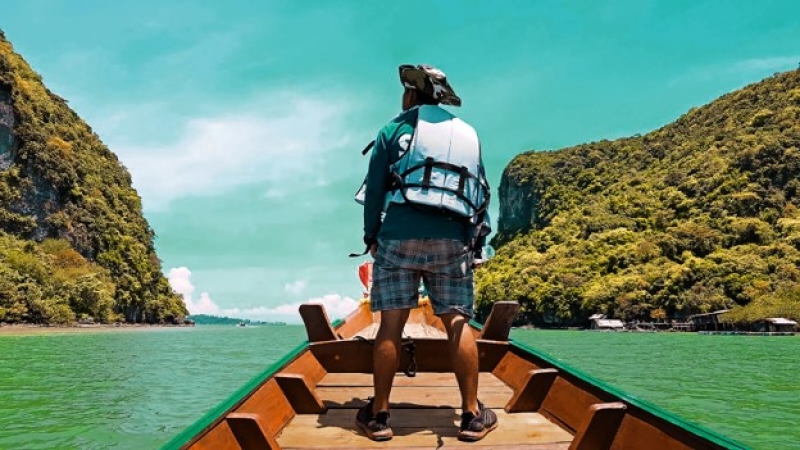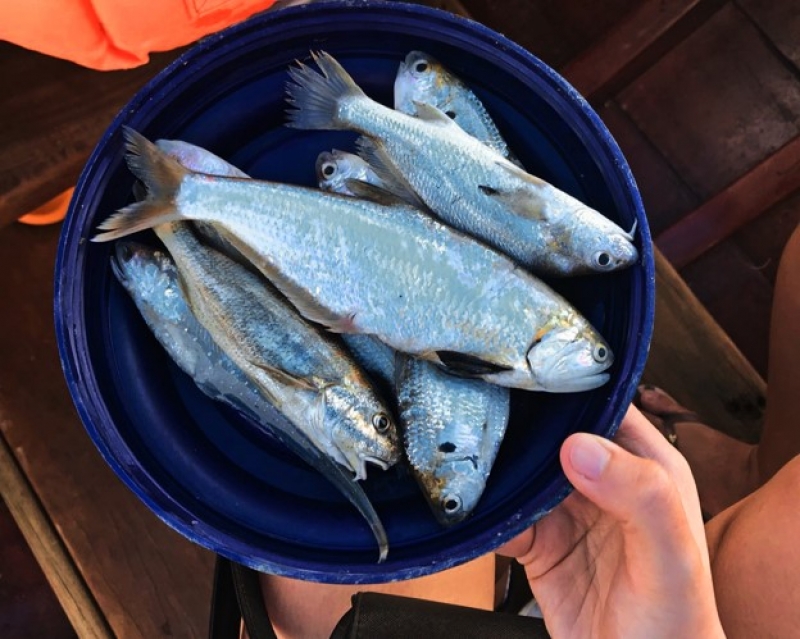 Guess what? We were really in luck that day! We spotted some fishermen out at sea on a fishing boat, dumping pails of small fish into the sea as food for the dolphins. An idea struck us – why not buy a few fish from them to use as baits to attract the dolphins? To our delight, the idea worked and we managed to lure the dolphins close to our boat. It was lovely to hand-feed these cute creatures while watching their playful antics in their natural habitat.
If you are keen on this activity in Khanom, we highly recommend joining a tour, such as one with Khanom Tour Thailand as they are run by locals who know the best spots where you are more likely to see the pink dolphins in action.
2. Marvel at the impressive Pancake Rock Formation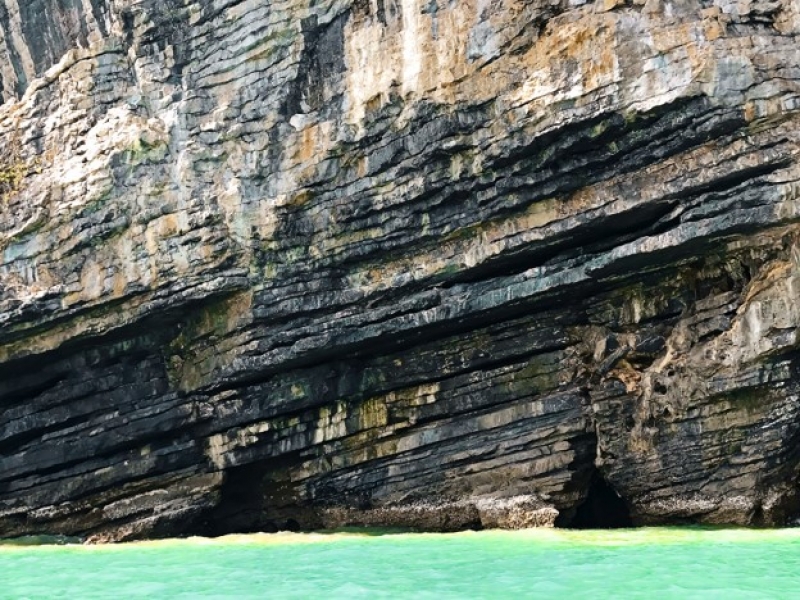 Tucked along the coastline of Lak Sor Bay and Tham Island, Pancake Rock Formation is formed from layers of sedimentary rocks. Animal fossils can be found wedged in between them, making this site a paradise for palaeontologists. True to its name, these 260-million-year-old limestone formations look like stacks of pancakes. The only other place in the world with rock formations that resemble pancakes is New Zealand, but we didn't have to travel that far to marvel at it. 
3. Explore one of the most beautiful caves in Khanom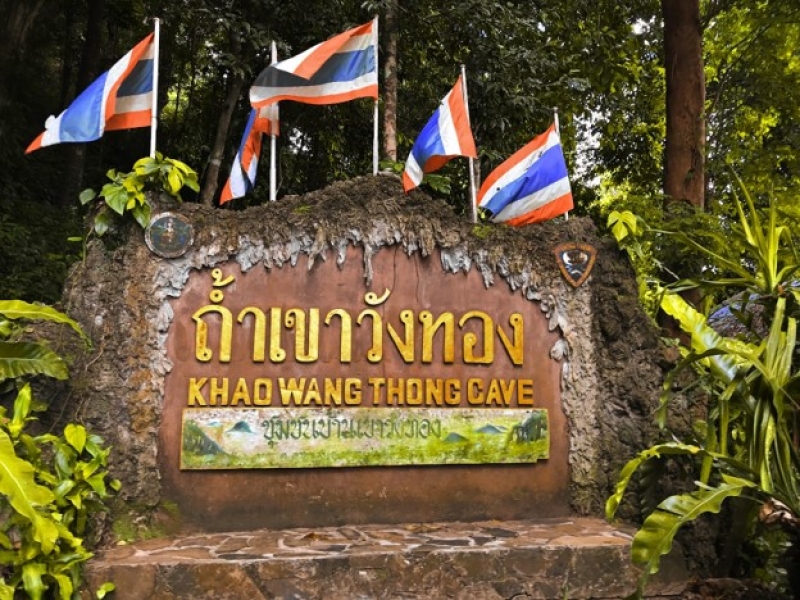 No trip to Khanom is complete without exploring Khao Wang Thong Cave, the fourth largest cave in Thailand and perhaps the most beautiful in Khanom. This 50-metre-long and 500-metre-deep limestone cave is filled with not just stalagmites and stalactites but also gold ore deposits.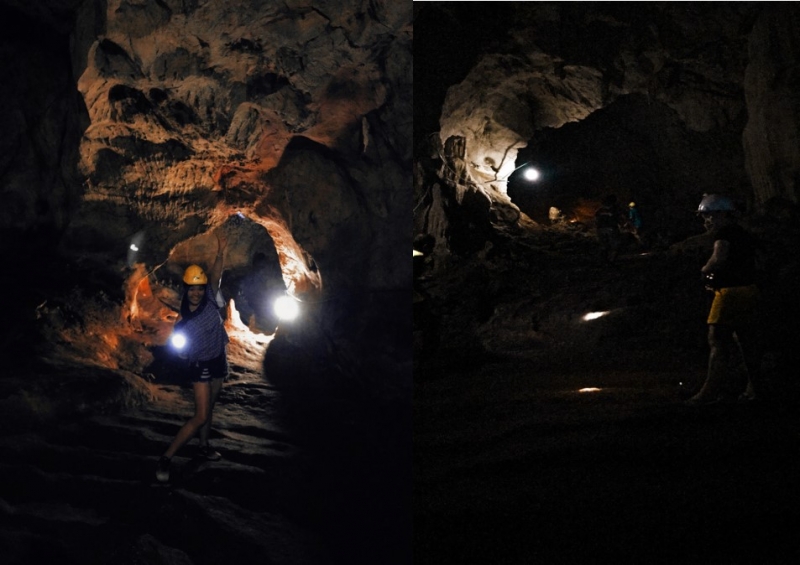 Armed with helmets and torchlights, we entered the cave through a tiny entrance and were led by our guide deeper into the gloomy cave. The cave was surprisingly roomy and a tad chilly. With pockets of light in front of us, we trod carefully over the rough-hewn, slippery rocks, exploring the network of caverns with curiosity. Along the way, we chanced upon a string of bats and even the shedded skin of two snakes!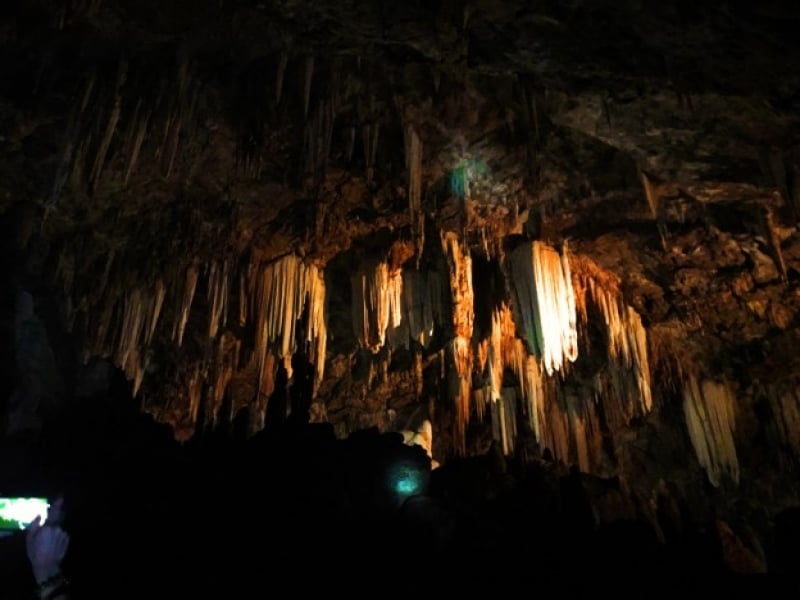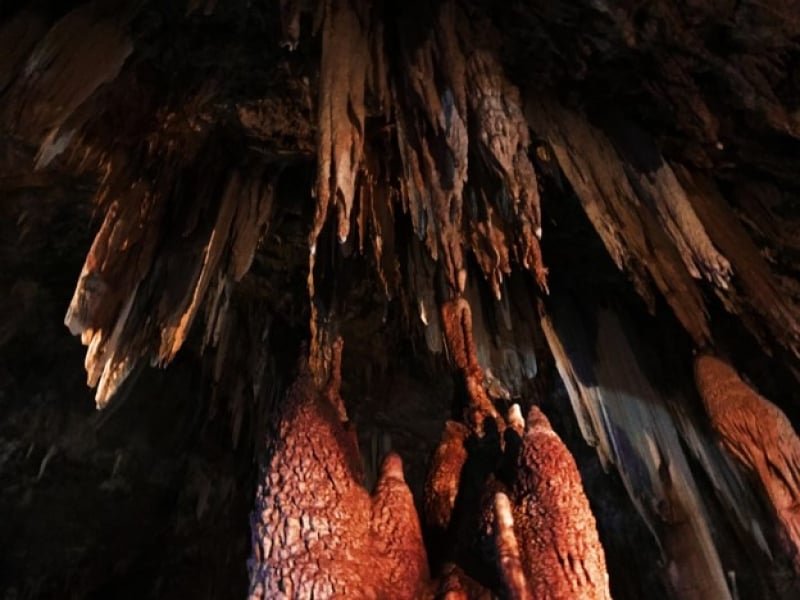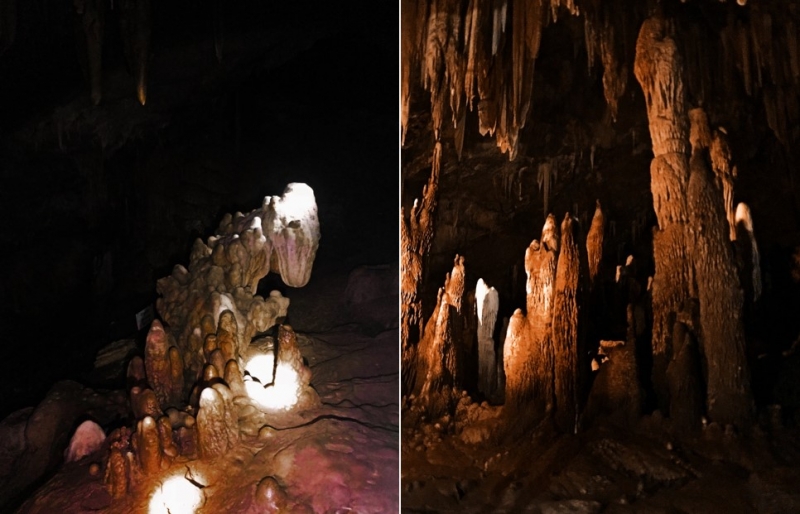 The guide brought us up a flight of metal stairs and we were greeted with a challenge. We had to squeeze through narrow passages and crawl on all fours under the low ceiling – claustrophobics, be warned. The effort, however, was duly rewarded as the view that welcomed us on the other side was fabulous – unreal, even. It looked like a scene straight out of a movie. The massive stalagmites on the ground and the glistening stalactites hanging from the ceiling were of peculiar shapes resembling pagodas, waterfalls, and even a dinosaur.
Thrill-seekers, be sure to insert this natural splendour in your Khanom itinerary. Here's a tip from us: wear comfortable clothes and a good pair of hiking shoes, and bring along a bottle of water and insect repellant.
4. Get your dead skin exfoliated at Suan Ta San Fish Spa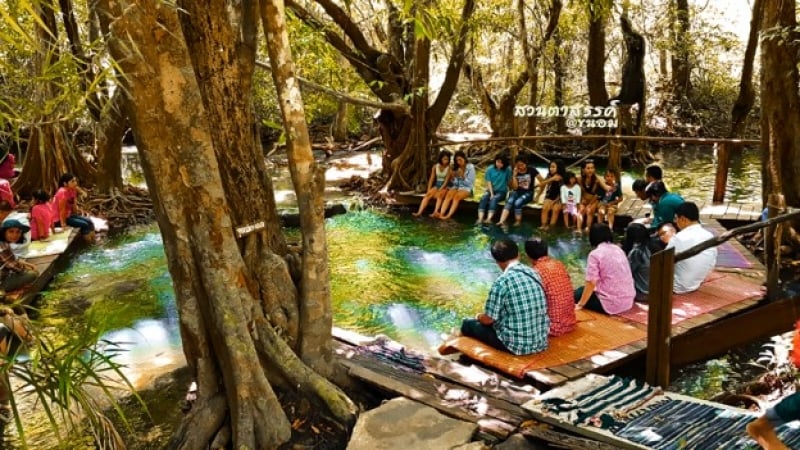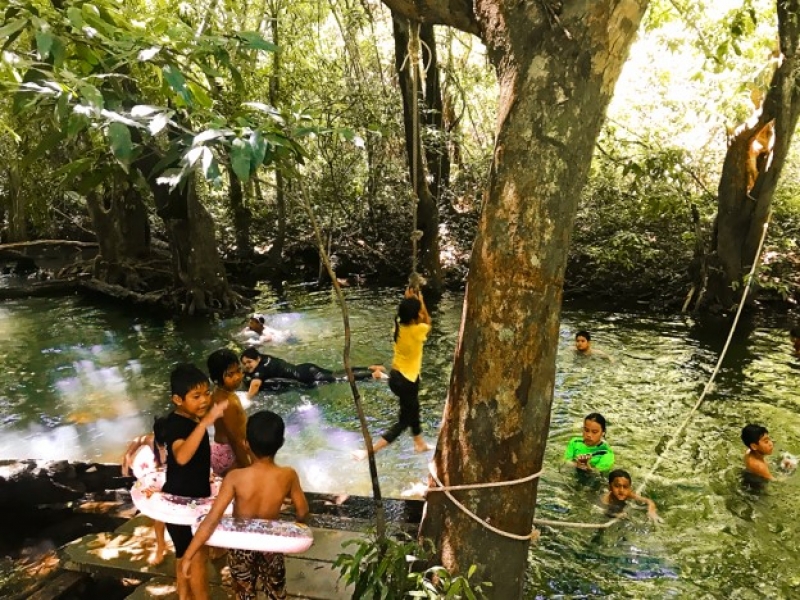 A fun play area often visited by local families, Suan Ta San Fish Spa was jam-packed when we arrived. Kids were happily swinging across ropes into the waters, having a splashing good time while the grown-ups were resting their feet in the fish spa area along the stream flowing from Cho Waterfall.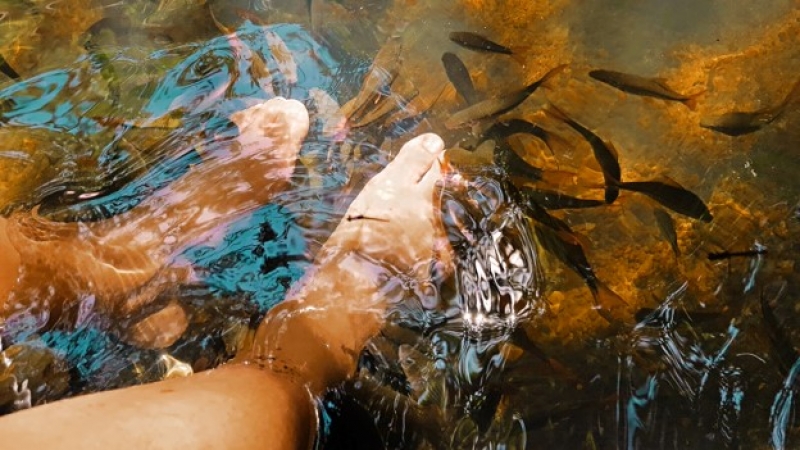 We removed our footwear and dipped our feet in. The fish spa, also known as fish pedicure, functions to remove dead skin from your feet, leaving behind a layer of newer skin. Some of us within the group enjoyed the sensations, while the rest found the nibbling too ticklish or slightly prickly. Do take note that some fish may be host to bacteria which can be transmitted to your body, so try this activity at your own risk.
5. Have a sip of miracle water
Thailand is a predominantly Buddhist country; in fact, it's sometimes referred to as the "Land of Buddhism". In Khamon, you can find some interesting sites that are inexorably linked to this religion.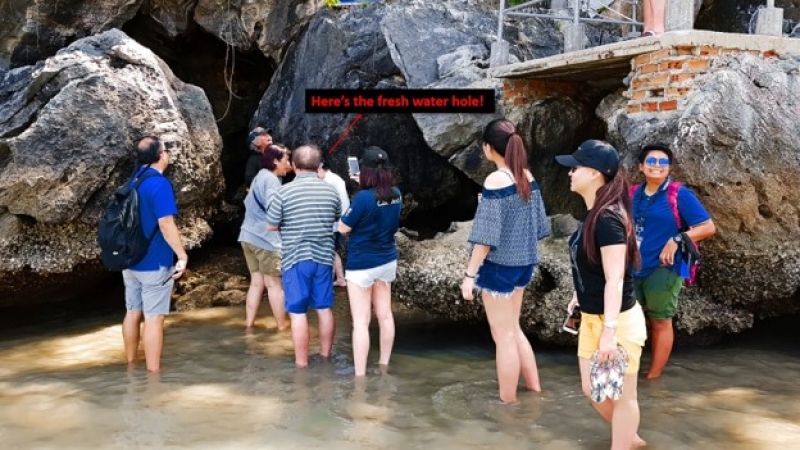 Known to have saved countless lives with his sacred amulets, Luang Po Tuad is a revered monk who holds great respect in Thailand. Legend has it that few hundred years ago, he saved the entire population on Nui Nok Island from drought by dipping his toe into the sea and magically transforming the seawater into potable water. What's unusual is that until today, there is a fresh water supply from a water hole near this holy island. Our guide filled a bottle with water and passed it to us for a sip; it was refreshing and surprisingly sweet!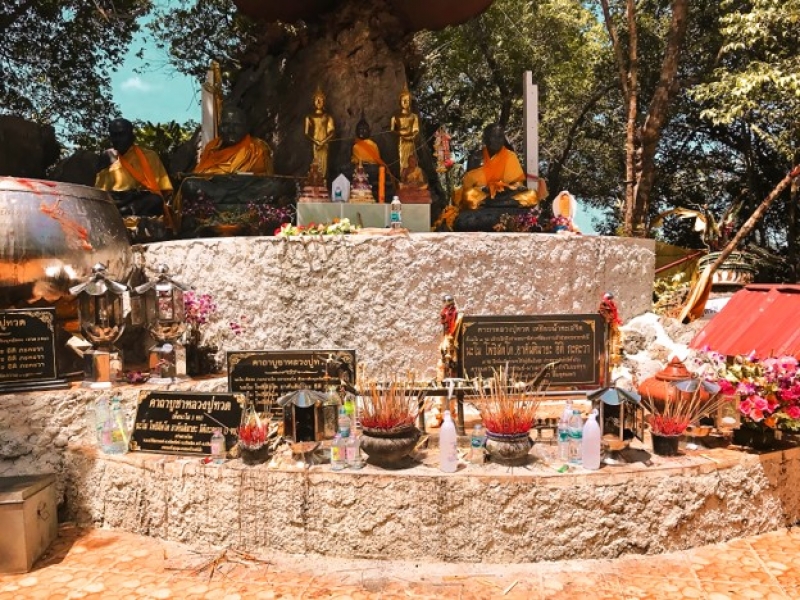 There is also a small shrine dedicated to Luang Po Tuad at the island to commemorate this miracle. We made our way up the flights of concrete stairs to pay homage to him. A student guide welcomed us and passionately described the over hundred-year-old legend of Luang Po Tuad – it was an interesting history lesson!
BONUS: Things to do in other districts of the Nakhon Si Thammarat Province!
6. Experience local life at Kiriwong Village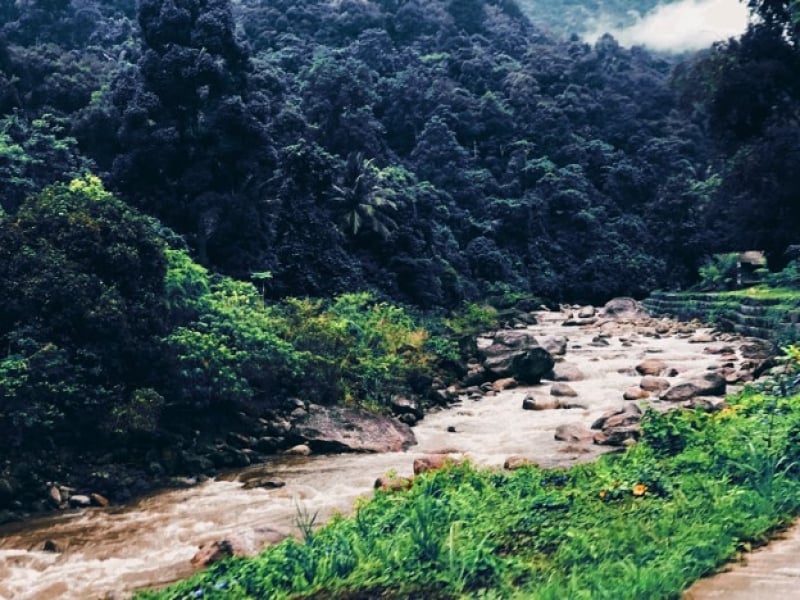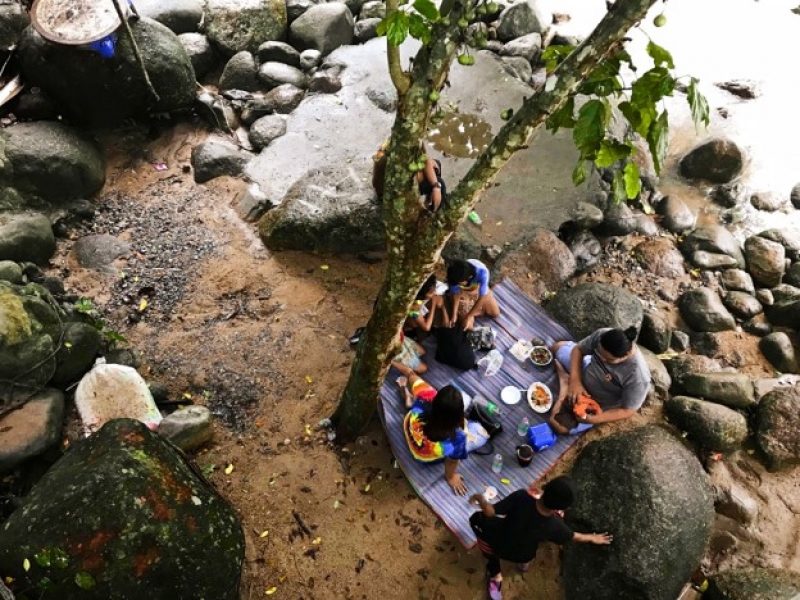 The 300-year-old Kiriwong Village that is surrounded by a part of Khao Luang Mountain is your best bet when it comes to experiencing the local life in Nakhon Si Thammarat province. Leave the skyscrapers and the hectic pace of urban cities because, in Kiriwong Village, there are only straw huts nestled in ancient forests, miles of flowing rivers and waterfalls, the purest air and magnificent mountainscapes.
The people of Kiriwong are part of a self-reliant community. They are famous for producing their own local products including tie-dye cloth and mangosteen peel soap. We saw locals gather in the huts or under the trees with the simplest fare and hearty conversations – a simple, carefree life that is foreign to many of us. If you would like to escape from the doldrums of city life and just enjoy a slower-paced life, Kiriwong Village is a must-visit!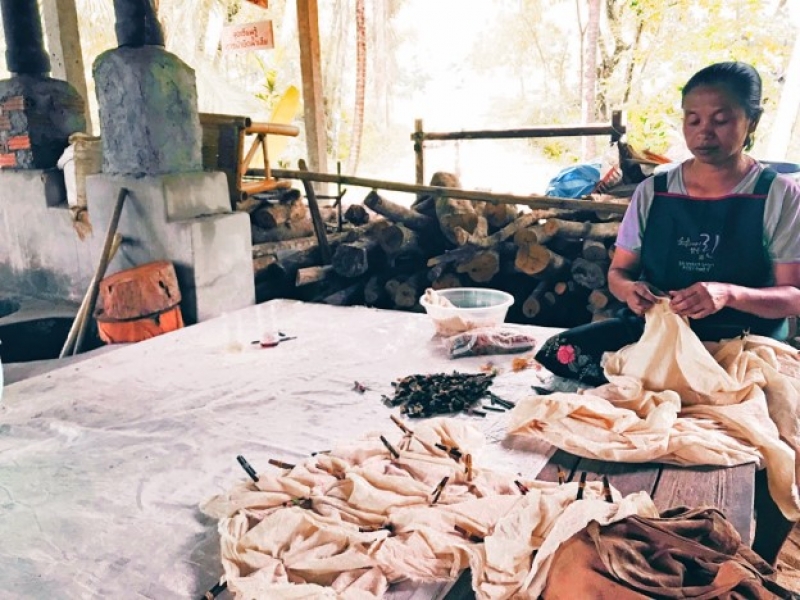 In the village, we were lucky enough to go behind the scenes and witness the making of tie-dye cloth. The leaves and bark of mangosteen and other trees were boiled in pots to obtain their natural colours and meanwhile, a Thai woman at the side folded the unbleached cloth and secured the folds with pegs to create the desired pattern. The cloth with the pegs would then be dipped into the pot.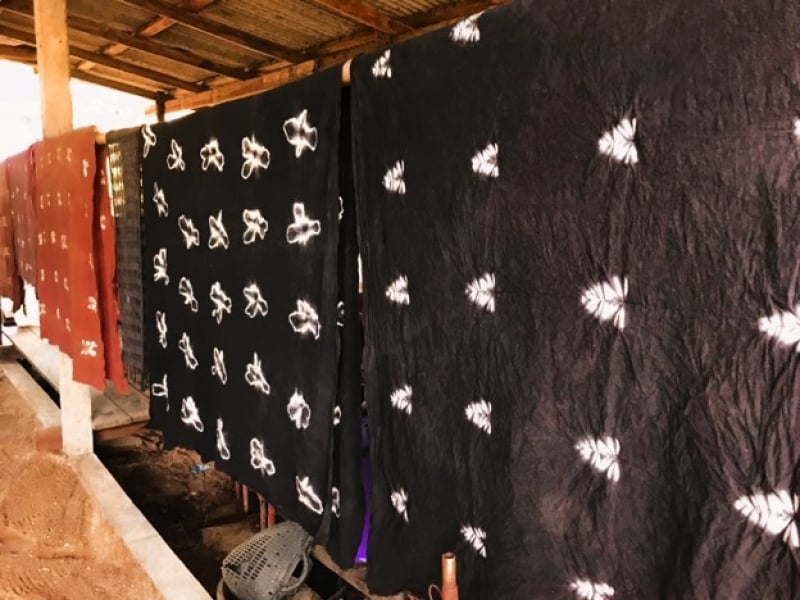 Tada! The final product is an evenly tie-dyed fabric with repetitive prints and patterns. These fabrics can be used to make practical items ranging from bags and pouches to dresses and pants.
Address: Kamloan Subdistrict, Lan Saka 80230, Thailand
7. Visit the Sri-Lankan style Buddhist temple, Wat Phra Mahathat
You cannot say that you have been to Nakhon Si Thammarat if you have not visited Wat Phra Mahathat, the most renowned Buddhist temple in the province and Southern Thailand.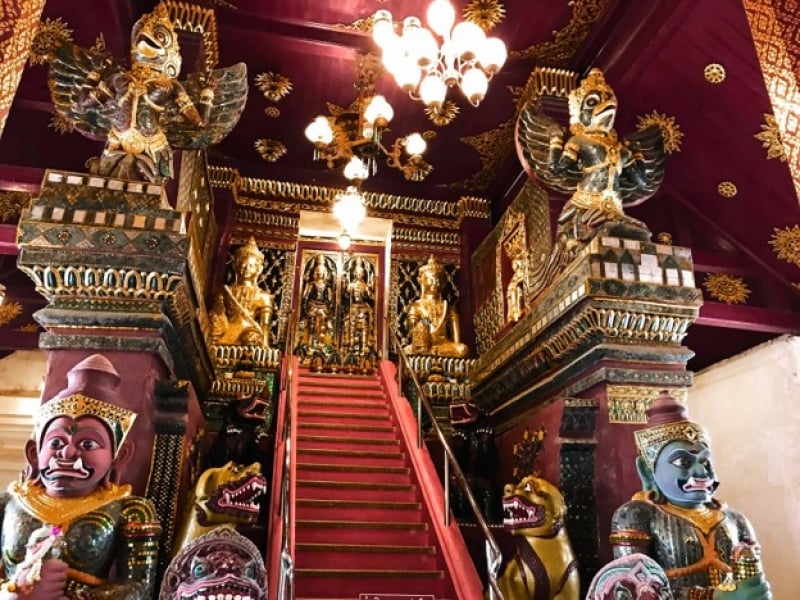 Believed to be built in AD5 during the Srivijaya Kingdom era, Wat Phra Mahathat is a remarkable 78-metre-tall pagoda surrounded by 173 smaller ones. This first-class royal temple contains a tooth relic of Lord Buddha and has a small gallery housing many Buddha statues and elephant heads, as well as a temple museum. The entrance fee is just 30 baht and an additional 20 baht for the museum visit. What amazed us was the intricate and distinctive Sri-Lankan style architecture of the temple.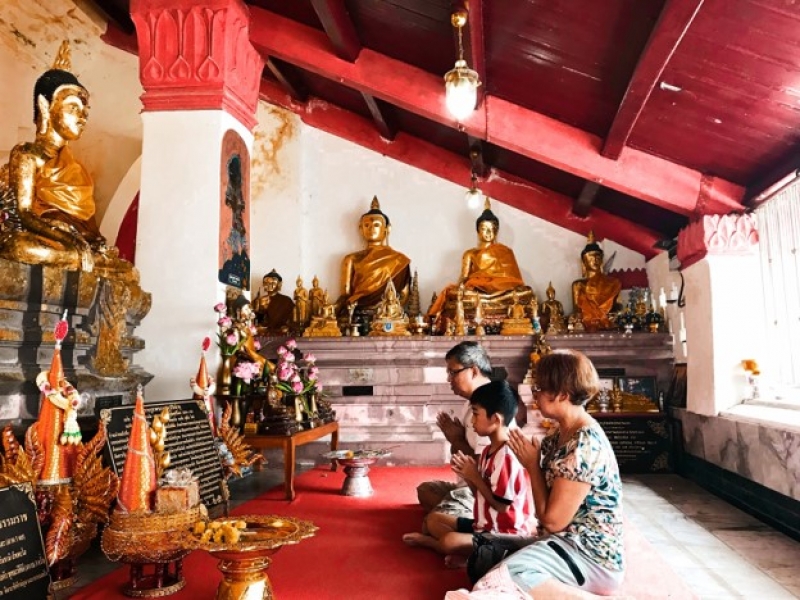 Many devotees with their families were offering prayers on the day we visited. It seemed like Wat Phra Mahathat is not only a tourist attraction but a functioning temple that offers a glimpse into the authentic local culture.
Ideal for adventurous travellers, couples looking to spend a tranquil getaway, or those looking to rejuvenate their mind and soul, Khanom and indeed the whole of the Nakhon Si Thammarat province are indeed off-the-beaten-track destinations that will show you the "real Thailand".
---
Special thanks to Tourism Authority of Thailand for sponsoring this fulfilling trip and Khanom Tour Thailand for this unique Khanom tour.