While many visitors to Thailand visit several of the country's famous temples, most will be accustomed to seeing revered Buddha images in various postures, glittering halls, murals that depict the life of the Lord Buddha, statues of esteemed monks, chedis and pagodas, and similar. While each temple is different, even if the differences are sometimes subtle, it can be easy to feel that you've seen enough temples after you've visited a handful.
Experience a different side of Thai beliefs, however, with a visit to one of the nation's "hell temples". While Thai people believe in the rebirth of the soul, they also believe that there are periods between each incarnation where souls spend time in either a heavenly realm or a ghastly hell-like place. Each is split into different levels, with different rewards or punishments associated with the different tiers. The soul's destination between incarnations depends on a person's actions during their lifetime.
Hell temples show graphic scenes of what a person can expect after death if they fail to live a moral and good life. Some offer written explanations, while others have images and statues. Statues especially can be grotesque and somewhat horrifying to outsiders. They can also, however, be morbidly fascinating. Thai beliefs often include spirits and ghosts, remnants from when animism was practised by many. Delve deeper into Thai spirituality at one of these interesting hell temples:
1. Wang Saen Suk Monastery Garden, Chonburi
On the way to Pattaya from Bangkok, close to the beach resort of Bang Saen, Wang Saen Suk Monastery Garden provides more glimpses into the afterlife. Statues that leave nothing to the imagination are spread throughout the garden and, as with all of Thailand's hell temples, the sights are sure to make you squirm!
2. Wat Muang, Ang Thong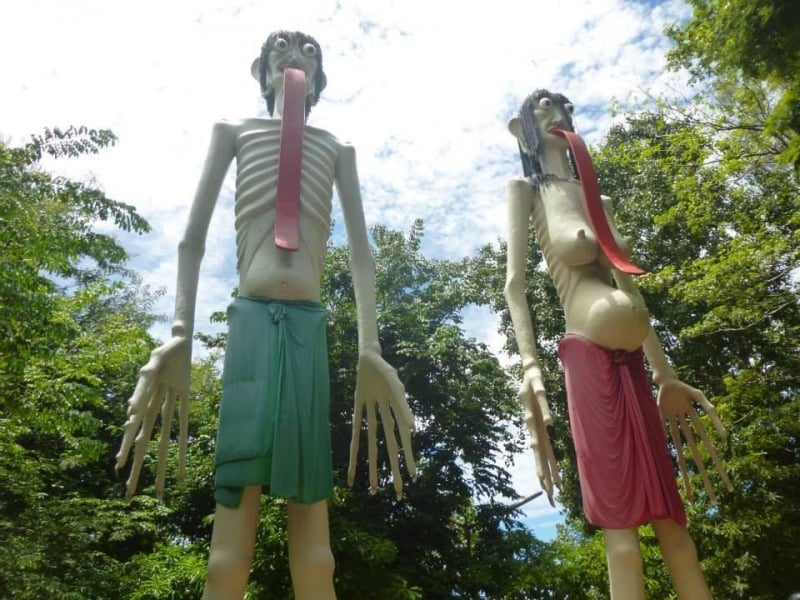 Famous for being home to the largest Buddha statue in the whole of Thailand, Wat Muang is surrounded by lush rice paddies. Located in rural Ang Thong in Central Thailand, it is perhaps one of the last places where people would expect to find scenes that look like they were inspired by a horror movie. Two large ghosts, one male and one female, tower over torturous scenes, complete with bulging eyes, enormous tongues, gigantic feet, and other huge and monstrous features. Around them you'll find demonic creatures stirring what can only be described as a pot of boiling bodies, naked people scrambling up thorny trees trying to escape baying hounds that want to rip them to shreds, and people been sawn in half by massive jagged blades.
3. Wat Kai, Ayutthaya
Once the mighty capital of a powerful kingdom, most people visit Ayutthaya to stroll through the atmospheric ruins from the city's glorious past. There is, however, another attraction that's well worth visiting if you're into quirky attractions. Ayutthaya's Wat Kai is home to a troop of marauding macaques as well as a number of hellish statues. See statues of people having their tongues ripped out, people kneeling as though begging desperately for forgiveness, bodies being speared, flames, skeletal figures, and more.
4. Wat Puet Udom
Located in Pathum Thani, and a short distance from Rangsit, Wat Puet Udom can easily be visited on a day trip from Bangkok. Colourful statues fill the grounds, with a sparkly and ornate building at the centre of the complex. The statues become stranger as you get closer to the main temple building, with animal heads on human bodies, for example, but nothing can quite prepare you for the images below ground underneath the temple. Step through a gaping ghastly mouth and make your way through dank, dark caverns filled with revolting and hideous displays. Some of the exhibits have coin-operated controls whereby they move and make sounds, adding to the horror and / or intrigue. Giant birds rip chunks of flesh from human forms, a skeleton rides a bicycle beneath trees strung with naked female forms, bodies are hooked, hacked, boiled, burned, sliced, stabbed, skewered, and chopped, and there is plenty of blood and gore. There are pictures as well as statues and, unlike many of the other hell temples, excellent descriptions are provided in English.
5. Wat Phai Rong Wua, Suphanburi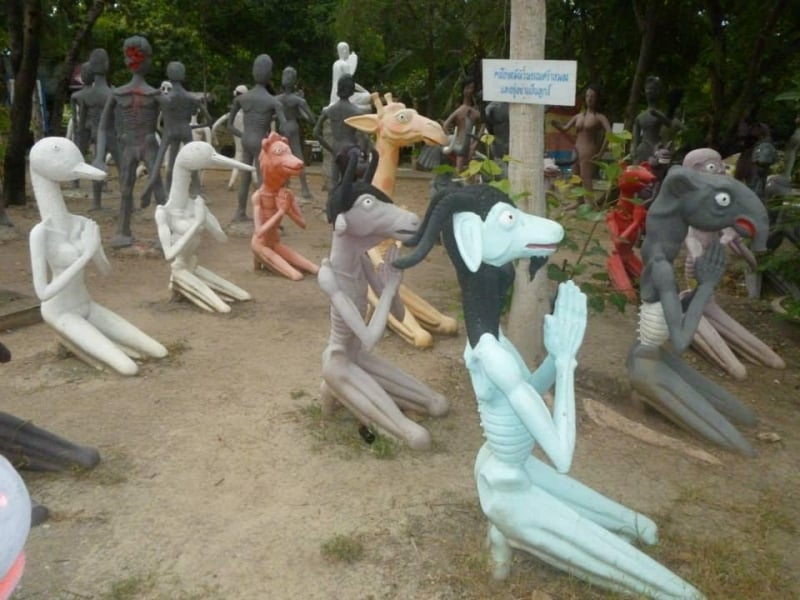 Half of Wat Phai Rong Wua, located in Central Thailand's province of Suphanburi, is serene and picturesque. There are numerous statues of the Lord Buddha to admire, as well as beautiful statues of people and animals. The other half, on the other hand, is the stuff that nightmares are made from! Ghouls, demons, and dismembered bodies are just a few things you will encounter as you peer at the statues with a mixture of revulsion and curiosity.
6. Wat Thawet, Sukhothai
Wat Thawet provides a rather bizarre change from Sukhothai's famous ancient ruins. A fairly old hell temple, it seeks to teach people how to live a good life. It was created by a keen monk who used a lot of recycled goods and old statues to try and point people along the right path. Today, there are many colourful statues throughout the grounds. Many are in a state of sorrowful decay, but this somehow seems to add to the eerie atmosphere.
7. Wat Mai Plai Huai, Phichit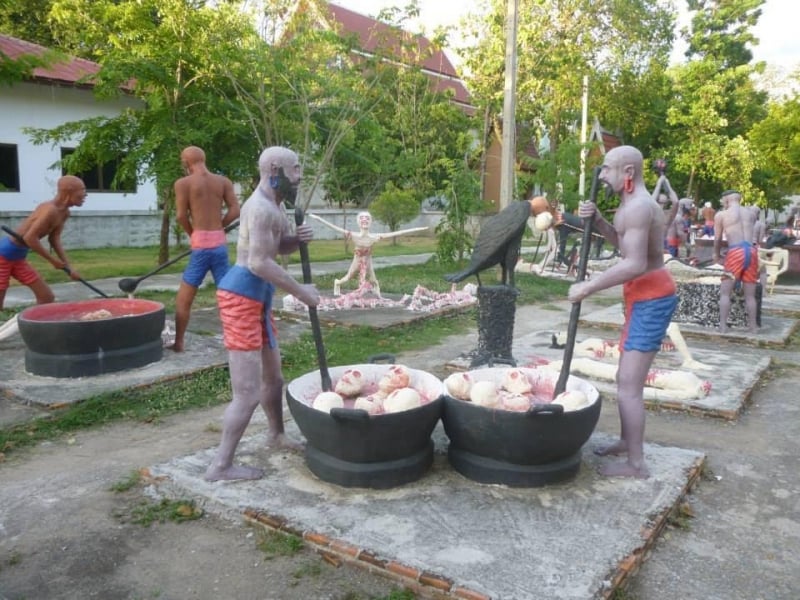 Phichit is located in Northern Thailand. It is known for legends about crocodiles. Indeed, Wat Mai Plai Huai is just one local attraction to have giant statues of ferocious-looking crocodiles. There are also many statues of the Lord Buddha, monks, and people who look blissfully at peace. Lovely buildings also offer plenty of photo opportunities. The section devoted to hell is an eye-opening experience. Large ghosts peer down at visitors. Statues show a variety of punishments for sinners, including being dismembered, being boiled, being chopped into pieces, being ripped apart by animals, and being cooked on a spit.    
8. Wat Rong Khun, Chiang Rai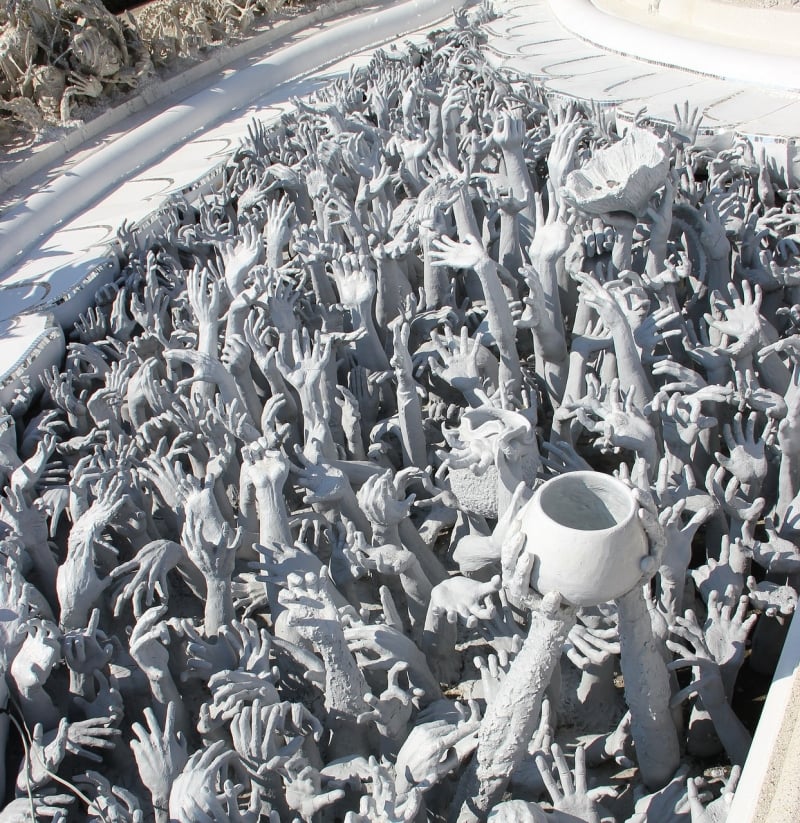 While perhaps not a graphic as many of the nation's other hell temples, Wat Rong Khun presents two extremes. At first glance, visitors cannot help but be impressed by the stunning fairytale-like pure white and highly decorative building. Approaching the magnificent building, however, requires crossing a bridge that spans a sea of limbs stretching desperately towards the sky. Scenes of modern terror are painted on the walls inside the beautiful building.  
9. Wat Tham Ta Pan, Phang Na
Southern Thailand's Phang Na may be more known for its lovely beaches than its depictions of horror, but Wat Tham Pa Pan offers a shock for those expecting to see a place of peace and calm. There are various charming statues of animals, monks, the Lord Buddha and diverse Hindu deities, as well as an eerie cave that is entered through the mouth of a dragon. A dark and gloomy tunnel first leads to Buddhist heaven before taking visitors on a journey through hell. The vivid scenes aim to encourage people to lead a righteous life.
Other hell temples around Thailand include Wat Mae Kaet Noi in Chiang Mai, Wat Ban Waeng in Udon Thani, Wat Pa Non Sawan and Wat Pa Thewapithak, both in Eastern Thailand's Roi Et, and Wat Pa Lak Roy in Nakhon Ratchasima. There are also a few regular-looking temples that have pictures showing heaven and hell, including Wat Pikul Thong in Singburi and Wat Sri Boonrueng in Mukdahan.