From retail therapy to cultural expeditions, Thailand is a popular travel destination that has something for everyone regardless of their age. There is plenty to keep your whole family entertained. Discover golden-domed temples, go on learning journeys or get up close with rescued elephants. There's just so much to do!
Where to start, however? Keep these tips in mind to come up with the perfect game plan to journey through Thailand as a family.
Strategically plan your spots throughout the trip
When starting off your journey in Thailand with kids and parents in tow, it would be best to stick to a calm and relaxing spot during the initial days. Indeed, children can be temperamental with the overnight shift in location and time zones. Beginning the trip with a laid-back spot, such as Mae Kampong, can help to ease your family into the journey!
Chiang Mai: Mae Kampong
Delve into the authentic lifestyle of the Thai countryside when you visit Ban Mae Kampong, a beautiful century-old village comfortably nestled in the Doi Suthep-Pui National Park. Having taken its name from the yellow and red kampong flowers found within the park, this quaint little village is steeped in natural resources. Surrounded by nature, a visit to this village offers a breath of fresh air from the hustle and bustle of the city. Kids will also be able to learn about traditional rural cultures of other societies.
As your family explores the village, come across Kanta Prueksa Temple, the village's only temple. Chance upon the modest Mae Kampong Waterfalls and maybe even take a dip in it! If you're up for some adventure, get your adrenaline rushing by zip-lining through the rainforest at Flight of the Gibbon. Immerse yourself in the culture and learn about the local livelihoods of harvesting tea and coffee. Also, get the chance to concoct herbal medicine and engage in handicraft sessions such as bamboo works and basketworks. Show your support for the locals and buy a unique memento for your friends and relatives back home!
Costs: Flight of the Gibbon Tour – THB 4,199 (SGD 176)
Accommodation: Baan Panida Mae Kampong from SGD 50/night for a Small Double Room (sleeps 3 guests)
Be mindful of local culture when visiting sacred places
Do dress appropriately when visiting places of worship such as temples. Tops should be sleeved and not revealing while bottoms should reach below the knees. It's also disrespectful to point at the Buddha statues or turn your back at the statue. Instead, take a small step back before turning away. It will be best to read up on important things to note so that you will not come across as being ignorant or rude.
Chiang Rai: Wat Rong Khun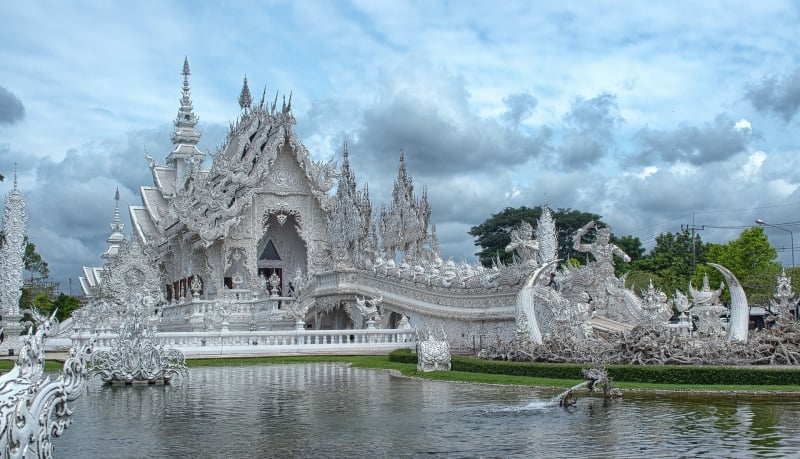 Chiang Rai, the small neighbouring city of Chiang Mai, is home to one of Thailand's most extraordinary temples. Wat Rong Khun, better known as the 'White Temple', embodies a modern take on Buddhist architecture with a minimalist colour palette paired with an incredibly intricate structure decked in mirror-work. This artistic project was started in 1997 by the artist, Chalermchai Kositpipat, and is still not completed yet. The temple's whitewashed walls are meant to symbolise the purity of Buddha while its bridge represents the cycles of rebirth. However, the temple differs from other traditional religious sites due to its prominent contemporary murals, such as Superman and Michael Jackson, that pop up around the temple grounds.
Despite its quirks, it remains as a Buddhist temple replete with a golden statue of Buddha sitting in the main building. Since photography isn't allowed within the temple interiors, take ample time to appreciate the sculptures and pop-art references amongst the traditional architecture and religious symbols. All in all, it will be a worthwhile trip for the family to discover the convergence of traditional Thai culture with modern day art.
Costs: Entrance fee of THB 50 (SGD2)
Accommodation: The Garage from SGD 42/night for a Deluxe Family Room (sleeps 4 guests)
Give the trip a unique twist
Everyone who has been to Thailand most probably has set foot on its sandy beaches as well. But how many have witnessed the cascading Erawan Falls? Not many, we assure you. Take your regular trip off-the-beaten track and suss out hidden natural gems with your family. Not only will it be an exciting adventure, it will also transform a regular run-of-the-mill trip into a unique one for everyone.
Kanchanaburi: Erawan Falls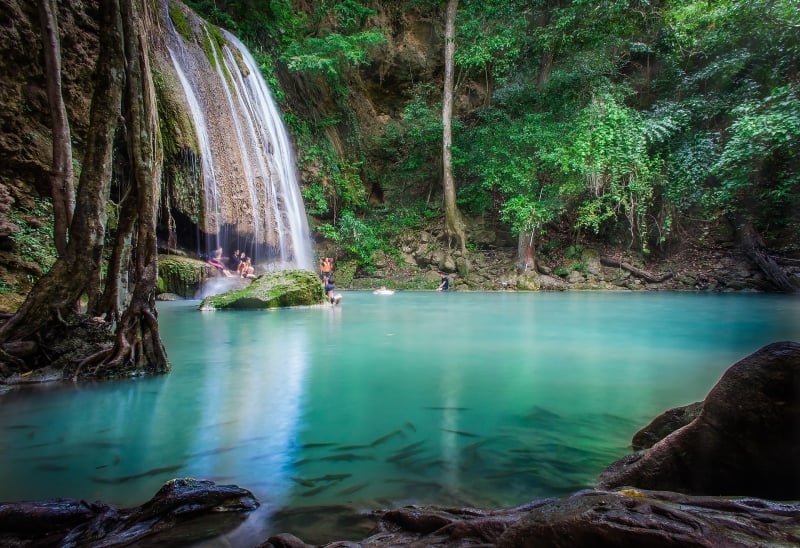 Hailed to be one of the most beautiful waterfalls in Thailand, the Eastern front of Erawan National Park hides a spectacular seven-tiered waterfall: the Erawan Falls. Decked with emerald green ponds after each tier, these waterfalls see many visitors each year. The ponds in the waterfalls do make for a refreshing soak!
The lower two tiers are highly accessible and are ideal for families with children who want to take a dip. A few picnic tables are also strewn by the sides of the pools for snack breaks. As the tiers advance, it gets progressively difficult to trek through the thick vegetation to the top tier. However, adventure-loving families can attempt to get to the top and witness turquoise waters running over white rocks under the shade of lush rainforest canopies. Surely, it will all be worth the climb!
Costs: Entrance fee of THB 300 (SGD12) for adults, THB 200 (SGD8) for child
Accommodation: Naphatphorn Resort from SGD 126/night for a Family Bungalow with River View (sleeps 4 guests)
Admire and interact with the gentle giants
Embark on a nature retreat to learn more about the icons of Thailand. When in Thailand, don't forget to seize the chance to spend some quality time with these lovely elephants. Opportunities to get up close and personal with these gentle giants are usually rare in many countries. This will also be an educational outing for children as they have fun while learning more about these elephants. Also, don't forget to stock up on sunscreen and insect repellant before venturing off to these nature spots.
Phetchaburi: Wildlife Friends Foundation Thailand
Wildlife Friends Foundation Thailand is a registered sanctuary to rehabilitate rescued animals, such as bears, monkeys, wild cats and elephants. As part of efforts to educate the public about these rescued animals, half- and full-day tours are conducted. During these tours, you'll get to meet some of the 450 rescued animals, learn their stories and engage with elephants in a respectful manner. You can even choose an elephant to take on a walk or give a shower!
Attain a better understanding of the beauty of Thailand's wildlife and respect the sanctity of animal welfare when visiting these animal conservatories and rescue centres. The importance of conserving wildlife will also resonate amongst the younger ones, especially when they spend precious time bonding with these creatures. Apart from experiencing and learning about animals, the tour also includes an authentic Thai buffet lunch!
Costs: Full Day Entrance fee of THB 1,600 (SGD67) for adults, THB 1,100 (SGD46) for child
Half Day Entrance fee of THB 1,100 (SGD46) for adults, THB 900 (SGD37) for child
Accommodation: Petch Rim Tan Resort from SGD 75/night for a Standard Quadruple Room (sleeps 4 guests)
Set aside a free day during longer trips
What's a trip to tropical Thailand without visiting its iconic beaches? Take a day out of your hectic itinerary schedule and simply chill at the beach! Too much travelling and constantly checking off places can get everyone tired and irritable. Spend some time cooling off and unwinding with your loved ones instead. The kids will definitely have a splashing good time too!
Aside from Thailand's common beach hotspots such as Phi Phi Islands, Maya Bay and Patong Beach, there is a dizzying array of other shorelines that may not be as famous but are equally great! Koh Lanta is an example of the perfect beach paradise for families all thanks to the absence of maddening crowds.
Krabi: Koh Lanta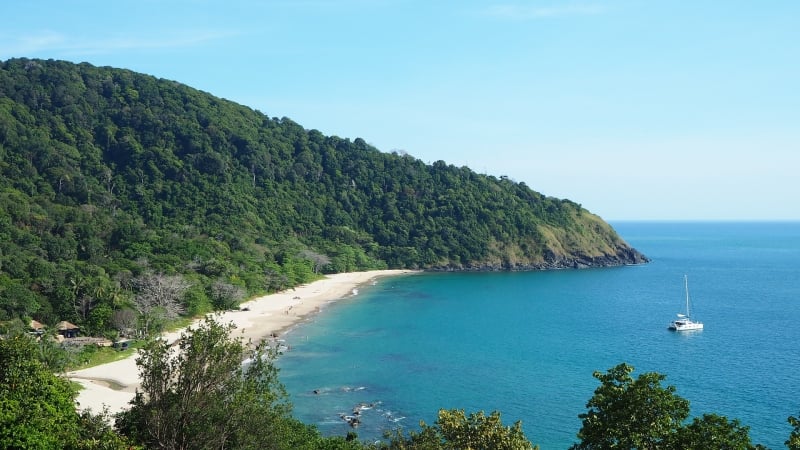 Nestled along the borders of Krabi lies the Koh Lanta group of islands. The main island of Koh Lanta Yai houses most of the incredible beaches and attractions ideal for families. These islands are not as developed but the lack of development implies more organic natural surroundings and fewer touristy crowds.
With no noisy bars or pubs to disrupt the tranquillity of the area, families with children will find it comfortable to explore the diverse scenic beaches such as Klong Dao Beach, Long Beach and Kantiang Bay! Take your pick and indulge in water activities including kayaking, windsurfing or snorkelling. If the young ones are up for some activities, an afternoon trip to Koh Lanta Butterfly Farm would make for an interesting venture! If a relaxing day is all you need, plan a simple picnic and build sandcastles while the sun sets.
Accommodation: Coco Lanta Resort from SGD 89/night for an Eco Value Bungalow (sleeps 3 guests)
Get to know the local Thai culture and history
An unfamiliar territory brings about unfamiliar culture. Exploring the local cultures of your destination is key to breaking that unfamiliarity. There are villages and towns scattered around Thailand that are known for different cultural practices and traditional handicrafts. For example, The Benjarong Village in Samut Sakhon, is known for its exquisite Benjarong porcelain ware.
Samut Sakhon: Baan Don Kai Dee (Benjarong Village)
This traditional art form, that hails from the Rattanakosin Period, comes in the form of five-coloured pottery and is highly valued by the locals. Dwell deeper into this art form when roaming the grounds of this village and support the local community by purchasing these indigenous works of art. The shops also hold demonstrations to show tourists how the interesting porcelain art takes form.
Apart from visually taking in the art, how about hand-painting your very own porcelain ware? Once painted, your masterpiece will be placed in a 1,200°C oven before the final product is ready. There are also extended courses available for your family to participate in and understand more about the Benjarong art.
Costs: Pottery Painting at THB 350 (SGD15)
Accommodation: Thongchen Residence from SGD 58/night for a Comfort Triple Room (sleeps 3 guests)
Incorporate learning expeditions for the kids
It is important to incorporate some elements of education during your travels so that the younger ones can learn a thing or two. These are experiences that cannot be bought. As city dwellers, a stay at Baan Bang Plub would be an excellent time to expose children to the rural lifestyle of the natives living in villages.
Samut Songkhram: Baan Bang Plub
There is no better way to expose children to the rustic lifestyle than through educational activities in Baan Bang Plub! This community-based learning brings children together and engages them in hands-on activities, such as picking grapefruits, exploring coconut plantations and making their own local delicacies through simple recipes. Watch your children take part in village pastimes like flying kites and other old-school games.
With so many activities on deck, families can opt for a two-day program where homestays are provided too. Departure and return trips to Bangkok are also taken care of. From local games to making delicious local treats, getting insights into rural Thai culture cannot be easier than this. After all, the world is your classroom!
Accommodation: Baan Bung Plub Homestay from SGD 33/night for a Single House
Most importantly, have fun!
Bangkok is chock-full of exciting things to do and places to visit. With awesome theme parks and bustling night markets to cover, it is highly advisable to traverse the capital city during the last few days of your trip. As Thailand's largest and most popular city, Bangkok is also a shopper's haven! While you're enjoying and having lots of fun, remember your limited luggage space and don't get too carried away.
Bangkok: Dreamworld

Theme parks are hard to miss when travelling as a family! Every family has an adrenaline junkie who seeks out exhilarating theme park rides. But thrill-seekers aside, children truly enjoy amusement parks as well. Bangkok's largest theme park, Dreamworld, brims with a whopping 40 adventurous rides spanning four zones — Adventure Land, Fantasy Land, Dream Gardens, and Dream World Plaza.
With rides and areas for all ages, Dreamworld is well-loved by locals and international tourists alike! Children also look forward to animal shows and character parades in the park. If time permits, opt for the other attractions too and save when your purchase bundles!
Costs: Package A: Rides, Snow Town, Water Fun, Animal Farm, Buffet & Transfer THB 1,375 (SGD57); Package B: Rides, Water Fun, Animal Farm, Buffet & Transfer THB 1,250 (SGD52); Package C: Rides, Snow Town, Water Fun, Animal Farm & Transfer THB 1,200 (SGD50)
Accommodation: Triple Trees Hotel from SGD 37/night for a Triple Room (sleeps 3 guests)
So, there you go! From peaceful animal sanctuaries to heart-thumping theme parks, Thailand is no doubt a great choice for that perfect dose of family fun. For more information on things to do and places to visit in Thailand, visit Tourism Authority of Thailand's (TAT) official website and their Facebook page. Prepare your trip with these essential family-friendly itinerary tips and craft that dream family vacation!

---
Brought to you by the Tourism Authority of Thailand Singapore Office.