Dreaming of the enchanting isles of Greece? The Country of Hellas is a top-tier vacation destination, delivering an alluring mix of ancient wonders, natural vistas, and modern delights. Think luxe city establishments overlooking millennia-old ruins, sunsets over the glittering sea, and mouthwatering Mediterranean cuisine enjoyed over vibrant music. And we can't sing enough praises about Greece's beaches. Whether you're a thrill-seeking adventurer or a laidback beach bummer at heart, you'll fall in love with the brilliant beauty of the island-speckled Aegean. 
Wherever you choose to go, the dazzling islands are teeming with tourist-ready vacation rentals. From caldera views in Santorini and modern luxury in Athens, to sprawling family villas in Mykonos and unique hideaways in Crete, check out our picks of the best Vrbo Greece rentals you'll never want to leave.
1. This luxe penthouse with a 360° view of Athens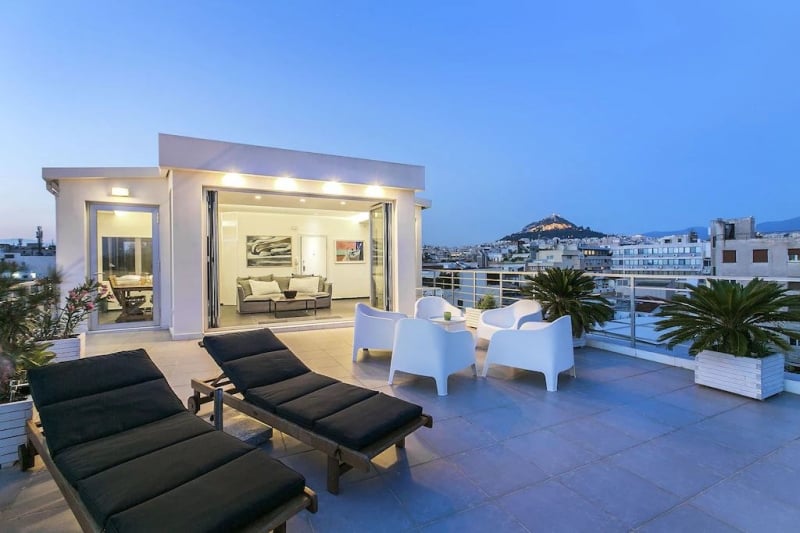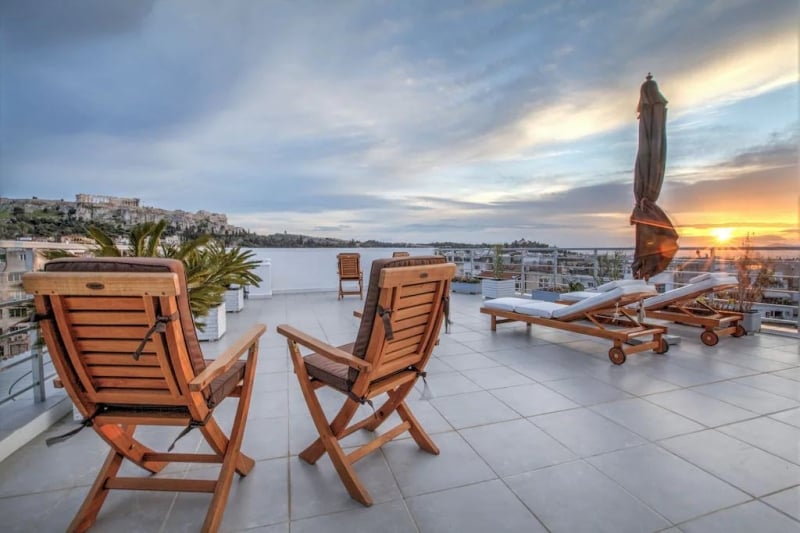 Listing name: Acropolis Panorama View Penthouse with Private Terrace: A Contemporary Parthenon
Listing type: Apartment
Max. no. of guests: 5
No. of bedrooms: 3
Expect nothing but the best when you stay in this sophisticated penthouse in the historic centre of Athens. Perched on the top floor of a seven-story building, this upscale three-bedroom vacation rental offers captivating panoramic views of the city, including iconic attractions like the Acropolis and the Parthenon. Thanks to its convenient location in the heart of Athens, popular restaurants, cafés, museums, and archaeological sites are only a short stroll away from this rental.
2. This top-of-the-line mansion overlooking Saronic Bay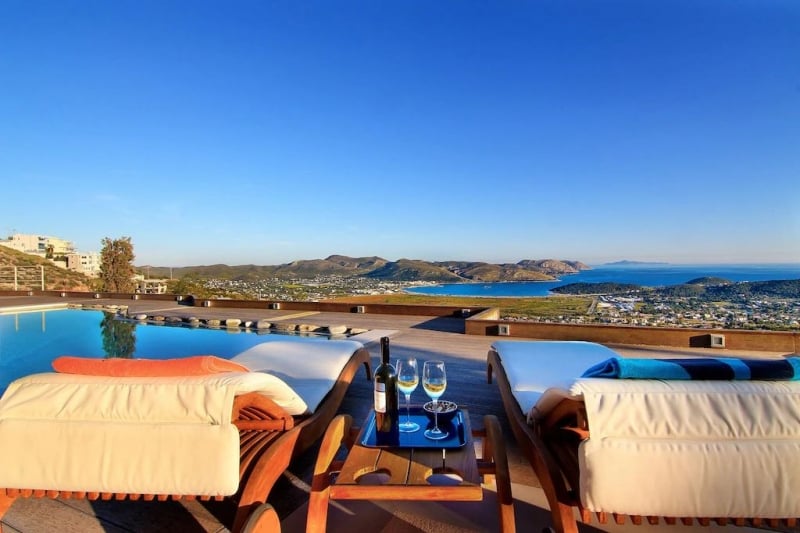 Listing name: Villa TakeOff, 4 Bedrooms, 5 Bathrooms with Swimming Pool and Astonishing View
Listing type: Villa
Max. no. of guests: 9
No. of bedrooms: 4
Discover this sprawling architectural marvel on the outskirts of Southern Attica, a short drive from the stunning beaches of the Athenian Riviera. This location promises a tranquil escape from the buzzy city centre, but it also keeps you close to superb dining and entertaining experiences in the Athens metropolitan area. Spend your days basking under the sun in outdoor spaces or enjoying a dip in the outdoor pool overlooking Saronic Bay. When the sun sets, bond with family or friends by firing up the barbecue or cuddling by the fire in the living area. 
3. This stunning villa perched on Santorini's Caldera Cliff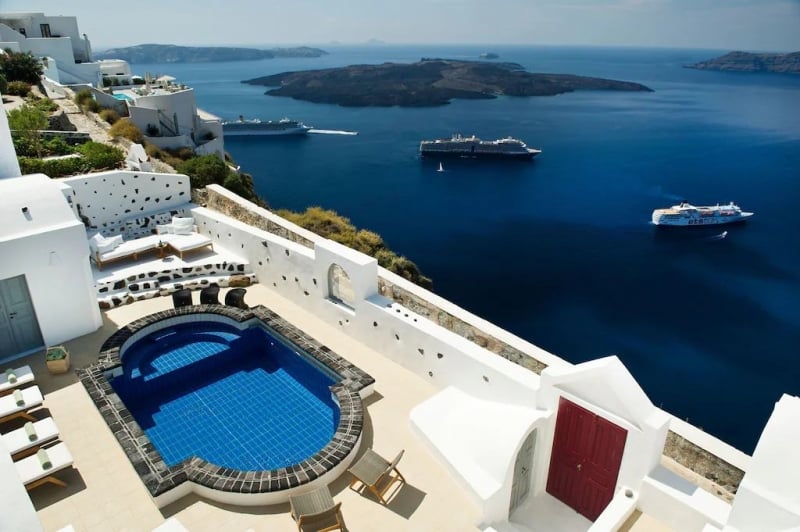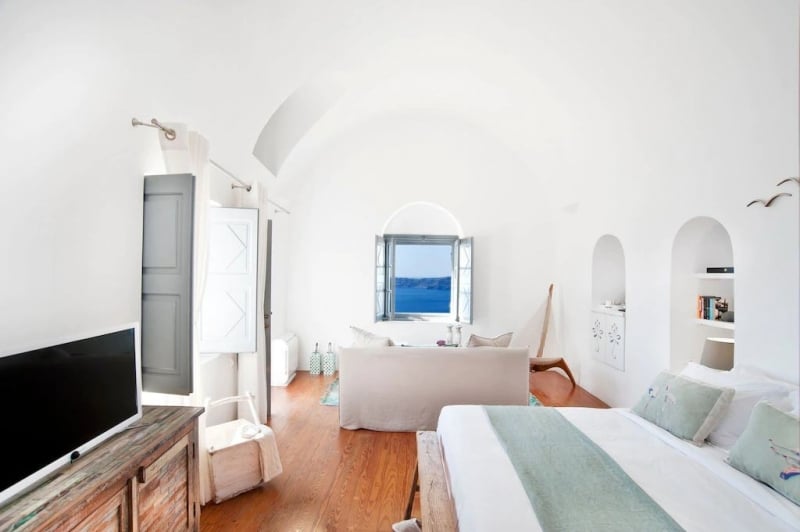 Listing name: A beautiful private villa on Caldera Cliff In Firostefani, Santorini
Listing type: Villa
Max. no. of guests: 10
No. of bedrooms: 4
The famous caldera of Santorini is one of the most beautiful sights in the world, and you'll get to bask in its beauty from sunrise 'til sundown at the Antelmi Villa in Firostefani. An outdoor pool and lounging area outside provide a prime spot for gazing at the volcanic spectacle, with the large dining table giving guests the chance to dine under the sky. Plus, the caldera isn't the only beauty here. The stylish vacation rental embraces the classic Mediterranean aesthetic with whitewashed walls and natural materials like wood and stone. From the facade to the interiors, this is one of the most Instagram-worthy Vrbo Greece rentals in the heart of Santorini.
4. This white-washed cave house with a terrace overlooking the caldera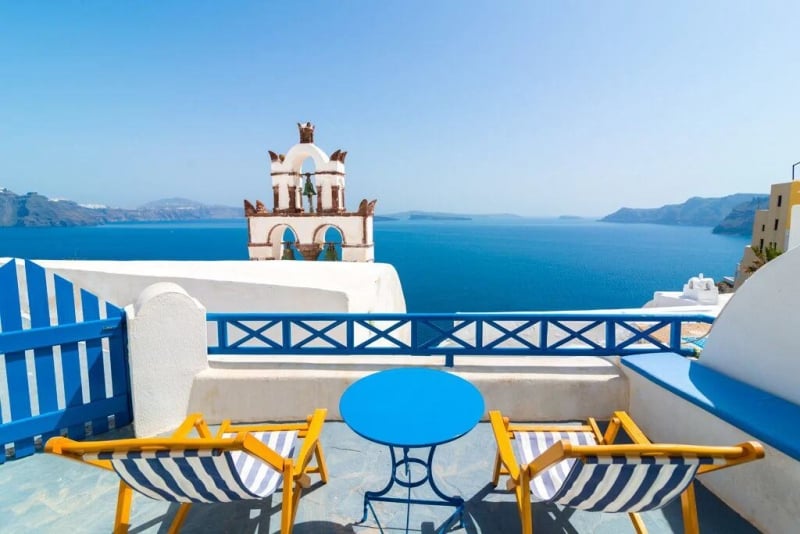 Listing name: SantoriniParadise: BLUE & WHITE cave house, authentic experience, Caldera view
Listing type: House
Max. no. of guests: 4
No. of bedrooms: 2
Perched on the cliffside of the caldera, this blue and white cave house in Oia is a light-filled hideaway with a terrace facing the sparkling Aegean Sea. Step inside the beautifully designed Cycladic-style home, where paintings, sculptures, and pops of bold colours stand out against the typical white-washed walls. Practically right outside the doorstep is the beautiful St. Nicolas church, as well as shops, restaurants, art galleries, and the famous sunset viewing spot known as the Castle.
5. This gorgeous studio in the centre of Mykonos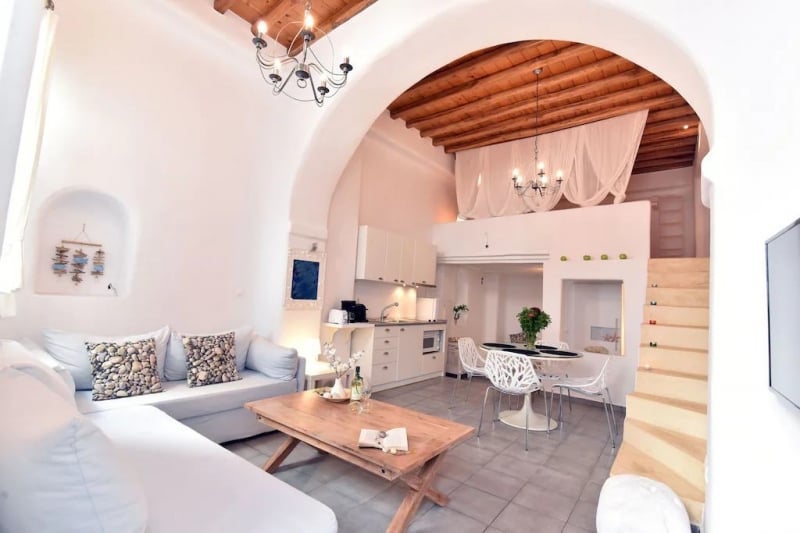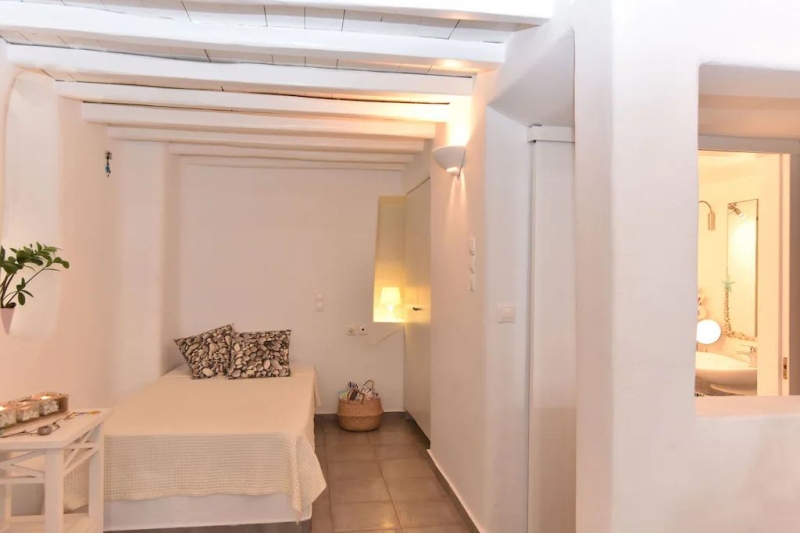 Listing name: AMAZING STUDIO IN MYKONOS TOWN
Listing type: Studio
Max. no. of guests: 4
No. of bedrooms: Studio
This pretty loft studio, located on a quaint alley near Mykonos' main street, may be relatively small, but it packs a punch. The high ceilings and quality furnishings make the space feel bright, spacious, and modern — and this Vrbo in Greece definitely has more character than your standard hotel. The key is in the details: tiny candles on the stairs, indoor plants, and pebble-themed pillowcases as a nod to the region's pebbled beaches. As a bonus, guests are welcomed with a delicious bottle of Greek wine upon arrival! 
6. This spectacular manor in Mykonos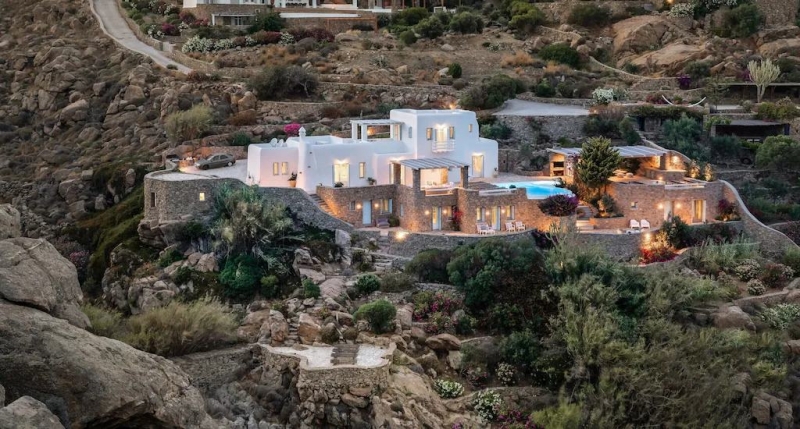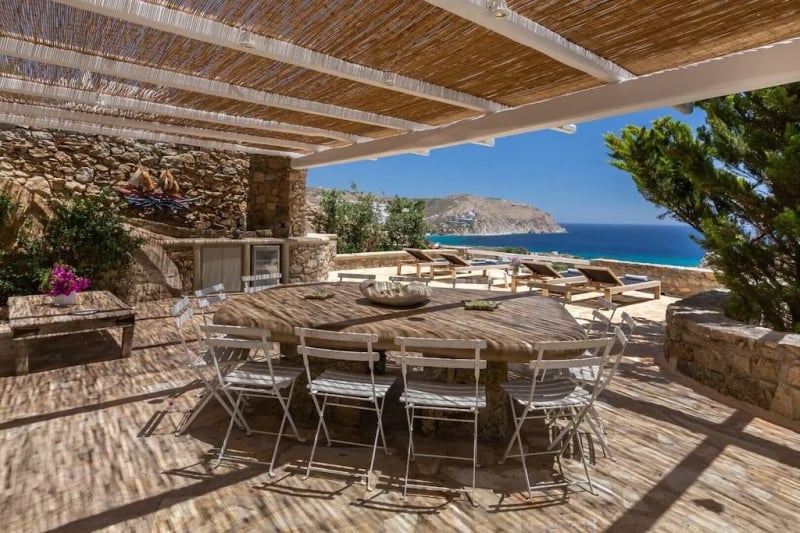 Listing name: Rocky Mansion – Mykonos Private Luxurious Retreat Villa
Listing type: Villa
Max. no. of guests: 18
No. of bedrooms: 7
If you want to take the whole clan on the Greek vacation of your dreams, then this sweeping villa above Agrari Beach is one to book with seven roomy bedrooms offering more than enough space for the whole tribe. With its flawless blend of traditional Cycladic architecture and breezy beach vibes, Rocky Mansion is a photogenic escape. Step outside to enjoy a soak in the expansive infinity pool, cook in the traditional wood fire barbecue, or walk down to the golden-sand Agrari Beach. 
7. This beautiful stone windmill home in Crete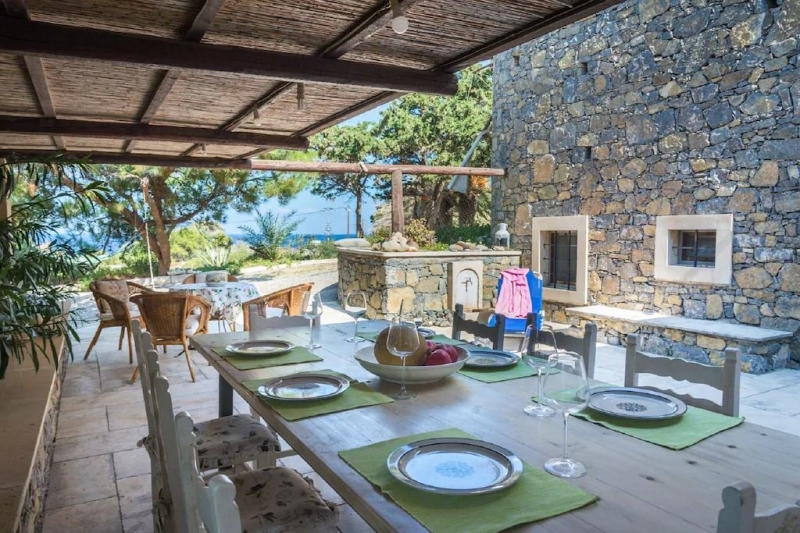 Listing name: An authentic stone Cretan windmill
Listing type: House
Max. no. of guests: 4
No. of bedrooms: 2
It's not every day that you get the chance to live inside an air-conditioned windmill like this rustic Vrbo Greece rental near the town of Sitia. There are plenty of great features to this charm-filled house — fireplace, full kitchen, and two bedrooms — but the white stone courtyard is a standout. Look out to dazzling views of Sitia Bay, or spend some time exploring the olive grove, vineyard, and vegetable garden surrounding this windmill rental. Lovely beaches are an easy drive away.
8. This breezy hideaway right on the shores of Milos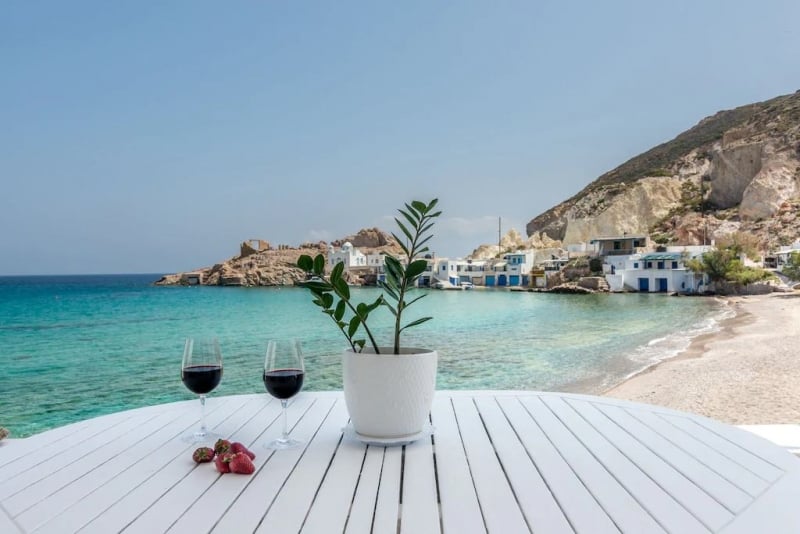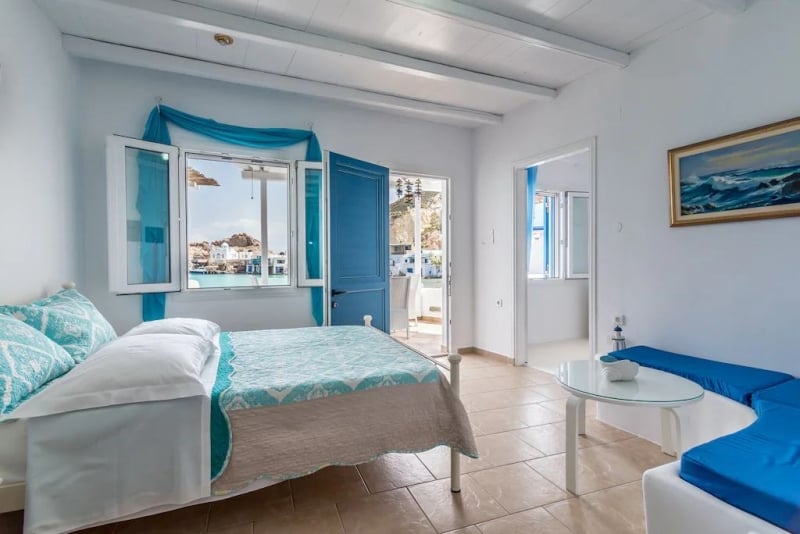 Listing name: Wind apartment on the beach – Blue Mare Apartments
Listing type: Apartment
Max. no. of guests: 5
No. of bedrooms: 1 
Imagine stepping out the door and straight onto the fairytale shores of Firopotamos Beach. Located at one of the best beaches in Milos, the charming Blue Mare Apartments has all the ingredients of a sun-drenched Greek holiday: classic white-washed interiors, beach views from every room, and an al fresco spot right on the brilliant blue waters. Days in Milos are spent exploring the dramatic coastline. But make your way back to your beach rental before the end of the day to take in the perfect sunsets from the balcony. 
9. This handsomely restored villa in the old town of Rhodes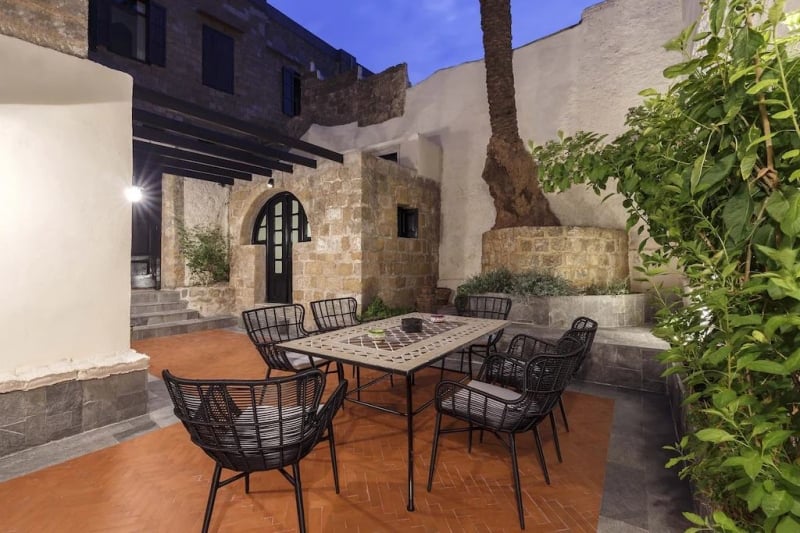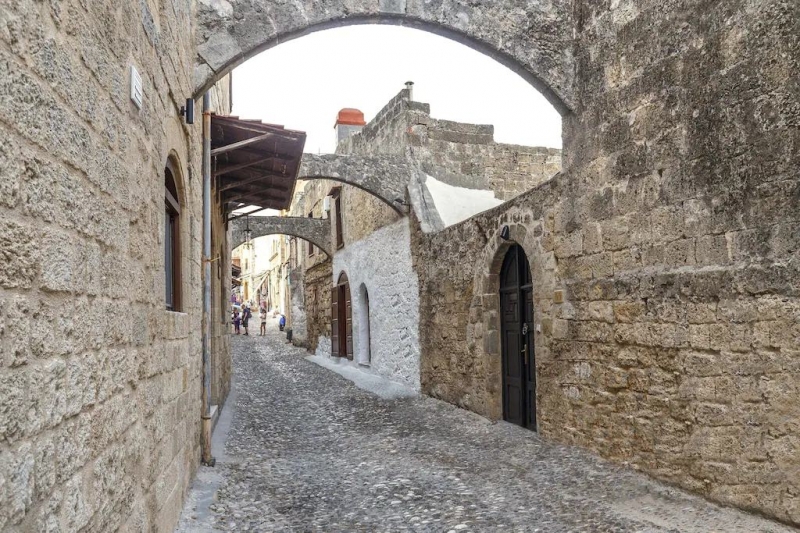 Listing name: Belvedere Medieval Villa
Listing type: Villa
Max. no. of guests: 4
No. of bedrooms: 2 
History buffs, look no further. Belvedere Medieval Villa puts you inside the historic Medieval Old Town, making it a breeze for travellers to explore the cobblestone streets of the World Heritage Site. Every day, come home to this beautifully restored villa tucked in a quiet neighbourhood within the old town. Inside, this airy Vrbo Greece rental is just as charming, with a stone fireplace, plush beds, a well-equipped kitchen, and a lovely courtyard that's the highlight of the property.  
10. This striking family estate in Corfu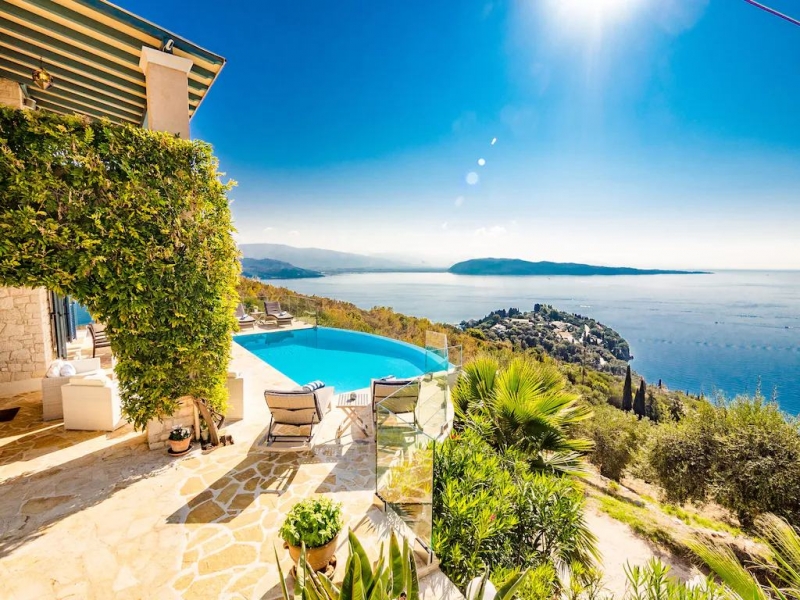 Listing name: Exquisite Family Villa With Spectacular Ocean Views And Heated Infinity Pool
Listing type: Villa
Max. no. of guests: 6
No. of bedrooms: 3 
It doesn't get more idyllic than Corfu, and the enchanting Villa Orlaya makes the most of the island's spectacular landscapes. Interiors are fresh and modern, but you'll want to spend every minute outside, whether enjoying a meal in the stone gazebo, sipping cocktails on the patio, or lounging poolside. Every bedroom even flaunts a balcony where guests can admire the gorgeous vistas in private.
Also read: Beyond Santorini and Mykonos: 8 Fairytale Islands in Greece You Need to Visit
From the ancient monuments to windswept seascapes, Greece is a show-stopping destination. And this roundup of our top Vrbo Greece vacation rentals is only making us more excited for a Mediterranean adventure. See you!
---
This article contains affiliate links. When you book through these links, we may earn a small commission at no additional cost to you. All images credited to Vrbo.