Although Thailand is known for its delicious cuisine and plentiful cheap street eats, delving into the local foodie scene can present a few challenges for vegetarian travellers. While there are many fresh vegetables in lots of Thai meals, the nation's love for fish sauce can make many seemingly innocent meals unsuitable for vegetarians. Pescatarians (people who do not eat meat but include fish and seafood in their diet) will find it much easier to dine in Thailand.
It is often a lot easier to find veggie-friendly fare close to tourist hotspots; local vendors are used to adapting traditional dishes in order to appeal to a wider range of hungry visitors. Choices can become more limited, however, the farther you stray from the tried-and-trodden track.
As a tip, vegetarians should keep their eyes peeled for specialist "jai" restaurants, establishments that only serve pure vegan meals. These are advertised with a vibrant yellow sign with a red symbol that looks a lot like the number 17. Knowing how to ask for vegetarian food in the local lingo can also help immensely. Very basic phrases to remember include "gin jai", which means you follow a vegan diet, and "mang sa wee rat", which means you don't eat meat (though it does not exclude meat-based broths or fish sauce).
That doesn't mean that vegetarian visitors need to go hungry in the Land of Smiles, though. Sample the balance of flavours in popular Thai cuisine and try some of these dishes:
1. Pad Pak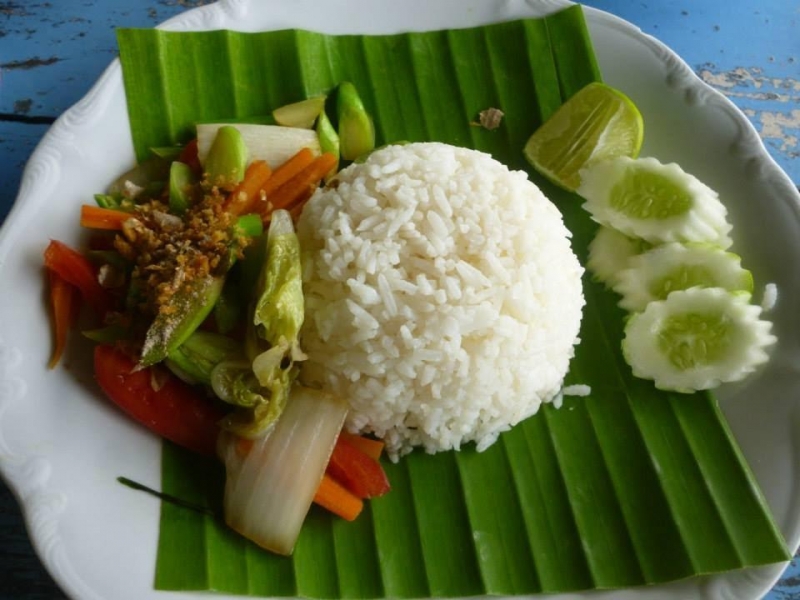 Pad pak is an often colourful dish of mixed stir-fried vegetables. Expect a combination of carrot, tomato, onion, corn, broccoli, cauliflower, cabbage, onion, mushroom, and green beans. It is sometimes cooked with soy sauce, sometimes mixed with hot chilli, and sometimes served plain. Usually served over rice, it is easy to inject extra flavour with dried chilli powder and pepper.
2. Khao Pad Pak
Khao pad similar is similar to pad pak, in that it involves vegetables and stir-frying the ingredients. Boiled rice is also, however, stir-fried with small pieces of vegetables. Egg might also be mixed in. Occasionally, other ingredients, like cashew nuts, tofu chunks, or pineapple, may be added too.
3. Pak Boong Fie Daeng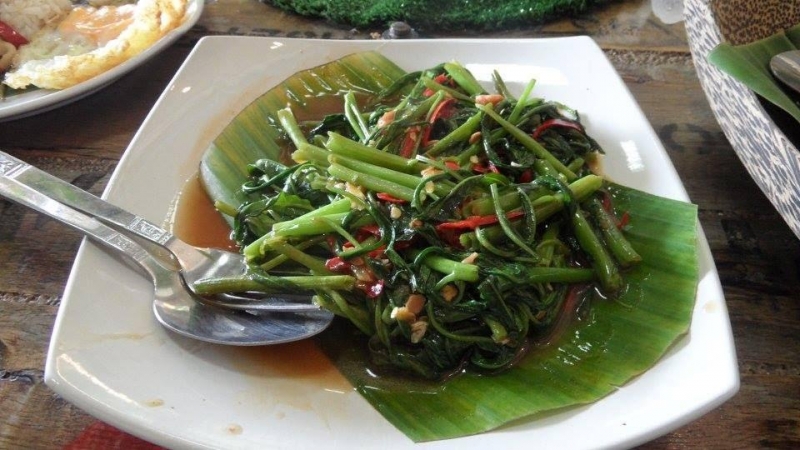 Pak Boong is the Thai name for the healthy greens of morning glory. Fie daeng translates literally as red light. The dish combines the vitamin-rich greens with fresh red chilli, garlic, and soy sauce, to produce a deliciously spicy plate of goodness. The dish often includes fish sauce or oyster sauce, but most vendors can prepare it without upon request.
4. Pad Gra Pao
A stir-fried delight with hot holy basil, pad gra pao can be made using a variety of ingredients, including veggie-friendly items. Pad gra pao pak is basil with vegetables, whereas pad gra pao hed uses mushrooms for a more meaty texture.
5. Som Tam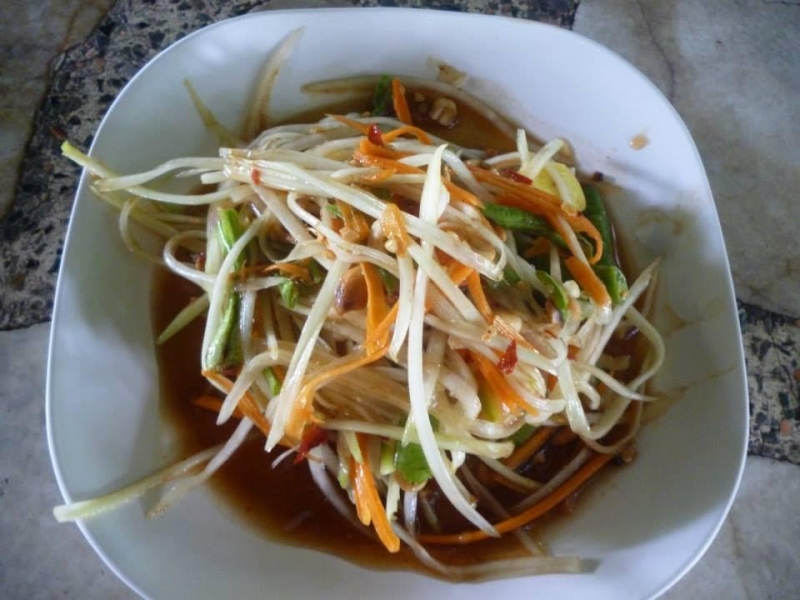 Som tam is another Thai dish that usually includes fish and seafood elements, but many som tam sellers are happy to leave out non-veg-friendly items and swap the fish sauce for soy sauce. Be sure to ask them to wash the pot out first, though, to prevent any lingering tastes and remnants making it onto your plate. A speciality from Isan, som tam combines shredded unripe mango, tomato, chilli, lime, sugar, and tamarind paste to create a salad that is bursting with flavour. Peanuts and green beans can add extra crunch. Add sticky rice for an authentic touch.
6. Pad Thai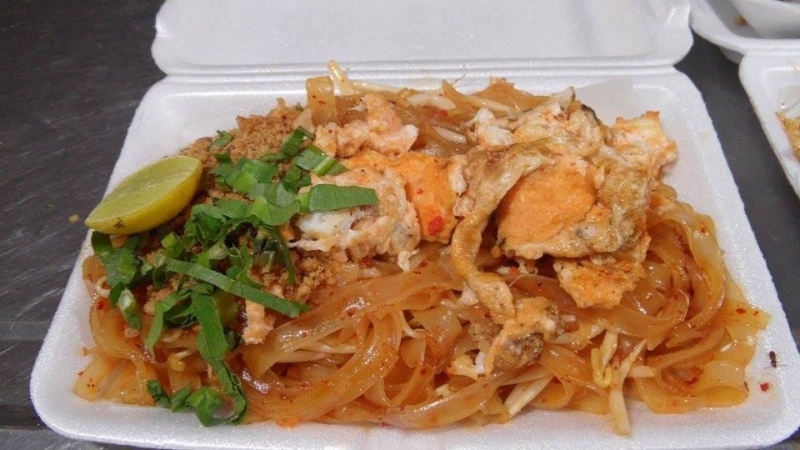 One of Thailand's most famous and popular dishes among the travelling community, pad thai comprises noodles stir-fried with egg, bean sprouts, garlic, pieces of tofu, and tamarind pulp or paste. Ground peanuts are typically sprinkled on the top. Though it usually also contains dried shrimp or chicken, many pad thai sellers will leave these out if requested.  
7. Pad See Ew
Pad see ew is another dry stir-fried noodle dish. As with pad thai, meat ingredients are sometimes added, but are easily excluded for vegetarian travellers. The meal's main components are wide rice noodles and soy sauce.  
8. Khai Jeeow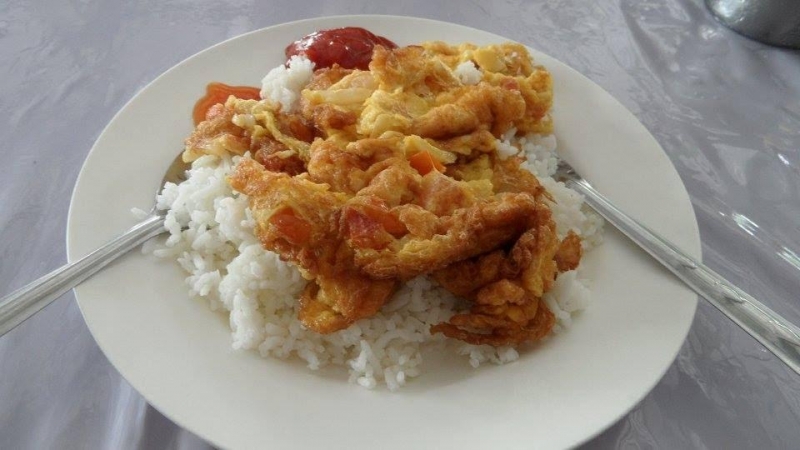 Khai jeeow is essentially an omelette. It can be a great fall-back option for vegetarian travellers who eat eggs. It can be ordered plain or with an assortment of vegetables cooked in with the egg. A helping of plain boiled rice makes it a more substantial meal.
Some establishments can prepare a tempting array of Thai curries that are suitable for vegetarian travellers. Do note, however, that a vegetable curry doesn't always mean that it's vegetarian; shrimp paste is often part of the sauce. Similarly, the broth of vegetable noodle soups may contain chicken and meat stock. It pays to always check before digging in. Of course, Thai markets often have a wide array of fruit to fill up on for a healthy breakfast or a quick lunch on the go.