Here's an idea: escape Bangkok's sultry metropolis, with all the crowds, cars and cacophony, for a quieter Hua Hin, just a three-hour drive away. A former royal resort retreat for the revered late King Bhumibol, this dazzling seaside town has weathered the onslaught of modern development and amazingly continues to retain its old world charm.
Though much of Hua Hin's attraction lies in the town's old Siam feel, Hua Hin is still absolutely happening from its legendary street food fare, super-glitzy nightlife and colossal shopping malls. Jazz up your itinerary by indulging in a giant shopping spree at the night markets, dine with some huskies at an uber-cool cafe or even slip and slide down eight jaw-dropping water rides.
It's time to ditch those other beachside brethrens and rejuvenate in this fantastic getaway, befitting of a king!
1. The streets are lined with cool pet-themed cafes
There are dozens of fancy and quirky cafes strewn along the streets, but be sure to check out the two picks below. Say hello to adorable huskies and fake ponies!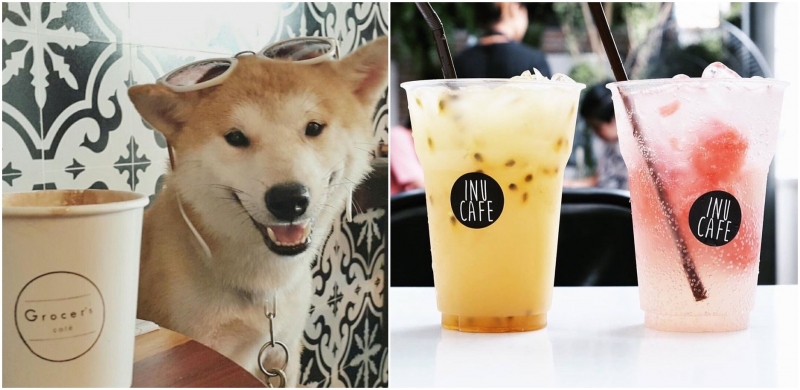 For dog-lovers, a visit to Inu Cafe will leave you going gaga as a dozen Shiba Inu dogs make you feel more than welcome in this cosy space.
The Husky-like Japanese pooches are uber-kawaii and as you interact with them, sip on a refreshing smoothie or soda (the passionfruit one is a hot favourite) and delight in some pretty superb Western fare. Boasting industrial elements and minimalistic decor, this cafe exudes chill vibes for a perfect lazy afternoon hangout.
Inu Cafe
Address: 10 21 8, Naebkehards Alley, Hua Hin, Hua Hin District, Prachuap Khiri Khan 77110, Thailand
Opening Hours: 11am – 8pm, closed on Tuesdays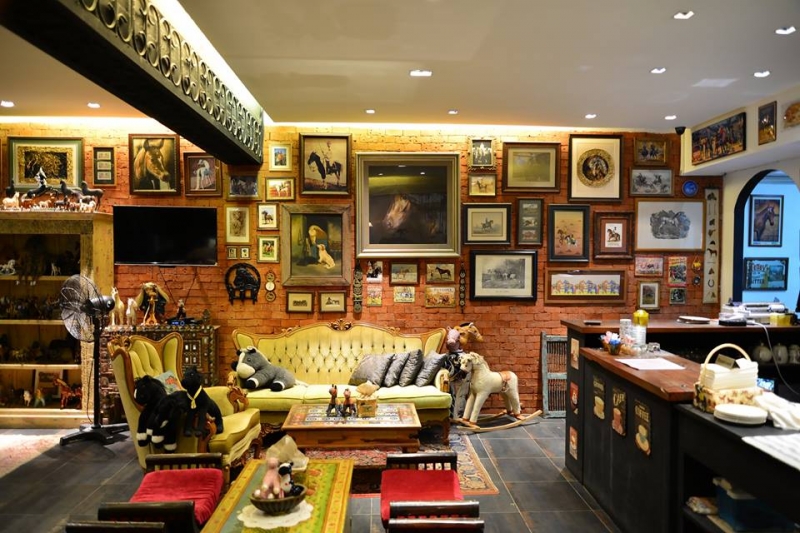 Although there aren't any real ponies here, this vintage cafe is worthy of an afternoon teatime pit-stop! An absolute hit amongst families with kids in tow, this cafe is adorned with a vibrant range of plush ponies, beautiful pony-themed paintings and intricately-designed plates and displays.
Pair a cheesy pizza with some refreshing iced tea once you've snapped pictures amidst this unique (and super cute) backdrop. The budget-friendly food options here will not disappoint!
Pony Cafe
Address: 66/118, Phetkasem Road, Hua Hin, Prachuap Khiri Khan 77110
Opening Hours: 9am – 9.30pm, Daily
2. There's a slice of Greece here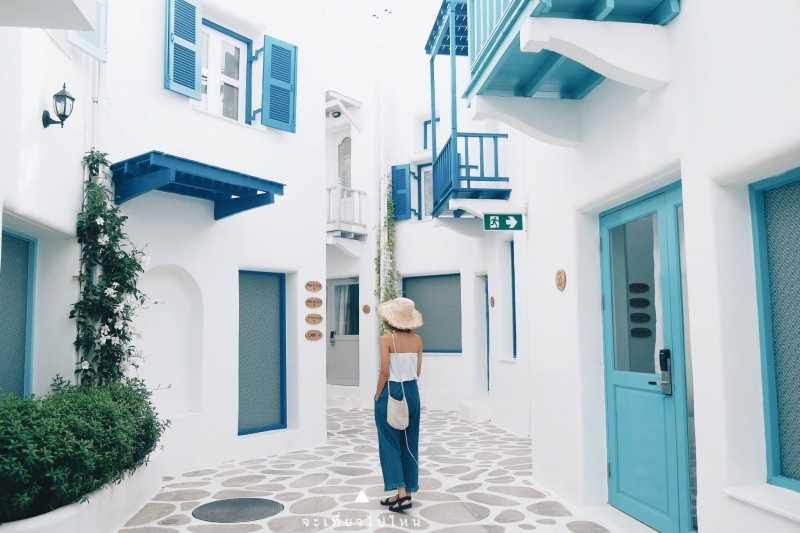 For all you Instagram connoisseurs, this phenomenal replica of the original Grecian paradise will leave you with innumerable ideas of where to capture that Vogue-esque shot. This faux-Greek park is dreamy with fluorescent flowers draping off trees, white washed buildings and an amusement park all in one!
If you decide not to carouse through the quaint boutique shops, indulge the inner kid in you and have a jolly good time riding the carousels, going round the luminescent Ferris wheel and whizzing down the towering water park slides.
With an eclectic mix of cool cafes, non-stop entertainment and exhilarating attractions, you're in for an awesome treat right here in Santorini (I mean, Cha-Am)!
Address: 76120 Phetchaburi, Cha-am District, Khao Yai, Thailand
Opening Hours: 10am – 7pm, Weekdays ; 9am – 7pm, Weekends
3. Not to mention a glimpse of Venice nearby!
Enter a whimsical world at The Venezia Hua Hin. This freshly-minted themed shopping village was plausibly sparked by the epidemic frenzy of pretty villages in Thailand that emulate iconic destinations around the globe (Asiatique, Bangkok; Santorini Park, Hua Hin; Palio, Khao Yai).
This colossal shopping destination hosts about 316 mini shops spanning some 73,600 square metres which you can peruse from. Let's just say you might need a couple of hours, perhaps even half a day, to do so.
Aside from the comprehensive retail therapy you can get here, take time to wander through the enchanting music gardens and explore the 3D art galleries. For kids, hop on the mini trains and horse drawn buggies!
From the get-go, you'll notice that this photogenic attraction boasts astonishing replicas of San Marco's Bell Tower, the 200-metre Grand Canal where you can hitch a romantic ride on a Venetian gondola, as well as Fountain de Trevi, Rome's global icon. From the bridges to the towers and columns, every detail here is characteristically Venetian.
The Venezia impresses with a wide array of options to satisfy everyone's preferences. This photo playground undoubtedly makes for an ideal, long-awaited family outing. Get your dose of Europe's charms, right here in Asia.
Address: 1899 Petchkasem Road, Sai Tai, Cha-am, Petchaburi 76120
Opening Hours: 10am – 11.30pm, Daily

Looking for a swanky accommodation in close proximity to The Venezia and the rest of Cha-am's top attractions? The Palayana is a supreme choice perched along the shimmering Gulf of Thailand waters. Boasting luxurious villas and suites that weave in both Thai and contemporary architectural styles, this five-pearl beachfront resort is perfect for revelling in tropical beauty.
Expect top-notch hospitality while you enjoy the resort's seemingly endless variety of activities (and private beach!). From the swimming pools to the indulgent spas and state-of-the-art gym, the resort is an ideal place for guests of all ages. Soak in the best of Hua Hin's beaches while still remaining close to everything else.
4. Thailand's longest water slide is right here too!
There's more to Hua Hin than just intriguing cafes and themed towns! Grab all your pals and have a splashing great time at the jungle-themed Vana Nava Water Park. Home to "Boomerango", Thailand's longest water slide, this water park does set a lot of other world records too.
At 179 metres in length, "Boomerango" propels you at blazing speeds of 45km/h in a giant yellow tube before dunking you into a plunge pool.
Another award-winning slide that you cannot miss is "Abyss". From a height of 28 metres, you and five other friends will undergo four to five vertical spins before plummeting into a giant funnel at speeds beyond 45km/h. Tip: Be sure to make a dash for either of these attractions first to get that adrenaline pumping!
Continue on with the vertical looping slide, "Aqualoop", that will send you flying at 60km/h (sounds more apt for a cruising car). If that doesn't sound very challenging, would you be game enough for the gravity-defying "Freefall"? Yes, you guessed it right. From 18 metres above ground, there's only one GIANT drop for this slide.
If you're not big on thrilling theme park rides and prefer the "safe zone", spend your time leisurely at Asia's tallest man-made waterfall, the Vana Nava Falls. Dip in the refreshingly cool waters and bob around towards the Wave Pool. If you just prefer to idle on your own, make the Lazy River your go-to and meander 345 metres around this massive fun-filled theme park.
Address: 129/99 Soi Moo Baan Nong Kae, Tambon Nong Kae, Amphoe Hua Hin, Chang Wat Prachuap Khiri Khan 77110
Opening Hours: 10am – 6pm, Daily
5. You can find happening night markets to satiate all cravings

Delight the inner thrifter in you and saunter around Cicada Night Market for a healthy dose of local art and culture. From art exhibitions flaunting the genius works of young talents to creative food vendors pedaling delectable food (Chinese noodles, Korean BBQ, satay!), your options here are limitless.
The main highlights? The soothing music and dance performances that will be sure to capture your wandering eye. Practice your bartering skills and snag good deals or simply chill out at the Amphitheatre with an ice-cold beer. The night is only just beginning!
For your weekday evening whims, visit Hua Hin Night Market instead, which will give you another perfect excuse to launch a second shopping spree. From the ubiquitous Muay Thai shorts, souvenir T-shirts, traditional handicrafts and funky souvenirs, remember that bargain is de rigeur here too.
Address: 83/159 Nong Kae, Hua Hin 77110
Opening Hours: 4pm – 11pm, Friday to Sunday (until 10pm)
6. There's a vibrant retro village for you to kickback and feel oh-so nostalgic
This vintage village is all about reminiscing and epitomizing the "good old times" as you can see from its incredibly retro-chic style. From neon signboards to old-fashioned car models, this unique double-story courtyard could inspire a mini photoshoot.
As you walk through the curious-looking wooden tunnel at the entrance, feel like as if you're stepping into a time machine and being transported back to the 1950s. Leisurely stroll along the alleys and browse through trinkets and one-off souvenirs, or fill your bellies with some tantalising street food. If you're a huge fan of Thai sweets, you'll be spoilt for choice here from the iconic mango sticky rice to the grass jelly with shaved ice. Also, be a little adventurous and sample some of the old snacks like the sweetened pancake and the Japanese mochi-like treat. You really can't go wrong by discovering the joys of yesteryears through this living museum.
Address: 38, Soi 40, Hua Hin Road, Hua Hin, Prachuap Khiri Khan 77110 Thailand
Opening Hours: 11am – 12 midnight, Daily
7. It's home to Thailand's most scrumptious Pad Thai, no joke
Attention all foodies, this lip-smacking seafood pad thai in Tha Yang will reinvent your authentic Thai food experience. The 100-year-old recipe (yes, it's a century old!) is what distinguishes this signature pad thai from all other pad thais. This is the king of pad thai, basically. The secret ingredient? The homemade tamarind sauce that was passed down generation after generation. Do not let the eatery's simple hawker-like façade taint your impression of the food's quality.
After sizzling in the wok (warning: mouth-watering aromas constantly fill the air here), the special Chanthaburi rice noodles are fried with generous amounts of fresh shrimps, eggs and bean sprouts. Thereafter, they are topped with palm sugar, cabbage, chives and garnished with a piece of Thai lime on the side. If you love that added spicy kick, add a dollop of chilli to your noodles and savour the perfect balance of sweetness, sourness and spice. Did we forget to mention that each plate costs only S$2? You might be thinking about the second and third helpings now…
How can you end a meal without having desserts, right? The chendol rice noodle dessert, soaked in coconut milk and palm sugar, makes for an absolutely sublime choice – yum!
Address: Tha Yang Pad Thai, Tha Yang District, Phetchaburi 76130, Thailand
Opening Hours: 9am – 4pm, Daily
By the time you read this, you'll notice that Hua Hin is much more than just your typical beach resort. There is a plethora of activities and sights for you to explore and unravel. These points barely scratch the surface and as you venture further, you might discover even more extraordinary gems hidden around this piece of land.
Rethink the next trip to Krabi or Phuket and consider Hua Hin for a novel adventure!
Are you ready?