If you're running out of ideas on what exactly to do for this year's Valentine's Day, then it's time to think out of the box. Don't be like everyone else and restrict your special day to the same old local attractions, they deserve so much better than that. There's so much more to do when you're out of the country, like venturing into unknown places and discovering new things!
Not sure on where exactly to head? Well, you're in luck! Here's a few ideas for you to ponder over for your special holiday date. Pack your bags, grab your sweetheart and prepare for an exciting milestone to your romantic relationship!
Plus, we're got just the thing for you to book your accommodation! HotelsCombined is a one-stop portal where you can search and compare hotels deals from all the top travel sites. Find and book your next stay at any of the below destinations now!
1. Mayang Sari Beach Resort, Bintan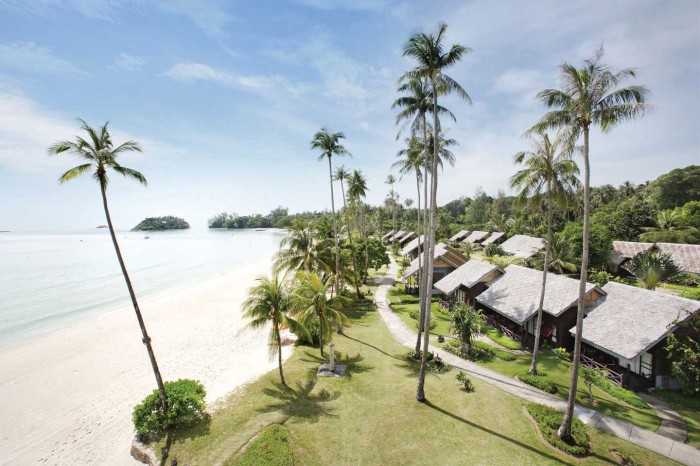 Image credit: Nirwana Gardens
Situated at the northwestern coast of Bintan, the Mayang Sari Beach Resort features quaint chalets that's located right beside a breathtaking tropical beach! The extra spacious rooms are also designed with maximum comfort in mind, including a thatched roof, modern amenities, and your very own private verandah that's just perfect for those long deep conversations.
If the sea breeze or the white sands of Bintan's northern coast isn't enough to impress, then a visit to the Anindya Spa by Andaru will definitely change your mind! Offering a wide selection of traditional Indonesian beauty treatments, the local herbs and essential oils are the perfect solution for forgetting your petty relationship issues. For something really unique, opt for the Savitiri 'Seven Flower' Sense massage, where various floral essences are expertly utilised to bring you closer to tranquility.
Room prices: From $220+ onwards. Top up $40+ more to enjoy their exclusive "Romantic Getaway : Special for the Month of Love" offer. Depending on your length of stay, you'll enjoy complimentary elephant rides, ATV tours, body massages and even a romantic dinner!
Use the promo code VDAYTRIP5 to get an extra 5% off your stay – exclusive for TripZilla's readers only! Book by end Feb '17 for stays in the month of February. Book your lovey-dovey stay now!
2. Montigo Resorts Nongsa, Batam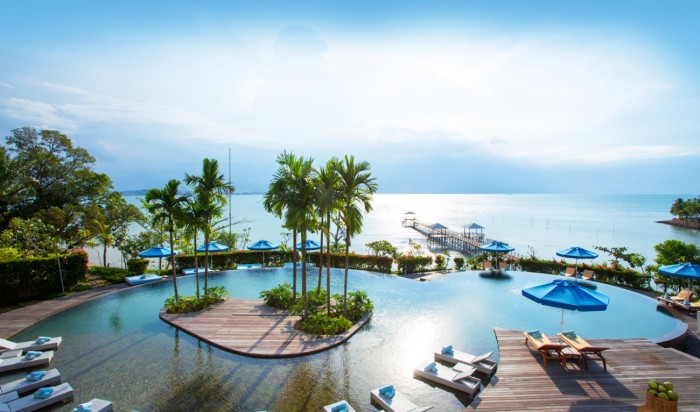 Image credit: Montigo Resorts
Visitors to Montigo Resorts Nongsa will fully appreciate the sprawling white architecture that seems to seamlessly blend with the surrounding coastline. Not only that, the picturesque views of the surrounding South China Sea from your room's window will be the perfect backdrop for your romantic escapades. If you're not into all that mushiness, however, then simply push your partner into your room's own private plunge pool for a splashing good time!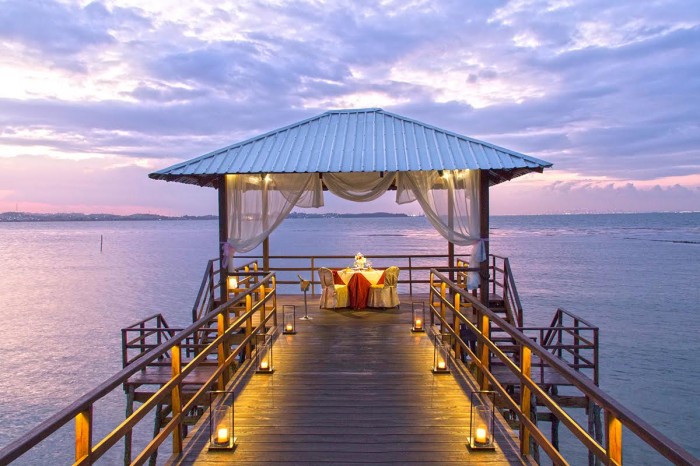 Image credit: Montigo Resorts
The fun doesn't stop there! From a wide range of watersport activities, such as wakeboarding, water skiing and kayaking, to a guided bicycle tour through the local villages, you'll never run out of things to do with your loved one. You can even rent a tour in a vintage Volkswagen for a romantic ride around Nongsa's Heritage Village. To end the day, spoil your beau with a romantic candlelight 6-course dinner by the jetty, accompanied by the warm glow of fairy lights all around.
Room prices: From $180+ onwards, top up $150+ more if you're keen on the "Romance by The Sea" offer, which will bring you and your partner for an amorous candlelight dinner of 6 luxurious courses besides the gentle ocean!
3. Harris Resort Waterfront Batam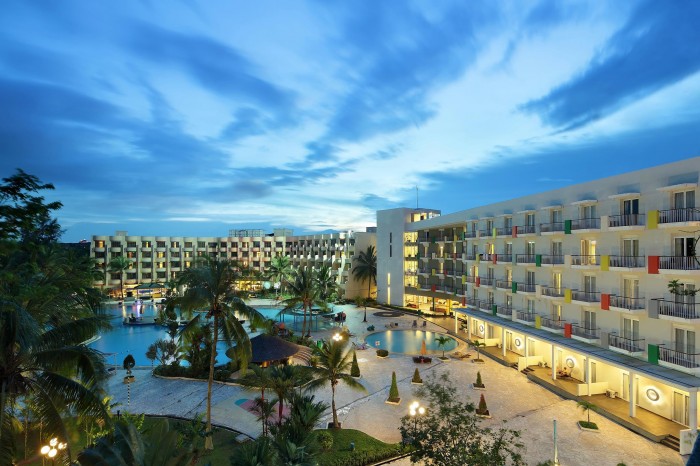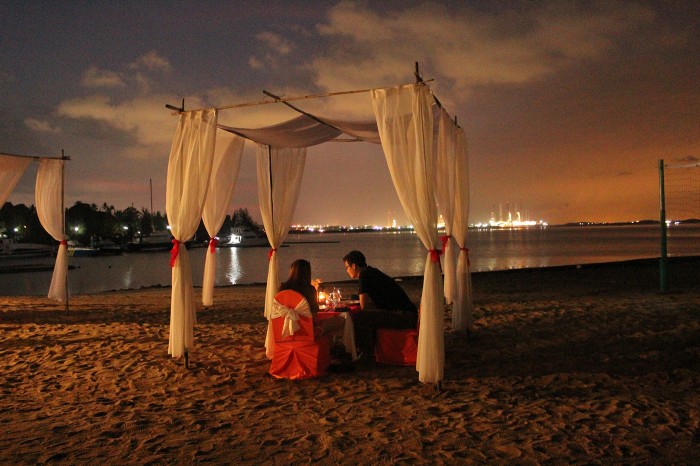 Image credit: HARRIS Waterfront Batam 
Who says a top-notch Valentine's Day vacation has to be expensive? For just SGD95 per person, Harris Resort Waterfront Batam proves us just that with the LOVE package it has rolled out. This romantic and not to mentioned, extremely affordable Valentine's Day deal entails a one night stay, a complimentary upgrade to the Romantic Cabana Room (worth SGD30), return ferry transfers and land transfers to and from Sekupang terminal, a delectable 4-course LOVE set dinner, and an exclusive 15% discount off its spas and massages.
Image credit: HARRIS Waterfront Batam 
Lovey-dovey activities aside, Harris Resort Waterfront Batam is also a perfect sanctuary for watersports and outdoor activities. Jazz up that V-day getaway of yours, and challenge your other half to a game of paintball or cable ski! With the amorous vibes and endless activities to do, you might just extend a night or two at this seafront resort during your stay.
Want in on this hot Valentine's Day getaway package to Harris Resort Waterfront Batam? Get it right away here.
4. Sandat Glamping Tents, Bali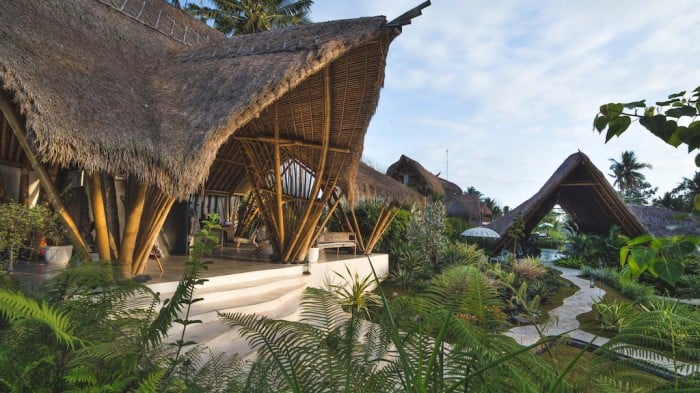 Image credit: Sandat Glamping Tents
If you're sick of the usual hotels and resorts, then why not try out "glamping", or glamorous camping? At Sandat Glamping Tents in Bali, you'll be staying in magnificent "lumbungs" (warehouses used for storage of rice) and safari tents that've been repurposed into luxurious, comfortable suites and terraces for your pleasure. With no televisions and minimal electronics installed in the vicinity (don't worry, there's still WiFi!), you'll be able to gaze up to the clear starry skies with the one you love!
In fact, if you're a big fan of the environment, then you'll definitely appreciate the use of natural materials in their decorations! From hand-crafted bamboo beds and cabinets, shady palm trees, to fine wooden platforms, Sandat lives by a strict policy of eco-friendliness, in order to bring guests much closer to a natural glamping experience. Just make sure that your partner's fine with the idea of being cut off from air-conditioning for a few days!
Room prices: From $235+ onwards.
5. The Houben Hotel, Krabi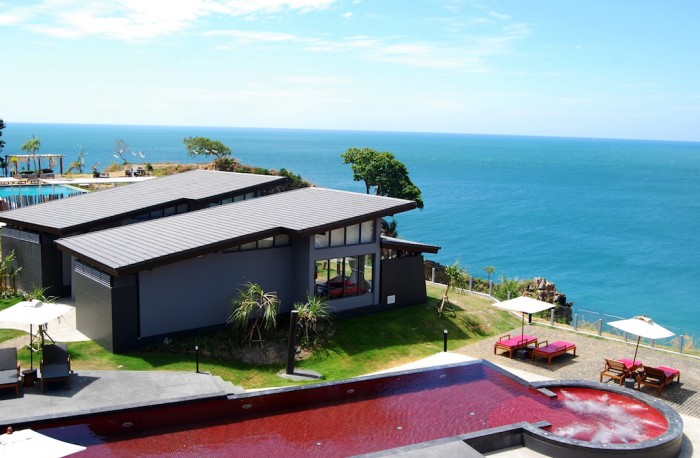 Image credit: The Houben
Ever wanted to wake up in the morning and be greeted with an astounding sea view from a cliff? That's what you'll get when you reserve a stay at the Houben in Krabi! This small boutique hotel, located almost south in the island of Ko Lanta, is conveniently nestled on a hilltop in Kantiang Bay. Each room is strategically built to bring you and your loved one stunning views of the Andaman Sea!
Once you're all settled in, head out to kickstart your Valentine's Day with a quick dip in their red infinity pool, or your own Jacuzzi tub if you're seeking a little privacy. Splash around (or each other) for a bit, in order to work up an appetite for their 'Red Alert' bar & restaurant, which serves a delectable mix of Belgian and Thai cuisine. Finish the day off with a few drinks near the open air area, where you'll have a little quality time together with the sound of gentle ocean waves as company!
Room prices: From $180+ onwards. Stay for a minimum of 3 nights to be eligible for their Honeymoon Package, which includes a bottle of Prosecco served during sundown and a romantic 3-course dinner setting!
6. Cameron Highlands Resort, Cameron Highlands
Image credit: Cameron Highlands Resort
Be brought back into the past when you step past the doors of the Cameron Highlands Resort. With classical interior designs, including tall French doors, timber-beamed ceilings and plantation shutters, you and your partner will have your hearts charmed by the rich heritage of this magnificent colonial building! The furnishings are similarly inspired, with contemporary comforts effortlessly blended into polished teak wood and smooth silk.
Take your immersion one step further by having a traditional English afternoon tea at the Jim Thompson tea room, where you can help yourself to oven-fresh pastries, homemade scones and plump strawberries, topped up with the diverse selection of teas from the local plantations. For a more hands-on experience, take part in the resort's treks and trails around the lush natural hills, where you can even have a memorable romantic picnic high up on a tea valley!
Room prices: From $220+ onwards. Book directly to enjoy additional perks, such as complimentary massages, or even a steamboat dinner!
7. Novotel Phuket Karon Beach Resort And Spa, Phuket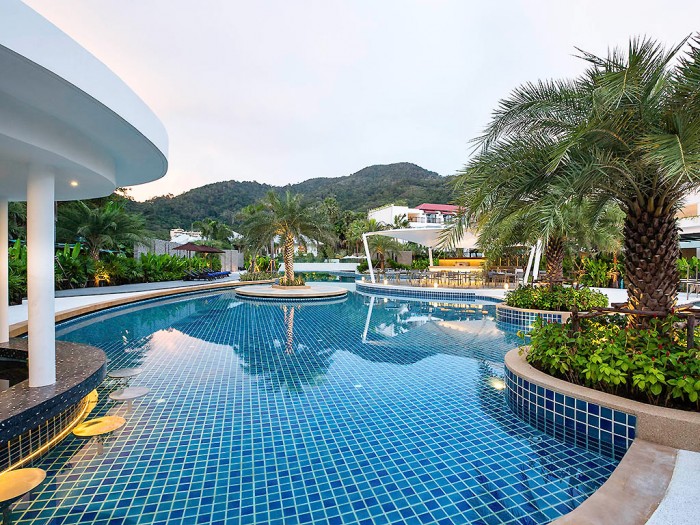 Image credit: Novotel Hotels Suites & Resorts
Should you decide to visit Thailand during your romantic escape, Novotel Phuket Karon Beach Resort And Spa is a great place to consider for your Valentine's trip if you're running on a budget! Located along the popular Karon Beach, you'll be able to bring your partner for those long romantic beach walks along the coast, or head into town to sample their diverse range of restaurants, ranging from seafood, steakhouses and local Thai food.
The hotel facilities will definitely keep you occupied as well, with three outdoor swimming pools and a spa to plunge into and cool off! Choose to dine at Joe Kool's Poolside Grill after your swim for some international fare, or head for something more niche at Tai, which serves a delectable cuisine from China, Japan, Korea, and other Asian selections.
Room prices: From $115+ onwards.
8. Bunga Raya Island Resort, Borneo
Image credit: Bunga Raya Island Resort & Spa
Set just off the coast of Borneo, the Bunga Raya Island Resort can be found on the eastern side of Gaya Island, where it's surrounded by dense jungle trees on one side, and white pristine beaches on the other. That means you and your partner will have the best of both worlds to explore! Join in on a jungle trek, where experienced guides will point out the breathtaking majesty of the island's untouched jungles, or take a dive into the reefs, where you'll be swimming alongside sea turtles, barracudas and bamboo sharks.
Tucked out from all those activities? Retire those worn feet of yours at your private villa for some peace and quiet, with a fusion of traditional Bornean architecture and modern functionality that will quickly put the both of you in your comfort zones! It's also worth noting that each villa is named after the many species of local hibiscus flowers that are grown in the resort's grounds, so you can put your botany knowledge to the test and challenge your significant other to a little Valentine's Day quiz!
Room prices: From $220+ onwards. Book up to 3 nights stay to enjoy 50% off on your 2nd and 3rd night!
9. Monaco Suites de Boracay, Boracay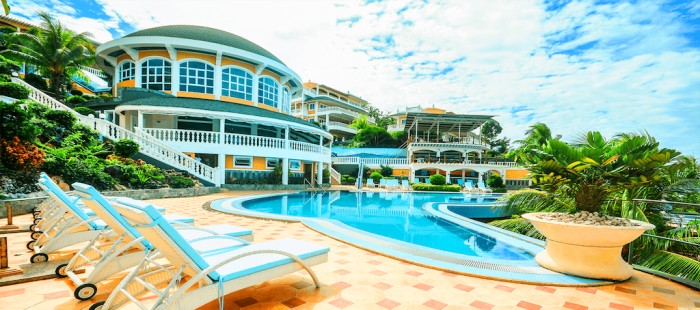 Image credit: Monaco Suites de Boracay
If you're curious to know what exactly Boracay Island has to offer to its visitors, then look no further than a stay at Monaco Suites de Boracay! The resort is situated in an amazing spot of the island's southeastern coast, where wind and water conditions are perfect for snorkelling, jet skiing and other various water sports. On top of that, other recreational activities including their spacious infinity pool, health spa treatments and well-equipped gym will leave you and your partner occupied throughout your stay!
The villas and suites are specially designed for an exquisite Mediterranean feel, with smooth wooden furnishings, bright curtains and gleaming marble floors that will set the perfect mood for a memorable Valentine's Day. Complete this immersion by opening the windows and gasping at the breathtaking views of the Bulabog Beach and the open sea!
Room prices: From $200+ onwards. Staying for a minimum of 2 nights will entitle you to a number of complimentary items, including airport transfers, welcome drinks, breakfast and WiFi access!
10. Sunrise Premium Resort, Hoi An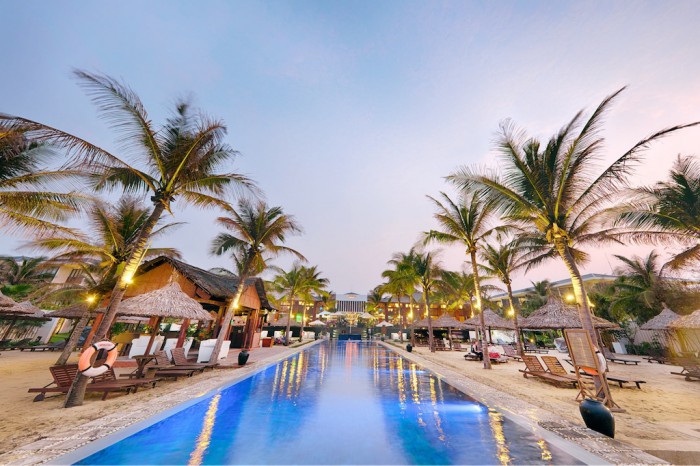 Image credit: Sunrise Premium Resort Hoi An Facebook
For a more personal touch from all the other hotels and resorts that you've been through, you'll find what you're looking for at the Sunrise Resort in Hoi An! The rooms are purposely designed with the conveniences of your own home in mind, resulting in a comfortable sanctuary in the middle of a foreign country. Now you'll truly be able to "Netflix and chill" with your partner without feeling out of place!
There are also plenty of other things to do while you're at "home", like savouring a variety of culinary offerings of seafood, local Vietnamese and Italian delicacies from their restaurants, or simply unwinding at a therapy session in the Bliss Spa. However, if you do feel the urge to leave your creature comforts and explore, the Ancient Town in Hoi An is only a ten minute drive away from the Sunrise Resort. Marvel at the mixture of eras and architectural styles from different civilisations that once influenced the port city, and remember to take plenty of couple shots as well!
Room prices: From $140+ onwards. Take advantage of their Honeymoon Package at $540, where you'll not only get a 2 nights stay at their Sunrise Suite, but a plethora of complimentary items as well, including spa treatments, daily cocktails and a romantic dinner at the beach!
Bonus: Amari Havodda Maldives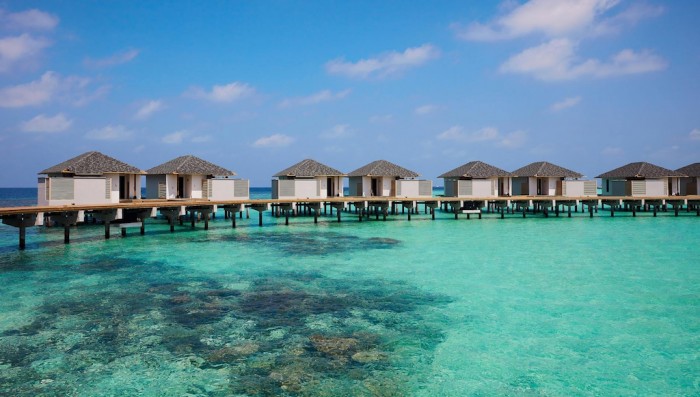 Image credit: Amari Hotels Resorts & Spa
Although not exactly part of Southeast Asia, the Amari Havodda Maldives is still worth mentioning as the perfect place to upgrade your Valentine's getaway to a whole new level! Just imagine jumping off from the comfort of your hotel room, right into the ocean's crystal, clear waters. At this resort, you can make that fancy dream into a reality!
Image credit: Amari 
Their Overwater Villa will give you direct access into the open sea just by simply opening the glass door to your balcony, eliminating the hassle of walking to the beach. Alternatively, you can choose to laze on the comfy king bed in the arms of your partner, and catch the slow beautiful sunset.
As tempting as the idea sounds, however, don't get cooped up in your room for the whole stay! Sally forth from your creature comforts and discover a whole range of recreational facilities for almost every couple. Adrenaline junkies will appreciate the spectacular coral reef formations during their scuba dive, and surfing with the strong winds on their backs. Others might find more success with relaxing treatments at the Breeze Spa or the fine selection of Asian and international restaurants and bars.
Room prices: From $500+ onwards. Take advantage of their Duo Villa Experience with a minimum of 4 nights, where your last 2 nights will see you transferred to an Overwater Villa for the remainder of your stay! The package also includes a full meal plan and a complimentary guided snorkelling tour.
Have you decided on the perfect Valentine's destination for you and your partner? You definitely don't want to bring your significant other to the same old fancy restaurant down the street for the umpteenth time after seeing this list of getaway places. Don't forget to grab the best accommodation deals from HotelsCombined too – be sure to decide quickly, as you're not the only couple out there who has their eye on these locations. Grab your rooms before they run out! <3